Travel Where The Road Takes You
Drive our special stretch of Highway 1 between Ragged Point and Nipomo, and you can't help but be awed by its natural beauty and scenic riches. These 81 miles are what make a Highway 1 road trip one of the top bucket-list excursions in the world. But finding all the secret treasures of this famous byway would take several days — and a local's know-how. If you want the inside scoop on the best places to stop while driving the Pacific Coast Highway, you'll need inspiration from a knowledgeable guide.
Here, we've shared a thorough list of must-drive routes along Highway 1 that will open your eyes to its many charms. Stand beneath a waterfall and listen to its roar. Taste wines influenced by the proximity of the Pacific Ocean. Travel through patchwork farmland and past towering sand dunes. Be dazzled by the kaleidoscope of thousands of Monarch butterflies. Explore the grounds of a historic lighthouse. Hunt for sea glass, pick apples, and summit coastal mountains. All of this and so much more can be found just off Highway 1, if you know where to look.
Have a look at our list of the best places to stop along Highway 1, and use the links to Google maps to help you navigate each destination and attraction. If, however, you want to explore more in any given area, check out the destination-specific maps at the end of each section. And if you want a single map detailing all of the best things to see on your drive, look at our "Discovery Route" map.
Now turn the ignition, roll down the windows, and put it in gear — it's time to take that iconic Highway 1 road trip.
Be In The Moment with Highway 1 Coastal Beauty
Experiencing awe is one of the simplest, fastest ways to become fully present. If you seek to live in the moment, Highway 1 offers free and accessible wonder-making opportunities around every bend. Stand on the cliffs at Ragged Point and watch the ocean churn below. Look out into a dreamily secluded bay at Hearst Memorial State Beach. Pull off Highway 1 onto Moonstone Drive for a magical view of the Cambria shoreline. Catch views of farms and backcountry on the Old Creek Loop. Marvel at the sand, surf and sunshine on Cayucos State Beach. Explore the rock formations and turquoise waters of Spooner's Cove inside Montana de Oro State Park. Or drive out onto a historic pier to glimpse vistas of scenic Avila Beach. Each of these awe-inspiring moments is yours, just off Highway 1.
Ocean-View Cliffs of Ragged Point 
Home of the "Million-Dollar View," Ragged Point offers some of the best scenery from the road. Park at the Ragged Point Inn, where you can grab a glass of wine or beer and enjoy panoramic views from the patio. This is an especially bewitching sight during sunset, perched high over the ocean. And don't miss the Ragged Point Inn Restaurant for fresh-caught seafood, or the coffee bar and gift shop, too.
Thrill-seekers will want to take the steep walk along the Cliffside Trail down to a secluded purple-sand beach. Here, the Black Swift waterfall tumbles down to the beach and rolls to the ocean — a great view that's hidden from the road. (Just be sure to wear grippy shoes and save some stamina for the steep walk back up!)
No matter where you turn in Ragged Point, ocean views are never far. And as the gateway to Big Sur, it offers some of the first cliffside driving heading north (or some of the last heading south).
For motorcyclists, this section of Highway 1 is one of the most popular rides on the globe. If you love tight turns, narrow roads and expansive ocean views, this is the area for you.
Where's the best place to stop for this adventure? Pull over here for easy access to Ragged Point scenic views. Or use our Ragged Point Activity Map for more points of interest nearby, including the famous Bixby Bridge on Highway 1. Other experiences might include dipping your toes in San Carpoforo Creek or snapping photos of the vintage Piedras Blancas Motel.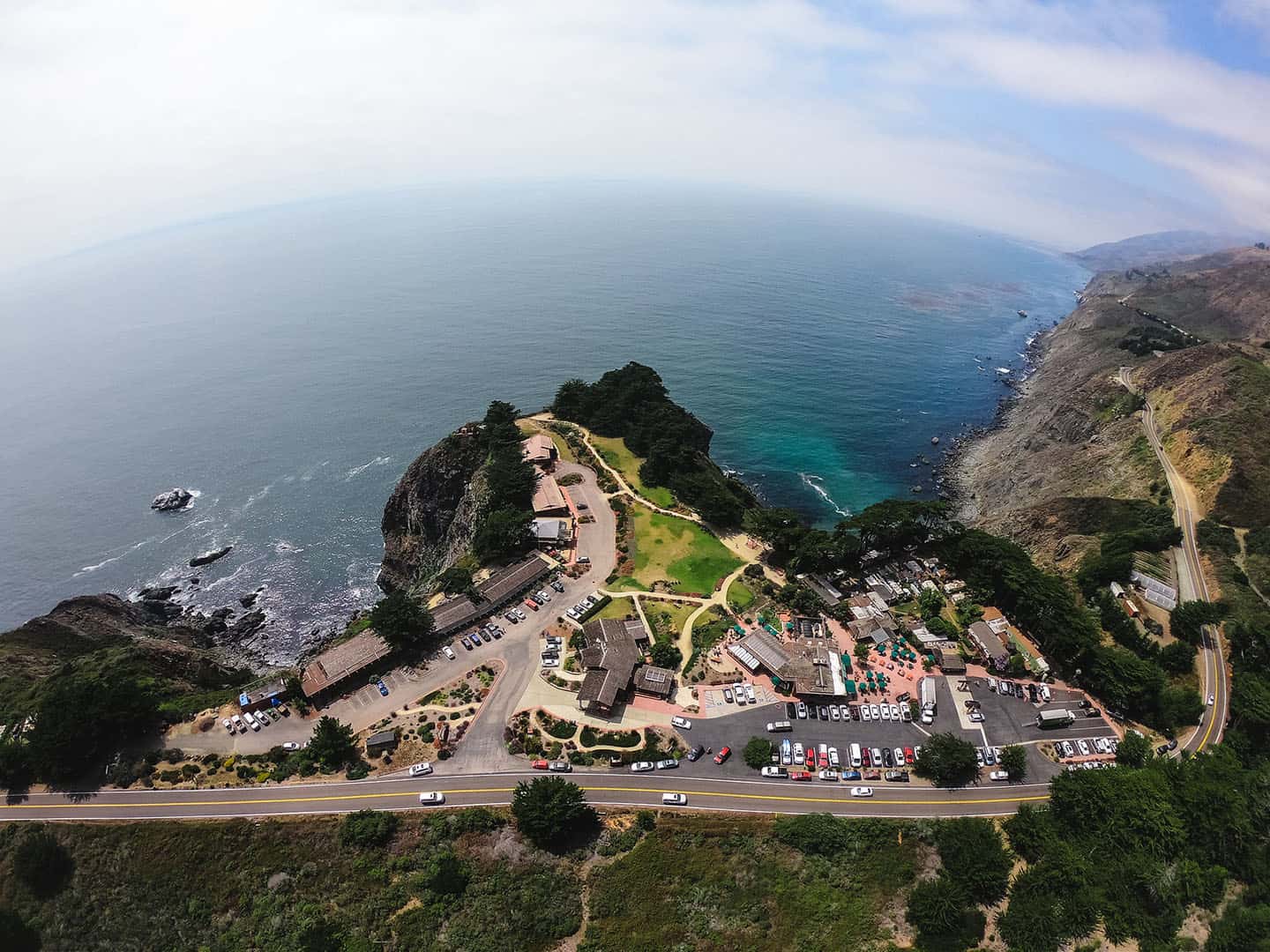 Vista Point at Hearst Memorial State Beach
Located just south of the entrance to San Simeon State Park, this vista point offers an ideal place for taking in effortless views. You can even park in the Hearst State Beach lot, off Highway 1, and see it all from the comfort of your vehicle. This is also a great place for whale watching, with its expansive ocean views. Bring binoculars to look for gray whales, minke whales, harbor seals, and sea otters, as well as dolphins and porpoises. These marine mammals are regular visitors to this stretch of shoreline. Do this from the bluffs above the beach, or with your toes wiggling in the warm sand below.
For the best place to stop on Highway 1, follow our map to the Vista Point at Hearst Memorial State Beach. Find plenty of other pullover activities on our San Simeon Road Trip Map. Sip award-winning wines at the Hearst Ranch tasting room then fish off the San Simeon Pier and take in the scenery. Or watch the kites of windsurfers and kiteboarders at Arroyo Laguna Beach, where winds can get up to 40 mph in the afternoons.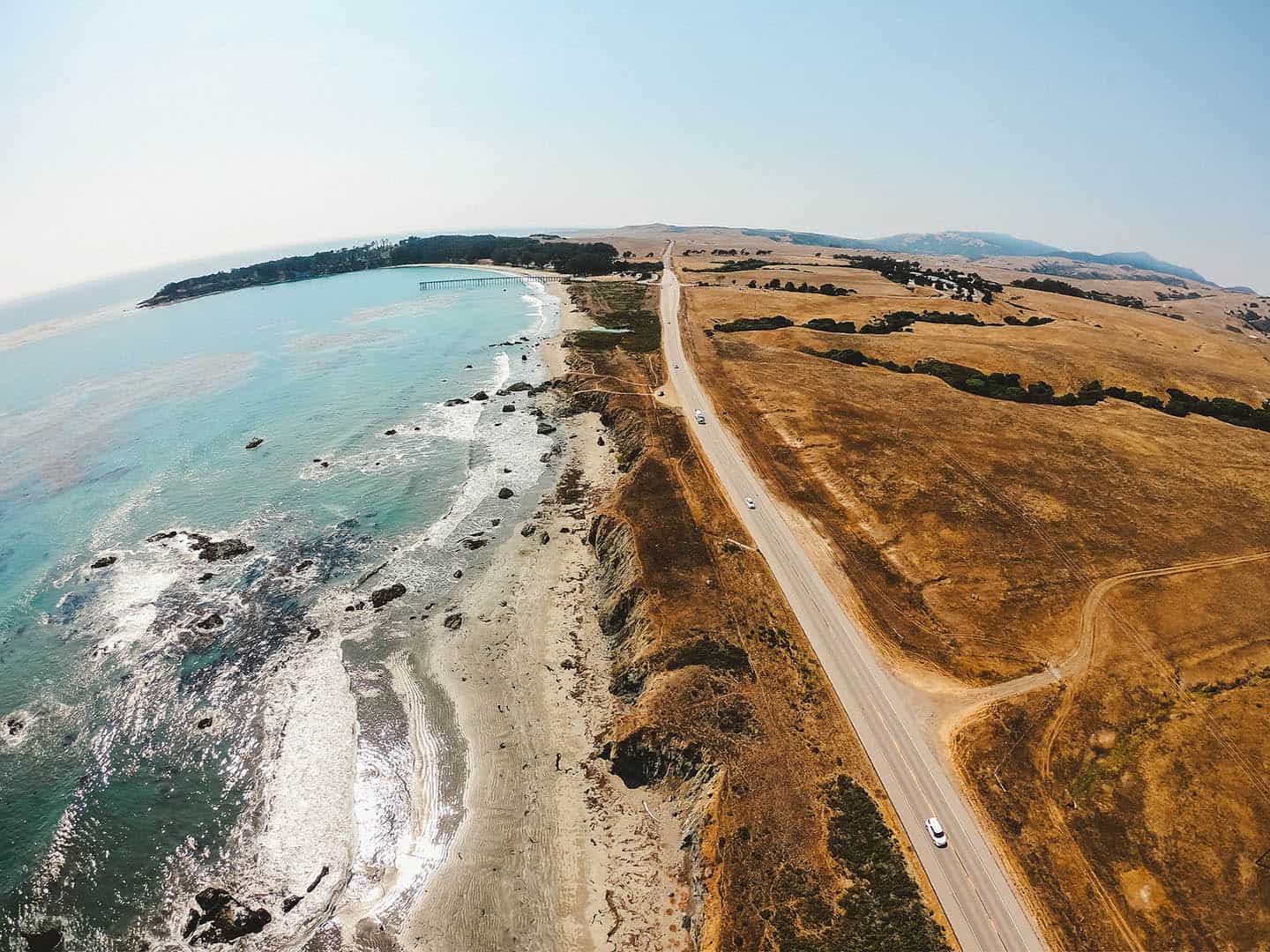 From Highway 1, it takes just a moment to pull onto this 2-mile oceanfront roadway that parallels the shoreline. Moonstone Beach lies below, a favorite hidden beach where locals come for excellent beachcombing that includes sea glass, colorful worn stones, and driftwood. Taking advantage of the classic coastal California views across Moonstone Beach Drive, several restaurants offer indoor and outdoor seating here, overlooking the ocean.
Start at the north end of Moonstone Beach Drive; the best place to stop is at the Leffingwell Landing State Park parking lot. A trail leading toward Hearst State Beach stands here, for those wanting to take a stroll north. Otherwise, to walk toward Moonstone Beach Park, pick up the Moonstone Beach Boardwalk about 0.5 miles south of Leffingwell Landing. Walk the boardwalk, which spans the majority of the shoreline, for a romantic stroll or to watch seals from the viewing deck. If you're driving rather than walking, the best place to stop for this spot is at the Santa Rosa Creek Parking Lot. The Moonstone Beach Park offers an ideal setting for a picnic or a sunset view. 
Many more attractions lie nearby in Cambria's East and West Villages, including the Covell Clydesdale Ranch where horses roam over 2,000 acres. Or peak into the tiny Old Santa Rosa Chapel, Gardens & Cemetery, where Bing Crosby attended services when he stayed at Hearst Castle. For these and other Highway 1 road trip ideas in Cambria, see our Cambria Road Trip Map.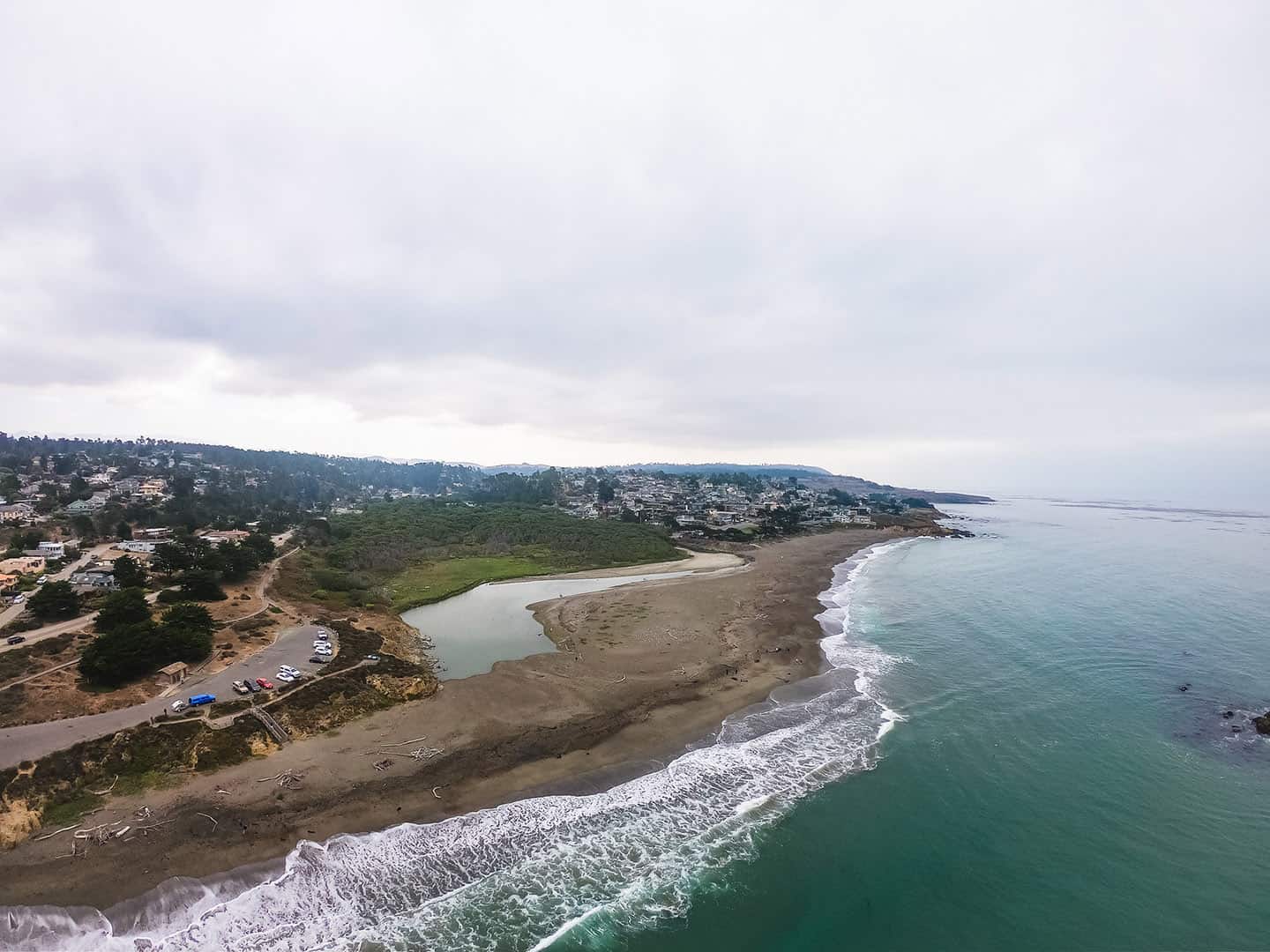 Old Creek Loop from Cambria to Cayucos
Looking for a scenic backcountry adventure while driving the Pacific coast? Follow this itinerary through the roads behind Cambria and Cayucos, forming  a loop with Highway 1. You can begin in Cambria at Santa Rosa Creek Road, or in Cayucos with Old Creek Road. Along the way, check out the views of Whale Rock Reservoir, a deep blue basin above Cayucos and the coastline. You can also buy slices of pie at the quaint Linn's Fruit Bin Farmstand (temporarily closed), tucked into the hillsides surrounding Santa Rosa Creek Road. And don't miss wine tasting at Stolo Family Vineyard & Winery; you can even sit on their lush lawn to indulge in a picnic. For details on the itinerary, check out the Old Creek Loop route map.
Riders on a Pacific Coast Highway motorcycle trip will love this back-road loop, too. Here, motorcyclists can twist and wind through scenic farmland and over rolling hills. The intersection of Highway 46 offers opportunities to travel even deeper into the mountains west of Highway 1. Get lost on wine country backroads like Vineyard Drive, Peach Canyon and Chimney Rock Road. These can take you to Paso Robles winery tasting rooms, or out toward Lake Nacimiento, if you feel like making a day of it.
And if you'd like more things to do and see near Cambria, have a look at the Cambria Road Trip Map. You may consider tacking on a hike along the Fern Canyon Henry Kluck Memorial Trail or Strawberry Canyon.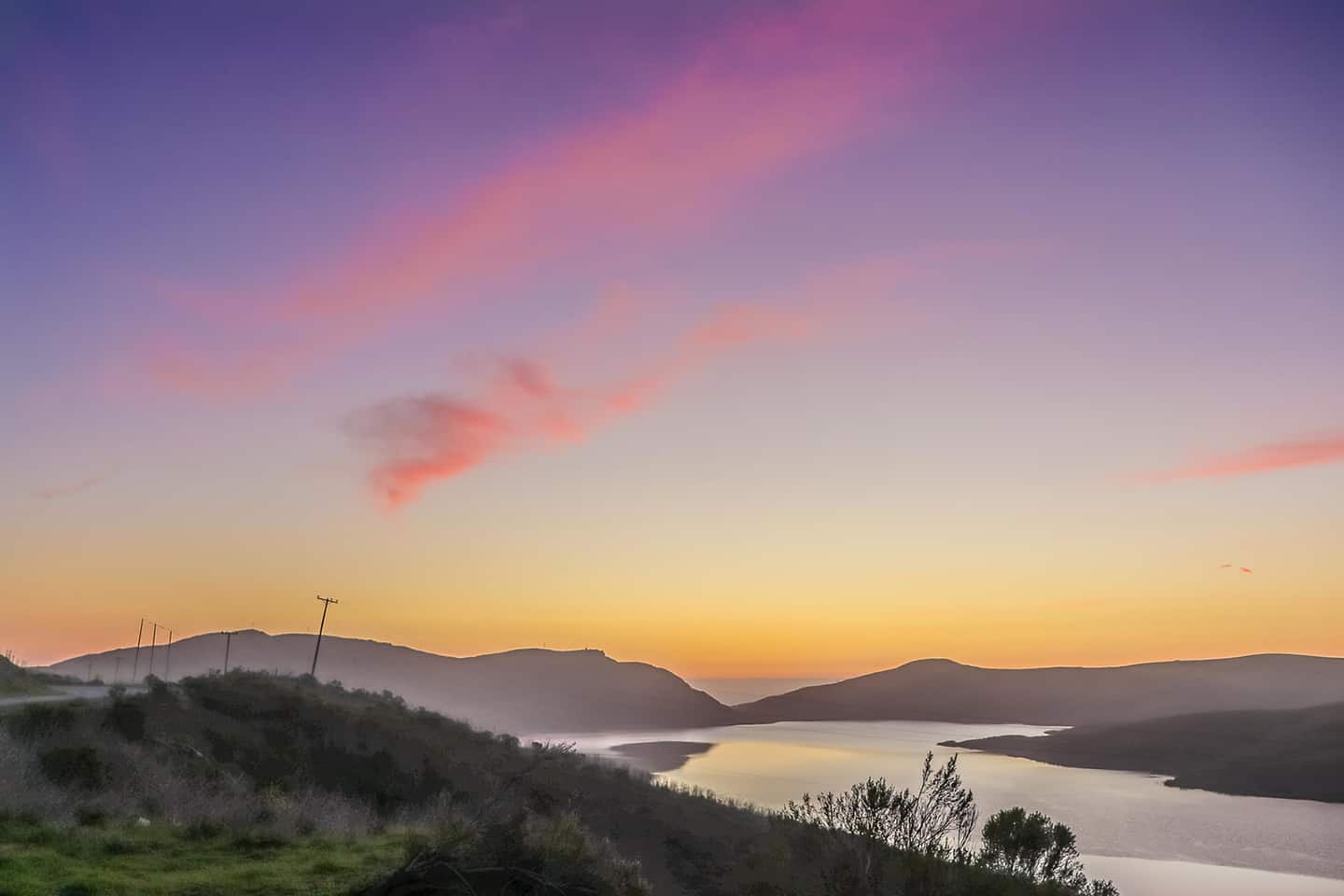 Ocean View from Cayucos State Beach
On your road trip, pull over for a cruise down North Ocean Avenue in Cayucos, just a stone's throw away from Highway 1. This is Cayucos's main thoroughfare, running directly parallel to downtown, Cayucos State Beach, and the historic Cayucos Pier. North Ocean Avenue offers plenty of dining options, from clam chowder and fish and chips, tacos to farm-to-table fare. Pull over to grab a bite, then head to the Cayucos Pier, which is within walking distance of all downtown restaurants. Here you can walk the planks of Captain Cass's pier, originally built in 1872, and watch surfers hang ten below. Kids will love the play structure, directly on the beach, and they may just spy dolphins or a whale spouting offshore.
Of course, the view from just about anywhere in Cayucos is picture-perfect, but some of the best spots are really tucked away. Make like a local and travel to the southern end of Cayucos State Beach. Here, you'll nearly be "on" the beach, with a wide open view of the waves. Enjoy the ocean view from your car, or step out and take a stroll north to Cayucos Pier or south to Morro Rock. The best places to stop are in the parking lots for Morro Strand State Beach Day Use Area or Sand Dollars Beach.
Want to hang a bit longer in the Cayucos area? Try ideas from our Cayucos Road Trip Map, including wine tasting the Pacific Coast Wine Trail and hiking Harmony Headlands.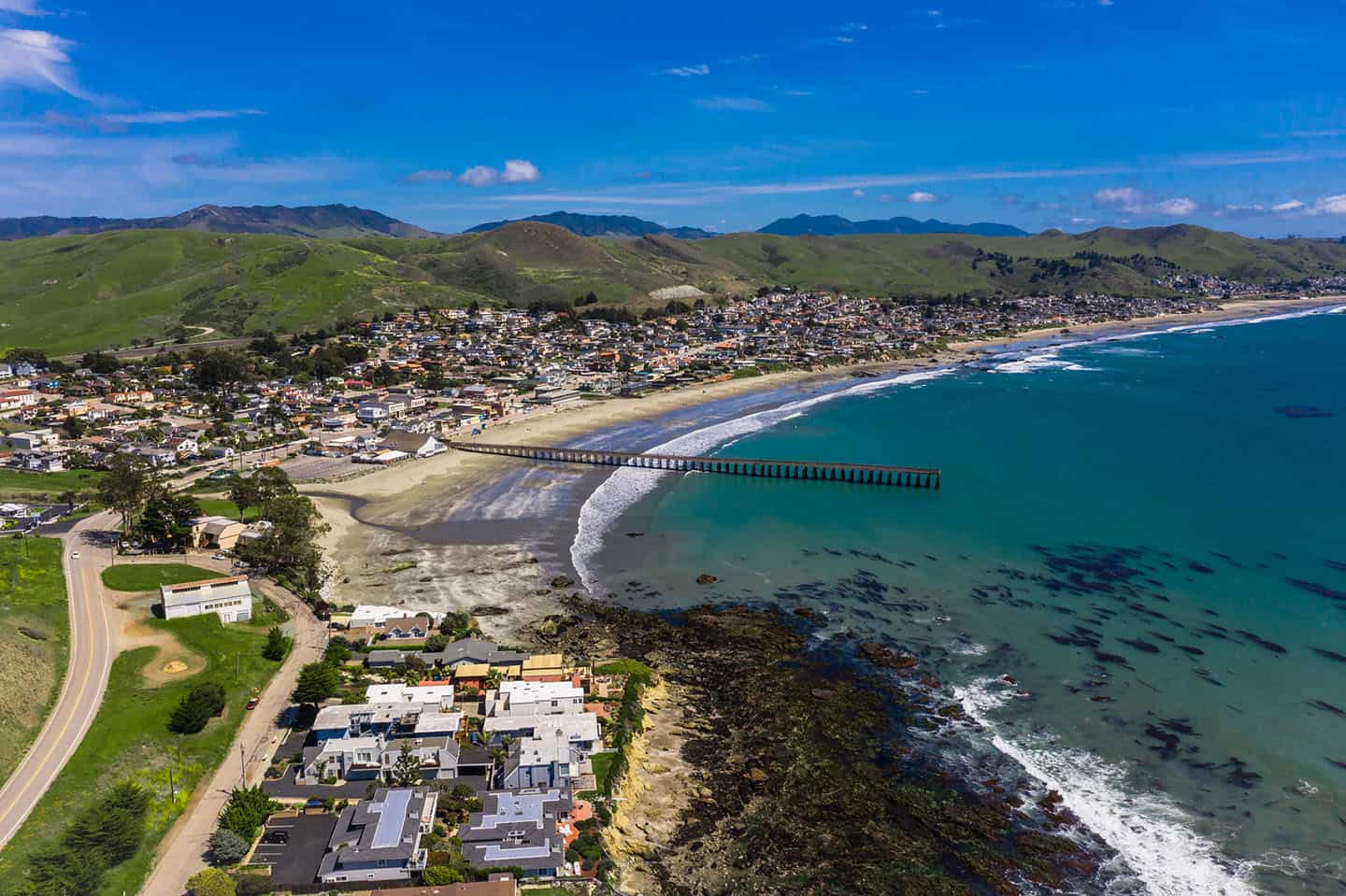 View of Spooner's Cove and Montana de Oro
At 8,000 acres, with 7 miles of shoreline, Montana de Oro State Park makes for a lovely scenic drive. This special state park offers panoramas of Estero Bay as well as paths that wind beneath towering eucalyptus forests. The road that travels through it all is Pecho Valley Road, which extends directly from Los Osos to Montana de Oro State Park. 
One of the best places to stop is Spooner's Cove, a secluded, magical beach cove with swimming, beachcombing and picnic facilities. Park in the parking lot, step out of your car, and you're immediately right at the center of a locals' favorite beach. Another best place to stop is further into the park, featuring grand ocean views you can take in from your car. To find this cliffside pull-over spot, drive slightly further past Spooner's Cove to park between the Bluff Trail and the Spooner Ranch House.
Of course there's a lot more to do nearby, like hiking the Black Hills Trail and bird-watching at the Elfin Forest. For more activities near Montana de Oro, check the Los Osos / Baywood Road Trip Map.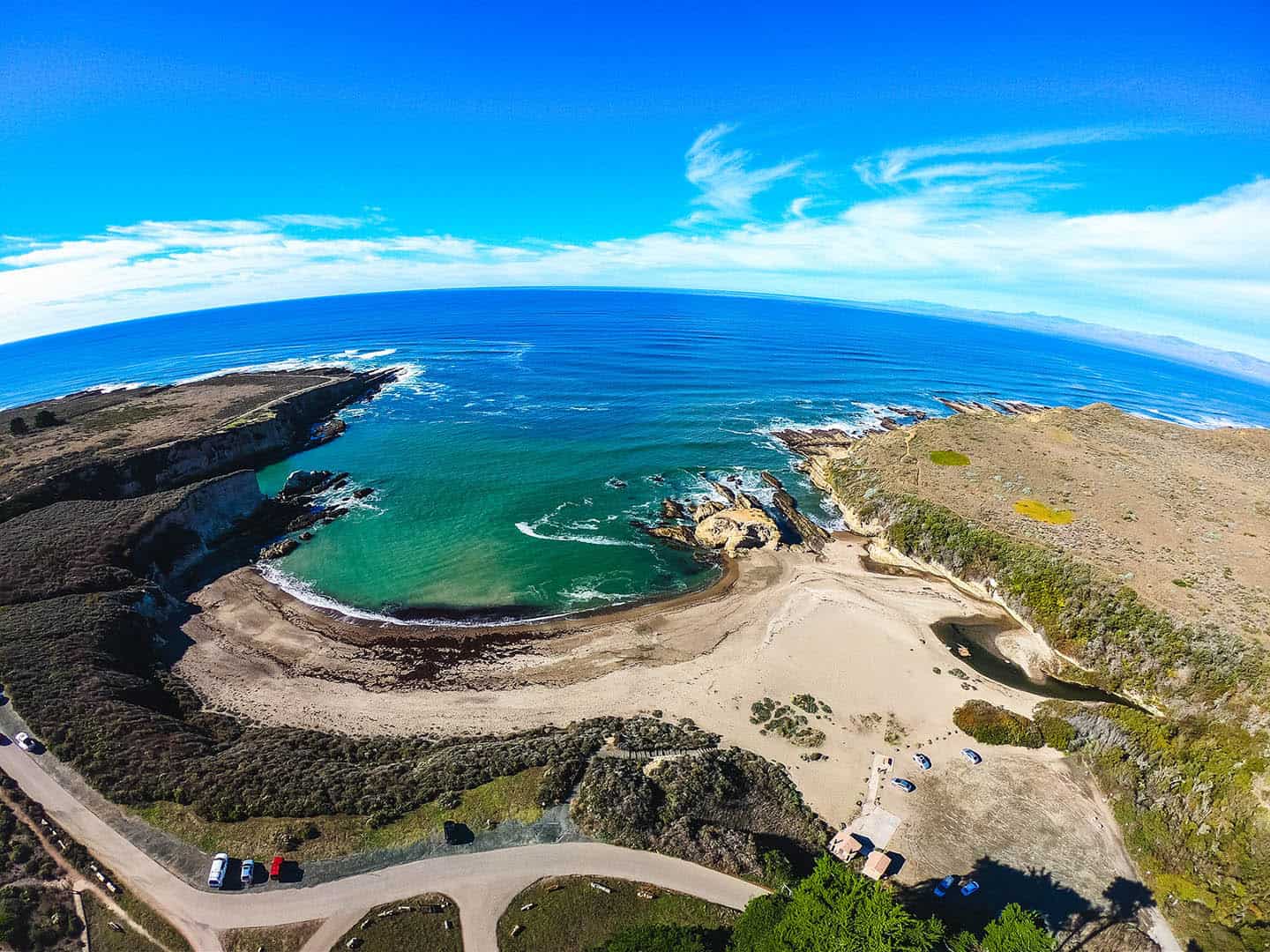 Scenic Views of the Avila Bay
Anyone who cruises Avila Beach Drive through Avila Beach can tell you what a stunning ocean-side drive it offers. But the hidden vistas and lesser-known views from historic Point San Luis Lighthouse are absolutely worth the hunt.
Pick up Lighthouse Drive near the end of Avila Beach Drive, before it terminates on the Harford / Port San Luis Pier. This will eventually lead you out to Point San Luis Lighthouse. The best place to stop is at the Point San Luis Lighthouse parking lot. Along the way, enjoy the remote coastal scenery, from both sides of the vehicle. At the parking lot, you'll have access by stairs to a secluded beach cove, as well as the trailhead for the Pecho Coast Trail.
Pro tip: This Lighthouse Drive excursion is a much less-trafficked scenic drive than the more well-known cruise out to Pirate's Cove off Cave Landing Road. Pirate's Cove definitely delivers on amazing views, along with a bluff trail and a clothing-optional beach — but it can be very crowded. The best place to stop for this alternative adventure is in the parking lot at the end of Cave Landing Road.
For other activities nearby, like hayrides at the Avila Valley Barn or kayaking, paddleboarding and sport fishing, check our Avila Beach Road Trip Map.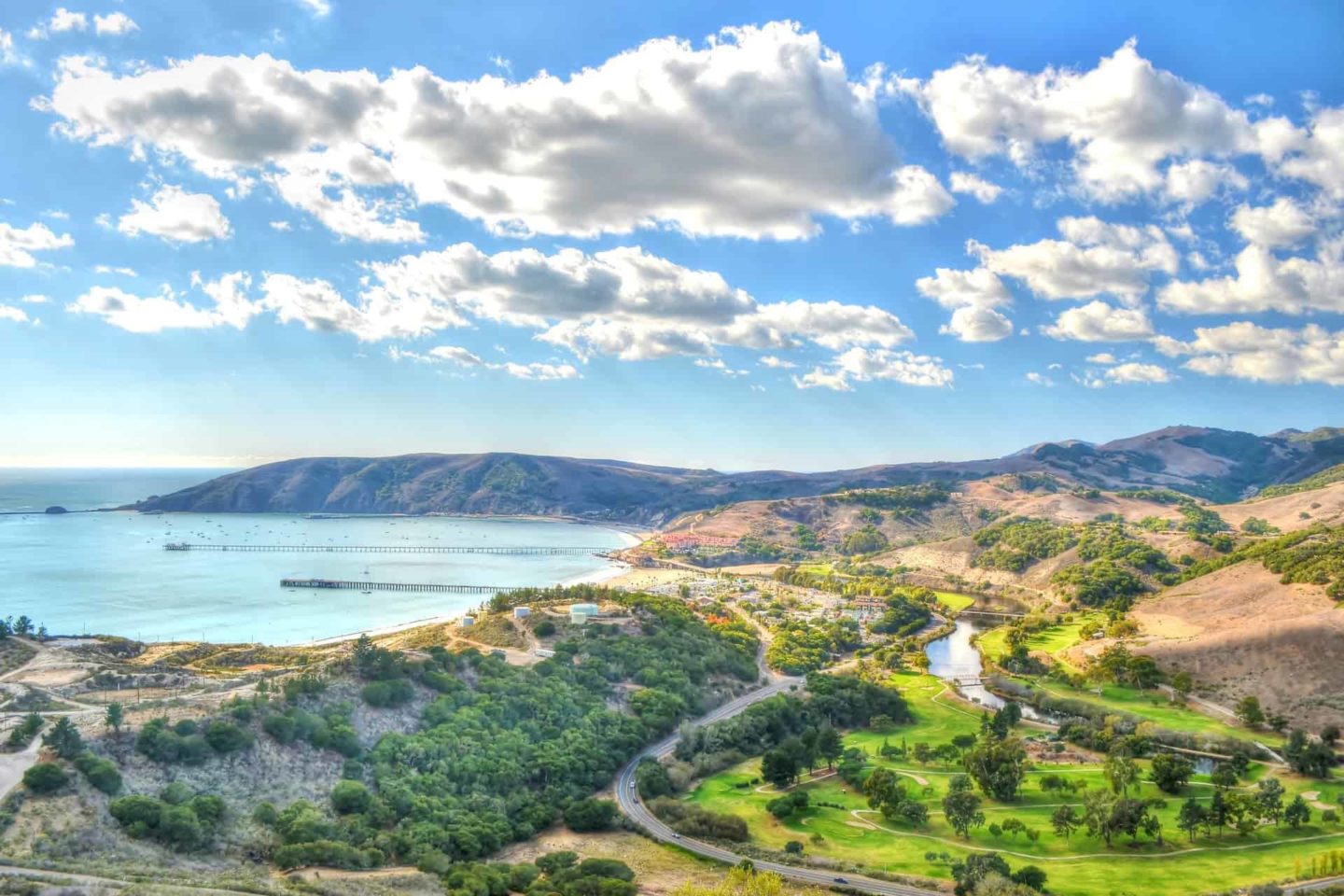 Refresh the Soul with Uncrowded Beaches and Coastal Hiking
Think "California beaches" and you might picture busy spots where folks compete for space on the sand and in the surf. Not so here. The beaches on this stretch of Highway 1 are remarkably uncrowded and open, with sunshine and space aplenty in which to revel. Even better, these beaches are accessible right off the road, making it easy to turn any day into a spontaneous beach day. You'll also find coastal hiking trails of various lengths and difficulty off Highway 1. Pull off and take a quick jaunt down to the beach or spend the day exploring the coastal plains, forests, and shoreline via winding paths. Breathe in the salty-fresh air and feel your workaday cares melt away. Reconnect with yourself, your friends, your family, and your planet. With something for everyone, Highway 1 beaches and trails offer a special way to restore your spirit and experience roadside coastline wonder.
Find Uncrowded Beaches and Wide-Open Spaces
We all long for space: space to breathe, space to explore, space to think. Thanks to our year-round comfortable climate and under-the-radar location, nearly every corner along our Highway 1 Road Trip is wide open and welcoming. Beaches offer miles and miles of unspoiled white sand and lush scenery that will take your breath away. Over a dozen state parks stand with gates open, begging to be explored. Trails for hiking, biking, and horseback riding fan out in every direction. Need your space? You will most definitely find it here.
The 100 miles of pristine coastline between Ragged Point and Nipomo comprise one of the world's greatest playgrounds for hikers of any ability. Whether you want a casual boardwalk stroll, a moderate hike out to a waterfall, or a strenuous climb, your perfect hike is here. Pick a destination along Highway 1, find a spot to park, then locate the trailhead and start walking. It really is that easy — no need for 4-wheel drive, mosquito hats or topographical maps! Around here, coastal hiking is a regular part of everyday life, not just for special occasions. Do as the locals do and keep it simple and spontaneous, pulling over whenever you see a trailhead sign. Along Highway 1, they're easy to find. No matter which hike you lace up for, you'll always be within reach of secluded beaches, panoramic views, and curiosity-satisfying flora and fauna.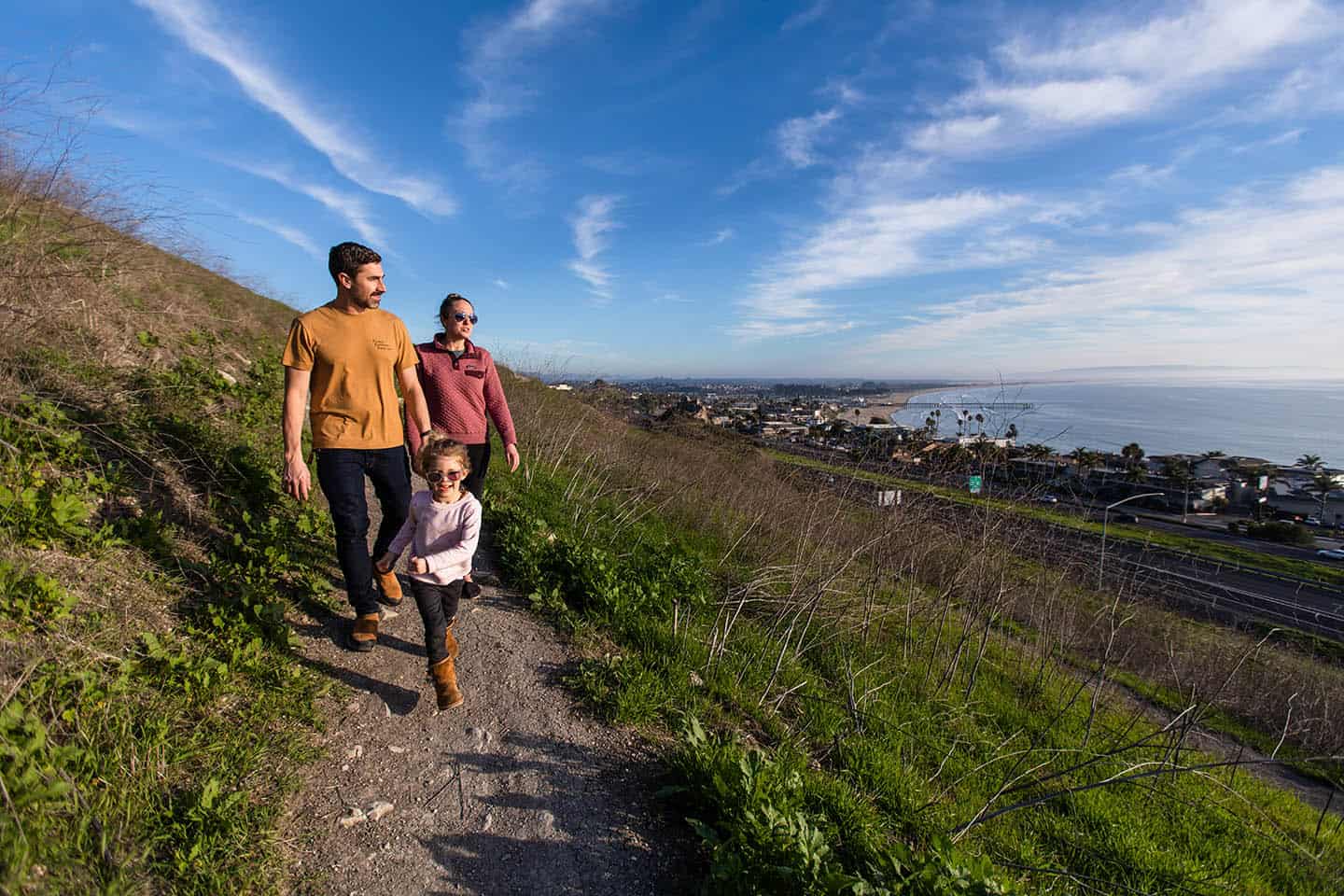 Park and Stroll the Estero Bluffs State Park
One of the best bang-for-your-buck walks off Highway 1, the Estero Bluffs trails can be explored a little or a lot. In other words, you don't need hours to enjoy this dramatic state park. The trick is knowing where to find the 7 pull-outs that lead to the trails, midway between the towns of Harmony and Cayucos. These are nondescript dirt turnouts just off Highway 1 that can easily be missed without local know-how. If you find them, they'll grant access to a magical coastal walk to view the state park and its namesake, the Estero Bluffs. Alternatively, you can just park and enjoy the ocean views from the comfort of your car.
For more activities to tackle en route to Cayucos, check out our Cayucos Discovery Loop Map. Here you'll find ideas for your trip, like tasting cookies at Brown Butter Cookie Company and surfing and swimming at Cayucos State Beach.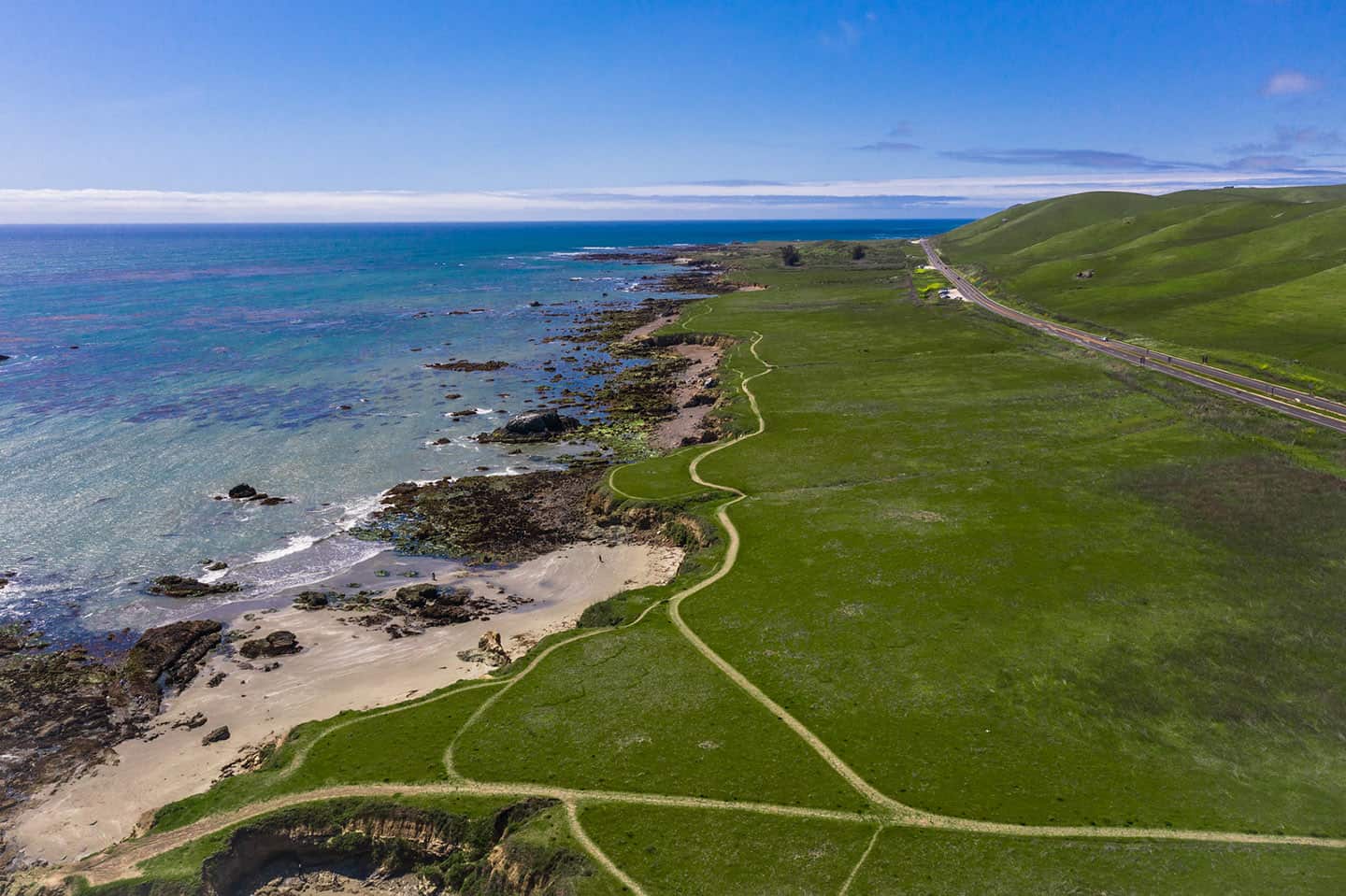 Be Surprised and Amazed with Wildlife
People aren't the only ones who value life along Highway 1 — animals do, too! Just like us, they enjoy the mild climate, towering mountains, lush forests, and coastal riches. Opportunities abound to witness wild creatures in their natural habitat here, as well as those just passing through. Highway 1 lies just beneath the Pacific Flyway, a superhighway in the sky for birds migrating between Canada and Mexico. Birders from all over come to our coastal communities to spot rare birds and log their findings. It's also a hot spot for whale watching, with gray whales, humpback whales, blue whales and even orcas cruising offshore seasonally. (The Whale Trail organization has even named ten recommended whale watching spots here — the most of any area in California.) Each winter in Oceano, thousands of Monarch butterflies take up residence in a grove of eucalyptus trees, delighting visitors and locals alike. Also in late winter, huge populations of the Great Northern Elephant Seal show up to mate, pup and molt onshore in San Simeon. We even have zebras (yes, zebras!) that are descendents of those owned by billionaire William Randolph Hearst at Hearst Castle.
Elephant Seals & the Piedras Blancas Light Station
Driving the Pacific Coast Highway, it's easy to see the Piedras Blancas Light Station from the road, but it's not a close view. Some people park at the light station's gated entrance to get a peek at it, but there's actually a better way. 
As an alternative, park at the Elephant Seal Rookery viewing area, where thousands of Elephant Seals can be seen mere steps away. Enjoy viewing the wildlife, then walk the adjacent Boucher Trail, which travels to the Piedras Blancas Light Station, built in 1875. This easy 1.9-mile walk parallels the coastline and provides more chances for wildlife viewing. You can even schedule a tour of the Light Station on your way, making this one of the Central Coast's best two-for-one itineraries. Access to the light station grounds is by guided tour only.
For this adventure, the best place to stop along Highway 1 is at the Elephant Seal Vista Point. In addition to elephant seals and lighthouses, San Simeon offers many more things to see on Highway 1. Travel back in time with a tour of opulent Hearst Castle, the home of historic newspaper baron William Randolph Hearst. Or pull over to glimpse the famous zebras of Hearst Ranch, descendants of those in Hearst's private zoo, still roaming beside Highway 1. These ideas and many more are available on our San Simeon Activity Map.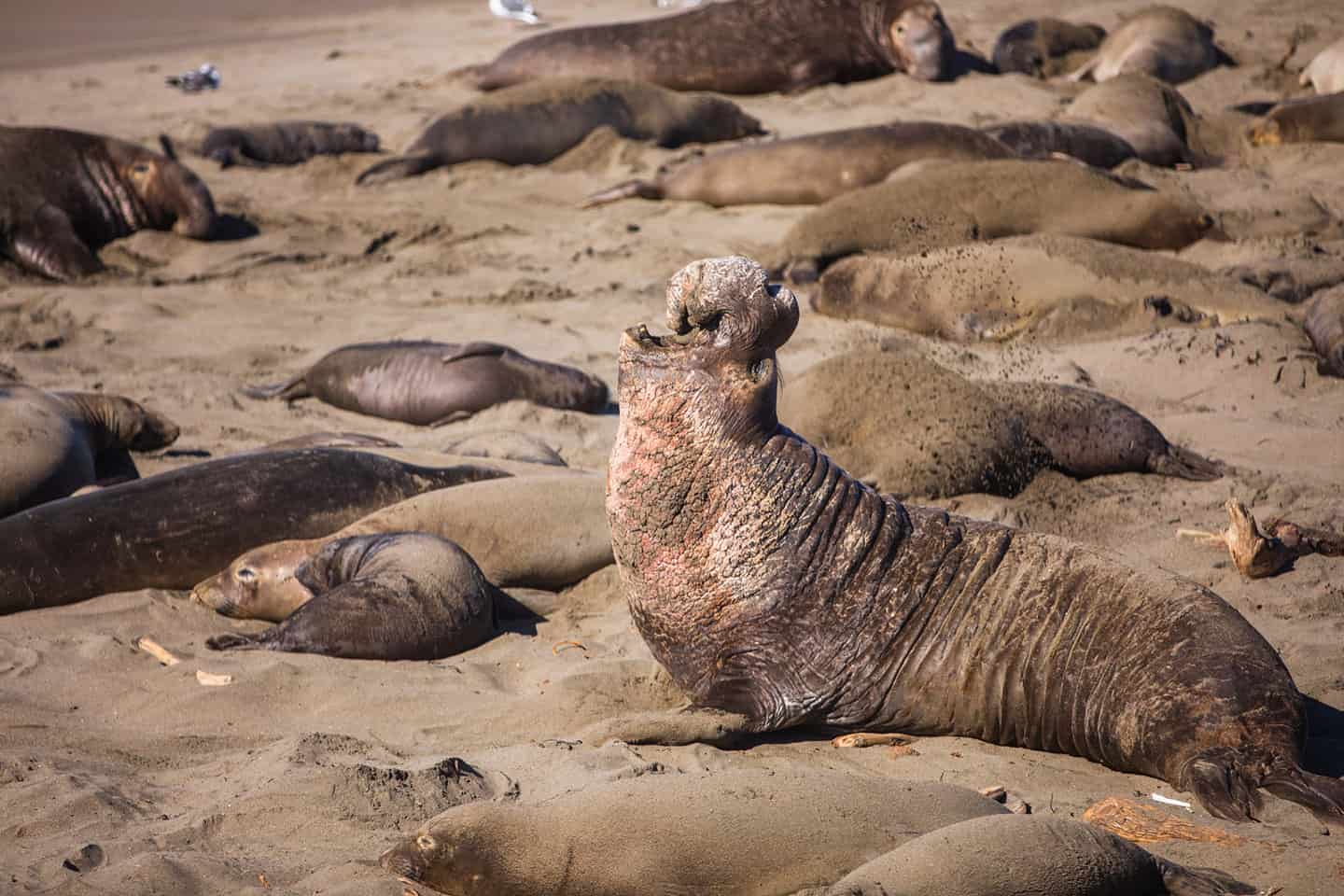 For decades, people have pulled over on Highway 1, shocked to see zebras grazing on the plains of San Simeon. Native to southern Africa, they are a sight to behold here, amongst the coastal cliffs, towering mountains and grandeur of Hearst Castle. It's no accident that these zebras reside near Hearst's magnificent estate: they were once members of his private zoo. He called his menagerie the "Hearst Garden of Comparative Zoology," and it was the largest private zoo in the world in the 1930s. The zoo included lions, leopards, jaguars, tigers, grizzly bears, orangutans and an elephant, among other species. A lifelong animal-lover, Hearst hired a full-time veterinarian to his staff to care for the animals and ensure they were healthy and safe. When Hearst lost much of his fortune in 1937, he began dismantling the zoo — a process that lasted 15 years. Even then, the Hearst zoo never fully disappeared; zebras continue to cruise the property, as well as several other descendent species. Spying the zebras' iconic black and white stripes along Highway 1 is one of the great pleasures of traveling this equally iconic roadway.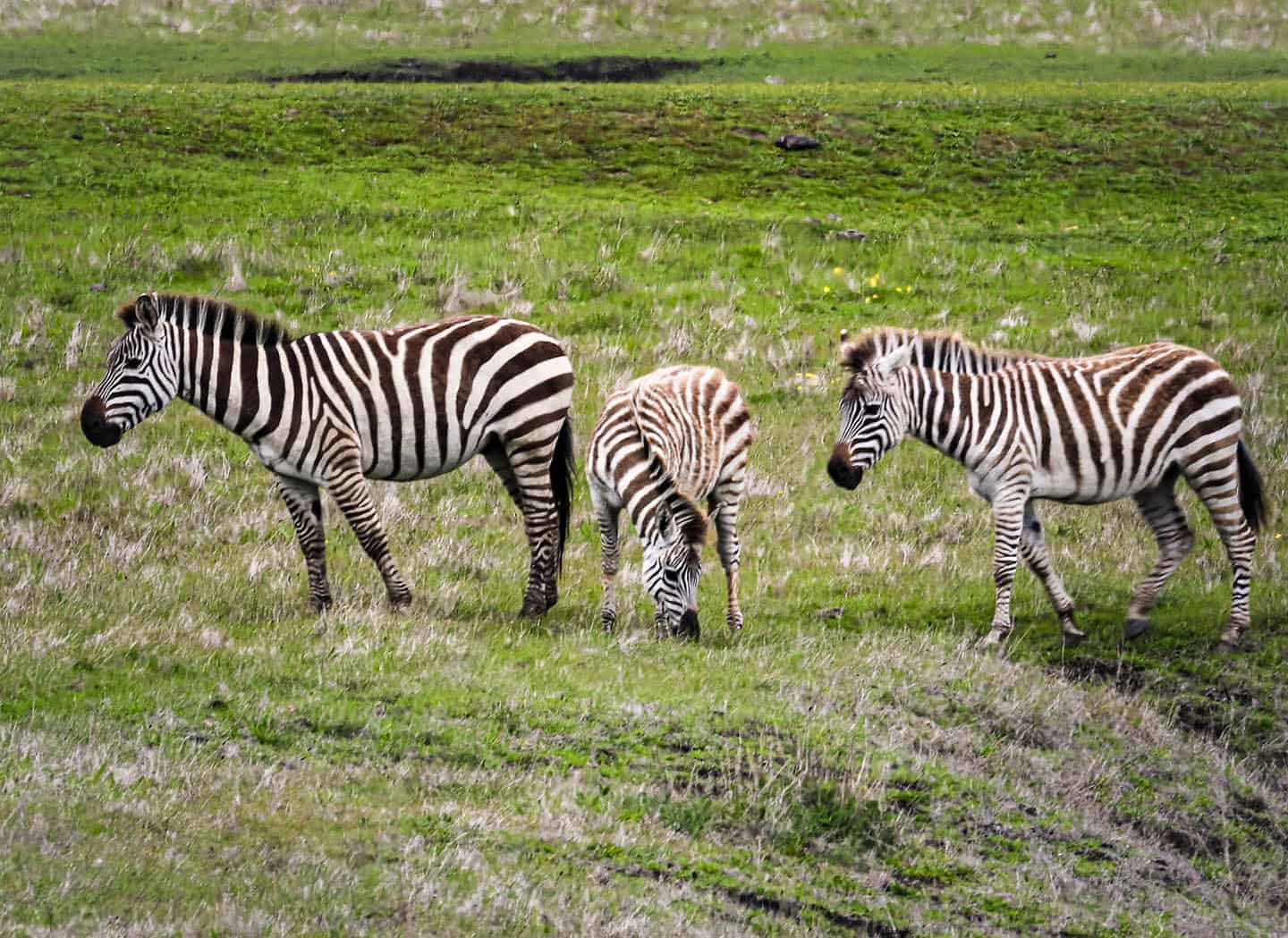 Butterfly Groves and the Oceano Dunes
Thousands of Monarch Butterflies migrate to the eucalyptus trees within the Pismo State Beach Monarch Butterfly Grove each year. Directly on Highway 1, this incredible sight is one of the easiest wildlife viewing opportunities available on the Central Coast. The best place to stop on your Highway 1 road trip is the Monarch Butterfly Grove parking lot, just south of Pismo Beach.
After marveling at the Monarchs, drive 2 miles south to discover California's only drive-able beach! The best place to stop for this is at the entrance to the Oceano Dunes Natural Preserve. The ideal time for most vehicles to drive the beach is during low tide. Stick to driving over the hard-packed sand closer to the water to avoid getting stuck in the soft sand further from the shoreline. (Find a tide table for this area at Central Coast Weather.) Parking is also available at the park's entrance for those who can't or don't want to drive onto the beach. 
Pro tip: South of the Oceano Dunes Natural Preserve lies Oso Flaco Lake, which drains into the ocean via Oso Flaco Creek. While this area is well worth a visit, crossing the creek without a four-wheel drive vehicle is not recommended.
Can you ride motorcycles on the beach? Yes, you can; in fact, it's welcomed. Keep in mind that it's recommended to stay on the hard pack sand unless you're riding a full enduro or dirt bike. That said, if you have the right kind of bike, you can easily venture deep into the dunes — a bucket-list adventure, if ever there was one. Dirt bikes are available for rent, along with ATVs, dune buggies and just about any other kind of vehicle you can think of.
For more activities nearby, including stellar golfing and side-splitting comedy at the Great American Melodrama, download the Oceano / Nipomo Road Trip Map.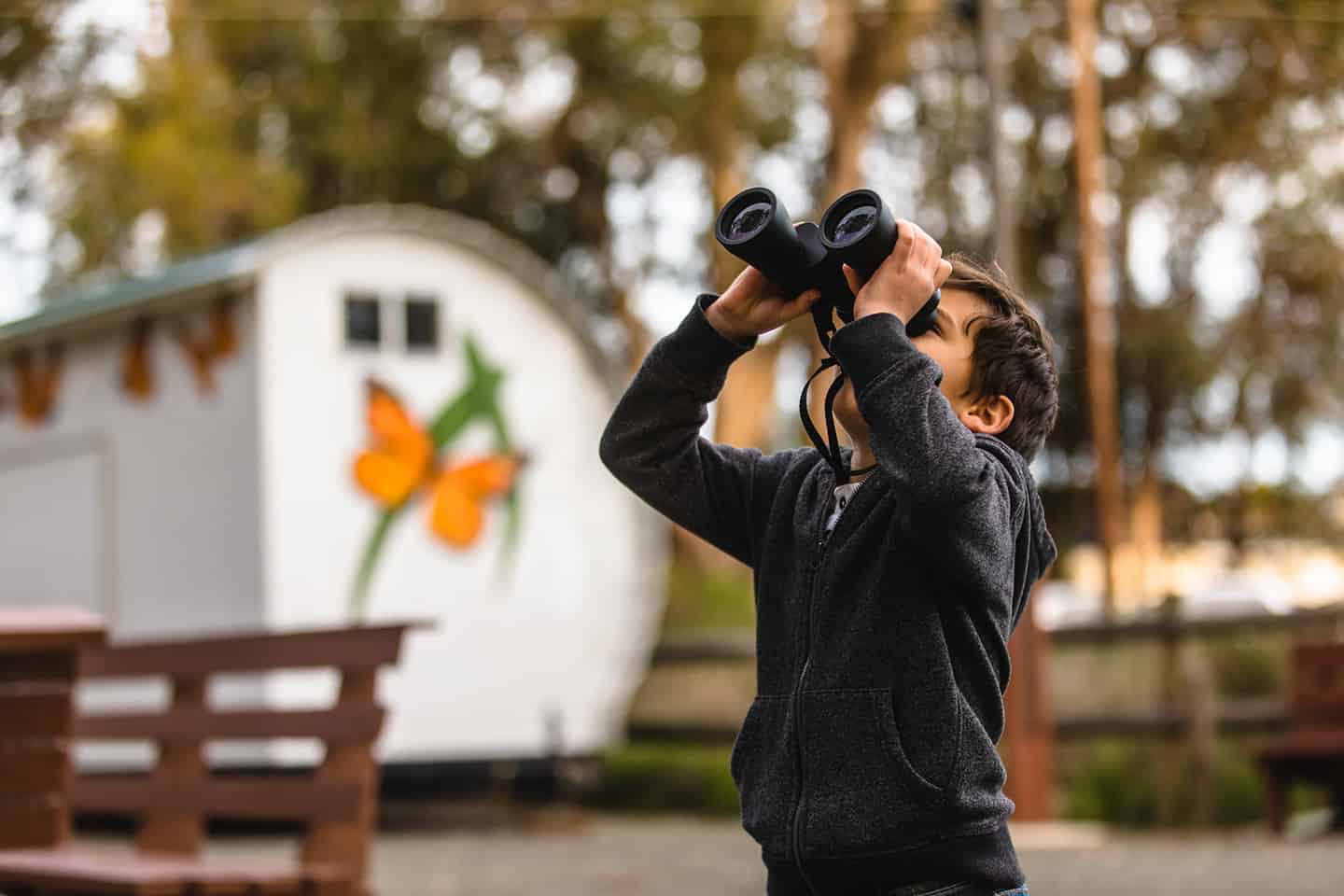 Pacific Coast Highway Motorcycle Trip
The jaw-dropping stretch of Highway 1 between Big Sur and Santa Barbara County is often considered one of the best roads for motorcycling in the nation. Here, the climate is mild most of the year, perfect for freewheeling under the sun. Each of the destinations and drives below work just as well on two wheels as they do on four or more. The diversity of terrain will excite even the most veteran rider, while giving novices and easy riders plenty of choice.
Before embarking on a Highway 1 motorcycle trip, be sure to plan your itinerary to travel both north and south on Highway 1. For instance, if you're traveling from San Francisco to Los Angeles, be sure to take Highway 1 both directions. This will give you right-side views of the ocean driving southbound, and easier and safer access to turnouts, since turning lanes are rare on Highway 1.
Also, you can of course ride in on a motorcycle, but you can also drive in and rent a motorcycle while here. This is a good option for those who want the comfort of indoor travel over long distances, and the thrill of motorcycling to explore the Central Coast. That way, you can tour Highway 1 at your leisure.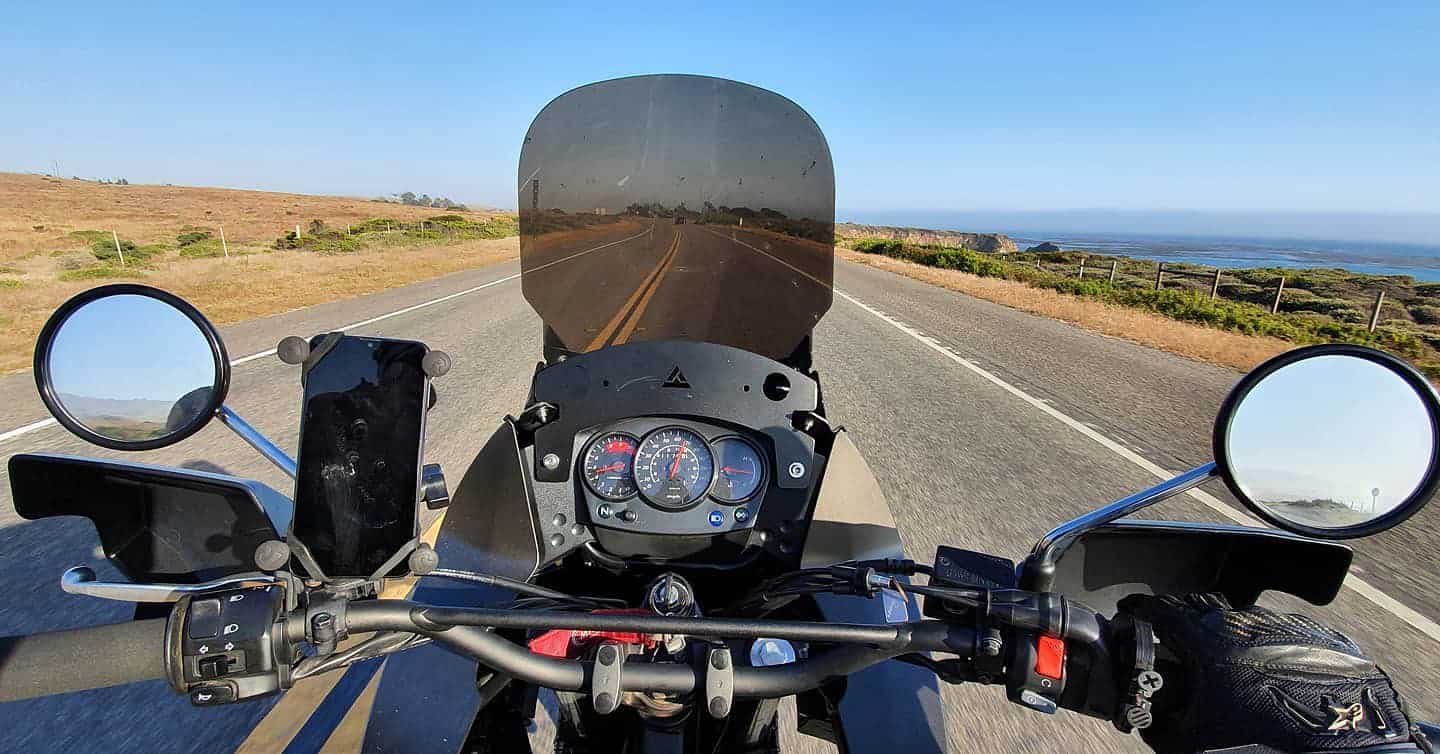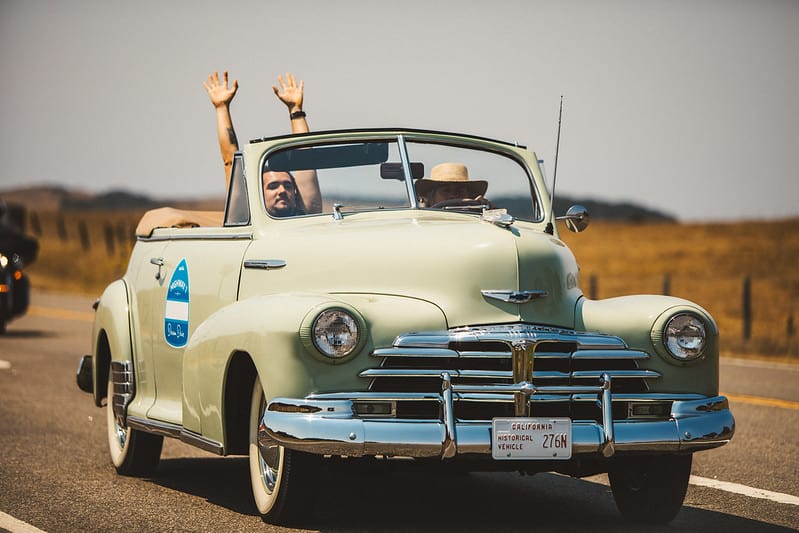 Highway 1
It's the journey, not the destination! When it comes to taking a road trip on Highway 1, you're bound to enjoy every mile along the
Read More »