Wherever you roam along Highway 1, the ocean never lies far away. In the 57 miles of coastline between Ragged Point and Nipomo, the Pacific Ocean defines the landscape. Half of these miles benefit from state and federal protection — more than any other stretch of coast in California. White bluffs and cliffs reach like fingers into the ocean along the north coast, while dunes tower over the beaches to the south. Among the rocks of our rugged shoreline, tidepools stand as tiny underwater worlds, begging to be explored. Here, anemones, urchins, crabs, and sea stars make their homes among mussels moss and barnacles. On plush, sandy beaches, look for hundreds of species of seabirds, from plovers and egrets to tattlers and turnstones. Many have a permanent home here, but others are among the billion birds that migrate along the Pacific Flyway. 
But birds aren't the only tourists to visit our friendly, scenic haven; several marine mammals pass through, too. The Piedras Blancas Elephant Seal Rookery is one of just a handful in North America, seeing up to 25,000 elephant seals annually. Further out, migrating whales pass through, feeding, birthing, and mating in waters alongside Highway 1. Dolphins, harbor seals, sea lions, and porpoises navigate these waters, too, and can easily be seen in and around harbors and coves. California sea otters often play wherever kelp beds sway, weaving in and out of these seaweed forests for food. The best part about all this wildlife activity is its accessibility for viewing by the public; here, anyone can witness sea life, any time of year.
Respect for the natural world is important for enjoying and sustaining the riches of California's Central Coast. Many of these habitats are fragile and can become unstable under too much human impact. To minimize your stamp on these precious creatures and their homes, read and practice our Wildlife Viewing Tips. And for information about tides — especially important for tide pooling — check our link to local tide tables along Highway 1.
When you fall in love with our sea life here, you'll want to do and see even more. That's where the Coastal Discovery Trail comes in. Track our itinerary of the best coastal locations, experiences and attractions across the Central Coast. Along the way, you'll visit beaches, preserves, parks, and historic locales that bring you closer to the heart of Highway 1. For more information, see the Coastal Discovery Trail Map on our Stewardship Travel for Good page.
Tide Times for Highway 1
Friday, Dec 8, 2023
| Tide | Time (PST/PDT) | Height |
| --- | --- | --- |
| High Tide | 6:29 AM | 5.24 ft |
| Low Tide | 1:30 PM | 0.88 ft |
| High Tide | 7:27 PM | 3.4 ft |
Tides measured at Port San Luis Harbor. Data provided by
noaa.gov.
Explore Sea Life along Highway 1
Seal Viewing
Depending on what time of year you visit the Piedras Blancas Elephant Seal Rookery, you may find adult males, females or pups. Each of these lives at the rookery at some point during the year, but the population varies greatly from season to season. Generally speaking, early winter is a great time to see adult males and females arriving, followed by birthing at its peak in late January. Mating and bull fighting continue through Valentine's Day, after which most adults leave. Pups remain to explore and begin to swim. Adults return to molt April through August, and September and October mark the "fall haul-out," when all elephant seals leave the beach. The viewing area at the rookery is just steps away from the beach where the elephant seals lay. Watch the drama of nature's life cycle unfold before your eyes; this beats a good soap opera any day!
While elephant seals cruise in and out of the Central Coast, harbor seals and sea lions live here year-round — in particular, around the Morro Bay National Estuary. Sea lions like to rest on docks and boats, which can be dangerous if boaters and other people need to get past them. With that in mind, the City of Morro Bay set aside a floating dock in the forebay just for sea lions. In so doing, they've helped keep both the sea lions and people safe. To see these happy sea lions on their floating dock, visit the wildlife viewing station at the Estuary Nature Center. Sea lions and harbor seals also hang out beneath the Harford Pier in Avila Beach, where spectators watch them bark, eat and lounge. Find them on the lower level of the pier, closest to the water's surface. TIP: Can you tell the difference between a sea lion and a harbor seal? The key to look for is an ear flap. If you can see the creature's ear flap, it's a sea lion. Otherwise, if you can't see it, you're looking at a seal.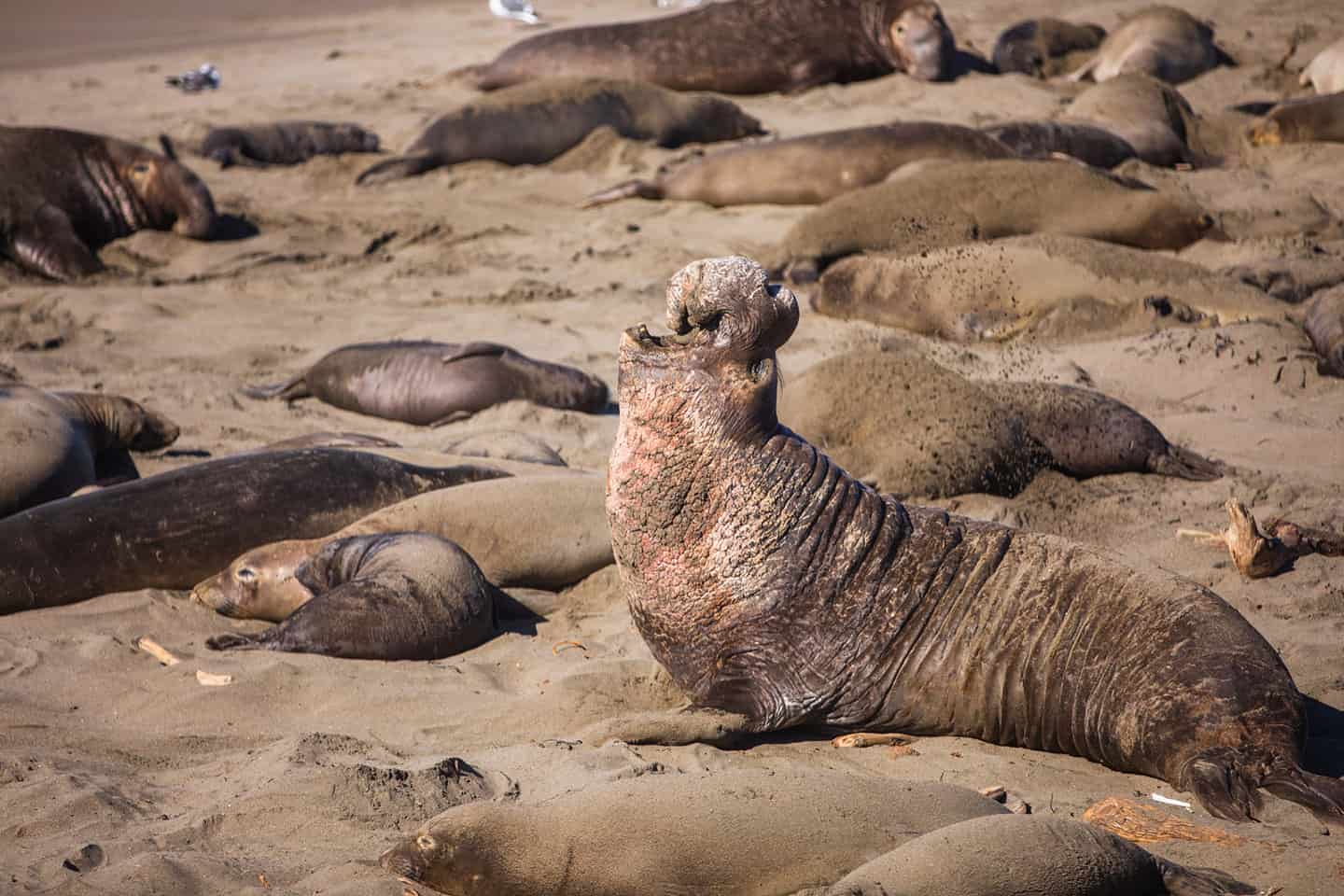 Otter Spotting
While all sea life inspires wonder along our stretch of Highway 1, no creature has more fans than the Southern Sea Otter. Playful, furry, and intelligent, sea otters have become symbolic of the sea life along California's Central Coast. Their whiskery muzzles and white faces endear visitors and locals alike to them. In person, it's easy to find and watch sea otters as they hold their young, dive below the surface and crack shellfish on their belly. You just have to know where to look.
Find sea otters mostly in protected bays and coves, among the kelp seaweed that sways just offshore. The Morro Bay inlet is one such habitat, especially visible along the Embarcadero and in the Estuary. Also try otter spotting from piers in Baywood, Avila Beach (Harford Pier), and W.R. Hearst Memorial Beach in San Simeon. Or hike along the Bluff Trail in Montana de Oro State Park, the Boucher Trail in San Simeon, or Estero Bluffs in Cayucos. Each of these trails winds past prime sea otter viewing spots, as does the Moonstone Beach Boardwalk in Cambria, as well.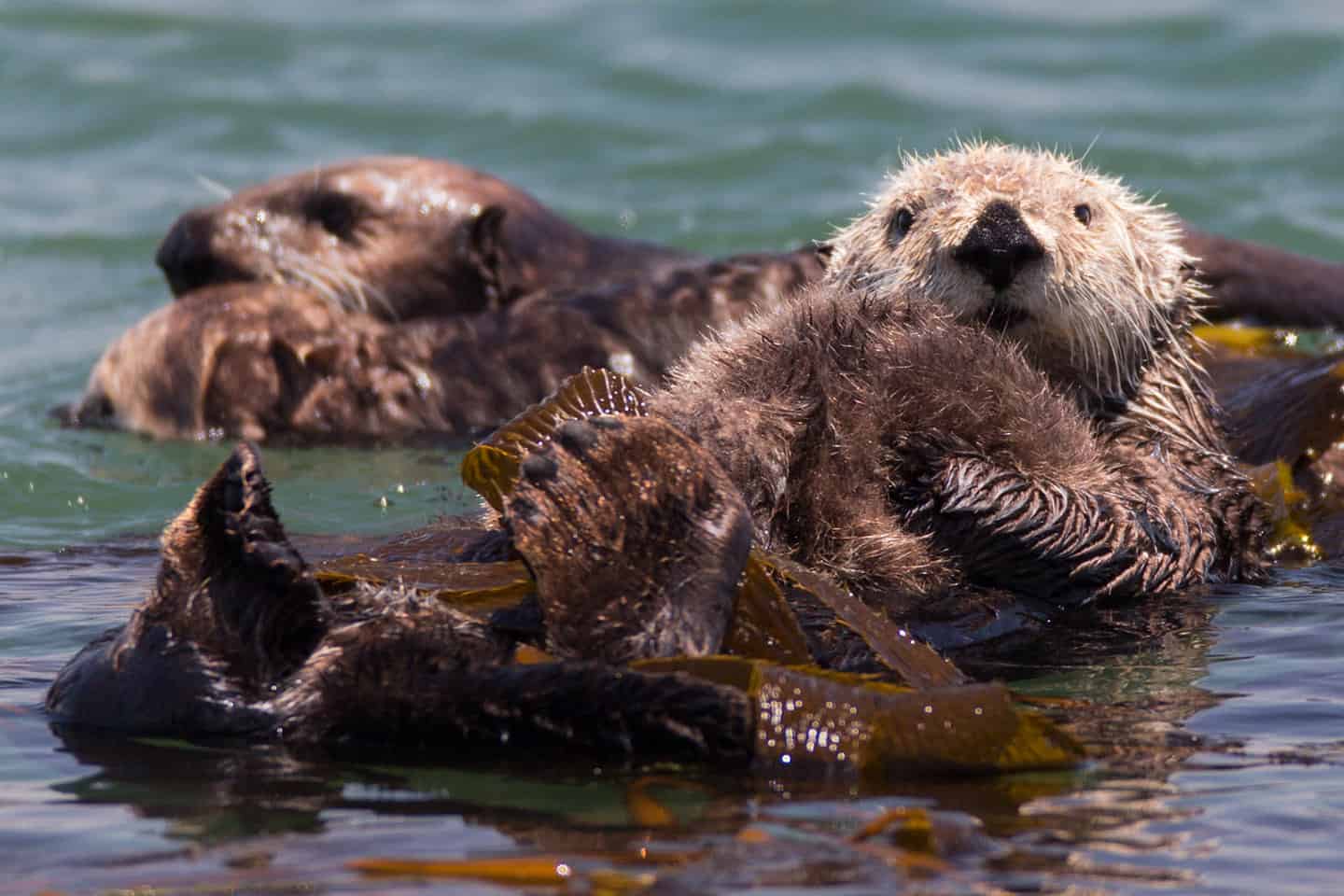 Whale Watching
This section of Highway 1 is particularly fortunate to see so many whales pass by offshore. From migrating grey and blue whales to humpbacks, minkes, and even the occasional orca, this stretch of coastline makes for great whale watching. In fact, the Whale Trail organization identified more prime whale viewing sites in San Luis Obispo County than any other in California. Ten of those lie along Highway 1: in Oceano, Avila Beach, Cayucos, Cambria, and two in San Simeon.
To enjoy these perfect spots for spying whales, make sure to look for the Whale Trail interpretive sign. This will point out identifying characteristics of whales moving out to sea, as well as facts about which species travel through and when. Whale Trail signs also highlight other marine life, including seals, sea lions, dolphins and otters, as well as interesting tidbits about each species. The goal is to inspire appreciation and stewardship of whales and the marine environment for generations to come. Additionally, check out any number of whale watching tours being offered from guides up and down the coast, as well.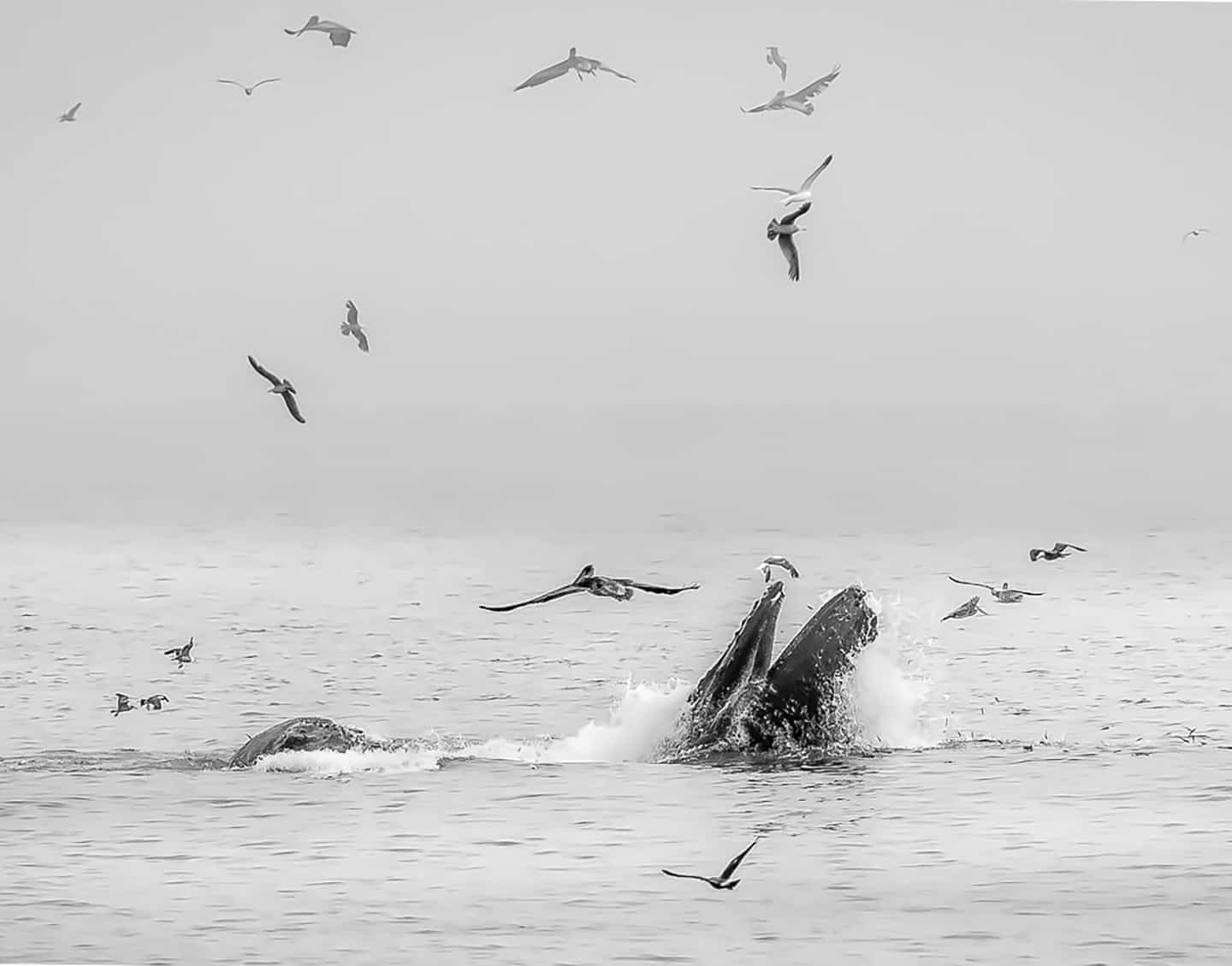 Bird Watching
The Central Coast offers some of the world's best birding thanks to a mild climate and proximity to the Pacific Flyway. 467 species have been sighted here, including the peregrine falcon, barn owl, and bald eagle, plus smaller birds like wrens, swallows and plovers. Access to see these species, as well as many, many more, depends on your location, time of year and time of day. Much of our stretch of Highway 1 lies just beneath the Pacific Flyway. This is the north-south migratory path for birds between seasons. Here on California's Central Coast, the best time to witness the largest volume of birds is in winter. This is when birds large and small stop over to take advantage of our hospitable climate. The Morro Bay Winter Bird Festival makes the most of this opportunity each January with 140 tours, workshops, field trips, presentations and more.
But if you can't visit in winter, no problem; bringing your binoculars to the Central Coast is always worthwhile. Head to Baywood, which is considered a Globally Important Bird Area, or the Oceano Dunes by Oso Flaco Lake. Both of these spots promise great finds you'll remember long after your vacation ends.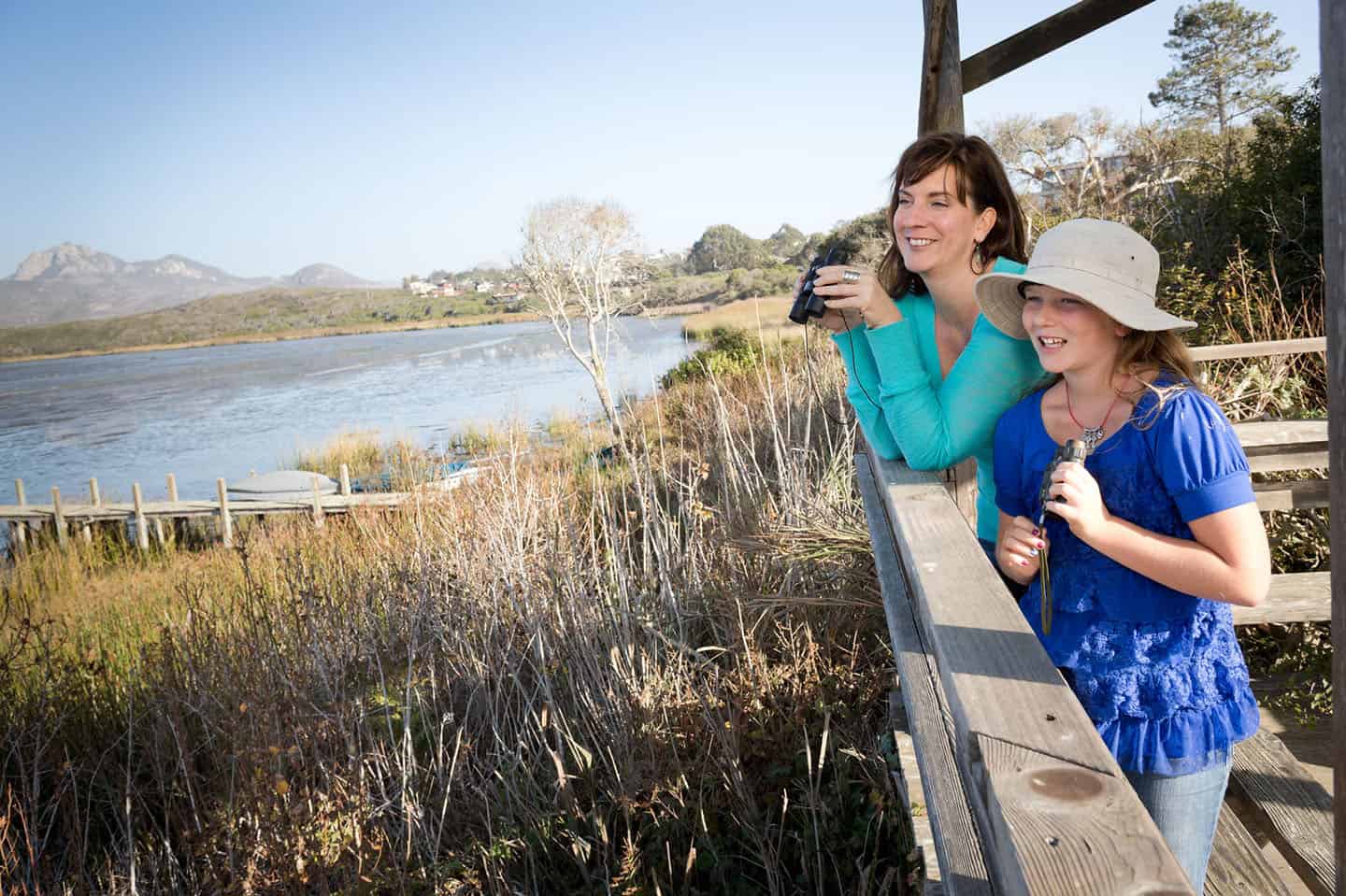 Tide Pools
A Travel for Good reminder:  
Many of these habitats are fragile and can become unstable under too much human impact.  To minimize your stamp on these precious creatures and their homes while visiting, walk on bare rock to avoid crushing fragile tide pool animals, and keep away from seaweed – it's slippery! Please do not pick up animals – just observe, leave tide pool critters in their natural home.
Tide Pools of San Simeon
Ask any local child about their favorite excursion near the coast, and they'll likely say tide pooling! Tip-toe-ing among the tidepools of the Pacific coastline is one of the best ways to get up close and personal with sea life. Everywhere you crouch, treasures come alive. Witness hermit crabs scuttling, anemones opening and closing, seaweed swaying and sea stars quietly creeping. 
In San Simeon, the beaches north of the Piedras Blancas Light Station are home to plenty of interesting tide pools. Inhabitants can include hermit crabs, several types of anemones, and urchin. (Look for luxurious kelp beds offshore here as well, as sea otters can often be found in their leaves.) Another ideal tide-pooling spot is on the north end of W. R. Hearst Memorial Beach. At low tide, look for sea stars, limpets, barnacles, chitons, and turban snails.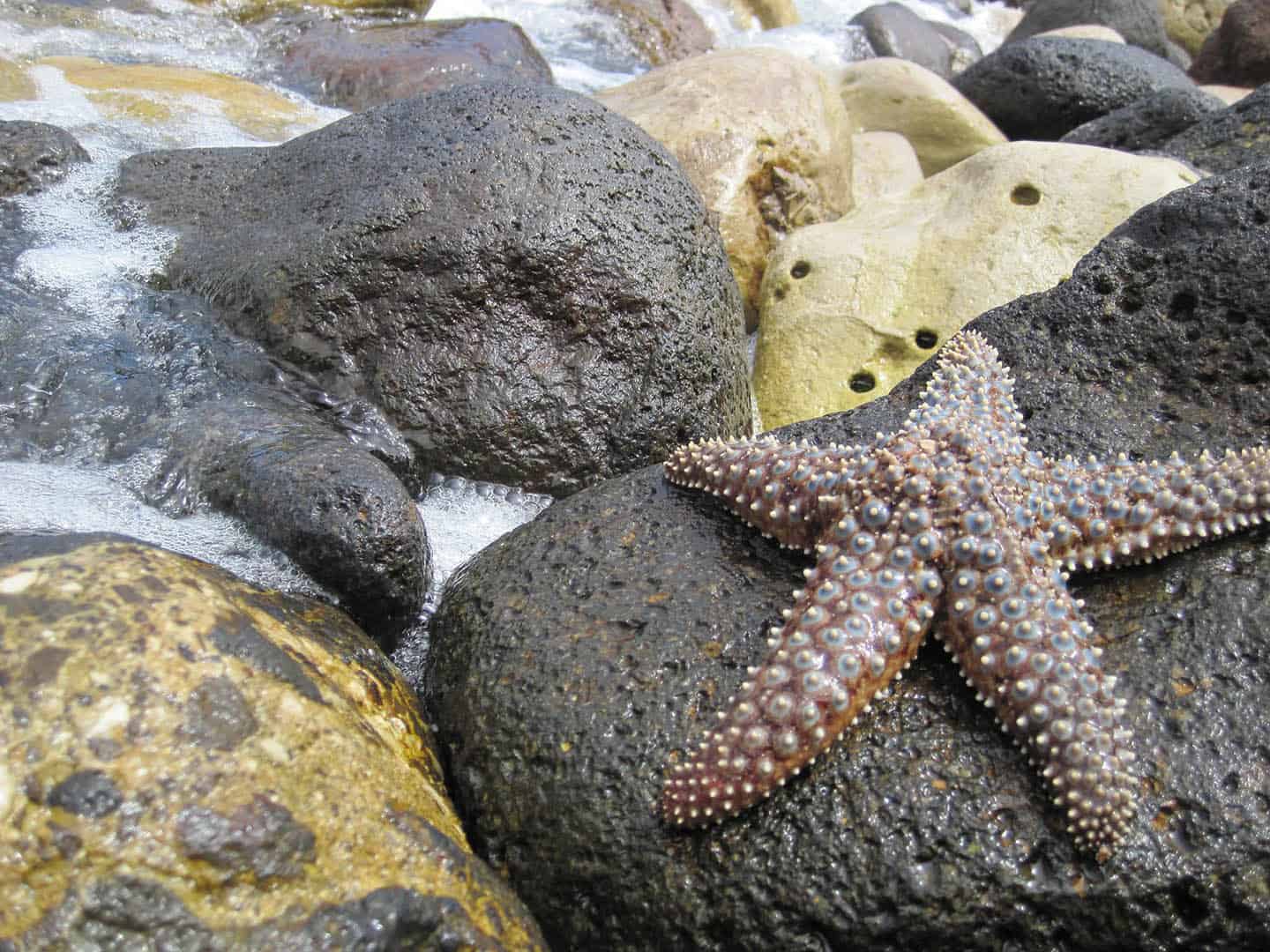 Tide Pools of Cambria
Cambria boasts a couple of ideal places for exploring tide pools. Make sure to check the tides to ensure that the tide is low, as shallow waters offer the best viewing experience. At Leffingwell Landing, find mussels and barnacles clinging to the large rocks in the most exposed sections. (Check the sides of the surge channels to see up to six different kinds of limpets, potentially.) Otherwise, less-exposed areas may offer sea anemones, limpets, snails and crabs, as well as larger barnacles and algae.
Tide pooling is also popular in and around Moonstone Beach in Cambria, particularly at its northern end. In addition to limpets, periwinkle snails, anemones, mussels and gooseneck barnacles, you'll also find excellent beachcombing here. Take your time hunting for moonstones, interesting driftwood, and sea glass as you walk up the beach to the tidepools. This is also a beautiful spot for a picnic or a walk along the Moonstone Beach Boardwalk.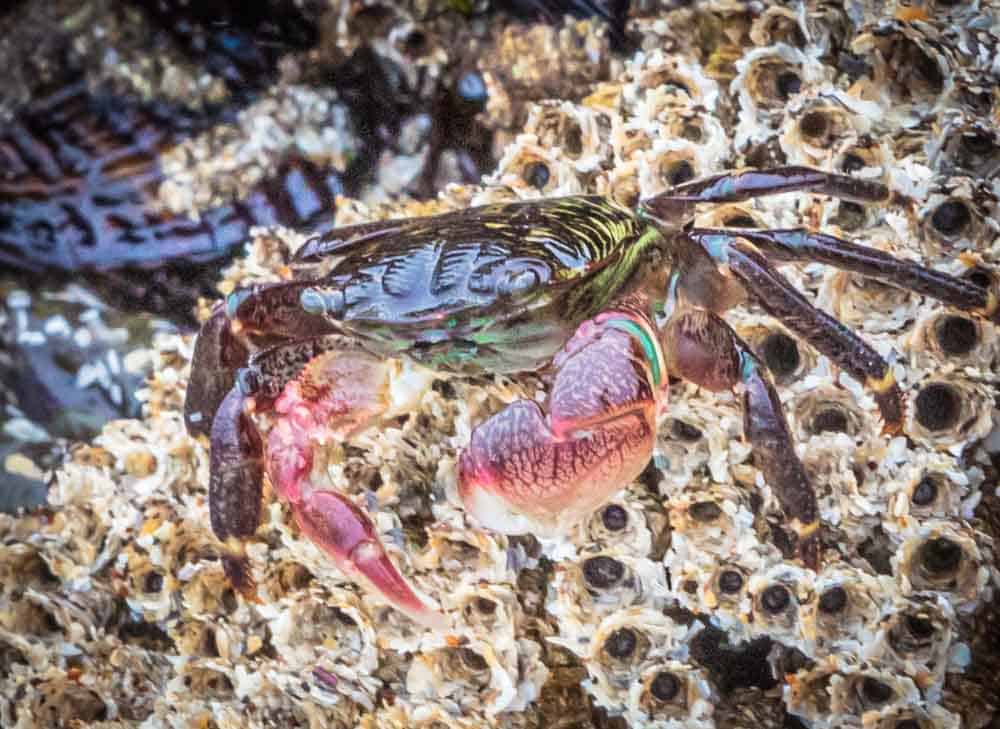 Tide Pools of Cayucos
Cayucos State Beach is a locals' favorite beach that showcases amazing tide pool locations for visitors to explore. These tide pools are located at the base of a long stretch of bluffs and headlands just to the north of the town of Cayucos. There, find large exposed rocks with high wave action along with lots of calmer water. Plenty of barnacles, mussels and limpets live in the more wave exposed areas. The calmer waters are home to algae, sea anemones, hermit crabs and snails.
Further north, a series of tidepools stand beneath the Estero Bluffs network of trails. Take these trails west to the shoreline, and search for all manner of small sea life, from ochre sea stars to rough limpets. Crab dens tuck away between large rock sheers, housing purple shore crabs and black turbans. Beautiful networks of kelp, kombu, rockweed, and sea lettuce also make this a popular spot for seaweed foraging.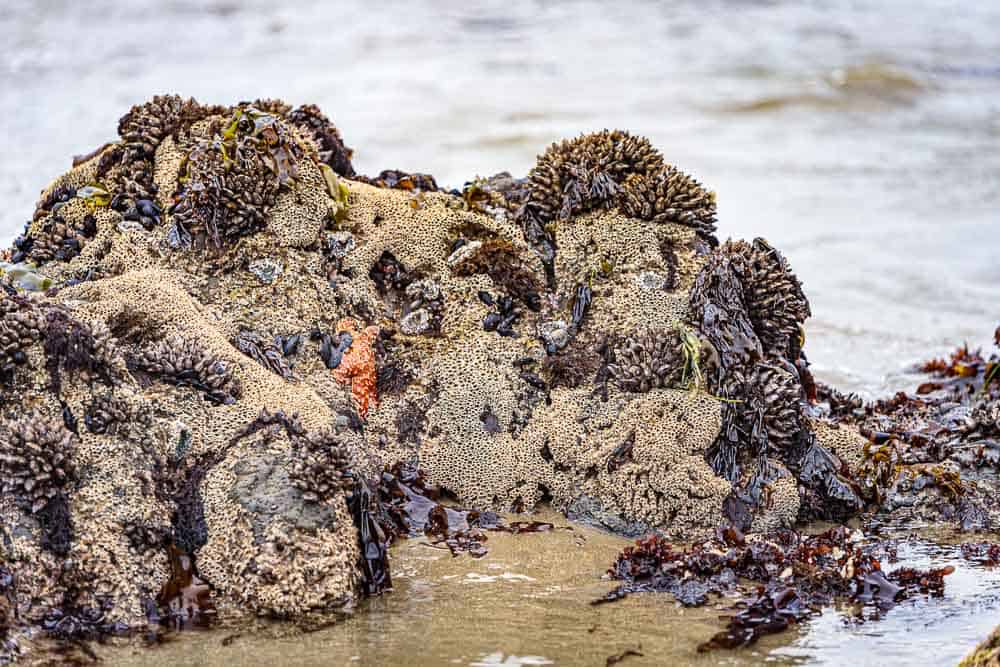 Tide Pools of Montana de Oro 
With 7 miles of coastline, this state park is a tide pooler's dream. While the park boasts several wonderful places to tide pool, the easiest and most accessible is Spooner's Cove. Here, rocks and channels house snails, limpets and barnacles, especially visible at low tide. In the shallowest and most protected tide pools, look for anemones, crabs and other smaller creatures.
Another reliable tide pooling spot is at the end of the Hazard Reef Trail, which ends at the rocky shore. Crabs are especially plentiful here, as are anemones, mollusks, sea stars, and other treasures. Likewise, Corallina Cove hides orange, yellow and purple sea stars, turban snails and green sea lettuce among its crevices. These are some of the most fruitful tide pools along Highway 1, teeming with life and accessible just beyond the roadway. Tiptoe along the ridges of rocks, developed there over thousands of years, and discover the many creatures that call them home.