When it comes to old-fashioned fun and farm-fresh flavor, the Avila Valley Barn fits the bill. Once a tiny fruit stand, the Avila Barn now offers a petting zoo, hayrides, gift store, sweet shop and bakery. No matter their age, visitors and locals alike choose the Avila Valley Barn for a cozy, down-home good time, all year long.
History of the Avila Barn
Settled in a leafy valley, the Avila Barn started with a table and umbrella for selling fruit and veggies to passersby in 1985. Over time, the farmstand grew, little by little, to include a barn, bakery and sweet shoppe, petting zoo, gift shop, and deli. Today, the Avila Valley Barn attracts thousands of visitors with its sweet country charm, in addition to the fresh produce of its humble beginnings. The Avila Barn is open year-round, 9 AM to 6 PM daily.
Avila Pumpkin Patch and U-Pick Produce
What can compare to the pleasure of picking your own peaches and apples from the tree? Of berries and pumpkins plucked right off the vine? At the Avila Valley Barn, the whole family is invited for U-Pick fruits and veggies. Depending on availability, the Avila Barn offers cherries, berries and stone fruits from May through October, and apples and pumpkins in the fall. Whether your produce comes from the barn shop or straight from the field, Avila Barn fruits and veggies are always fresh and flavorful.
Explore the Avila Valley Barn
Farm Animal Petting Zoo
Who doesn't love a petting zoo? Kids of all ages can get up close with a variety of animals, from goats, ducks and chickens to llamas, emus and peacocks. Purchase a bag of lettuce and watch your little ones make friends with the goats and giggle at their nibbles. They can pet the ponies, sheep, cows, and (if they're lucky) maybe even a barn cat or two.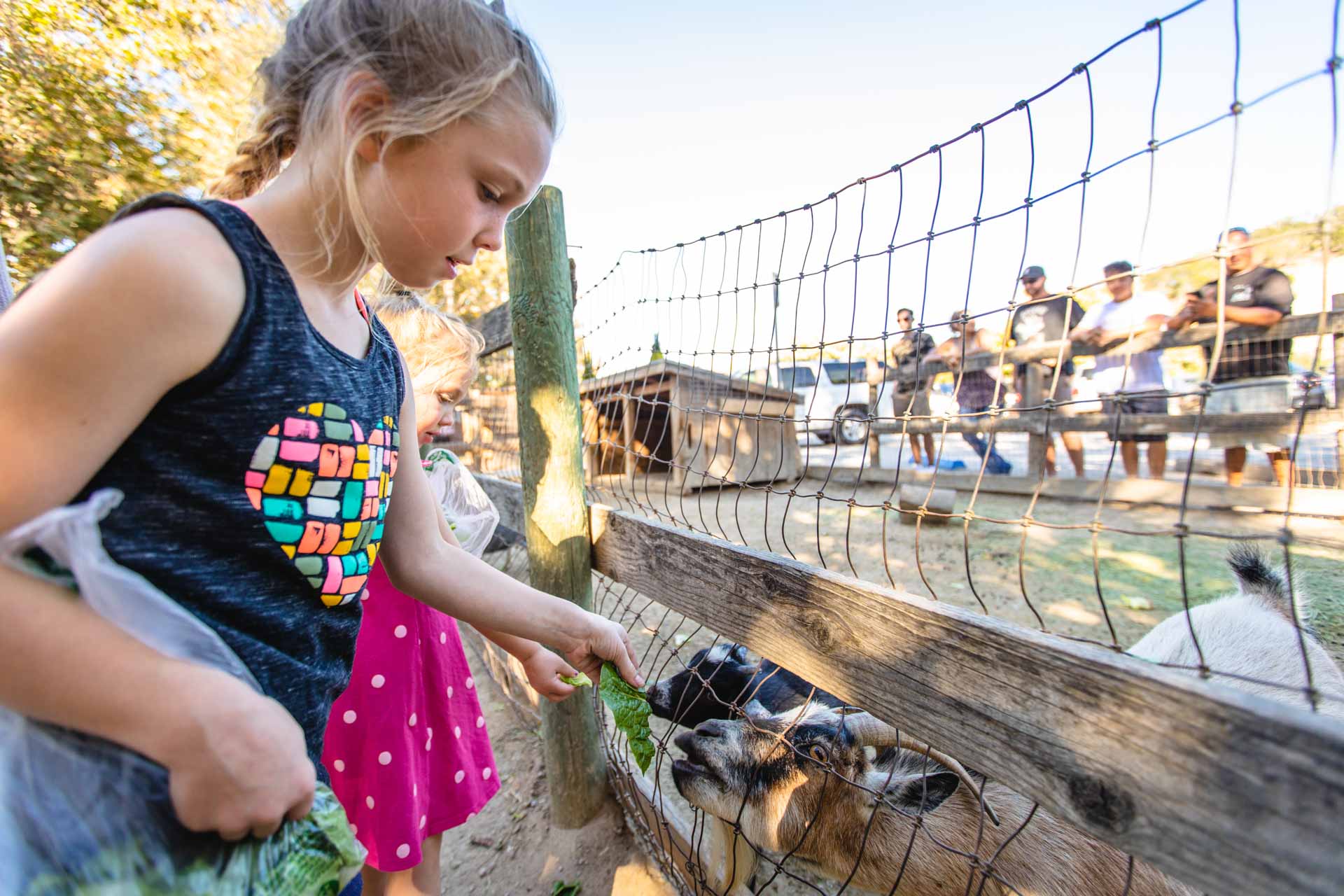 Tractor Rides
Climb aboard the Avila Valley Barn wagon for an adventure on the farm! Throughout the year, Avila Barn tractors mosey from farmstand to field, bringing visitors out for U-Pick― or just a pleasant ride. Enjoy views of the beautiful Avila Valley from the trailer, then pick your own produce and munch on the fruits of your labor.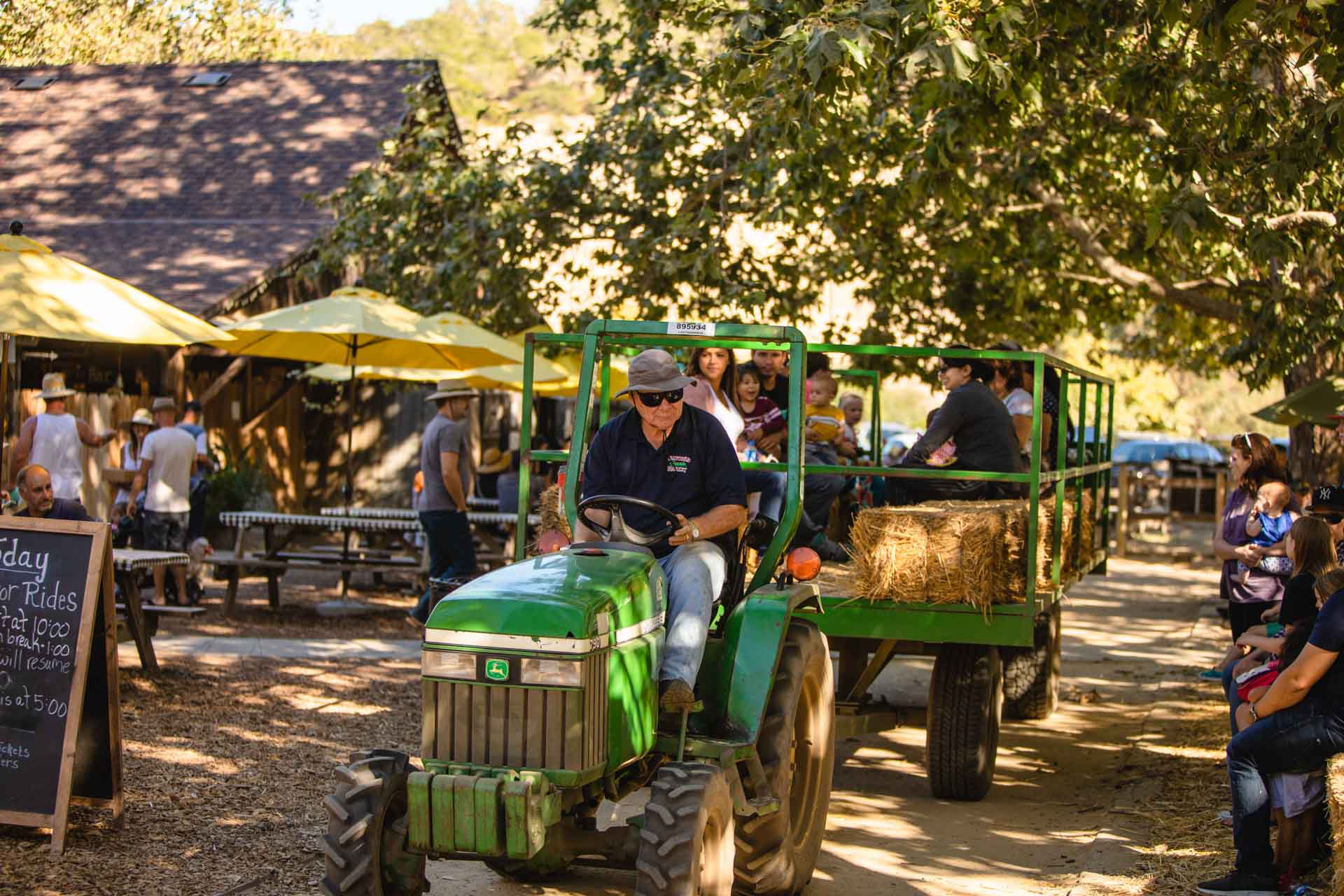 Avila Valley Farm and Market
The Avila Barn provides visitors with a full farmstand experience, including a country market stocked with pantry goods and thoughtful gifts. Check out the market's cookbooks, kitchen gear, spices, jams, and jellies, as well as candies, pies, breads and turnovers. In the fall, take home several varieties of apples and Avila Valley's famous apple cider. Cut flowers, plants, and garden pottery will delight gardeners and garden-lovers, while old-fashioned toys and books enthrall children of all ages.
Avila Valley Country Bakery
Putting all that farm-fresh fruit to good use, the Avila Barn bakery produces pies, turnovers, and other baked goods throughout the day. Pick up cookies, quick breads, cobblers, crisps, muffins and cinnamon rolls, or take home one of their par-baked apple pies to finish in your own oven.
Avila Valley Farmhouse
Creamery and Sweets
Got a sweet tooth? Walk into the Avila Barn Sweet Shop and find plenty to satisfy it! This old fashioned sweets parlor features a wide variety of ice creams, fudge, and barrels of candies. Ice cream is made by SLO Maid Ice Cream, and includes seasonal flavors like Apple Strudel, Caramel Apple, Cinnamon Cream, Eggnog, and Pumpkin. Try the shop's giant crisped rice treats, nut rolls, brittles, honey combs and truffles, or its varied selection of salt water taffies and retro candies.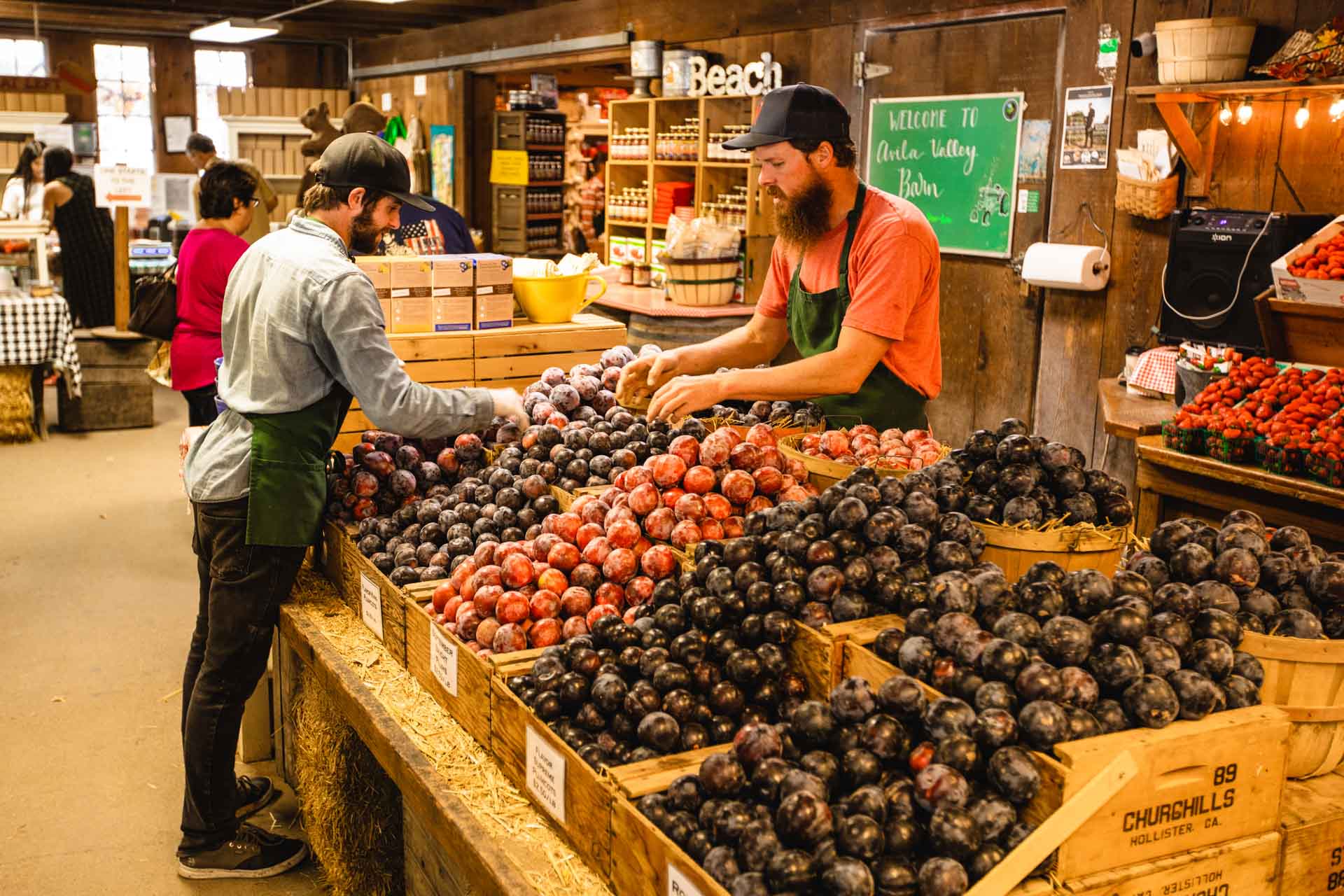 WHAT TO EAT
On weekends during high season (eg April through October), the Avila Valley Barn offers smoked tri-tip sandwiches and their famous roasted corn. Other available items can include salads, sandwiches, and smoked brisket.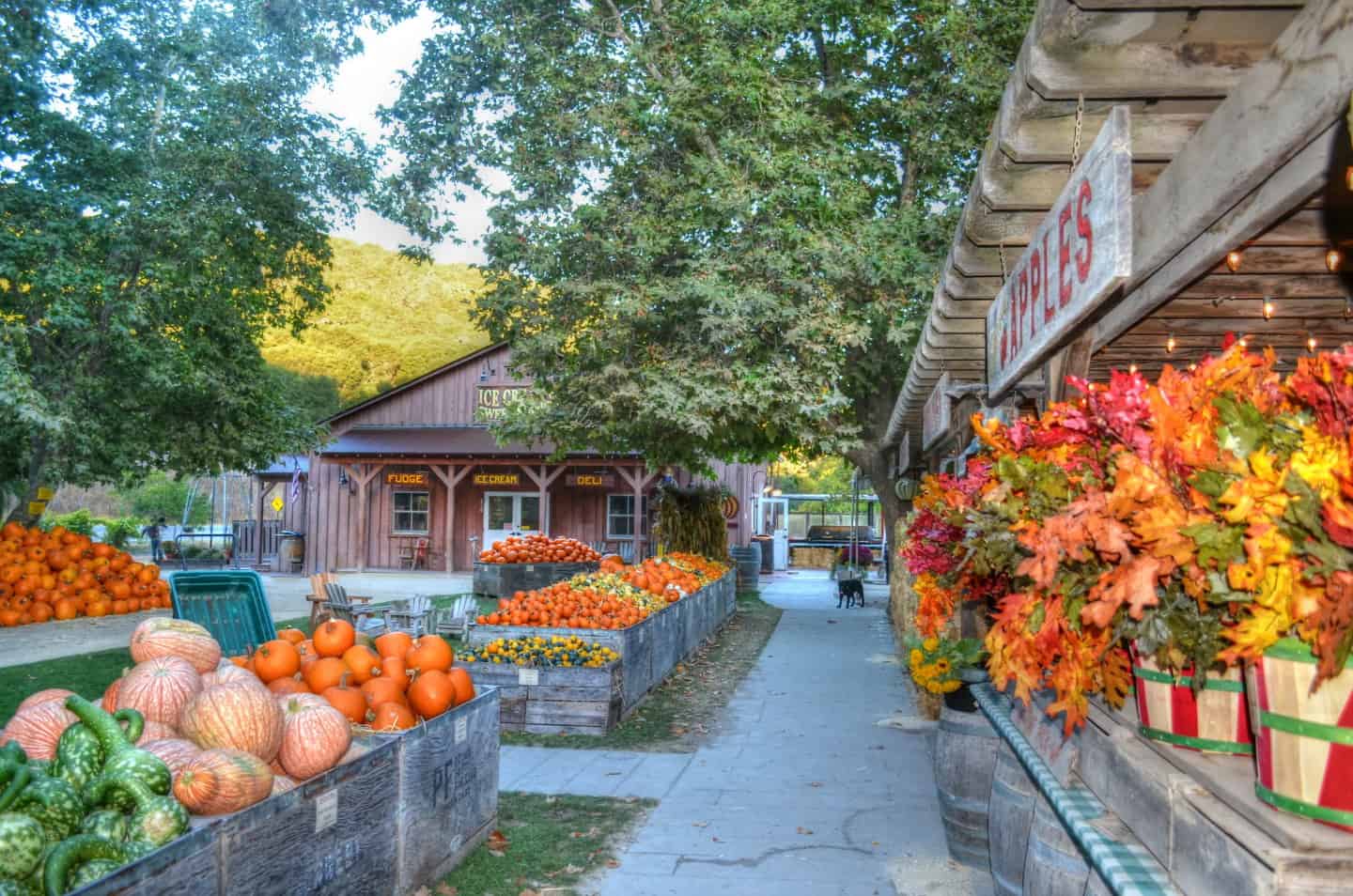 What's nearby
Pier
One of the country's last driveable piers, the Harford Pier (now Port San Luis Pier) was built by John Harford in 1868. At the time, the 1,320-foot pier pier was used for exporting San Luis Obispo County products. A narrow gauge railroad to the pier was constructed, which eventually became part of the Pacific Coast Railroad. Today, the pier offers restaurants, a fish market, fishing (no license required!) and plenty of wide ocean views.
Apple and Cider Tasting
Looking for a taste of Avila Beach? Nearby See Canyon is known for its historic apple orchards and picturesque roadway beneath a canopy of trees. Throughout the year, taste hard cider (as well as wine) at the Kelsey See Canyon Winery. Or, during the fall months, drive out to the See Canyon Fruit Ranch or Gopher Glen Apple Farm to taste ciders and multiple apple varieties.
Downtown Avila Beach
This quaint beach town is known for its boardwalk and shopping and dining options that line it, just steps from the sand. Boutique apparel and gift stores, small wine tasting rooms, and a wide range of restaurants make this a destination worth visiting.
Aquarium
The Central Coast Aquarium provides exposure to sea life through multiple in-house exhibits, touch tanks, and educational programs. Home to 75 species of San Luis Obispo County marine life, the CCA advocates for the health, diversity and cleanliness of local waters.
This pleasant "city-to-the-sea" pathway offers a 3-mile round-trip trail through leafy sycamore and oak trees to the ocean. Park near the Avila Barn, then walk, run, or ride your bike over easy terrain into the town of Avila Beach.
Trolley
Take the charming Avila Beach Trolley for free from the Avila Barn to Port San Luis, the Bob Jones Bike Trail, and other attractions. The trolley also travels a scenic route to Shell Beach and Pismo Beach lodging properties, and runs on Friday nights for the popular Avila Beach Farmers' Market. The trolley runs Saturday and Sunday in spring and fall, as well as Thursday and Friday during the summer.