Ready to relax? Tranquility and wellness are a way of life along our stretch of Highway 1. In addition to beaches, hiking trails, surf spots, and vineyards, Highway 1 boasts destination-worthy spas, therapeutic massage, and health-promoting centers. Yoga, acupuncture, meditation, sound baths, facials and more can help optimize your health, de-stress, look and feel your best. Maybe your goal is to enjoy a treatment like a hot stone massage or botanical facial as part of your vacation. Whatever your preference, you'll find plenty of styles, modalities and options here. Maybe you're looking to heal after an injury, or process grief in the wake of a loss. Our section of Highway 1 offers a gentle place to do so under the care of skilled and knowledgeable professionals. Additionally, hot springs, shops that cater to wellness, nurseries and community gardens provide tranquil settings.  Here, allow the natural landscape, vast Pacific coastline and uncrowded open spaces that are so common here set the tone for your wellness journey.
Discover Relaxation Along Highway 1
Spa & Massage North of Ragged Point
Just through the "Gateway to Big Sur," the Post Ranch Spa is part of the famed Post Ranch Inn. The on-site spa offers soothing body treatments like therapeutic, Thai, prenatal, lymphatic and reflexology massage. Additionally as part of the spa experience, Post Ranch Spa provides guides for calming meditation, invigorating private hikes and energizing yoga classes. Other services are inspired by traditions of local history and community. These include opportunities for spiritual exploration like shaman sessions, drum journeys, and herbal spirit journeys. Guests can also engage in intuitive healing with guidance in astrology and energy balancing. Beyond the spa, Post Ranch Inn provides the ideal setting for private reflection and relaxation. Mindfulness meditation, walks in the forest, and yoga are all encouraged here, whether in the care of a guide or enjoyed independently.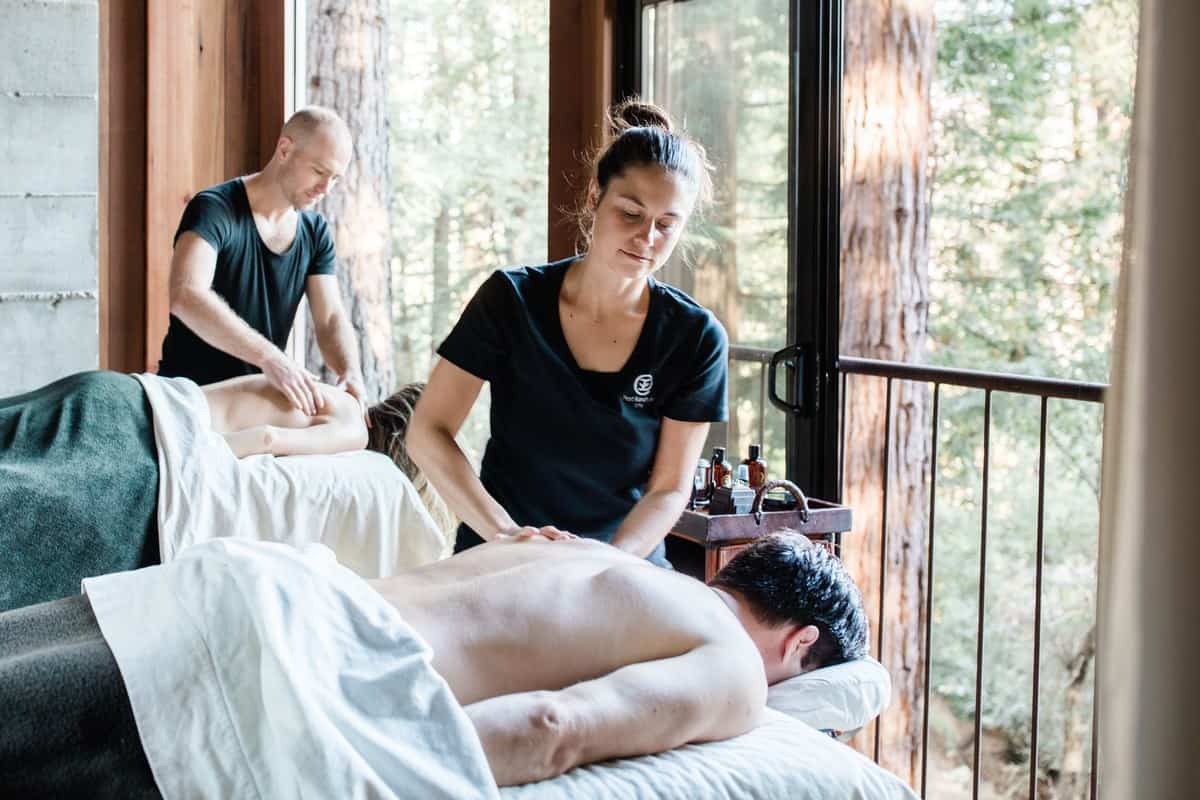 This soothing day spa lies in the Plaza Del Cavalier, located midway between the entrance to Hearst Castle and Cambria on Highway 1. Treatments here include customized facials performed with Eminence Handmade Organic Skin Care products, plus peels, microdermabrasion, make-up application, and waxing services. Massage therapists blend modalities to provide treatments that rejuvenate and restore. Opt for Swedish, hot stone, aromatherapy, reflexology and prenatal massage. Deep-tissue massage is also available as an add-on option. Diva Day Spa also offers hair care for men, women and children, including cuts, color, styling and more. The quiet natural beauty of San Simeon sets the tone here, with the spa's neutral colors, peaceful music and expert aestheticians. And don't miss this tip: Diva Day Spa is an easy choice for services on your wedding day in San Simeon. Consider planning your massage, facial, hair and makeup treatments just steps from San Simeon State Beach.
This spa shares its Tuscan-style elegance with that of El Colibri Hotel, located just around the corner from the pretty shores of Moonstone Beach. Before your treatment, downshift by hunting "moonstones" at the beach, or stroll along the Moonstone Beach Boardwalk. Afterward, enter the hotel and head to the top floor, where The Nest Day Spa feels like a completely different world. Hushed tones, soft music, and candlelight define the space where expert therapists perform an array of massage modalities. Indulge in a restorative, relaxing Swedish massage, or target tension and tightness with the option for deep tissue work. Reflexology on the feet and hands can be added onto any massage treatment. Warm stone massage alleviates stress and inflammation, while aromatherapy further engages the senses. The spa also offers an outdoor Jacuzzi and two steam rooms to be enjoyed before or after any treatment. The Nest also provides separate bathrooms and showers for privacy and comfort.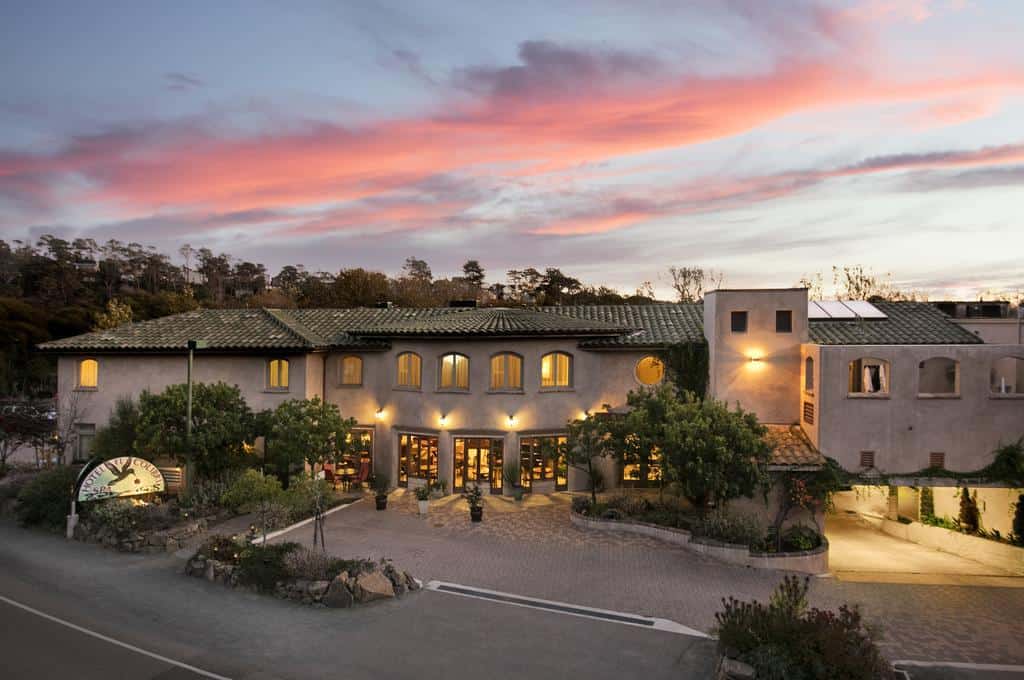 Named after Cambria's ethereal beach peppered with smooth "moonstones," this spa features a number of treatments for visitors. Owners Nancy and David Lackman are Certified Massage Therapists who have devoted their lives to the health and well-being of their clients. They specialize in a wealth of modalities. These include Swedish massage, reflexology, Lomi Lomi, deep tissue, Shiatsu, Reiki, and aromatherapy. They are also trained in Watsu Water Therapy, and provide an aquatic therapy pool at the spa for weightless workouts and rehabilitation. For hot stone massage, Nancy and David use locally-sourced jade stones — the only Cambria spa to do so. This treatment places warmed jade stones on tense points in the body, like the back, temples, and legs. The warmth releases tension in those typically tight spots throughout the massage for a thoroughly peaceful experience. Each treatment includes the use of 100 percent pure essential oils, and can include a foot massage at an extra charge. Moonstone Day Spa also performs side-by-side couples' massage for the ultimate romantic relaxation.
The Sojourn Healing Arts Center is located at Cambria Pines Lodge, the iconic property adjacent to Cambria's West Village. This day spa features massage and facial treatments to bring tranquility, alignment, and balance to each body. For 60 or 90 minutes, massage therapists perform traditional Swedish massage for individuals or side-by-side for couples. Each massage treatment comes with hot stone therapy, aromatherapy, and a warm facial compress. Treatment rooms have open (yet thoroughly private) windows to access Cambria's refreshing sea breeze. Facials are customized for each client to cleanse pores, hydrate, lift and firm. Performed by a licensed esthetician, each facial features products from Yonka of Paris and Glo Therapeutic, with aromas of geranium, cypress, rosemary, lavender and thyme. These products are formulated with concentrated organic botanicals that have been used for centuries for their therapeutic and medicinal benefits. A 60-minute facial includes a neck and foot massage, while a 90-minute facial includes a massage of the back, neck, shoulders, hands and feet. Sojourn Spa can perform facials for two, side by side, as well.
A whimsical and contemplative place, Spellbound is a gift shop and garden in the heart of Cambria's West Village. The shop occupies one of the oldest buildings in historic Cambria, a homestead from the 1870s. The rooms and interior remain much as they were over a century ago, and encourage rambling through the house. Enjoy the sounds of wind chimes in the breeze, the aroma of herbs and botanicals, and the sight of cheeky gnomes and fairies throughout. Spellbound offers a wealth of products to heal and delight the body, mind and soul, with bath salts, essential oils, massage oils, and candles. Peruse books on subjects as varied as natural and alternative medicine, aromatherapy, and angels. Spellbound boasts one of the most extensive selections of fairy house items on the Central Coast. Choose from a selection of miniature buildings, tree doors, gardens, and figurines to create a tiny wonderland for your own woodland sprites. Need inspiration? Check out the fairy garden outside, as well as "Alice's Tea Garden," complete with statuettes of the Mad Hatter and the White Rabbit. This is a fun, festive spot for the whole family to enjoy.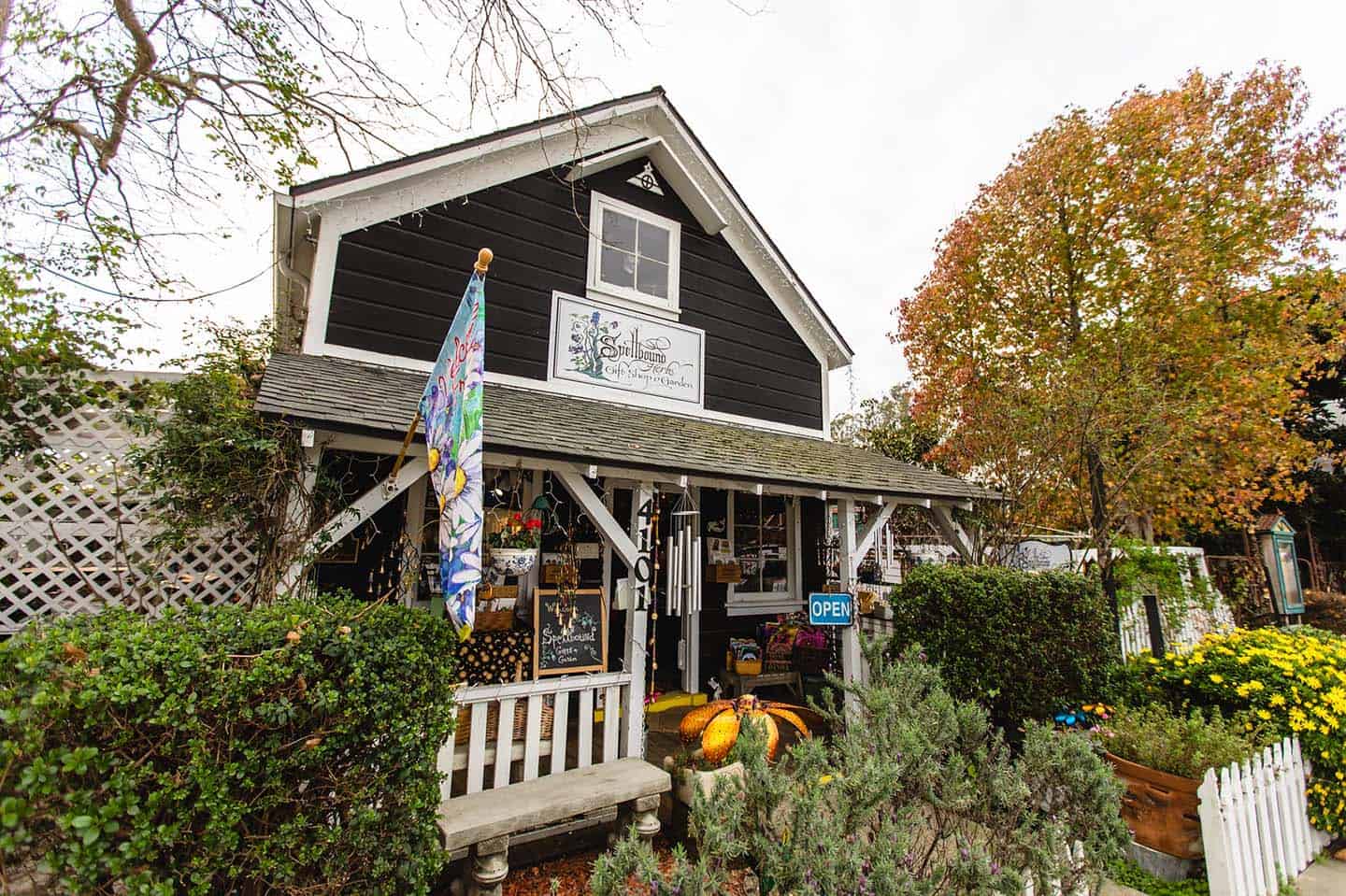 Cozy and quaint, this little tea shop in Cambria's West Village offers a selection of over 60 luxury and organic teas and tea blends. While Verde does provide white, green and black teas, the owners' specialty is herbal teas. Say the word, and they'll gladly stage a tea tasting for you, sharing instructions on how to brew, serve, and store their teas. You'll be surprised by the wide variety of flavors available, like Cherry Jubilee, Creme Brulee, and Lavender Rose, in addition to traditional varieties. In addition to teas, Verde sells specialty items for brewing your best cup, like kettles, tumblers, and loose-leaf tea strainers. They also feature a collection of raw local honey varieties to stir into your next cup of tea. Other items for enjoying life's quiet moments include lotions, soaps and body products, plus herbs and locally-made candles. Pick up a greeting card, jewelry and artwork to share with a friend — or bring it home for yourself.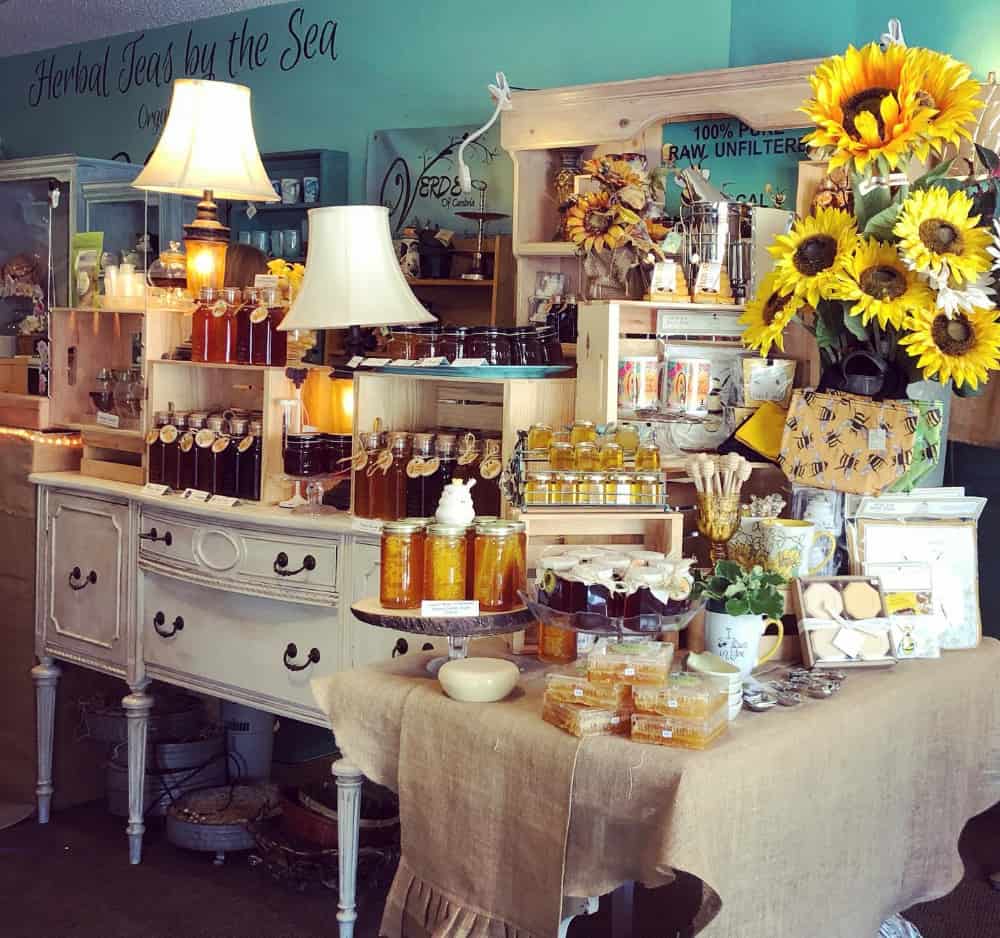 The menu at Illuminate Spa in Cayucos is long and varied, with a multitude of options for anyone needing a little TLC. Owner and lead therapist Naomi Wilkinson specializes in massage that blends Eastern and Western styles, as well as esthetician services. In general, Illuminate offers massage, facials, airbrush tanning, steam rituals, waxing and lashes. Each treatment begins with hot towels and a warm compress plus organic essential oils or crystal-infused flower essences. Therapists also use sore joint and muscle ointments and aura misters — plus, all guests receive a cup of tea or sparkling wine on arrival. Customer favorites include the Deluxe Facial with a signature facelift and "nano" lip, eye and face plumping treatment. The Himalayan Salt Stone Bliss massage is another favorite, featuring deep detoxification and exfoliation, pressure point foot massage, and anti-inflammatory salt stones. Mud, sugar scrubs, salt scrubs, foot and scalp reflexology, and couples massage complete the wide array of treatments. Illuminate Spa provides the perfect pampering destination for bridal showers, bachelorette parties, girl getaways, and more.
Wander down Ocean Avenue in Cayucos and you'll notice the beautifully restored Cass House, once the home of Cayucos settler Captain Cass. Today, the building houses the Cass House Inn and Grill, as well as the Mother Beauty Spa. Located just steps from Cayucos State Beach, Mother Beauty supports health and wellness through holistic facials and natural skincare. Owner Liana Moynier has provided facials with a massage focus since 2005, using expertise and human touch to rejuvenate her clients' skin. The treatment menu includes the one-hour Mother Beauty Signature Facial offers an alternative to harsh and aggressive methods with botanical skincare and massage. Fascia repatterning, LED light therapy, and exfoliation lift and hydrate the skin. Other treatments include The Melt Facial, which addresses tension and inflammation on and around the face, such as acne, teeth grinding, and headaches. Red Light Therapy, Microcurrent Lifting and Toning, and Dien Chan Zone Facial Reflexology are on offer, as well. Check out the boutique where Liana sells handmade soaks and a variety of other skin care products.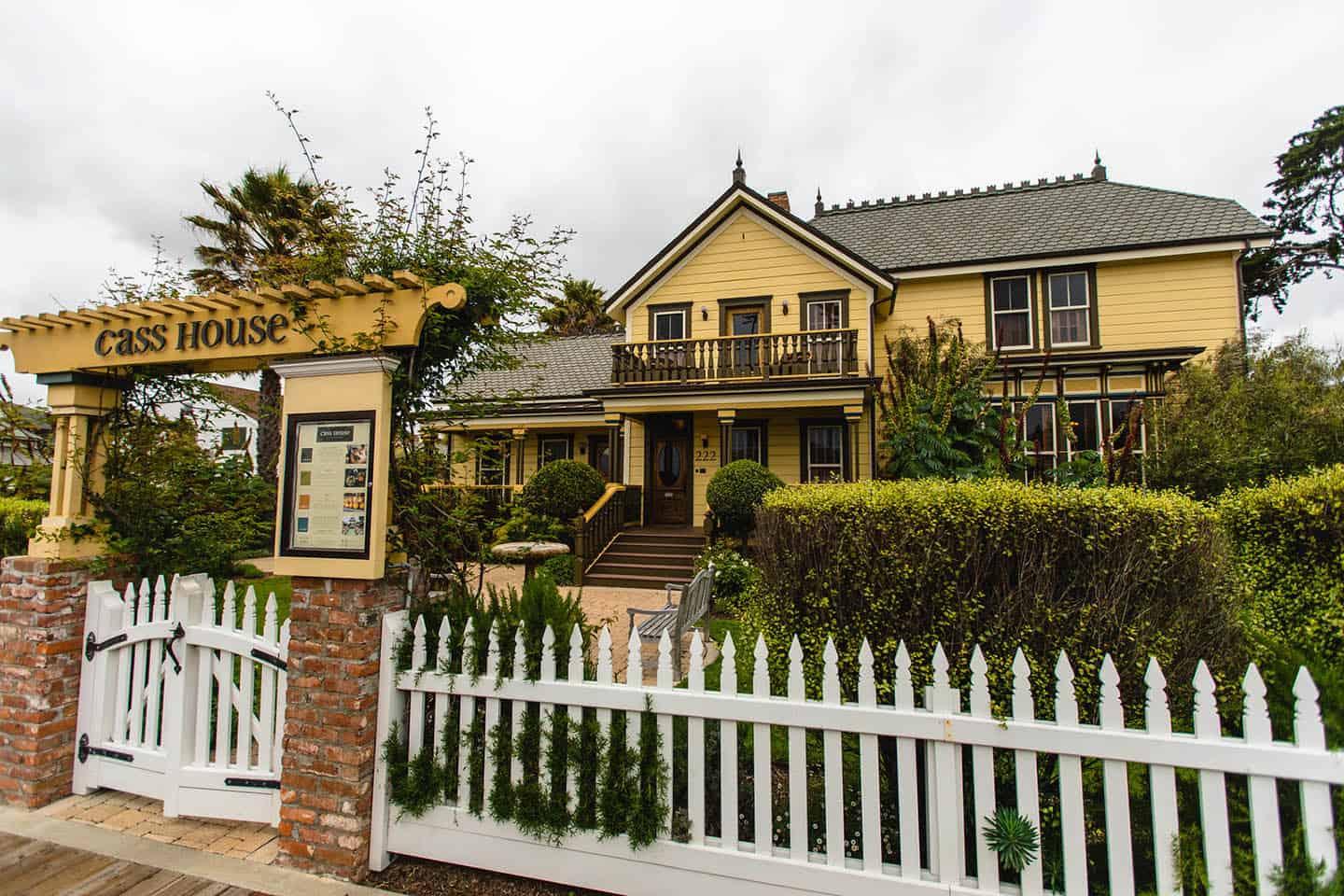 This aptly-named spa area resides at the Sea Pines Golf Resort in Los Osos, just a few minutes from Montana de Oro State Park. Take a hike, cycle, or ride the trails of one of California's largest and most diverse state parks before relaxing at Tranquility Spa. Indulge in a warm-water soak in the Tranquility Spa at Sea Pines Golf Resort, surrounded by tropical foliage. Los Osos-Baywood Park is known for its peaceful surroundings, towering eucalyptus trees, and birdsong. The Tranquility Spa makes the most of it all with chaises longues for relaxing in before, after, or between dips in the water. Reserve the Tranquility Spa by the hour — especially after a round or two of golf at Sea Pines. Feel your tense muscles soften with help from the spa jets and water set to the perfect temperature for a soothing soak.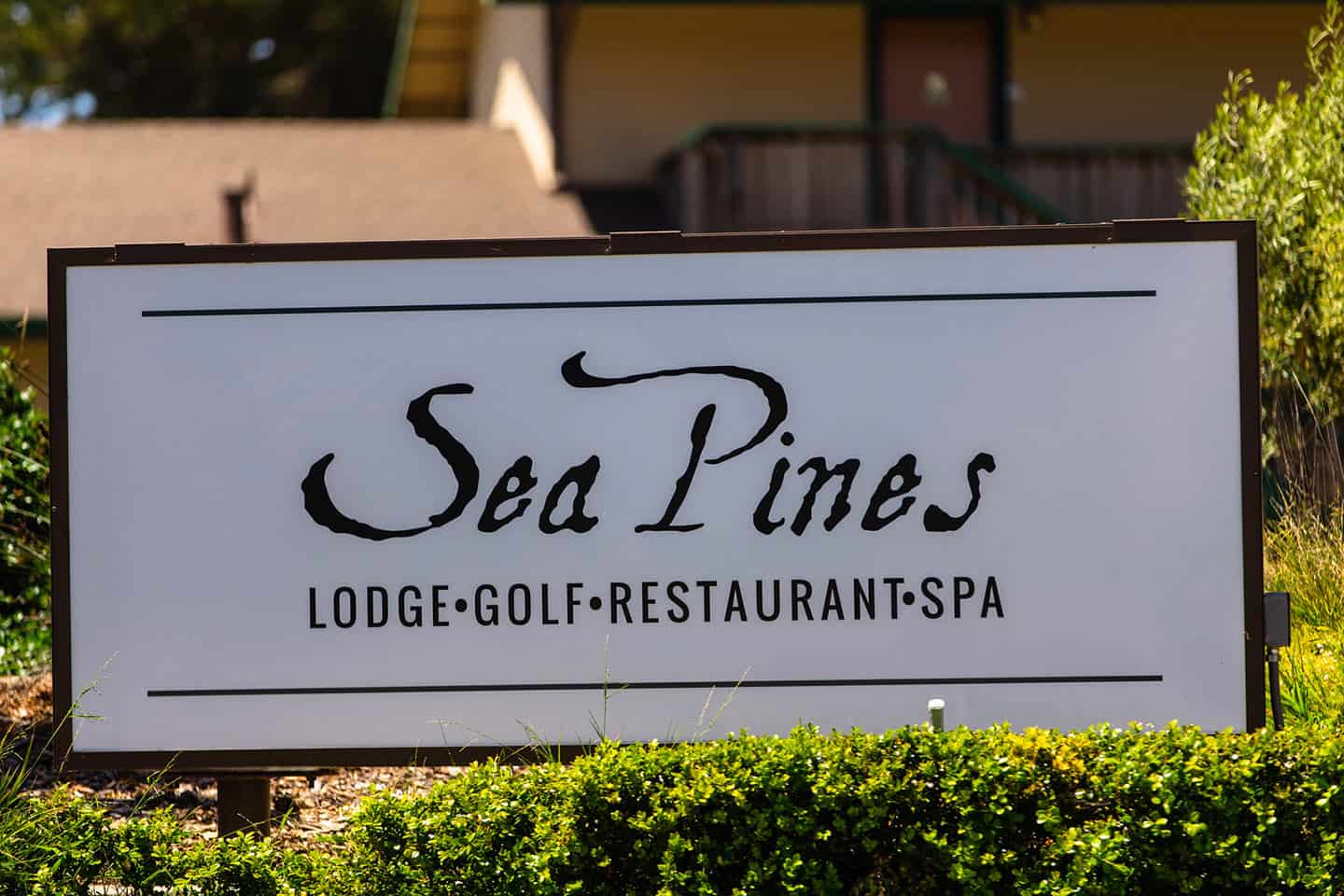 Owner Lisa Cavaliere trained in traditional Chinese medicine and brings that expertise to bear on her wellness business in Los Osos. In addition to acupuncture, Lisa offers herbal medicine, cupping and gua sha, and moxibustion. With regard to massage, her menu of treatments includes reflexology, circulatory massage, Tui Na, and acupressure. But AcuGlo is best known for its holistic esthetics and Acupuncture Facial Rejuvenation or cosmetic acupuncture. Clients routinely leave AcuGlo feeling toned and rejuvenated after a session with Lisa. Her ancient, time-tested methods address aging and damaged skin from a holistic angle rather than a filler or surgical angle. Signature facials like GLO-SCULPT, GLO-GODDESS and GLO-LUXE target problem areas with a wide array of modalities. Celluma LED light therapy, lymphatic drainage of the face, facial reflexology, and other add-ons complete the experience. AcuGlo uses Laurel Whole Plant Organic Facial Skincare as well as traditional herbal medicine. Pick up skincare products and herbal and nutritional supplements in the AcuGlo boutique, too.
Arroyo Grande & Edna Valley Spa & Massage
One of the great appeals of visiting Ritual Skin & Body Care is its location in the heart of the Village of Arroyo Grande. Stroll the village, pick up coffee and a pastry or lunch, and do a little boutique shopping before walking through Ritual Spa's doors. Ritual is owned by Linda Ruberto, a state- and nationally-licensed esthetician with a passion for pampering. Linda's team of licensed massage therapists and estheticians strive to bring balance and wellness to every client. They specialize in craniosacral therapy, a non-invasive style of bodywork that softens the fascia (or connective tissue) throughout the body. Ritual also offers specialty bodywork for prenatal clients using The Body Cushion for support. For those seeking facial and skincare services, Ritual offers maintenance, corrective, and "Serenity" facials, which integrate craniosacral massage therapy into the treatment. Also look for back facials, chemical peels, waxing, and add-ons like massage and resurfacing treatments.
Avila Beach Spa & Massage
Expect pure bliss when you make your way to the Avil Beach Spa & Massage, located at the Avila Bay Athletic Club & Spa. Though membership at the club is required for most activities and services, the spa is open to the public without membership. This includes access to the pool, jacuzzi, and FAR infrared sauna, as well. Open seven days a week, the Spa offers therapeutic massage options, like Swedish, deep tissue, hot stone, and reflexology massage. Certified therapists also perform prenatal massage and the ancient healing practice of cupping therapy. The Avila Beach Spa & Massage Center also provides facials and skin care, including traditional treatments as well as cutting edge modalities. Look for enzyme treatments, peels, and Regenerex LED electrolight therapy. Dermaplane technology is also available, which can brighten and smooth skin, soften fine lines and minimize hyperpigmentation like acne scars. Relaxing, renewing and rejuvenating back scrubs, deep pore cleansing and other options can be found on the treatment menu, too.
The iconic hot springs of Avila Beach set the tone for this full-service spa located at Sycamore Mineral Springs. Before any treatment at The Spa, take 30 minutes for a complimentary soak in a private mineral hot springs tub beneath the sycamores. Afterward, indulge in one of The Spa's award-winning treatments, like Swedish, deep tissue, or prenatal massage from a certified massage therapist. These each last 60 minutes and are designed to help clients unwind and unplug. The Spa also provides an array of one-hour facial treatments, like the Oxygenating Facial By Image. This is an ideal facial for every skin type that clarifies, rebalances and hydrates. The Ultimate Lifting Facial By Image further focuses on lift, while the Vibrant Skin Facial By Image focuses on brightening. The Hungarian skincare line Eminence also features in The Spa facials, including the Stone Crop Essential Facial for calm and the Triple C & E Firming Facial for elasticity.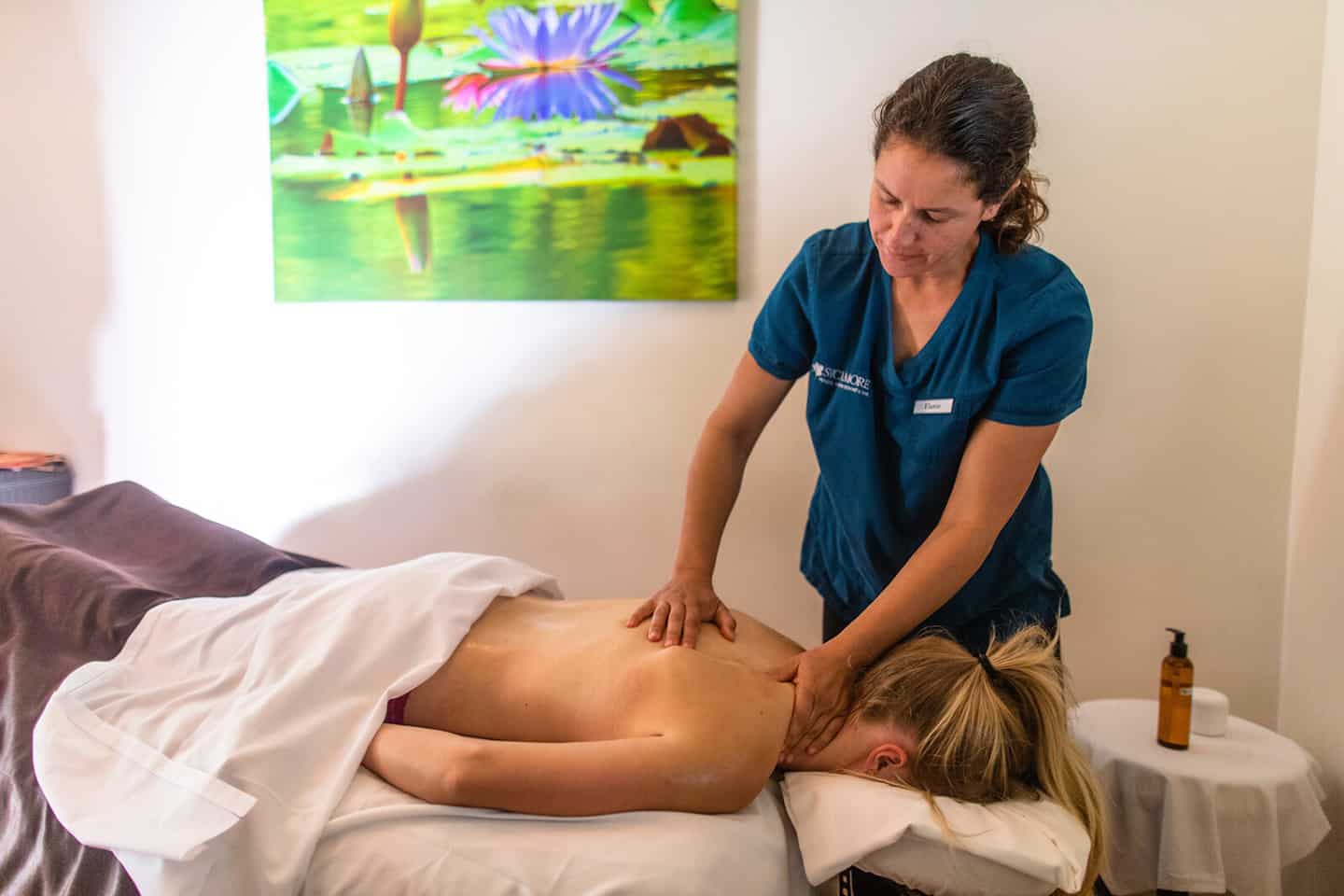 Since 2009, the Avila Massage Spa has relaxed, unwound, and relieved grateful clients at the Avila Hot Springs in Avila Beach. Every treatment offered at Avila Massage Spa includes a consultation that determines what style of massage or blend of styles you'd like. Some menu items include Swedish massage, sports and deep tissue massage, hot stone massage, and chakra balancing. These range from 45 to 90 minutes depending on your needs, with 30-minute tune-ups available as well. Add on a facial mask for an extra dose of serenity and healing. Prenatal massages and couples' side-by-side massages can also be arranged. Every treatment includes a full day pass to the Avila Hot Springs resort. Take a dip in the 50-foot by 100-foot swimming pool or relax on a chaise lounge by the water. Guests can also enjoy the waters of a natural artesian 20-foot-square hot mineral pool for a relaxing soak.
Nipomo/Oceano Spa & Massage
This full-service spa lies in the Trilogy Golf Resort, making it a perfect follow-up to a day of golf. Sandalwood Spa also serves as an excellent destination for wellness and meditation retreats, couples' getaways, girlfriends getaways, and other group trips. With its neutral-tones and soft surroundings, Sandalwood Spa provides restorative bodywork, including Swedish massage, deep tissue massage, and CBD-enhanced massage. Couples can request side-by-side massage, and mothers-to-be will enjoy the relief and rejuvenation of a prenatal massage. For facial and skincare treatments, look for traditional modalities as well as fresh technologies and methods. Try microdermabrasion, chemical peels, and pore cleansing offerings to restore and revive tired, congested, or hyperpigmented skin. Other body care options include wraps, scrubs, and mud baths. All services earn guests access to the use of a semi-private garden hot tub, serenity lounge, and eucalyptus steam room. Enjoy a quiet moment in the care of experienced licensed massage therapists and estheticians with a visit to the Sandalwood Spa at Trilogy Golf Resort.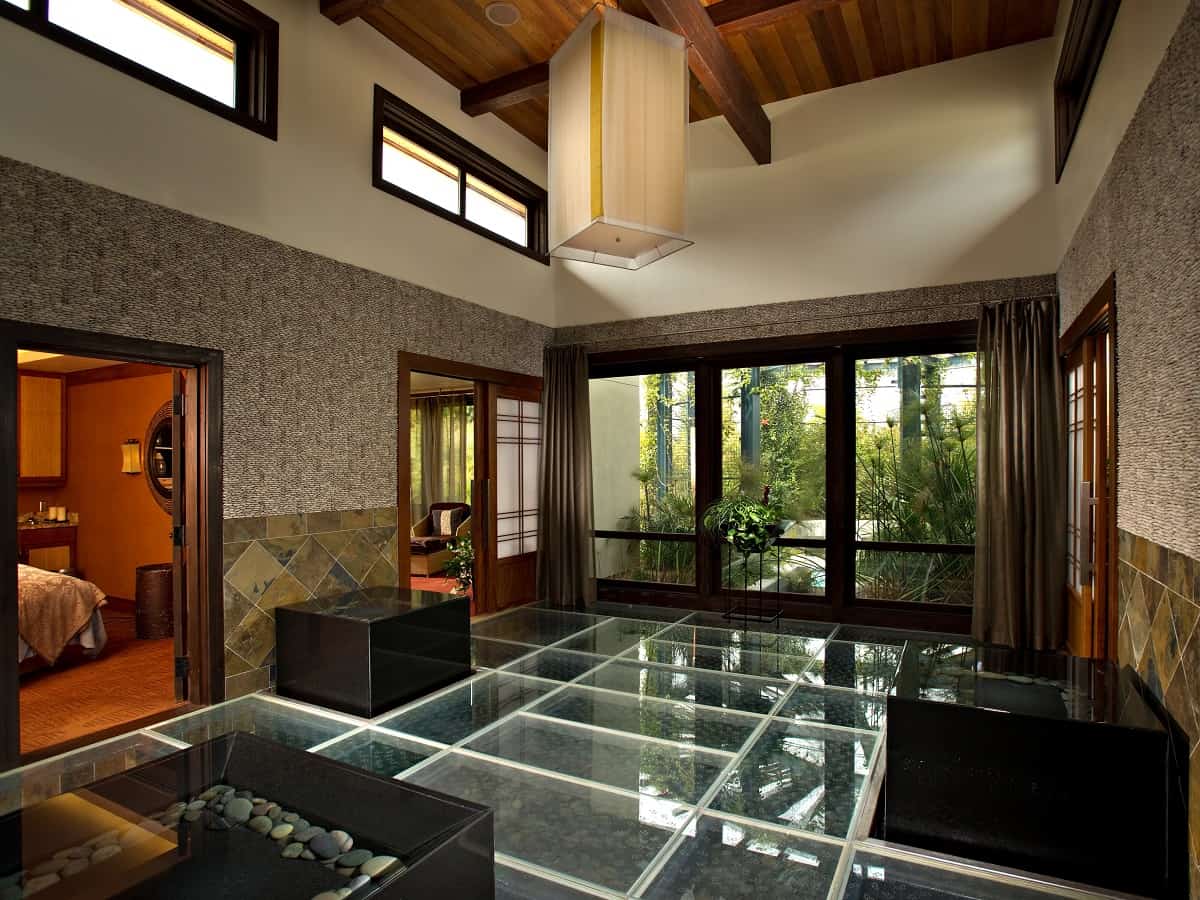 Located near the Dana Adobe in Nipomo, this full-service day spa specializes in deep relaxation and healing touch. Business owners Rudy and Kathleen Stowell have worked in the spa and wellness industry for two decades. They and their team offer expertise and access to the newest modalities and methods. For bodywork, Pure Bliss Old Town Spa provides Swedish massage, Esalen massage, lymphatic drainage massage, deep tissue work and more. These can be experienced individually in one of the spa's private treatment rooms, or in a tandem room for couples. (Couples can also request a soak in the tub with refreshments at an additional charge.) Mothers-to-be will appreciate the touch of a prenatal massage, as well. For skincare, expect a menu of treatments using IMAGE skincare line. Illuminating facials reduce dark spots, purifying facials combat, soothe and prevent breakouts, and antioxidant, microdermabrasion and lift facials address aging. Also look for cupping therapy, body and facial waxing and lash extensions. The pure Bliss in-house boutique also features handmade local gifts, goods and items.