Who doesn't love the hustle and bustle of an active downtown? Town greens and plazas provide a gateway to the best attractions a destination can offer, from historic landmarks to dining, shopping, and entertainment. But the best downtowns are big on charm, too. On the Central Coast stretch of Highway 1, we have more than our fair share of sweet, walkable downtowns. Looking for a cozy seaside hamlet or a chill beach community? How about an artists' hub, authentic railroad town or historic city center? Whatever you look for in a downtown, you'll find it here — often with an ocean view, too. Common threads include pedestrian and bike friendliness, historical significance, mom-and-pop-owned establishments, and pride of ownership. Some even boast hiking trails, beaches and piers nearby as well. Just be sure to bring your walking shoes, as you won't want to stop exploring once you've begun. A hat, sunscreen, and water are also good ideas. And once you're outfitted? Get ready, get set, and get to the heart of it all.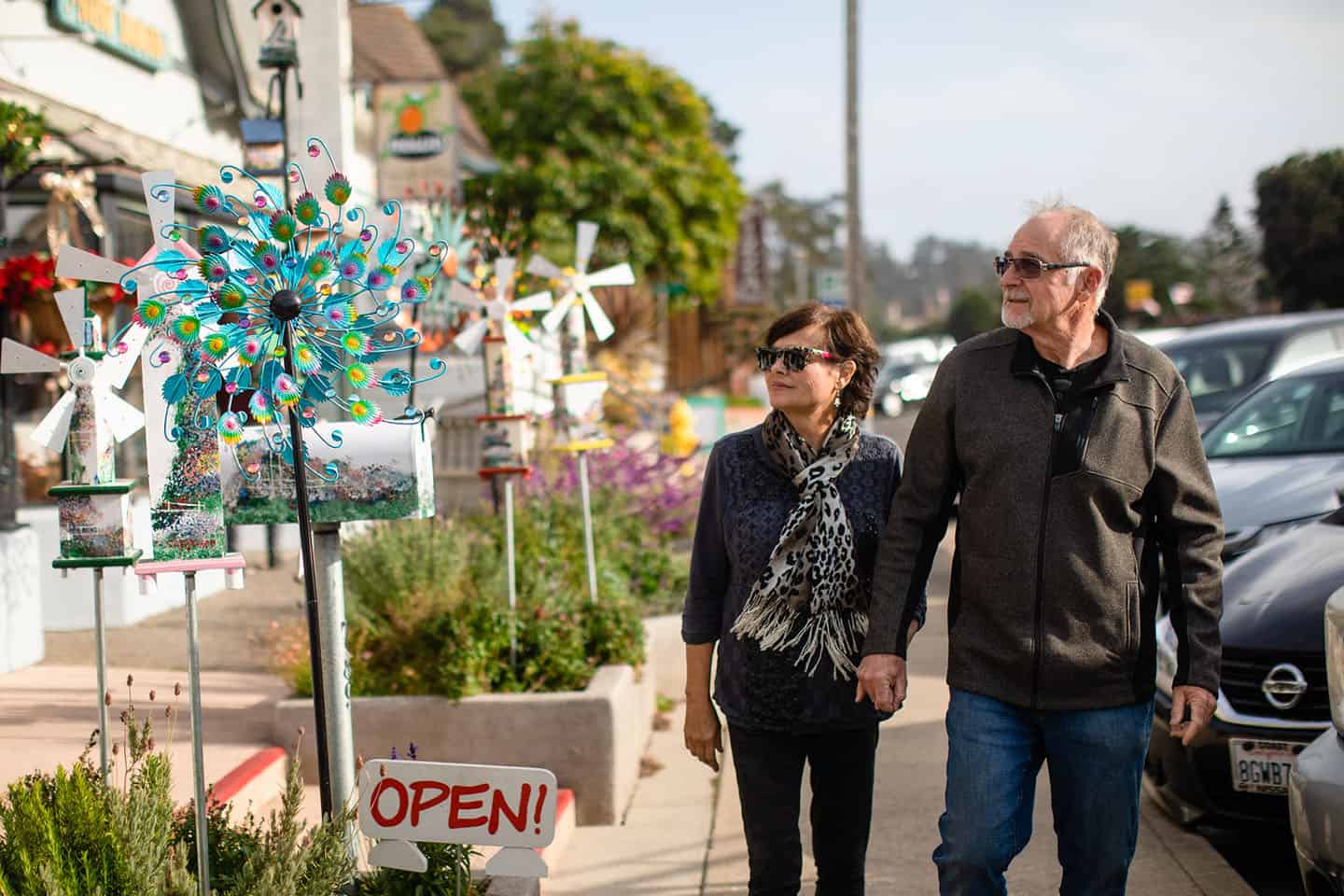 Just south of San Simeon and Hearst Castle, Cambria boasts not one but two downtowns, each charming in its own way. These two villages — the West Village and the East Village — lie along Cambria's thoroughfare, Main Street, which parallels Highway 1. The halfway mark between the East and West Villages is approximately where Cambria Drive intersects Main Street, just south of the Veterans' Memorial Building. (This is also where the original Fresnel lens for the Piedras Blancas Light Station is on display.) 
In the West Village, find a French bistro and an all-american bar and grill, plus art galleries, artists' studios and wine tasting. There's even a boutique specializing in toy soldiers! This side of town also lies in close proximity to Moonstone Beach Drive, which leads to Moonstone Beach and the Moonstone Beach Boardwalk. The East Village also offers culinary delights, including Thai food, pizza, a fantastic delicatessen, and a "hidden" eatery devoted to blue corn waffles. You'll also discover an antique-ing paradise, with vintage shops and antique malls along Main Street's easternmost stretch. The Cambria Historical Society can also be found here, offering guides for a fantastic self-guided walking tour of Cambria's most significant historic buildings. And just above the East Village? For those willing to trek up the hill, the Cambria Nursery & Florist is a sweet hideaway with greenery, gifts, and more to peruse.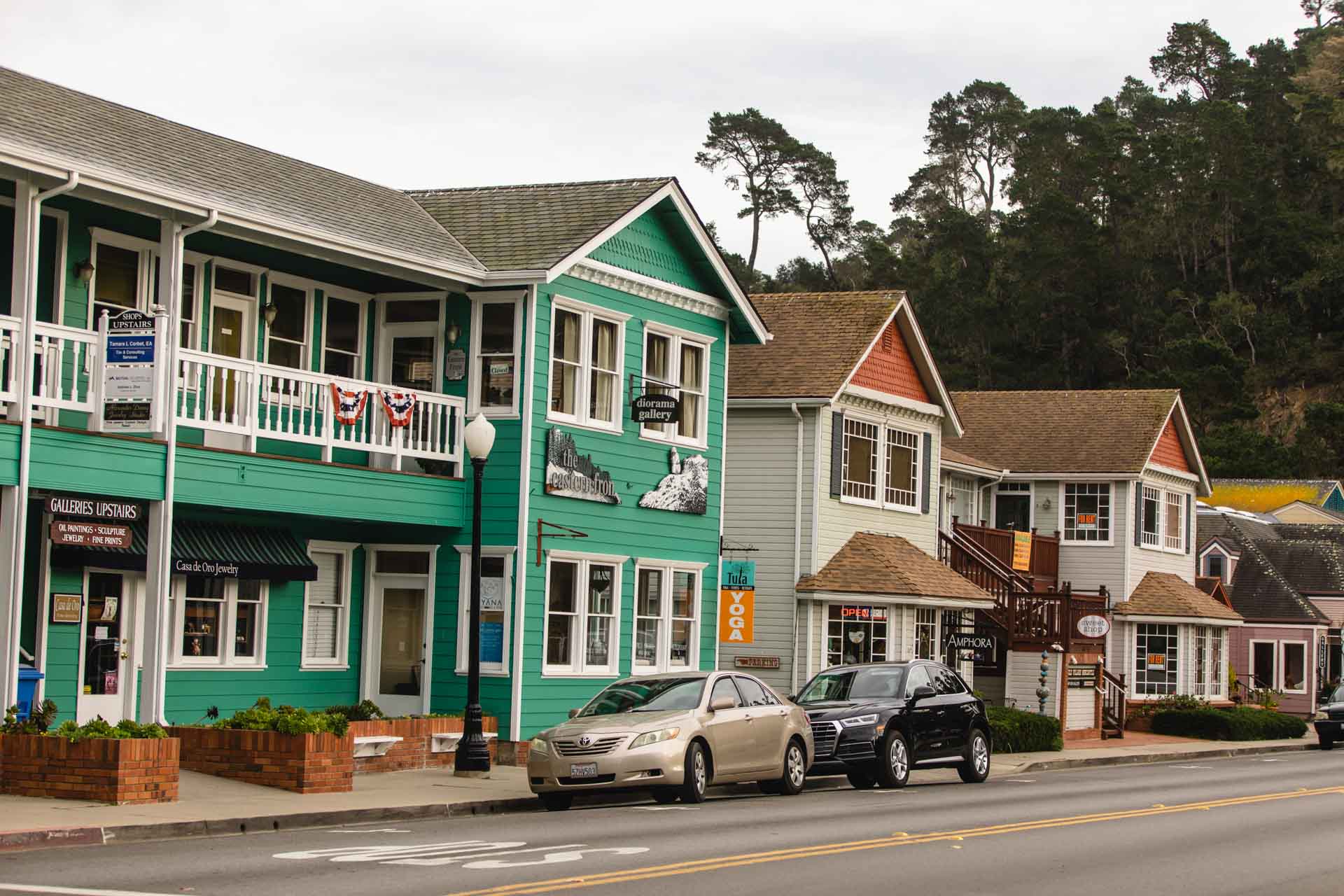 With sun, sand and surf just a few footsteps away from its main corridor, Cayucos still feels like an old Western beach town. Located between Cambria and Morro Bay, Cayucos is anchored by its historic pier, originally built by Captain Cass in 1872. The entrance to the pier stands just beside a skatepark and a playground on the sand — both great destinations for families and kids. If you'd rather be on a surfboard than a skateboard, hop in the water just south of the pier and join the locals on a wave or two. If you'd rather watch? Walk the pier and get a great view of surfers shredding from above.
Once you've had your fill of the beach, wander the boutique and antique shops that line North Ocean Avenue. Check out the Remember When Antique Malls, a pair of shops that specialize in vintage housewares, clothing and furniture. Or head into the Good Clean Fun surf shop, an institution for high-end surf gear. Don't miss the upstairs loft, where you can drool over surfboards of all shapes and sizes. Downtown Cayucos is also a destination for foodies, with everything from casual eateries to special occasion spots. Compare the two styles of clam chowder at Duckies Chowder House, or tuck into the famous lasagna at Cafe della Via. And no downtown stroll is complete without a visit to the Brown Butter Cookie Company, where warm shortbread-style treats await.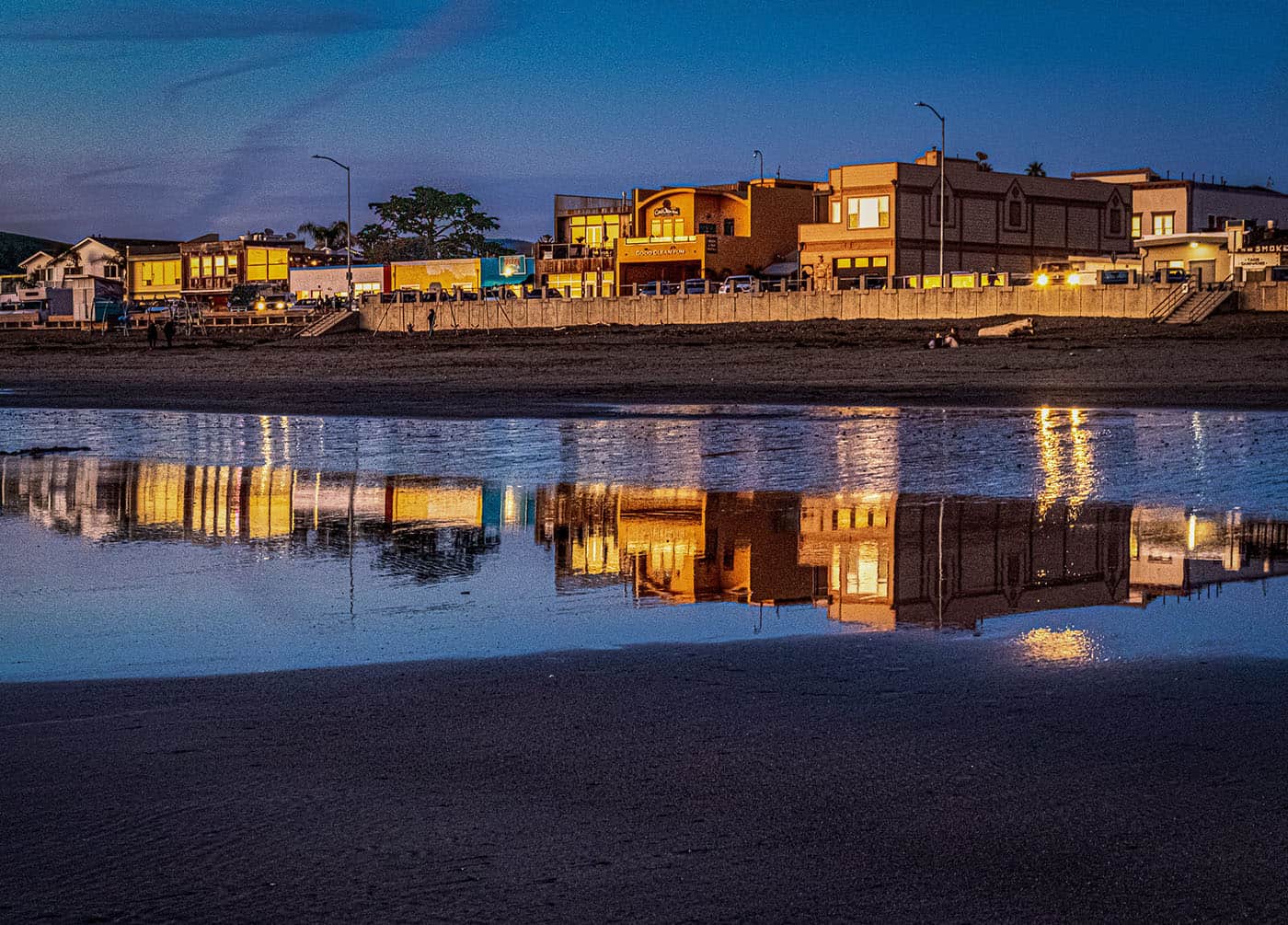 Downtown Los Osos (Baywood)
Don't let Los Osos's small downtown in Baywood fool you: this sweet seaside area has plenty to keep you busy. The main drag, 2nd Street, faces out over an inlet of the Morro Bay National Estuary, with a small pier and access to a tiny beach. This is the perfect place to bring a cup of coffee from the nearby Back Bay Cafe and enjoy the scenery. It's also the site of "Beer at the Pier," a weekly Monday evening gathering with local musicians and drinks available for purchase. Monday is also the day for the beloved Baywood Farmers' Market, which runs downtown between 3rd and 2nd Streets on Santa Ysabel Avenue. Find fresh produce, grains and proteins, as well as fresh cut flowers, soaps, and crafts for sale. This Monday afternoon tradition is one that residents look forward to all week long. Art lovers will enjoy a downtown visit to Central Coast Glass Blowing, as well as Back Bay Pottery and the Baywood Drift Studio. And for dining, several options await, including farm-to-table restaurant Blue Heron and Noi's and Doi's 2nd Street Cafe. After dining, walk off your meal with a stroll among the ancient pygmy oaks at the Elfin Forest.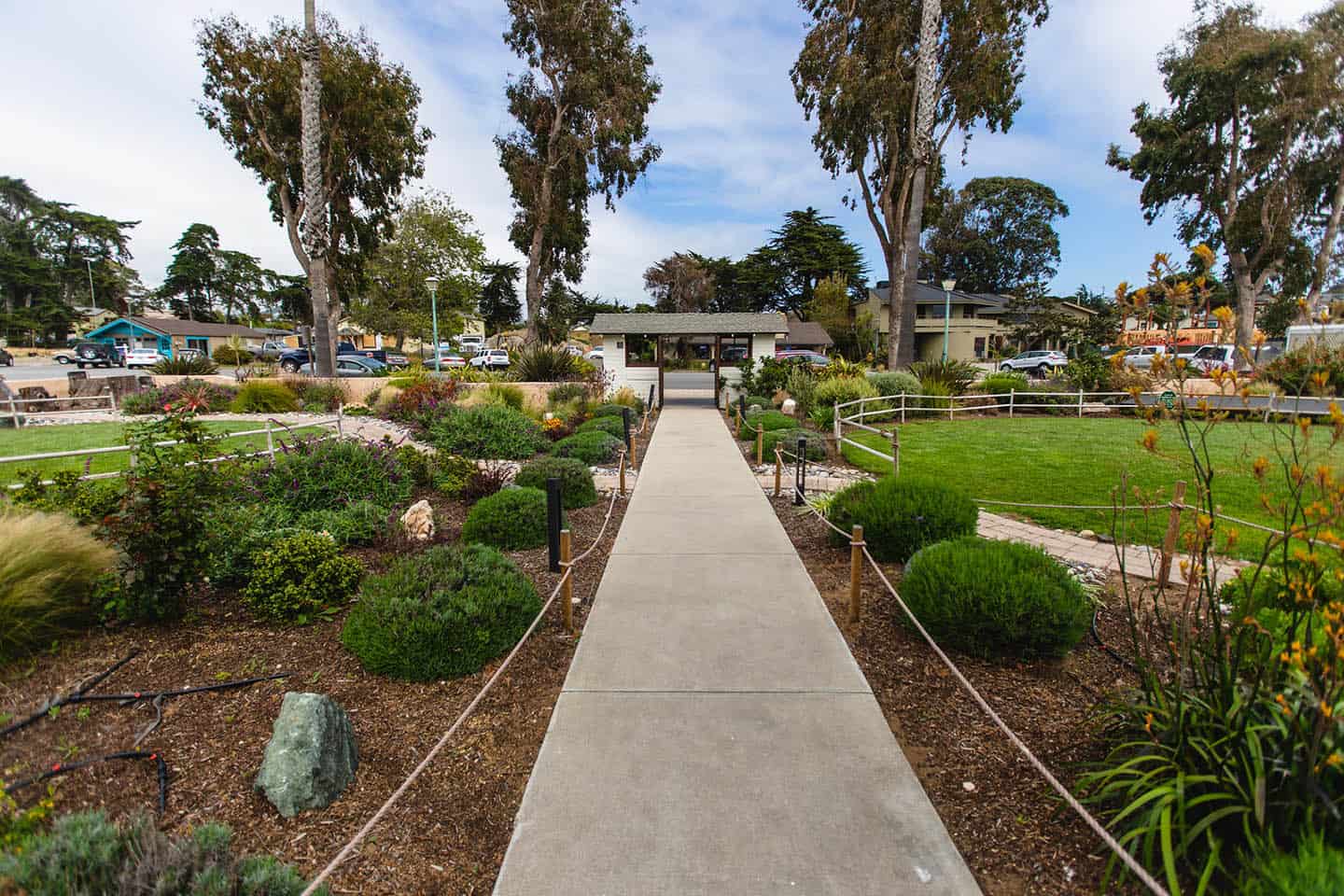 Downtown Avila Beach (The Promenade)
Lying directly on the beach, the Avila Beach Promenade is a pedestrian walkway featuring cafes, bistros, boutique swim shops and much more. The Promenade extends from the entrance of the Avila Beach Pier several blocks south, with long views out to Point Sal on clear days. Along the way, pop into the Sea Barn for designer swimwear, sunglasses, sunscreen, hats and sandals. Or try wines in one of Avila's numerous tasting rooms, including Sinor-LaVallee and Alapay Cellars. For beer,  the Libertine Brewing Company pours pints, flights and crowlers to thirsty locals, and Kraken Coffee keeps them caffeinated. For dining, take your pick from casual spots like Mission Pizza or upscale-yet-relaxed eateries like Louie's At The Beach or Blue Moon Over Avila.
Also, make a point of visiting downtown Avila Beach during Farmers' Market on Friday nights between April and September. Here, you'll find baked goods, food trucks and booths, arts and crafts, live music and toe-tapping. For young children, the "Pirate Park" is a wonderful spot to get the wiggles out, with swings, slides, and sand. You'll also find basketball courts here, right on the beach, as well as the Central Coast Aquarium. This boutique aquarium highlights marine science in the San Luis Bay, with jellyfish, octopus, and even shark exhibits.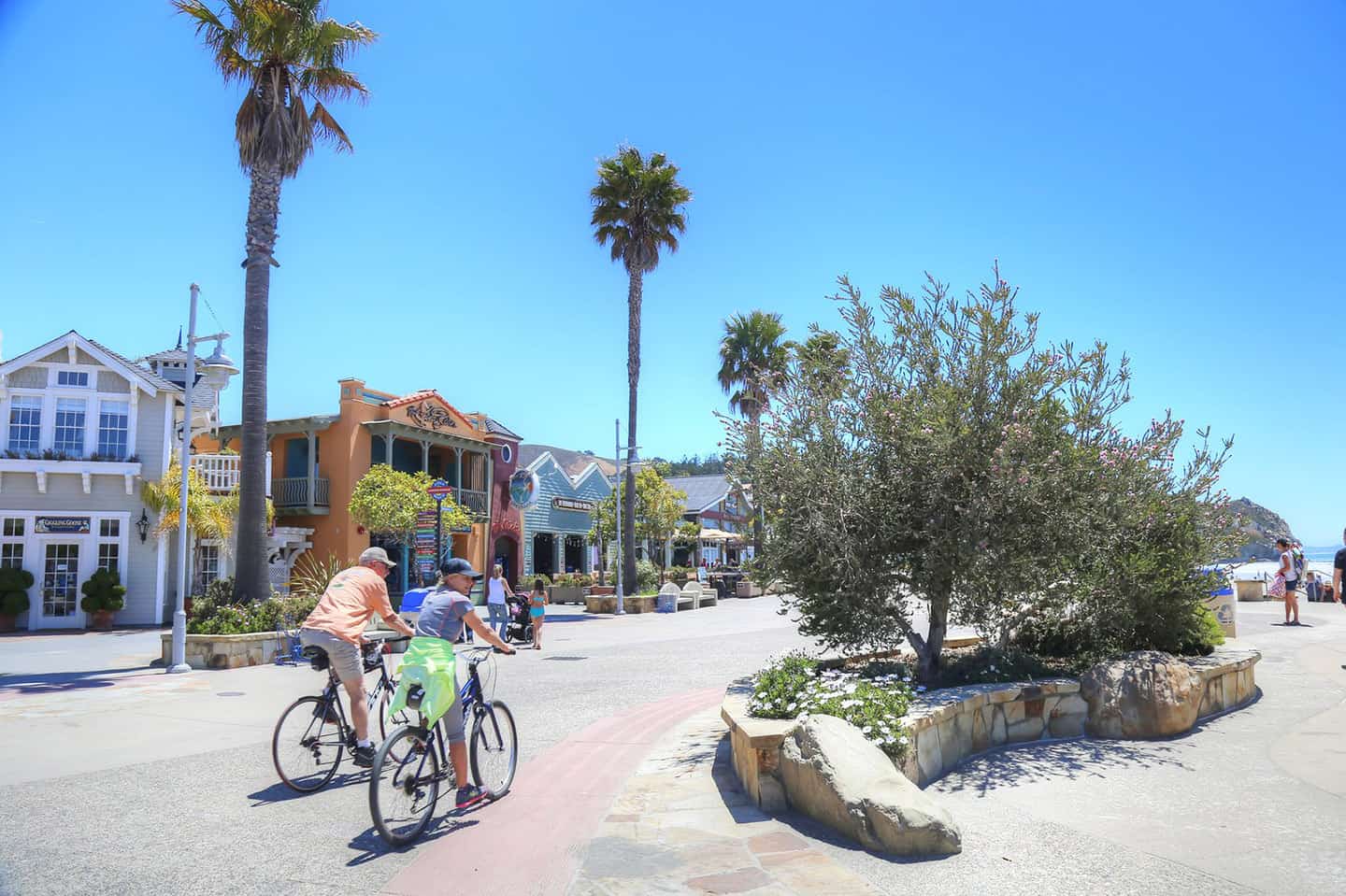 Downtown Arroyo Grande (The Village)
This sweet downtown boasts a wealth of unique finds, including several historical points of interest, dining, boutique shopping, and more. The storefronts and landmarks throughout the Village of Arroyo Grande are impeccably preserved, which makes for fun and educational exploration. Visit the Swinging Bridge, originally built in 1911, and challenge yourself to walk across. Or make the quick walk up to Hoosegow Park, where a one-room jailhouse still stands from 1910. The Village also lies in close proximity to the Old Edna Townsite, a once-bustling hub that now hosts wine tasting and a gourmet deli. (It's also the perfect spot to stop on your Edna Valley wine tasting adventure.)
For a delicious bite, check out the Arroyo Grande Meat Company, an old fashioned butcher's shop that also makes a famous tri-tip sandwich. Or grab farm-to-table cuisine and cocktails at The Mason Bar, followed by a scoop or two at Doc Burnstein's ice cream parlor. For shopping and gifts, walk along East Branch Street, and you're sure to find a number of mom-and-pop shops worth exploring. Check the Village Papery for upscale stationary, or peruse the 1,600 vintage, used and new guitars at Lightning Joe's Guitar Heaven. You'll also find a favorite weekly farmers' market here on Saturdays, often visited by the Village's roaming brood of roosters and hens.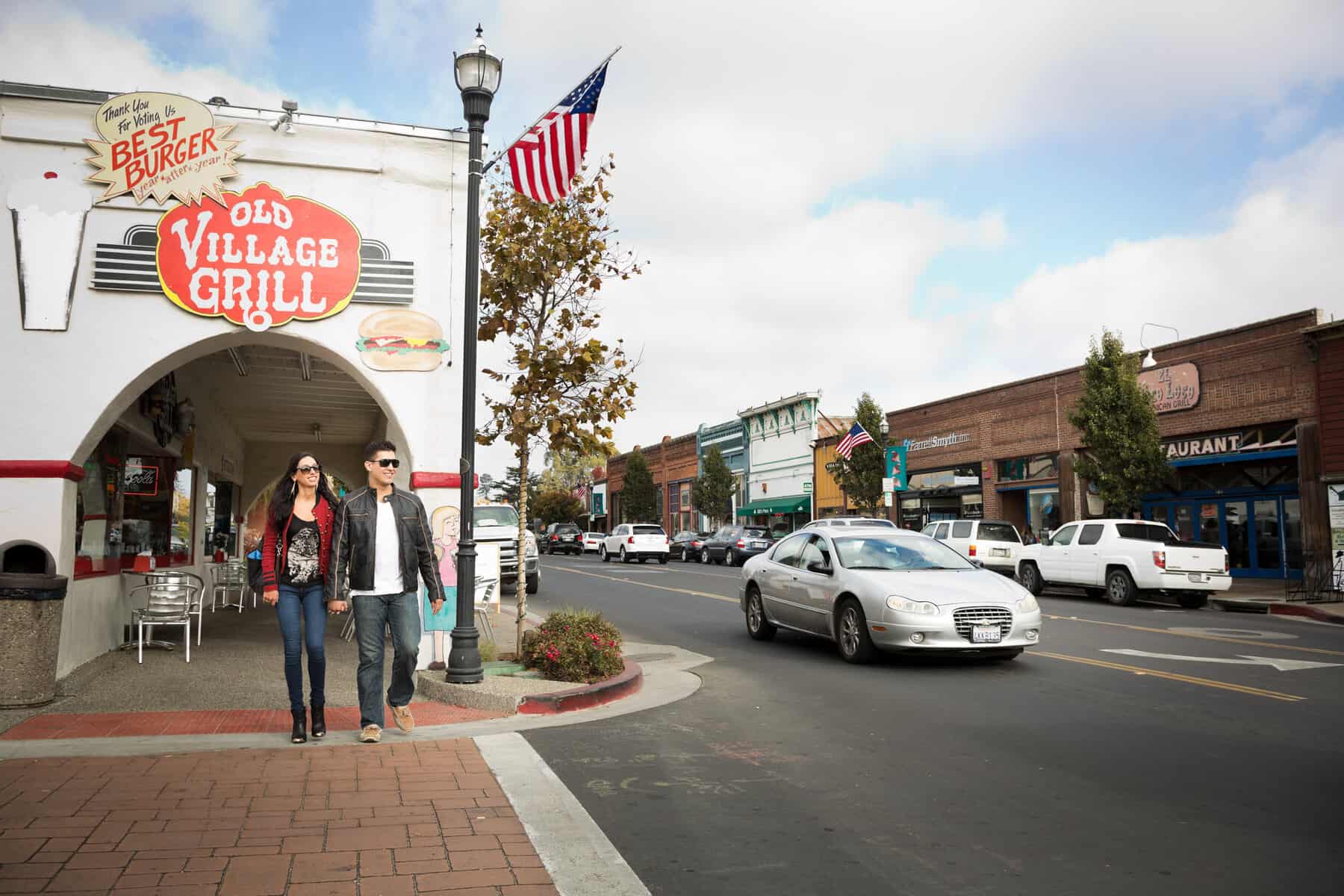 One of the Central Coast's best-kept secrets, downtown Oceano merges authentic flavors and top-notch entertainment with an abundance of natural and cultural history. First things first: make your reservation for the Great American Melodrama and Vaudeville Revue. This old fashioned theater is a Highway 1 treasure, offering side-splitting comedy for the whole family. But before the show, grab dinner at one of Oceano's authentic Mexican restaurants like Chacho's or Efren's Deli, both within walking distance of the theater. (For Santa Maria Style steaks, however, drive down the road to Jocko's in Nipomo, one of the most revered steakhouses in California.) Other favorite spots in Oceano include the historic train depot museum, which houses artifacts from the town's days as a railroad hub. Get a look at the two authentic train cars behind the museum, as well as the exhibit featuring remnants from the Dunites. These bohemian artists, philosophers and mystics occupied the Oceano Dunes in the early 1900s, believing the area to be a spiritual energy center. And speaking of the Dunes, many folks think of them as the real Downtown Oceano. Here, visitors can commune with nature, learn about the incredibly unique habitats of local wildlife, and even walk trails through the sand.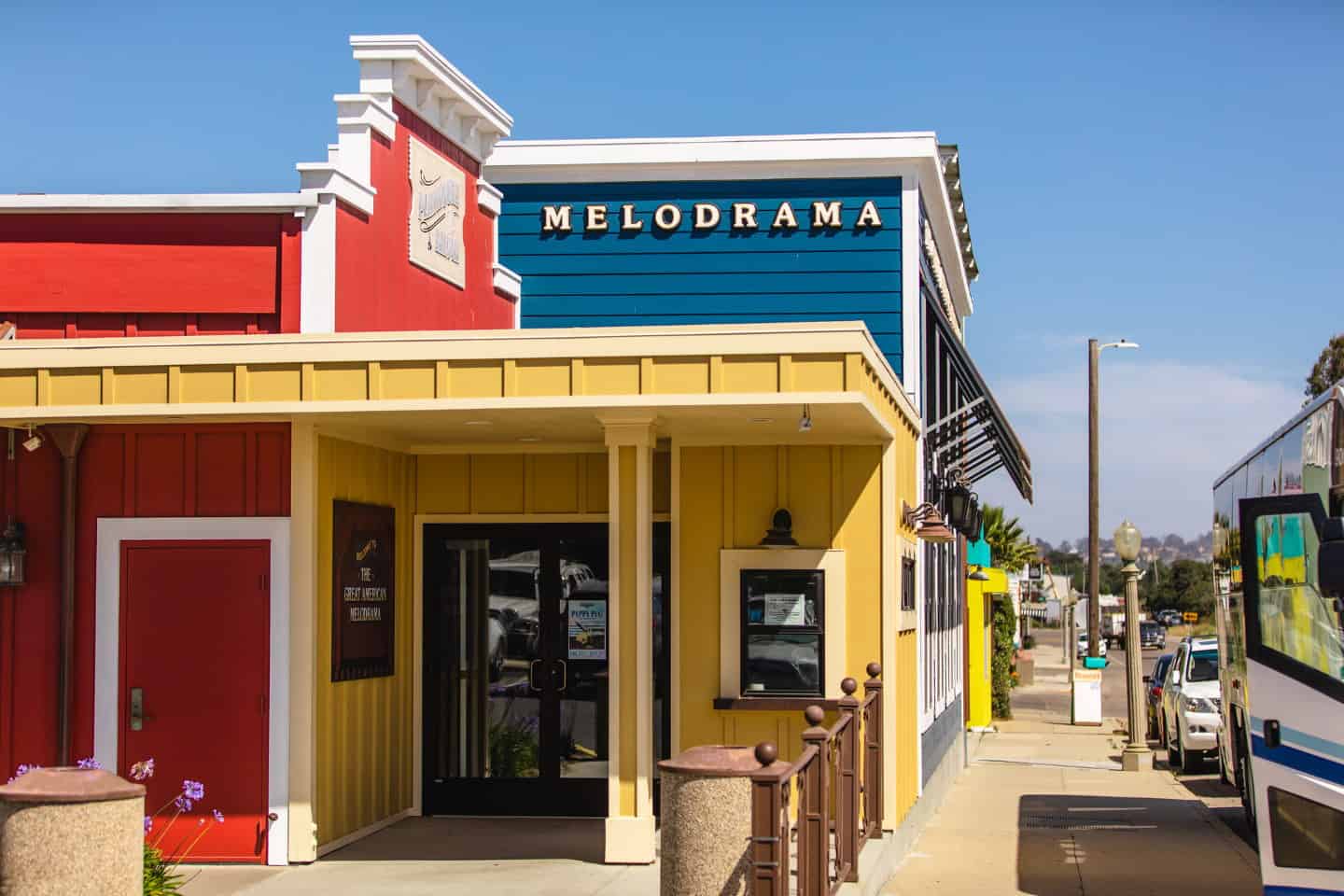 Other Downtowns Along Highway 1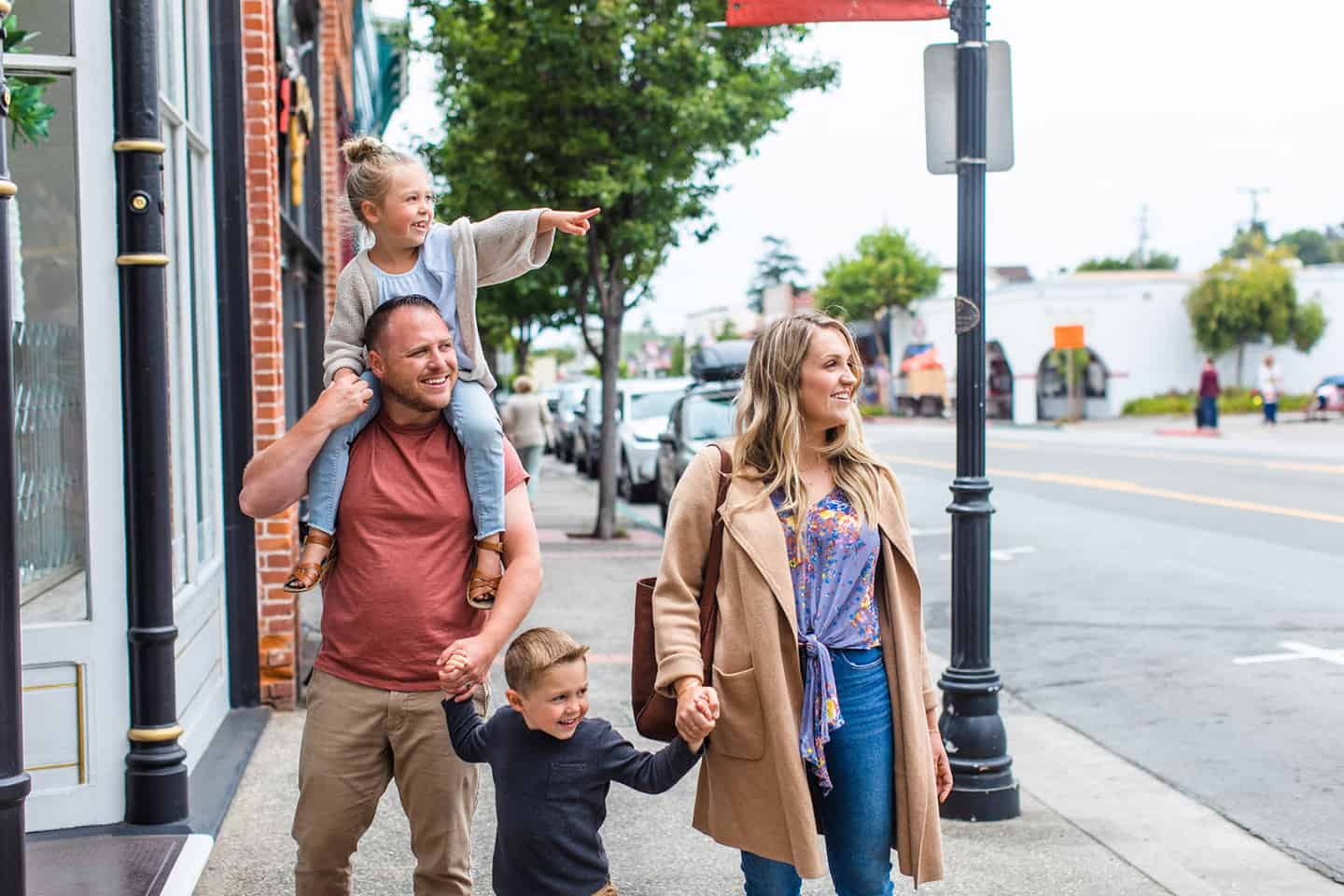 The downtowns outlined here represent the best of the authentic Central Coast: uncrowded and unspoiled. But a few other downtown destinations are worth visiting if you haven't seen them before.
Morro Bay 
Located between Los Osos and Cayucos, this downtown skirts the Morro Bay National Estuary, with close views of the famous Morro Rock. Here you can walk along the embarcadero, enjoying the seaside scenery, including places to watch harbor seals, sea otters, and sea birds. Grab a meal from any number of restaurants, as well as wine tasting and coffee shops. Rent a kayak right there on the embarcadero for family-friendly fun, whether for independent exploration or as part of a guided tour. Several boat tours are also available from the harbor. Beach gear, gifts, a specialty garden shop and art galleries line the street. During the holidays, stand along the Embarcadero with a warm drink to watch the Morro Bay Lighted Boat Parade. And don't miss a walk to the nearby Museum of Natural History, the only one of its kind in the State Park system. Bring kids and kids of all ages to learn about the estuary, the sea beyond, the marine wildlife and the original humans who settled the bay.
Pismo Beach 
This classic beach town is a favorite spot for catching rays, catching waves, catching fish — and catching sight of those who do! Pismo Beach lies midway between Avila Beach and Oceano, right along Highway 1. Enjoy a walk down Pomeroy Street, which runs perpendicular to the coastline. Here you'll discover favorite surf shop, Pancho's, for all your boarding needs. You can also snag a lane at Pismo Bowl for a round or two of family fun. For breakfast, lunch or dinner, try the famous clam chowder at Splash Cafe, or tri-tip at Brad's. And for dessert? Snag a candy apple at Tomasko's or an ice cream cone at The Scoop for a walk along the pier. Just be ready: Pismo Beach is one of the most popular tourist attractions around. Be ready to see a large influx of visitors from all over the state, every weekend and most holidays.
Grover Beach 
Grover Beach has come into its own in recent years, with a pedestrian-friendly downtown, eateries and activities for the whole family to enjoy. The town extends from Pismo Beach to Arroyo Grande, and borders Oceano. (In fact, this area is often called the "Five Cities," eg Grover Beach, Pismo Beach, Arroyo Grande, Oceano, and Shell Beach.) Pick up coffee at Red Bee Coffee, elevated American fare from The Spoon Trade or BBQ from The Ribline. Then head to the nearby entrance to the Oceano Dunes, where you can walk the boardwalk to the awe-inspiring Monarch Butterfly Grove. You'll also find the Pismo Beach Golf Course right on the water's edge — perfect for a round of golf with a view. Little ones will love watching the Amtrak train come through to the Grover Beach station, as well as visiting the Exploration Station. This children's museum features interactive exhibits, hands-on activities, and presentations for budding explorers.