Along this abundant stretch of California's Highway 1 lies so much to explore. And while the natural beauty of its white-sand beaches, majestic mountains and rolling vineyards shines brightly, so too does our cultural heritage. Here, a vibrant community of artists, performers, historians and storytellers brings joy, fellowship and creativity to life on Highway 1. Wander the hallowed halls of one of the world's foremost art collectors, William Randolph Hearst, at Hearst Castle. Take a walking tour of historic buildings and architecture in Cambria. Visit inventive murals painted on surfaces across the beach town of Cayucos. Bring little ones to a children's garden to get up close and personal with the indigenous plants that grow along Highway 1. And indulge in belly-laughter in one of the world's only true melodrama theaters. Music, art, drama and history come together here in a rich, accessible, and enriching environment for the whole family.
Explore Art & Culture Along Highway 1
Art & Culture in San Simeon & Cambria
In 1912, William Randolph Hearst, broke ground on a home in San Simeon that would come to be known as Hearst Castle. He was one of the richest people in the world, and spent his wealth to collect art and antiquities to fill his new home. Architect Julia Morgan worked with Hearst to design an "enchanted" 90,000 square-foot home atop a hill in the Santa Lucia Mountains. Views of the Highway 1 coastline and the surrounding rolling hills of Hearst Ranch are worth the trip alone. But the home's interior is just as stunning. Inside lies a treasure trove of art and antiques from Hearst's extensive world travels. These include a 3,000 year-old statue of the Egyptian goddess Sekhmet, a 15th-century Spanish ceiling, and ancient Chinese vases. Hearst Castle is now part of the California State Parks system, and is open to the public as "a museum like no other." Also spend time at the robust visitor's center with a gift shop, book store, and IMAX theater featuring a documentary about Hearst's home.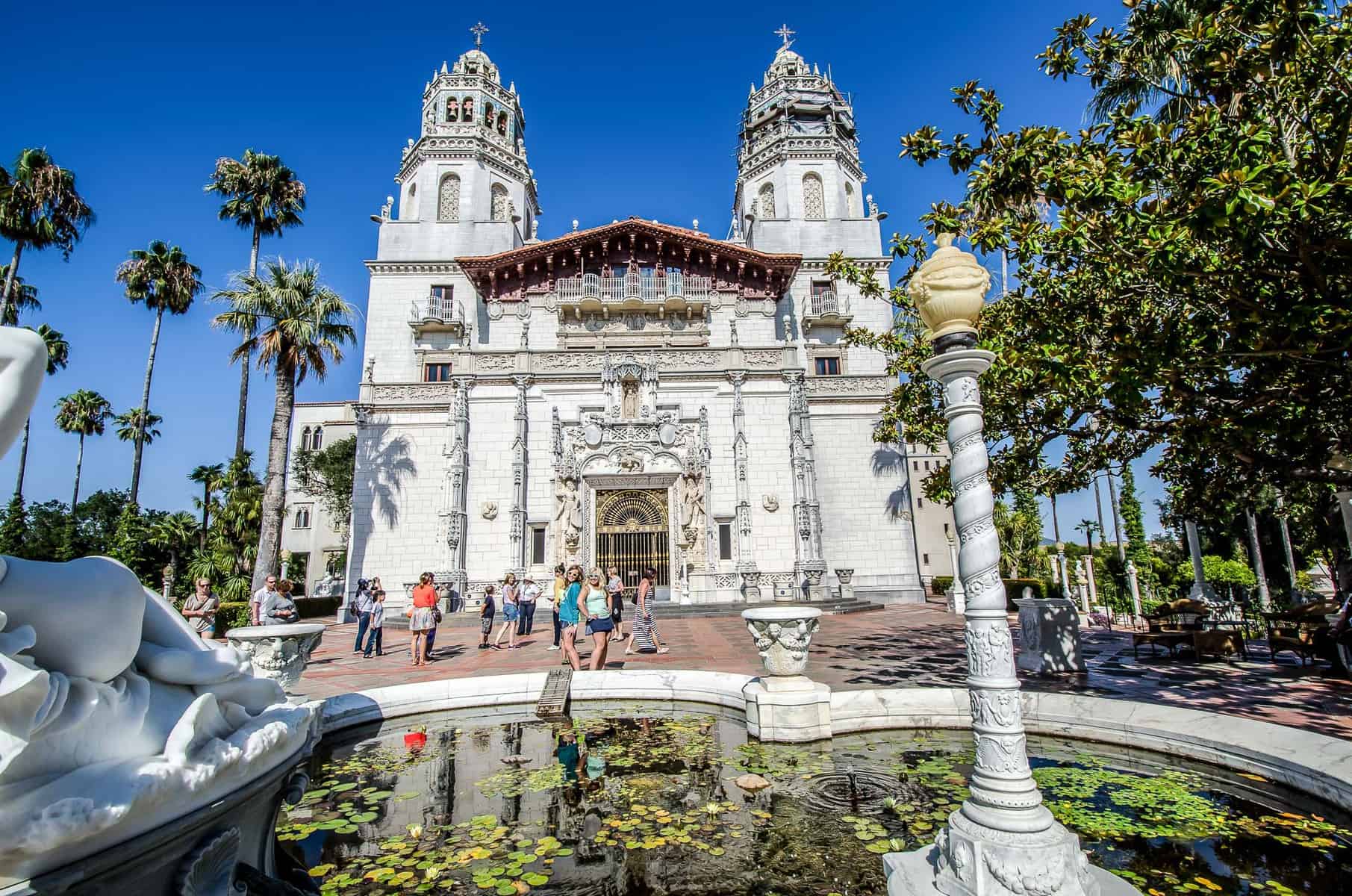 Cambria Center for the Arts
From plays and film screenings to art shows, classes and lectures: the Cambria Center for the Arts offers it all and more. Since 1947, the nonprofit Cambria Center for the Arts has hosted visual and performing artists and groups, from locally and beyond. The center is located inside the old Cambria Grammar School, a central hub between Cambria's East and West Villages. Here, artists showcase their work in a continuously running gallery space. In fact, the Cambria Center for the Arts began as a gallery space in the old Cambria schoolhouse in the mid-1940s. It has remained an important place to mount art shows and discover new artists. Theater and musical groups perform on the center stage throughout the year, which is also home to the annual four-day Cambria Film Festival. Want to make your own art? Come for classes, workshops, and lectures on subjects as diverse as sculpture, storytelling and filmmaking.
Cambria Historical Museum
This charming museum does more than celebrate history: it is history! Located in the Guthrie-Bianchini House built in 1870, the Cambria Historical Museum is just one of many historic buildings in the area. These have been preserved over time, from as far back as when Cambria was called "Slabtown." The milling, ranching, whaling and mining industries built this town, and the homes of many who built it still stand. Once you've walked through the Cambria Historical Museum, set out on a self-guided walking tour of the historic buildings of Cambria's East Village. A map and guide can be obtained online or at the museum. The map leads past 28 historic buildings, including the pint-sized Santa Rosa Chapel, Camozzi's Saloon, and many private homes. (Want to know why 4111 Bridge Street is called "The Bucket of Blood"? You'll have to take the tour to find out.) Don't miss the Guthrie-Bianchini House's well-tended heritage gardens, surrounding the site of the Cambria Historical Museum.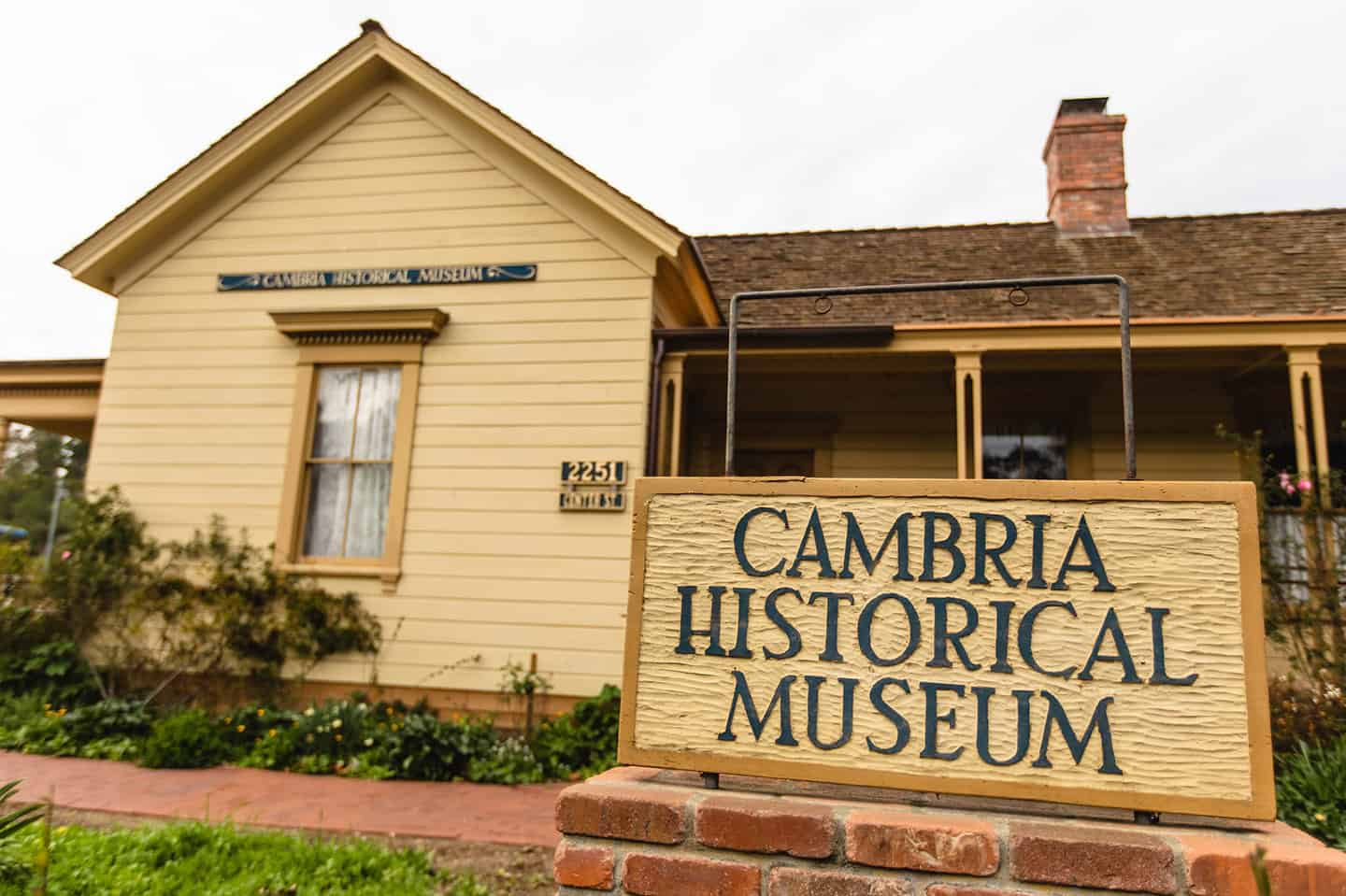 Artists and art lovers have been familiar with the Vault Gallery since 1991 when it was established inside Cambria's historic Bank of Cambria building. Owner Laylon Whittaker created the gallery to feature California plein air painters, contemporary artists, and photographers. Over the years, he has helped launch many artists' careers, and continues to have a hand in bringing new artists to prominence. See the work of Steve Johnston, contemporary of graffiti artist Banksy, whose work is shown in the U.S. exclusively at The Vault. The work of Helene Wilder, a celebrated portrait artist from Santa Fe, is also on display, as are the crisp architectural paintings of Mark Beck. The Vault Gallery has established a large customer base in Los Angeles, and is considered one of the foremost art galleries in California. Don't miss the opportunity to see masterworks by contemporary artists in this quaint and unique downtown Cambria setting.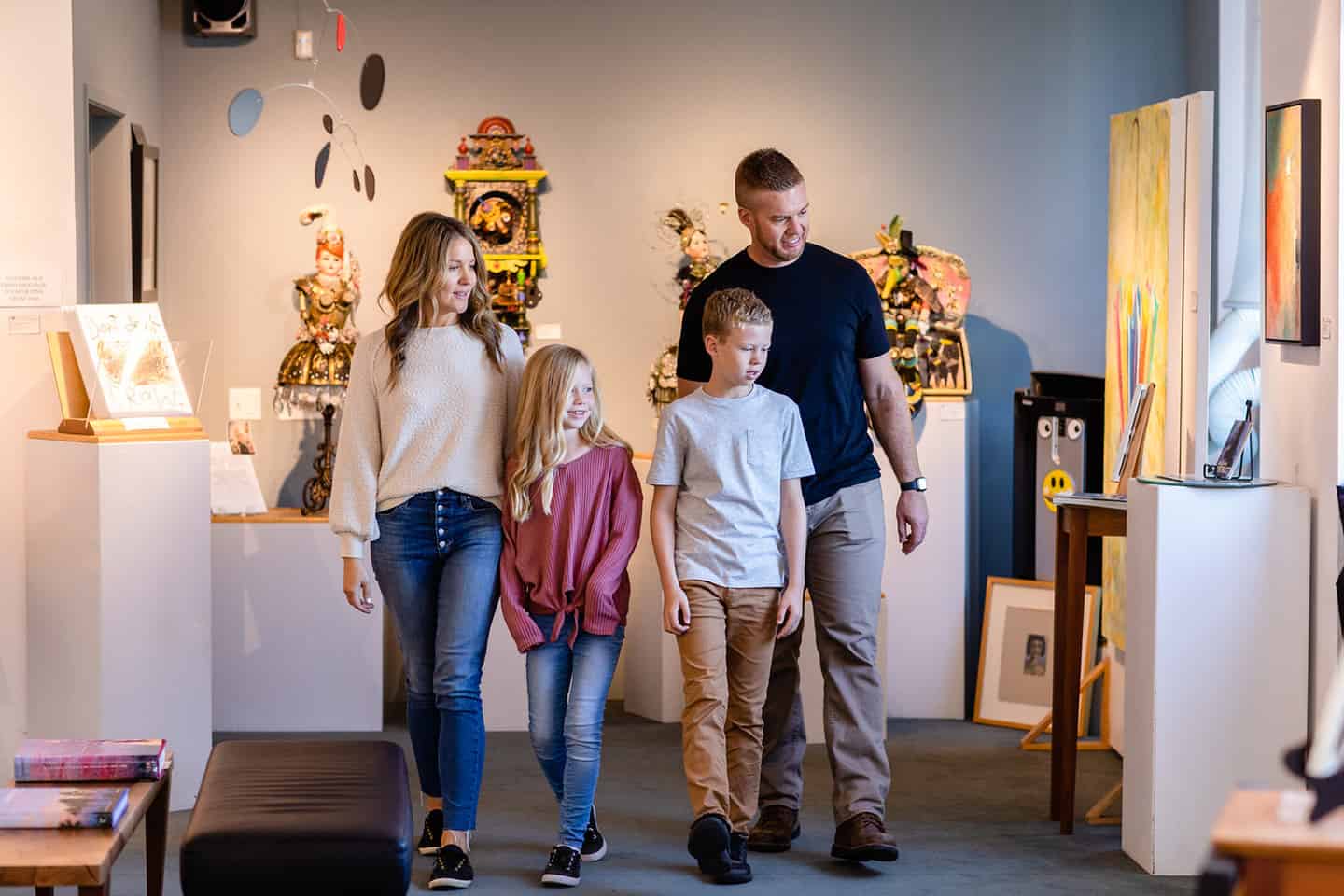 Drive through the charming seaside town of Cayucos, and you might notice the presence of several large murals along your route. These large-format paintings cover interior and exterior building walls, both residential and commercial — even a garage door. Cayucos has long served as a hub for artists and creatives, and in 1992, a group called the Cayucos Mural Society formed. Their focus? Contributing to the character of Cayucos with public art that represents its special vibe. The murals they've installed since their inception can be found on the northernmost side of downtown to 24th Street. (Surfers, take note: this is near the parking lot for one of the most popular local surf spots!) The Cayucos Mural Tour is just under two miles long, and takes a little over 30 minutes to enjoy on foot. Local history, ocean themes, and even children's art can be found throughout town, making this a great way to get acquainted with Cayucos.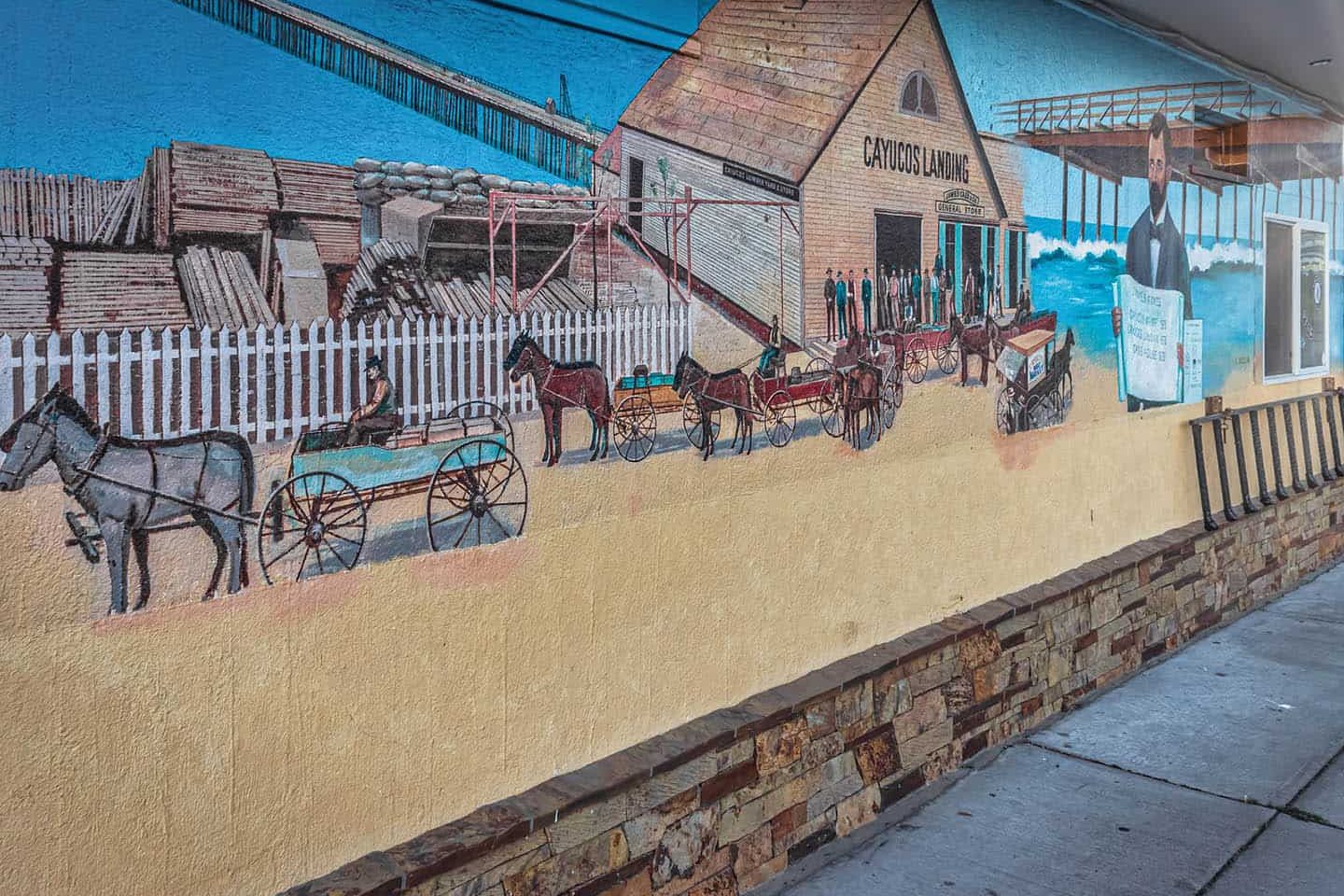 Right in the center of downtown Cayucos, facing North Ocean Avenue, sits the Cayucos Collective art gallery and custom printing studio. Established in 2014 by longtime surfers, skaters and artists, the business started as a blog and online art gallery that celebrates beach culture. Today, it is a brick-and-mortar gallery featuring eclectic handmade pieces inspired by Central Coast beach life. There, you can find an array of paintings and jewelry, sculptures and apparel, all designed and produced locally. Purchase one of these items to take a little bit of Cayucos home with you, or have the in-house artists and tailors create your very own apparel. Use your own images and artwork to design a tee shirt, trucker hat or hoodie with the Cayucos Collective's DTG printing equipment and top quality garments. (If you decide on a spontaneously-crafted tee shirt, expect the Collective to bundle it into a trademarked take-out container.) Get inspired by the picturesque surroundings in Cayucos, and design your own wearable souvenir.
Art & Culture in Los Osos
Just around the bend from Los Osos in Morro Bay, the Gallery at Marina Square showcases the work of professional artists. These artists have all received awards, grants, and fellowships via juried art shows — a community that actually established and operated the gallery today. Here, you'll find an array of artforms, from paintings and photographs to jewelry, sculpture and more. Located right on the Embarcadero, the Gallery at Marina Square is expansive and diverse, featuring a wide variety of artists and artisans. Silk scarves, holiday ornaments, prints, greeting cards, blown glass and more celebrate the handiwork of local creatives. The gallery also offers a wonderful spot to shop for gifts and collectibles to take home and treasure. Feeling inspired? The Gallery at Marina Square also sells sketchbooks, pastels, paints and pencils for the aspiring artist visitor. Bring your tools and materials outside, and start with a portrait of iconic Morro Rock, just a few hundred feet in front of you.
Museum of Natural History
Settled on a hill with 180-degree views of the Morro Bay National Estuary and Morro Rock, this charming museum has much to offer. The only natural history museum in the California State Park system, this institution lies inside Morro Bay State Park. The Morro Bay Museum of Natural History offers a place to explore the history of the estuary, tidal forces and more. Learn about the most common animals and plants in the area, from anemones and sandpipers to California sea otters and California sea lions. Through hands-on exhibits and interpretive displays, discover the impacts and influences of the tide on life in Morro Bay and the estuary. Gain an understanding of what life was like for this area's earliest inhabitants, the Chumash people, and how they thrived here. Kids will especially enjoy completing a scavenger hunt throughout the museum, complete with a prize at the end. But grownups love wandering from one wing of the museum to the other, too. Don't miss the invitation to partake in nature walks, special exhibits, films, and tours. A well-stocked gift shop and knowledgeable docents make this a special stop on your arts and culture tour of Highway 1.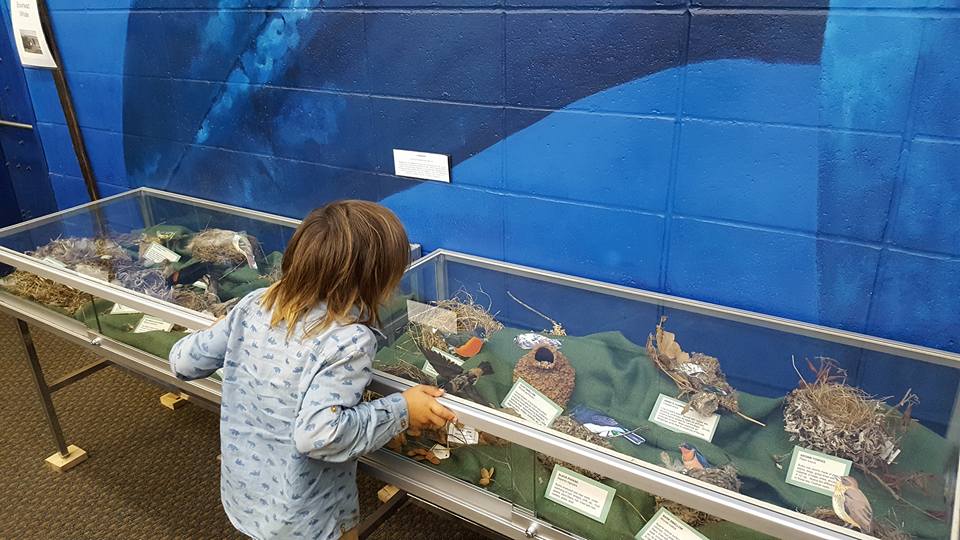 San Luis Obispo Botanical Garden
A well-loved institution, the San Luis Obispo Botanical Garden highlights the plants of the five mediterranean climate regions of the world. The garden launched in 1989 as a senior project for a Cal Poly ornamental horticulture student. Today, it spans 150 acres of property, with gardens covering about 10 acres. The gardens feature the flora and fauna of climates with characteristically mild winters and warm, dry summers. These include California, central Chile, the cape region of South Africa, the Mediterranean Basin and south Australia. Wander the gardens and explore the botanical collection of plants from these zones, as well as interpretive displays. Take the 1.5-mile Discovery Trail that loops through the Chile and California zones with moderate elevation gain. Self-guided tours and docent-led tours are available to enhance the experience. And for young botanists, head to the Children's Garden of Exploration, where kids of all ages can touch, smell, taste and learn and play.
Art & Culture in Avila Beach
Longtime residents along Highway 1 remember Avila Beach as a fun and funky beach town, including artist Colleen Gnos. She grew up spending summers in Avila Beach, and allows those memories to inform her murals painted on the beach's lifeguard towers. The two 12-foot-tall towers stand on either side of the Avila Pier; the murals are the first public art of their kind in California. The paintings cover each side of the towers, four per tower, and depict the beach's past, present and future. Find colorful, expressive paintings of the historical coastline, a lifeguard keeping watch in 1968, deep-sea divers, surfers, and fishermen. (She even painted an image of Buster Blue, a macaw at the Old Custom House that begged customers for french fries.) More images include that of whales breaching in Avila Bay, kayakers, and the longstanding Avila Beach Junior Guards program for kids. Visit Avila Beach, look out at the horizon, and you can't miss the towers with their painted sides.
At the bottom of the Landing Passage in Avila Beach, the Avila Gallery features artwork like ceramics, paintings, jewelry, pottery, and more. Walk inside and discovery the craftsmanship of four resident featured artists, as well as others. Jewelry by Linda Lewis focuses on natural gemstones and bold shapes. Watercolors by local favorite Tracy Taylor bring playfulness and color to subjects as varied as food, the Buddha, and the ocean. Other work includes paintings, enamel jewelry and felted hats, beaded and silver jewelry, acrylic paintings and ceramics. All is available for purchase, which means visitors can take a little bit of Avila Beach home with them. Even better, why not bring a new skill home? Avila Gallery also offers studio classes for learning how to work with a wide array of materials. Start with a beginning jewelry-making class, or pick from copper enameling, wire wrap, jewelry fabrication, painting, bracelet-making, and more.
Art & Culture in Edna Valley & Arroyo Grande
Heritage House Garden & Museum
The well-preserved buildings and charm of Arroyo Grande provide a window into its storied past. In particular, the Heritage House Garden and Museum showcases the lives and lifestyle of Arroyo Grande's historic inhabitants. The house and museum are maintained by the South County Historical Society, and are accessed on South Mason Street, across the historic Swinging Bridge. Once the property of Charles A. Pitkin, the house was built in the late 1800s. After a series of different tenants, including a day care and the City Recreation Department, the Heritage House underwent a major restoration in 1997. Today, it houses period clothing, kitchenware, photos, artwork, and more. As part of the restoration, the city of Arroyo Grande also installed a gazebo, lawn, and lush gardens. This makes the venue a popular choice for weddings and other events. Visit to get a glimpse into the past, and leave with a greater appreciation for the work of previous generations in Arroyo Grande.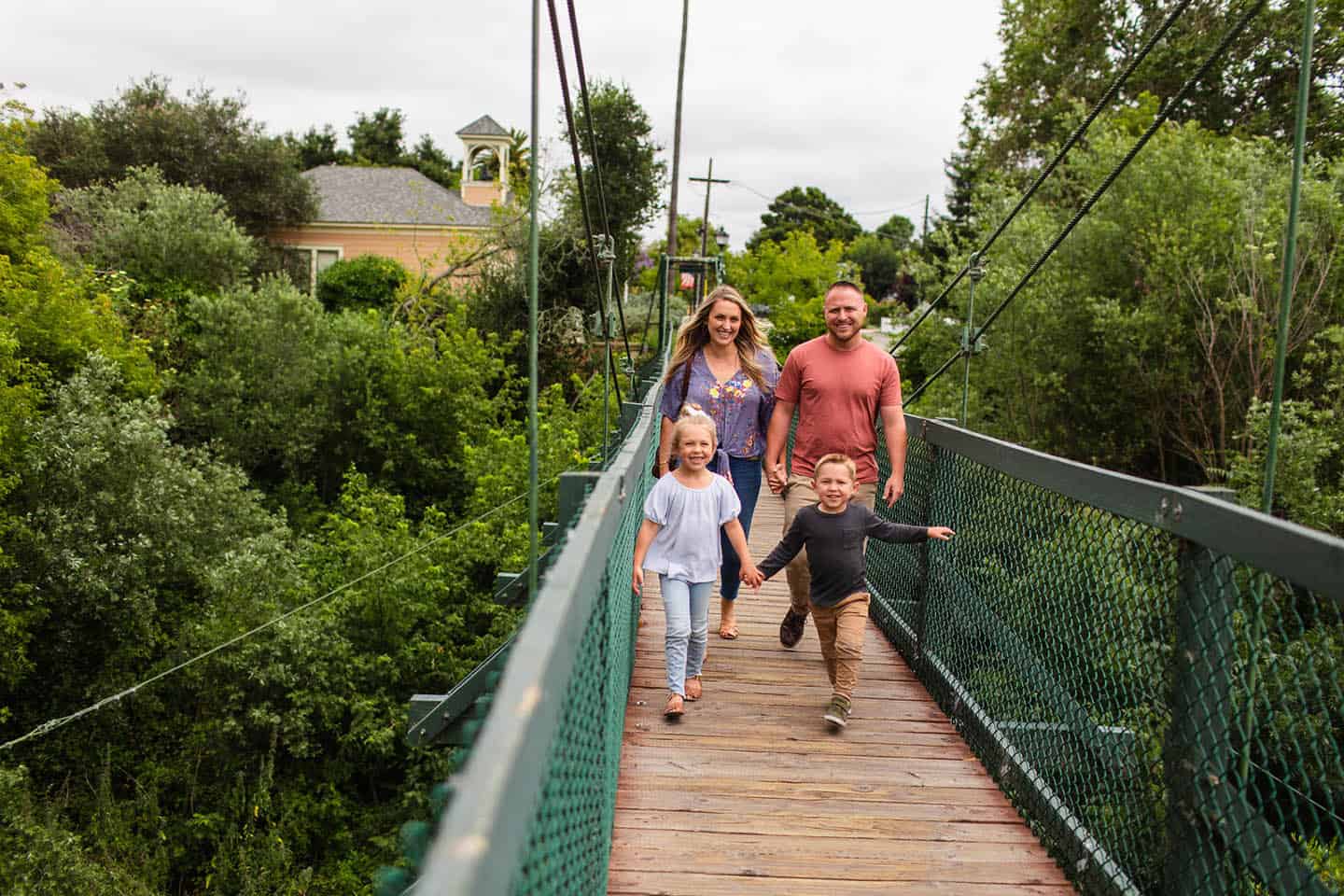 Walk back behind the Heritage House and Gardens, and you'll find "the Barn," the South County Historical Society's museum annex. In this antique barn, the Historical Society keeps artifacts from Arroyo Grande's rich agricultural history. These include plows, wagons, vintage ranching equipment and mercantile artifacts. Other items available to see include antique carriages, a horse-drawn hook and ladder fire carriage, and a 1923 LaFrance fire truck. Signage from the old Greyhound Bus depot, vintage printing presses, tools, and more can be observed up close, too. Bonus: Just steps away, walk into the one-room Santa Manuela Schoolhouse, built in 1901. The schoolhouse is one of a very few remaining historic schoolhouses in San Luis Obispo County. Kids who are currently students will especially enjoy peeking into the way previous generations attended school. Combined with a visit to the Heritage House Museum and the historical barn, this is a great way to explore Arroyo Grande history.
When national tours and local performing arts groups need a state-of-the-art theater for shows, this venue is their first choice. The Clark Center for the Performing Arts is a theater that includes the 617-seat Forbes Hall, and the 120-seat Studio Theater. As such, it has become a natural hub for the performing arts, hosting acts like The Drifters, Roy Orbison, John Craigie, and comedy festivals. The center also hosts local performances from groups as varied as the San Luis Obispo Symphony, Orchestra Novo, and the Stone Soup Music Festival. Located on the northwest corner of the Arroyo Grande High School campus, it acts as a home for the high school's drama department. Other schools use the space for their performances as well, which means there's always an upcoming show at the theater. Don't miss the gallery that wraps around the lobby of the hall, where local artists display their work.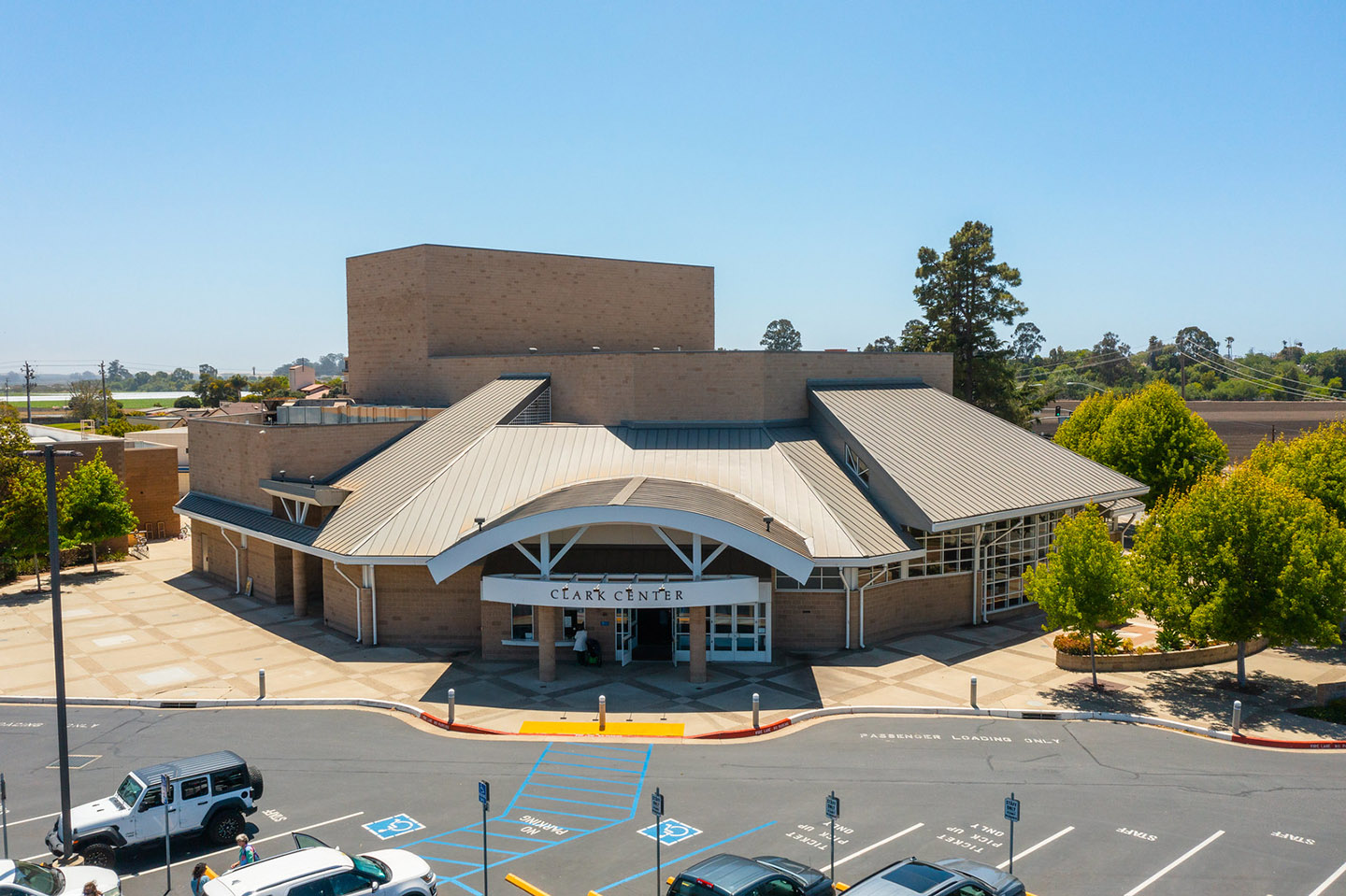 Art & Culture in Nipomo & Oceano
Built in 1869, the Oceano Train Museum houses artifacts, photos, and stories from San Luis Obispo County's railway heyday. At the turn of the 20th century, this building represented the center of commerce and development for the region. The depot offered railway transportation on passenger and freight trains, as well as telegraph service. The technology these features afforded would contribute to the growth of San Luis Obispo County more than any other. The Southern Pacific Railroad constructed the existing building, but over time, the need for freight, passenger and telegraph services decreased dramatically. The depot ceased services, fell into disrepair and was ready to be demolished until the Oceano Improvement Association purchased it. Today, the space is refurbished as a museum featuring displays on the Chumash people, railroad tools, Southern Pacific collectibles, and WW2 memorabilia. Best of all? The museum houses two vintage train cars to walk inside and explore.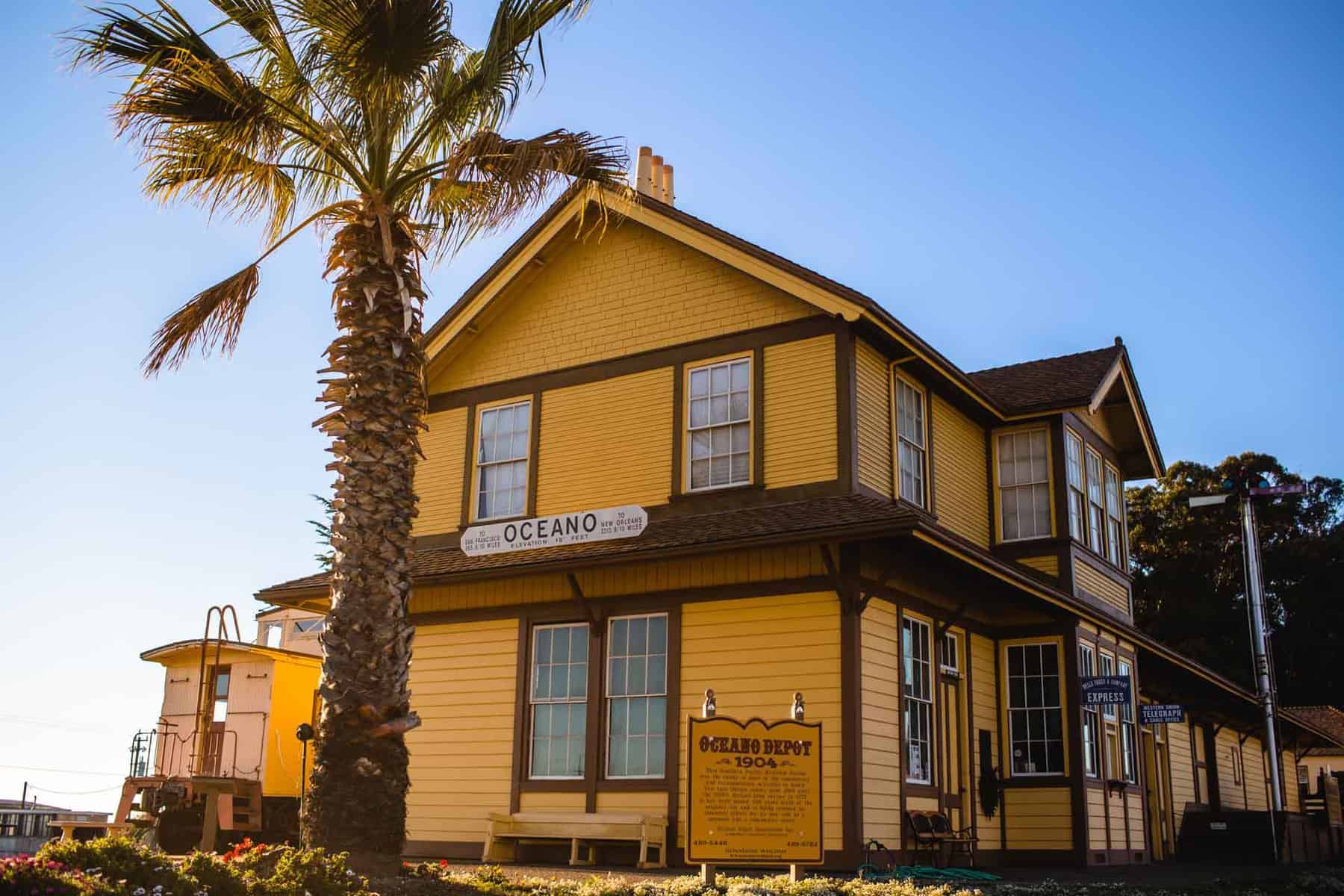 The Great American Melodrama
One of Highway 1's most beloved hidden treasures, the Great American Melodrama offers uproarious live theater entertainment for the whole family. Since 1975, the Melodrama has performed authentic melodramas — a style of theater that features outrageous plot turns, plus outsized heroic and villainous characters. The theater encourages booing and cheering those characters, respectively, and brings audience members into the story with lively acting and outrageous gags. Shows run throughout the year, and include a vaudeville revue at the end of each performance, sure to make you and yours laugh. Of particular note are the Holiday Extravaganza and Halloween shows — annual performances so popular, tickets sell out in no time. Plan to come hungry, as the Melodrama offers a snack bar where simple snacks, meals, desserts, beer, and wine are sold. Sit back, laugh, and enjoy the very best live professional theater on Highway 1. And be sure to stay after the show to take photos with your favorite members of the cast.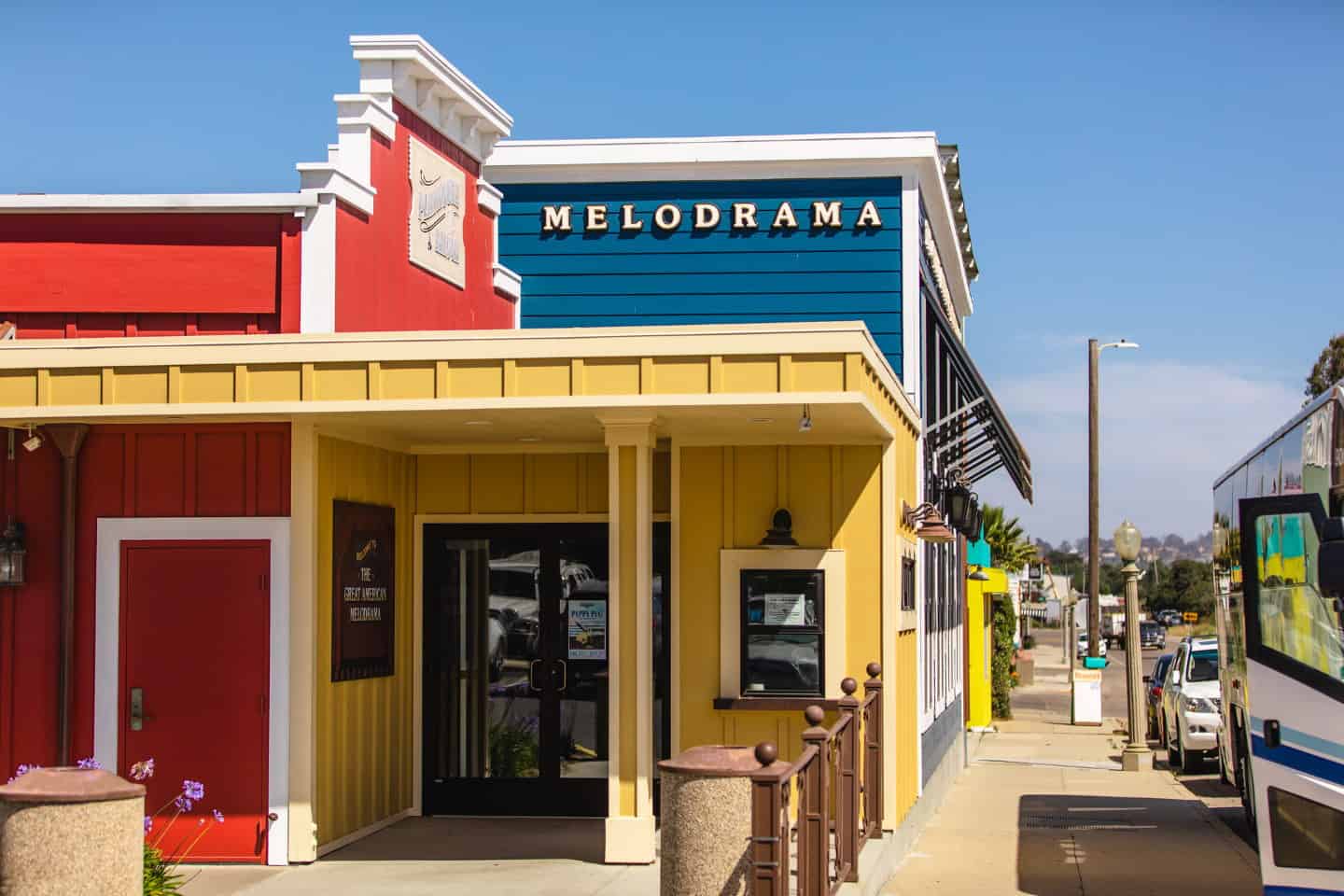 Art & Culture in San Luis Obispo
Central to downtown San Luis Obispo lies the SLO Museum of Art — a hub of artistic energy for generations. Wander west through Mission Plaza to the museum, tucked into a corner of the park overlooking the creek. SLO Museum of Art features several gallery spaces, one of which is dedicated to the museum's permanent collection featuring Central Coast artists. The main hall contains rotating shows from artists of national and international prominence. Previous exhibitions have included modern rug maker Faig Ahmed, London-based painter William Brickel, and portrait photos from Dese'Rae L. Stage. In the lobby, the museum hosts small, interactive shows for hands-on art. The museum's influence extends beyond its walls, though. Check out the rotating public art installation outside the museum's east entrance, as well as the murals on the museum's exterior walls. Public art throughout downtown San Luis Obispo, including interactive displays in Mission Plaza, are part of the SLO Museum of Art experience as well.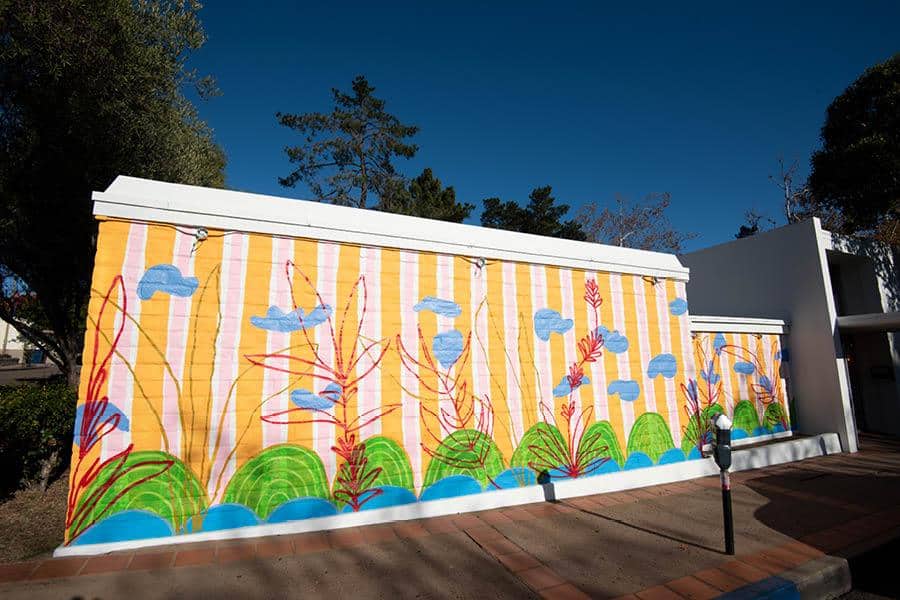 Performing Arts Center of San Luis Obispo
A common stop for national and international touring artists and shows, the Performing Arts Center offers a world-class venue for performer and audience alike. Known as the "PAC," the Performing Arts Center is located on the Cal Poly University campus, and consists of several venues. The best-known of these venues is the Harold Miossi Hall, which seats 1,286 guests and is home to the Fisk Opus 129 pipe organ. Built on a grand scale, this organ imitates (and rivals) organs in cathedrals and concert halls in the world's most cosmopolitan cities. Headliners have included Jerry Seinfeld, Pink Martini, Neko Case, Wynton Marsalis and the Lincoln Center Jazz Orchestra, and David Sedaris. National touring productions like Hairspray, RENT, and Jersey Boys routinely take the stage at the PAC. The Performing Arts Center also hosts resident local artists like the San Luis Obispo Opera, Civic Ballet, San Luis Obispo Master Chorale, and more.