Ragged Point Hiking Trails
Ragged Point hiking trails are some of the most scenic along Highway 1. Showcasing breathtaking ocean views and secluded waterfalls, you'll enjoy what makes this slice of California coastline so iconic. Known for a mild climate with foggy mornings that burn off by the afternoon, some trails can be slippery when wet (do wear proper footwear). The best part about hiking Ragged Point? Trails range from easy flat-land nature walks to steep and challenging cliffside hikes. Choose your own adventure and discover the magic of Ragged Point, also known as "The Gateway to Big Sur."
San Simeon hiking trails offer windswept vistas and exciting wildlife viewing opportunities along Highway 1. Known for a cool and foggy climate with light winds rustling into the afternoon, you'll want to grab a jacket before heading out. Looking for accessible coastal trails perfect for the whole family to enjoy? San Simeon hiking trails are mostly easy-to-moderate in difficulty and all offer ocean views.
From towering pine trees to moonstones on the beach, you'll find that Cambria offers up some of the most enchanting hiking opportunities along Highway 1. Trails are as approachable as they are beautiful, with easy-to-moderate difficulty (plus, many trails featuring ADA accessible boardwalks). Known for its cool and foggy climate, you can expect light wind to bluster through the afternoon. Dress accordingly and expect an epic day traversing the coast.
Cayucos hiking trails are a cinch to trek and full of enticing coastal surprises. With hikes that reveal sun-dappled tidepools and even a real-life shipwreck, you'll never know what's in store when hiking in Cayucos. Featuring cool, foggy mornings with radiant, clear afternoons, you'll have little trouble enjoying the views along the way. Plus, Cayucos trails are easy-to-moderate in difficulty–unless, of course, you opt to veer off the beaten path.
Los Osos & Baywood Hiking Trails
Los Osos and Baywood are a hiker's playground on Highway 1. Featuring wildflower-covered mountains to pebbly beaches, you'll encounter a wide breadth of terrain along your journey. The climate in Los Osos & Baywood is traditionally cool and foggy in the mornings with clear afternoons perfect for exploring cliffs and tidepools. Although trails are mostly easy-to-moderate here, you can also choose a more challenging hike (like the formidable Valencia Peak) depending on your skill level.
Sunny, scenic Avila Beach is the perfect meeting place for a family hiking trip. Here, the sun makes an appearance earlier than any other coastal hiking destination along Highway 1. Soak up the sunshine and embark on the Bob Jones trail, a paved, family-friendly hike leading from forest to sand. Want more of a workout? Go for the more demanding Ontario Ridge trail, a worthy challenge, indeed.
Overlooking Pismo Beach, Pismo Preserve welcomes hikers with 11 miles of open trails to explore. At the trailhead, enjoy an expansive view of the Pacific coastline before breaking off onto five available subtrails. Encounter quiet oak woodlands and coastal ridgelines along the way: trails are moderate-to-difficult, all with varying degrees of elevation. The preserve is open daily from sunrise to sunset and closed during rainy conditions. The parking lot and trailhead is located at the southern end of Mattie Road in Pismo Beach, east of the 101 Freeway.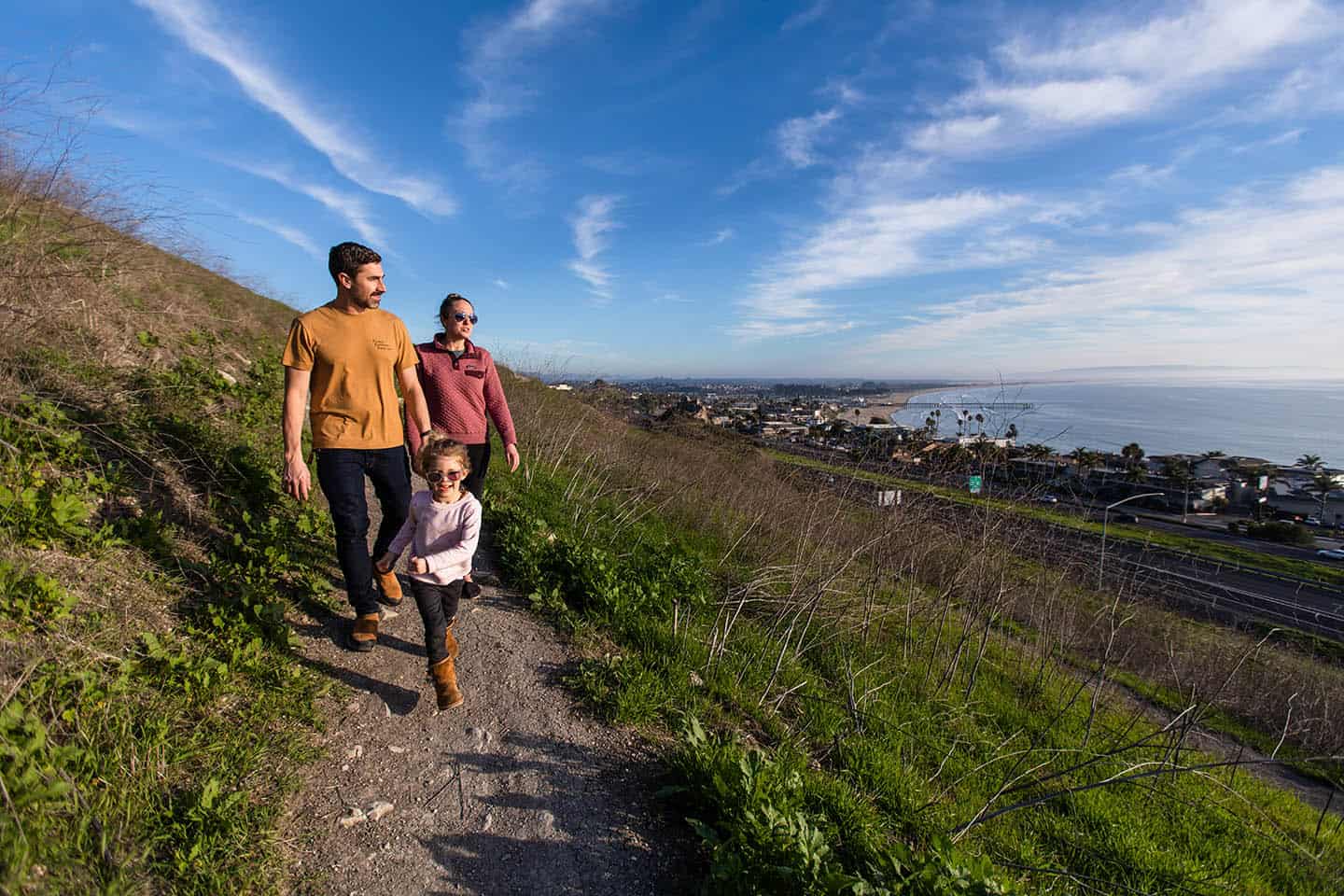 Edna Valley Hiking Trails Hiking
Mild weather and lush vineyards make Edna Valley a heavenly hiking destination on the coast. Showcasing one of the most temperate climates along Highway 1, expect nearly 70 degree temperatures all year round in Edna Valley. That said, wind along the Los Osos Valley area can pick up in the afternoon, so be prepared for a gusty picnic. Known for beautiful elevated trails, this location is best for moderate-to-skilled hikers.
Arroyo Grande Hiking Trails
Known for its timeless patchwork of farmland, orchards and vineyards, Arroyo Grande puts an agricultural twist on Highway 1 hiking. With weather nearly identical to Edna Valley (the two towns run parallel to each other), you'll find easy-to-moderate trails winding along dense forested areas.
Outdoor enthusiasts flock to Lopez Lake for a reason: the climate is moderate year round and the lake's recreation area encompasses 4,200 acres of open space and hiking trails. With scenic paths criss-crossing oak woodland and coastal sage scrub, this destination is home to black bears, mountain lions and mule deer. Many trails are directly accessible from Lopez Lake, although some–like the iconic Big Falls trail–require the use of a four-wheel drive vehicle.
Oceano and Nipomo hiking trails beautifully represent the astounding geographical diversity of Highway 1. Enjoy a wide variety of trail scenery, from wooden boardwalks that allow hikers to walk across pristine lake waters to wide open expanses of undulating dunes. Along the way, keep an eye out for surfers, seabirds and fluttering Monarch butterflies.