Once called "The Lost Coast" by Surfer Magazine, this rugged stretch of coastline boasts some of the best-kept secret surf spots in California. White sands, easy access and breaks that go on and on are just a few of the benefits of surfing around here. Some of California's best beaches can be found here on our special stretch of Highway 1, and nearly all of them offer prime surf. Many lie along the pristine, protected coastline of state beaches. Mile after mile of beach break can easily be scouted from the highway — just pull over and give it a look.
Fall is by far the best time to plan a surf trip on Highway 1. Glassy waters, sunshine, and long intervals between west swells are what make September and October the favorite season for surf. (It's also the best time for everything from wine tasting and cycling to hiking and site-seeing, too: a real win-win.) That being said, cold water temperatures can get even chillier in fall, so be prepared with your neoprene. Most locals wear wetsuits year-round, and you'll probably want to, too. Get out in the water early, before the Central Coast's notorious wind picks up. 
Though the best-known spots are around Pismo Beach and Morro Bay, the less-crowded waves can be found up and down the coast. So throw your board and your wetsuit in the car. Time for your epic Lost Coast surf trip.
Surfing Along Scenic Highway 1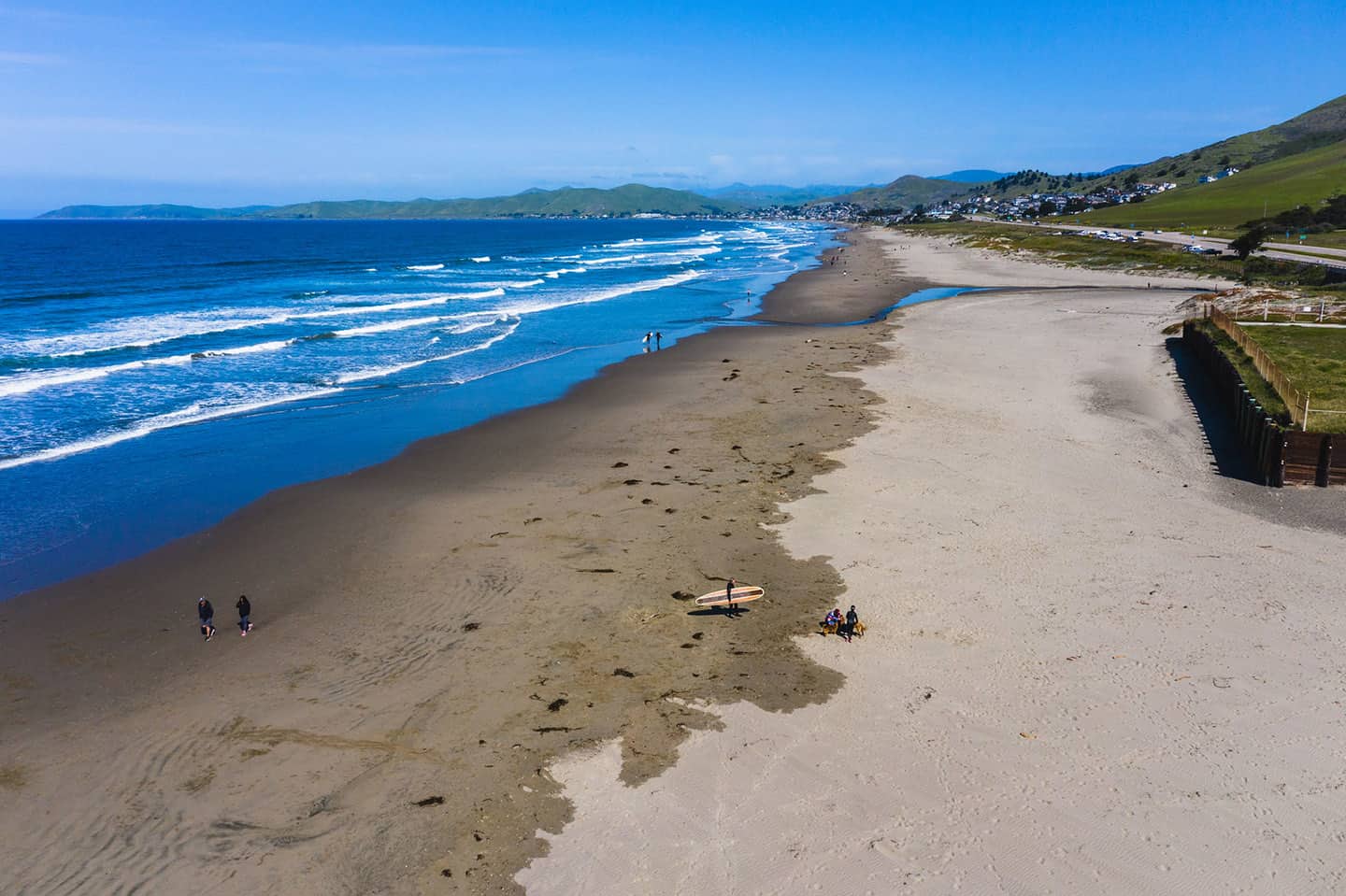 Surfing San Simeon & Ragged Point
San Carpoforo Creek
This hidden surf spot lies just north of San Simeon on the way north to Ragged Point. San Carpoforo Creek is an exposed beach break that's best for surf when offshore winds blow in from the east. The beach usually have distant groundswells, with the best ones coming from the southwest. Waves on the beach break in both directions, with the best ones happening during high tide. When the conditions are right, these are clean, moderate waves, just right for beginners and intermediate surfers. That said, it can also be crowded. The weather is generally very mild in February, which is considered the best time to surf here — and the least crowded. Look for air temperatures in the high 50s and low 60s, with water temperatures closer to the low 50s. Bring a wetsuit, or at least a spring suit, as well as hoods and booties, if you like.
To reach the beach, driving north, pull off Highway 1 about eight miles north of the Piedras Blancas Light Station. Navigate to 18550 Cabrillo Hwy, San Simeon, CA; this is the address of a home directly across the street from the small turnout. Park here and locate the gate to the trailhead. Walk the short trail that crosses San Carpoforo Creek to the wide sandy beach.
San Simeon Point
This surf spot sits on a point that faces southeast/east-southeast that can be tricky for novices to navigate; experienced surfers love it. This can be an uncrowded spot with epic waves — a point break with fast, hollow, powerful rights. Any wave coming from the northeast to the northwest is offshore; west winds blow off the cliff faces, causing a side offshore effect. Head to the top of the point, which is covered in reef. There, you may find a great wave break on large northwest and western swells. Also look for a nice cove wave at the top of the point on big south-southeast swells. These often start at 5-6 feet and hold up to 10 feet. The best tide position for a session is low or mid-tide as the tide rises. Just watch out for rocks.
To reach San Simeon Point, you'll need to hike out a ways on an easy seaside trail. Park in the parking lot at W.R. Hearst Memorial Beach. Walk along the beach about 1/4 mile and find a simple dirt trail headed up away from the beach. Walk this out to the point, about 3/4 mile.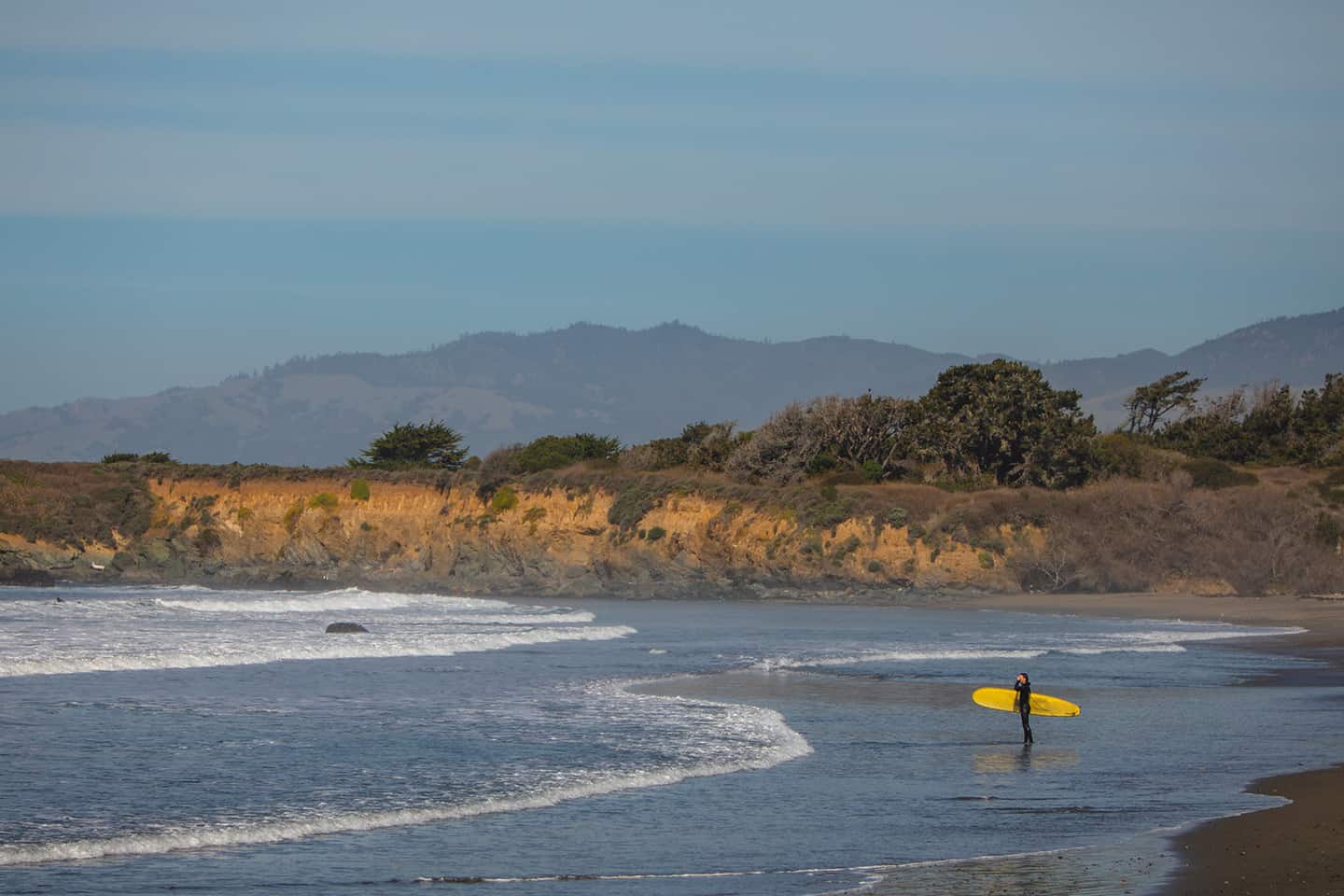 Pico Creek
This surf spot is located on an accessible beach near "new" San Simeon (at least new since William Randolph Hearst's era!). Pico Creek offers clean water, ideal wind conditions, and lots of rideable waves. This is a reef and sandbar at the creekmouth on San Simeon's north side. Park at the end of Pico Avenue and walk north, down the stairs to the beach. The reef break means plenty of comfortable waves for surfers at all ability levels. If you're looking for something a little less crowded and a bit more challenging, walk or drive a little south. If you're driving, park at the end of Vista Del Mar and walk the short bluff trail to the gap that leads down to the beach. To the right, find a wide beach, and to the left, a lot of rocks and craggy shoreline. These submerged rocks keep lots of surfers from riding here, but it's a great spot if you can navigate it. Plus: less competition for waves.
Willow Creek
Reliable and consistent, Willow Creek lies just north of the San Luis Obispo County border, but local surfers are willing to drive there. The conditions at this reef are ideal for experienced surfers only; beginners and groms may want to head south to San Carpoforo Creek. January can often be the best time to visit, when light offshore winds and swells become clean, surfable waves. Look for swells from the west and offshore winds from the northeast. On the best days, waves can range between chest height and double overhead during a medium-high tide. Temperatures in January hover around the mid-50s, and ocean temperatures are a few degrees cooler than that. Prepare for the cold and the power: bring a wetsuit, hood, booties, and a short board. Also watch for sharks, whose dorsal fins have been seen on the surface here. To reach this Big Sur surf spot, travel north on Highway 1, about 14 miles past Ragged Point. Follow signs for the Willow Creek Picnic Ground.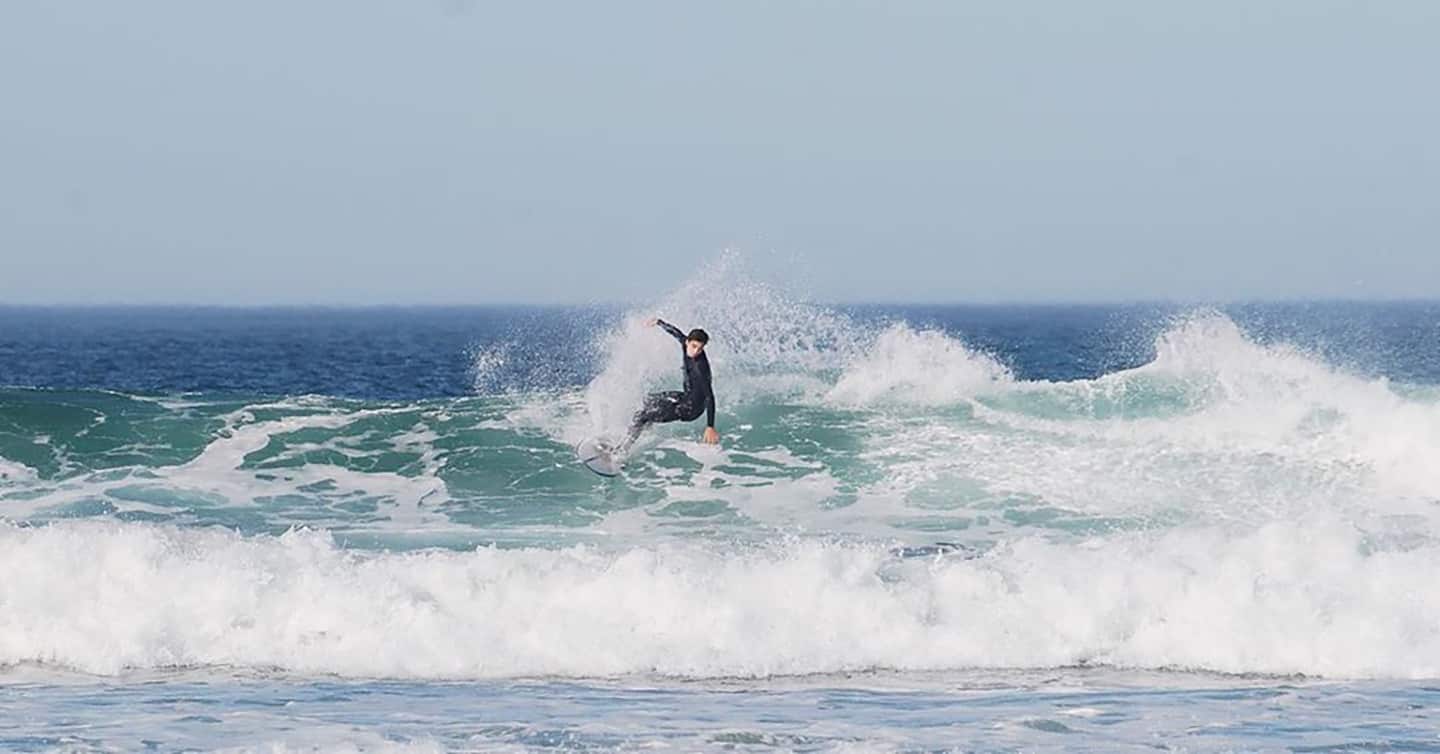 Moonstone Beach
When most people think of Moonstone Beach, they think about beachcombing, smooth stones, driftwood, and walking the Moonstone Beach Boardwalk. But for those who like to paddle out, this beach can have much more to offer. Moonstone Beach boasts its best conditions in winter, when a lengthy right-traveling reef wave has the big swells to break. For prime times to get in the water, December, January and February offer swells that are 95% ground swell versus wind swell. This is when the waves are most rideable, and when the surf is good at Moonstone Beach, it's really good. Get on swells of 5-7 feet from the northwest every 10-12 seconds at mid-tide. Paddling out is relatively easy here, but don't let that fool you: this is for sure an intermediate+ spot. Park in the lot off Moonstone Beach Drive, and find the beach break just south of the rock pile on the sand.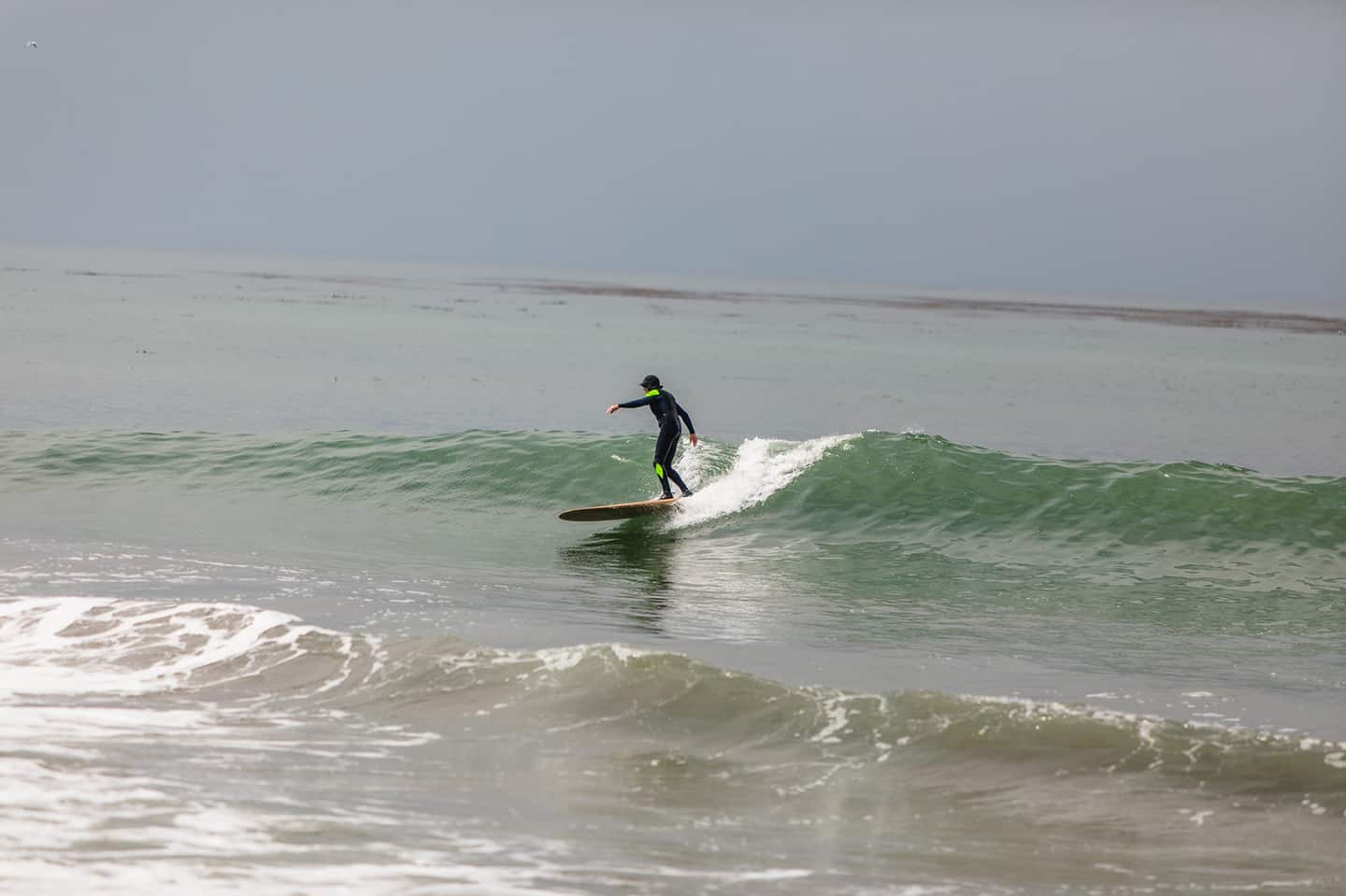 Studios (Morro Strand North)
This favorite Cayucos surf spot lies just 5 miles north of the famous Morro Rock. That means you'll have plenty of scenic views to soak up as you wait for the next set. Studios is a beach break with powerful rights and lefts, recommended only for experienced surfers. The risks you run for some pretty stellar conditions include rip tides and undertow, jagged rocks underfoot, and — rarely — sharks. For those who can hang, winter provides the best possible conditions — and the fewest crowds. Swells come quickly here from the north and west, and can hold at 10+ feet on good days. Be prepared for chilly water: in winter, the average sea temperature hovers around 53 degrees F. Locals highly recommend full wetsuits, gloves, booties and hood at a thickness of 4x3mm or higher. To reach Studios, traveling south on Highway 1, pass Cayucos and look for the sign that points right for Studio Drive. Park at 24th Street and Studio Drive, then head to the beach from there.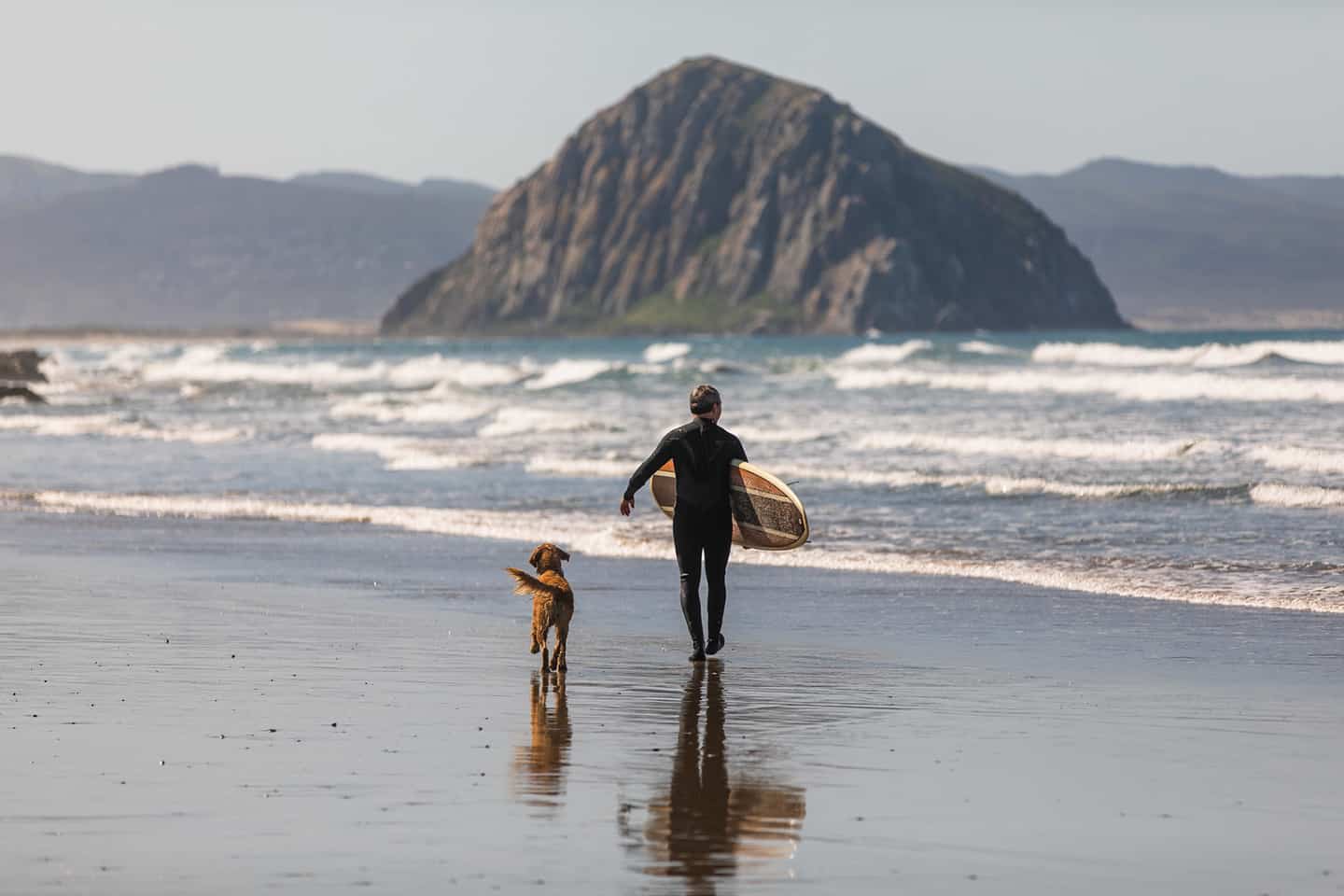 Cayucos Pier
A popular spot for both surfers and those who like to watch them play, the Cayucos Pier lies right in the heart of downtown Cayucos. This reliable surf spot sits just south of the historic pier built by Captain Cass in the late 19th century. Rideable ways here are at 90% or higher 11 months out of the year, the least rideable month being August. (Contrast that with the month of November, in which 100% of waves are rideable, on average.) This is a hollow beach break that can hold up to a few feet overhead with strong swells. The best waves south of the pier are fast, thin, and to the right. Lets can also be good with south swells in the summer. Due to strong offshore winds from the north in spring, this can also be a good time to paddle out. Look for parking along the seawall parallel to the pier on Front Street. Facilities include a restroom and upper/lower beach showers.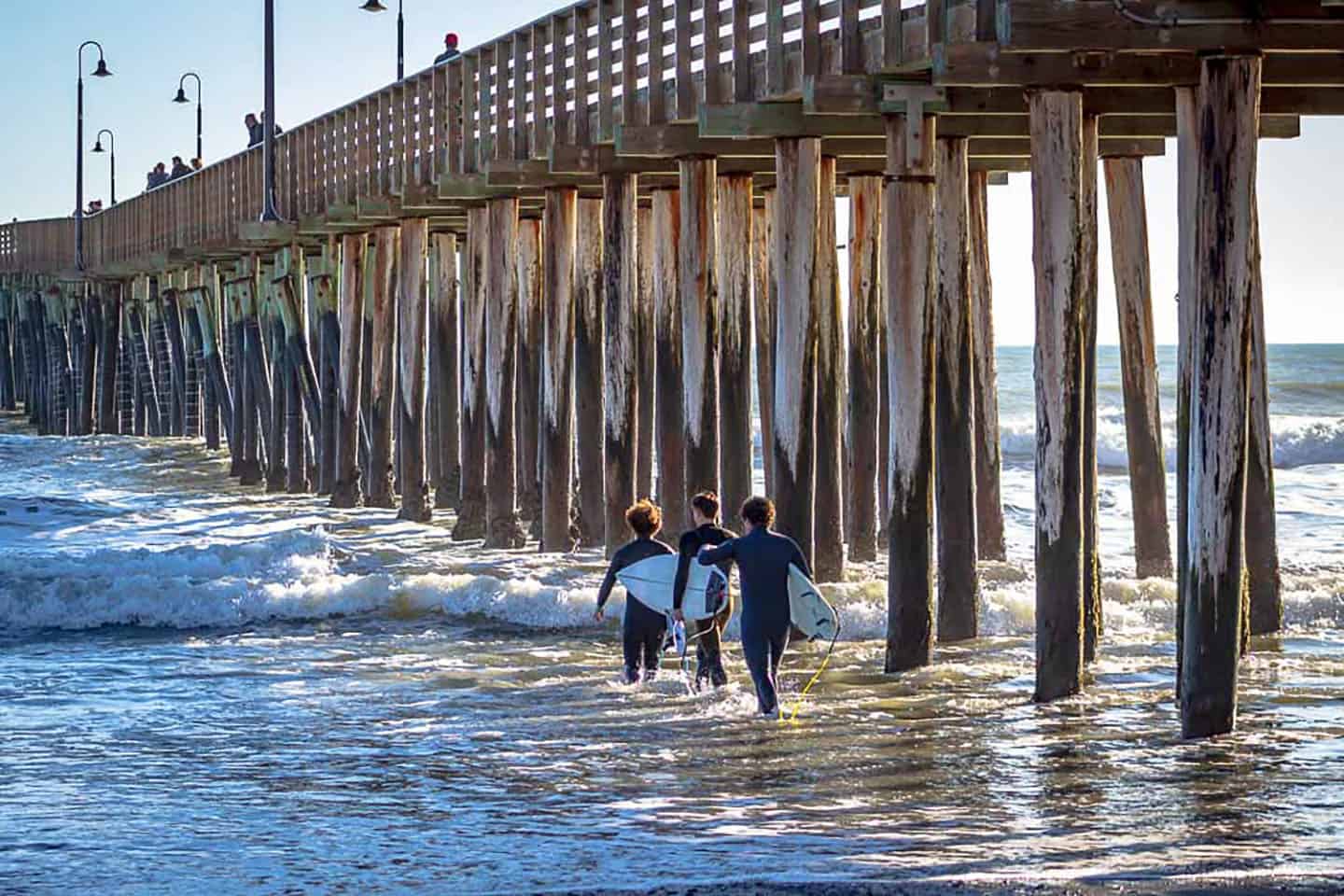 Mouse Rock
For expert or kamikaze surfers only, Mouse Rock is a reef break known for huge waves that can hold at 16+ feet. Located about 0.3 miles from the Cayucos Pier, Mouse Rock requires an effort and some creativity to reach. That can mean towing out with a boat or jet ski, or just jumping off the Cayucos Pier and paddling toward the horizon. Again, this is an experts-only wave, but for the right surfer, the effort is worth the payoff. Unlike many spots on the Central Coast, Mouse Rock boasts its best conditions in spring and summer, with offshore winds from the east. Most swells are groundswells here, ideally from the west-northwest. Due to the extreme nature of this offshore wave, this spot is typically empty. Still, watch out for the locals: urchins and sharks. While rarely spotted, they do hang out here from time to time. Also beware of hidden jagged rocks, which can be surprisingly close to the water's surface. Though Mouse Rock can be warm and sunny, sea temperatures often skirt around the low- to mid-50s F. In other words: bring your neoprene.
Spooners Cove
Like all natural features inside Montana de Oro State Park, the surf spots here are big, best for experienced surfers only. The three major surf destinations at the front of the park are Lonesomes, A-Frames, and Spooner's Cove. 
Lonesomes is a fickle big wave break that can be an epic right under the best conditions. The name isn't a mistake: Lonesomes requires quite a paddle-out, and isn't for the faint of heart. Located on the north point of Spooner's Cove, it breaks toward the inside of the cove. The best way to reach the spot  is by driving into Montana de Oro and stopping at the ranger station and campground entrance. Here, pull onto the grassy turnout on the cliff overlooking Spooner's Cove and the beach. This is where the locals park, and it's also the best place to see what Lonesomes is doing at the moment. From the north end of the parking area, take the staircase down to the beach.
If Lonesomes is the northernmost spot in this trio, A-Frames is in the middle. This is also an unpredictable wave that can break left or right, and requires a paddle-out. Due to its proximity with the Spooner's Cove wave to the left, the two waves can combine at times for a painful closeout. But in the best of conditions, A-Frames is a big drop at low tide. This is a really good spot for novices to practice towing in and to try a big drop.
As for Spooners, some locals thing it's the best big-wave break on California's Central Coast. If the winds are right, this wave can hold at 20 feet. This is the southernmost surf spot in the trio, and breaks toward the inside of the cove. This is a big left over the reef; look for powerful, hollow, sometimes ledgey waves.To reach Spooners, park at the grassy turnout across from the ranger station and campground entrance. Walk down the staircase to the beach and paddle out into the cove, pointing south. You'll find the Spooners break in front of the rock-reef protrusion.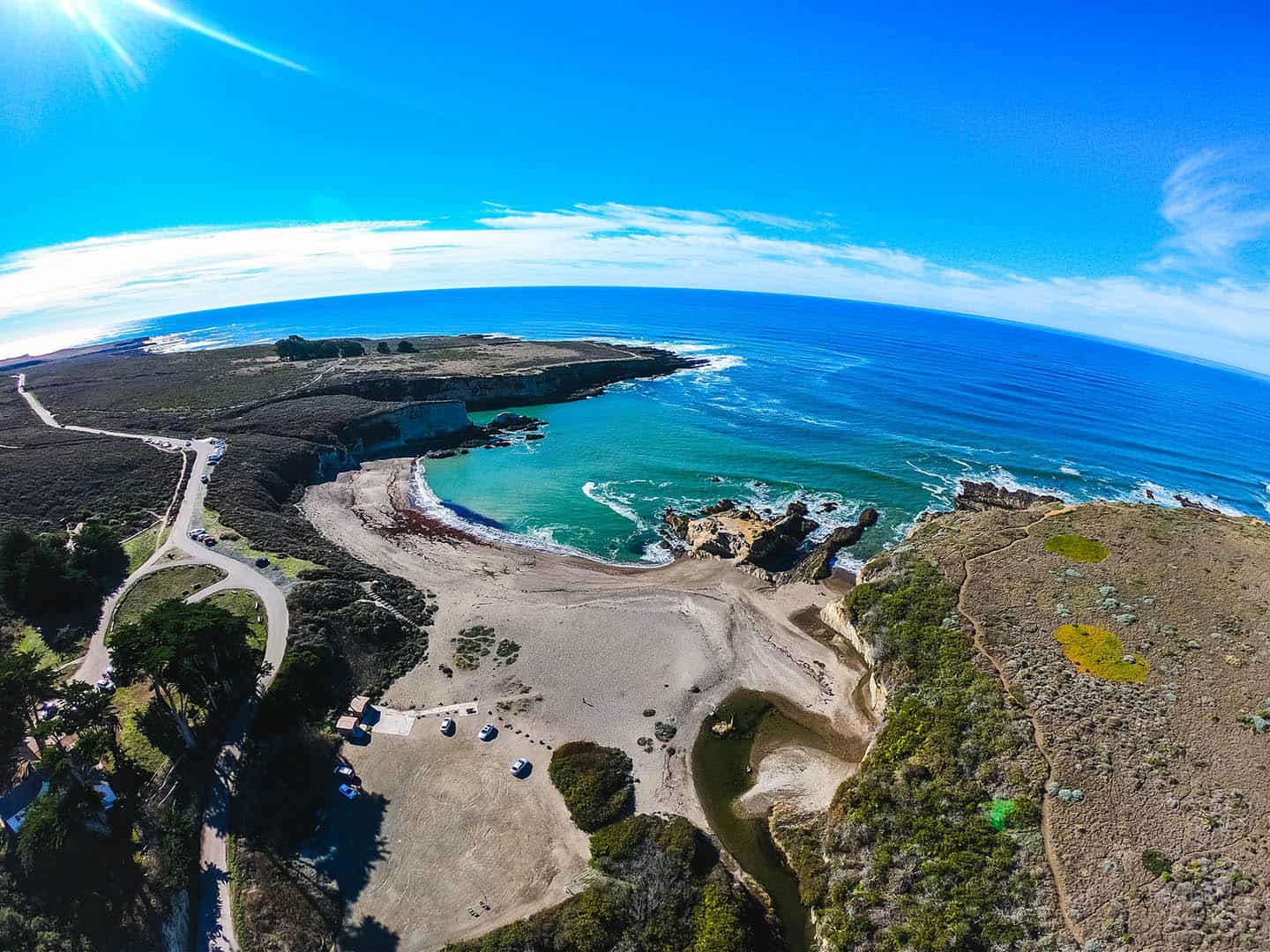 Hazards
All the best surf spots require a little work, right? Hazards is one of those spots. To get there, you have to walk about 15 minutes on a forest trail, and even then it can be tough to find. With consistent waves, the reef break at Hazards is only for experienced surfers. Powerful, hollow waves break both left and right with swells holding up to 8 feet at mid-tide. Hazards doesn't see a lot of surfers, but those who surf it regularly can be a little territorial. This is a heavy, dangerous wave with a late drop and quick bowl. Watch for rip tides and undertow, plus sharp rocks and the occasional shark. Also be wary of abrupt closeouts, which can be tough to spot, unpredictable., and can hold you down quite a while. Winter is the best time to ride here, but be sure to bring a full wetsuit plus booties, gloves and a hood.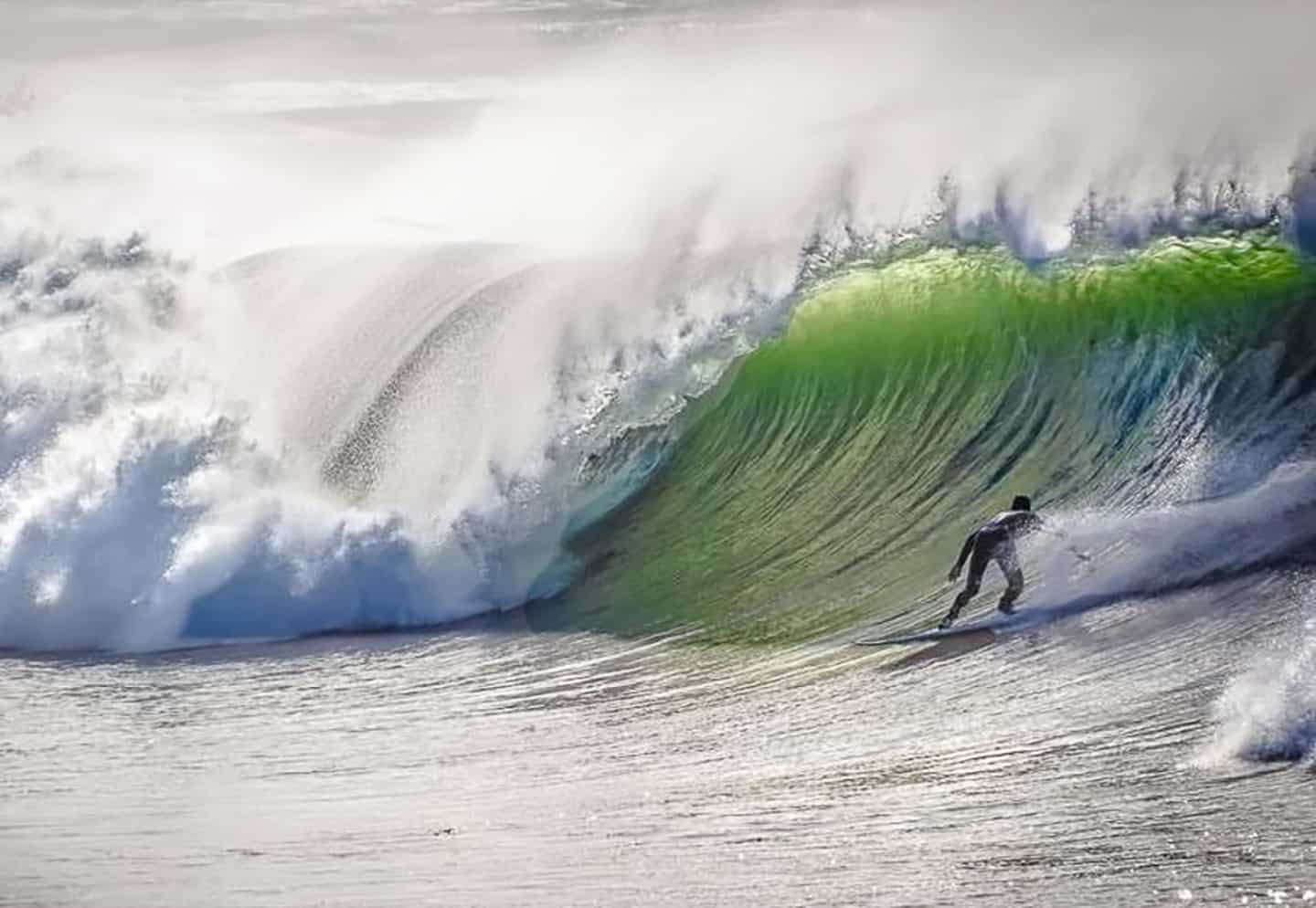 Avila Beach is one of the most family-friendly beaches on Highway 1, and surfing here is no different. For beginners looking to make their first splash, surfing Avila Beach is a great place to start. Here, quiet waves can sometimes get bigger, but for the most part it's all pretty gentle. The nearby Avila Beach Surf School and Van Curaza Surf School indicate that Avila Beach supports young riders and beginners of all ages. But Avila Beach may be known best for its friendliness to young kids on boogie boards. The ideal spot to teach your little grom is around the base of the Avila Beach Pier. Park on the street in town or in a paid lot back toward Avila Beach Road. Then head to the shoreline and set up near the pier. It's easy to spend an entire day playing in the waves here, with shaved ice breaks and lunch breaks between sets. Avila Beach is also a terrific spot for peaceful stand up paddleboarding (SUP).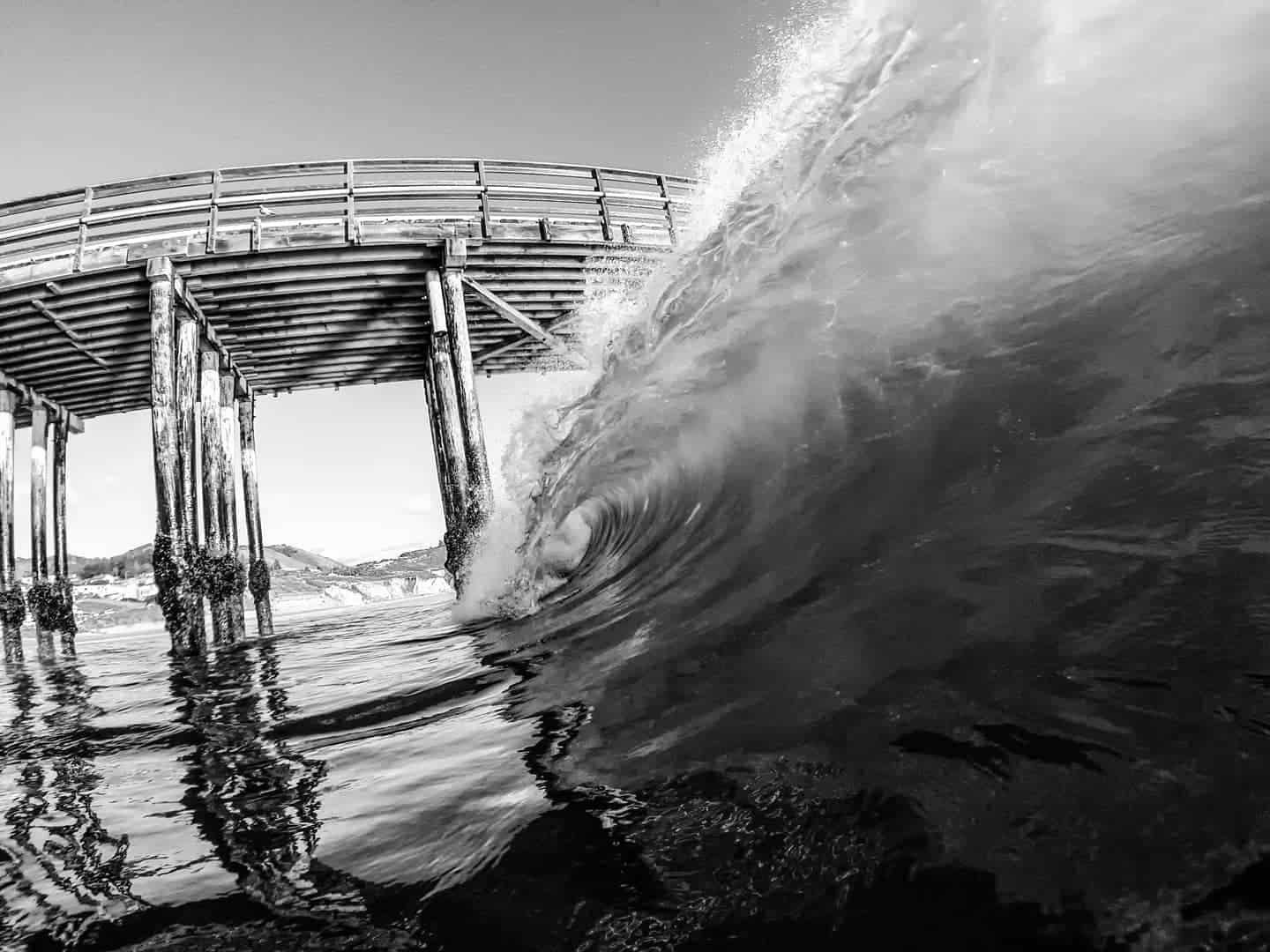 Perhaps Oceano is the best-kept surf secret here on Highway 1. Though it's known more for its driveable beach, clamming and horseback riding, Oceano's Pismo State Beach has some of the best breaks, and none of the crowds. Look for miles on miles of beach break with plenty of wind and ground swell. The bigger the waves get, the further out they break. The best time of year for small, clean groundswells is winter, especially at high tide. Playful swells in summer can be fun too. Exposed sandbars mean the surf is bigger here than in nearby Pismo Beach, but it's windier here. Pismo can seem easier because of its proximity to parking and calmer winds, but the truth is Oceano can be completely empty, much of the time. Ditch the crowds at Pismo and take on the bigger waves of Oceano. Just be sure to wear your warmest wetsuit and gear, and watch out for currents and undertow. Park in one of several lots throughout Pismo State Beach, or in the parking lot for Fin's Seafood at the end of Grand Avenue.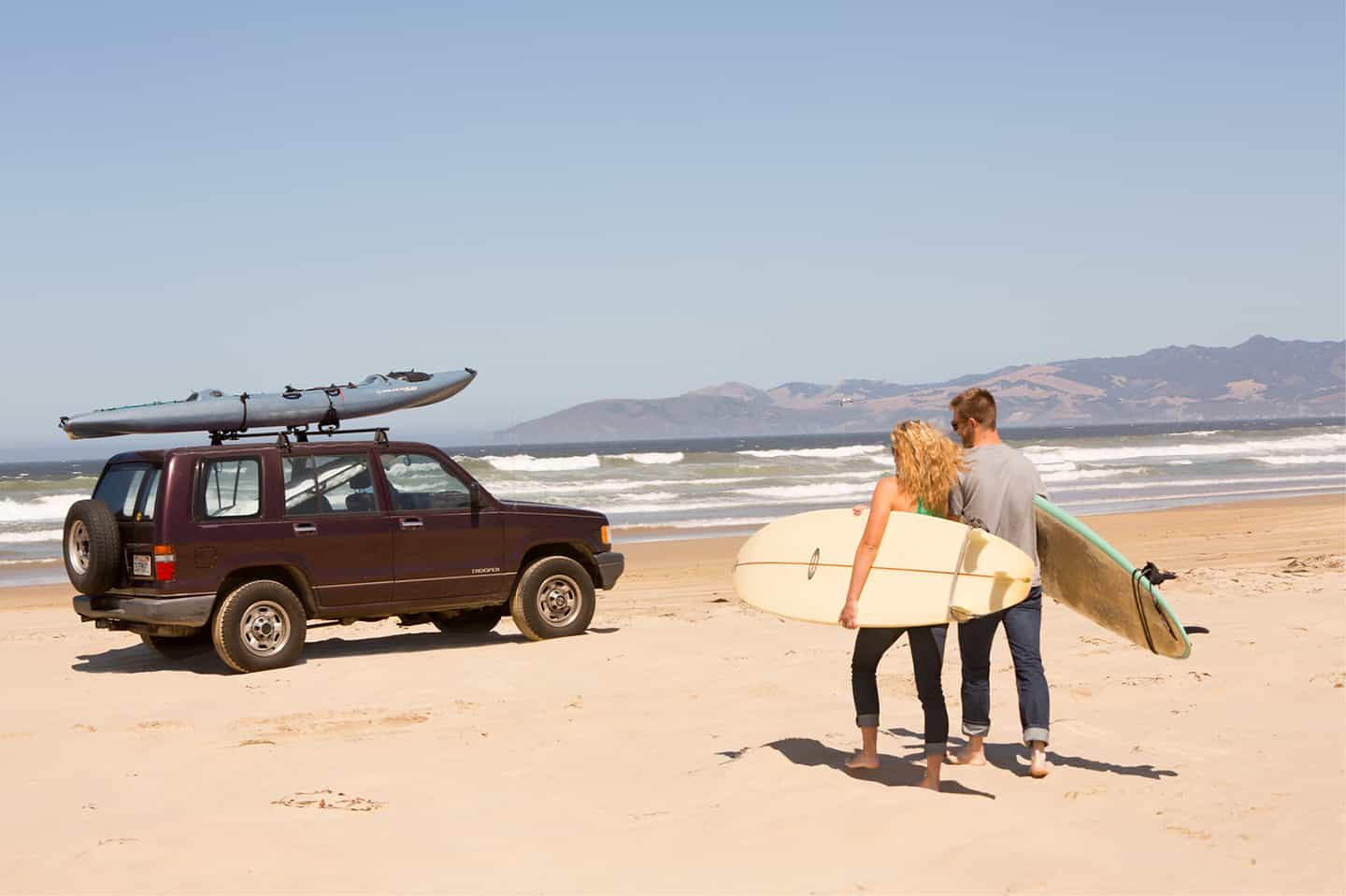 Tide Times for Highway 1
Thursday, Dec 7, 2023
| Tide | Time (PST/PDT) | Height |
| --- | --- | --- |
| High Tide | 6:05 AM | 4.91 ft |
| Low Tide | 12:51 PM | 1.5 ft |
| High Tide | 6:24 PM | 3.35 ft |
| Low Tide | 11:44 PM | 1.7 ft |
Tides measured at Port San Luis Harbor. Data provided by
noaa.gov.