Few areas include such a diversity of landscapes as Montaña de Oro, a state park located in Los Osos. Tucked along the shoreline at the southern end of Estero Bay, this 8,000-acre state park is one of California's largest. From eucalyptus groves to wildflowers, tidepools to towering dune mountains, Montaña de Oro always offers more to discover. Hike one of multiple trails here, like the serene Bluff Trail that takes in the coastline, or the challenging Valencia Peak trail, which summits at 1,347 feet. Or take your mountain bike out for a spin on the Hazard Peak trail, which travels a total of 11 miles and includes dramatic ocean views. Spend a morning down at Corallina Cove watching hermit crabs, sea stars, urchins and anemones in their miniature tidepool worlds. Take your kayak and your fishing rig out at Spooner's Cove to catch your dinner—or just drop a line amongst the rocks at Hazard Canyon Reef. And if you're a well-seasoned surfer? Paddle out at Sandspit, Spooner's Cove, or Hazards for one-of-a-kind waves, best tackled by advanced surfers. Wildlife, history, views, sunbathing, and much more await the curious visitor at this generous state park.
History of Montaña de Oro
The human history of Montaña de Oro State Park begins with the Chumash people who lived here long before the first European explorers arrived. It's been estimated that 20,000 to 30,000 Chumash people lived across California's Central Coast between Morro Bay and Malibu. In 1542, Spanish explorers noted how open and welcoming the Chumash people were when they greeted them from their canoes.
The Mission Period began when Don Gaspar de Portola came to claim this stretch of coastline for Spain. Sadly, with the introduction of European viruses, most of the Chumash people died. Those who survived fled their villages, and the Chumash way of life all but disappeared. Remnants of Chumash culture like middens (ancient refuse heaps) can still be found throughout Montaña de Oro State Park.
After Mexico ceded Alta California to the U.S. in 1848, ownership of Montaña de Oro changed several times, as did its borders. Part of Montaña de Oro, called Rancho Cañada de los Osos, combined with Rancho Pecho y Islay to the south to comprise 32,431 acres. 
Key Facts About Montaña de Oro
In 1892, Alden B. Spooner established a section of that property as Pecho Ranch & Stock Co., with a dairy, ranch and row crops. He built a home, sheds, stables, a creamery, barns and even a water mill for power. Spooner and his sons made use of a nearby cove by building a warehouse, chute, and a boom to load steamers below. To the north, Alexander S. Hazard established agricultural crops as well as a dairy. He also planted a forest of eucalyptus trees, hoping to sell timber across the state. Sadly, eucalyptus trees produce wood unfit for commercial uses. (The mistake was a common one across the Central Coast, as evidenced by the thousands of eucalyptus trees across the Central Coast.)
Hazard Canyon saw several natural events in the 1940s, including a flood and a wildfire that burned down Hazard's diary. The property transferred from a rancher named Oliver C. Field to Irene McAllister in the 1950s. (McAllister is the one to first call the land Montaña de Oro ― "mountains of gold" ― for the poppies and wildflowers that grow there.) The property went into bankruptcy in the 1960s, during which California Governor Pat Brown launched a park acquisition program. The state stepped in to purchase Montaña de Oro and it became a state park on April 24, 1965. Today, Rancho Montaña de Oro is some of the most untouched publicly-owned land in the state.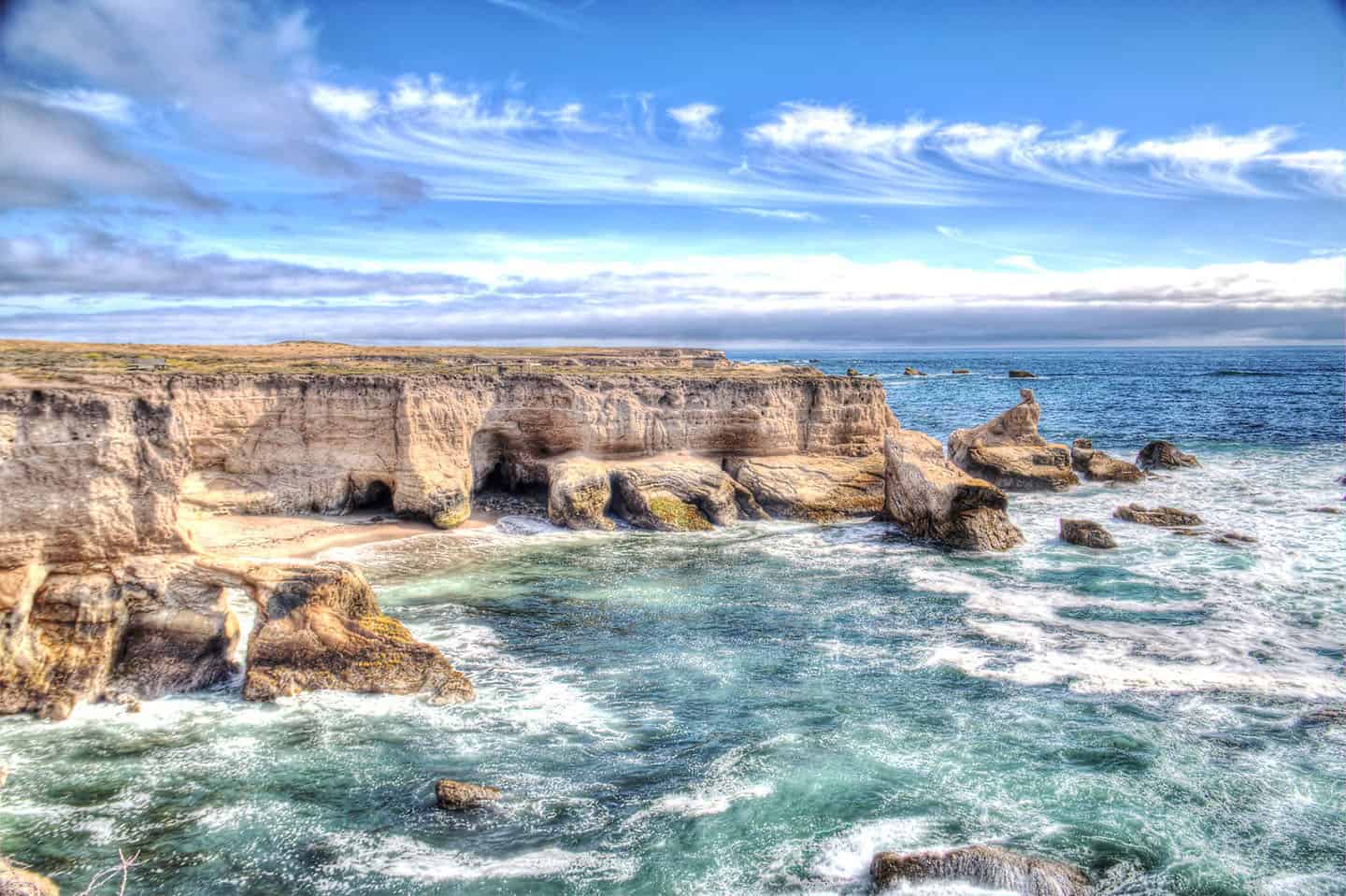 Hiking in Montañ
a De Oro State Park
Whether you're a die-hard hiker or someone who just likes to walk on the wild side, Montaña de Oro State Park should be at the top of your list. With dozens of hiking trails, it's considered one of the best locations for hiking along Highway 1. Enjoy a wide range of hikes here, from flat, open and easy trails that skirt the bluffs to multi-mile trails that summit challenging peaks. No matter which you choose, it is guaranteed to include scenic ocean views, sometimes even with glimpses of Morro Rock and other landmarks. Take breaks along the way to sit on a bench, check out tidepools, or simply take in the scenery. But before you lace up your hiking shoes, please note: dogs are not allowed on any trails within Montaña de Oro State Park. Not even on leash! According to state law, pups are only allowed on roadways, at Spooner's Beach, and in campgrounds.
Bluff Trail
This 3.4-mile out-and-back trail skirts rugged coastline, bluffs, and tide pools. Look for the trailhead near the Montaña de Oro visitor center and Spooner Ranch House. The trail begins with a wooden bridge, followed by ocean vistas. After a half mile, stop at Corallina Cove or continue hiking for more primitive trail to Quarry Cove.
Valencia Peak Trail
At 4.5 miles round trip and 1,275 feet in elevation, this hike offers a 360-degree view in return for hard work! The peak itself is 1,347 feet and one of Montaña de Oro State Park's tallest. The hike begins at the parking area just beyond Spooner's Cove, across from the Bluff Trail trailhead. Take the single-track Valencia Peak Trail inland through wild sage, a series of switchbacks and some steep terrain. At the top, sit at the picnic table and enjoy views of Morro Rock, Cerro Cabrillo and Point Buchon. The trail requires no fee or permit, but bring sunscreen as the hike offers little to no shade. No dogs.
Hazard Peak Trail
This essential Central Coast hike offers clear views of Morro Bay and beyond from its 1,076-foot peak. Round-trip, the hike spans 6 miles and climbs an elevation of 950 feet. Unlike the Valencia Peak Trail, Hazard Peak Trail ascends steadily, rather than steeply. Stay to the right throughout and pass by sagebrush, eucalyptus groves and expanding views of the ocean. At the top, find benches and a picnic table for taking in the 360-degree view. The trail doesn't require a fee or permit, but remember that dogs aren't allowed on the trail. To reach the trail, just after entering the park find the trailhead on the left, before Spooner's Cove. Park on either side of the road.
Islay Creek Trail
At 6 miles round trip, the Islay Creek Trail offers a gentle canyon hike with access to a small waterfall. Elevation gain clocks in at just 300 feet. Start the trail at the mouth of a stream at Spooner's Cove. Take the dirt trail inland from Spooner's Cove, past the Islay Creek Campground. Look for great views of both Valencia Peak and Hazard Peak. Find a waterfall after just 1.4 miles in Islay Creek. At 3 miles into the trail, turn at the abandoned barn for a 6-mile-total hike. Fees and permits are not required. No dogs.
Oats Peak Trail
At 1,373 feet tall, Oats Peak lies further inland from Valencia Peak, but offers better views of the Irish Hills to the east. A gradual trail with plenty of switchbacks ascends 1,325 feet over 10.8 miles, round trip. Along the way, wide open views abound. To begin, find the trailhead behind the Spooner Ranch House along the road to Islay Creek Campground. A sign for the Reservoir Flats Trail and Oats Peak Trail stands beside a dirt trail. Any time a junction mentions the "Old Oaks Peat Trail," stick with the New Oats Peak Trail, as it is complete and more gradual. (Most trail intersections are marked well along the way.) Along the ascent, find patches of shade, a trickling stream, and expansive views of the ocean. Note: the last 0.15 mile section of the trail is the steepest, but it's worth the effort! Find picturesque views of Morro Rock and the San Simeon coastline beyond at the summit.
Reservoir Flats Trail
This two-mile loop takes in a 200-foot elevation gain and offers a variety of views. Find the trailhead between the Spooner Ranch House and the Islay Creek Campground entrance, marked by a sign. After 0.3 miles, bear left at the junction of Reservoir Flats Trail and Oats Peak Trail. Walk through the empty reservoir which once served the Spooner home below. Enjoy a forested walk through a canyon of cottonwood trees and oaks. At the edge of the Islay Creek Campground, walk through the campground to return to the trailhead to finish.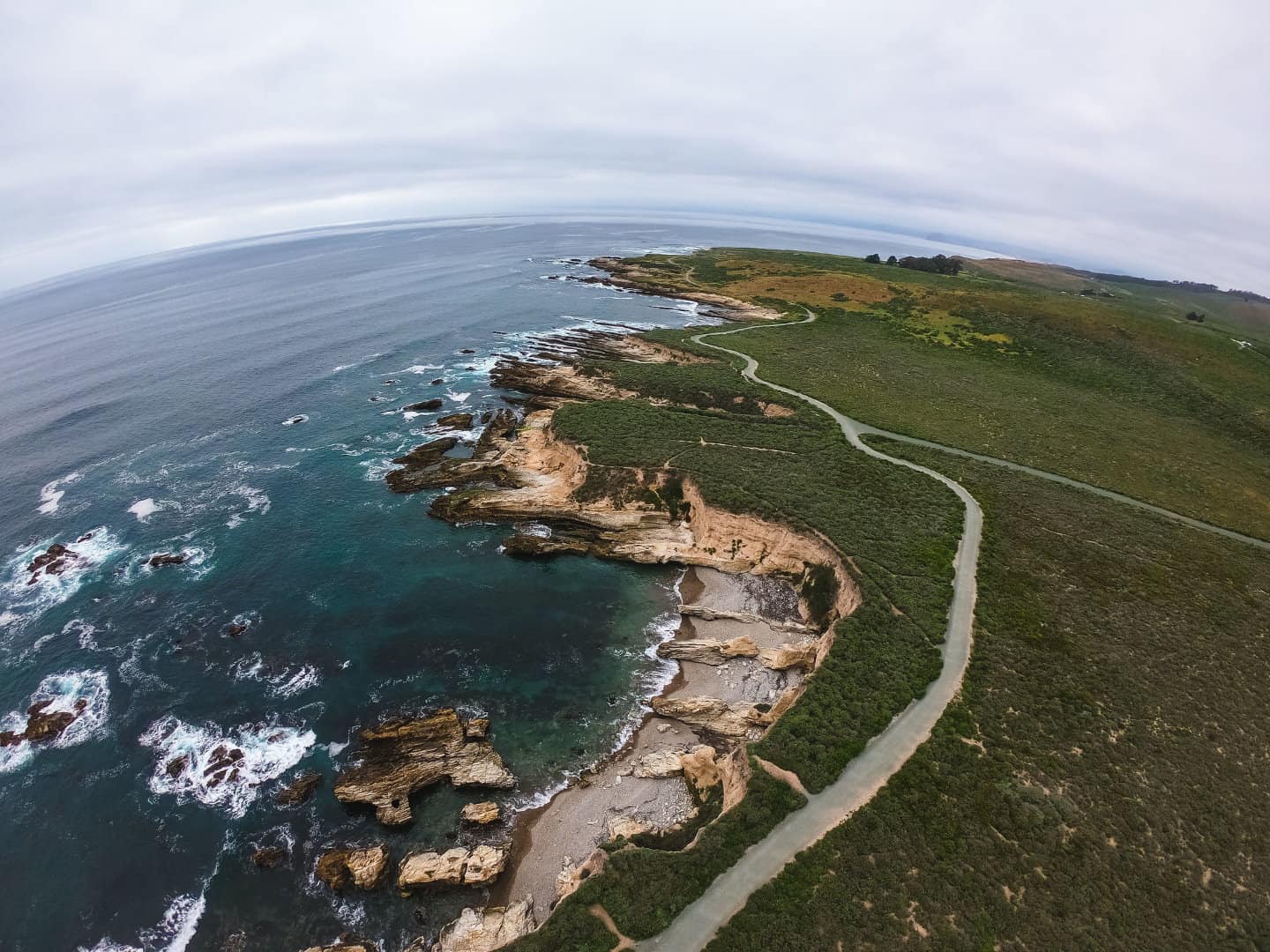 The hiking trails in Montaña de Oro State Park cover a wide variety of territory, and are too numerous to list individually. The trails highlighted above focus on the easiest and most accessible hikes for the average visitor. In addition to these, Montaña de Oro offers elevated peak hikes that present a much greater challenge. Several of these travel over the highest peaks in Montaña de Oro, or gain the most elevation. Want to learn about Montaña de Oro State Park's toughest trails? Check out the Highway 1 Road Trip's Los Osos Hiking page. There, you'll find details on many of Los Osos's finest trails, including but not limited to those within Montaña de Oro State Park.
Explore more hikes on Highway 1
Montaña de Oro means "mountain of gold" in Spanish—not to describe golden sand dunes (as some mistakenly assume) but to describe mountains covered in wildflowers. Depending on the year, this area can be covered in mustard flowers, sticky monkey flowers, or poppies—or a combination of all three. When these are in full bloom, it's easy to imagine an early visitor feeling moved to name the area for its colorful hillsides. The combination of blooming wildflowers and rugged coastline is a dramatic one, to be sure. In season, all of Montaña de Oro State Park's hiking trails afford views of wildflowers, but one in particular is simply spectacular. The walk along the Point Buchon Trail takes in wide-ranging glimpses of wildflowers, especially abundant thanks to rotational cattle grazing practices. This highly recommended trail requires a reservation, as the 6.6-mile round-trip route travels through land owned by Pacific Gas & Electric (PG&E). See our page about wildflower viewing for more details.
Mountain Biking in Montaña de Oro
Think of the finest mountain biking destinations along Highway 1, and Montaña de Oro State Park should be somewhere near the top of your list. Varied terrain, tough climbs, fun downhills, and expansive views of the Pacific coastline make this area extremely popular with mountain bikers. But these aren't all advanced trails: Montaña de Oro also offers routes that are entirely or mostly flat. Whether you're a veteran rider or a complete newbie, you'll find the right trail for you here. Keep in mind that all mountain biking trails are also hiking trails and equestrian trails, too. Share the space with others and, as a courtesy, please affix a bell to your bike to alert other trail users of your presence, especially coming downhill. Don't have a bell? Look for the "Bells 4 Bikes" box at the trailhead for loaner bells—and please remember to return them as you leave. Also, to ensure these trails remain open to mountain biking and to avoid incurring fines, please keep your bike on the trail. Going off the trail is dangerous for other users, damages the natural flora and fauna, and can impact the availability of these trails into the future. Thank you for being a courteous rider!
Bluff Trail
Difficulty: Easy
Distance: 2.3 miles, point to point
Elevation: +142 feet / -77 feet
Avg / Max Grade: 2% / 6%
Type: Doubletrack
Hazard Peak Trail
Difficulty: Easy/intermediate
Distance: 4.1 miles point to point
Elevation: +915 feet / -308 feet
Avg / Max Grade: 6% / 12%
Type: Singletrack
Islay Creek Trail
Difficulty: Easy
Distance: 3 miles, point to point
Elevation: +68 feet / -352 feet
Avg / Max Grade: 3% / 7%
Type: Doubletrack
Oats Peak Trail
Difficulty: Intermediate
Distance: 11.3, out and back
Elevation: +1,433 feet / -1,438 feet
Avg / Max Grade: 5% / 36%
Type: Singletrack
Reservoir Flats Trail
Difficulty: Easy/intermediate
Distance: 2 mile loop
Elevation: +132 feet / -187 feet
Max Grade: 4.4%
Type: Singletrack
So much of what makes Montaña de Oro State Park special is its wide variety of landscapes; there really is something for everybody. The above list includes Montaña de Oro's more challenging routes, but flatter and easier trails exist within the state park as well. For a full list, including some of Montaña de Oro's more accessible mountain biking trails, see our Mountain Biking overview.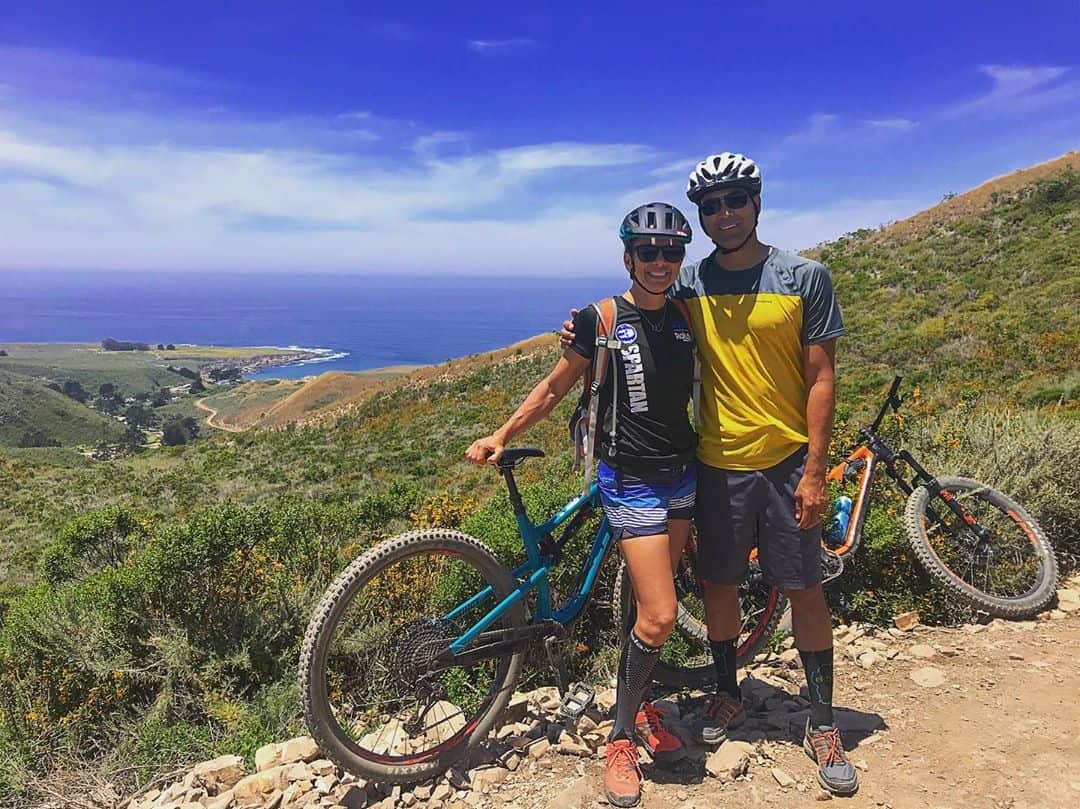 Montaña de Oro Tide Pools
Beaches at Montaña de Oro State Park include quaint, protected coves, long stretches of sand, remote shores and ideal surfing conditions.
Spooner's Cove Beach
At the point where Islay Creek drains into the ocean, Spooner's Cove Beach offers a comfortable place to wade, explore tidepools, and picnic. Interesting rock formations invite climbers to play, particularly at low tide. The beach lies just across the street from the Islay Creek Campground, and allows dogs (on leash). As a central point in Montaña de Oro State Park, many trails begin nearby. Amenities include restrooms, picnic tables, and free parking. Find Spooner's Cove Beach to the right, just before the campground.
Sandspit Beach
This long beach begs for long walks on soft sand, and the dunes beg for jumping! The sand spit that gives the beach its name continues north, almost all the way to Morro Bay. Amenities at Sandspit Beach include restrooms, free parking and picnic tables. To find the beach, make a right into the Sandspit day-use area, and look for parking at the end of the road. Then make the short walk on a trail to the beach. Enjoy views or Morro Rock and watch surfers ride the waves. Note: Sandspit Beach is an advanced surfing area. Sharks have been known to swim in these waters; surf at your own risk. 
Hazard Canyon Reef
A dramatic, rocky section of coastline, Hazard Canyon Reef is one of the best tide-pooling locations in the state. Visit at low tide to see creatures like sea anemones, urchins, sea stars, and crabs in abundance. (Check tide information for best times to tidepool.) Other activities include walking 1.5 miles to Sandspit Beach to the north, and perhaps even several miles further into Morro Bay State Park. Find sand dunes near the parking lot to jump, roll and play on. Explore the reef by following the trail north from the parking lot to a deep drop to the water. Amenities include free parking and equestrian use. Surfing is also popular here, though this is an advanced surfing area; do so at your own risk. To find this beach, enter the park, pass the eucalyptus grove and look for the Hazard Canyon Parking sign.
Coon Creek Beach
The most remote and untouched of Montaña de Oro's beaches, Coon Creek sits at the southern end of the park. To reach the beach, drive to the end of Pecho Valley Road (the park's main thoroughfare) park, and follow the Point Buchon Trail to the beach, only open Thursday through Monday. Enjoy tidepools and caves, but remember there are no facilities for visitors to Coon Creek Beach.
Explore more beaches along Highway 1
The options are vast for those who want to fish at Montaña de Oro State Park. With seven miles of shoreline, anglers will find more than enough spots in which to rockfish, surf fish, or kayak fish. Take your rig out to the long, uncrowded Sandspit Beach, where anglers regularly haul in dink perch, jacksmelt, and surf perch. Spooner's Cove is another good option for surf fishing, though less remote and more populated with beachgoers. Spooner's also offers a protected launch point for kayak fishing, and even hosts kayak fishing tournaments throughout the year. Push off from shore and expect to potentially catch  rockfish, cabezon, and lingcod. The bluffs that stretch along the coast afford perfect conditions for rock fishing. In fact, Montaña de Oro's several bluff trails will take you directly to rock shelves along the shore. Look to bring in ling cod, cabezon and rockfish. To learn more about fishing inside Montaña de Oro State Park, check out our Los Osos Fishing page.
Majestic, awe-inducing, and often epic, the surf in and around Montaña de Oro State Park is a force for any experienced surfer to reckon with. Surf spots like A-Frames, Hazards, and Lonesomes are bucket-list destinations for many surfers—but these aren't casual waves. In fact, Hazards is known as one of the largest waves along Highway 1. But for the very experienced surfer who wants to conquer it, this monster is a blast. At any Montaña de Oro State Park surf location, be prepared to encounter reef breaks, powerful waves, rip tides, undertow, and maybe even a shark. Also, conditions here are chilly, so wetsuits, booties and hoods are highly recommended. If none of these conditions faze or deter you, surfing in Montaña de Oro just might be your speed! To learn more about Montaña de Oro's surf spots, directions, conditions, and what to expect, visit our Los Osos Surfing page.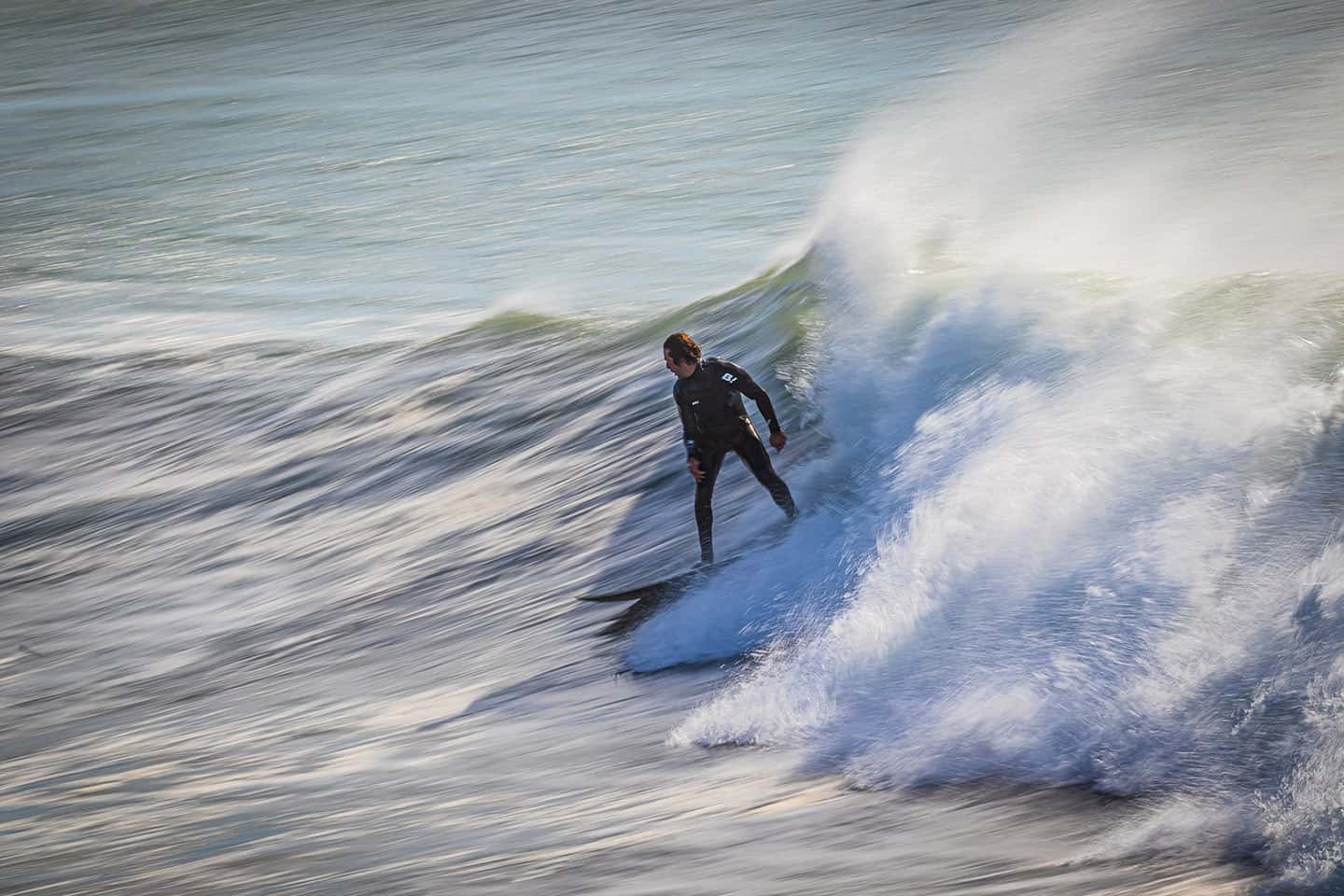 Camping in Montaña de Oro allows visitors from across the globe to experience California in its natural state. With nearby hiking, mountain biking, horseback riding, surfing, and fishing, these campsites can be reserved at ReserveCalifornia.com.
Islay Creek Campground
This secluded campground with coastal views offers 50 campsites during summer and 25 during winter. With some shade from pine and Monterey cypress trees, each site can accommodate up to 8 people. The campground also offers six primitive sites for backpackers and equestrian sites for those with horses. Trailers, vans, RVs up to 27 feet, pets and campfires are all allowed. Amenities include fire pits, primitive toilets, electrical hookups, potable water and picnic tables. Reservations are essential during summer months, and first-come, first-served during winter. Islay Creek Campground is open year-round. Find the campground entrance just across from Spooner's Cove, along a half-mile-long loop.
Hazard Canyon Equine Camp
This campground offers 40 sites for either tents or RVs and 4-5 horses each. (Note: electrical hook-ups are not available here.) Two group sites (Madrone and Oak) accommodate up to 50 people and 16-18 horses. Amenities include stalls, pit toilets, fire rings and water for horses. Guests are asked to muck-out their stalls, bring potable water, and keep dogs off equestrian trails. Campers must have a horse to camp at Hazard Canyon Equine Camp. Find the entrance to the horse camp to the left almost immediately after entering the park.
Environmental Campsites
For more options for camping in Montaña de Oro, try hiking into one of its four environmental, primitive sites. These sites can accommodate up to 8 people, but note that they do not allow dogs or campfires. Fees for environmental campsites are $25 per site, per night, plus $10 per vehicle. Environmental campsites can be reserved at the Islay Creek Campground. Find the Bloody Nose Camp and Hazard Grove Camp just north of the Islay Creek Campground. Badger Flat Camp and Deer Flat Camp can be found to the south of the Islay Creek Campground.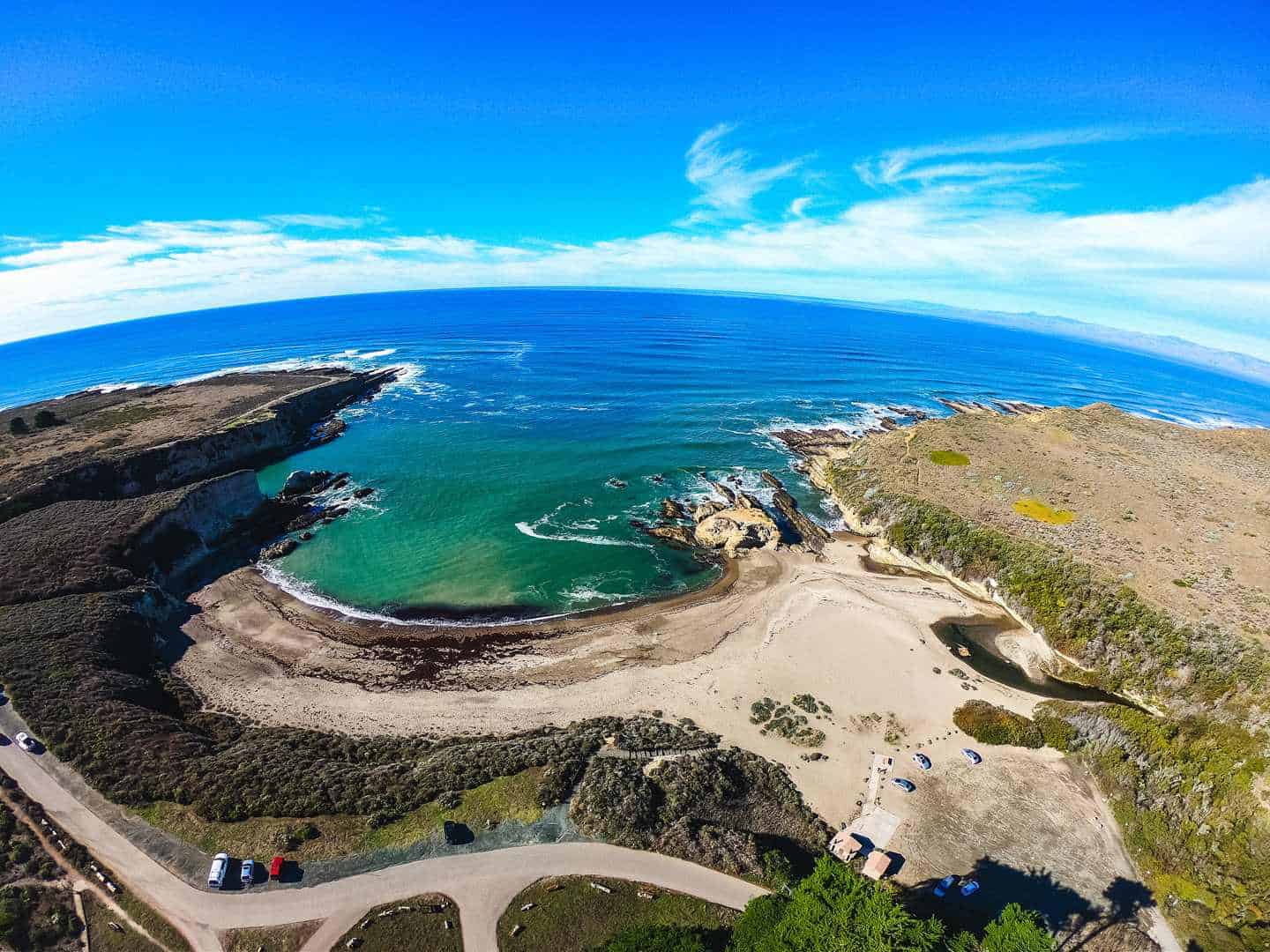 Free Hiking and MTB Maps
The Highway 1 Discovery Route Stewardship Travel Program partners with local organizations to offer free hiking and mountain biking maps. Visitors and local residents are invited to download free maps for trails across Highway 1. 
Volunteer Trail Work Days 
As part of the Stewardship Travel Program, volunteers are welcome year-round to help build, restore and maintain hiking, biking, and equestrian trails. All work day events and classes are organized by the Central Coast Concerned Mountain Bikers group, a non-profit organization since 1987. They require no experience to jump in and help!
The annual volunteer trail workday in Montaña de Oro State Park is the first Sunday in February. Opportunities for volunteering on trail restoration include at least one trail work session per month. Two major workdays are offered each year and are called TRAILWERKS: all-day events with free meals, tee shirts, and raffle prizes for participants.
The Central Coast Concerned Mountain Bikers group encourages everyone who enjoys California trail systems to volunteer for workdays as well as practice important trail etiquette that helps prevent trail erosion, reduces user conflicts, and ensures trail access. More detailed information, trail guidelines, and volunteer locations can be found at their website. And if you can't join a trail work day, consider donating toward the purchase of trail building tools for volunteers.
Spooner Ranch House 
No visit to Montaña de Oro State Park is complete without a visit to the old Spooner Ranch House. Built in 1892, this historic building houses a museum, gift shop and general store for the park. Learn about the Central Coast's rich agricultural, cultural and natural history with a self-guided tour of the house, which has been lovingly restored by volunteers. Find the Spooner Ranch House just before the Islay Creek Campground, across from Spooner's Cove.