Aside from delicious dishes and diverse flavors, places to eat in Cayucos are special because most are within walking distance of the pier. Whether you spend the day fishing, surfing, shopping or sunbathing, you're never far from plenty of options for breakfast, lunch, snacks or dinner. Situated right on the coast, most eateries boast ocean views, whether from a deck overlooking the beach or on the beach itself. (Locals tip: Look up the time of sunset to plan for a very scenic happy hour!) Cuisine tends to be casual here, with something for everybody; no ties or evening gowns required. Look forward to a hearty breakfast, wholesome lunch, flavorful dinner and decadent desserts. Often, the most memorable dishes are those that are taken to go and eaten with toes in the sand. Many of the following spots offer local beer, wine and cocktails made with locally-produced spirits, so prepare your palate. And don't forget Fido: several eateries offer outdoor dining that includes space for your four-legged friend.
Discover Dining in Cayucos
Grab a Casual Bite in Cayucos
When it comes to an easy, tasty lunch or dinner, nothing beats a slice or two from Ocean Front Pizza. This casual spot offers a few indoor chairs, but the best seat in the house is the one just steps from the front door. Family-owned Ocean Front Pizza lies quite literally on the beach, with just Ocean Front Avenue between the restaurant and the sand. Pick up pepperoni or cheese by the slice throughout the day, or purchase a whole specialty pizza. Flavors include the BBQ Chicken, Pesto Chicken and Thai Chicken pizzas — all made with homemade sauce and hand-tossed dough. (They also use locally-made sausages from the Cayucos Sausage Company — see below.) Ocean Front Pizza also offers fresh salads, as well as beer and wine to round out the meal. Grab a slice after surfing, or take an entire pie to the beach to watch the sunset.  You'll soon discover why locals consider it the benchmark pizza of all the places to eat in Cayucos.
Tucked back from Ocean Avenue, this quaint restaurant is "a link above," with artisan sausages, meats and sandwiches prepared in house daily. Since 2012, the Cayucos Sausage Company has sold sausages made with all-natural, high-quality ingredients — no preservatives allowed. The business is family-owned and operated, offering a wide variety of sausages like Coastal Italian, French Apple, Jalapeno Chipotle, and Mexican Chorizo. These can be picked up to take home, or choose one for a sandwich; the restaurant always has six to ten varieties on rotation. Cayucos Sausage Company even makes sausages for dogs, so bring Rover along, too! In addition to sausages, the business prepares rotisserie chicken, soups, salads, barbecue, gifts, confections, and snacks. There's also a full-service butchery available, with cuts of steak, chicken, and other meats available raw for purchase. Sit down inside the restaurant or take your order to go and enjoy it on the beach.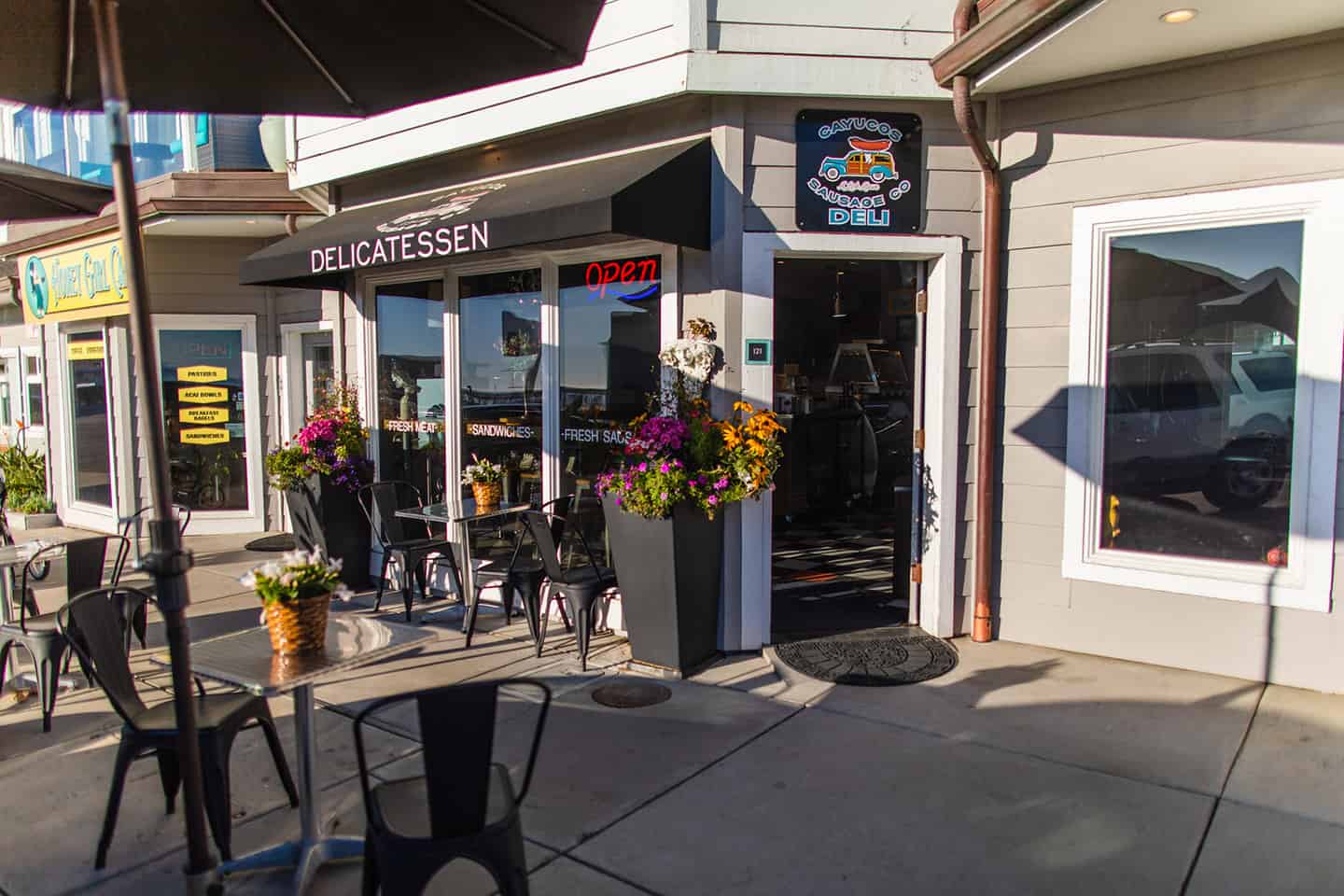 If you're looking for a casual spot to grab a drink and a bite and enjoy ocean views in Cayucos, Beach Bums is your destination. Located at the corner of Ocean Avenue and E Street (above the Central Coast Real Estate office), the Beach Bum vibe is chill. Because it's on the upper floor, Beach Bums' patio provides a special perch for enjoying the sights and sounds of Cayucos. Choose from a selection of rotating draft beers, including domestic, imported, and craft labels. Locally-produced wines are available by the glass, with a few foreign sparkling wines in the mix. Grab a classic beach bar cocktail like a margarita or pina colada, and head to the patio. Hungry? Beach Bums also offers nibbles and appetizers like charcuterie, pub pretzels with grainy mustard, hot dogs, and frito boats. If you're in a sporting mood, come for NBA, NFL and MLB on the big screen. Or if all you want to do is relax, have a seat and be a beach bum a while.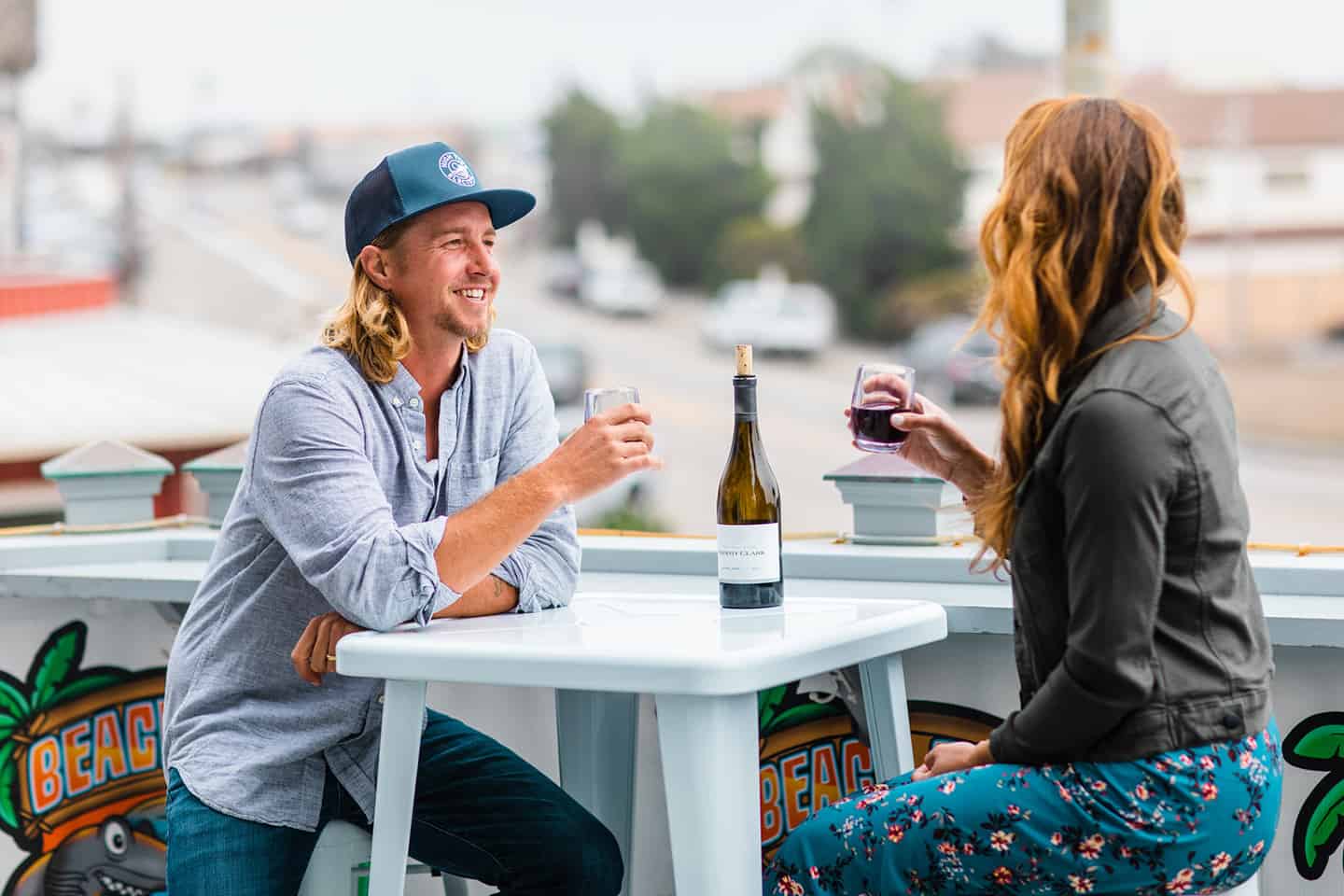 Sit-Down Restaurants in Cayucos
Located in the downtown core, Schooners is a locals' favorite classic bar and grill for lunch, dinner and drinks. Truly, Schooners is a dining treasure, featuring wild-caught seafood, sustainably raised meat and fresh produce to the table with friendly service. Order dishes like cioppino, parmesan and garlic stuffed chicken breast, teriyaki glazed swordfish and more alongside a glass of local wine or beer. The full bar prepares classic and signature cocktails, including Schooners' "Legendary Bloody Mary," which is made from scratch and locally famous. For casual eats, go for the fish 'n chips, fresh guacamole or a juicy burger and fries. No matter what, you can't come to Schooners without enjoying the outdoor oceanfront dining, with views overlooking Cayucos State Beach. This is one of the best places to eat in Cayucos; treat yourself to a meal on the roof deck. Grab an appetizer and a glass of wine, and enjoy watching dolphins play in the surf just a short distance away.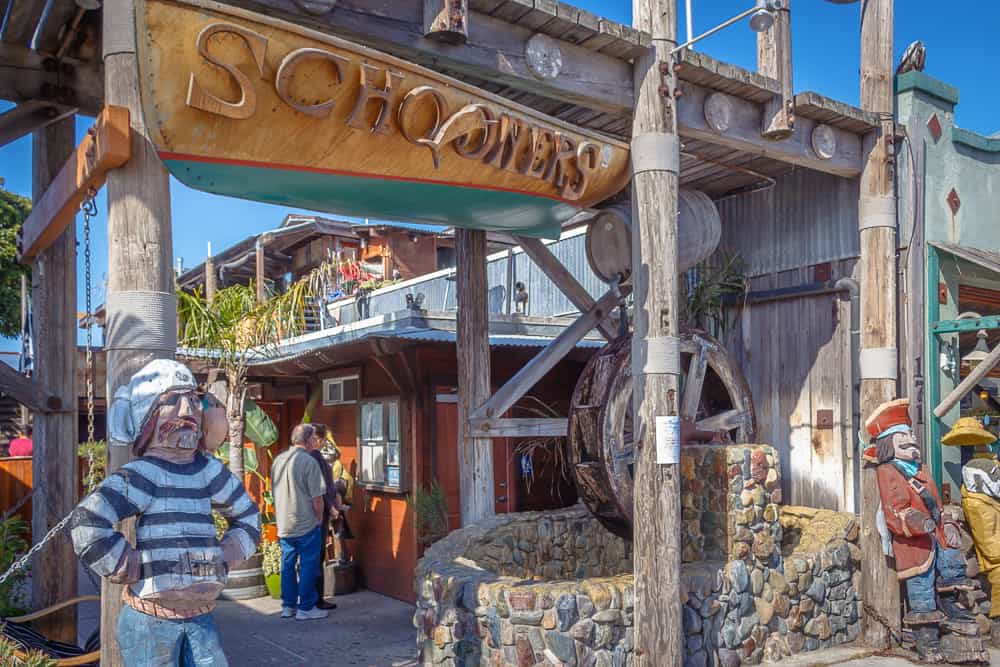 Fans of clam chowder, rejoice! Duckie's Chowder House serves not one but two styles of chowder from its position at the entrance to the Cayucos Pier. (Really: just walk to the start of the pier and you will be at Duckie's door.) Try their creamy New England style chowder, made with cream, or their Manhattan style clam chowder, made with a tomato base. Both are delicious, and both have their fans. The best way to decide for yourself is to order both. Duckie's also offers other seafood dishes like Crab Louie Salad, Fish 'n Chips, and oysters on the half shell. For non-seafood, there are burgers, chicken sandwiches, and a killer Cobb Salad. Lil' duckies will like the kids' menu, and grownups will enjoy a glass of local wine or beer with their lunch or dinner. Come treat yourself to some of the Central Coast's best award-winning clam chowder, whether inside or on the patio overlooking the Cayucos Pier.
When it comes to Italian food in Cayucos, Cafe Della Via on Ocean Avenue has it covered. This classic Italian trattoria is a local favorite, having been voted one of the best Italian restaurants on the Central Coast many times. Cafe Del Via serves dinner, including appetizers, soups, salads, pasta, pizza, meat and seafood entrees. Start with traditional dishes like stuffed mushrooms, caprese salad, then go for a spicy pizza arrabiata or linguine and clams. Many of the ingredients in Cafe Della Via dishes are locally sourced from nearby farmers' markets, chosen by the chef for freshness and seasonality. The restaurant also bakes its own breads, sauces and sausages, and makes a point of providing vegetarian, vegan, and gluten-free options. Diners will enjoy choosing from an extensive wine list that highlights local and imported Italian wines served by the glass and the bottle. The warm surroundings make this the perfect spot for a romantic table for two, or a gathering of good friends.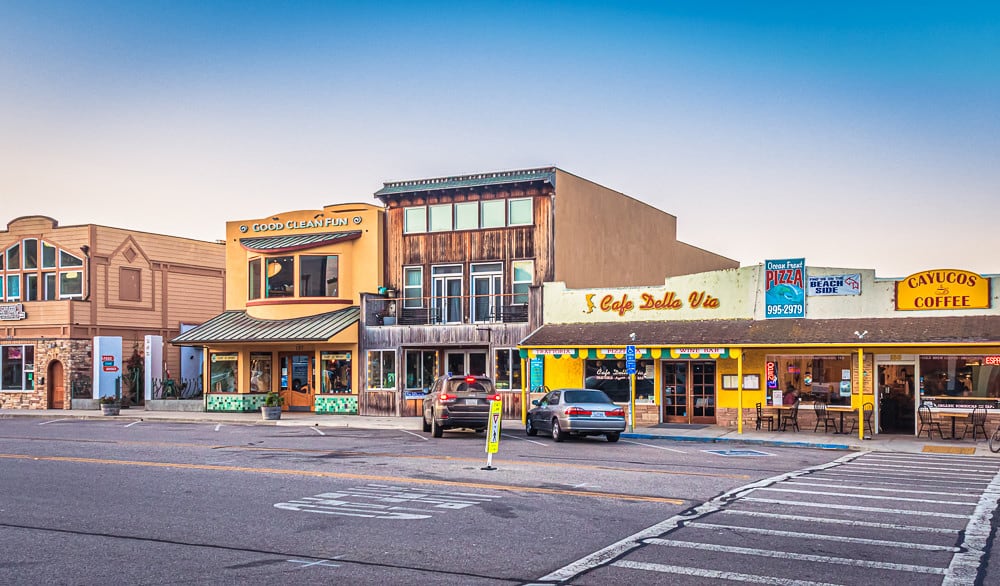 In the mood for a charming garden patio and fresh, seasonal cuisine? Lunada Garden Bistro serves breakfast, lunch, dinner and Sunday brunch with an emphasis on elevated comfort food. The restaurant occupies the historic Way Station property, once a stopover for travelers along the Pacific Coast. Built in 1876, the Way Station served weary travelers, including tycoon William Randolph Hearst, coming and going from Hearst Castle in San Simeon. Today, travelers continue to find refreshment in the bright, cheerful garden, where good food and good friends come together. Enjoy lobster-avocado egg rolls or oysters Rockefeller to start, paired with a glass of locally-made beer or wine. For entrees, choose from several cuts of steak, rack of lamb, French-style duck or coffee-glazed pork chop. Seafood lovers will delight in ordering King Crab legs or bacon-wrapped scallops, as well as freshly made pastas. Looking for brunch on a lazy Sunday morning? Come by Lunada for breakfast favorites like waffles and omelettes, as well as lunch specialties like chicken salad sandwiches and shrimp n' chips. This historic venue is also available for weddings and other gatherings.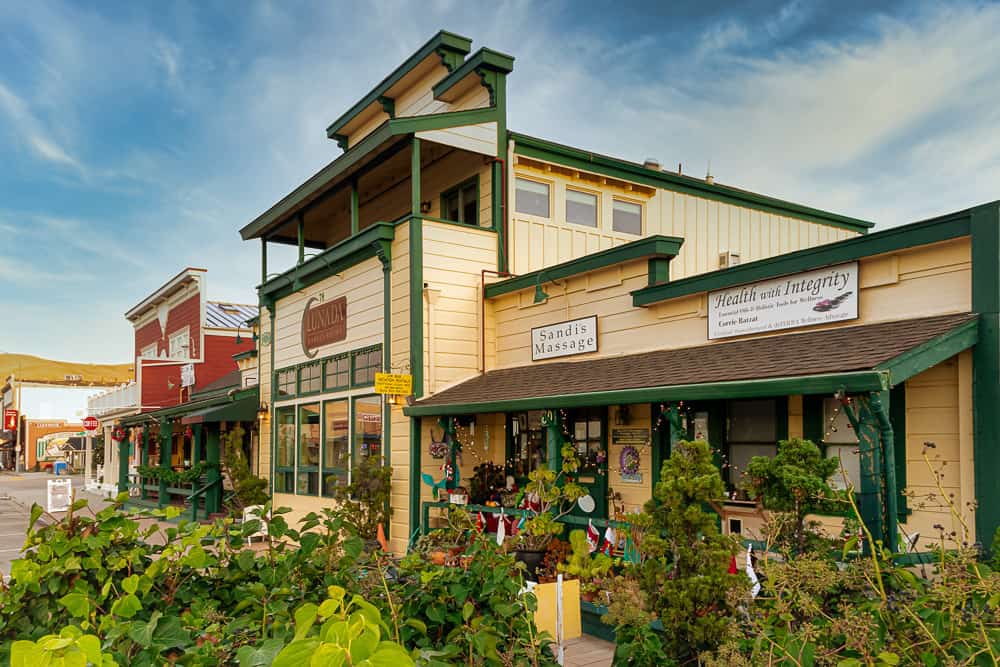 One of Cayucos's newest additions, Hidden Kitchen offers a very unique alternative to typical beach town food. Gourmet blue corn waffles are the backbone of Hidden Kitchen's menu, served in both sweet and savory preparations. Come hungry and enjoy a warm, hearty blue corn waffle, naturally gluten-free and made from all organic ingredients. These come topped in a variety of ways, including the Cayucos Cowboy, with fried eggs, black beans, green salsa, avocado, and cilantro. (Think of it like a giant taco on a thick corn tortilla rather than a waffle, and you'll have the right idea.) Of course, sweet options are the ones most familiar, like the Cambria Classic, with grass-fed butter and maple syrup. Or go off the deep end with a hybrid like the Weirdos Waffle (named after a secret local surf spot) with fried banana, peanut butter, bacon, and maple syrup. The restaurant also offers a short list of blue corn tacos, whole food bowls, and superfood smoothies. Dine inside among bright, cheerful surroundings or sit outside with a view of the ocean.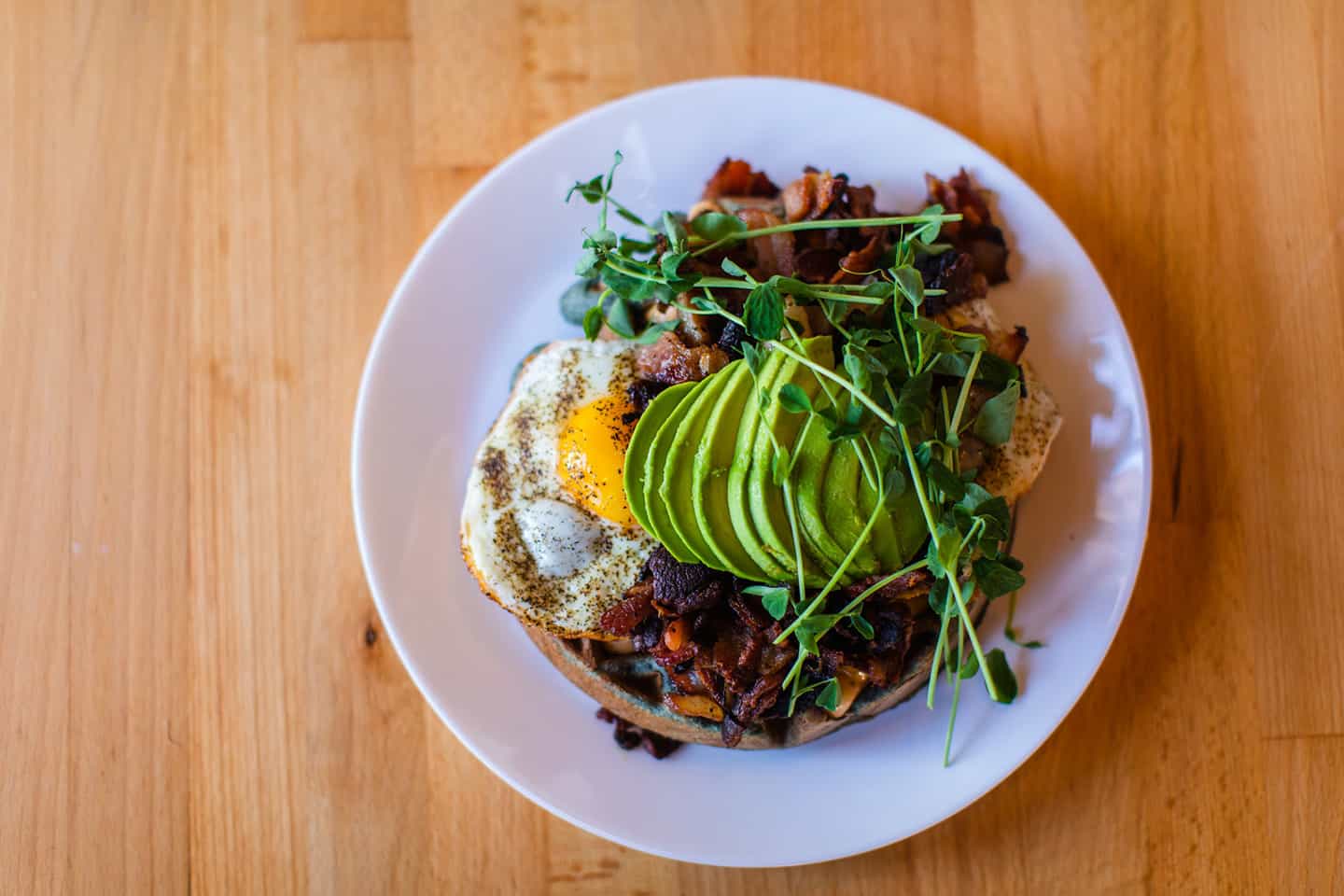 Martin's is a double whammy, offering Mexican and Italian food, independently. Don't think of it as a fusion place: Martin's serves Mexican food for breakfast, lunch and dinner, and Italian food and pizzas in the evenings, as well. This can mean huevos rancheros or chilaquiles for breakfast, taquitos or burritos for lunch, and tilapia parmesan or vegetable lasagna for dinner. You'll also find American favorites here all day long, too, like burgers and fries, salads and American breakfast combos. If you're traveling with folks who can't agree on where to eat, this is just the place: Martin's has something for everyone. Just come prepared for a feast, as portions can be very large. Be sure to check the beer, wine and cocktail menus, as well as the quaint patio in the back. Martin's is located on South Ocean Avenue, just a quick walk up from the beach.
It's no accident that locals love the Sea Shanty. Since 1983, this restaurant has treated everyone like family. Look up to find a large collection of caps stapled to the ceiling, each of which comes from a regular diner. The cozy down-home atmosphere is welcoming and friendly. But it's not just the kind environment that people come for: they come for owner Carol Kramer's desserts. The Sea Shanty's dessert menu goes on and on, featuring one decadent dessert after another. Come for fruit pies, banana splits, chocolate fudge cake, turtle pie or strawberry shortcake. Or go crazy with The Kitchen Sink, a layering of ice creams, fruit, hot fudge and caramel and crushed candy bars. Of course, the restaurant serves breakfast, lunch and dinner, but why not eat dessert first? Breakfast covers American favorites like breakfast burritos and biscuits and gravy. Lunch and dinner offer dishes to share like nachos and steamed artichokes, as well as soups, salads and sandwiches. Seafood is king here in Cayucos, and the Sea Shanty features fish n' chips, shrimp tacos, and the catch of the day. Don't miss steaks, burgers, and prime rib — but definitely leave room for dessert.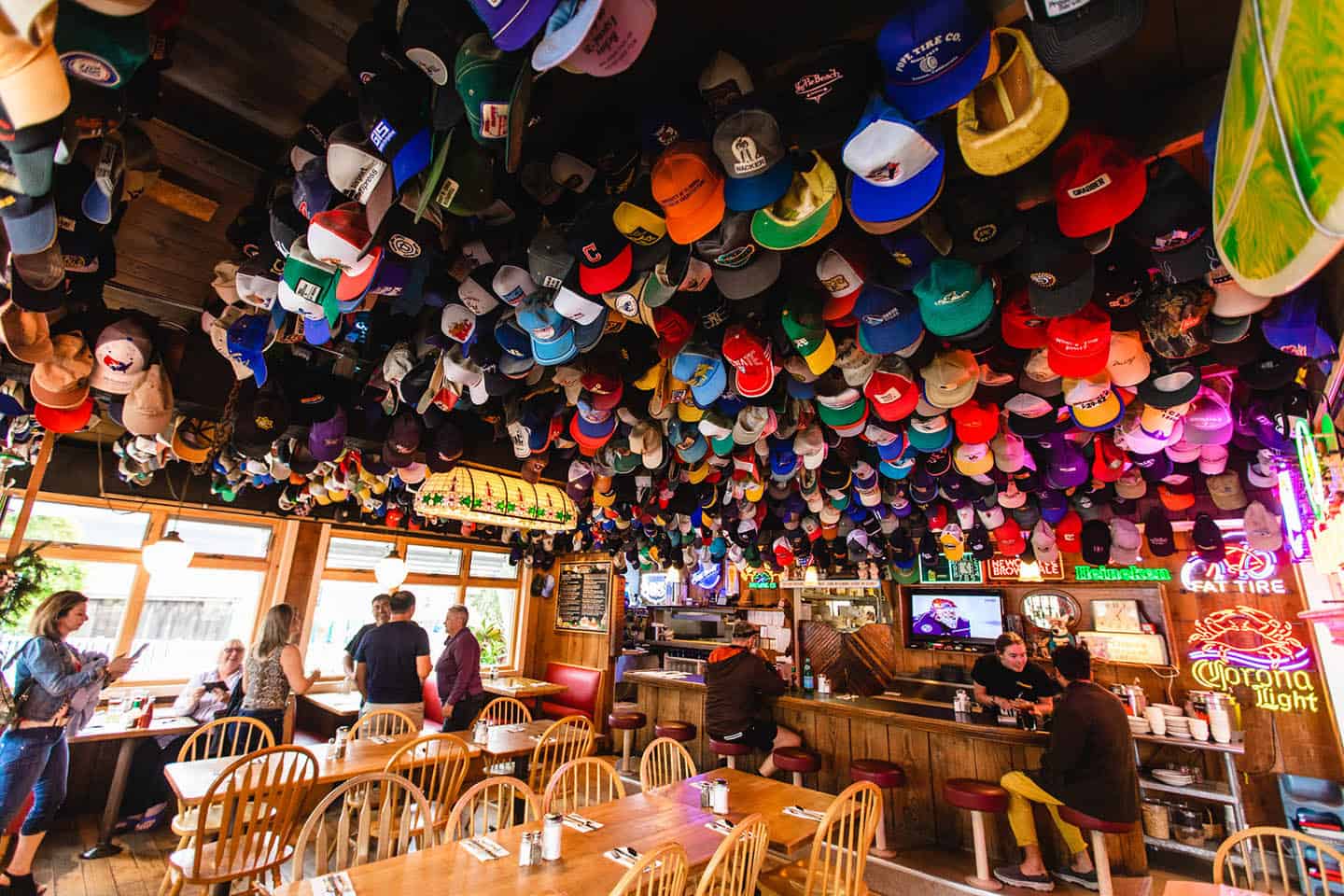 Coffee & Sweet Treats in Cayucos
This is a favorite neighborhood spot where locals go for a cup of joe, a pastry, and a sit-down with the morning newspaper. The specialties here are espresso drinks from Cayucos Coffee's La Marzocco espresso machine, made with a variety of traditional and alternative milks. Pick up a traditional cappuccino, macchiato, Americano or latte, or try a little something different, like a rose latte. Cayucos Coffee makes flavored syrups in house, with unique flavors like cocoa rosemary, cinnamon date, pumpkin pie and lavender. Pick up a superfood latte, made by the Cayucos Coffee folks with whole, healthful ingredients like turmeric, matcha and beetroot. Pastries come fresh from SLO Baked each morning, like muffins, scones, croissants, and danishes. Cayucos Coffee partners with local businesses as much as possible to offer products that call this area home. These include Joebella Coffee Roasters in Templeton and Whalebird Kombucha in San Luis Obispo. Located on Ocean Avenue, Cayucos Coffee is a tasty way to start a full day in Cayucos.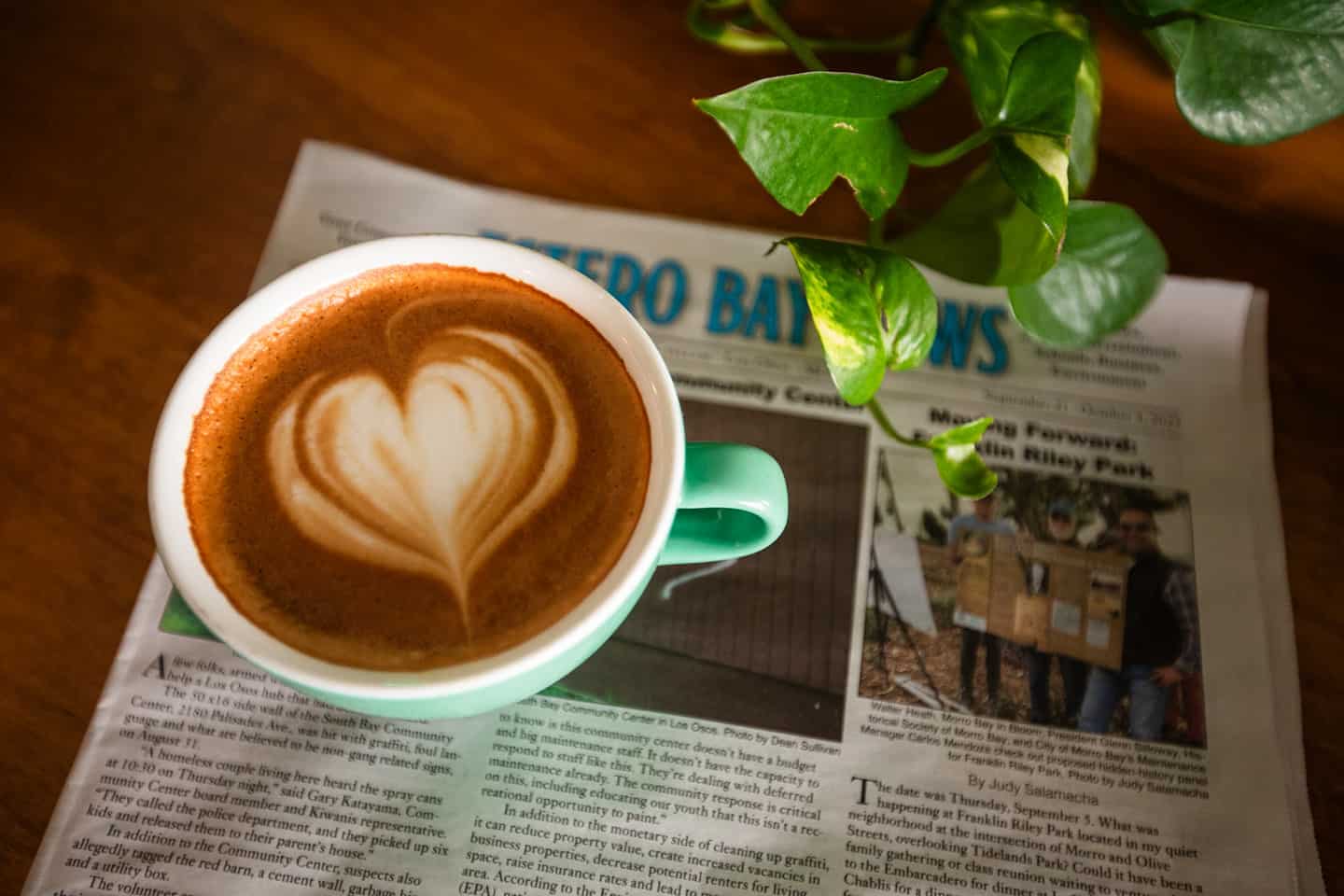 This eclectic coffee shop sits back from Ocean Avenue and could easily be missed if you're not looking for it. Quirky, eclectic, and inviting, Luna Coffee Bar serves fresh coffee, espresso drinks and tea, as well as pastries, breakfast items and sandwiches for lunch. Are you into avocado toast? Luna Coffee Bar offers several different varieties, as well as traditional and alternative milks for special diets. The pastry case is always full with flaky croissants, bagels, scones, and muffins. If you're in the mood for dessert, a slice of flourless chocolate torte or tres leches cake pairs beautifully with a cup of coffee or an espresso drink. Plus, Cayucos locals swear by Luna Coffee Bar's breakfast burritos for a quick, on-the-go breakfast. But if you do have time to linger, spend a morning in the cafe, enjoying a book, or move out to the enchanting garden patio, with leafy plants and abundant flowers.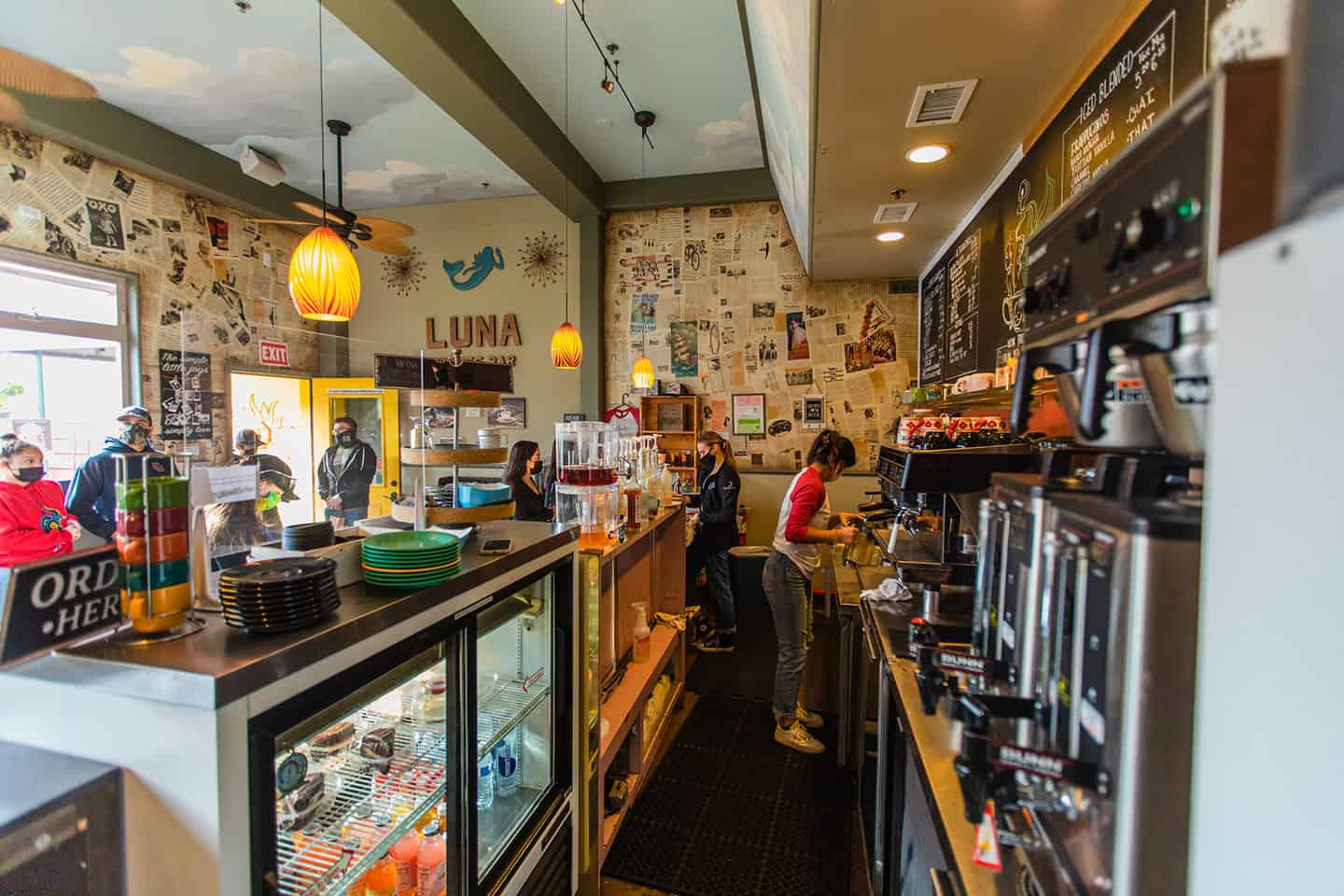 At Bijou Bakery in Cayucos, breakfast gets a tasty makeover. Owned by accomplished baker Janice Grimshaw, this quaint coastal bakery focuses on French inspired pastries with a side of Central Coast bounty. Swing by for a slice of superior quiche, avocado toast made with house made focaccia, egg white soufflé paired with seasonal veggies or even a crisp breakfast salad of arugula, lemon vinaigrette, bacon and feta. Premium hot and cold drinks are handcrafted with thoughtful care: try a perfectly sweet mocha latte or classic cappuccino with just the right dollop of foam. Whether you stop in for a flakey butter croissant or linger over a leisurely brunch, you'll find that this local gem is always full of delicious surprises. Seasonal baked goods, including pies and sweet treats, make each visit to Bijou Bakery a fresh discovery.
Brown Butter Cookie Company
There's nothing quite like a Brown Butter Cookie — if you've had one before, you know. Rich and nutty, Brown Butter Cookies are a little like shortbread made with browned butter and a dusting of sea salt on top. The sweet-savory flavors have made addicts of locals and visitors alike! Head into the Brown Butter Cookie Company on Ocean Avenue, one block from the beach, and you'll soon understand why. Due to massive demand, the company has developed recipes aside from the original cookie, including Cocoa, Espresso and Almond. Brown Butter Cookie Company also offers seasonal limited-edition cookies like Citrus, Coconut-Lime, Bourbon and Spice. Purchase cookies by the half dozen or dozen; Brown Butter Cookie Company also provides gift boxes. Visitors often know the location of the bakeshop simply by the aroma of baking cookies in the air. When you arrive, you might be offered a sample of one of the flavors, but be careful! Once you've tasted a Brown Butter Cookie, you can't go back to any other kind of cookie.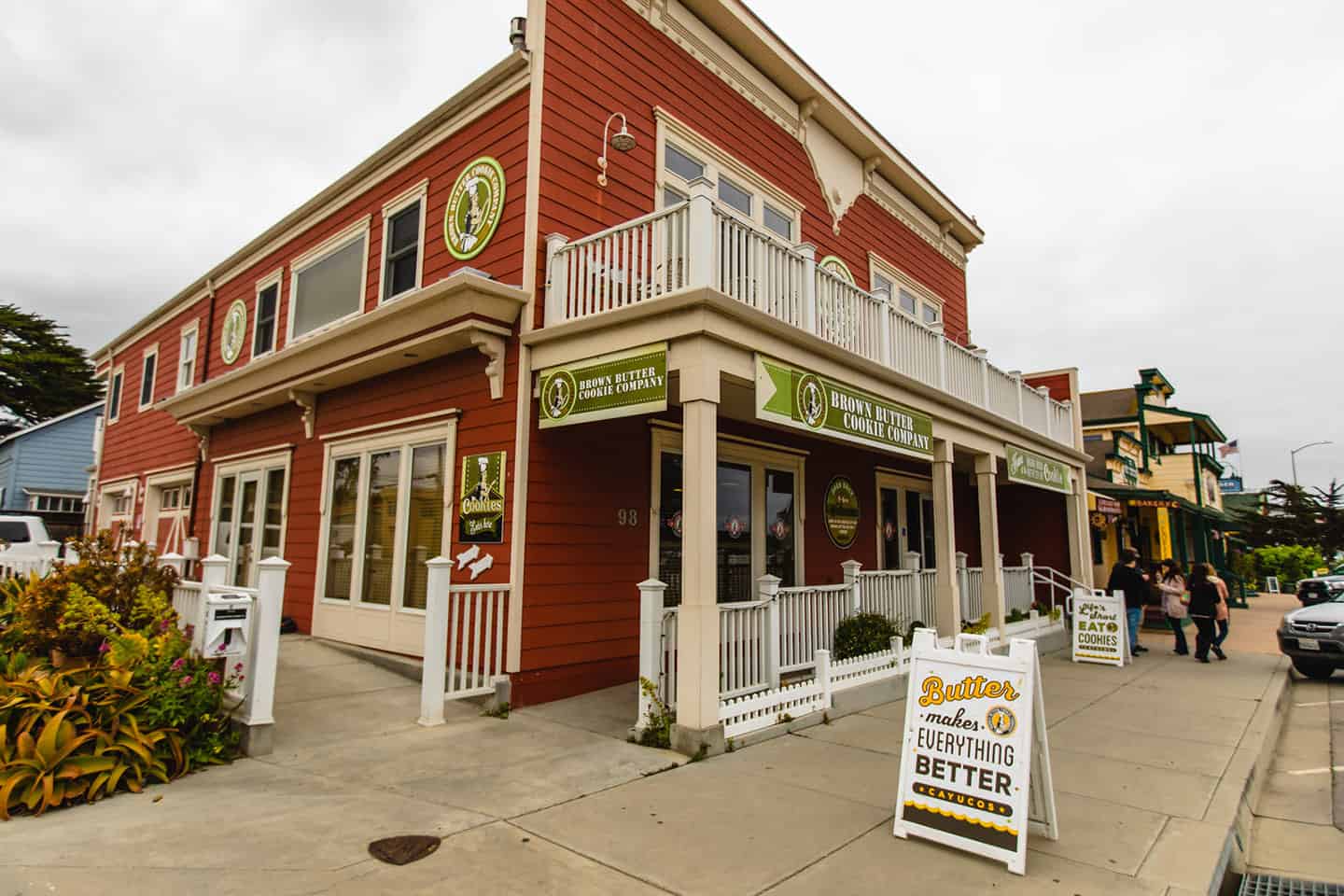 Kids of all ages love to visit the Candy Counter, right at the entrance to the Cayucos Pier. Here, you'll find candies made the old-fashioned way, like taffy, caramels, licorice, and a whole wall of jelly beans. (They even sell cult classic Dewar's chews.) Chocoholics will enjoy the wide selection of fine chocolates and truffles, while ice cream fans will want a scoop in  every flavor. Walk inside the shop or use the pickup window to order yourself gelato or ice cream like the famous Cayucos Candy Crunch. SLO Baked provides warm, gooey cinnamon rolls, perfect for pairing with a coffee drink. Try a blended coffee like the Extreme Toffee Frapp, or go fruity with a smoothie. Whatever your sweet tooth desires, the Candy Counter can satisfy it. For a great simple pleasure, buy a scoop or two of ice cream and walk the Cayucos Pier, watching for whales in the distance.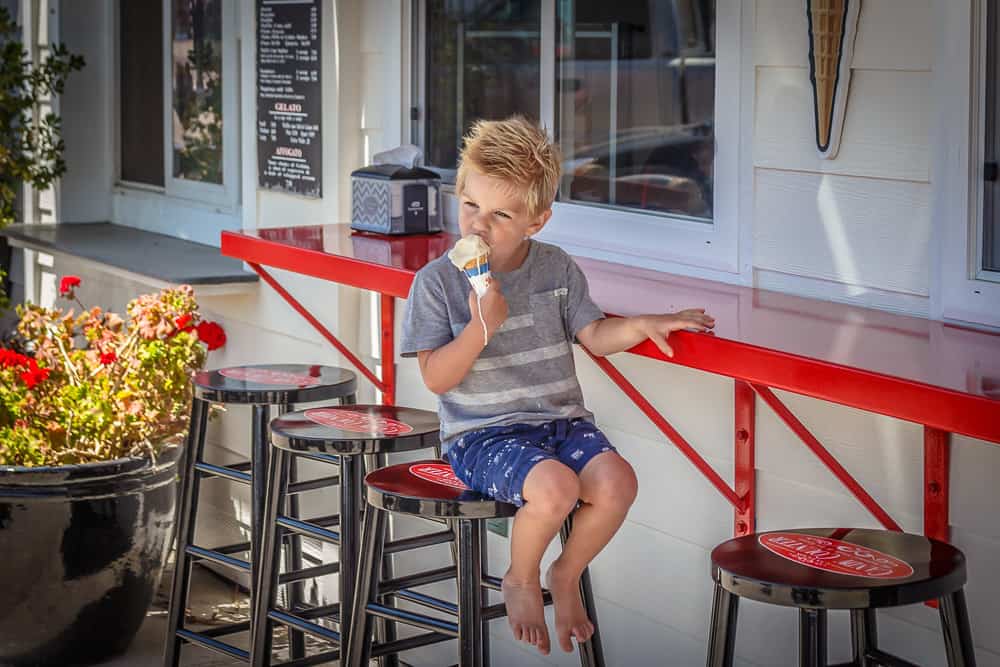 If you're looking for a cozy place with soul-warming food and drink, this itty-bitty cafe will hit the spot. Named after the Hawaiian nickname for the owner's mother, Honey Girl is located on the east side of Ocean Avenue, one block from the beach. For breakfast, go for coffee, espresso, and tea, along with acai bowls and lox bagels. Get a breakfast sandwich like the bagel sandwich, piled high with bacon and eggs. For lunch, Honey Girl Cafe does hot dogs that put a backyard barbecue to shame. Get your foot-long dog with your favorite toppings, plus a drink and a bag of chips, then walk over to the beach to enjoy the view! Honey Girl Cafe also offers all manner of sweet drinks, from iced blended caramel mochas and hot homemade chai to orange-vanilla smoothies. Magic bars, ooey-gooey bear claws, and peanut butter cookies will satisfy your sweet tooth, too.