Plentiful waters invite fishing of all sorts here on our special stretch of Highway 1. Find yourself on an uncrowded white sand beach, surf fishing any one of our 100 miles of coastline. Get out at high tide in the morning or at dusk for a peaceful and successful fishing excursion, or at low tide for rockfishing, specifically. Go pier fishing off one of several historic piers, no license required. This can make for an easy breezy family fishing day, or a break from playing on the beach.
For freshwater fishing opportunities, look no further than the many freshwater bodies across Highway 1. Favorite spots include Lopez Lake and Oso Flaco Lake to the south end, and Whale Rock Reservoir to the north. And for those who like to get off the beaten path, Santa Margarita Lake offers freshwater fishing as well.
If you want to fish from a vessel like a boat or kayak, you have many options here. Bring your own or rent a kayak, and enjoy an abundance of kelp beds for kayak angling. Or, if you prefer to charter a boat, you'll find a variety of charter rentals.
With all these advantages it's no surprise that Highway 1 hosts fishing tournaments like the Central Coast Slamdown and the Estero Fishing Challenge. Both take place in different locations each year, from Spooner's Cove to Leffingwell Landing.
Be sure you know the facts before heading out on a beach fishing adventure by reviewing California Beach Fishing Guidelines and Current Regulations. Pier fishing doesn't require a license, but other types of fishing do. If you plan to fish from a boat, make sure you know any depth restrictions, marine closures, limits on take, etc. When in doubt over whether you can fish somewhere or not, purchase a fishing license at the Department of Fish & Wildlife website. You can also buy fishing licenses in person at Virg's Landing in Morro Bay or Patriot Sportfishing in Avila Beach. While you're there, pick up bait, tackle, and local expertise, too.
Explore Fishing Along Highway 1
Looking for a quiet spot to take in nature's beauty and bounty? San Carpoforo Creek drains into the Pacific Ocean north of San Simeon, on the way toward Ragged Point. (And to be more specific, the watershed connects into the Monterey Bay National Marine Estuary, a treasure of Central Coast marine life.) This creek waxes and wanes with the seasons' rain, sometimes pooling in a lagoon on the beach and at other times connecting to the ocean. Under the right conditions and at the right time of year, the creek is home to steelhead trout. In fact, the California Department of Fish and Game considers San Carpoforo one of the most significant spawning streams for steelhead in the area. Once you've caught your take, enjoy the wide, remote beach at the rivermouth. To reach this most northern part of Hearst San Simeon State Park, take Highway 1 eight miles north of Piedras Blancas Light Station. On the east side of the road, look for the address 18550 Cabrillo Highway. This address stands opposite the entrance to San Carpoforo Creek on the west side of the road.
San Simeon Cove once served as William Randolph Hearst's private wharf for importing art and antiquities to fill his remarkable historic home. Today, the pier that once received ancient paintings, sculptures and tapestries can be the perfect location for catching your next fish. Beautifully positioned, this is one of the least-fished piers in the area, but the surf is mild thanks to the cove's geography. Take a stroll on the scenic, protected beach, then set up on the 850-foot pier. Species caught from the pier include flatfish like sand dabs, sole, and halibut. In summer and fall, look for migratory species like mackerel, striped seaperch and jacksmelt. When fishing for sand dabs and surfperch, use bloodworms, lugworms and gulp worms in shallow, warm areas in spring. The San Simeon Pier can be an especially good spot for fishing with children. Spend time casting off (and hopefully reeling them in!), then swim and sunbathe on the beach below. Also visit the Coastal Discovery Center, just a few steps away, which highlights the local cultural and natural history of San Simeon Bay.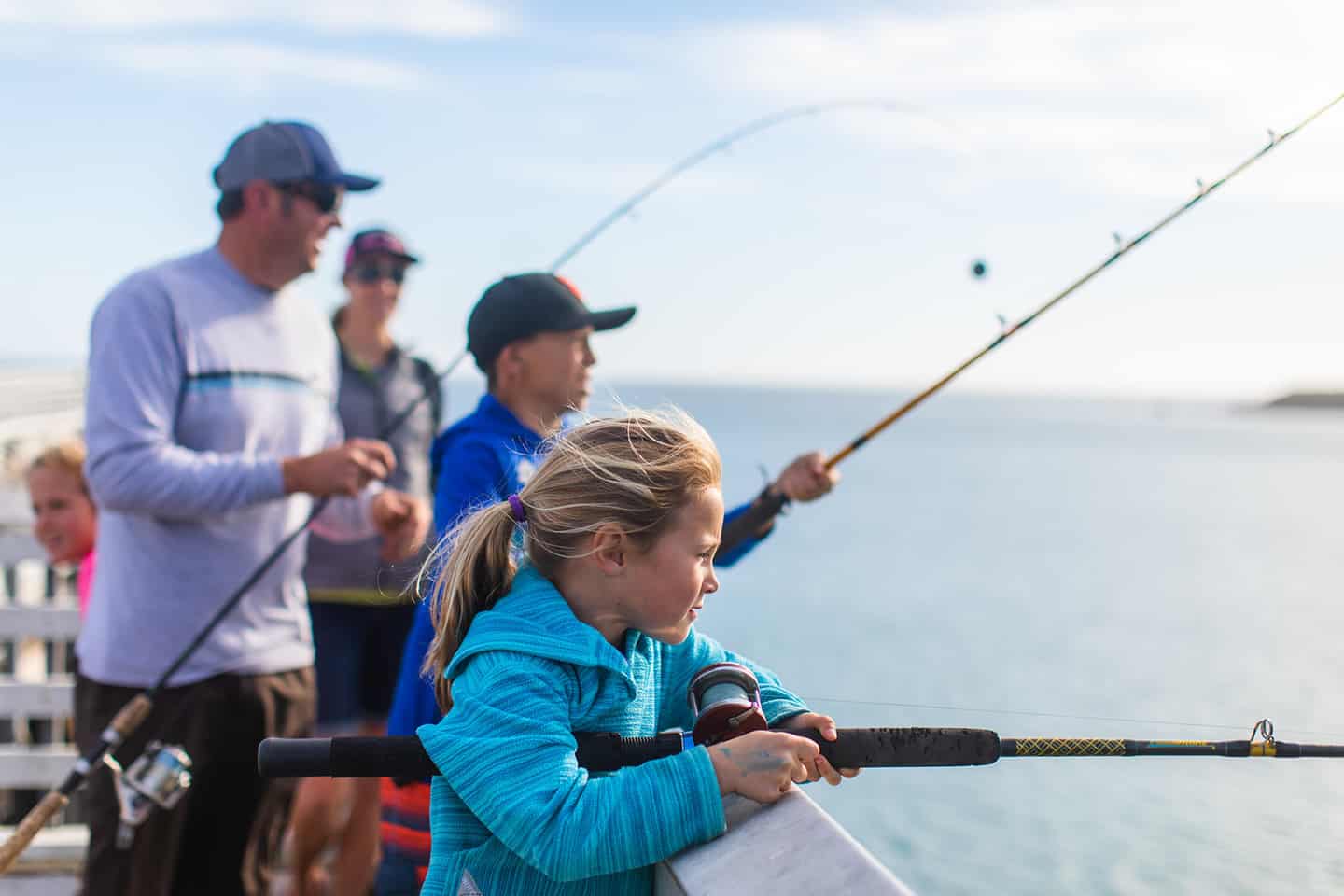 Another beach that's part of Hearst San Simeon State Park, Arroyo Laguna Beach lies at the mouth of Oak Knoll Creek. This is a popular launch for kiteboarding and windsurfing, and it works just as well for kayaks. A primary catch in these waters is lingcod — sometimes quite large — as well as vermillion rockfish. To launch from Arroyo Laguna, drive north on Highway 1 about two miles past the entrance to Hearst Castle. You'll find a small pullover area on the west side of Highway 1, just past the small bridge over Oak Knoll Creek. The beach is sandy and easy to push off from. When you've caught all you want, relax with lunch near the mouth of Oak Knoll Creek, or hike south across the creek. Just be aware that this is Elephant Seal country! The trailhead is closed to seal viewing December through April each year. If you want to see the Elephant Seals in action, drive up Highway 1 a bit to the Piedras Blancas Elephant Seal Rookery.
And if you're looking for more kayak fishing opportunities, be sure to drive back to Old San Simeon and San Simeon Bay. In addition to pier fishing, this is a great spot to launch out on a kayak to fish.
In new San Simeon, the best places for surf fishing sit right alongside the row of hotels that parallel the beach. This stretch of sand runs for miles north and south of the Cavalier Resort on Hearst Drive. Along the beach, fishing for barred surfperch and white croaker is good all year long. No need to buy bait: the best bites around here are "sand fleas," about an inch long, resembling mini shrimp. Find them by digging into the sand above the high tide line; then, just let your line do the work. These sand fleas can be quite plentiful, but be careful: they can and do bite. Some local experts suggest bringing an old fashioned #6 carolina rig for surf fishing along this beach. On the off-chance that sand fleas aren't available, bring a lure like a perch grub to get the bite you're looking for. While you wait for your next bite, look out to the horizon. You may just see migrating whales, dolphins, or sea otters on the ocean's surface.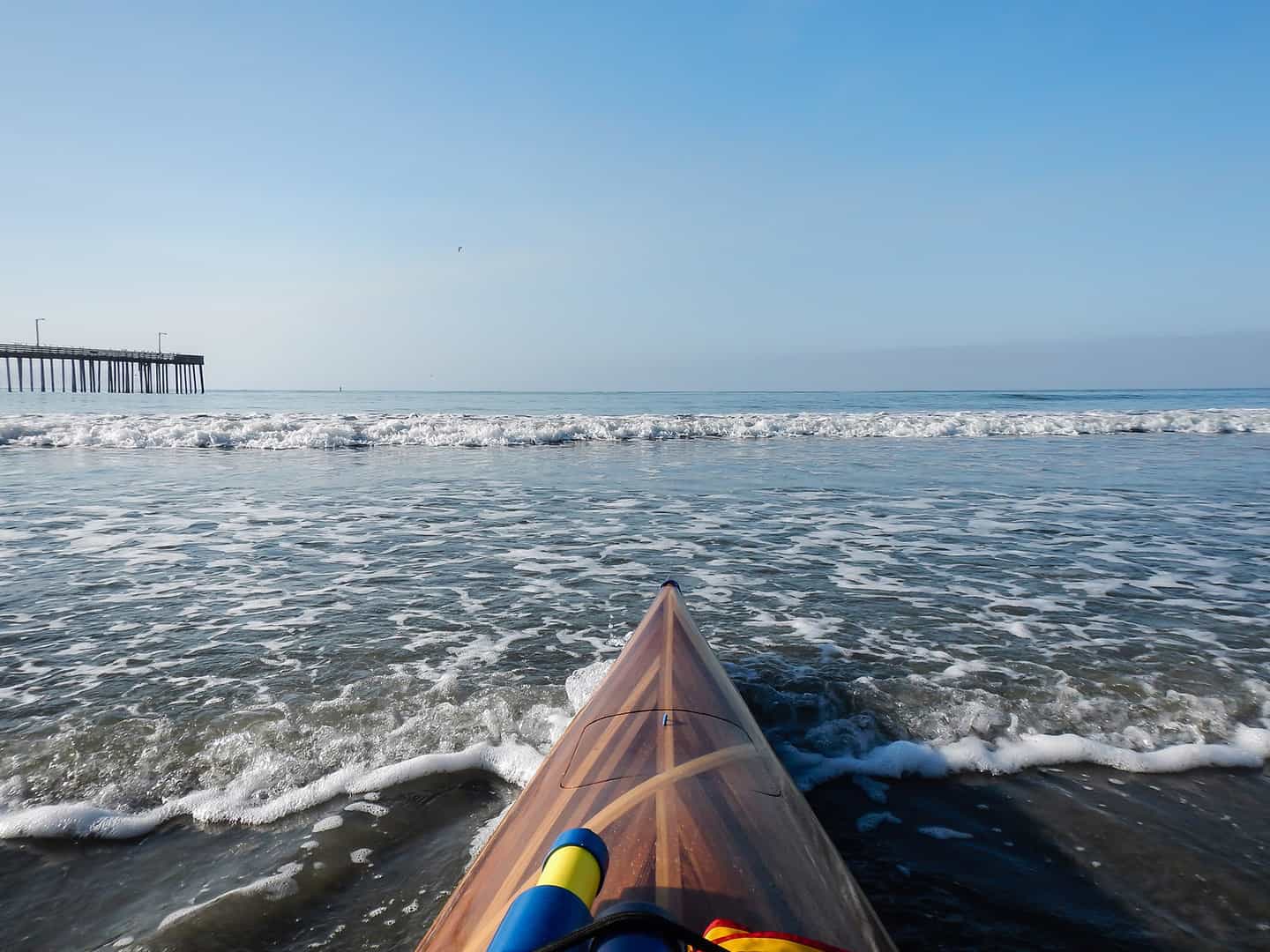 Leffingwell Landing provides the setting for multiple fishing competitions throughout the year. One such competition, the Estero Kayak Challenge, launches off the Leffingwell Landing boat ramp every June. Competitors fish for cabezon, rockfish, and lingcod, among other species. For those who'd rather fish non-competitively, paddle out about a half mile, between 8 and 20 feet in depth. Further north and slightly further out, you may find some monster fish with minimal effort. Kelp forests can be a blessing or a curse: it can tangle your line but it might also be the home of your next "big one." In fact, it's not uncommon to see lingcod, vermillion rockfish, sheepshead and halibut from these waters exceeding 24 inches. Successful fishers from this launch often use swim bait, a shrimp fly and frozen squid. Others have used iron jigs with anchovies, or double drooper loops with shrimp flies, rubber crappie jigs and shrimp or squid with a weight.
Barred surfperch are the primary catch from Moonstone Beach in Cambria. Drive to the southernmost end of Moonstone Drive on the incoming tide to fish the river wash area. Here, you may easily walk away with several hand-sized or larger barred surfperch, often around two pounds each. Other species of perch can be found here, too, especially in the sandy pockets between the reefs and out beyond the first breakers. Some locals use salted anchovies and shrimp as bait, on Carolina-style rigs with 2 inch grubs. Rockfishing can also be plentiful at low tide. As you make your way down the shoreline, keep an eye out for seaglass and smooth "moonstones" on the beach. Moonstone Beach provides some of the best beachcombing around, as well as a great spot from which to see migrating whales. Look for California Gray Whales migrating south between December and February, and back north in early spring.
The historic Cayucos pier, originally built by Captain Cass in 1872, provides a top-notch spot to drop your line. This is where die-hard anglers, novices, and kids can all cast out for enough surfperch to fill buckets, when the timing is right. Closer toward the entrance to the pier, find barred and calico surfperch. Midway down the pier, the most common species to bite are walleye, silver surfperch and small bocaccio. At the pier's end, it's not uncommon to see anglers catching anchovies and shinerperch, then stringing them on their line as live bait to catch halibut. Don't be surprised if you also see small sharks, rays, and skates here, especially near the end of the pier. If you come to the Cayucos Pier with kids, let them fish until they're over it, then head down to the popular playground right on the beach. There's also sunbathing, swimming, surfing, and skateboarding at the skatepark at the pier's entrance. And just a few steps from there, a wide variety of shopping and dining awaits in downtown Cayucos, as well.
Pier fishing certainly isn't your only fishing option in Cayucos. Get down to sea level with a kayak, launched just north of the pier from the small parking lot there. This is a great choice for fishing if the swell is too big in other places; just be sure to keep the bow of your kayak slicing straight into the waves. Once you're in the great wide open, travel the miles of coastline that host large schools of smelt, greenling, cabezon and lingcod. These and more can also be caught from shore with surf fishing. In fact, when halibut spawn in shallower waters from January to July, surf fishing can be the best way to reel them in. Head north or south from the pier, and the world (or at least the shoreline) will be your oyster, so to speak.
For freshwater anglers, Cayucos also offers the Whale Rock Reservoir, a nearly 40,000-acre reservoir built on Old Creek Road. This man-made body is open year-round (except when trails are muddy) with all California Department of Fish and Game regulations in effect. Watercraft are prohibited on the lake, including small vessels like kayaks and canoes, but the fishing is just fine from shore. Drop your line for large-mouth and spotted bass, as well as steelhead, catfish, bass, bluegill, and Sacramento suckers. While you wait for the next nibble, stay on alert to see one of the reservoir's three resident bald eagles fly by. Whale Rock Reservoir also includes three miles of hiking trails and facilities, making it a perfect spot for a full-day excursion. Open from 6am to 7pm daily, the Whale Rock Reservoir charges a $2 fee to help with the park's upkeep.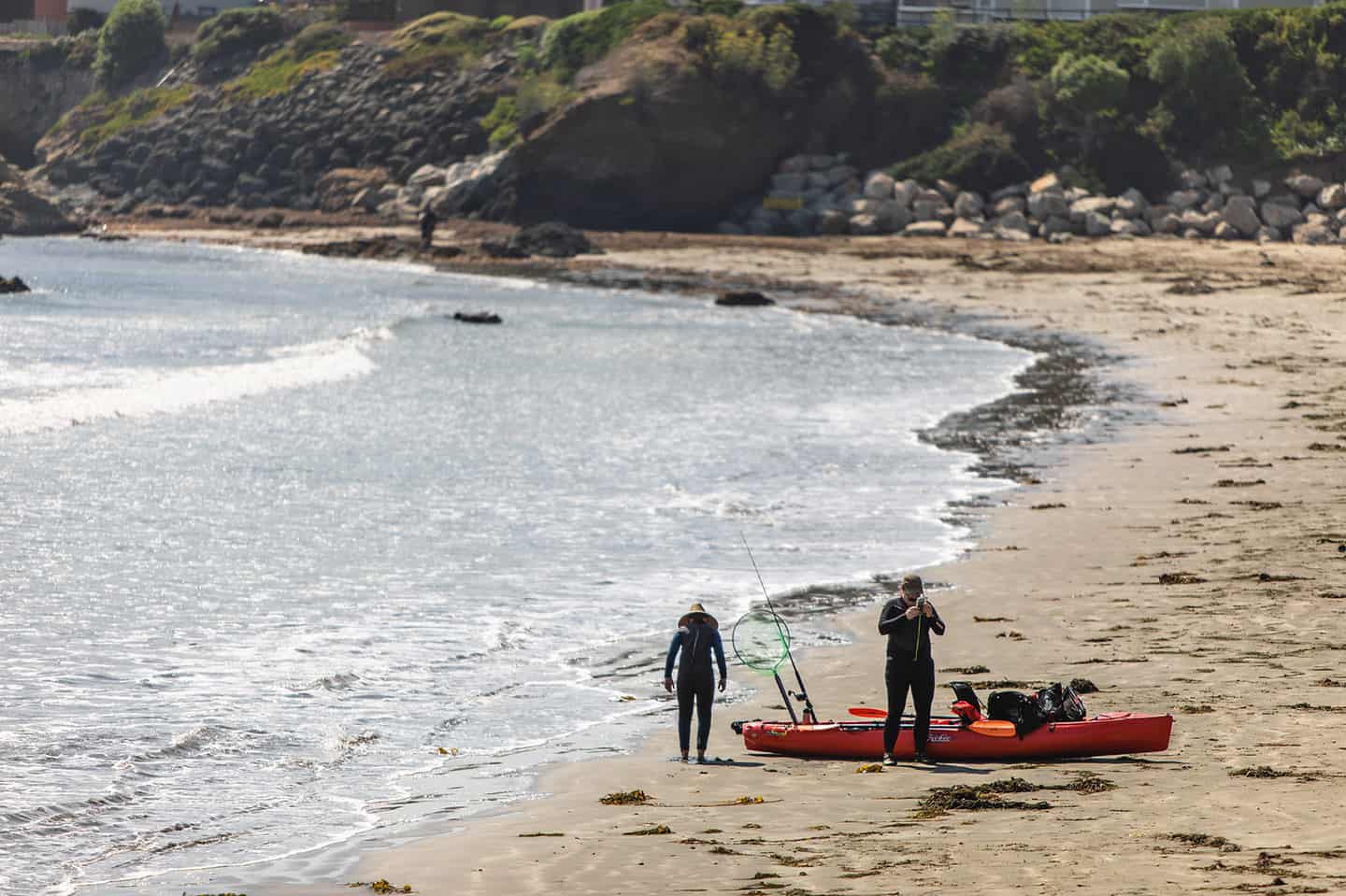 Fishing Los Osos and Baywood
The Morro Bay National Estuary is a California State Marine Reserve framing the landscape in Los Osos which prohibits fishing. These state conservation areas protect and restore wildlife and habitats in the ocean per the California Marine Life Protection Act. The idea here is to protect the entire ecosystem to allow it to heal and protect its own biological diversity. While kayaking, stand-up paddleboards and other kinds of marine recreation are allowed on the estuary, fishing and any other marine take is not. (If birding suits you, though, this is a world-class area for seeing hundreds of bird species, especially migratory birds on the Pacific flyway.)
If you're looking for a spot to paddle out for kayak fishing, Spooner's Cove provides a calm and protected beach from which to launch. The surf remains low here, due to the shape of the cove, allowing for a smooth start and finish to any fishing excursion. As such, this isn't uncharted territory; Spooner's Cove hosts a variety of different kayak fishing competitions here. (One of these, the Central Coast Slam Down, is considered one of the premier kayak fishing competitions in California.) Tournaments held here generally target rockfish, lingcod and cabezon, which you can target here, too. Spooner's Cove offers more deep water pockets close to shore than any other fishing spot on the Central Coast, making it popular with kayak anglers. If you're lucky, you may catch olive rockfish, red rockfish, or your personal best lingcod, as others have done.
For surf fishing, it's hard to imagine a more ideal area than Sand Spit Beach, between Montana do Oro State Park and Morro Rock. This four-mile expanse of sand acts as a barrier to protect the bay and Morro Bay National Estuary. The beach is accessible from Los Osos and Montana de Oro State Park in a variety of ways. But because it's only accessible by boat from Morro Bay, the beach is often empty. That means no competition with other anglers! Depending on how far you cast out, species to catch can include halibut, lingcod, rockfish and even salmon. Just be aware that because this is a remote spot, it offers no facilities. Depart from the parking area at Montana de Oro, just inside the state park; you'll have to walk the trail out to the beach on foot. Once you've arrived, enjoy the crisp ocean air, uncrowded expanses of dunes and beaches, and views of Morro Rock while you fish from shore.
Take to Avila Beach's historic piers for great access to local species. Here, it's been noted that quantity is high, though big fish are less frequent. On the Avila Pier, originally built in 1908, the pilings behave almost like a reef for sea life, hosting organisms that attract fish. In other words, stay near the pilings, and you're likely to catch something. Many of the species available here include small fish like lone eye wallperch, speckled sanddab, red snapper, white croaker, and staghorn sculpin. But with a sand crab as bait, closer to shore, anglers have been known to see large schools of pile perch. Experienced locals — the ones who know what's biting and where — often take the premium prizes, including halibut and sharks. But if you can get one of them to provide a tip, it just might be you bringing home the halibut. On the Harford Pier, originally built in 1871 and located at Port San Luis, the varieties are the same with few variations. Here, look for jacksmelt, mackerel, perch, sardines, and rockfish. These can be found midway down the pier, or at the locals' favorite spot, beside the Port San Luis Sportfishing office. The Harford Pier is one of very few driveable piers in the nation, and the only pier in the state to have a section of roof for protection. This comes in handy when the weather refuses to cooperate. The pier also offers fish cleaning facilities.
If open water sportfishing and fishing charters are more your speed, Patriot Sportfishing can hook you up. This company specializes in rock cod fishing excursions during the open season, April through December. Crab, sanddab, and albacore trips are also available in season. These trips can travel out as far as Pt. Sal, Pt. Purisma, and Pt. Buchon, or nearby in Shell Beach San Luis Bay. These can last up to 10 hours and reach a depth of 300 feet. Patriot Sportfishing also offers service from Morro Bay, including rock cod trips up to 12 hours long, out to Cape San Martin in Big Sur. (The company can outfit you with a rock cod rig as well as tackle, and clean your fish for a fee.) Rock cod private charters run during open season, April 1st through December 31st. Charter a salmon vessel for an eight-hour trolling trip with up to 16 people, or fish for Albacore in late summer or early fall, quantities permitting. 
For kayak fishing in Avila Beach, Port San Luis is one of the calmest areas to launch off Highway 1. This applies even if you plan to fish north or south of Avila Beach. Haul in your own kayak or rent one from Central Coast Kayaks in nearby Shell Beach. Then drive on Avila Beach Drive just past downtown, but not all the way to the end at Port San Luis. There you'll find Olde Port Beach, which offers a concrete ramp down to the beach that makes launching incredibly easy. Alternatively, you can drive all the way to the port and put in at the dock beside the boat hoist. Either way, you'll find free parking and easy options for getting into the water. And once there, you have options for where to fish. Heading north, the area around Port San Luis Lighthouse is popular for lingcod and halibut. But if you're looking for rockfish, head south toward Pirate's Cove and Shell Beach, where kelp forests abound.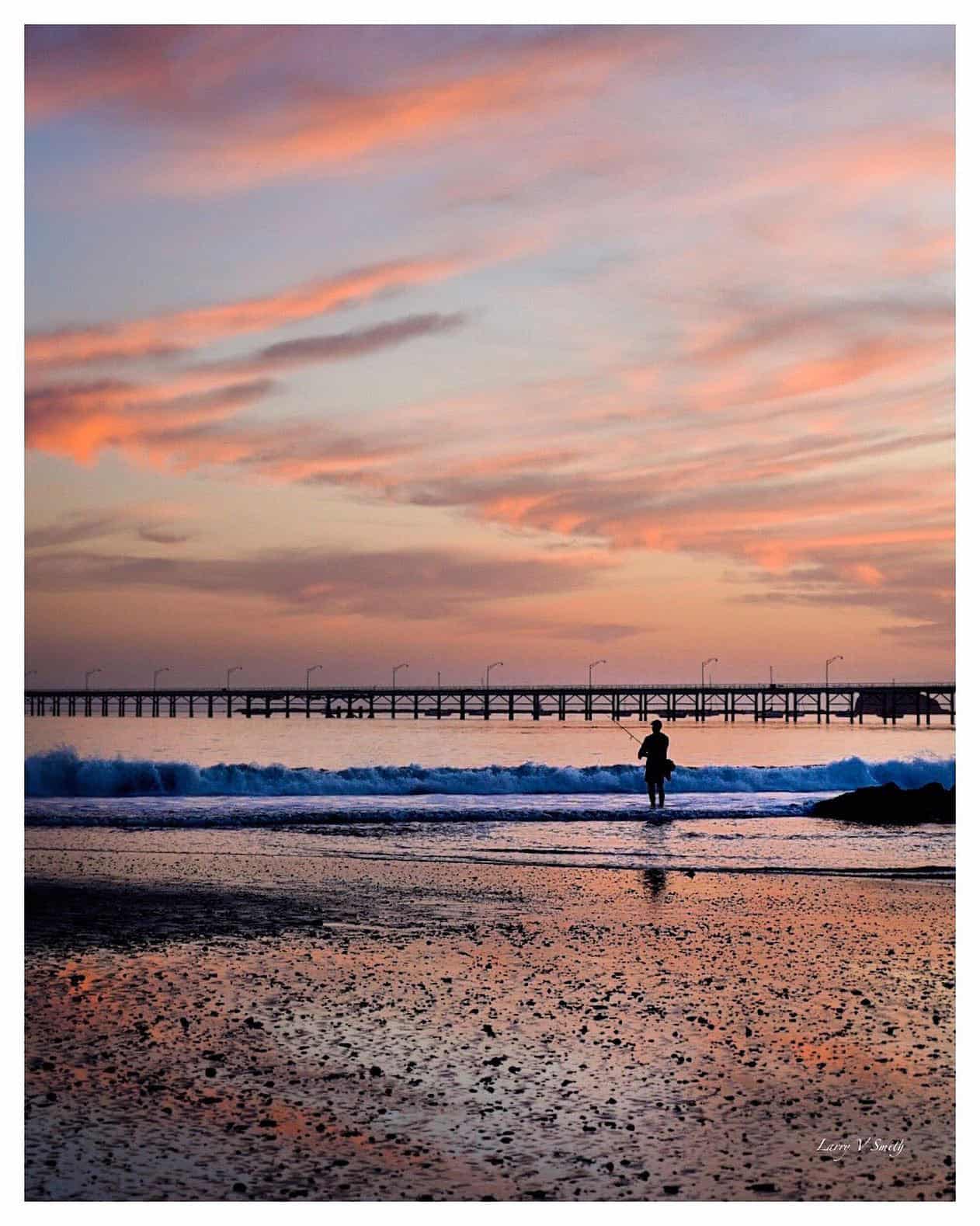 Fishing Arroyo Grande Valley
The Arroyo Grande Valley has been home to anglers since the days of the Chumash people, who hunted and fished in the canyons surrounding Lopez Lake. Lopez Lake State Recreation Area offers freshwater fishing on the edge of the Santa Lucia Wilderness. Lopez Lake is active with fishing all year long, with 1,000 acres of lake surface and 22 miles of shoreline. In the warmer months, anglers routinely catch crappie, largemouth and smallmouth bass, bluegill and red-ear sunfish. Catfish, however, can be caught in the lake all year long, usually at dusk or dawn. (In fact, anglers have been known to haul out 25-pound catfish from Lopez Lake.) Historically, Lopez Lake has also been stocked with rainbow trout in the winter months. Fish from shore, from the marina, from a kayak or a boat. The marina offers a launch ramp, tackle shop, and boat, stand-up paddleboard and kayak rentals year-round.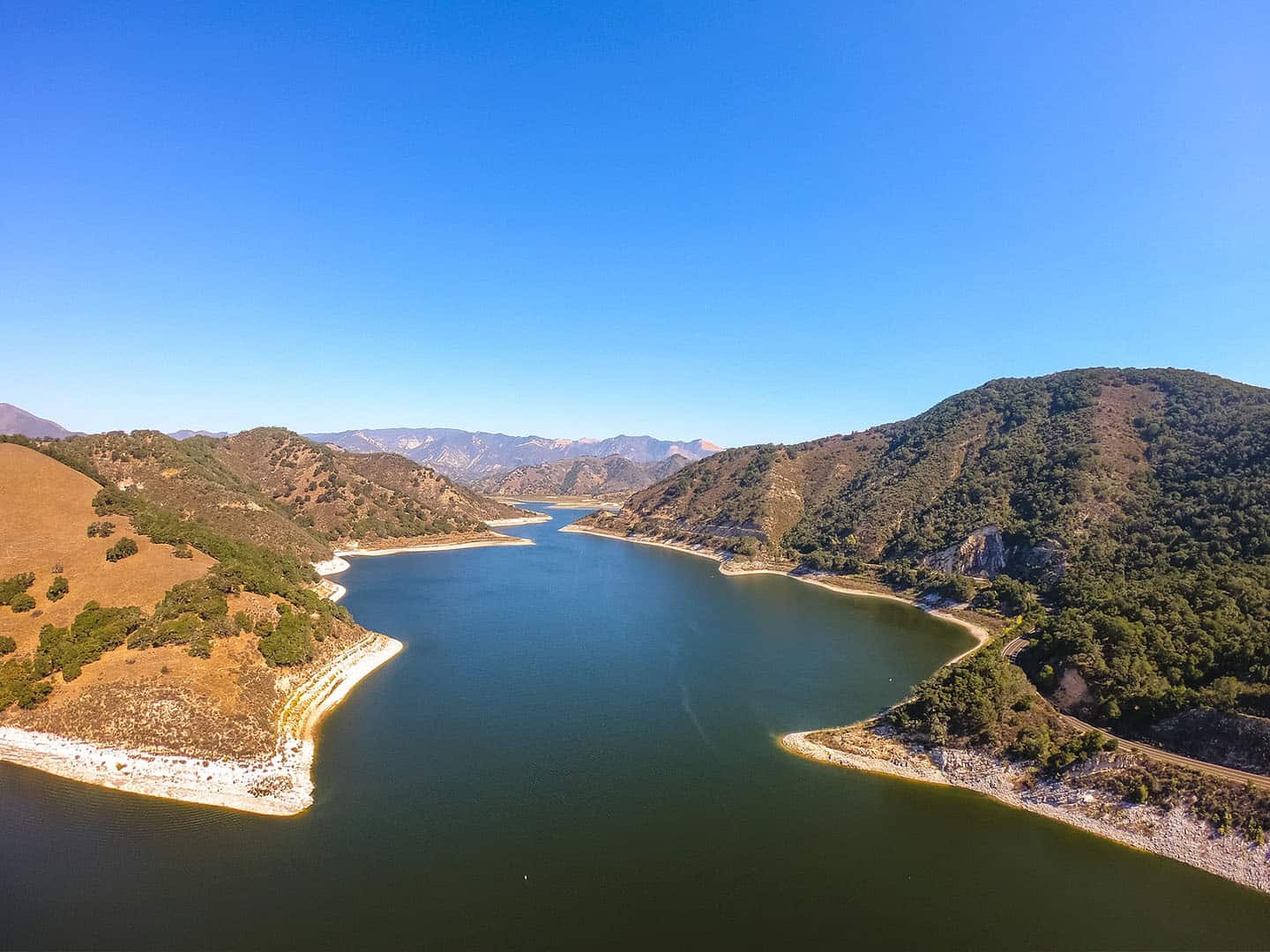 Oso Flaco Lake and the Pacific coastline beyond the Guadalupe-Nipomo Dunes offer fishing opportunities as diverse as the landscape itself. Oso Flaco Lake has its origins in the Oso Flaco Creek that runs west through woodlands and wetlands. With 75 total acres of lake surface, Oso Flaco is a small freshwater body, but it supports an incredible number of species. Some of these include largemouth bass, white perch, and striped mullet, all of which can run fairly large. The wheelchair-accessible boardwalk that crosses the lake allows anglers a good spot from which to drop their line. While you wait for your line to tighten, have a look around. Oso Flaco Lake sits at the base of the Guadalupe-Nipomo Dunes National Wildlife Refuge, the largest coastal dune system remaining in California. As you travel over the sand dunes, you'll see the Pacific shoreline, where miles of surf fishing can be had. After the 1.7-mile hike to the beach, find yourself on a near-empty beach, with a clear view of San Luis Bay. These waters are full of perch, some of them quite sizeable. Just to the north, see the Oceano Dunes, where vehicles are permitted to drive along the beach. Enjoy the roaring waves and the fine fishing, but remember: whatever you haul in, you have to pack out all the way back.
Local tip: While pier fishing at Pismo Beach is popular with tourists, the area can be very crowded, depending on the time of year. Instead, hit up one of the other piers along Highway 1, like San Simeon Pier, Avila Pier, or Harford Pier.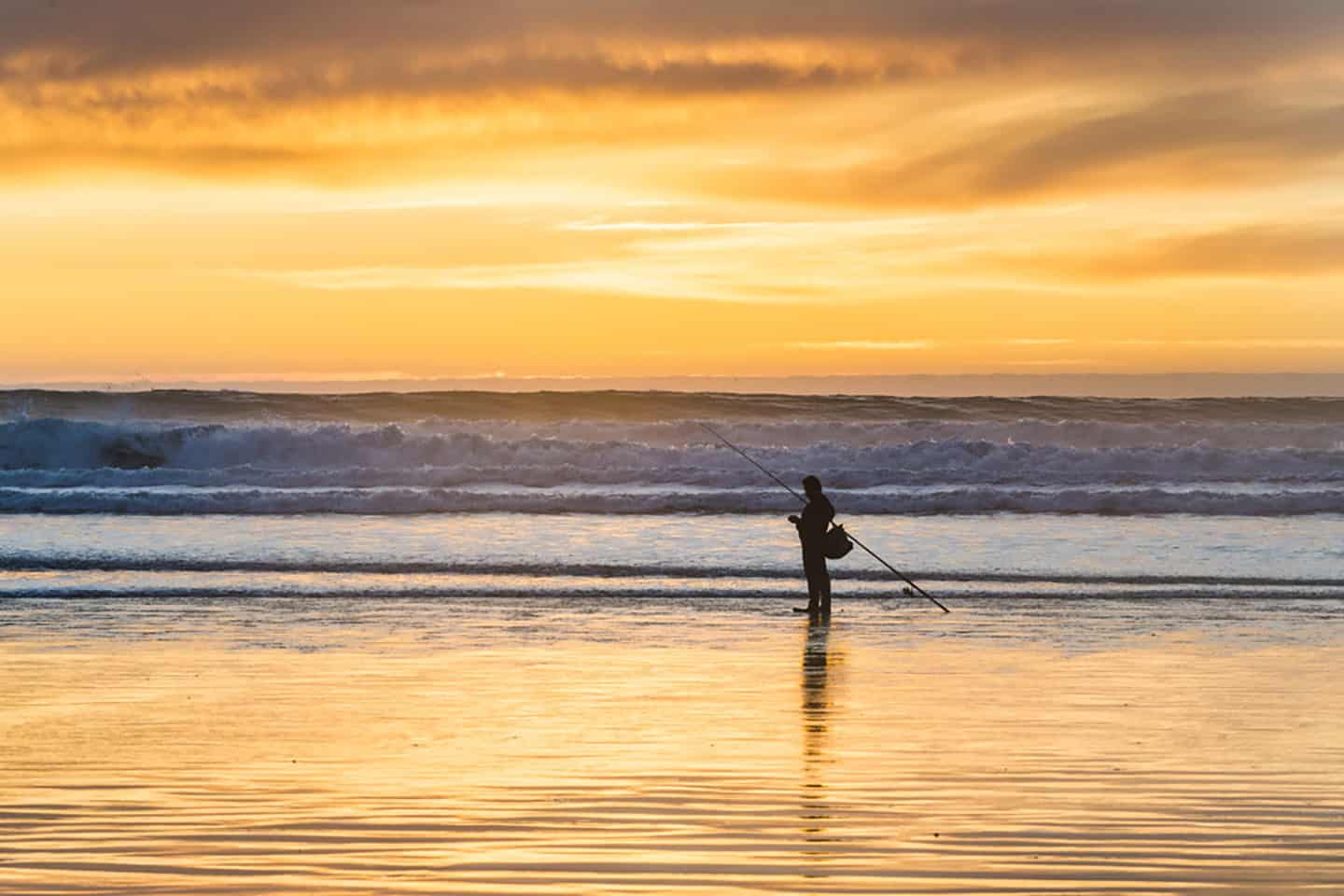 Tide Times for Highway 1
Friday, Dec 8, 2023
| Tide | Time (PST/PDT) | Height |
| --- | --- | --- |
| High Tide | 6:29 AM | 5.24 ft |
| Low Tide | 1:30 PM | 0.88 ft |
| High Tide | 7:27 PM | 3.4 ft |
Tides measured at Port San Luis Harbor. Data provided by
noaa.gov.