An all-time favorite cycling route, Highway 1 offers spectacular views and challenging climbs with great restaurants, wineries and attractions along the way. At its heart lies the San Luis Obispo County section of Highway 1, a stretch representing the very best of the West Coast. The 57 miles between Ragged Point and Nipomo pass over coastal bluffs, beside mountain ranges, through beach towns, nature preserves, and vineyards. No wonder it's become a favorite section on the Pacific Coast Route.
Through San Luis Obispo County, Highway 1 generally follows the Pacific coastline, with just a couple of brief (and totally worthwhile) exceptions. These also happen to lie along perfect backroads for making a long-distance ride through San Luis Obispo County, top to bottom. The ride could also be broken into a multi-day trip that covers views, wildlife, food, wine, dunes and beaches en route. Advanced cyclists may want to clip in for one or more of the intense routes on Cycle Central Coast. Who knows? Maybe you'll even want to compete in one of our many cycling events.
But you don't have to be a pro or a die-hard cyclist to enjoy pedaling on our stretch of Highway 1. Bring your bike and ride it to the neighboring town, or to the nearest mountain bike trail — or just to the ice cream shop. Each of the destinations along our slice of Highway 1 has its own cycling routes and bike trails, from family-friendly to advanced.
A great way to get even more out of cycling the Pacific Coast Highway is to engage with our Stewardship Travel Program for Good. Whenever you explore our wildlife, history, heritage, or coastline, you can't help but fall in love with this place we call home. Stop off Highway 1 to witness the Monarch Butterfly Grove and its thousands of jewel-toned butterflies. Take a tour of the historic Piedras Blancas Light Station midway through your ride. Check out a Whale Trail sign to learn how to spot whales offshore. Wherever you ride, consider adding one of our Stewardship Travel for Good activities to your itinerary for an even richer, deeper experience.
Explore Cycling along Highway 1
Cycle Central Coast
This online resource details locals' favorite routes and secret byways to cycle, along with mileage, terrain, elevation, maps, and points of interest. CCC also highlights local cycling events, businesses, groups and resources for visitors looking to get in on the action. Search for routes based on destination, distance or terrain, and find several options to choose from. Suggested stops along the way might include wildlife viewing areas, hiking trails, wineries, beaches, scenic vistas and farms. The blog covers news, trends, and ideas for cyclists coming to the Central Coast. Want to try your first century — or your first race? Cycle Central Coast's calendar of events makes it easy to plan a heart-pumping getaway. Made by cyclists for cyclists, Cycle Central Coast is a one-stop-shop for info on where to bike on Highway 1.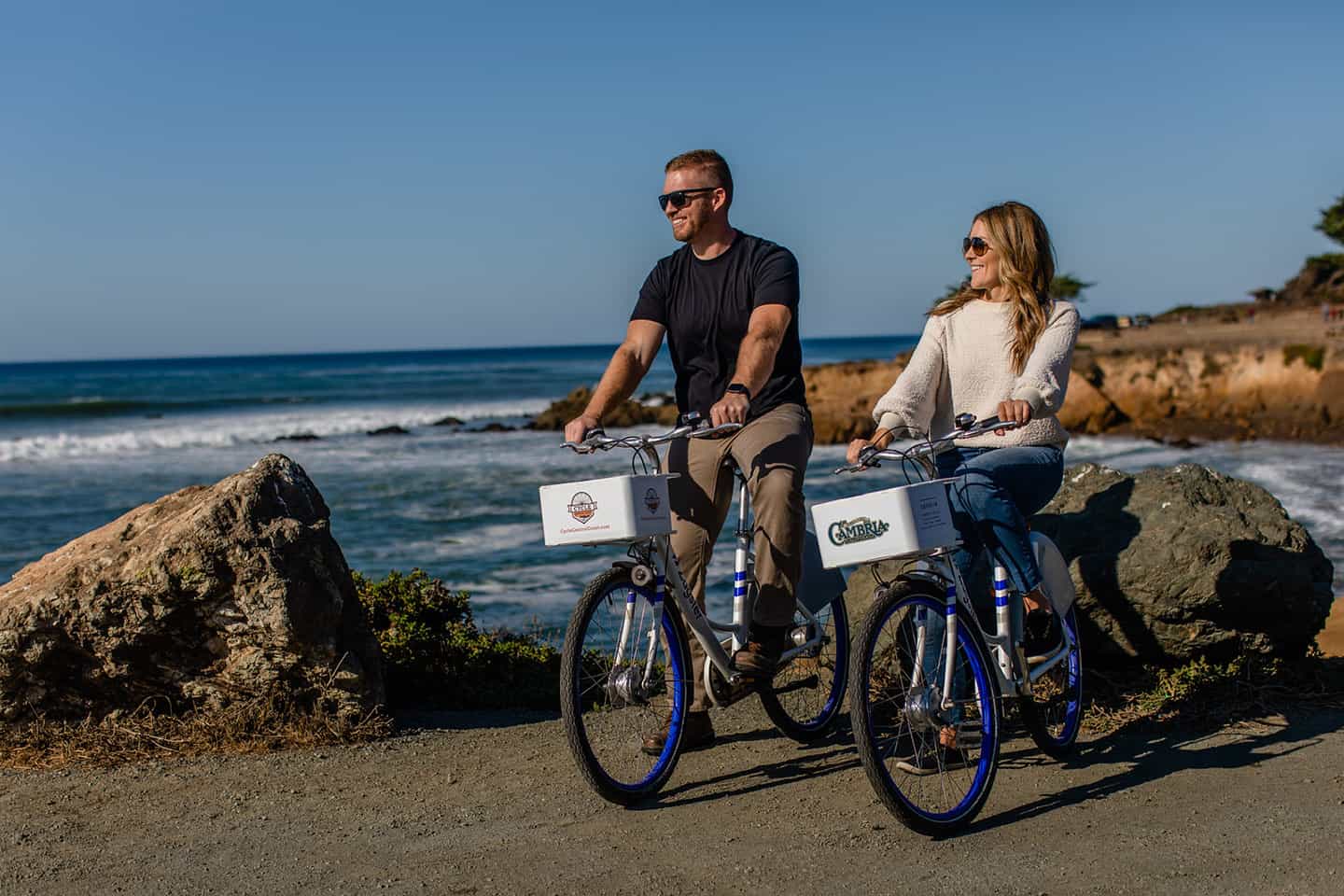 Cycling Events on the Highway 1 Discovery Route
Few experiences compare to experiencing the beauty and diversity of the Central Coast from the saddle of a bicycle. Cycling events along the Pacific Coast Highway can introduce new routes, new views, and new friends along the way. Some Highway 1 cycling events are for serious and advanced riders, including professional cyclists known the world over. Others travel just a few miles to the nearest fruit stand as a way to connect with casual cyclists. And several other events invite a mix of well-seasoned cyclists and casual weekend riders looking for a challenge in a spectacularly scenic setting. Thanks to year-round mild weather, these events take place every season, each with its own special tone, requirements and conditions. Before any event, be sure to check the registration details, as some require qualifications. Also check the condition of your gear before venturing out to ride, including patch kits, spare parts and pieces, and your helmet. Some local bike shops offer gear rentals, so check into those if you're not keen on bringing your own bike. (Resources can be found on Cycle Central Coast.) Then clip in and get ready to spin your wheels, whether you're looking for a fun cruise or the ride of your life.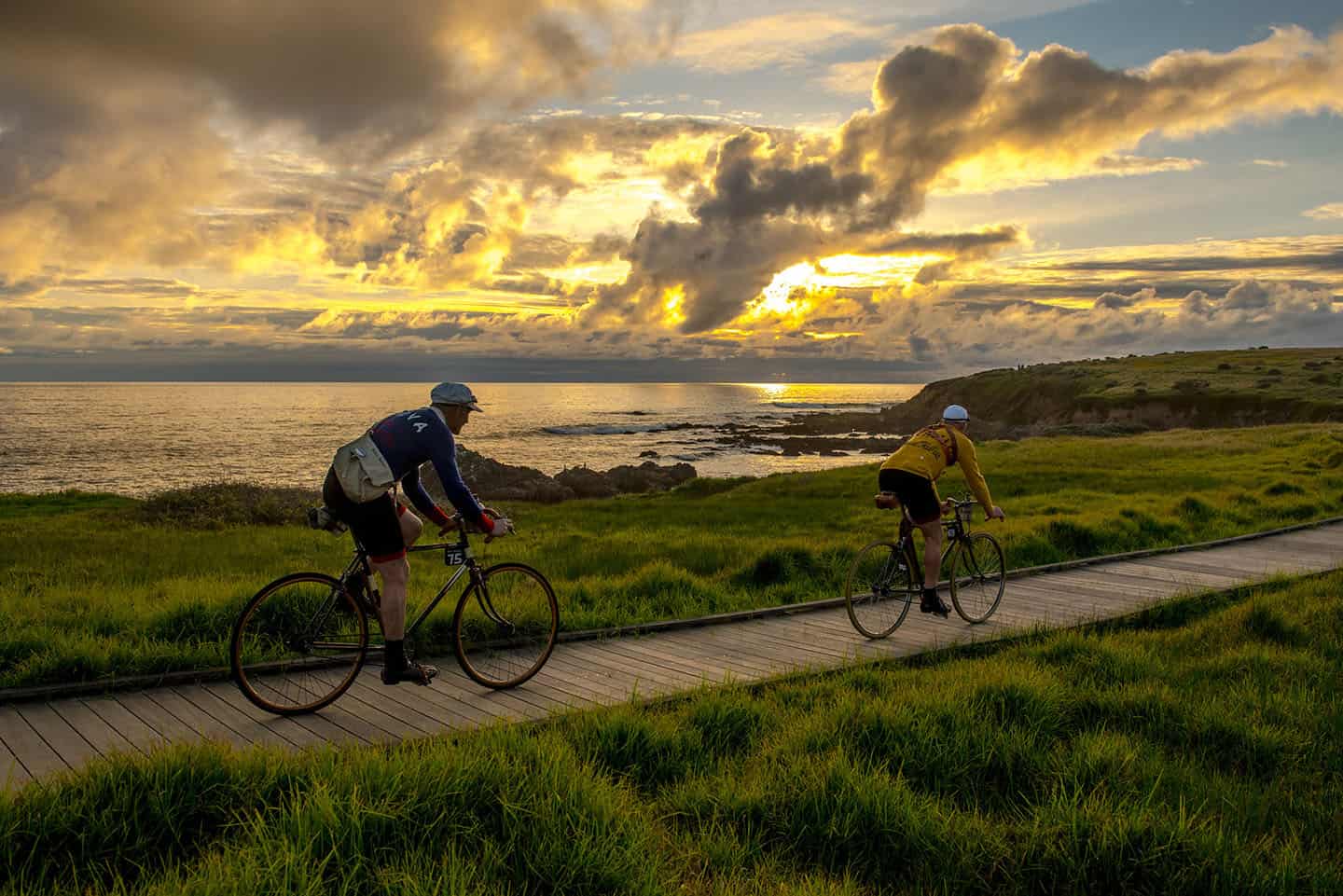 New Years Day Ride
This fun and challenging event kicks the new year off right. Start at Cambria's picturesque Shamel Park and then proceed on one of two different rides. The first takes cyclists on a 44-mile ride from Cambria to Ragged Point and back. The other travels 30 miles to Cappucino Cove, just north of the Piedras Blancas Light Station, then back again after a stop for coffee at Cap Cove. This event doesn't require registration, but riders must be members of the San Luis Obispo Bicycle Club. Membership includes a small annual fee.
Linn's Pie & Ice Cream Ride
Got a sweet tooth? The Linn's Pie and Ice Cream Ride takes advantage of Cambria treasure Linn's Farm Store, famous for its pies. Ride out five miles along a leafy backcountry road to Linn's Original Berry Farm, where olallieberry pie is the specialty. Enjoy a slice of pie and ice cream under the sycamore trees before heading back, or out on a longer ride with other members. This ride requires registration, and riders must be members of the San Luis Obispo Bicycle Club for a small annual fee.
Lighthouse Century Ride
Held each fall, the Lighthouse Century Ride offers three different route options. Two follow routes on flat road along Highway 1 (45 miles and 75 miles) and the other is a traditional 100-mile century that also climbs Highway 46. All routes are out-and-back, taking in the panoramic section of Highway 1 between Morro Bay and the Piedras Blancas Light Station. Registration for the ride is limited to 1200 riders, making for a relatively comfortable, uncrowded event. A registration fee is required, but membership is not.
Country Coast Classic
A longtime favorite ride, the Gene Cerise Country Coast Classic Bike Ride covers Highway 1 out-and-back from Cambria. The three available routes include a 1/4-century, 1/2-century and 3/4-century ride. All routes include the section of Highway 1 between Cambria and the Elephant Seal Rookery in San Simeon. Hosted by the Lions Club since 2001, the ride ends with a BBQ meal and no-host pub with local wine and beer. All proceeds go to local charitable causes; registration is required.
Best Buddies Challenge
This charity ride allows participants to pedal with pro cyclists along one of three routes between Carmel and San Simeon. With three distances — 100 miles, 62 miles, or 30 miles — the ride offers something for every cyclist, as well as a 5K run/walk. Registration fees support the services of Best Buddies International, which works to end social isolation for people with intellectual and developmental disabilities. The ride ends with a gourmet barbecue, open bar, and headliner concert featuring artists like The Beach Boys, Black Eyed Peas, and Blues Traveler.
Eroica
This unique and beloved bike race is one of ten Eroica rides around the world. The event started in 1997 in Tuscany, where Giancarlo Brocci wanted to celebrate the history of cycling with a vintage bike race. Today, California's Central Coast replicates Tuscany for rides measuring 36, 72, 80 and 107 miles. All bikes must predate 1987, and vintage cycling attire is encouraged; all rides begin and end in Cambria along Highway 1.
Arthritis Bike Classic
This California Coast Classic Bike Tour takes place over 525 miles and 8 days from San Francisco to Los Angeles. With much of the route following Highway 1, the tour passes through Ragged Point, San Simeon, Cambria, Cayucos, and Oceano. The national signature fundraising event of the Arthritis Foundation, the tour was named the 2019 Best Charity Bike Tour by Gran Fondo Guide. Join a team or ride alone and experience the breathtaking climbs and scenery of this special tour.
Amgen Tour of California
The best-known tour in California and perhaps the nation, the Tour of California passes through our length of Highway 1 each year. Held over 8 days and 700 miles, it is the only event in the U.S. on the top-level WorldTour. The tour is open to professional cyclists only, but watching the cyclists pass through on Highway 1 is a favorite local spectator sport. Union Cycliste Internationale oversees the event, which is one of up to 37 WorldTour events in the world.
Biking Ragged Point
Saddling up in Ragged Point means panoramic views, rugged coastline, and plenty of pull-off points worth stopping for. Ragged Point to San Simeon along Highway 1 starts by traveling south 15 miles, mostly downhill parallel to the shoreline. Catch a cup of coffee, breakfast or a snack at the Ragged Point Inn, and enjoy the "Million Dollar View" from the cliffs. Then ride south along Highway 1, taking in views of the Piedras Blancas Light Station or even stopping for a tour of the historic landmark. (Tours occur at specific times throughout the week and must be reserved ahead of time.) Nearby, check out the majestic creatures at the Piedras Blancas Elephant Seal Rookery, where their lives are on full display. See William Randolph Hearst's incredible estate set up in the Santa Lucia Mountains, just east of Highway 1 in Old San Simeon. (You may even spot descendents from Hearst's herd of zebras on the ranch.) This is another great spot to pull over for a meal at The Truck or a glass of wine at Hearst Ranch Winery. Walk out along the San Simeon Point Trail or lounge on Hearst Memorial State Beach, looking for whales at the Whale Trail sign. Or learn about the intersection of sand and sea at the Coastal Discovery Center, part of the Monterey Bay National Marine Sanctuary. But save plenty of energy for the return trip, which gains the elevation you lost on the way down. Then settle in once again at Ragged Point Inn for a glass of wine, lunch or dinner at the restaurant overlooking the sea.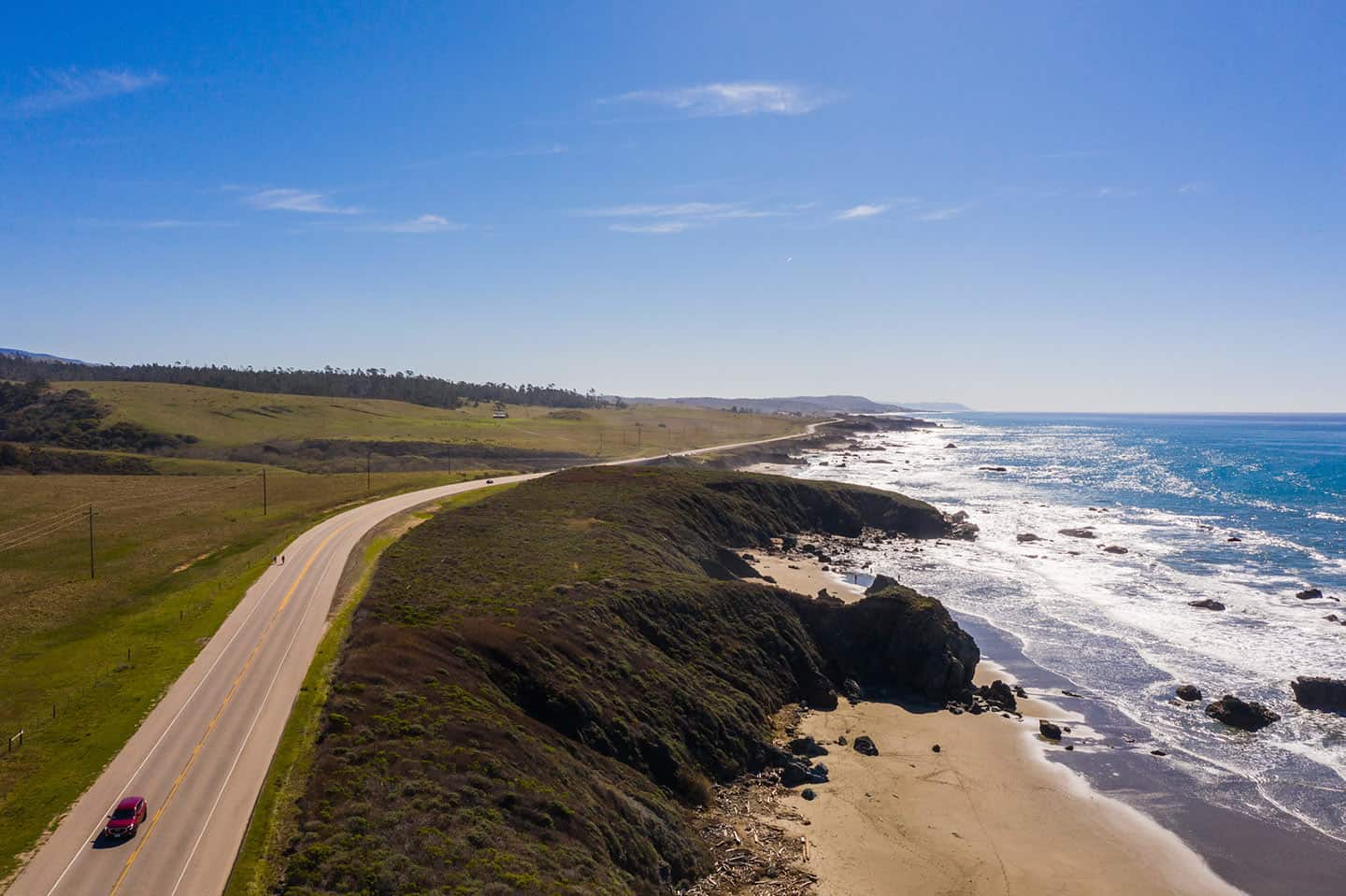 Biking from San Simeon
Any ride starting in San Simeon will feature sparkling ocean water, the Santa Lucia Mountains, and sycamore, eucalyptus and Monterey Pine trees. The nearest destination to the north is Ragged Point (see above), and to the south, the seaside hamlet of Cambria. It's 10 miles from San Simeon to Cambria, with several points of interest along the way, including multiple beaches. Sink your toes into the sand at San Simeon State Beach, or head to Leffingwell Landing to explore the tidepools. Once in Cambria, Moonstone Beach fascinates visitors with its smooth stones, sweeping terrain, and excellent beachcombing. For seafood lovers, pedal over to the Sea Chest for award-winning lobster, oysters, and other delicacies. For delicious globally-inspired cuisine, Robin's Restaurant delivers, or for wine tasting, a ride to Stolo Winery is worth the ride. If your legs will allow it, enjoy a walk over the Moonstone Beach Boardwalk or the Fiscalini Ranch Preserve. ( For mountain bikers, the Fiscalini Ranch Preserve in Cambria boasts three miles of mountain bike trails that weave throughout the 430-acre preserve.)  You can even trade your bike for a bucket-list horse ride at the Covell Clydesdale Ranch. Don't leave until you've grabbed a slice of famous olallieberry pie at Linn's Restaurant. But be careful not to overdo it: you still have to ride back.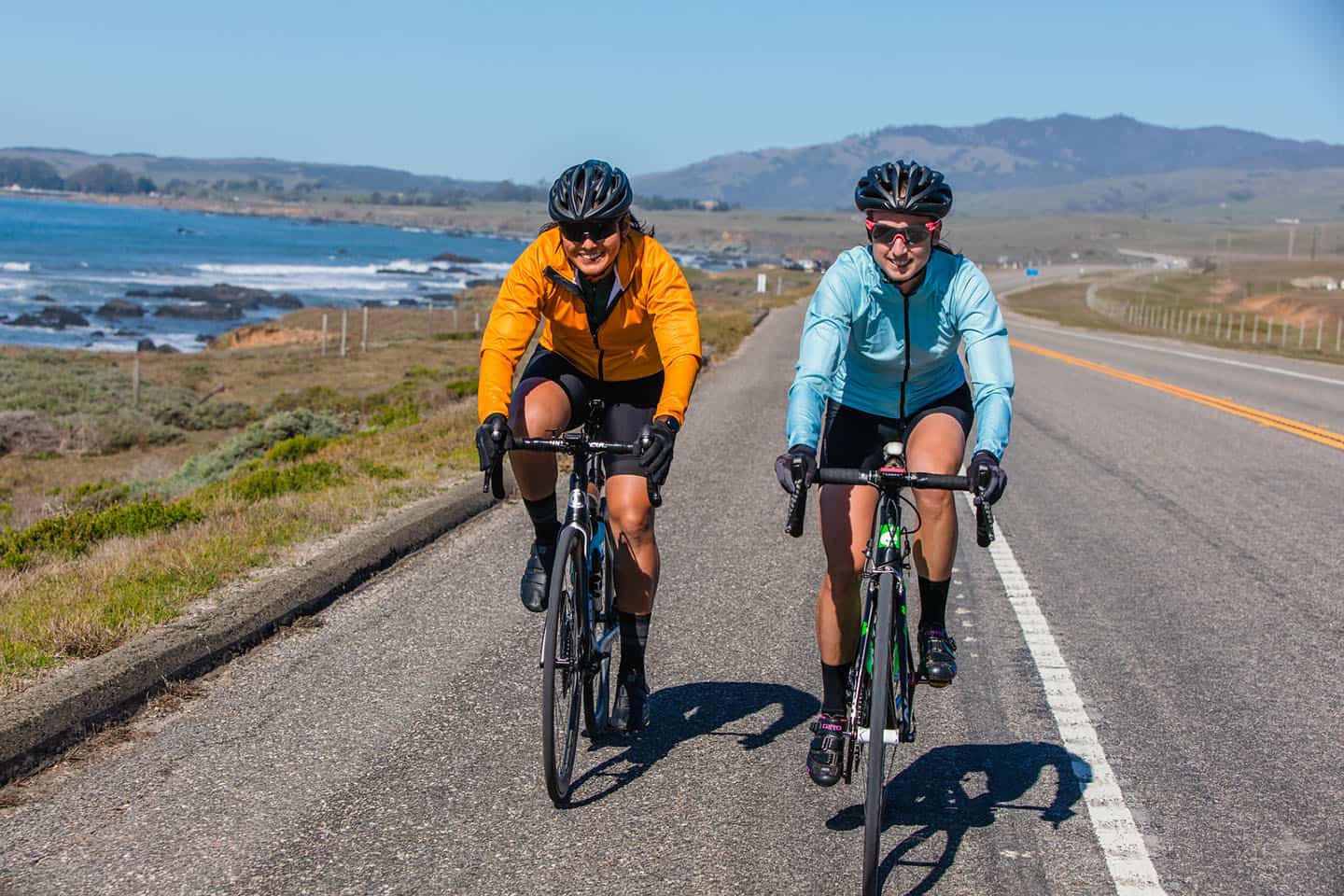 Biking from Cambria
Find a number of terrific cycling routes that travel out from Cambria, including to the north and San Simeon, or to the south toward Cayucos. The 14.5-mile ride from Cambria to Cayucos along Highway 1 includes a good mix of flats, downhills and climbs. Wind through Cambria and emerge in a marshy inland plain where Highway 46 intersects Highway 1. (This is another epically beautiful yet challenging ride. Head east on Highway 46 and find oak-lined byways, wineries, and serious climbs that result in equally serious views.) As the road continues, it climbs near Harmony Headlands State Park, where a peaceful hike is a nice addition to any ride. Moving further south, views of the ocean, Morro Rock, and even Montana de Oro and Point Buchon come into view. Walk one of several trails in Estero Bluffs State Park just north of Cayucos, or stroll down the historic Cayucos Pier to watch the surfers. If you fancy a day in the sun, lounge on Cayucos State Beach and investigate the abundant tidepools on its southern end. Cayucos has several dining options, including casual California cuisine at The Cass House Grill or clam chowder at Duckies Chowder House. And take the opportunity to grub down at the original Brown Butter Cookie Company, right downtown on Ocean Avenue, before pedalling back northward.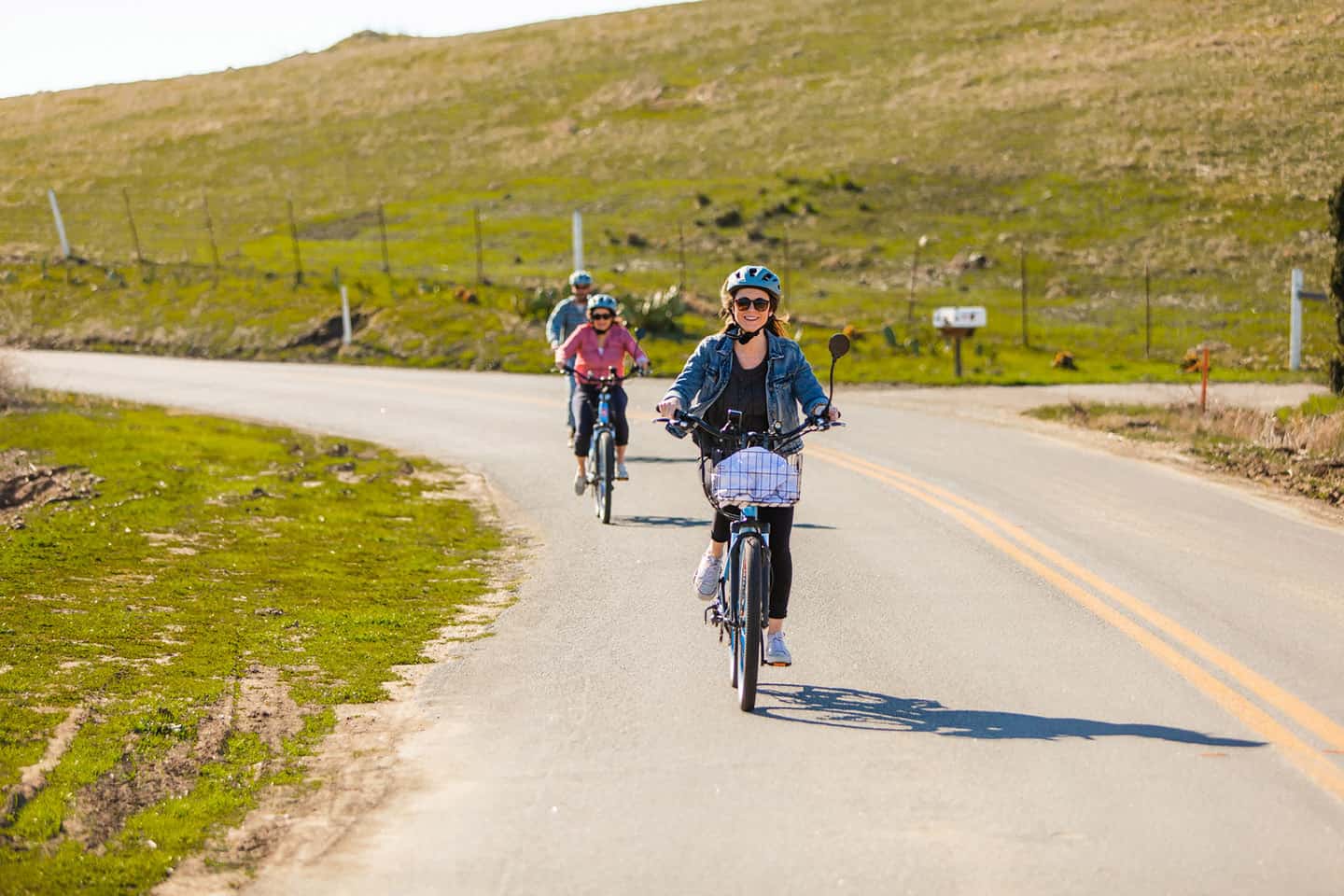 Biking from Cayucos
From Cayucos, the nearest cycling destinations are Cambria to the north and Morro Bay to the south. The ride from Cayucos to Morro Bay is just 6 miles long, but the beach and ocean vistas seem to go on forever. Highway 1 hugs the shoreline along the Estero Bay, providing south-facing views of Morro Rock, Montana de Oro and Point Buchon. Homes cascade from the hills at the east down across Highway 1 to the beach. One of the best spots to enjoy this view is Morro Strand State Beach, the long strip of sand that connects to Cayucos State Beach to the north. Morro Strand Beach is famous for its windsurfing and kite flying, both of which you'll likely find people enjoying on a trip to the beach there. Bring a kite or just watch the kite and windsurfing enthusiasts play in perfect conditions. Pack a picnic into your pannier and enjoy it at the beach where the picnic facilities come with a world-class view of the Pacific. This is also a great beach for surfing, surf fishing, or lounging up against the soft white sand dunes.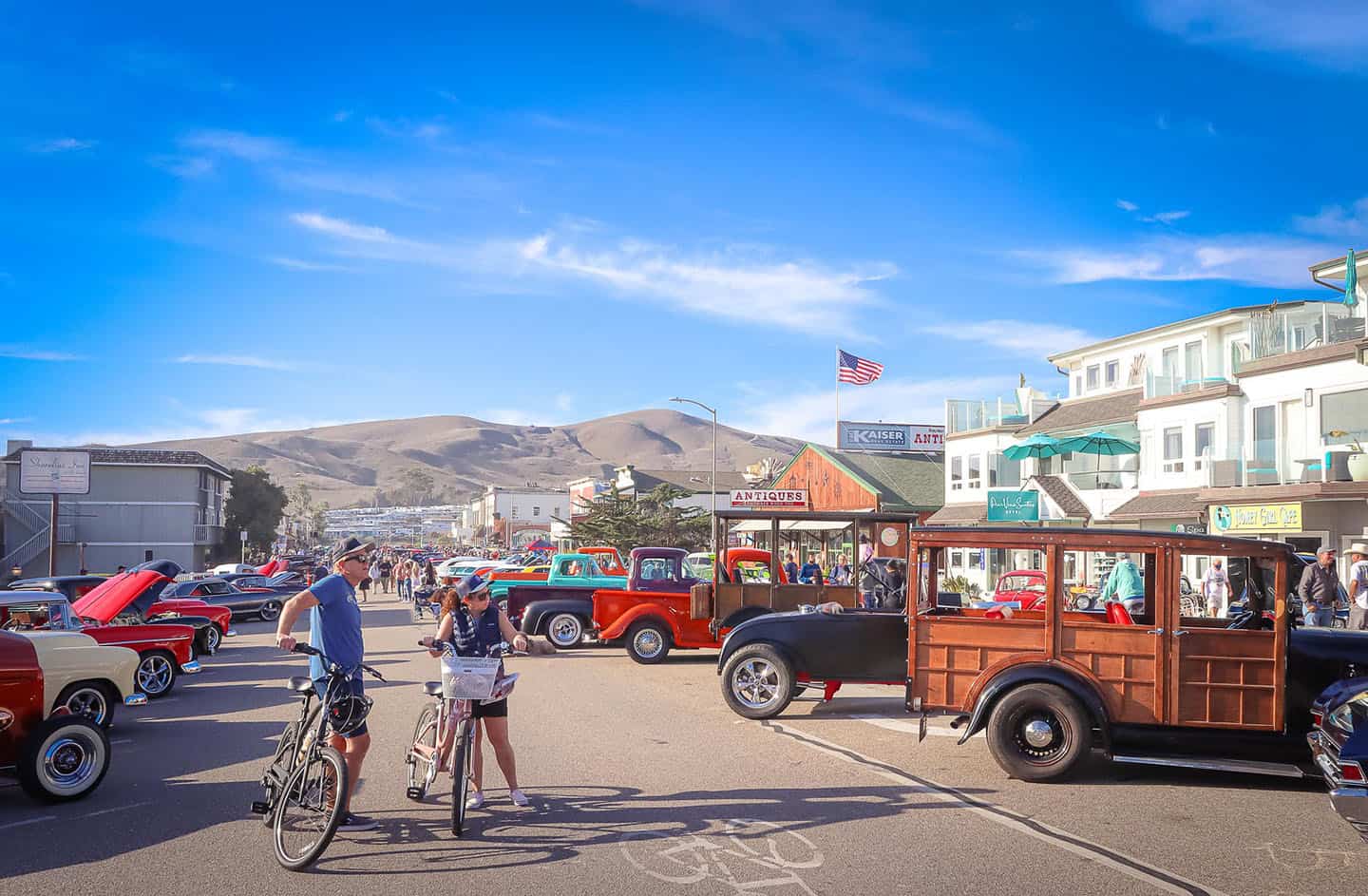 Biking from Los Osos
The closest destinations for a ride from Los Osos are Morro Bay to the north (6 miles) and San Luis Obispo to the south (12 miles). Before any journey, get coffee and a breakfast burrito at the Back Bay Cafe in Los Osos. Then, travel south along Los Osos Valley Road toward SLO, watching the landscape shift from sand dunes and waves to serene farmland. A patchwork of flowers, row crops, and vines awaits any cyclist in this picturesque corner of San Luis Obispo County. Along the way, stop to take in views of the Nine Sisters, a mountain range of nine peaks that began as volcanic plugs. Morro Rock lies the furthest west, with Islay Hill to the east, all the way into the Edna Valley. In between, Black Hill, Cerro Cabrillo, Hollister Peak, Cerro Romauldo, Bishop Peak, and Cerro San Luis stand watch over Los Osos Valley. It is a majestic sight.
If mountain biking better suits your style, Montana de Oro State Park offers nearly 20 miles of beginner, intermediate and advanced trails. (Here, you'll gain far and wide coastal views you can't get anywhere else.) And at the valley's southern end, look to the Irish Hills for 13 miles of easy and intermediate mountain biking trails.
Biking from Avila Beach
A ride to or from Avila Beach will always include a forest of sycamore trees and fun in the sun. The closest destinations to Avila Beach are Edna Valley 12 miles east and Pismo Beach, 7.5 miles due south. 
To Edna Valley, take back roads across Highway 101 to Buckley Road. Along the way, pass Woodstone Market, near the Bob Jones Trail, and grab a sandwich or a drink for the road. Then weave through a sycamore forest, between vineyards, and eventually into the pretty patchwork farms of the Edna Valley. You'll find more gourmet provisions for a picnic at Farmhouse Corner Market on Highway 227 (the main thoroughfare of the Edna Valley). Plus, of course, wine! Stop in at any number of small, family-owned winery tasting rooms for crisp, cool-condition Chardonnay and Pinot Noir. Be warned that this route is rather hilly, though, so be sure to keep your energy in check for the ride back.
To reach Pismo Beach, take Avila Beach Drive to Highway 101 but turn right onto Shell Beach Road just before the freeway entrance. (Here is the only elevation gain on the ride; the rest is flat.) Stop along the way at the Avila Valley Barn, an old-timey fruit stand with a petting zoo, pies, and hay rides. Or pick up picnic provisions at De Palo & Sons, an old world Italian delicatessen with a terrific selection of local wines. Continue past the Dinosaur Caves Park, with its sprawling lawn and view of the ocean. At this point, Shell Beach Road becomes Price Road, which leads directly to the heart of Pismo Beach. Walk the Pismo Pier and hit up The Scoop ice cream parlor before making the ride back to Avila Beach.
Looking for a simple family bike ride? Avila Beach is also home to the Bob Jones Trail, a paved path from Ontario Road all the way to downtown Avila Beach. Ride the 1.5-mile path down to the beach, passing beneath sycamore trees and beside an abundant tidal estuary.
Biking from Edna and Arroyo Grande Valleys
To enjoy Edna Valley and the Arroyo Grande Valley by bike, the closest destination is south to Oceano and Nipomo. This ride is all about the back roads, patchwork fields, vineyards and wine country. Rolling hills that are velvety green in spring and gold the rest of the year stand watch over the valleys, the road winding through it. Start off in Edna Valley with a visit to Sextant Winery's Gourmet Deli. Pick up a sandwich or salad, plus a glass of wine, and enjoy it on the patio, then saddle up for a ride through Price Canyon. This long, winding road has hills but nothing very steep, all the way into downtown Pismo Beach. Here, you can stop off for an ice cream, a walk on the Pismo Pier, and a visit to the Monarch Butterfly Grove. Marvel at their orange and black wings, clustered by the hundreds on the eucalyptus leaves and branches, then ride south on Highway 1. Walk the Oceano Dunes Natural Preserve or see vintage railway cars and artifacts from the mysterious Dunites at the Oceano Train Depot Museum. You've already traveled 10 miles, but the Guadalupe-Nipomo Dunes and Oso Flaco Lake Preserve lie just another 12.5 miles to the south. And for mountain bikers, explore the 15 miles of intermediate and difficult trails that weave through Arroyo Grande's Lopez Lake Recreation Area.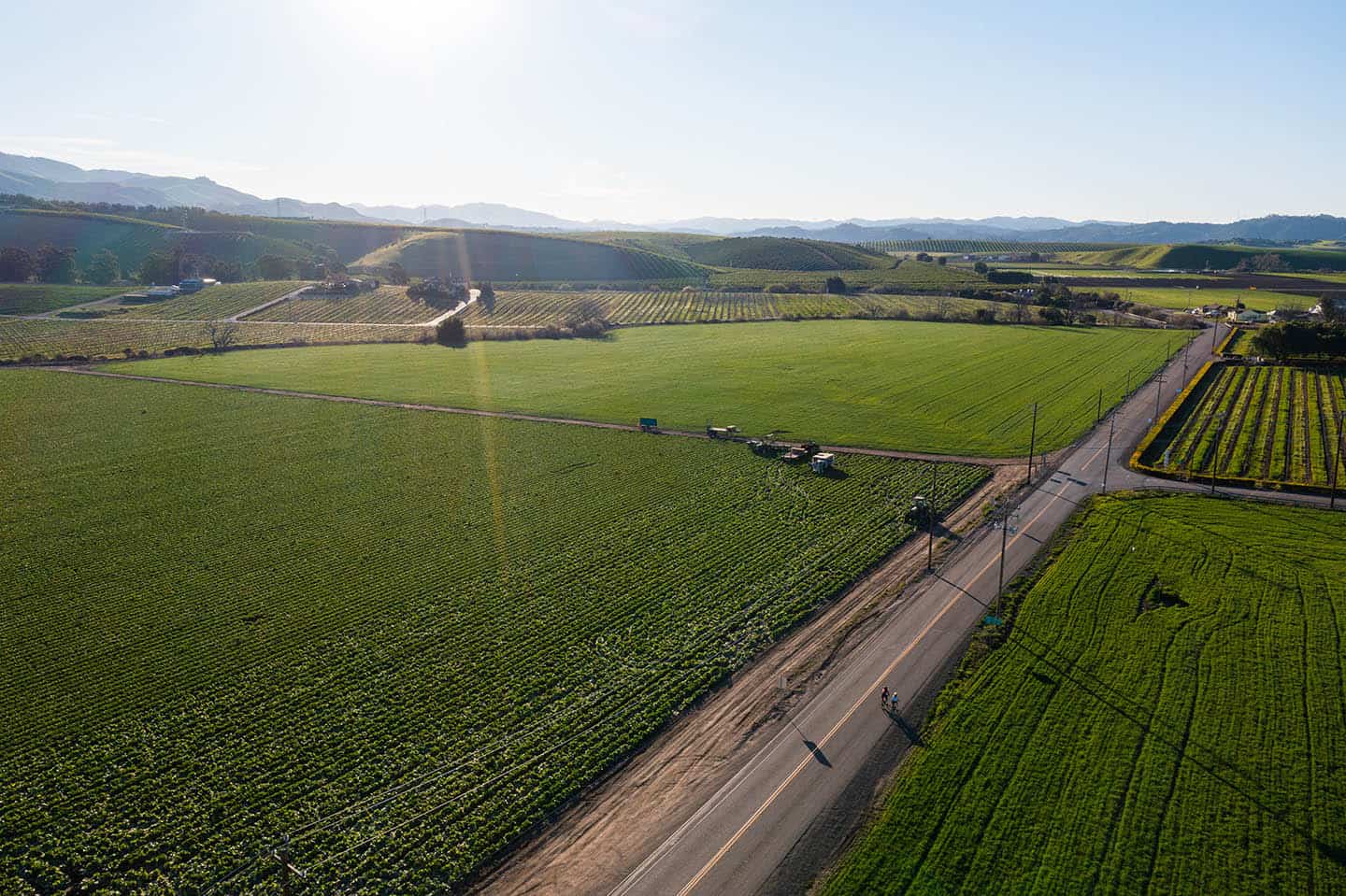 Biking from Nipomo and Oceano
The natural preserves, dunes, and unspoiled coastline surrounding Nipomo and Oceano make it a great promising destination for cyclists of all abilities. Fuel up with breakfast or lunch from legendary Jocko's Steakhouse. Then ride west over Highway 101 toward the Nipomo Bluffs and the scenic Oso Flaco Lake Natural Preserve. After a walk on the dunes, ride uphill on Highway 1 toward Oceano to find excellent Mexican food, agriculture, and the historic Oceano Train Depot. Explore the dunes where the mystic Dunites set up their bohemian camp in the 1920s and '30s. At Grand Avenue, turn right and pass beloved restaurants like The Spoon Trade in Grover Beach and Ember in Arroyo Grande. Follow this road three miles to the heart of the Arroyo Grande Village. Here, find boutique shopping and excellent dining options in this beautifully preserved historic town. Take a wobbly walk over the historic Swinging Bridge, visit the Hoosegow Jail House, and savor a pastry from Eclair Bakery. Before long, you'll be ready to head back for the 30-mile ride back to Nipomo.