Along this section of Highway 1, unique shopping adventures await visitors within a short distance of most main attractions. Find locally-made art, ceramics, cheeses, wine, furniture, surfboards, herb and spice blends, soaps, candles, glasswares, jewelry, breads, books, souvenirs, clothing and more. One hot spot for artisanal goods is year-round farmers' markets and farm stands. A wide variety of farm-to-table agricultural destinations sell goods and gifts, as well. Venture out for seasonal festivals throughout the year, not only for the fun of it, but for access to an even wider selection of local wares. Holiday bazaars, art shows, music festivals, pop-ups and makers' markets reveal the heart of our local creatives. Most of the towns along our stretch of Highway 1 offer family-friendly activities, wine tasting opportunities, and downtown centers perfect for strolling and window shopping. With these choices within reach, you can bring the best of the Central Coast's gifts, antiques, art, foods, and wine home with you.
Hearst Castle Visitors Center
Much of the shopping in this historic seaside town has to do with its most famous resident, businessman and art collector William Randolph Hearst. His opulent hilltop home, Hearst Castle, became a California State Park in 1958, and now offers goods related to the property. First, tour Hearst Castle to discover this outlandish (and outlandishly beautiful) home perched atop a foothill of the Santa Lucia Mountains. Then descend the hill to enter the Visitor Center, and discover a wealth of mementos and souvenirs from this extravagant place. The Castle Collection Gift Shop offers items related to Mr. Hearst, the California coast, the property, its celebrity guests and architect, Julia Morgan. These include apparel, collectibles, glassware, posters and prints, books and DVDs. For visitors wanting to bring Hearst Castle home with them, the Assembly Collection Museum Shop sells authenticated reproductions of pieces from the property. These include art pieces, period furnishings, and architectural details, all meticulously reproduced for authenticity. (Sales from the Museum Shop benefit The Hearst Castle Preservation Foundation, which preserves and restores the property, and educates the public.) You can also purchase grass-fed Hearst Ranch Beef, raised on the fields and hills surrounding Hearst Ranch.
Friends of the Elephant Seal Gift Shop
William Randolph Hearst isn't this area's only famous resident. Visitors to San Simeon will find books, art and souvenirs related to the Northern Elephant Seals and their migratory rookery here, too. First, see the elephant seals in person at the rookery  on Highway 1. Then head 8 miles south to the Plaza del Cavalier in San Simeon for the Friends of the Elephant Seals gift shop. There, you'll find a wide range of items celebrating the life of the Northern Elephant Seal and its migratory home near San Simeon. Stock up on tees, sweatshirts, caps — even socks! — that sport the image of the elephant seal. Plush and other toys remind kids of their visit to meet the elephant seals, too. A vast selection of books and DVDs, photos, posters and guides can be purchased there, too. And don't forget to check out the Whale Trail sign and high-powered telescope just outside for a potential whale or dolphin sighting!
Sebastian's General Store & Old San Simeon Village
The tiny village of Old San Simeon stands in stark contrast to the grand palace of Hearst Castle, just up the hill. This port town was once bustling with activity, first with the native Chumash population, and later with whalers, fisherman, seaweed foragers, and abalone hunters. In 1852, Captain Joseph Clark built the General Store on San Simeon Point to serve the growing community. W.R. Hearst's father George Hearst had the store moved to its current location, and the Sebastian Brothers purchased it in 1914. At its height, the village swelled to include saloons, hotels, blacksmiths, stables, schools, a depot, and a butcher. Later at the San Simeon Pier, W.R. Hearst would unload art, antiquities, furniture and materials for building Hearst Castle. Since then, Old San Simeon has grown quiet again, with few remaining structures from that bygone era. One of them, Sebastians' General Store, still stands, and has housed the tasting room for Hearst Ranch Winery. The tasting room is located in the warehouse directly across from the General Store. There, you'll find not only wine tasting, but bottles for purchase, as well as apparel and other related gifts from the winery.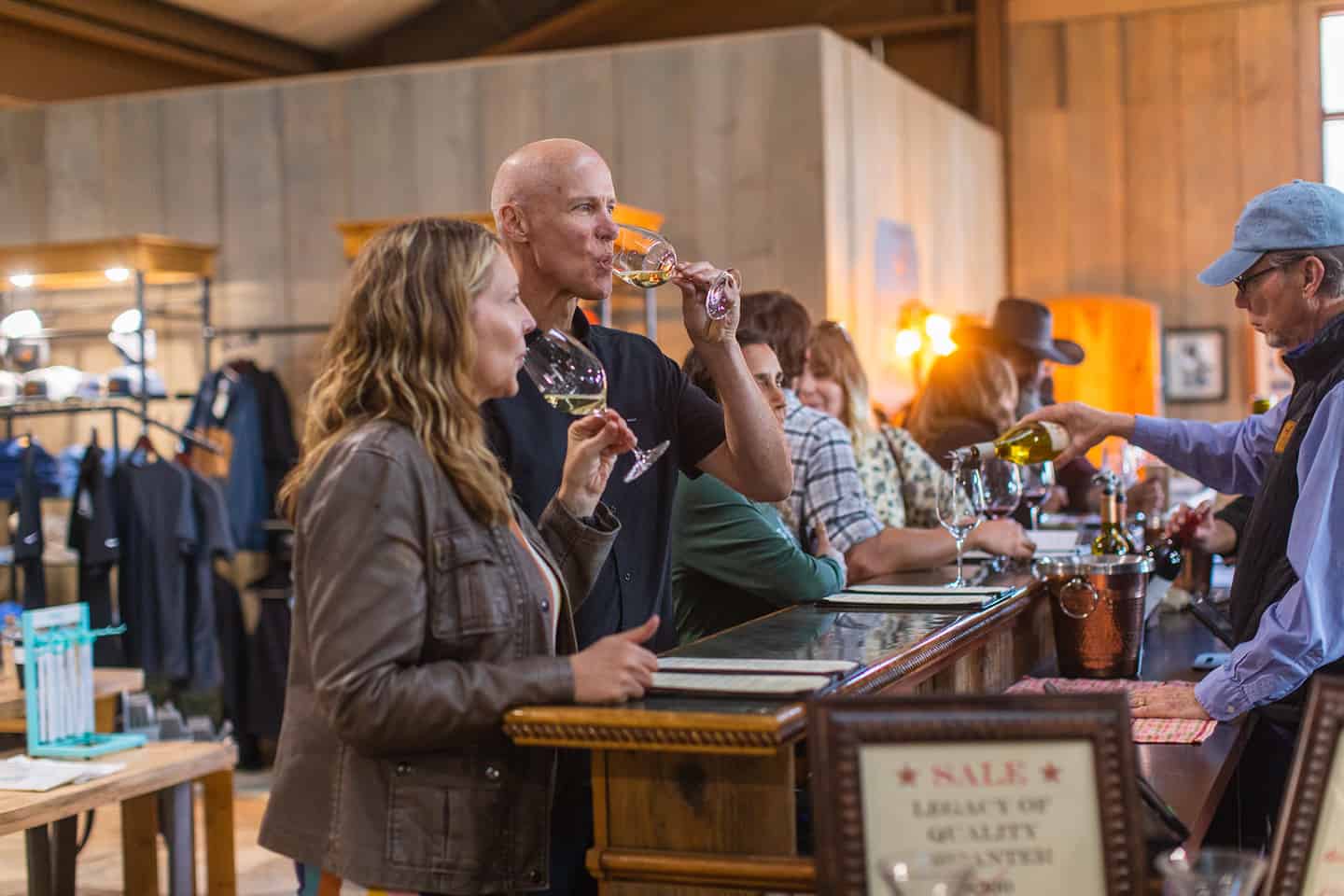 Looking for a great way to spend the day in Cambria? Find plenty to do and see on a stroll through its East and West Villages. These separate shopping areas are separated by about 1/2 mile along Main Street. Park in one and walk to the other, or find public parking in either village. 
People come from all over the world to shop in Cambria. A vibrant artist community includes designers, artists, craftspeople; here, you'll find special treasures not seen anywhere else. The town boasts shopping completely free of chain stores, instead offering an eclectic mix of antiques and apparel, gifts and specialty shops. Browse the Friday Farmer's Market for fresh local produce and locally produced goods. Take home a jar of barbecue sauce or local jams and meet the people who make them. Take some time to escape the city and discover a simpler place and time.
East Village
In the East Village, galleries and boutiques line Main Street. Look into shops like The Garden Shed for plants, high-end gardening gear, gifts, garden and home decor. At Ball & Skein & More, discover hard-to-find yarns and knitting/crocheting notions. (Knitters beware: This is the largest yarn shop on the Central Coast, with over 1 ton of yarn in stock!) For lovers of whimsy, step into Spellbound Herbs, a gift and garden shop featuring bath and body products, cards, candles and books. Or head to Linn's Á La Carte Boutique & Books and Linn's Gourmet Goods to find great gear and gifts for the home chef.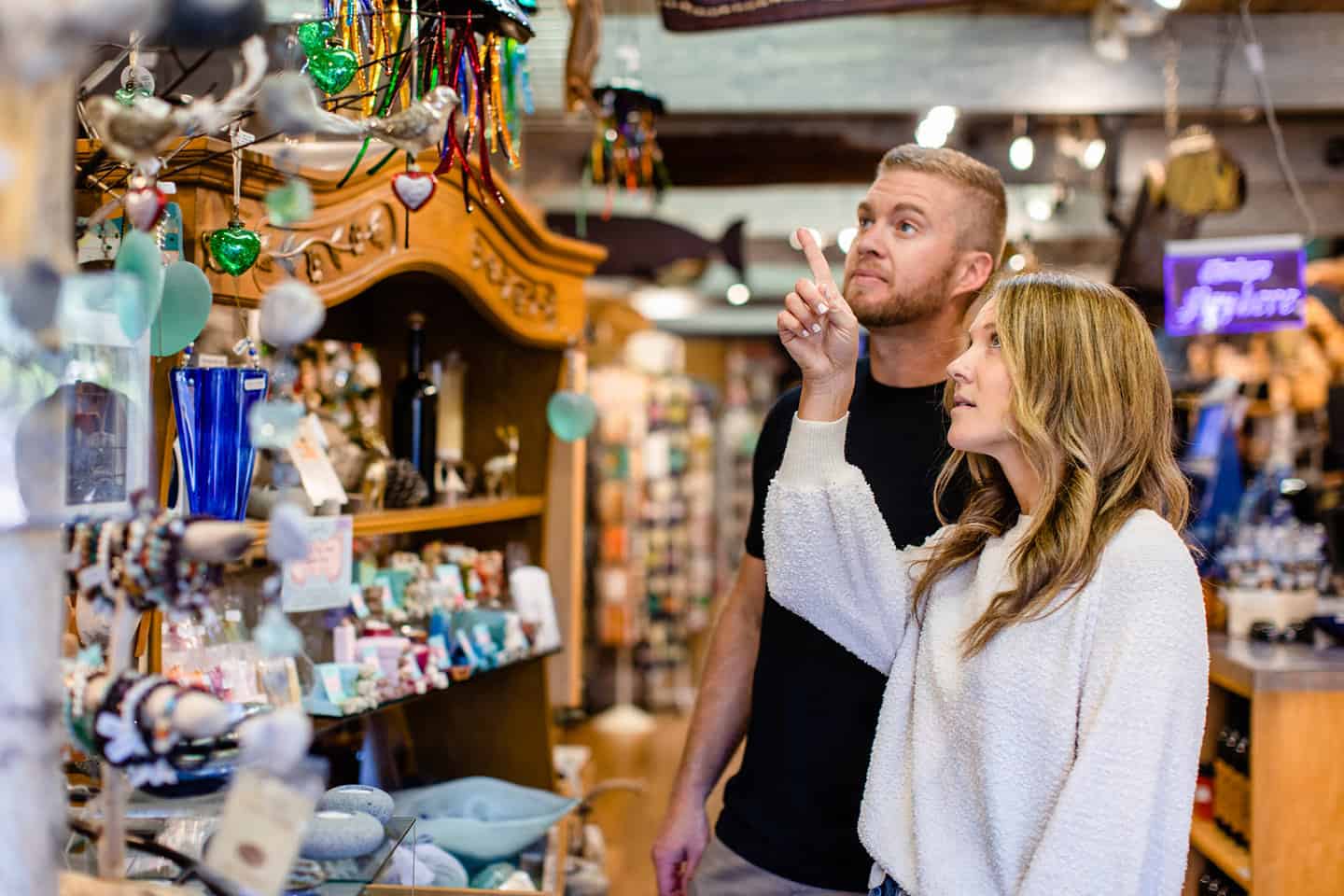 West Village
Travel west along Main Street to find another side to Cambria shopping. Stroll Main Street south from Windsor Boulevard; the West Village is easily traveled on foot and parking is generally available on Main Street. Here, art galleries and family-owned boutiques make for an array of specialty goods, not to mention cafes and restaurants for tasty breaks. Stop into Maddie Mae's Pet Pantry for treats, puzzles, toys and food for your favorite four-legged friends. At Ocean Drifter, owner Shannon Sutherland Jackson has curated a selection of handmade baskets, Mexican blankets, milagros and jewelry, plus yoga accessories. (And don't miss those carved driftwood sculptures and sea glass: amazing.) And at Verde Tea By The Sea, herbal teas are the star of the show, as well as teapots, honey, and other treats. Look for classic brews like mint and rooibos, as well as specialty blends like Chocolate Chai and Peach Ice Cream.
Cambria Art & Antiques
Enjoy antiquing and art collecting? An abundance of classic art galleries line Main Street, chock-full of antiques, fine art and antiquities. Historians and collectors find everything from fine Elizabethan furnishings to vintage "automobilia" from the 500 block to the 2500 block. Among the art galleries and eateries are shops featuring antique dolls, timepieces, pottery, china — even Maine folk art for the dedicated antique hunter. For two stories of vintage housewares, linens, art, furniture, books and music, pop in to Antiques on Main in Cambria's East Village. Or indulge in a walk through Vault Gallery, featuring work by Central Coast favorites like painters Mark Beck and Steve Curry. At Chambers Gallery, choose from a selection of handcrafted items to beautify your home and life. Look for ceramics, wearable art, jewelry, woodturning, glass and photography. And the completely unique Soldier Gallery offers a vast array of military history-related items for the collector or hobbyist. For over 30 years, The Soldier Gallery has sold toy soldiers, aviation and military art prints, memorabilia, collectibles and Osprey and Squadron books.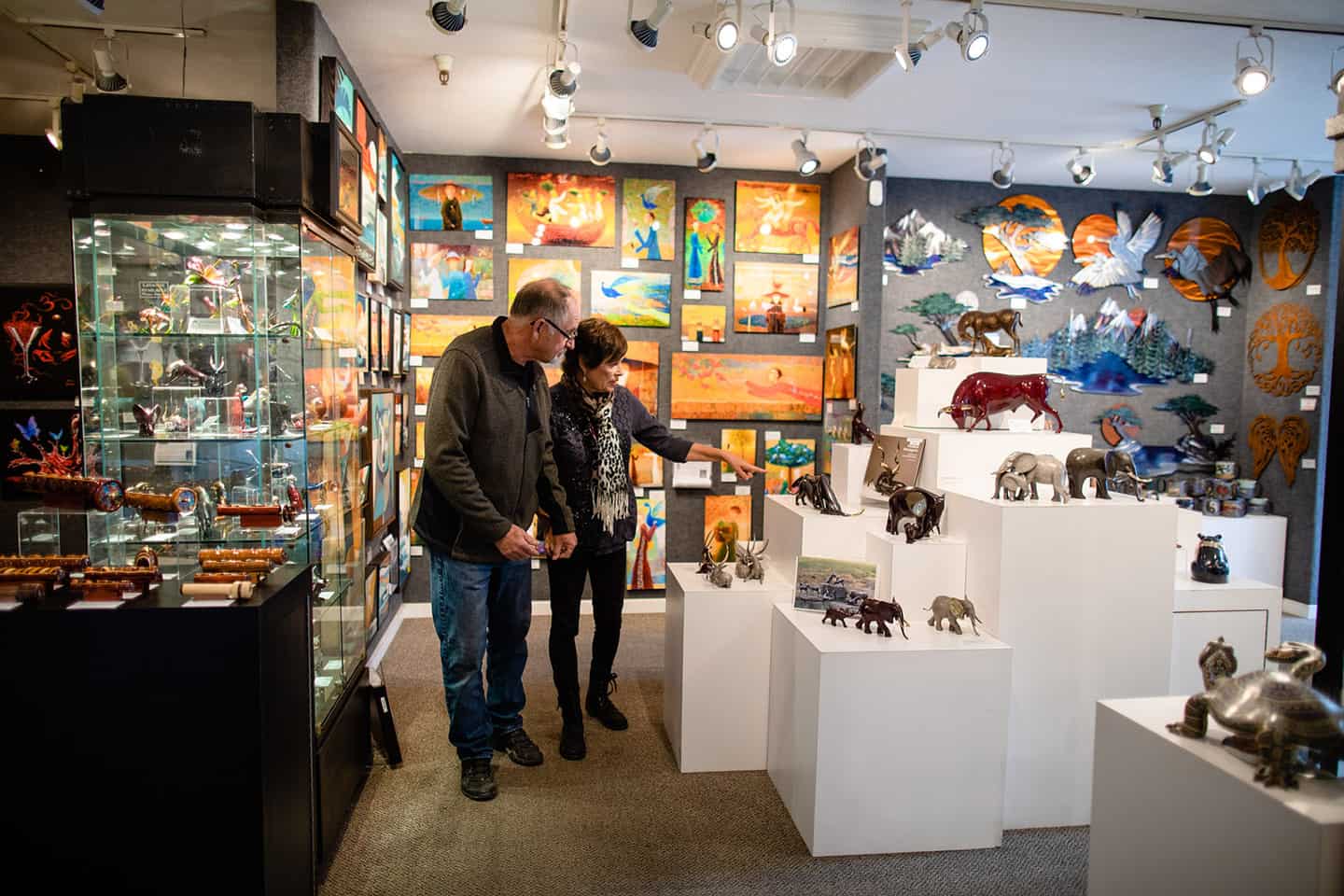 This itty bitty town between Cayucos and Cambria hasn't always been small; Harmony was once home to one of California's largest dairy operations. The historic buildings remain from this era and make for charming surroundings.Today, however, Harmony no longer bustles with activity; it is home to just 18 people, and has famously been so for decades. Since its heyday, Harmony has become rather quirky, with artists' studios, a tiny marriage chapel, and cow sculptures across its one "city" block. Head up the hill to Harmony Cellars to taste and purchase locally made Cabernet Sauvignon, Merlot, Zinfandel and Riesling. Make an afternoon of it and order a cheese plate, or visit the gift shop for glasses, barware and branded apparel. Or witness art in the making at Harmony Glassworks, where glass blowers perform their craft in full view of visitors. The shop carries work from the studio's members, selling vases, sculpture, wine glasses, marbles and more. Harmony Pottery Works lies just across the street, with ceramics and other pottery from local artisans. (Check out their famous "hand-warming mugs" for a unique and beautiful gift during the chillier months.)
Downtown Cayucos makes shopping and window shopping easy, with a walkable main street and plenty of boutiques and antique stores. Here, you can pop in and out of unique, mom-and-pop shops, all just a few steps from the white sands of Cayucos State Beach. Ocean Avenue is home to most of the shops, making it a good place to start. (This is also where several events occur throughout the year, including the Seaglass Festival, farmers' markets and more.) North Ocean Avenue has plenty of parking, so plan to get out for a leisurely stroll. 
Cayucos antique stores and high quality art galleries offer unique shopping experiences. The antique mall Rich Man Poor Man showcases collectibles from across multiple generations. Here, find mid century furniture, musical instruments, books and LPs, artwork, costumes, and vintage housewares. You can also enjoy the thrill of the hunt at Remember When Antiques, featuring treasures like jewelry, tools, toys, records, books and more. The Cayucos Collective, also right downtown, was founded by artists, surfers and skaters and features paintings, sculptures, jewelry and apparel. Surfers and lovers of fine craftsmanship can also find artisan surfboards upstairs in the "board loft" at Good Clean Fun.
Did you work up an appetite with all that shopping and browsing? Take your rumbling belly to a nearby eatery like the Brown Butter Cookie Factory, the Cayucos Candy Counter, Duckie's or Ruddell's Smokehouse.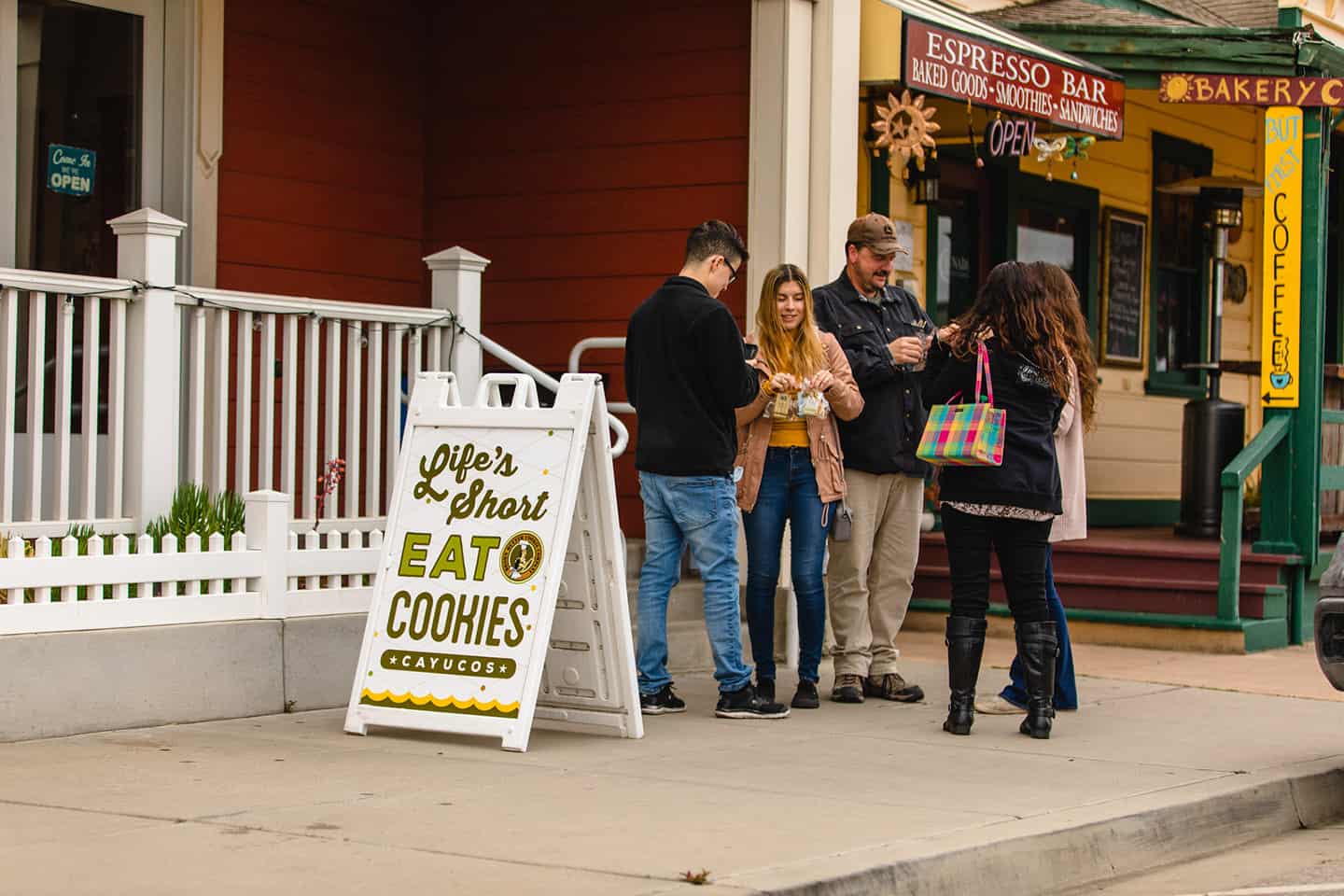 Shopping Los Osos & Baywood
This sweet beach town offers great shopping from Los Osos Valley Road and South Bay Boulevard back toward Morro Bay. Look for artists' galleries in and around Baywood Park, especially. Many of these are also working artists' studios, so you may even get to see a masterpiece in process! Wander into Central Coast Glass Blowing And Fusing for the chance to purchase fused glass vases, floats, bowls, jewelry and other unique pieces. On 3rd Street, artist Jan Brink brings found driftwood to life through her natural material sculptures. And on 2nd Street, J. Behman Gallery and Studio shows quirky paintings and sculptural glass. A fun shop called Happy Go Smile offers mixed media  art classes for groups, where you can create your own masterpiece. (Plus, the shop sells cupcakes, a win-win.) For modern, classic pottery, visit Back Bay Pottery Studio & Showroom, where artist Christine Silbaugh puts her own spin on traditional pieces. Silbaugh also offers pottery classes, if you're interested in making your own. One popular class actually tackles the process of making a mug and roasting coffee beans.
If, however, you'd rather purchase coffee beans pre-roasted, the SLO Roasted Coffee Company is a fantastic spot to visit. Since 1984, SLO Roasted has encouraged people: "Don't Just Drink Coffee – Enjoy it!" Though SLO Roasted primarily sells wholesale to establishments from Big Sur to Montecito, you can purchase coffee and other goods at the Baywood factory. The selection is vast, so plan to take your time there. You'll also find plenty of delectable goods at the Baywood Farmers' Market every Monday afternoon. Look for Kandarian Farms, a local grain grower specializing in heritage varieties like farro, amaranth and teff. Beelieve Honey supplies fresh, raw honey and natural bee products, as does Native Herbs & Honey, in addition to culinary seasonings and bath products. Other Los Osos natural body product producers include Babylonian Soap Co and Fable Soap Co, both open to the public.
After browsing all over Los Osos, it's a good idea to get outdoors for a breather. That's a great time to drive over to the Los Osos Valley Nursery, which has been family owned and operated since 1977. Here you'll find succulents, air plants and native plant varieties, as well as charming gardenware and pottery. Located just before the entrance to Montana de Oro, the Los Osos Valley Nursery also offers classes on succulents, planters, and bonsai.
Avila Beach offers ocean-front shopping at its finest. Front Street in Avila Beach is the epitome of small town charm. Snag a beach-front parking space or use the pay-for-parking lot at the corner of 1st Street and San Francisco Street. Once you've left your car behind, you'll find walking Avila's Front Street Promenade to be an easy, pleasant stroll. The Avila Beach Promenade is located in the heart of downtown and is the center of most activities and events. The promenade is a closed-off section of Front street filled with businesses, patios, benches, and art. In the summer time it is home to events like the Avila Beach Farmers Market, Art on the Beach, etc. At the center of promenade you will find the start of the Avila Beach Pier.
Shopping highlights in Avila Beach include Beachcomber Bill's, the ultimate souvenir shop and beach outfitter. Find tourist mementos here like apparel, shot glasses, and toys, as well as sunglasses, beach towels, goggles, swimsuits, and sunscreen. You'll also find swimsuits at The Sea Barn, which carries popular and high-end swim brands for men, women and children. Sandals, sunglasses, and of-the-moment beachwear also make this a premium stop on your Avila Beach shopping trip.
Indulge your sweet tooth, along the way, at Reimer's Candies & Gifts. This historic family-owned business is known for handcrafted chocolates, as well as specialty candies like licorice, sours, chews and homemade peanut brittle. As you browse, you can also enjoy a freshly-made waffle cone of Reimer's artisan ice cream. Bonus: If you're up for a short, quick drive away from downtown Avila Beach, pay a visit to the Avila Valley Barn. This quaint spot began as a farmstand and has grown into a hub of old-timey charm, fresh produce, candies, housewares, toys and gifts. While you're there, grab a cob of fresh-roasted corn, peruse the baked goods, and feed the animals at the petting zoo.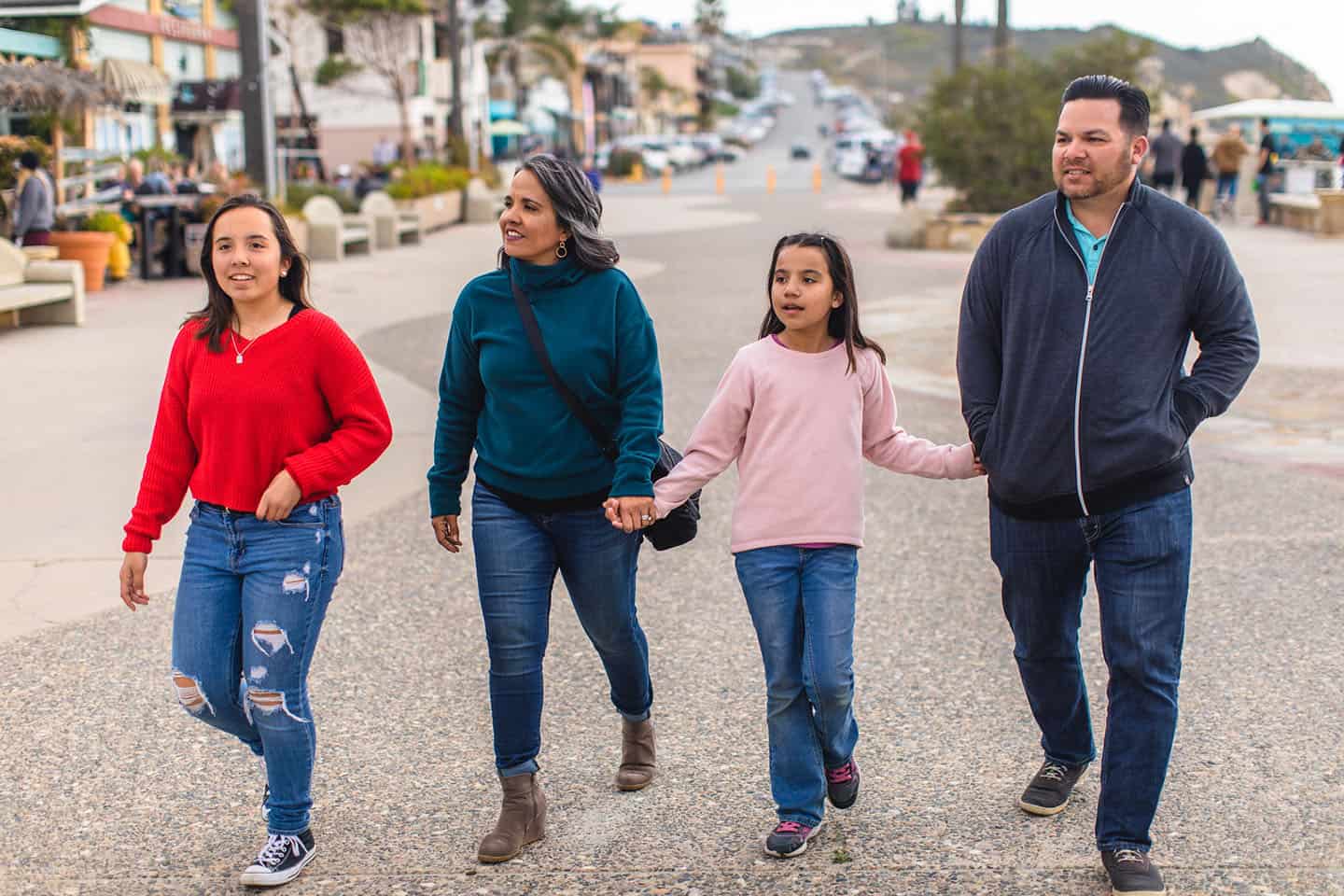 Shopping Edna & Arroyo Grande Valley
To spend time shopping through the Edna Valley and the Village of Arroyo Grande requires at least a full day, if not two. Wine lovers and pleasure seekers can't help but fall in love with the wines and views of this scenic hidden valley. Picking up a bottle or two (or four, or ten) is a great way to bring the magic of the Edna Valley back home with you. Most wineries also offer apparel, glassware, gifts and other items to remember your Edna Valley wine tasting and shopping excursion by. Best of all, nearly all of these wineries are family owned and operated, making for a truly unique and local shopping experience.
The nearby Village of Arroyo Grande represents the Great American Main Street, with fascinating history, natural beauty, boutique shops and artisan stores. Explore this vintage village and find an array of antique and specialty shops, all housed within the scenic atmosphere of an Americana town. The Village is well-known for its annual festivals and weekly farmers' market, enjoyed by thousands of visitors and local residents. A community surrounded by agricultural abundance, the Village celebrates The Harvest Festival every year, as well as major holidays. These festivals feature a variety of arts and crafts for sale, tempting treats, and fun activities. Indulge in a slice of homemade apple pie, watch the go kart races, and purchase art, apparel and home goods from local artisans. Or wander from boutique to boutique for holiday shopping, enjoying spiced cider as you peruse wares and listen to carollers. To walk the Village's quaint streets is to step back into a simpler, sleepier and sweeter time.
To get a true taste for the artisans of the Arroyo Grande Valley, The Hive is a good place to start. This charming shop hosts a variety of goods, books, apparel, artwork, preserves, vintage furnishings and more. Visitors can also learn more about their purchases through 'Meet The Maker' workshops and discussions. For whimsy and beautiful goods from a more romantic time, try Posies in the Village. This rambling shop mixes fashion, furniture, antiques, body products and vintage linens for a cozy shabby chic style. (Don't miss Posies's fantastic selection of wide-brim fancy hats, perfect for a garden party, or for watching a royal wedding on TV.) A Glance Into The Past Antiques curates a selection of vintage finds, from 19th century first-edition literature to kitsch and memorabilia. And for those with sophisticated taste, Lady Di's Boutique outfits women of all ages and shapes in high-end garments that flatter and delight.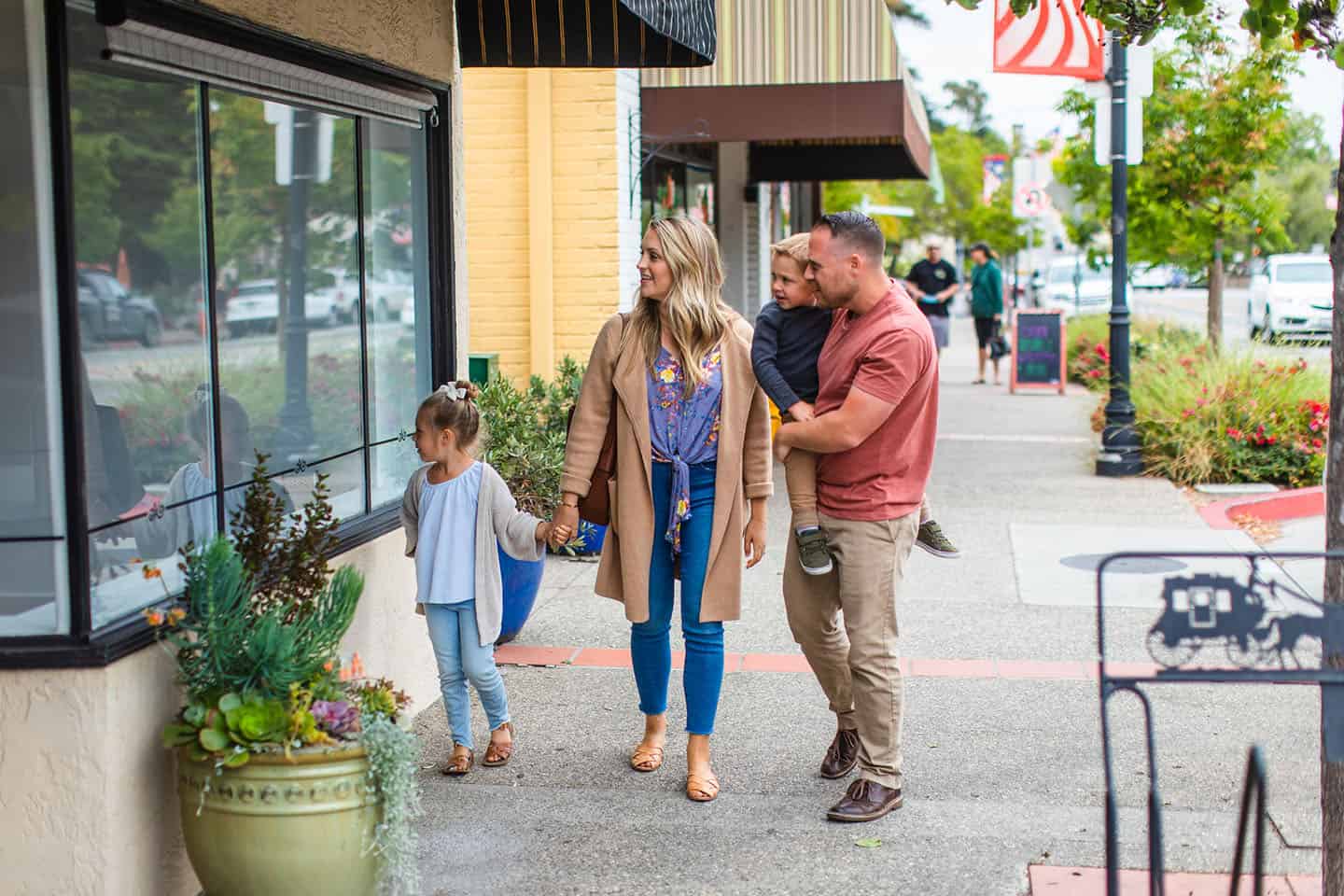 The fine weather, dunes, history, and agriculture of this part of Highway 1 make for some truly wonderful finds. Here, authenticity is the name of the game; Nipomo and Oceano boast the Central Coast's most tucked away, undiscovered gems. In many ways, this is the part of Highway 1 that time forgot, and we wouldn't have it any other way.
At the Halcyon Store, in the Halcyon community adjacent to Oceano, a 100+-year-old grocer and post office has been converted to a mystic shop. This quirky little haven carries body products like lotions and soaps, as well as tarot cards, stones, books, jewelry, candles and sculptures. Continuing in the tradition of the mystical Dunites of the Oceano Dunes, the Halcyon Store also offers visitors psychic readings. To learn more about the Dunites, head up Highway 1 a little to the Oceano Train Depot. Here, you can learn all about the trains that once carried telegrams, passengers and goods from Oceano into the growing county. Additionally, you'll find exhibits about the Duneites who inhabited the Oceano Dunes, believing them to be a spiritual center of the world. To remember your visit, head to the museum store for train whistles, mugs, apparel, and books about historical Oceano. Likewise, at the historic Nipomo Adobe, find books about the Chumash people, California rancho life, native and fine art, stationary, music and more.
In Oceano, Quintessa Coffee Roasters serves expertly prepared specialty coffee and espresso drinks from beans they roast right there in the shop. Pick up a pound or two of their small-batch roasted beans to bring the flavor of Oceano home with you. Or if you're more in the mood for sweets, stop by the California Coast Candy Co, located right be the entrance to the Oceano Dunes. The shop specializes in salt water taffy, but also serves shaved ice, brownies, ice cream, cookies, and other fun candies. And no trip to Nipomo is complete without a visit to the famous Nipomo Swapmeet & Flea Market, where steals and deals abound. Browse from among over 300 vendors for antiques and collectibles, enjoy entertainment, and loop the swap meet on the miniature outdoor railway.
Enjoy a coffee break at Quintessa Coffee Roasters in Oceano