Highway 1 loves its four-legged visitors! With one of the mildest, most temperate climates in the West, the great outdoors of our stretch of Highway 1 beg to be discovered. That means outside restaurant patios, parks, beaches, wineries, hiking trails and more, just right for quality time with Fido. The towns along Highway 1 even have specific beaches and parks set up with your furry friends in mind. (A couple restaurants even have dog menus available!) So get ready to discover a whole dog-friendly world, just waiting to be sniffed. A word to the wise: remember to follow the on-leash ordinance while you're here. Certain areas allow off-leash fun, like beaches in Cayucos and Avila Beach, plus dedicated dog parks. But unless you see specific allowances for dogs off leash, assume it's an on-leash area. This is especially important in state parks, whose policies for dogs are generally more restrictive than elsewhere. To be sure pups are allowed, and to learn the on- and off-leash rules, call anyplace you plan to visit in advance. But whichever part of Highway 1 you explore, plan to have a doggone good time!
Explore Dog-Friendly Activities
Ragged Point & San Simeon are Dog-friendly
Dog-friendly Restaurants
Ragged Point Inn
On Highway 1, one of the best spots for dogs (and their humans) is the Ragged Point Inn. Here, pups can go anywhere on the property except inside the restaurant. This includes the front lawn, the "Million-Dollar View" sculpture, and the outdoor courtyard, which overlooks the cliffs and Big Sur's famously rugged coastline. This patio area offers dining with heaters and fire pits, and includes access to the restaurant's farm-to-table menu. Other options include ordering a la carte items at the window and dining with your pet on the lawn or at the picnic tables. Dishes include ribs, sandwiches, burgers, Dungeness crab, and chicken; espresso drinks, craft beer and locally-made wines are available here, too. Summer days have a special appeal, as the Ragged Point Inn serves SLO Maid ice cream from the snack bar on the front lawn. Order a cone, set up a picnic blanket, and enjoy the restful ambiance and postcard-worthy views with Rover by your side.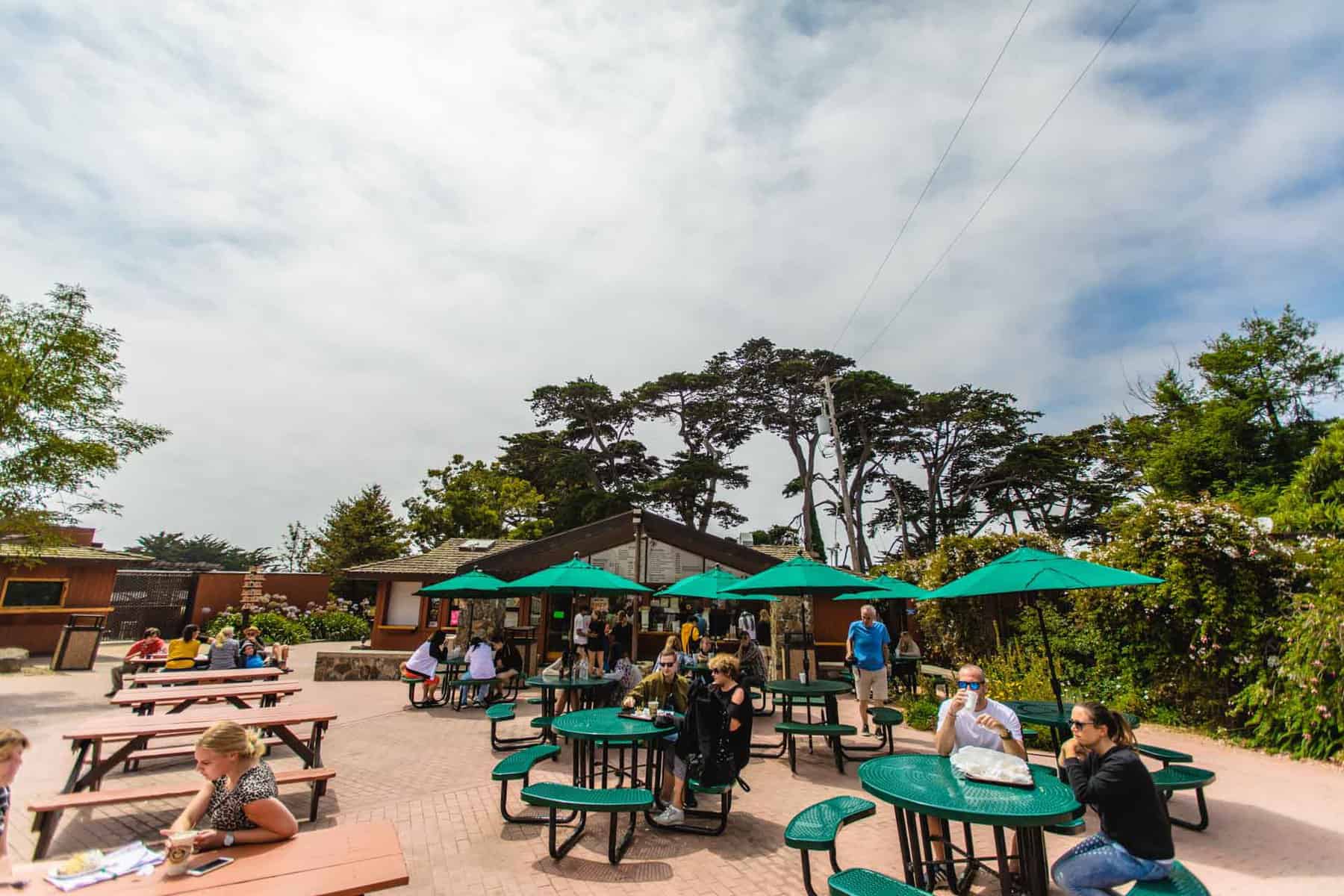 San Simeon Beach Bar & Grill
Located just a few miles south of the famous Hearst Castle estate, this casual bar and grill has something for every dog owner. Head to the large outdoor seating area with your pup to unwind and enjoy wide ocean views. Adjacent to the San Simeon Lodge, this patio is equipped with heaters for when it's chilly, and market umbrellas for when it's warm. Choose from a wide array of dishes for breakfast, lunch, dinner, happy hour bites and late-night snacks. Casual fare and seafood are specialties here. The dinner menu includes starters like coconut shrimp and calamari strips, and entrees like pizza, pasta, salads, burgers and fried chicken. San Simeon Beach Bar & Grill also offers its customers a full bar that pours cocktails, craft beer, and locally-made wines. Grab a drink, order a meal, and enjoy it outside on the patio at San Simeon Beach Bar & Grill with your furry friend.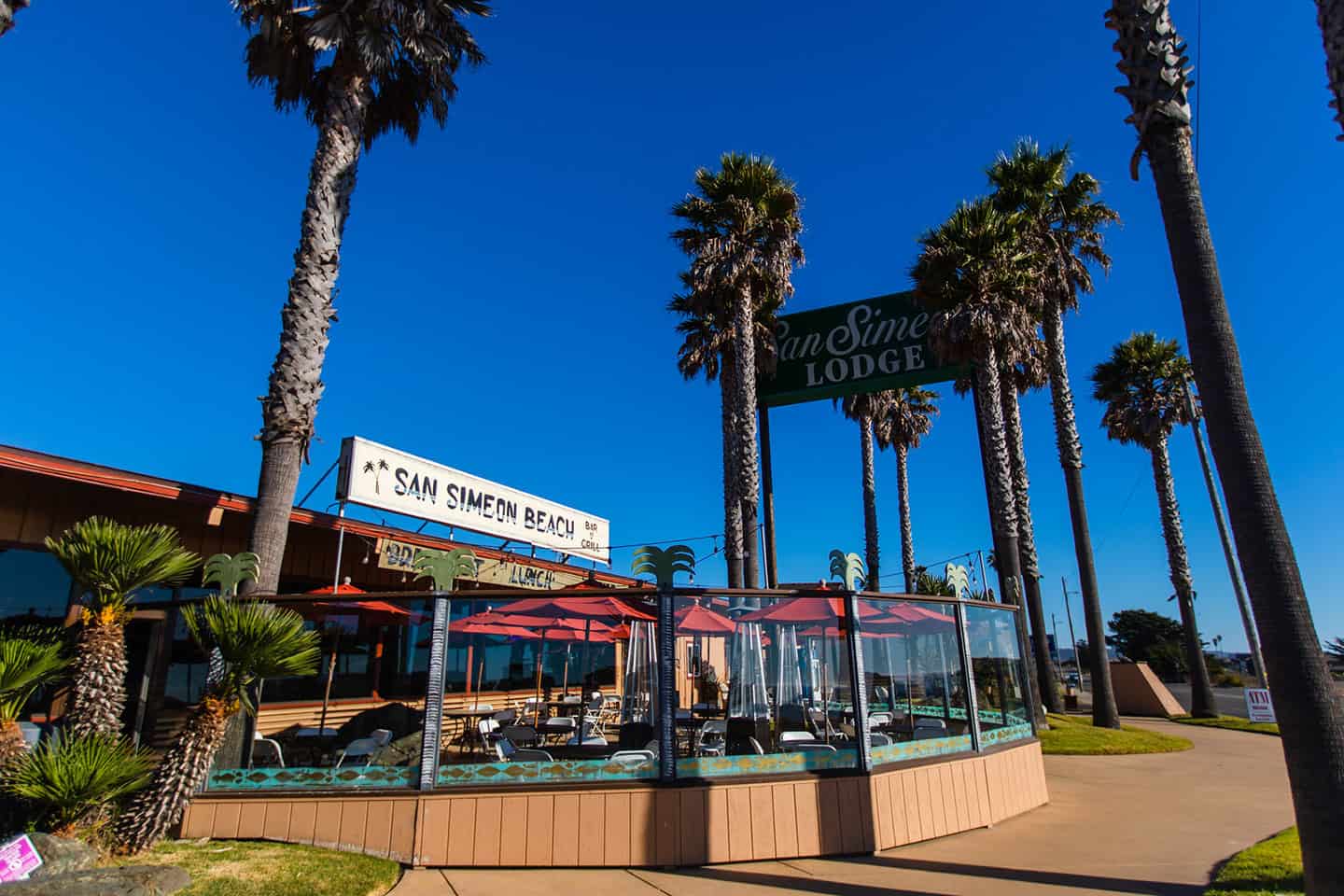 El Chorlito
This popular Mexican food restaurant features a tree-shaded patio that's a perfect setting for a dog-friendly lunch or dinner. The restaurant's owners describe their cuisine as "California and New Mexico-style," rich with chiles and spices. Enjoy complimentary chips and salsa with a glass of local wine, beer, sangria, or a cocktail in the succulent and cactus garden. You and Fido will appreciate the views from El Chorlito's patio, showcasing the vast Pacific Ocean and San Simeon coastline. Dine on handmade south-of-the-border favorites, like fajitas, enchiladas, chillies rellenos, and seafood. Daily specials run the gamut from lamb shanks and beef short ribs to scallops simmered in wine with mushrooms and spinach. Fans of the restaurant especially love El Chorlito's rice and beans, which come with combination meals. Finish your dog-friendly meal with a fresh-made dessert like lemon ice cream and raspberries—and relax.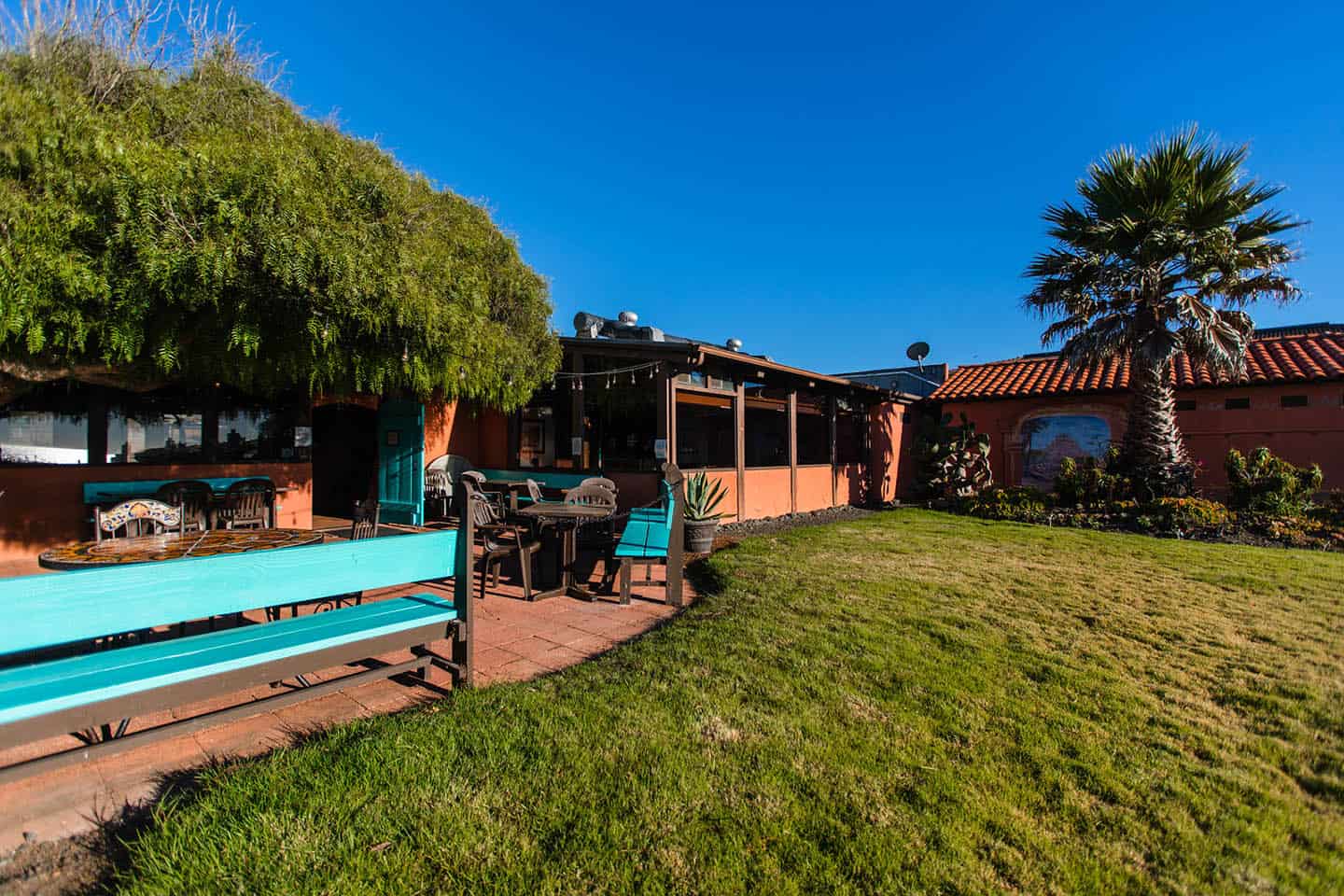 Hearst Ranch Winery
Pull up to this historic property at W.R. Hearst Memorial State Beach, and you'll be wowed immediately by the views. This is a spectacular spot along Highway 1, shaded in eucalyptus and pine trees by the sea. Hearst Ranch Winery is part of the legacy of William Randolph Hearst, whose Hearst Castle can be seen on the hill across Highway 1. In fact, the tasting room resides in one of Hearst's old warehouses, which held antiquities and artifacts he collected from across the globe. Settle into your seat on the outdoor patio with Rover, and sip world-class wines with world-class views. Hearst Ranch Winery specializes in Bordeaux, Spanish, and Rhone-varietal wines, as well as chardonnay. Feeling hungry? Grab a bite from the tasting room's accompanying food truck, The Cruiser by Field to Table. Short ribs, ahi tacos, lobster rolls, snacks and more await you and your favorite furry buddy at this flavorful seaside spot.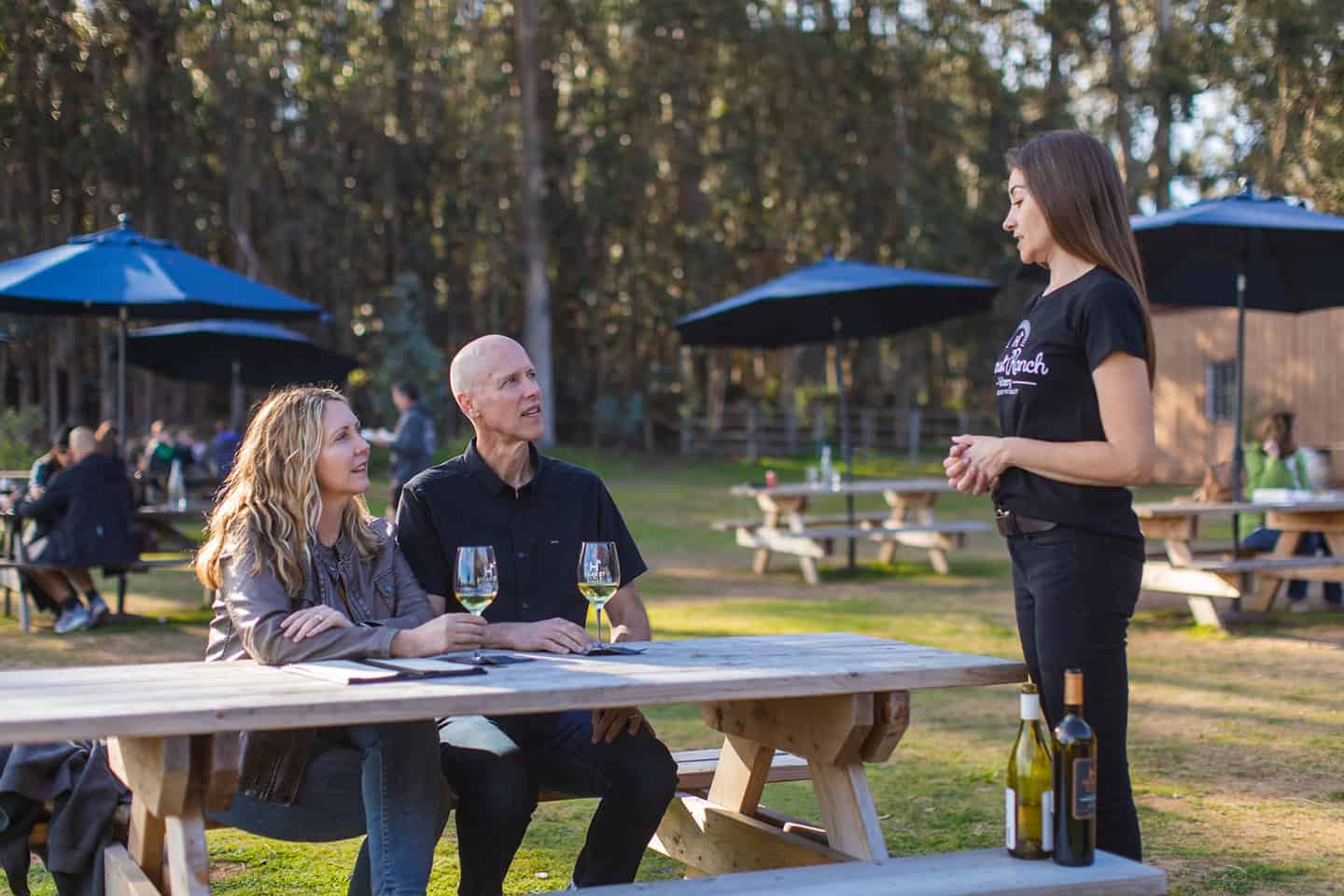 Still looking for eateries, including pet-friendly ones? Check out our expanded list of the best restaurants in San Simeon and Ragged Point.
Dog-friendly Beaches
W.R. Hearst Memorial State Beach
This pretty beach sits on a cove across Highway 1 from Hearst Castle, and once served as Hearst's personal port. The cove sits with its back to the wind, offering a protected beach on which to frolic, sunbathe, kayak and more. Dogs are allowed on W.R. Hearst Memorial State Beach on leash, and will love the natural splendor of this picturesque place. Dogs must also be on leash for the 2.5-mile out-and-back San Simeon Point Trail, an easy and fun hike for pups and their humans. When enjoying any part of this area, be very aware of your surroundings, as it is an elephant seal migratory zone. (In fact, even on leash, dogs are prohibited from walking the nearby Boucher Trail. It lies very close to the Piedras Blancas Light Station and Elephant Seal Rookery and can generally be very dense with elephant seals.)
Interested in other dog-friendly beaches? Check our comprehensive list of other pup-tastic beaches and parks along Highway 1.
Dog-friendly Hiking Trails
Black Swift Falls Trail
Known for its striking black sand, Black Swift Beach is accessible via the Black Swift Falls Trail just north of Ragged Point Inn. This trail is very steep and short, with an elevation change of about 400 feet in half a mile. If your pup can handle the height, take her with you down to the beach, and enjoy the pretty ocean views along the way. As you travel downward, you'll notice a small seasonal waterfall cascading to the beach; this is Black Swift Falls, the trail's namesake. Once on the dark, volcanic sands, you and Fido can play along the shore of this small, intimate beach that's often completely empty. Watch the waves roll in, the waterfall flow, the seabirds forage, and your pup explore. Just remember: this is a very steep trek, so be sure to bring sturdy hiking shoes for the trail.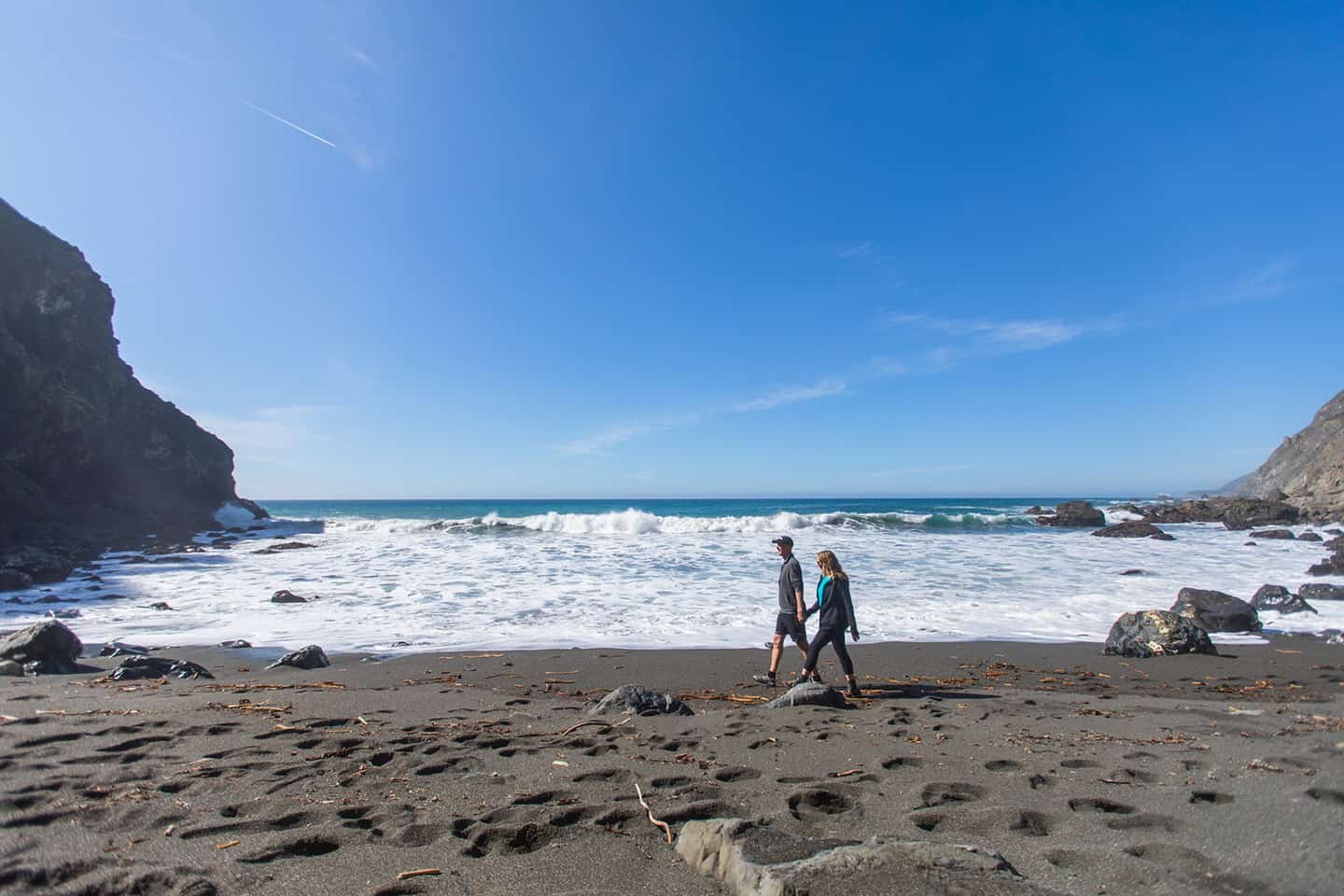 San Carpoforo Creek Trail
Located along a quiet and ethereal stretch of Highway 1, the San Carpoforo Creek Trail is a favorite among local dogs and their owners. Despite its popularity, this trail doesn't see an overwhelming number of hikers, making it an excellent choice for those seeking wide open spaces. A simple turnout off the road makes for easy parking, and the one-mile out-and-back trail offers flat, moderate conditions. The path parallels San Carpoforo Creek to where it merges with the Pacific Ocean, on a wide, secluded beach. Let your favorite four-legged buddy sniff to his heart's content along the beach, creek, and water's edge. You might even bring beach chairs, a cooler, and a blanket to set up a picnic on the sand for you and your pup. Enjoy the solitude of this place, where sometimes the only company available is the spouting whales and leaping dolphins offshore.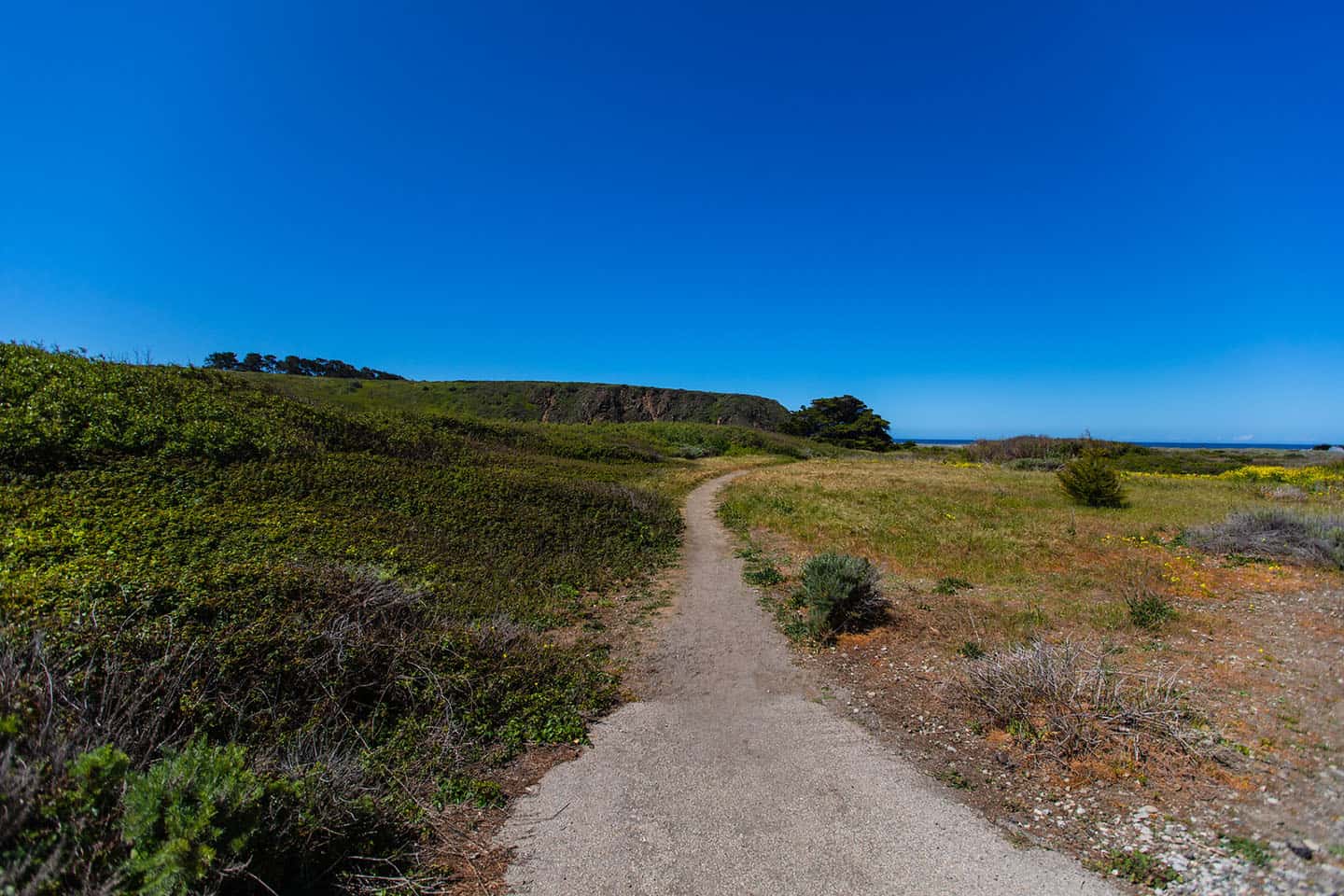 Junge Ranch Trail
This trail is accessible at either end, whether from the north at Hearst State Beach, or from the south near San Simeon State Park. Take Rover out for an easy 2.2-mile out-and-back walk along stunning coastal bluffs. Enjoy trekking through fields of wildflowers in season, like poppies, lupin and sticky monkey-flower. Viewing wildlife is also a probability here, from whales, dolphins and seals in the ocean to seabirds, butterflies, and interesting insects. Be warned, though: other insects and wildlife like ticks and snakes are a reality here, too. Watch where you step! Be sure to wear long pants and long sleeves, and check your pup for ticks before, during, and after your walk. But in the meantime, soak up the coastal panoramas and restorative tranquility of this uncrowded trail. Tip: To avoid hiking in the wind, hit the Junge Ranch Trail in the morning. The earlier the better.
Want more hiking trails in this area? Have a look at our list of the best hiking trails in San Simeon and Ragged Point.
Cambria is Dog-friendly
Dog-friendly Restaurants
Everyone loves this charming little hamlet by the sea, but pet-owners love it just a little bit extra. Cambria may have one of the most diverse selections of dog-friendly dining establishments in the area. In fact, most dining locations within the town limits offer a dog-friendly patio.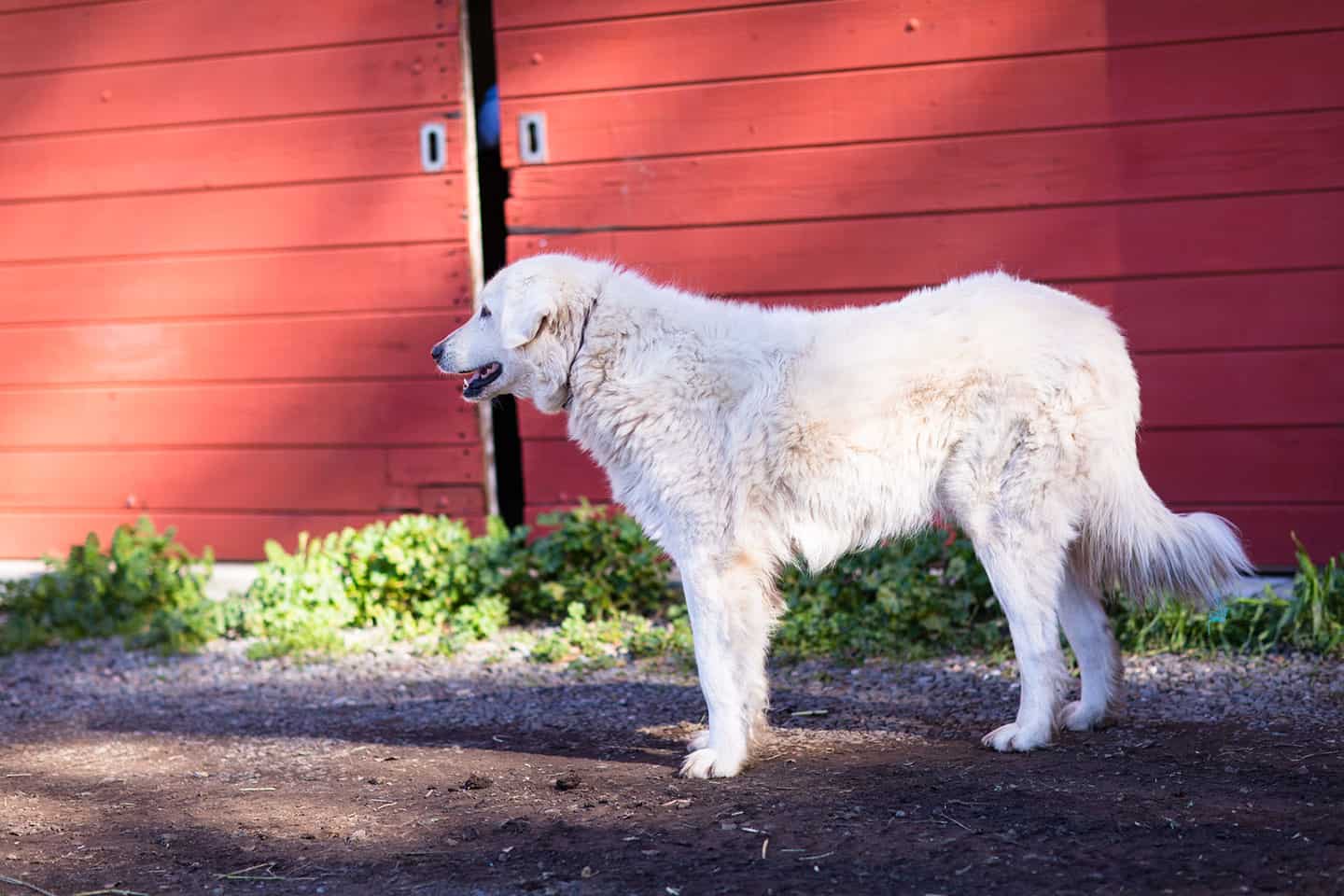 Robin's Restaurant
Ask the locals: everyone loves Robin's Restaurant. Dog-owners might love it just a little bit extra, though, thanks to its dog-friendly patio. The garden at Robin's couldn't be any sweeter, with abundant trees, vines, and shrubbery in every corner. Outdoor heaters keep it comfortable for you and your furry friend as you dine on globally-inspired cuisine made with local ingredients. Enjoy hyper-seasonal dishes like chicken mole enchiladas, salt-roasted beets with whipped goat cheese, and red Thai pulled pork and slaw. Add a glass of local wine or craft beer, and you have the makings of a perfect meal. As for dogs on the patio, the restaurant requests that pups be on-leash, relaxed, quiet, and out of high-traffic walkways. If Fido is chill, he'll fit right in! Also, Robin's allows no more than five dogs on the patio at any given time, and just two dogs per party.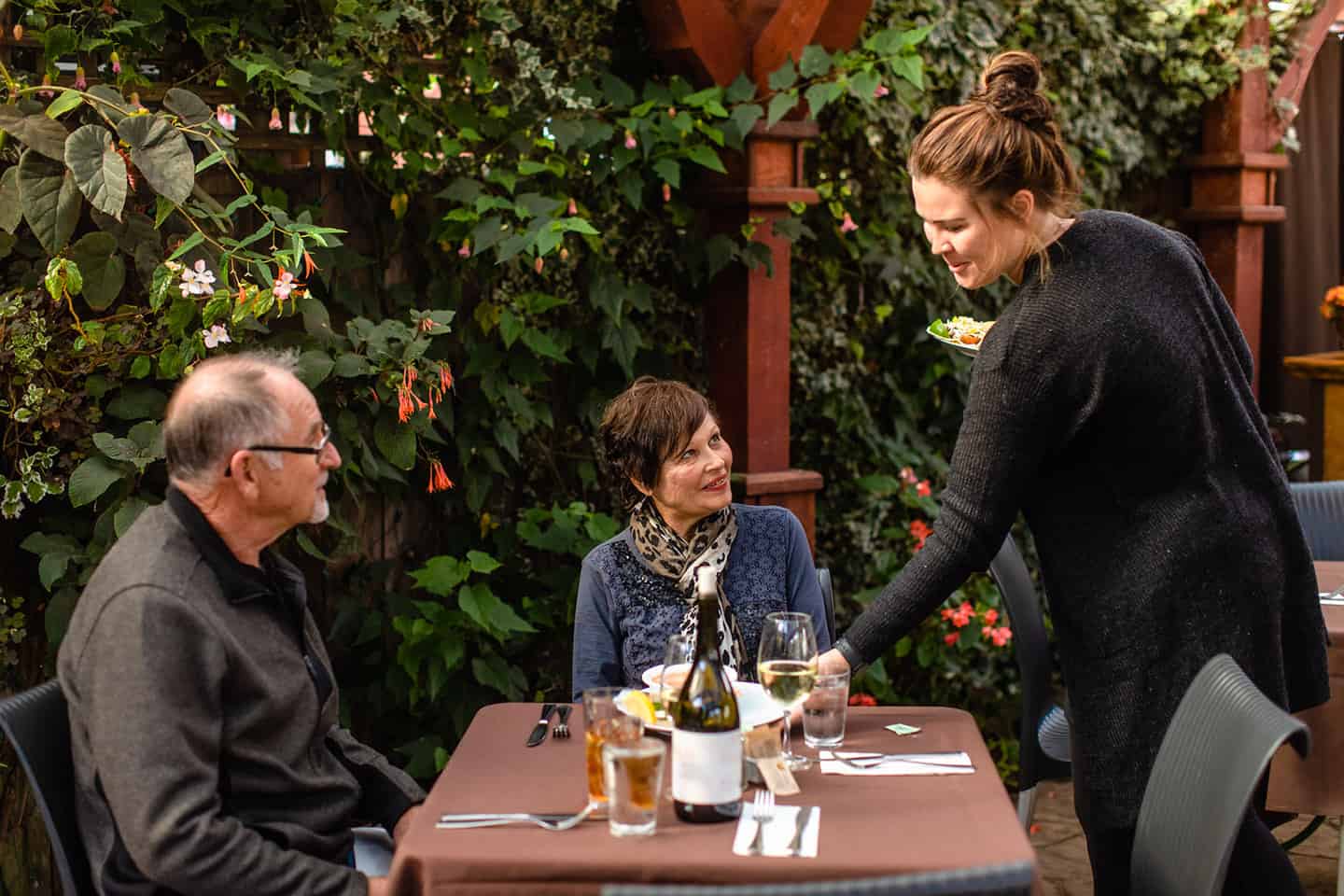 Madeline's
For decades, the intimate dining room at Madeline's Restaurant in the West Village has welcomed guests to enjoy French-American fare made with the freshest ingredients. In recent years, Madeline's has opened a charming little pet-friendly outdoor patio to the public. It's so small, in fact, there are only two tables! Making a reservation for these tables is highly recommended, as they get snagged fast. But if you're not able to reserve one of the restaurant's patio tables, head to their oceanfront wine bar, Madeline's on Moonstone. On the premises of the Cambria Shores Inn, the wine bar features wines from across the globe, as well as perfectly-paired savory bites. The large, heated outdoor patio overlooks the beach and is an ideal spot for you and your four-legged friend to enjoy the scenery. Tip: Don't miss the opportunity to try a glass of Madeline's own house wine, made by renowned local vintner Jeff Branco.
The Hidden Kitchen
The young owners of Cambria's Hidden Kitchen have created an eatery that's truly unique to Highway 1 and California's Central Coast. And best of all: it's pet-friendly! Wander into the ivy-covered courtyard of Hidden Kitchen's tiny property, and enjoy blue corn waffles and smoothies any time of day. Every item on the Hidden Kitchen menu is gluten-free and free of refined sugar, with vegetarian and vegan options available, too. This means everyone can enjoy a tasty treat and soak up the tranquil atmosphere of Hidden Kitchen's garden—even Rover. Try the classic waffle with grass fed butter and real maple syrup. Alternatively, go for something really wild like the Weirdos Waffle, with bacon ends, cacao nibs, fresh fruit and peanut butter. HK's "nice cream" smoothies have a following all their own, too. These whole-food concoctions are whipped until they're thick and fine, like ice cream, served in a mason jar with a straw.
Seeking your next favorite eatery on Highway 1? Get help with our extended list of the best restaurants in Cambria.
Dog-friendly Beaches
Moonstone Beach
One of California's most beloved stretches of coastline, Moonstone Beach offers an escape from the ordinary that's as picturesque as it is peaceful. Instead of fine sand, the beach is populated with tiny pebbles in an array of shapes, sizes, and colors. Thanks to centuries of tumbling in the Pacific's powerful waves, these stones are incredibly smooth, and many have an appealing opalescent quality. Hence the name "Moonstone Beach," where every visit yields something new to explore, and the beachcombing is always rewarding. As part of the Monterey Marine Sanctuary, this beach isn't dog-friendly, but the Moonstone Beach Boardwalk allows pets on leash. Buckle Fido in and walk the mile-long raised boardwalk, take in the scenery, and get plenty of fresh, salty sea air. This is an easy, flat trail that's also wheelchair-accessible and adjacent to restaurants, wine bars, and parks. It also offers multiple benches along the route, ideal for relaxing and luxuriating in the view.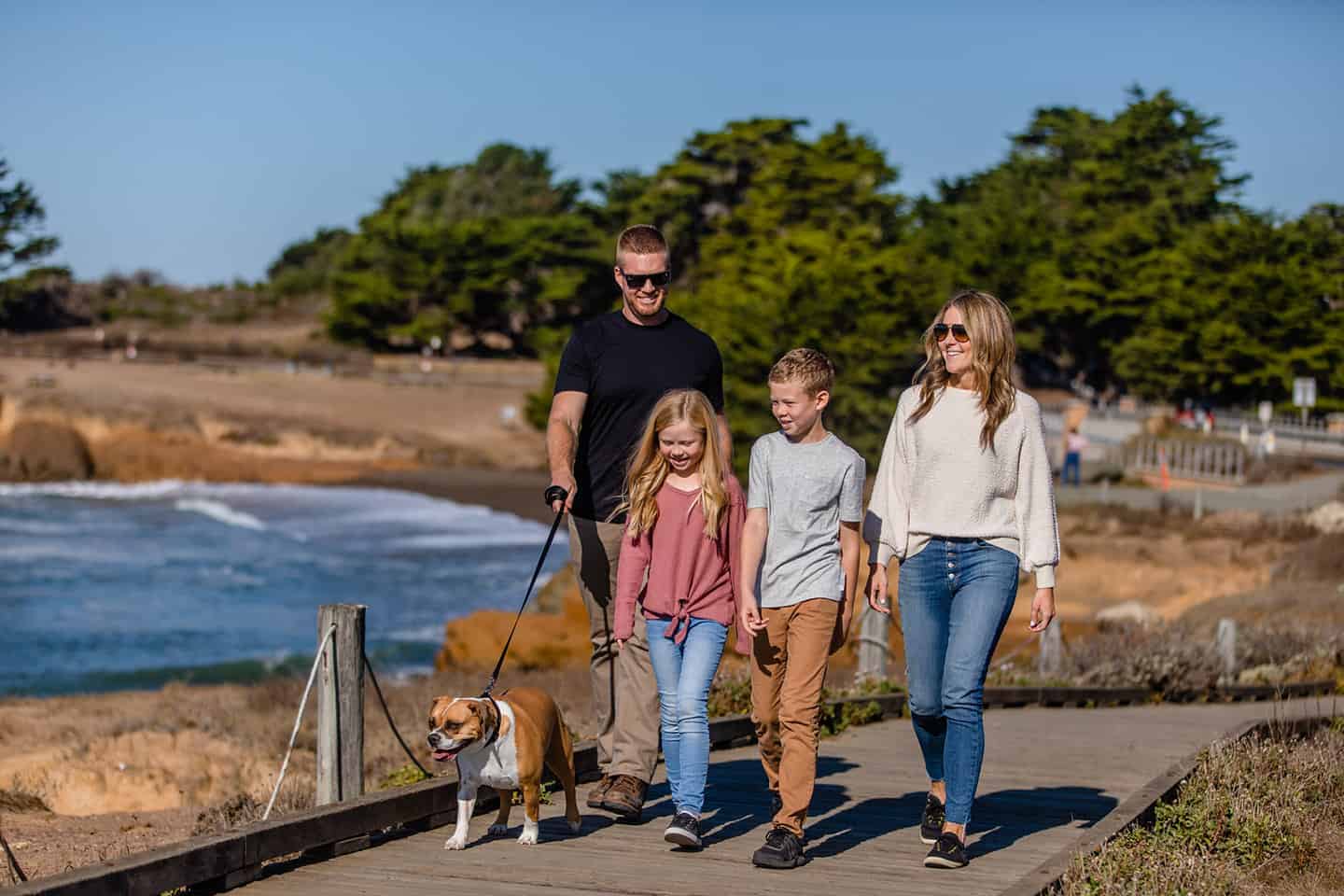 Dog-friendly Parks
Cambria Dog Park
Does your pup need to burn off some steam? The Cambria Dog Park can help. This space exists just for four-legged friends, offering a leash-free zone that's sure to have Fido sprinting, sniffing, and socializing in no time. The park is fully enclosed by fences to keep every pup safe and contained, and it includes separate spaces for large and small dogs. By sectioning off special spots for dogs of different sizes, the process of getting acquainted and frolicking becomes much more relaxed for all. Thanks to the maintenance and upkeep of a private group of locals, the park offers water for pups and shaded areas for owners. The park is conveniently located in an open green space between Cambria's East Village and Highway 1 on Rodeo Grounds Road. (In fact, this green belt is connected to the Fiscalini Ranch Preserve, with trails over hills, through forests, and beside the Pacific coastline.)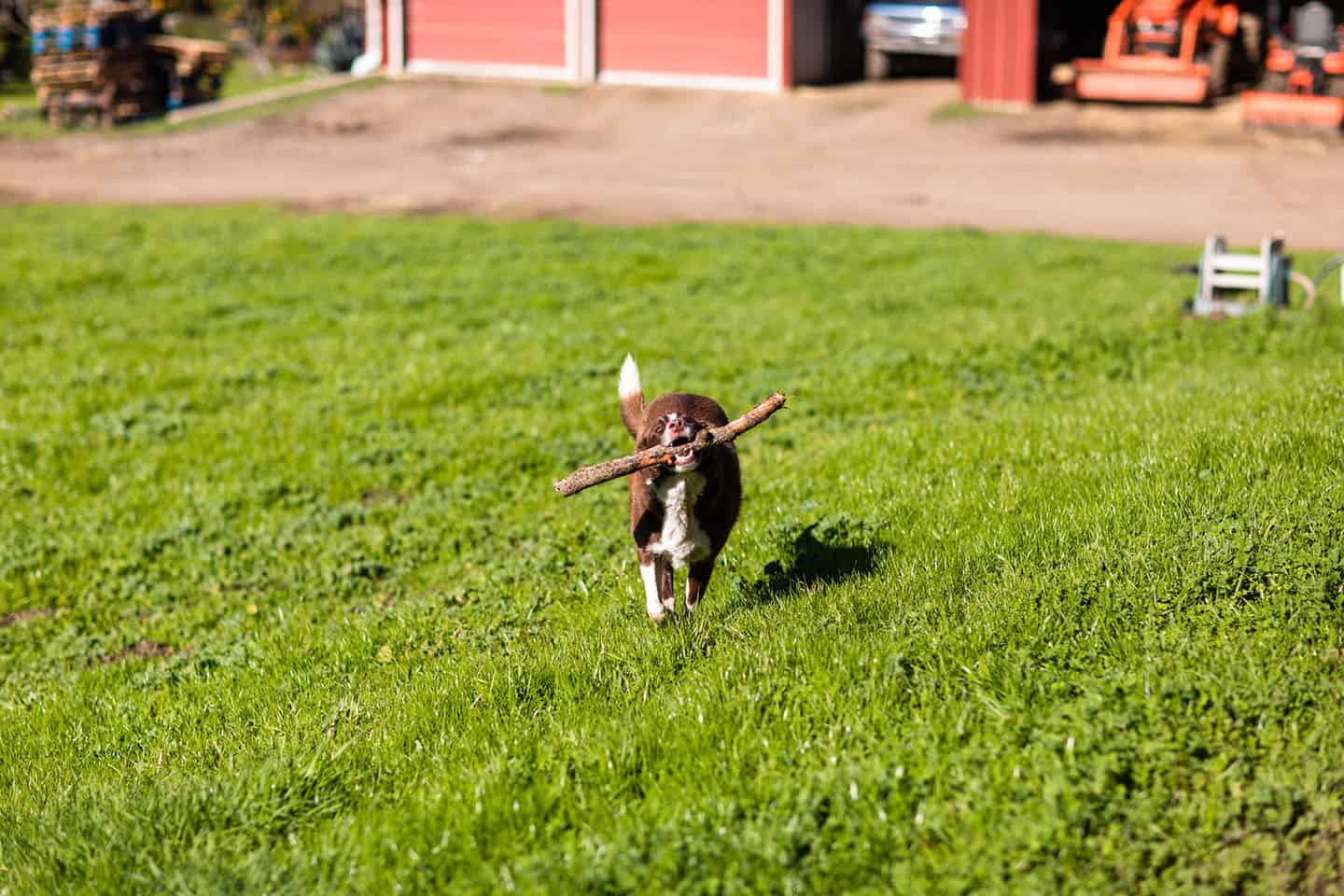 Shamel Park
This large county-maintained park offers a multitude of attractions to entice any dog or dog-loving visitor. This includes access to the stunning shoreline at Moonstone Beach, one of the prettiest, most unique beaches on Highway 1. Remember, however, that Moonstone Beach is part of the Monterey Marine Sanctuary and is, therefore, off-limits to dogs, even on leash. Instead, spend time on the wide lawn at Shamel Park, soaking up the sunshine or laying out a picnic for a blanket. Dogs are welcome at Shamel Park so long as they're on leash. For those with little people as well as dogs, the playground at Shamel Park is a must-visit. The rambling play structure has a view of the ocean and has the ability to keep kids busy for hours. Long banquet-style picnic tables, generous BBQ facilities, clean restrooms, and even a (dog-free) heated swimming pool are also features of the park.
Dog-friendly Hiking Trails
Fiscalini Ranch Preserve
At 430 acres, the Fiscalini Ranch Preserve is one of the most prominent and well-maintained open spaces along Highway 1. Even better? It welcomes Rover! Hit one of the preserve's 17 trails with your pup on leash, and take in the diversity of this former cattle ranch. The preserve has numerous access points along its perimeter. These include the Huntington Road and Santa Rosa Creek entrances to the north and the Marlborough Lane and Victoria Way entrances to the south. Travel the one-mile Bluff Trail for views of the ocean and opportunities to scramble down to the shore. Or try the one-mile Forest Loop Trail to see all the flora and fauna of Cambria's native woodlands. All of these trails are open to hikers, and two of them are accessible to wheelchairs. A few are also open to horseback riding and mountain biking—if your dog is easily spooked, plan ahead to walk a different trail. All trails within the Fiscalini Ranch Preserve system are dog-friendly, so long as Fido stays on leash.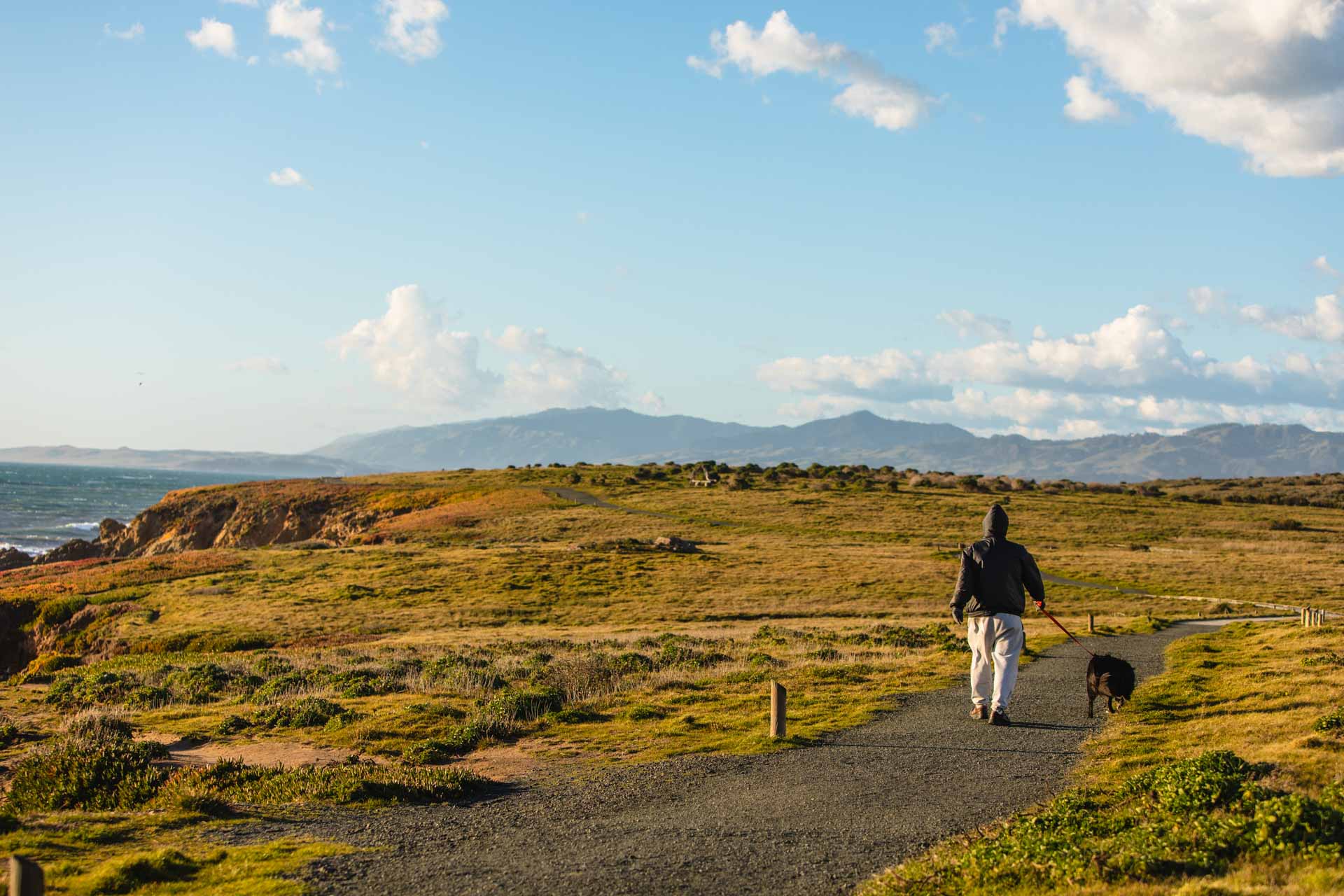 Cayucos is Dog-friendly
Dog-friendly Restaurants
Schooner's
Since 1993, the fun atmosphere, friendly service, and flavorful seafood at Schooner's has delighted visitors and locals alike—including canines! There's a lot to love about this popular restaurant at the heart of Cayucos, overlooking the beach. For starters, Schooner's serves legendary calamari, clams, oysters and more, plus signature cocktails, wine and beer from the full bar. But the view of Cayucos State Beach from Schooner's second-story patio is the star of the show, and dogs can enjoy it, too. Order burgers, fish and chips, ceviche, clam chowder, lobster tail and tacos, plus crisp craft beers and wine, and watch the technicolor sunset. You might even be lucky enough to catch live music at Schooner's, which presents a regular calendar of shows year-round. Tap your toes, enjoy the heated patio, the flavors, sights and sounds of this favorite Cayucos institution, with your pup by your side.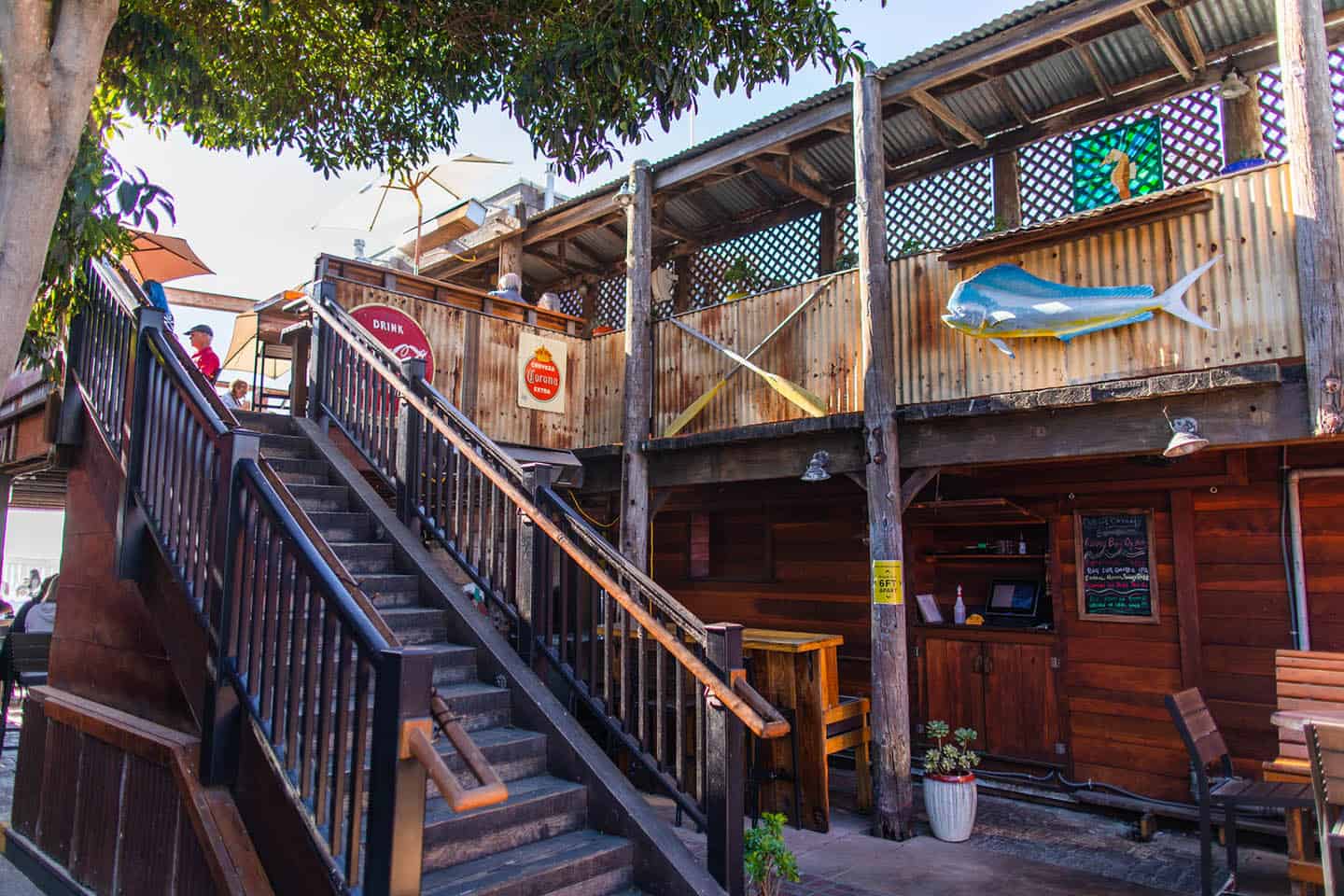 Dog-friendly Beaches
Cayucos Dog Beach
Dog owners, rejoice! This beach in charming Cayucos is widely considered the most dog-friendly beach along all of Highway 1. Access is located at 24th street, on Cayucos's south side near Toro Creek Road, adjacent to Morro Bay. (In fact, locals often call this the Morro Bay Dog Beach for its proximity to Cayucos's neighbor to the south.It's also sometimes called Toro Creek Beach.) Here, fun is the name of the game. The beach is wide, the sand is soft, and the sun is warm and inviting along this generous stretch of shoreline. Dogs are supposed to be on leash here, but the area is so popular, it's wise to prepare for off-leash dogs, too. Rover can roam the mile-long beach to his heart's content, with views of Morro Rock to the south and the Cayucos Pier to the north. Just park in the turnout and walk over the low dunes onto the beach to get the "zoomies" out.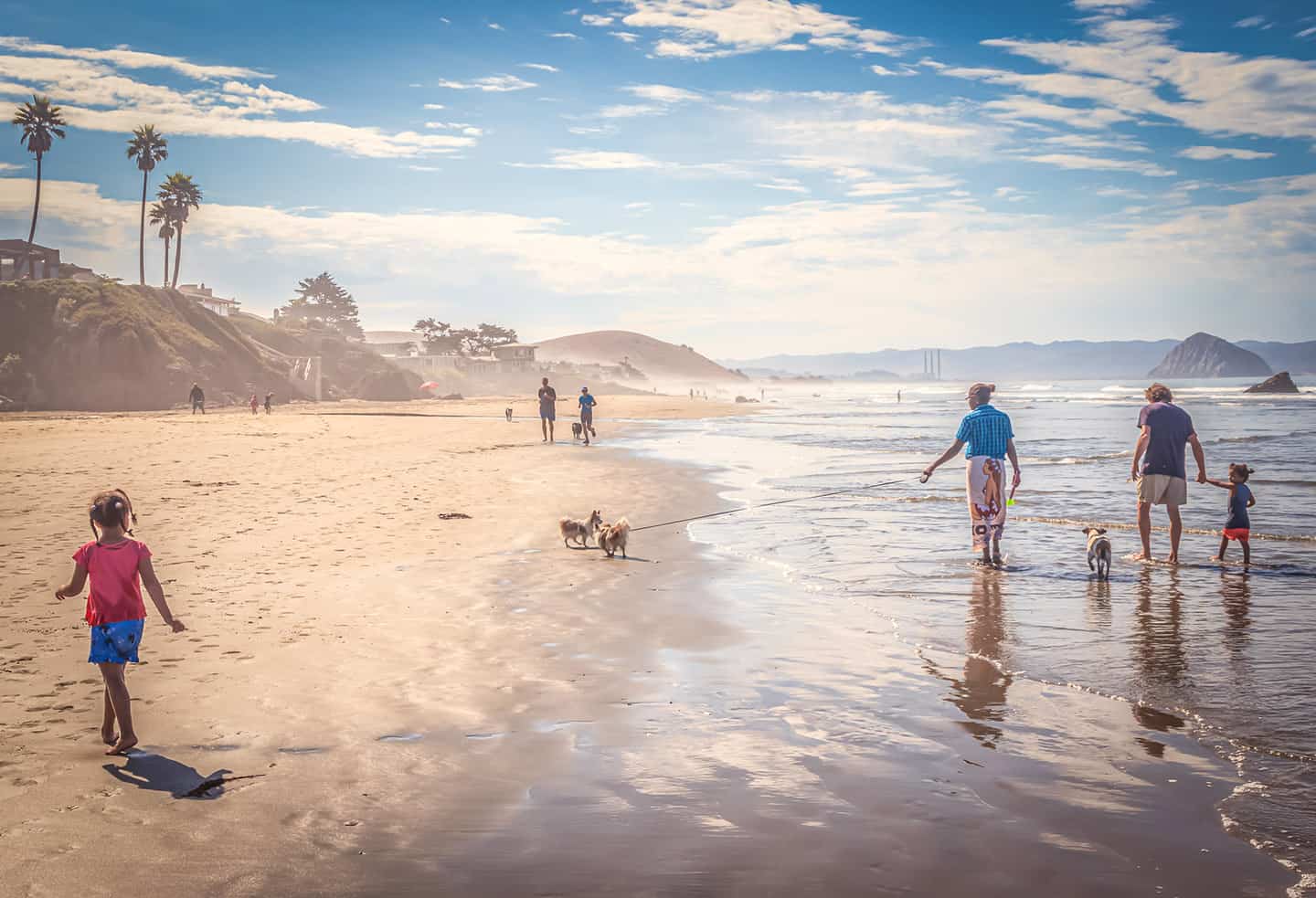 Dog-friendly Parks
Norma Rose Dog Park
Look for this popular off-leash dog park off Ocean Boulevard, parallel to Highway 1 in Cayucos. With 7,200 square feet of mutt-tastic fun here, the park offers two separate fenced-in areas for different-sized dogs so everyone feels comfortable. Dogs can enjoy leash-free running, sniffing, frolicking and socializing in this safe, friendly area. For humans, the park provides picnic tables where dog owners can hang out, plus water bowls and a Mutt Mitt dispenser for cleanup. This is a terrific spot for four-legged friends to burn off their energy, and it's maintained entirely by local pup-loving volunteers. To ensure the Norma Rose Dog Park can continue to provide leash-free play, please be respectful of other owners and other dogs by picking up after your pet. Also, please only bring dogs that respond to your vocal commands to ensure all pups and their owners can enjoy the park.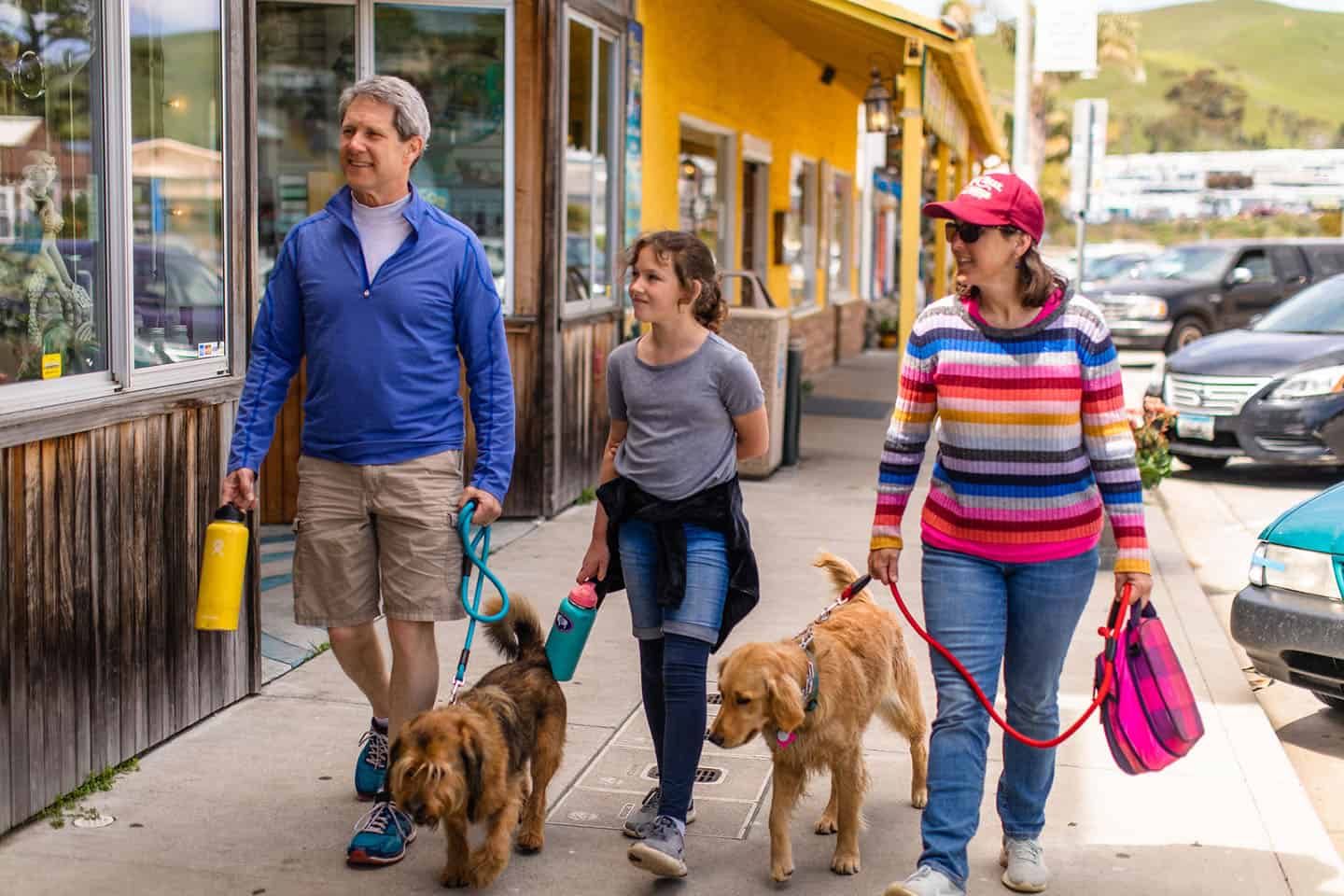 Dog-friendly Hiking Trails
Estero Bluffs State Park
Local dog owners love Estero Bluffs State Park for its collection of endlessly-explorable trails overlooking the ocean bluffs just north of Cayucos. At 353 acres, the park supplies plenty of open space thanks to the preservation efforts of local citizens and the Trust for Public Land. Enjoy nearly four miles of rugged coastline, including small beach coves at the mouths of San Geronimo Creek and Villa Creek. Only one of these coves is accessible to dog owners, however, as the area between San Geronimo Creek north to Villa Creek is dog-free. (Dogs are not allowed in this zone, even on a leash.) You and your pup can enjoy the network of interlocking trails that lead parallel and perpendicular to the bluffs. As a well-preserved natural open space, the Estero Bluffs are home to an abundance of wildlife. On your visit, you might see gray whales migrating offshore, harbor seals on the rocks or California Sea Otters in the intertidal kelp forests. On land, you may encounter rabbits, squirrels, salamanders, frogs, California kingsnakes and the occasional Western Snowy Plover, a near-threatened species of shorebird.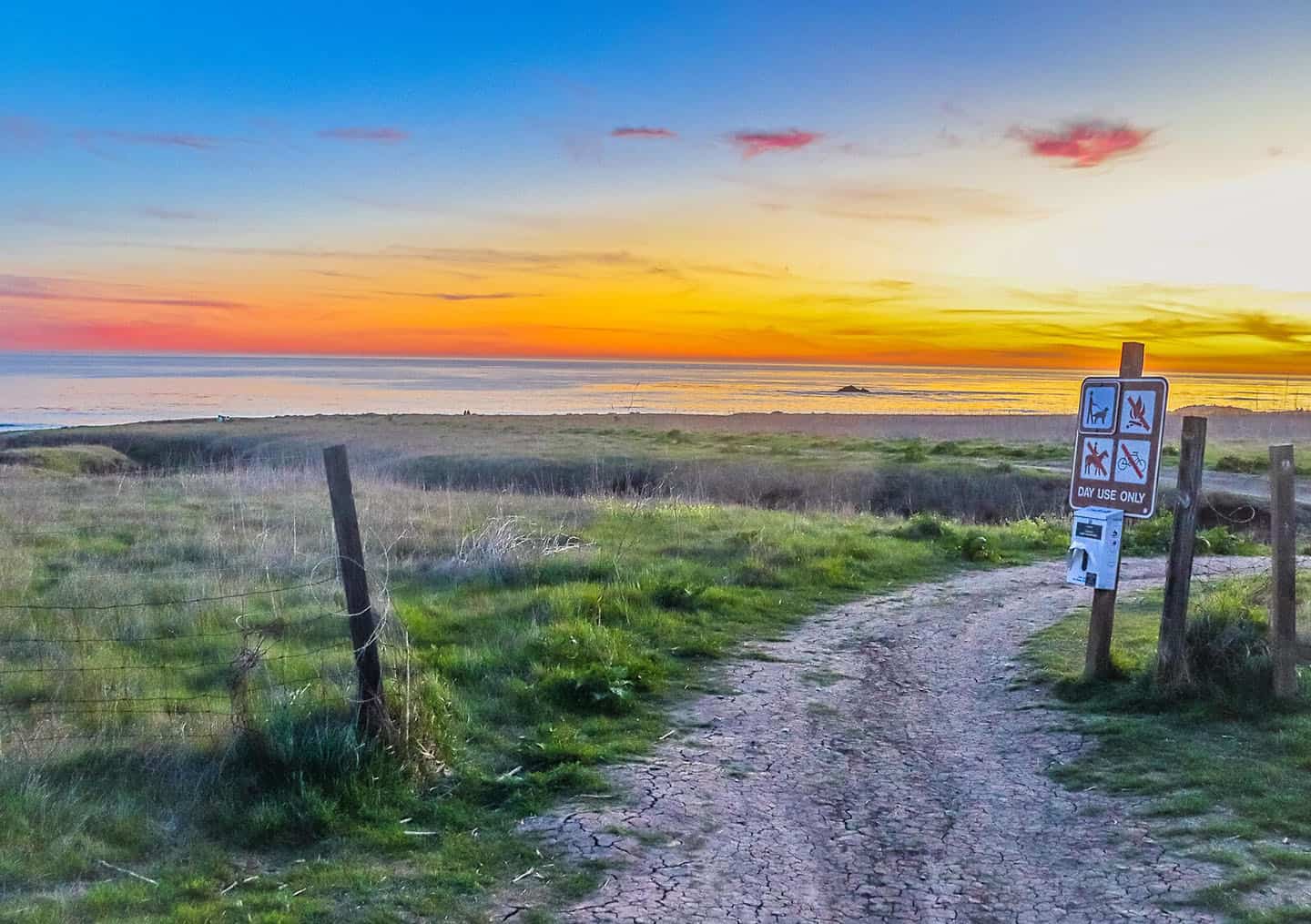 Whale Rock Reservoir
Want a hike with extracurricular benefits for you and your pup? Take the 3.8-mile trail around Whale Rock Reservoir, located in the hills just above Cayucos. At 40,662 acre-feet, this serene reservoir supplies water to nearby communities and welcomes dogs on leash to enjoy the trail. Anglers with a current fishing license are welcome to drop their line at the reservoir, where species include steelhead and bass. (Note, however, that the Whale Rock Reservoir does not permit or accommodate watercraft vessels.) The reservoir is also a favorite haunt of birdwatchers, where three bald eagles and multiple ospreys make their home—plus migratory birds. Bring your curious canine for a walk, fishing, and enjoyment of the great outdoors. A $2 daily access fee supports upkeep of the park, including its trails, pit toilets, and picnic areas.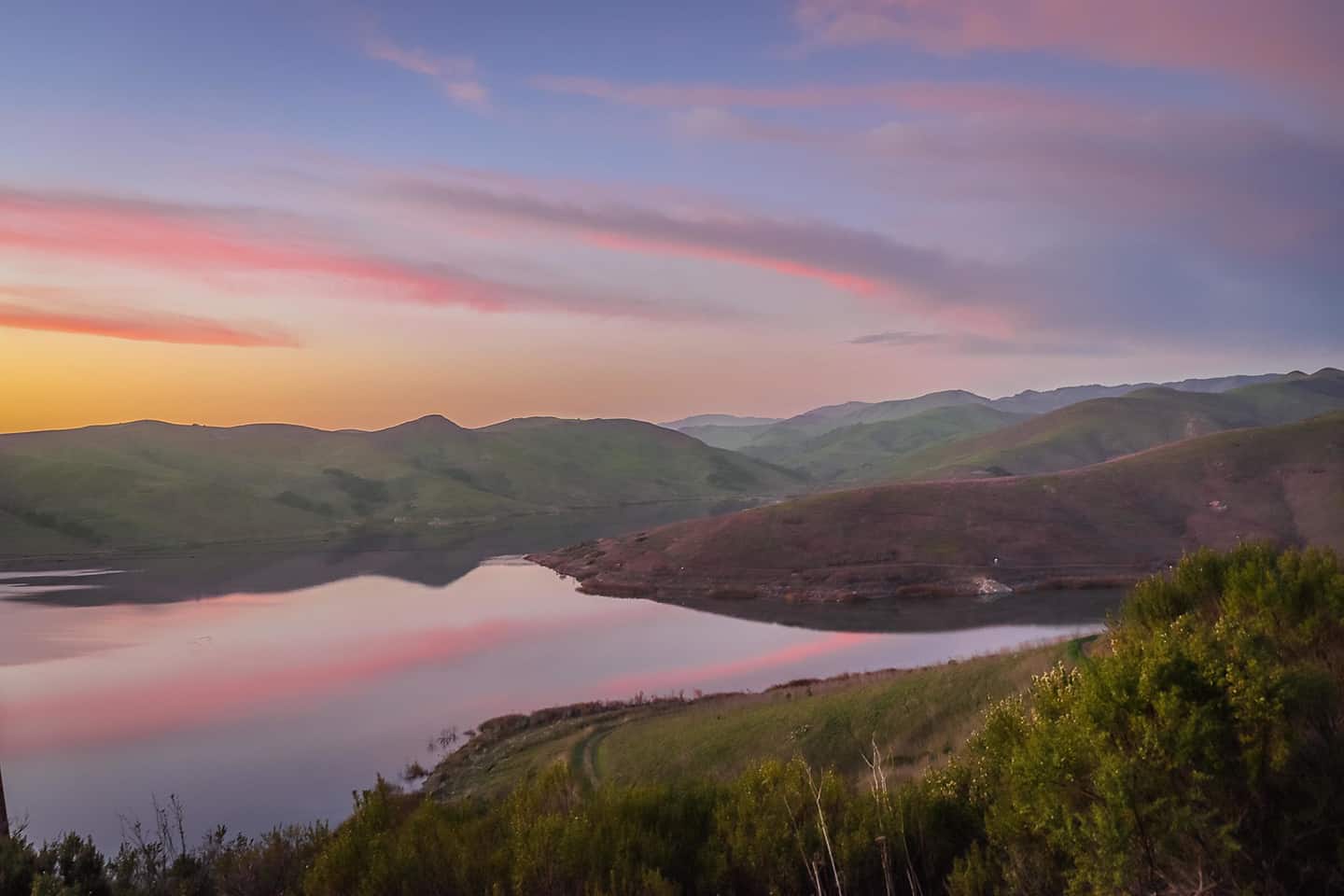 Los Osos Baywood is dog-friendly
Dog-friendly Dining
The Old Alehouse
This locals' favorite eatery and craft beer pub is a win-win for dogs and their humans. Head to The Old Alehouse (just a few miles from Montaña de Oro State Park) for good times, good grub and good fun. Located on Los Osos Valley Road, the Alehouse features a substantial fenced-in outdoor area that is very dog-friendly. This patio is reminiscent of a beer garden, with tables and chairs, shade structures, outdoor access to the bar, and a stage. Live music is a key part of the experience, with bands playing on the regular (and room to dance in front of the stage). Visit with Rover and try a beer from one of the Alehouse's two-dozen taps, at least half of which are local varieties. The restaurant also serves local wines and nonalcoholic sips, plus a menu of elevated pub food. Order up smash burgers, hot chicken sandwiches, beet salad, Asian street fries, street tacos, or a decadent brie-and-apricot-jam quesadilla. Your dog will agree: this is a great spot to kick back and relax or get up and dance.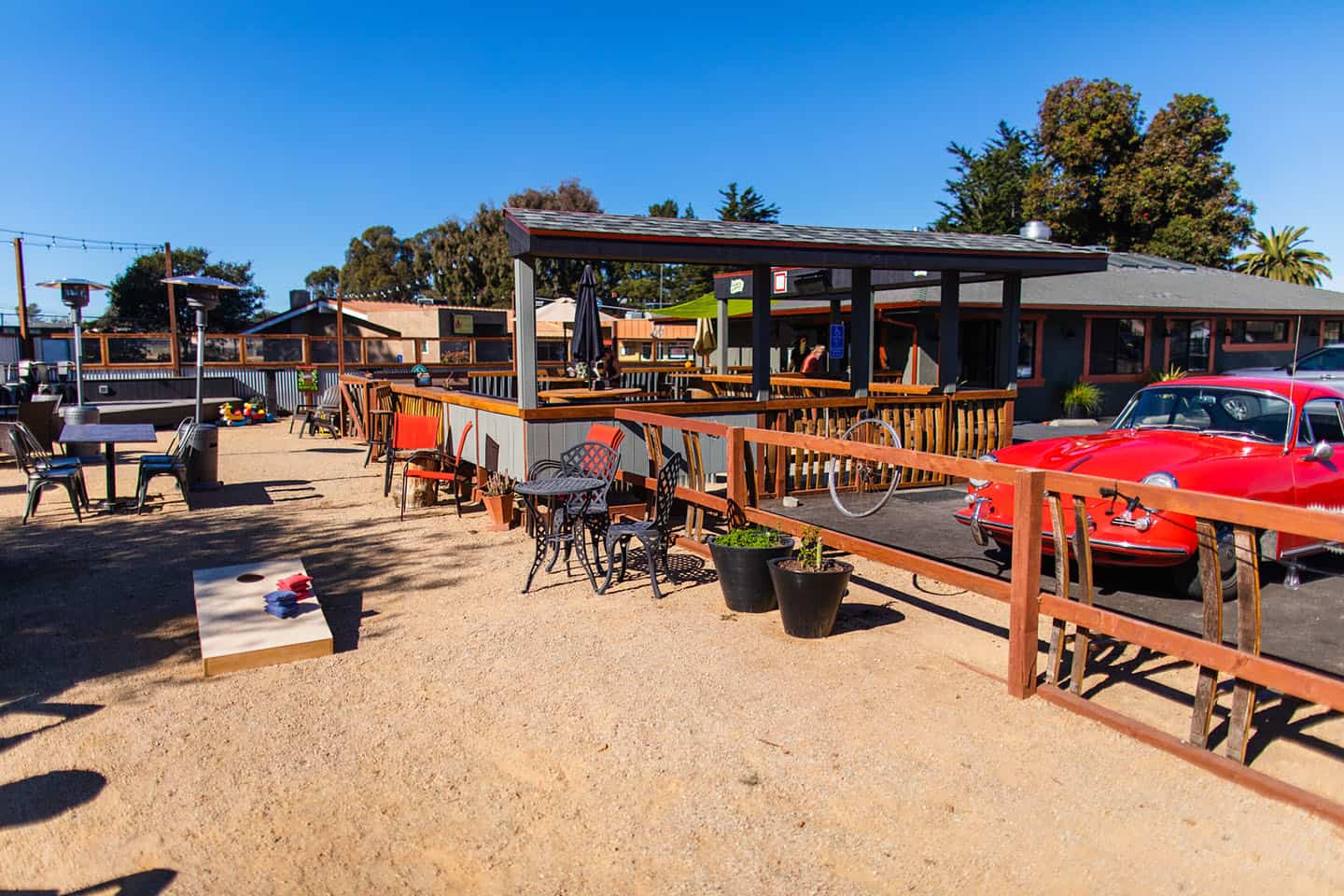 Kuma
Don't miss the intimate garden at Kuma, where diners can experience some of the best ramen and sushi along Highway 1. Leafy and secluded, this heated garden welcomes locals and visitors alike—four-legged friends included! Come in for a warm bowl of ramen, made with long-simmering house-made tonkatsu, shoyu, and vegan broths. Much of the seafood featured in Kuma's dishes is caught just hours before in the Estero Bay. Enjoy tuna or salmon tatake, yellowtail carpaccio, and classic poke, as well as sushi, sashimi, tempura, and a wide variety of rolls. (For the tastiest budget meal, come into Kuma for $5 hand rolls on Tuesdays paired with $1 sake everyday between 2pm and 4pm.) Kids have their pick of rolls, ramen, tempura and chicken teriyaki made just the way they like it—plus Ramune Japanese sodas. Bring the pup and the whole family for a relaxed and satisfying meal worth lingering over.
Beerwood
Located just a block away from the calm waters of the Morro Bay National Estuary, Beerwood is a great spot for canine-human hang time. The charming outdoor seating area welcomes pups, and includes fire pits to keep everyone toasty on cool Los Osos evenings. Choose from 12 taps of craft beer, including those made in-house by brewer Troy Gatchell, plus wine, kombucha, tea and more. Then choose what you'd like to eat from options like abundant charcuterie plates, chorizo-beef sliders, beet and arugula salad, and local sausage plates on offer. This is also an awesome spot for kids, who can play with games and toys kept on the side of the restaurant. Plan to linger a while, as Beerwood invites a longer visit, especially with friends and/or family. To double-down on a good time, kayak with Fido on the back bay, then head to Beerwood to end the day.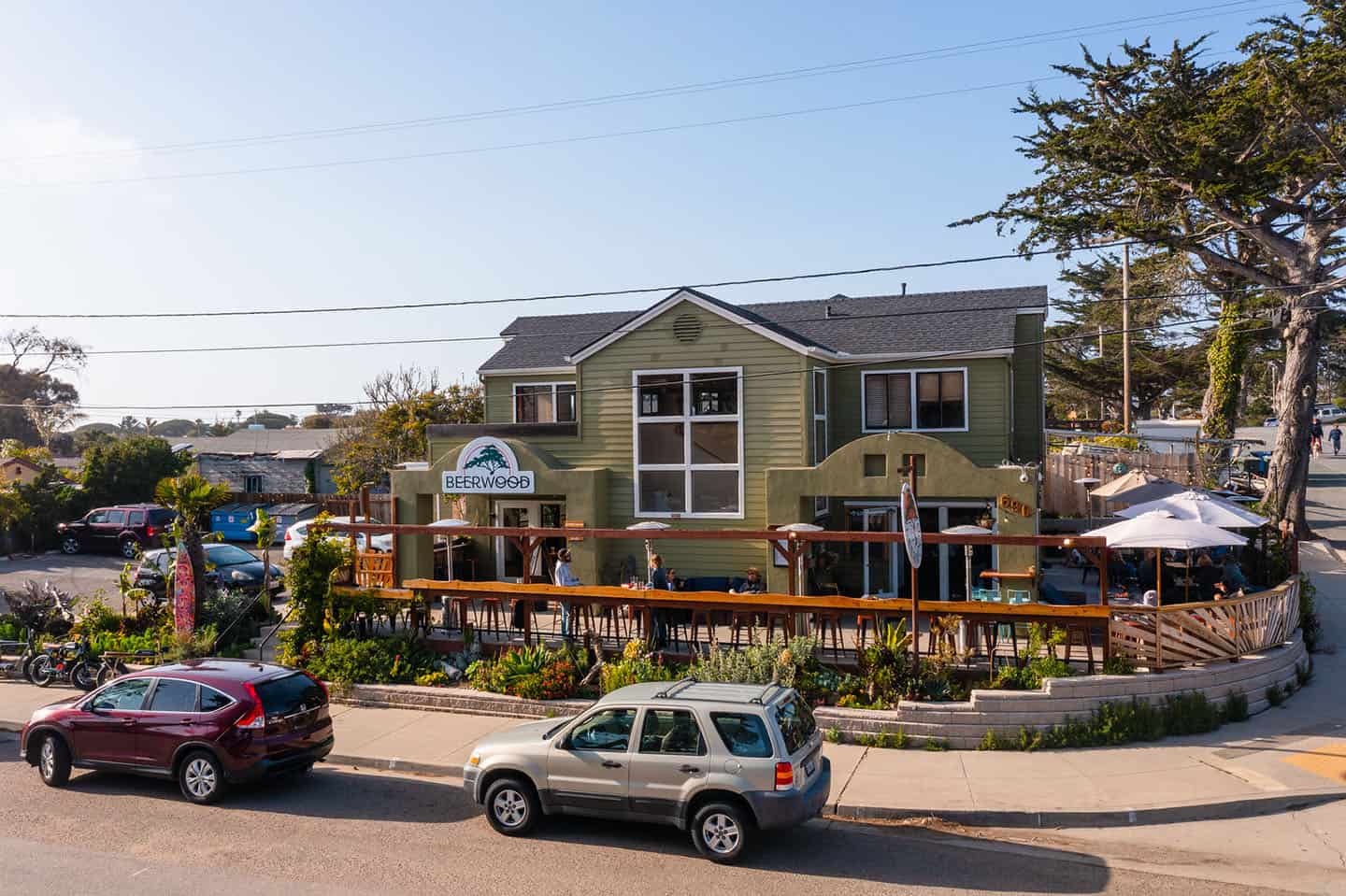 There's always room for more on the Highway 1 Road Trip! Check out our expanded list of the best restaurants in Los Osos for more dining suggestions.
Dog-friendly Beaches
Spooner's Cove
Due to State Park regulations, dogs aren't allowed on any trails throughout Montaña de Oro State Park. They are, however, permitted on leash inside Montaña de Oro's popular beach, Spooner's Cove. Spooner's is a favorite with locals for its out-of-the-way charm, natural wind protection, and wealth of things to do for the whole family. Bring your four-legged family member, too! Rover will enjoy exploring this pretty crescent-shaped cove, its rugged cliffs, little stream, and rolling waves. Be sure to bring a blanket to lay on and maybe even bring a picnic as there are several picnic tables on the beach. Easy parking, low wind, and a sense of solitude (especially on weekdays) make this a must-visit beach for any pup and their owner.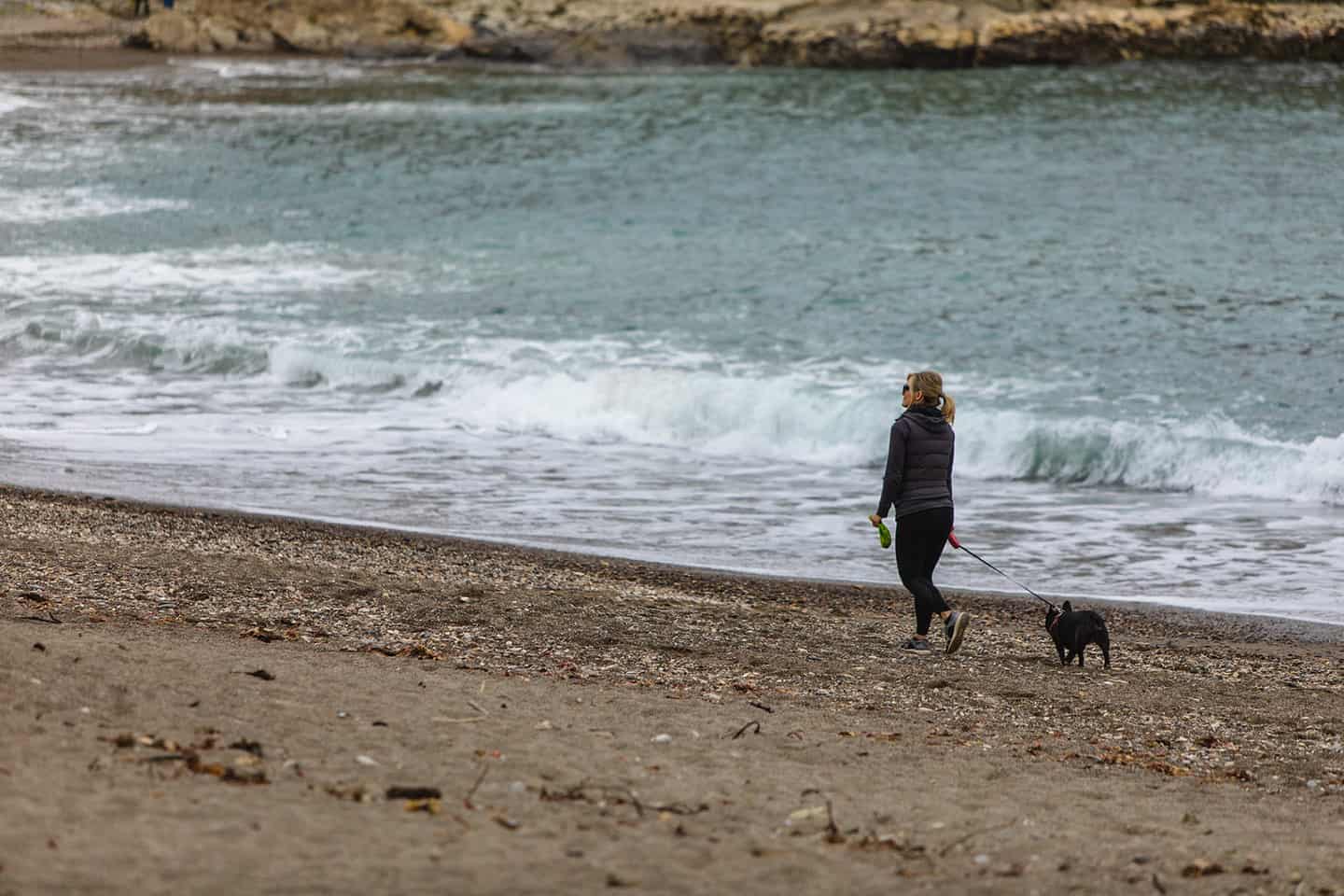 Dog-friendly Hiking Trails
Elfin Forest
The wonderfully miniscule world of Los Osos's El Moro Elfin Forest invites dogs and dog owners to experience its pygmy oak trees. These natural phenomena are only between four and twenty feet, thanks to the growing conditions on the edge of the Morro Bay National Estuary. (In other parts of Los Osos, oak trees stand as high as 50 feet!) The remarkable Elfin Forest features 90 acres of natural pygmy oak woodland, among other plant communities. Exploring the oaks and the 200 plant and 110 bird species that reside here is easy with the mile-long boardwalk loop. This protects the plants by keeping dogs and people on the path, and it makes the preserve accessible to folks of all abilities. Enjoy benches and excellent viewing areas where the estuary's pretty waters and wildlife are on full display. Parking and a Mutt Mitt dispenser are available at the 16th Street entrance in Los Osos-Baywood Park.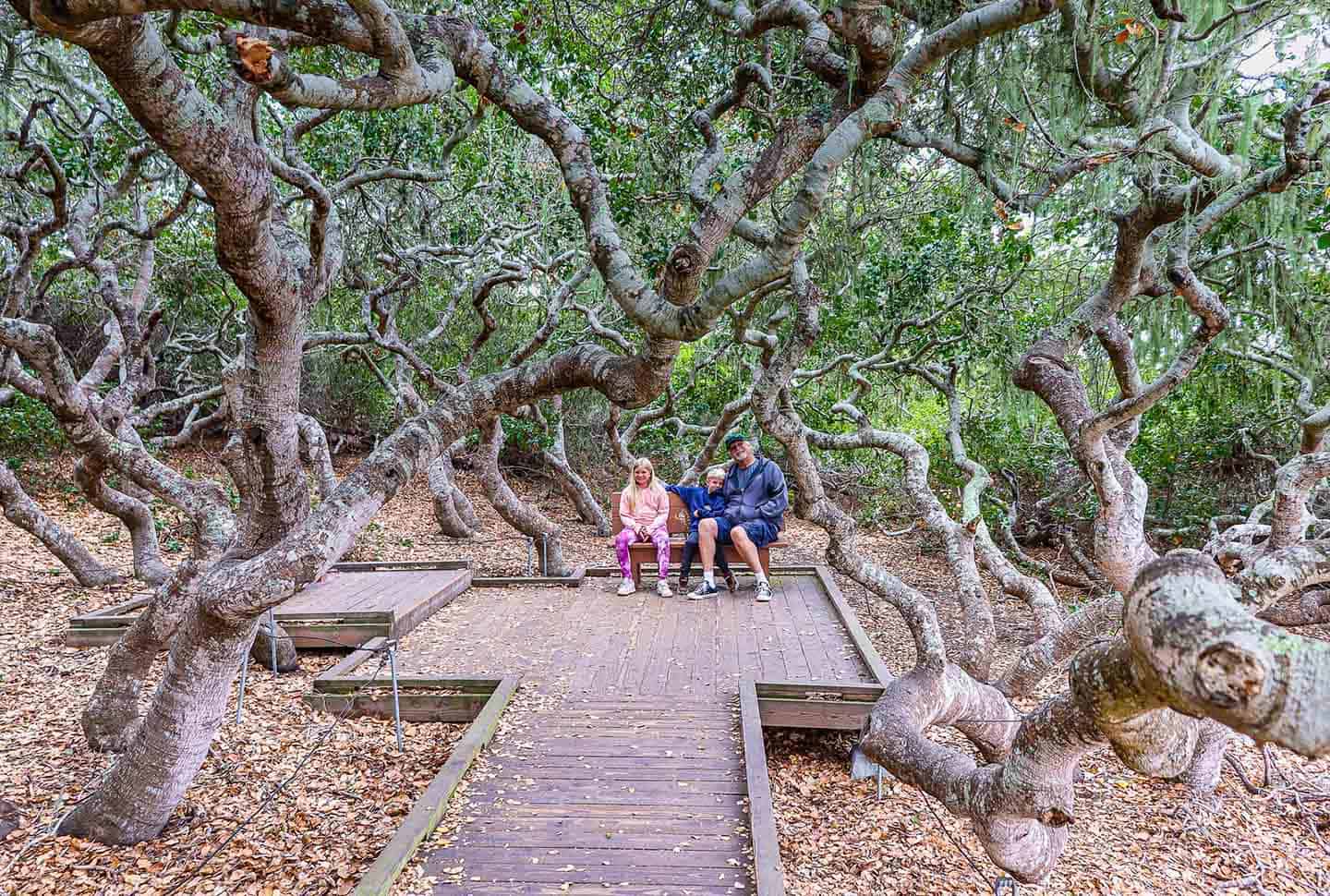 Edna Valley is Dog-friendly
Dog-friendly Wine Tasting
Wolff Vineyards
With a name like Wolff, perhaps it shouldn't come as a surprise that this winery welcomes pups. This hilltop tasting room is known for its estate-grown chardonnay and pinot noir, as well as other varieties like teroldego, syrah, petite sirah and riesling. The wine is made in a decidedly Californian style with European roots, and the entire production is family-owned and operated. Fortunately for dog owners, Wolff Vineyards is also very dog-friendly! Come up the hill to taste a flight of five Wolff wines, the fee for which is waived with the purchase of two bottles. Bring snacks, a picnic, or charcuterie to enjoy with your wine on the sunny, flower-filled outdoor patio with Fido. Chances are, you'll spot a couple resident vineyard dogs strolling the grounds. At the very least, you're sure to get lots of pets, treats, and water from the dog-loving Wolff Vineyards staff.
Biddle Ranch Vineyard
The rambling outdoor area at Biddle Ranch Vineyard is one of its finest features, with olive trees for shade and comfy patio furniture. Enjoy a 90-minute tasting flight outside with Rover and friends, or buy Biddle Ranch wines by the glass or bottle to share. The focus here is chardonnay and pinot noir, with some pinot grigio and darker red varieties depending on availability. Grab a Wren Foods charcuterie box in the tasting room, with herbed nuts, cheeses, crackers, and fruit—or just bring your own nibbles. Then pick up a game of cornhole, catch up with family and friends, or just daydream beside your pup with a view of the Santa Lucia Mountains
Eager to learn more about SLO Coast wine tasting options? Explore our picks for the best wine tasting rooms in Edna Valley.
Dog-friendly Parks
El Chorro Dog Park
Just off Highway 1 between San Luis Obispo and Morro Bay, the El Chorro Dog Park features two fully-fenced areas for off-leash fun. The park offers two separated parks for dogs of different sizes. Larger pups can play, sniff, and socialize in the 1.3-acre park, while little ones can explore their own 1/4-acre park. This is a wonderful spot to bring Fido on a hot day, as the park's play areas both include splash tubs. Handicap-accessible restrooms, picnic tables, Mutt Mitt dispensers and shaded benches make this a comfortable place for owners to enjoy, too. The dog park is free to use, but be advised that El Chorro Regional Park charges a day-use fee of $3 for weekends and holidays. To find the dog park, follow the signs and look for dog park-designated parking spots.
Dog-friendly Hiking Trails
Lopez Lake
Dogs love the freedom to run, jump, play and explore around Lopez Lake, the 450-acre freshwater lake east of Edna Valley. The water's edge includes plenty of hiking trails and adventure opportunities, for a range of abilities. Put your pup on leash to huff and puff up one of the area's steeper options. Take the Hi Mountain Trail (10.2 miles, 1800' elevation gain) or the High Ridge Trail Loop (4.7 miles, 1072' elevation gain) to really tucker her out. For a short and sweet version of those two trails, try the Turkey Ridge Trail at 1.6 miles and 500+' elevation gain. Or go for the mellow Duna Vista Trail, which, at a gentle 8 miles, has some of the best views on Highway 1. Be aware that sections of these trails occupy backcountry where flocks of wild turkeys, deer, foxes, squirrels and other animals make their home. For this reason and others, dogs are required to be on leash at all times.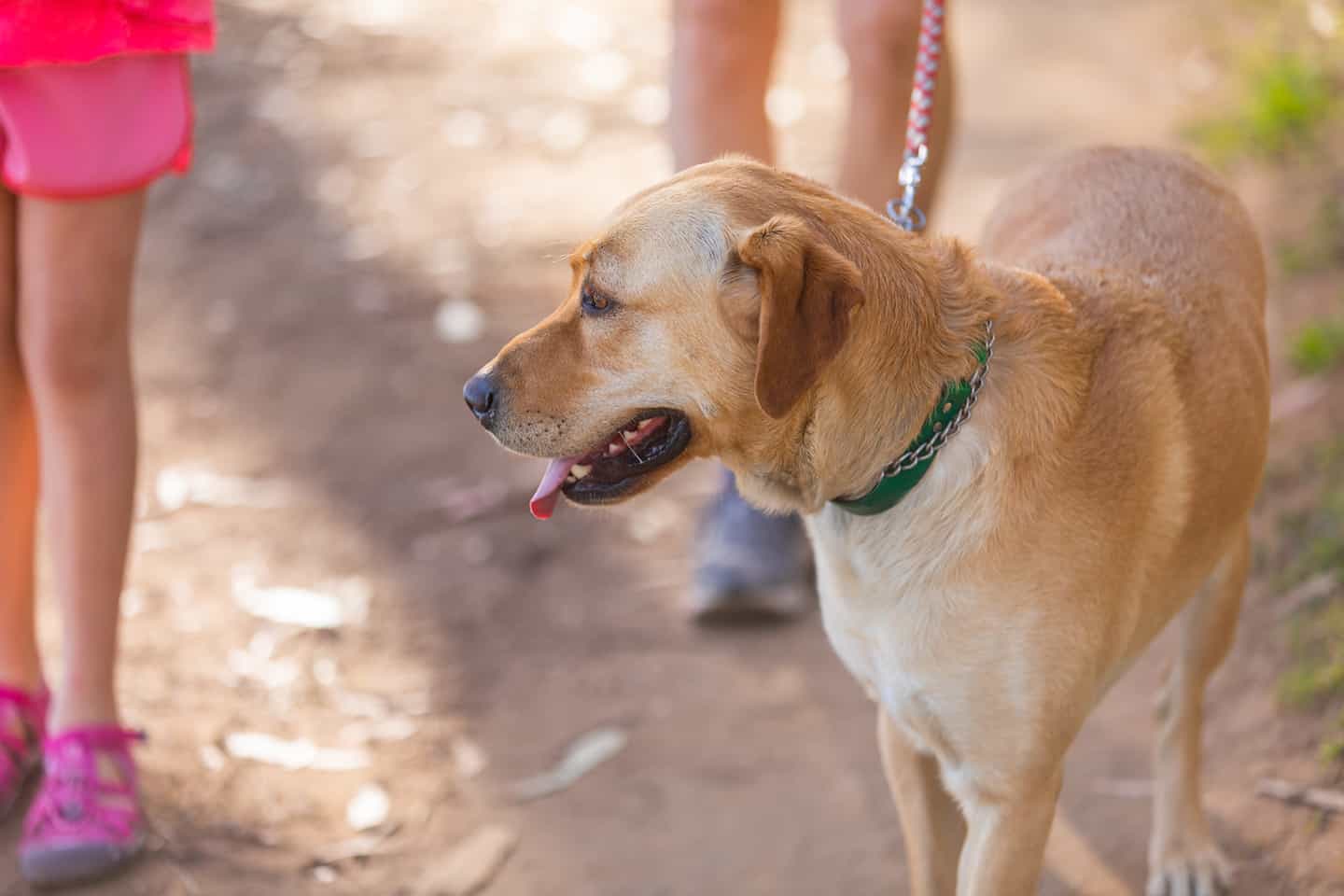 Islay Hill
Locals love this approachable trail for many reasons, not least of which is that Islay Hill is the first of the famous "Nine Sisters" mountains. This notable, picturesque chain of volcanic plugs begins at Islay Hill in Edna Valley and finishes with Morro Rock in Morro Bay. Islay Hill's peak offers views of her sisters, as well as panoramas of the Edna Valley's renowned vineyards and wine country. At 1.8 miles, the trail is perfect for a family walk with Fido to see the mesmerizing topography of Highway 1 from above. Keep in mind: many other families and pup owners like this hike, too! Please keep your dog on leash and use proper etiquette, including cleaning up waste and making room for your fellow hikers on the trail.
Want details on all the good hiking here? See our full-length list of the best hiking trails in Edna Valley and Arroyo Grande.
Arroyo Grande is Dog-friendly
Dog-friendly Restaurants
Ember
One of the most acclaimed restaurants on Highway 1, Ember specializes in wood-fired cuisine, from steaks to pizza, pasta to dessert. Dog owners appreciate the dishes sourced with ingredients from local farms and ranches—as well as dog-friendly seating on the patio. Have a seat with your well-behaved, on-leash dog by your side, and order local wine, craft beer, and cocktails from the bar. Follow that with starters, salads, entrees and desserts from the monthly-changing menu. As an alum from Chez Panisse in Berkeley, chef-owner Brian Collins brings the utmost care to his planning, sourcing, firing and plating of these dishes. The patio offers heaters for chilly nights, and friendly service. Just be sure to make a reservation or arrive when the doors open, as this is a very popular spot. Otherside, you and Fido might be waiting quite a while.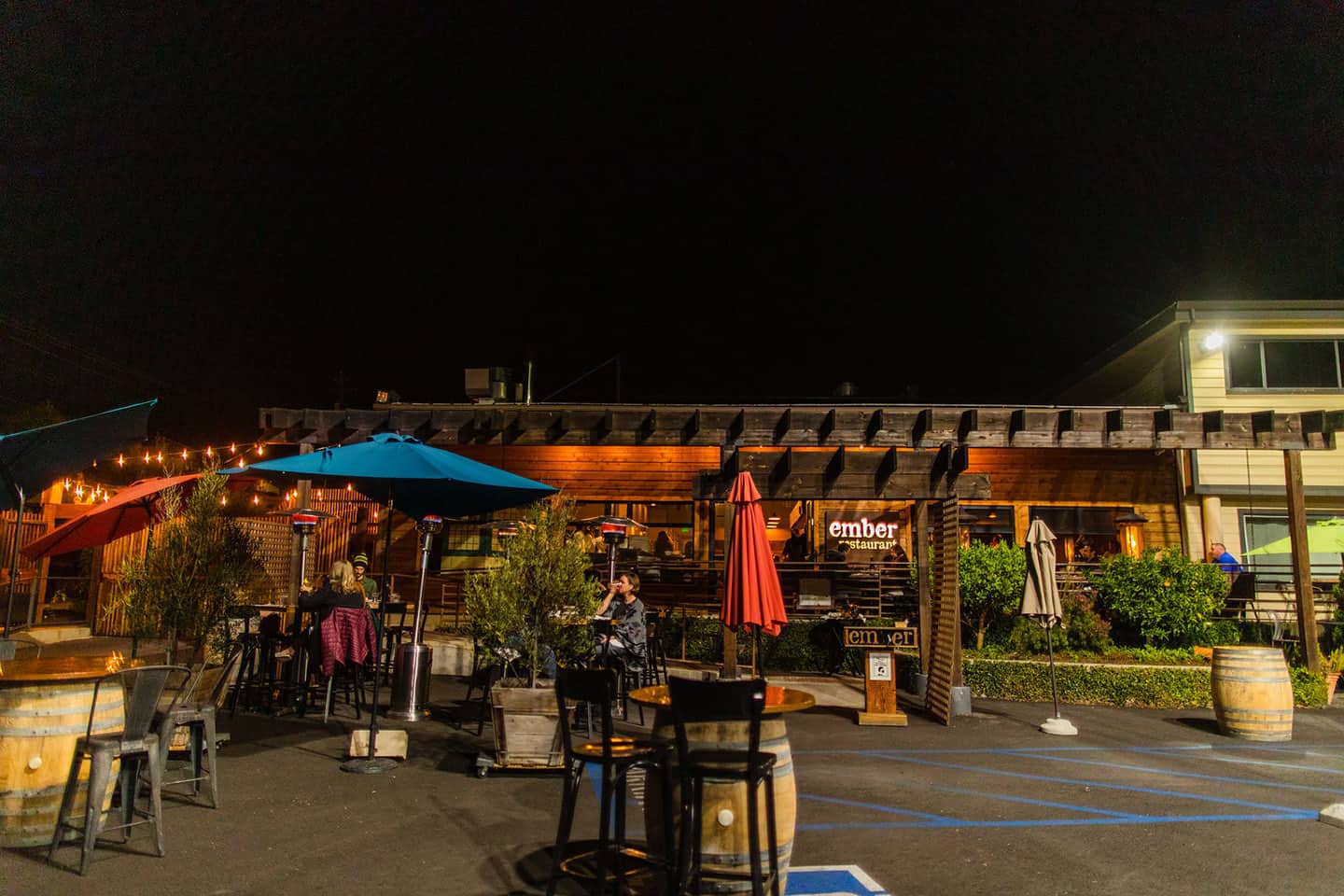 Rooster Creek Tavern
For a casual, rustic and pet-friendly meal in the charming Village of Arroyo Grande, look no further than Rooster Creek Tavern. Named after the Village's famous wandering roosters, Rooster Creek is a sports bar and hangout. Here, hungry diners can watch the game and grab easygoing, flavorful food and drink in a comfortable atmosphere. The generous outdoor patio seating is a win-win for dogs and their owners, as it's almost an extension of the indoor restaurant. Bring your favorite canine and he's sure to receive lots of attention from staff and diners alike. (In fact, your server will most likely bring him a water bowl while you receive your own water!) Enjoy the relaxed vibe at Rooster Creek, the menu of low-key favorites like pulled pork, smoked turkey and ribeye steaks, and the company.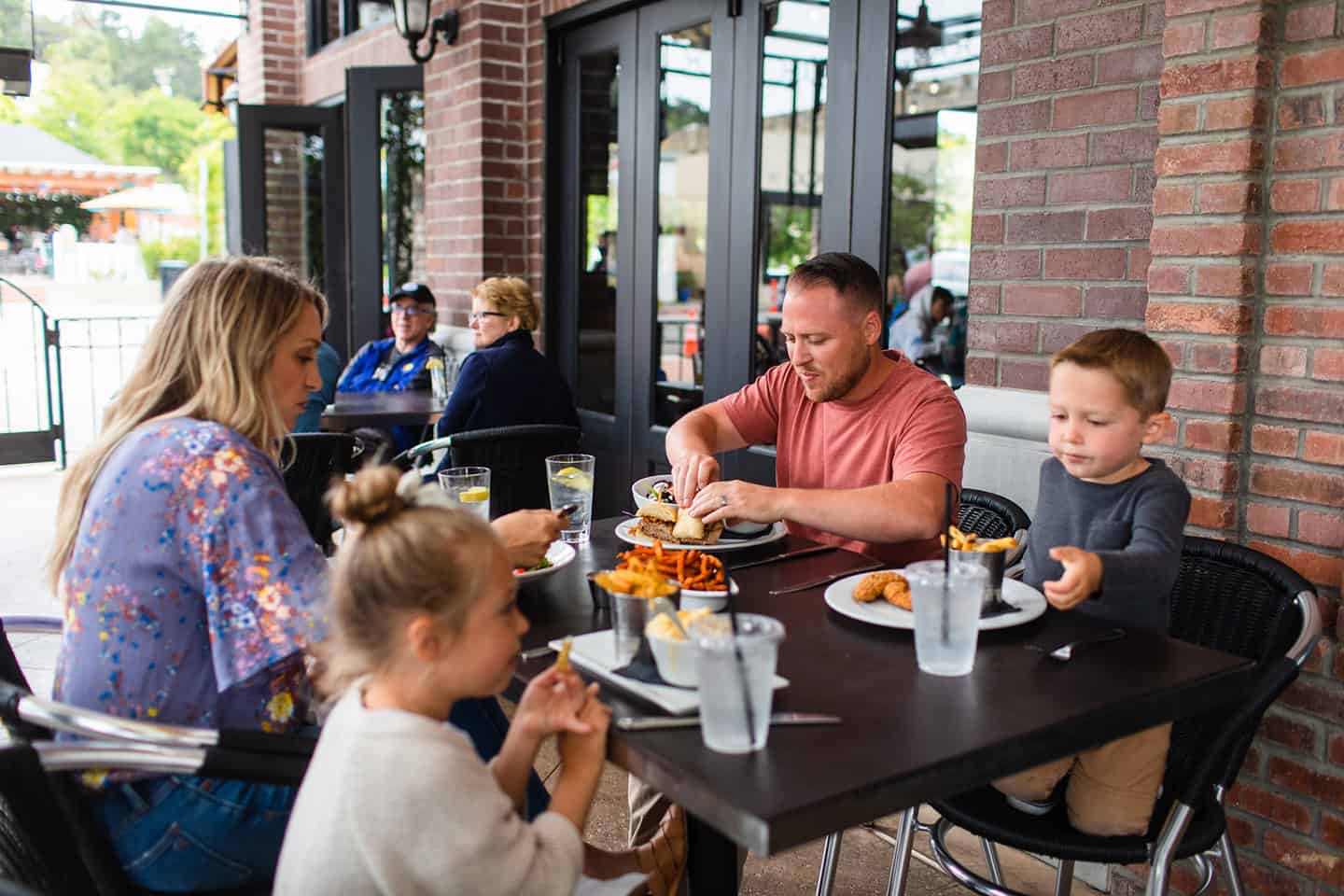 Looking for more dining options? Get our full listing of all the best restaurants in Arroyo Grande.
Dog-friendly Parks
Elm Street Dog Park
This friendly dog park will give your pup lots of room to roam and burn off energy during your visit to Highway 1 country. The fully-fenced park occupies a quiet neighborhood in Arroyo Grande, and includes two separate areas for large dogs and small dogs. Amenities include a double-gated entry to ensure pups' safety, as well as grass and wood chip surfaces to explore. Volunteers provide fresh water, dog toys, and doggie fountains for water play. Owners can enjoy the entertainment from the shaded benches, and can learn more about local happenings at the info kiosk. Meanwhile, well-behaved pups can socialize and explore off leash and free, thanks to the dog-loving locals who maintain and support the park. For pet owners with kids, this is also an excellent choice as a community park lies adjacent to the dog area. Give Fido the time of his life at this popular canine hangout, where the motto is "You can never have too much happy."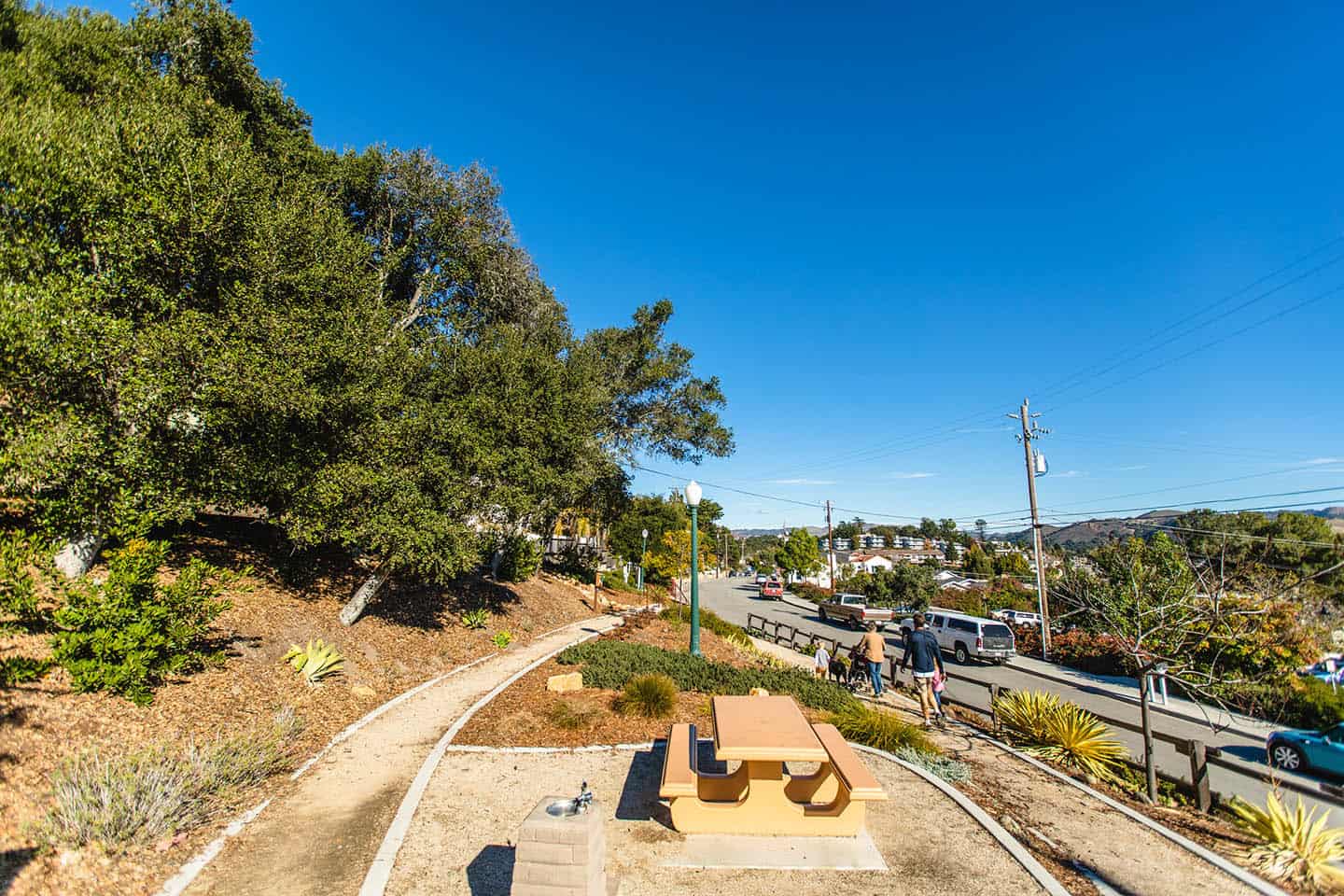 Biddle Park
Locals know Biddle Park as a sprawling hub of activity for large events and get-togethers like reunions, weddings, community BBQs and parties. But even when it's occupied by celebrations, this park is still grand enough to accommodate dogs and their families. At 47 acres, Biddle Park is massive, with lots of room for picnicking, playing games, running, exploring, and relaxing. Tucker your pup out in no time with a jog across the large grassy fields, or take a tranquil walk around the park's perimeter. Just a few miles away from Lopez Lake, Biddle Park is protected from coastal cool, making it a generally sunny, mild-weather spot. (It's also located just down the street from Talley Vineyards & Winery, where you can taste award-winning chardonnay outdoors with your dog.) Restrooms and water fountains make the trip comfortable and easy for everyone, and play structures keep kids happy, too.
Dog-friendly Hiking Trails
Trout Creek Trail
If you're looking for a moderately challenging, off-leash wilderness experience with your pup, the Trout Creek Trail might be just the ticket. This out-and-back trail travels eight miles into the Garcia Wilderness east of Arroyo Grande, with an elevation gain of over 1,100 feet. While March through November is the best time to make the trip, springtime is especially beautiful after rains fill the creek. Listen to the gentle babble of its waters while you and Rover walk, climb, and rest along the way. Because this trail is also equestrian-friendly, don't be surprised to share the route with folks on horseback. Otherwise, this wilderness is remote enough that you and Rover may not see anyone else on the trail. Bring plenty of water for both of you, plus sun protection and a leash, in case you encounter other dogs on the hike.
Avila Beach is Dog-friendly
Dog-friendly restaurants
Custom House
Want to enjoy a tasty bit of history with your canine companion? Built in 1927, the Custom House once served as the official custom house for the port of San Luis Bay. Today, it's a favorite Avila Beach bar and grill that offers pub food, beer, wine, and cocktails. Best of all, the Custom House's large outdoor patio overlooks the beach and welcomes friendly, well-behaved pups on leash. The restaurant is open for breakfast, lunch and dinner daily, with specials on food and drinks for happy hour. Chow down on breakfast favorites like waffles, eggs benedict and omelets, or steaks, burgers, sandwiches, salads, and seafood for lunch and dinner. The bar features taps of locally made craft beer, bottles of local wine, and house cocktails like the "Salty Hawaiian Breakfast Margarita." This is a fun, flavorful spot that's sure be a hit with dogs, dog owners, and the whole family.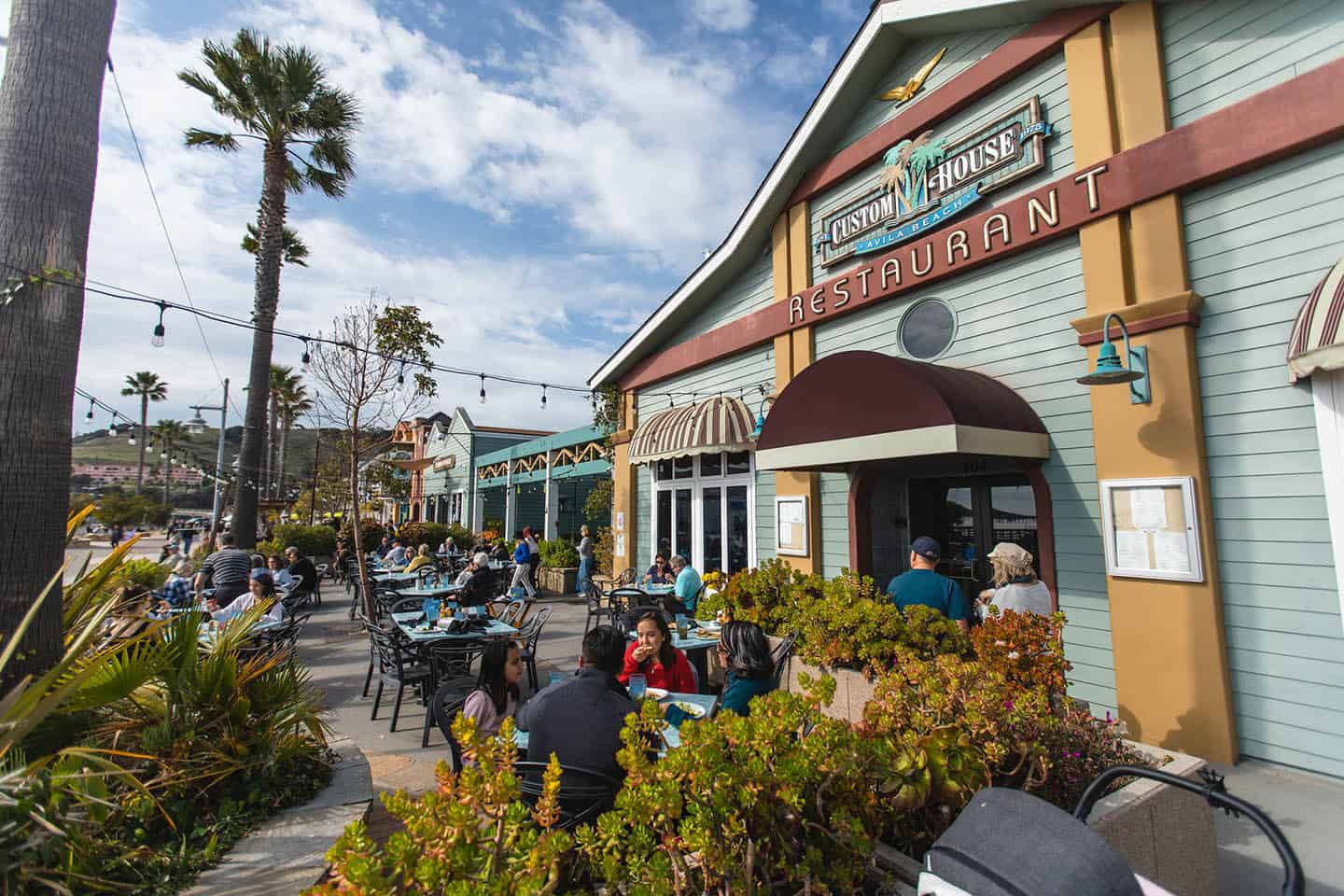 Blue Moon over Avila
Take a virtual trip to seaside France by visiting this sunny French bistro on the Avila Beach Promenade. Pups are welcome outside on the all-seasons patio, where the beach view is mesmerizing. After playing somewhere like Olde Port Dog Beach, or taking a walk on the Bob Jones Bike Trail, this is a lovely spot to wind down. Choose from a robust selection of local and international wines by the glass or bottle, as well as Belgian beers, coffee, tea, and aperitifs. Blue Moon offers lunch and dinner, including traditional French dishes with a California twist. Choose from house favorites like French onion soup and baked brie, salade niçoise (made with fresh-caught tuna), and a classic croque monsieur sandwich. Don't miss Blue Moon's take on steak au poivre—and definitely don't skip dessert! Your pup agrees: seize the day, and the crème brulée.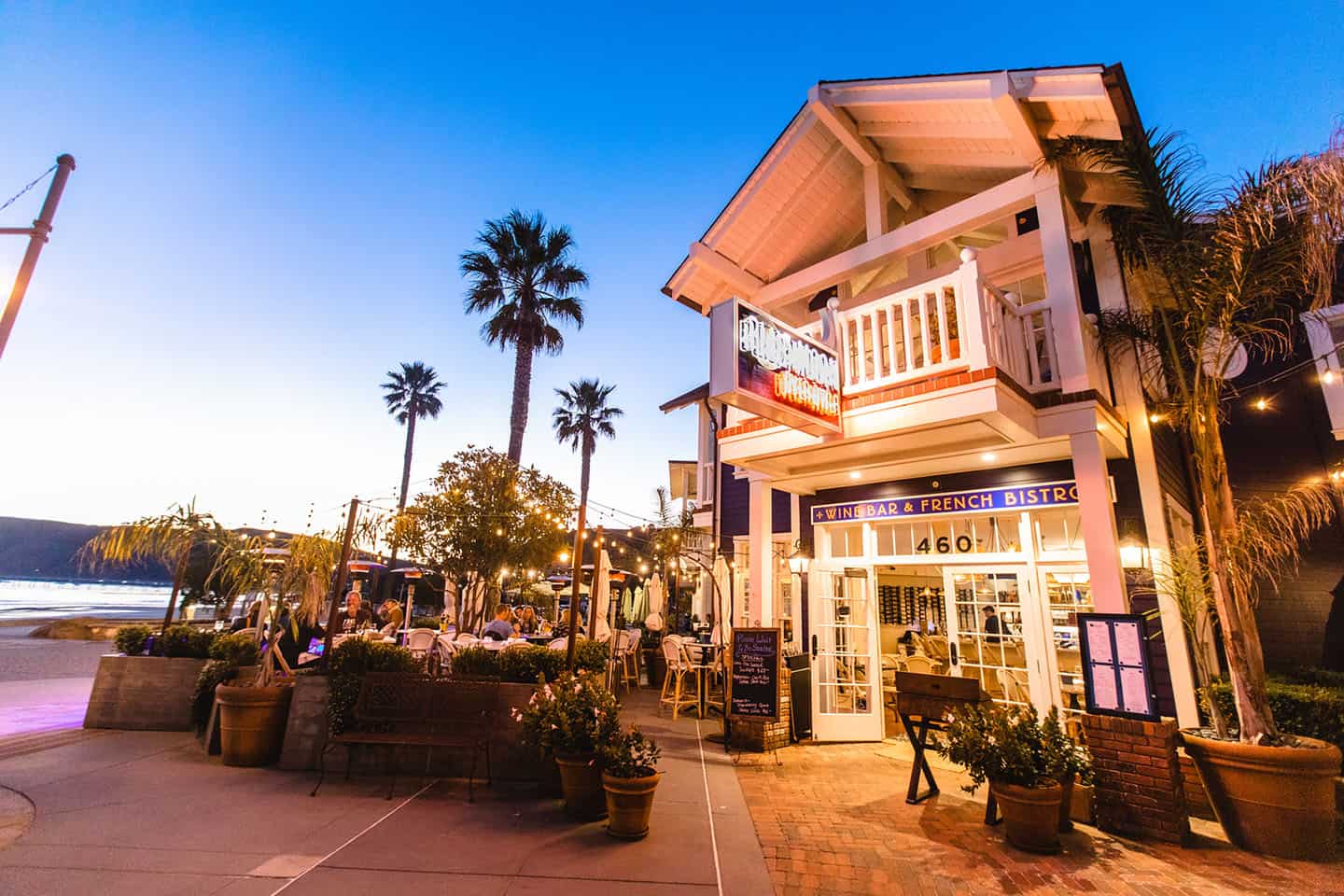 Still looking for the right restaurant? You might find it on our full list of the best restaurants in Avila Beach.
Dog-friendly Beaches
Olde Port Beach aka Dog Beach
Considered a must-sniff, must-frolic, and must-run beach by pups everywhere, Olde Port Beach—also called "Dog Beach"—will make your canine buddy so happy. Owners love it, too, for its free and easy street parking, restrooms, soft white sand, and generous size. Here, a well-behaved Rover can play, zoom, swim, and fetch off leash to his heart's content. This beach tends to be less crowded than Avila's larger one, and more of a local hangout. Kayakers and standup paddleboarders love Olde Port Beach for its concrete ramp that makes it easy to launch. Calm waters, sunshine, and pretty views of Avila Harbor make this a win-win for owners, families, and pups alike. Find Olde Port Beach on Avila Beach Drive, beyond the bridge and between the Cal Poly Pier and the Harford Pier.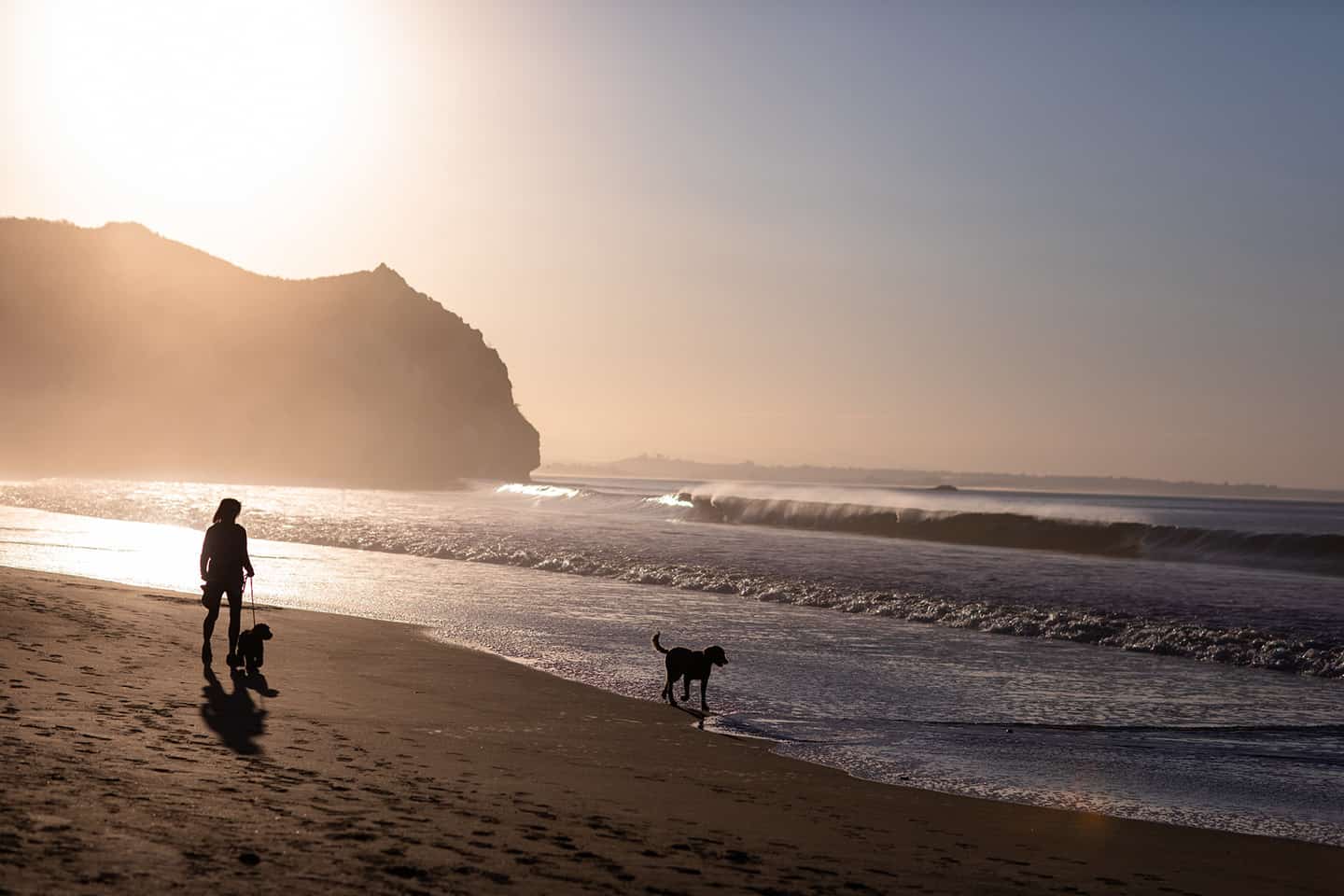 Dog-friendly Trails
Bob Jones Bike Trail
Don't let the name food you: A favorite trail for local and visiting pups alike, the Bob Jones Bike Trail isn't just for bikes. At nearly three miles long end-to-end, this paved, flat trail is open to walkers, cyclists, and four-legged friends on a leash. It has two entrances: at the east end on Ontario Road, and on the west end at the intersection of Avila Beach Drive and 1st Street. The path travels through several landscapes, including a quiet sycamore forest, wetlands, a golf course, and the beach. The Bob Jones Bike Trail also passes by Woodstone Market, a deli and specialty grocer with a dog-friendly patio. Don't be surprised to see kids on scooters, parents with strollers, and folks in wheelchairs on this wheel-friendly walk. (But rest assured that Fido will have plenty of room, as the trail is wide enough for bicycles traveling both directions.) Also, other pups! This popular trail for dogs and their owners offers an excellent walk, easy access, and picturesque scenery.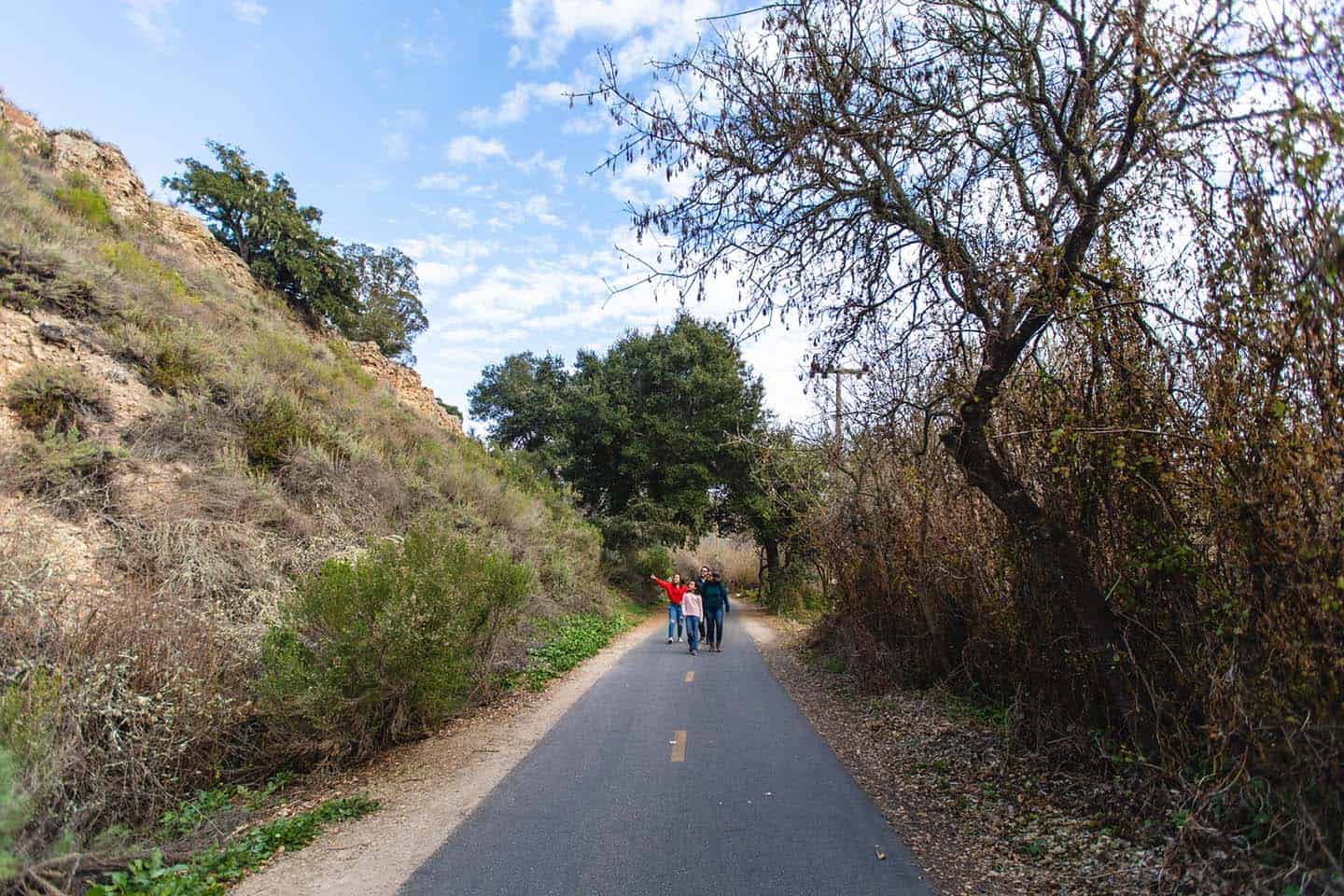 Ontario Ridge Trail
Dogs and owners with lots of get-up-and-go will appreciate this challenging trail that traverses a steep ridge with views from Avila Beach to Pismo Beach. Keep your pup on leash as you discover panoramic vistas of beaches, mountains, and the vast expanse of the Pacific Ocean. To reach these views takes a good bit of hustle: expect climbs and descents of 700+ feet and some loose terrain. (Grippy shoes are a necessity; walking poles are a nice addition, too.) The Ontario Ridge Trail begins at Cave Landing (near the clothing-optional beach of Pirate's Cove) and ends near the intersection of Indio Drive and Bluff Drive in Shell Beach. To turn the trail into a loop, combine it with the Shell Beach Bluff Trail for a total of 2.84 miles. This is an excellent workout for you and Fido that includes the benefits of excellent scenery and salty sea air.
There's so much more to discover here! Look over our extended list of the best hiking trails in Avila Beach for more suggestions.
Nipomo & Oceano are Dog-friendly
Dog-friendly Restaurants
Sylvester's Burgers
There's dog-friendly and then there's dog-fantastic—and that's what Sylvester's Burgers is. Located in Oceano, this may be your dog's favorite restaurant on all of Highway 1 for its separate menu specifically with food for your dog. They also boast a nice patio with plenty of room for your pup. For yourself, order one of Sylvester's "hot, fat and juicy" burgers to enjoy one of the best creations on Highway 1. In addition to burgers, Sylvesters offers hot dogs, salads, sandwiches and fish and chips. And for those with truly huge appetites, go out on a limb to order "The Big One," a burger that weighs five pounds total. Finish it in 30 minutes or less and the meal is free, plus you get a tee shirt and your name on the Sylvester's Wall of Fame. (Alternatively, those who don't meet the challenge have to pay for the burger and their name goes on the Wall of Shame!) All in all, this is a fun, flavorful and Fido-friendly spot with lots of personality and heart.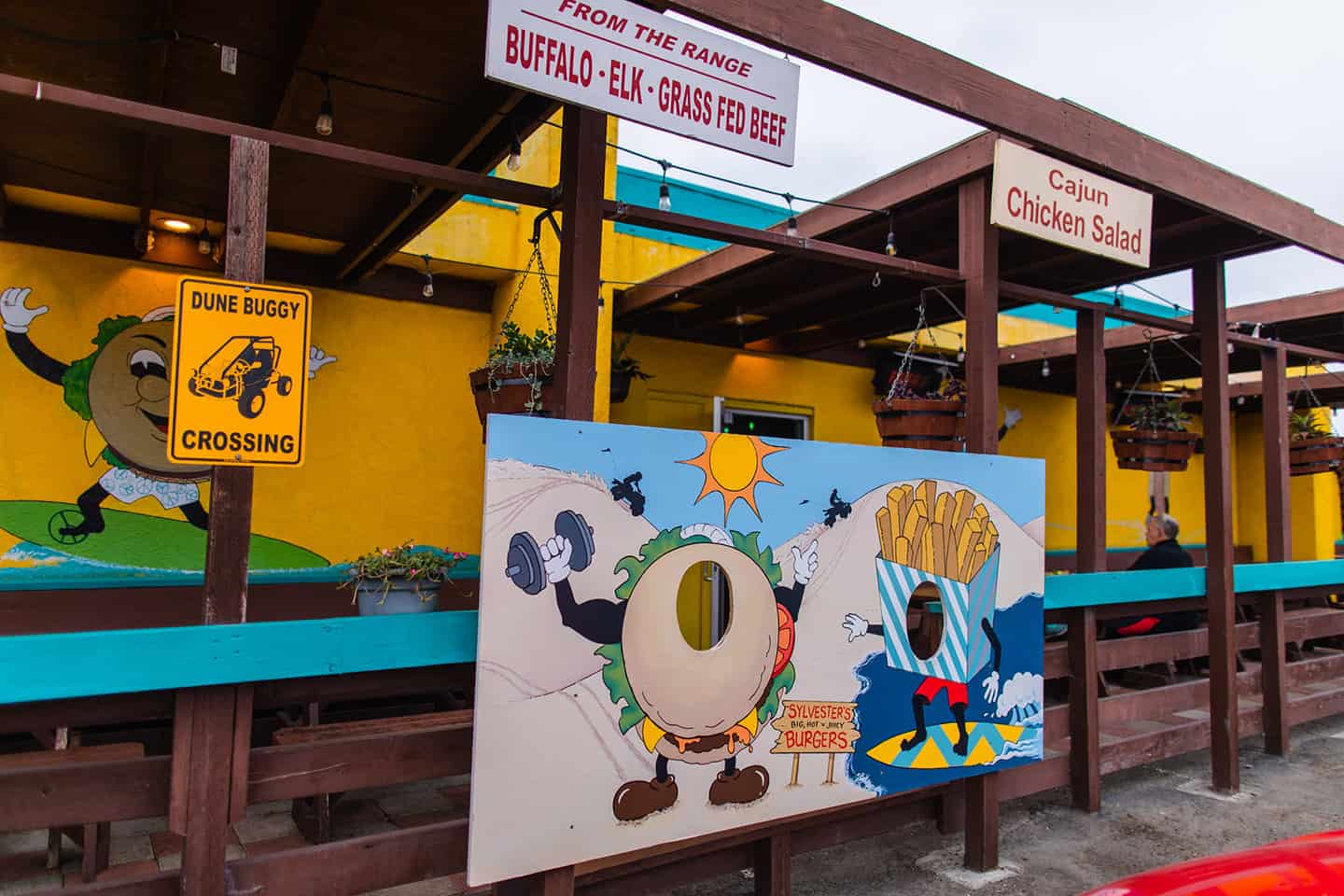 Old Juan's Cantina
Traditional Mexican food in a festive atmosphere can be expected at Old Juan's Cantina in Oceano. And to sweeten the deal, the back patio is dog-friendly. This is a rustic, comfortable spot for you and Rover to dine, complete with all the famous favorites. Come in for lunch or dinner, seven days a week, or brunch on Sundays, and enjoy tacos, nachos, chile rellenos, burritos, enchiladas and more. Combo plates, a la carte items and a children's menu make this an ideal spot to bring the family, too. Don't miss Old Juan's sizeable margaritas, which come in a multitude of flavors and styles, like chile-lime-mango and Margarita Punch. Other specialty cocktails, domestic and imported beer, and wine are also available. Expect easy access off Highway 1 and plenty of parking. Then enjoy south-of-the-border cuisine and drinks with your canine companion by your side.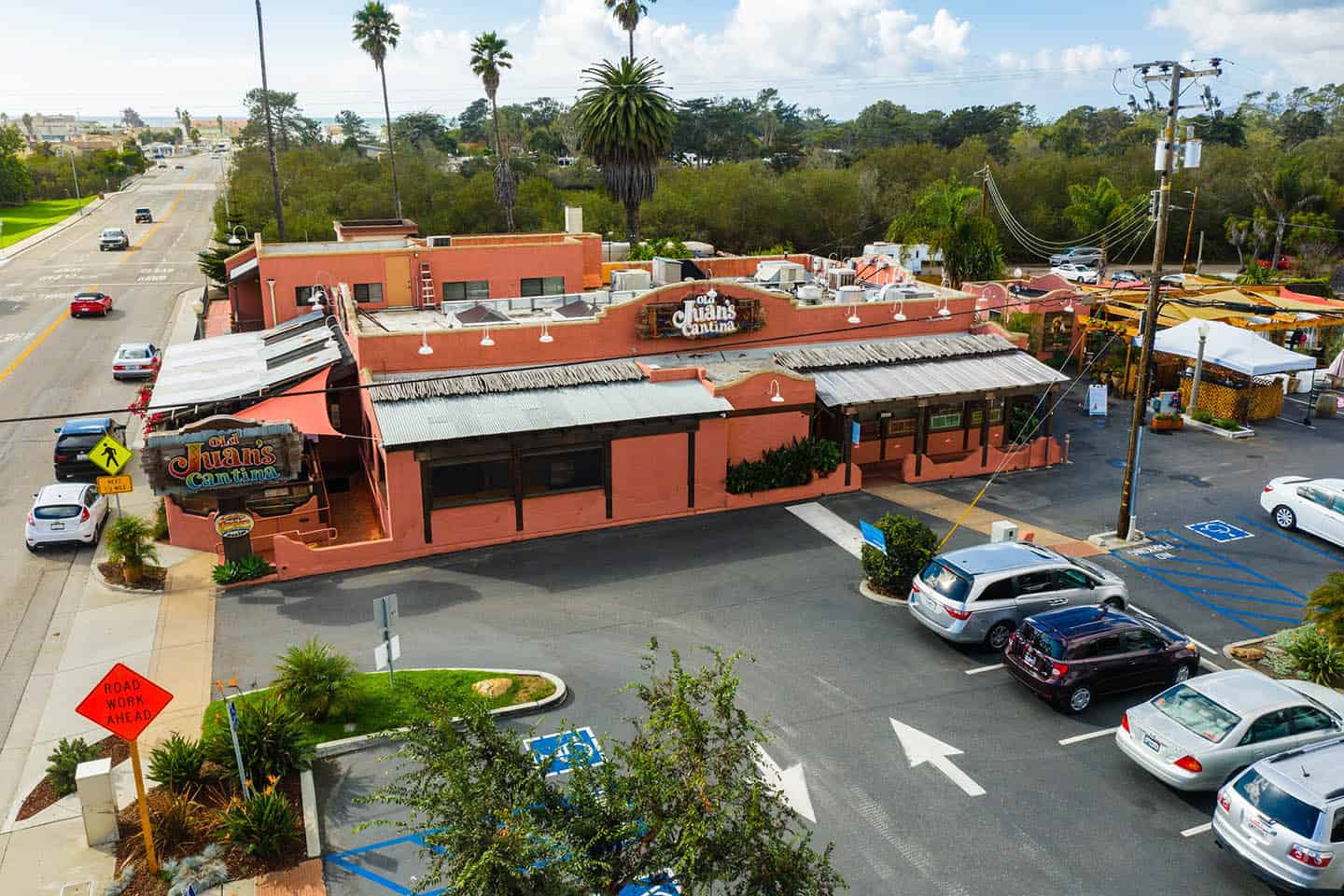 The Mayor's Place
Head to Nipomo for a hearty breakfast or lunch at the Mayor's Place, a favorite luncheonette with locals and visitors alike. A nice back patio welcomes dogs for parties interested in outdoor dining. Choose from a menu that includes griddle favorites like pancakes and French toast, plus breakfast combos like eggs, bacon, and toast. Lighter options and a menu for mini-mayors (aka kids) are also available. Breakfast is served all day, though the restaurant is only open until early afternoon. For lunch, the cooks prepare salads, sandwiches, burgers, and daily specials. Satisfy your craving for stick-to-your-ribs classics and a familiar, comfortable ambiance, with your furry four-legged friend. She's sure to get water, treats, and lots of pets from the kind and attentive staff.
Many other eateries shine along this section of Highway 1 that you won't want to miss. Have a look at the long list of the best restaurants in Nipomo and Oceano.
Dog-friendly Beaches
Oceano Dunes
Imagine one of the largest dune complexes on the planet, framed by the ocean and endless sky—and your pup, enjoying all of it beside you. The Oceano Dunes have attracted nature-lovers, beach bums, daredevils and beauty-seekers for hundreds (if not thousands) of years. The towering dunes are made up of silky-soft sand that Rover won't be able to resist rolling in and running across. And along the dunes' Western edge lie miles of Pacific coastline and beautiful beach, also ready to welcome Rover. This is also a wonderful spot to set up a bonfire, as they're permitted on the beach. Drive directly on the sand at the Grand Avenue ramp and choose your perfect place to light the fire. Then sit shoulder-to-shoulder with your pup to roast hot dogs or toast marshmallows, enjoying the night sky and the sound of the waves. Just be sure to clip your pup in as this beach does require her to be on leash.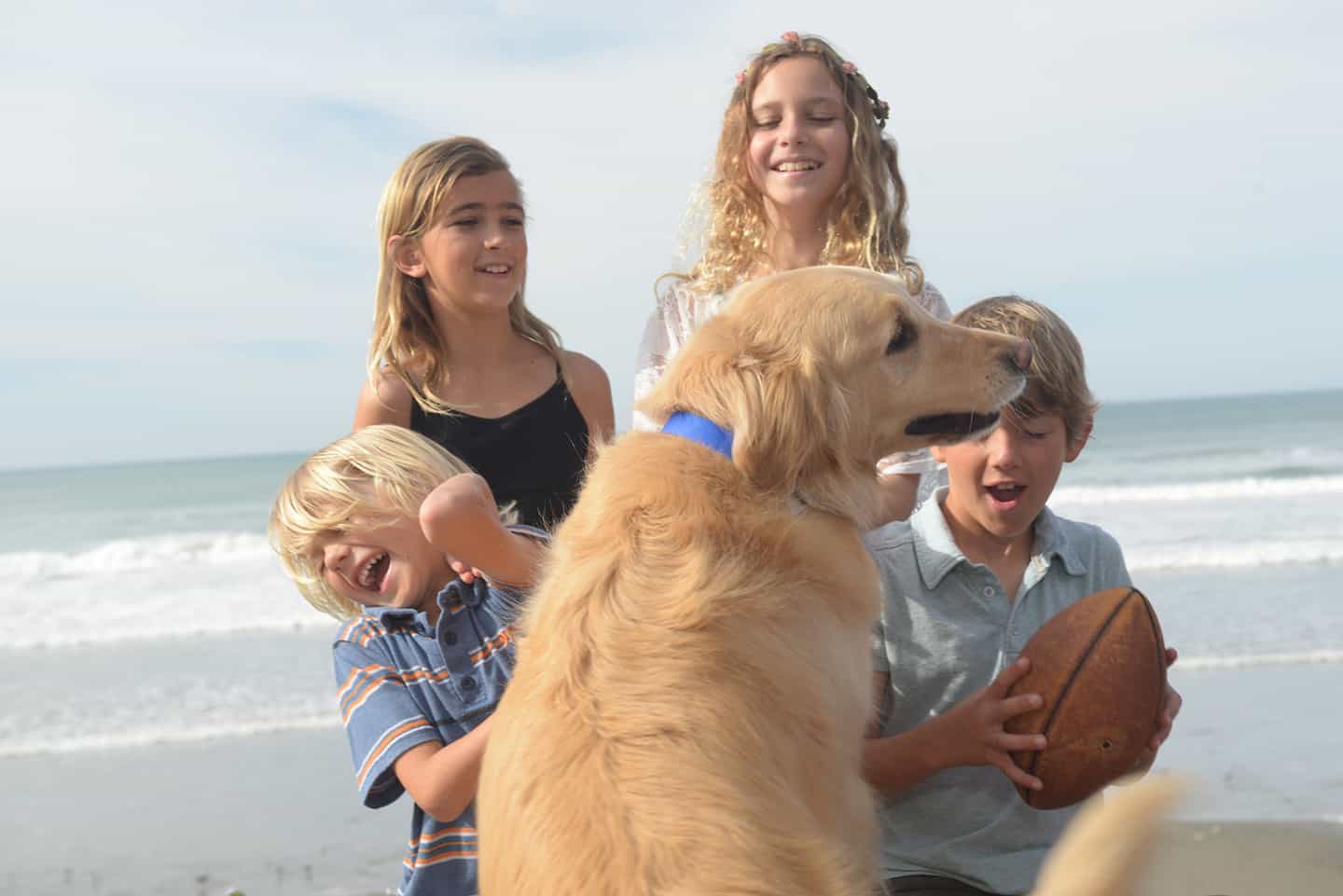 Dog-friendly Parks
Nipomo Dog Park
Located at the 140-acre Nipomo Regional Park, this dog park spans two of those acres with lots of different features to sniff and explore. Well maintained, fully fenced and shady, the Nipomo Dog Park offers two different areas for different-sized dogs. Choose from the large dog or small dog areas, depending on your pup's comfort level and ability and willingness to socialize. A good time is had by all when well-behaved, non-aggressive dogs can play and tumble together—no leashes necessary! Water and Mutt Mitts are available on site, as well. If you have time, plan to visit the adjacent Nipomo Native Garden, with Fido on leash. The garden features seven trails in which to walk and see native plants to the Nipomo area. Nipomo Regional Park also offers tennis courts, sand volleyball pits, and BBQ/picnic facilities, as well as restrooms.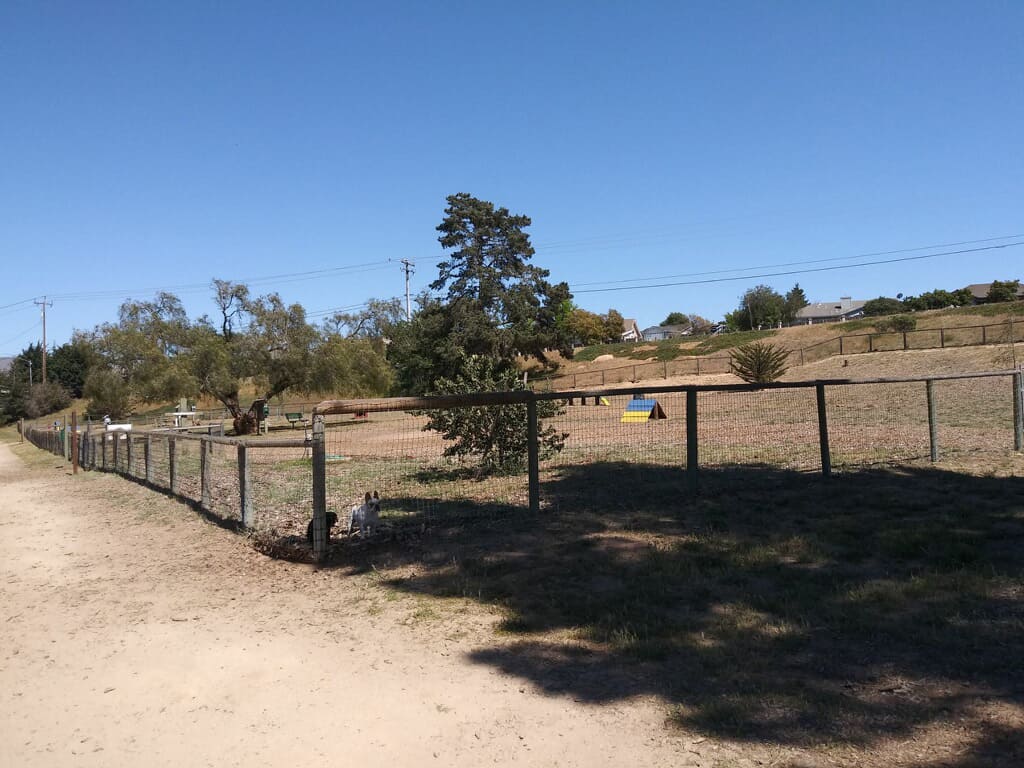 #Dogfriendly