Regularly named one of the happiest, healthiest, and friendliest cities in America, San Luis Obispo's downtown corridor has plenty to do, see, and taste. Downtown SLO (as locals call it) is small enough to stroll in a morning, afternoon, or over the course of a leisurely day. With many independently-owned businesses, it's easy to support the local economy. Stop into bookstores and comic stores, record stores, surf shops, vintage shops, toy stores, and clothing boutiques for one-of-a-kind finds. Wander into an art, history, or children's museum for an afternoon of learning, creativity, and beauty. Downtown SLO is home to several fantastic theaters, ranging from a historic concert venue and arthouse cinema to an award-winning repertory theater. It's also the site of Mission San Luis Obispo de Tolosa, established 1772,  whose outdoor plaza still serves as the heart of downtown. Locals and visitors alike flock to the famous Downtown SLO Thursday Night Farmers' Market for fresh produce, entertainment, BBQ and more. For transportation, riding the Old SLO Trolley is one of the best ways to get around downtown San Luis Obispo in style. But whatever you do in downtown SLO, don't miss the chance to witness Bubblegum Alley, the city's stickiest and perhaps its most famous landmark. Located on Higuera Street between Garden and Broad Streets, Bubblegum Alley is covered in wads of chewed-up bubblegum, and invites visitors to contribute. To add to this bizarre attraction, pick up bubblegum at nearby SLO Sweets or Rocket Fizz.
Since 1974, Boo Boo Records has supplied San Luis Obispo with music, from vinyl and CDs to magazines, music-related gifts and gear. The shop has been named by Rolling Stone Magazine as one of the best record stores in the nation for its impressive selection and service. Wander inside and check out the newest releases in rock, pop, metal, hip-hop, rap, jazz, folk, and classical music. Boo Boo's is known for its inventory of vintage vinyl, which can be found at the back of the shop in the "Wax Museum." Here, you'll also find turntables, needles, mics, and other gear for DJs and enthusiasts, plus new release vinyl. The back of the shop also includes a stage where touring musicians play on their way through town. Pick up books, gifts, limited edition art prints, guitars and ukuleles, pins, decals, and more. And don't miss Boo Boo's famously soft tees, hoodies, cycling gear and onesies for even the littlest music lover.
A legendary surf shop with decades of history, Central Coast Surfboards offers everything for the surf and skate-centered lifestyle. Known as CCS by the locals, Central Coast Surfboards carries a wide variety of surf products. Pick up a board from brands like Firewire, Haydenshapes, Surf Prescriptions, Roberts, Rusty, Clandingus, Somma Special Designs, and Soft Tops. You'll also find bodyboards, skimboards by Victoria, and accessories like fins, wetsuits, traction pads, leashes, board bags, and wax. In the skate department, pick up decks from brands like Enjoi, Blind, Antihero, and Hood Ritual, and trucks by Bullet, Carver, and Independent. CCS carries a great selection of apparel, from branded CCS gear like tees, sweatshirts, hats, and beanies, to makers like Volcom, Roxy, and Billabong. Don't forget the sandals: this is the place to grab Rainbow and Reef sandals for the whole family. Make a trip to CCS for something specific or just to shop around. Bonus: kids love the surfboard bench outside the shop, as well as the large saltwater aquarium inside.
In 1986, a young SLO local named Randy Adler started his own shop to celebrate the surf and beach culture of San Luis Obispo County. Its name? Moondoggies Beach Club. What was once a little shop has since become a local institution, carrying the best in surf, skate, and lifestyle. Walk around downtown SLO (or just about anywhere along Highway 1) and you're bound to see their red, yellow and green logo. Moondoggies offers a wide selection of surfboards, beach gear, and accessories like leashes, bags, wetsuits and wax. The shop is also a certified retailer for Patagonia, with a well-curated inventory of jackets, shorts, hats, beanies and more. Men, women and children will find clothing for on and off the beach, including shorts, pants, tops, skirts, dresses, sweaters, and more. A favorite buy at Moondoggies? A warm and cozy Moondoggies-branded hoodie, perfect after a day spent in the waves.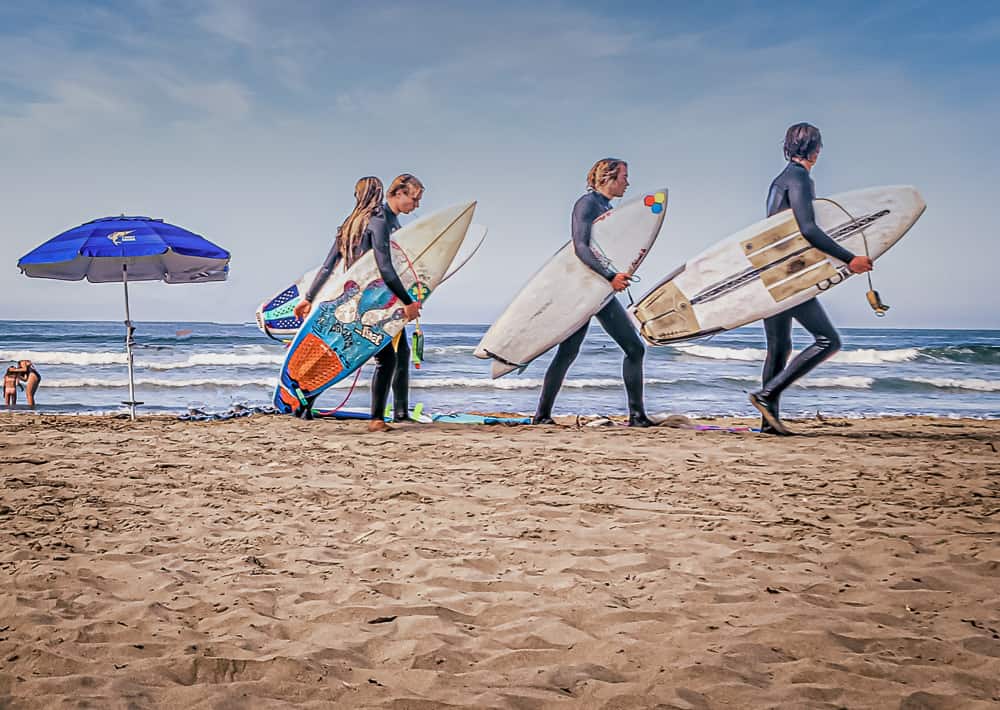 Located in the historic Muzio Market & Deli building on Monterey Street, The Junk Girls features upcycled, repurposed, antique, found and vintage art and decor. Nearly everything in the shop is one-of-a-kind, from a lamp made from an antique piano dolly to hand-stamped sterling silver forks. Expect to find antiques, art and lighting for the home, as well as jewelry, gifts, and greeting cards. Everything in the shop bears the stamp of its maker, and has a deep history that contributes to its patina. Owners Jenny and Melissa keep the inventory fresh with new items coming in all the time, making every visit to The Junk Girls special. Fans of anything vintage or "shabby chic" will enjoy walking through the large historical space and perusing its goods. Leave yourself plenty of time to explore the collection, and be sure to pick up something unique for yourself or for someone you love.
This clothing, decor and gift store in downtown SLO excels at fashion-forward, on-trend pieces and personalized, friendly service. Two young moms opened the shop in 1988; today, the shop is operated by one of those moms and her daughter. The vibe is young, fresh, and a little on-the-edge, with a conscientious yet  rebellious spirit. Expect to find name-brand clothes here that are unavailable anywhere else on Highway 1. The shop has also expanded to include home goods like latch-hook pillows, neon lights, disco balls, and other eclectic decor. One of Blackwater's specialties is plants and containers. Find fiddlehead ferns, creeping charlie, begonias, and other houseplants, as well as pretty containers and accessories. The displays at Blackwater are always appealing — especially during the holidays. Wander the shop, purchase crystals, greeting cards, games, glassware, artwork and more in a comfortable atmosphere. You can always count on finding something of-the-moment and unexpected here.
This popular used bookstore opened in the J.L. Andrews building in 1981, and has delighted bibliophiles ever since. Located on Monterey Street, Phoenix Books features gently used books, as well as rare finds and consignment volumes. The store's footprint comprises two storefronts with plenty of space, though visitors are always struck by the abundance of Phoenix's inventory. Whenever the store is open, you'll find a black library cart filled with discounted used books outside the front door. Once inside, the long exposed brick wall covered in bookshelves and local artwork leads to a loft with more books upstairs. Subject matter includes fiction, nonfiction, art books and folios, cookbooks, children's books, science fiction, self-help, mysteries, and more. Phoenix is also well-known for its romance and erotica section, and is visited by fans from all over. Pop in for the thrill of the search for your next favorite book: you never know what you'll find in stock.
Since 1966, Tom's Toys has supplied San Luis Obispo locals and visitors with high-quality toys, books, games, and more. This is an old-school toy store with something for everybody — especially those Lego fans. As one of only 38 Lego "Gold Standard" stores in the country, Tom's Toys has the latest and greatest from the Lego universe. (Be sure to look at the Lego displays in the shop's front windows!) Tom's Toys has two large floors of toys, including brands like Cozy Critters, Bruder, Melissa & Doug, Duncan, Playmobil, and Brio. On the first floor, the first thing you'll notice is the motorized carousel horse, available to ride for just 50 cents. Beyond that, a wide, dramatic staircase leads to the second floor for puzzles, stuffed and plush animals, Lego sets, dress-up, books and scooters. Don't miss the wide selection of board and card games on the first floor, as well as dolls, trucks, and infant toys.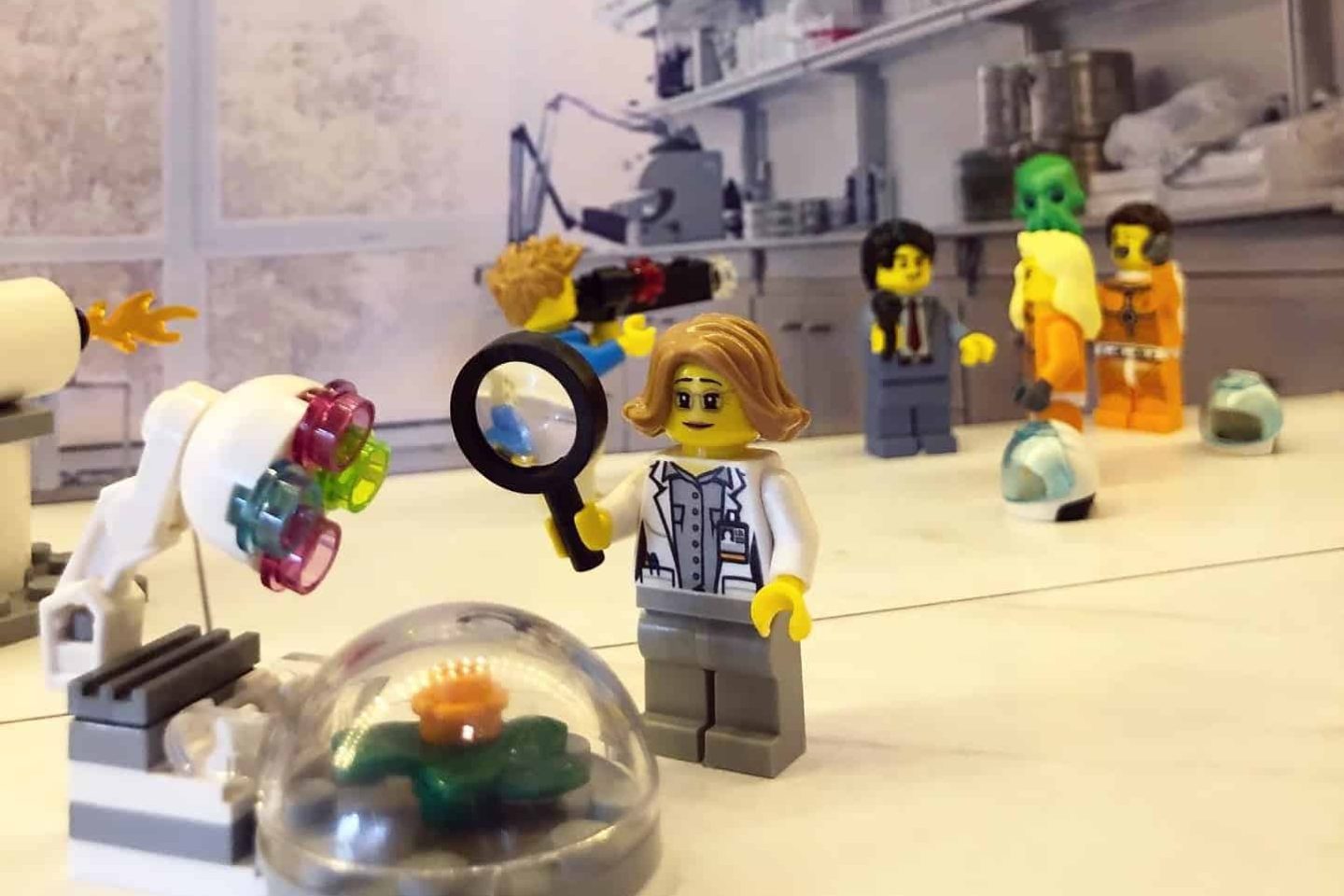 One of the jewels of San Luis Obispo's independently-owned businesses, Dr. Cain's Comics stocks everything the comic book-lover could need or want. Though its footprint is small, Dr. Cain's keeps a large and varied inventory, with up-to-date comics, graphic novels, and superhero merchandise. The shop caters to all ages, with series like Dogman and Nathan Hales' Hazardous Tales to Image, Marvel and DC. Games from international gamemakers like Days of Wonder, Lillebud, and Rio Grande Games can be found here, as well. Get limited-edition, locally-designed illustrated tee shirts featuring iconic SLO spots like Mission San Luis Obispo de Tolosa and the Fremont Theater. Don't miss Free Comic Book Day every May, a promotional event to support locally-owned independent comic book stores in which Dr. Cain's participates. Pick up a free comic, enter a raffle or giveaway, and meet like-minded readers.
As one of the most famous farmers' markets in the country, the downtown SLO Thursday Farmers' Market hardly needs any introduction. Though it does include fresh products sold by farmers, cheesemakers, ranchers, and beekeepers, the event is more like a weekly street fair. Every Thursday from 6pm to 9pm, the city closes Higuera Street between Osos and Nipomo Streets to vehicle traffic. Local artists, restaurants, nonprofit and organizations — as well as farmers — set up booths along the sides of the street. The Thursday night downtown SLO Farmers' Market began in 1978 when local businesses sought to curb cars cruising Higuera Street on Thursday nights. They shut down the main thoroughfare and invited customers to walk freely on the street while they shopped. Today, the market is iconic. Pick up Santa Maria Style BBQ from the Ribline and FM McLintock's, or indulge in a strawberry shortcake. Watch live entertainment at each of the cross streets: Nipomo, Broad, Garden, Chorro, Morro and Osos. And don't miss the citrus, lettuces, nuts, mushrooms, greens, honey, and preserves from farmers' market vendors.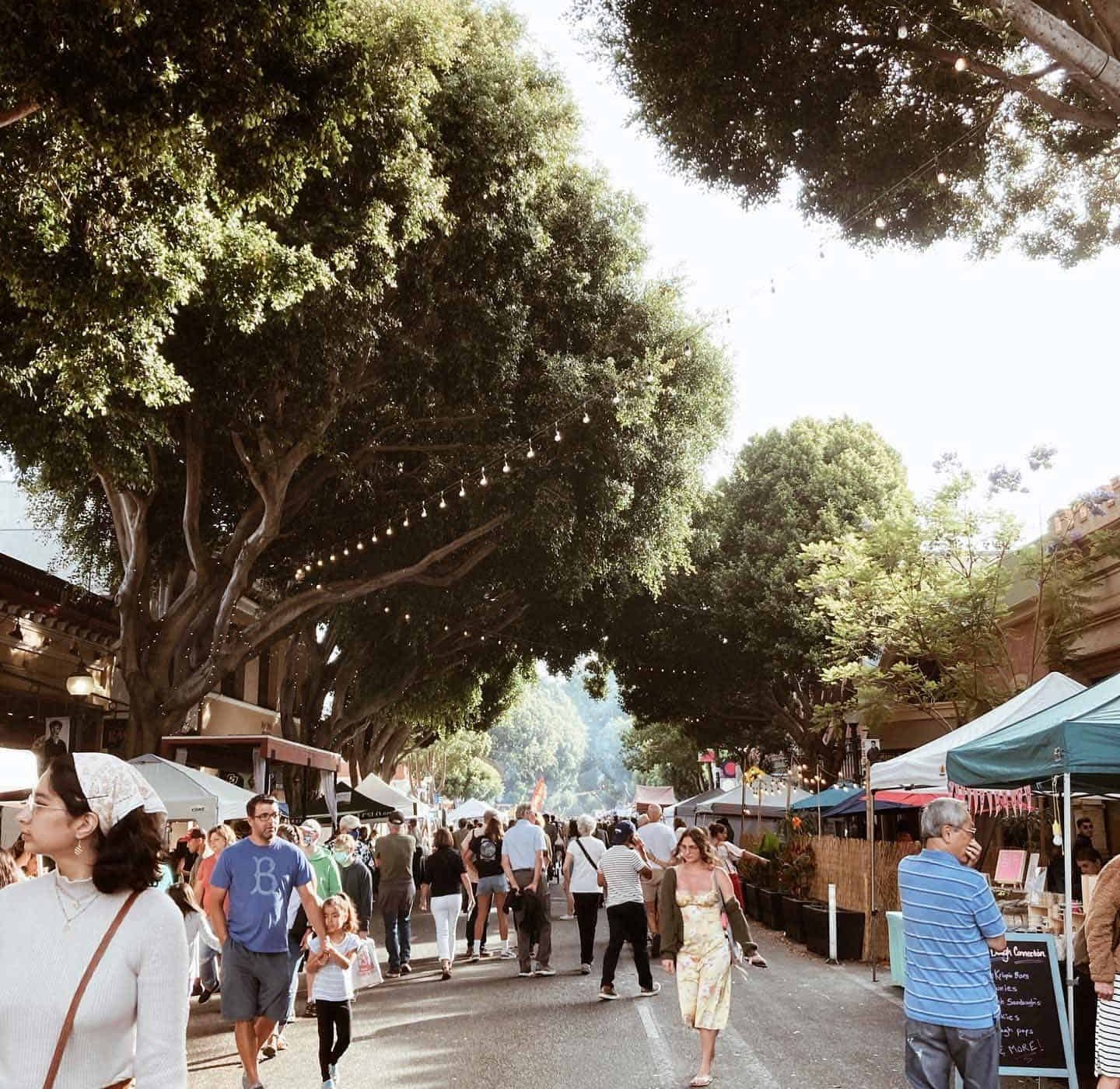 If you love arthouse films, you belong at The Palm Theatre in downtown San Luis Obispo's historic Chinatown. This small-but-mighty theater features the best in independent, foreign, and arthouse film, as well as mainstream cinema. The Palm Theatre opened in its current location in 1988 as the one-screen Rainbow Theatre. Today, it comprises a total of three screens that center on alternative cinema, with first-run foreign films, classics, and midnight showings. The theater also hosts the annual SLO International Film Festival, and supports the work of up-and-coming filmmakers both near and far. From the snack bar, enjoy what's been called "the best movie theater popcorn on the Central Coast," as well as other reasonably-priced nibbles. Don't miss the hallway that's been hand-painted with portraits of screen stars, young and old. This is one of the rare independently-owned theaters in the U.S., and the attention to detail shows. Case in point: The Palm Theatre is the country's first movie theater to operated completely on solar power.
Fans of historic buildings, art deco, and vintage movie theaters will delight in San Luis Obispo's Fremont Theater. This iconic spot opened in 1942 with the film "This Above All," starring Tyrone Power and Joan Fontaine. To commemorate the occasion, the theater hosted a who's who of celebrities, including comedians Laurel and Hardy. The theater exuded glamor then, and it still does today. With its towering neon marquis, pink facade and swirling hand-painted ceiling, the Fremont Theater remains an impressive landmark. The film screen is one of the largest on the Central Coast, and the seating capacity is, too, at over 1,000 seats. While the theater began as a single-screen cinema, it is now an in-demand live events venue. The stage has featured artists from George Clinton and Charlie Parker to the Pixies and Jimmy Eat World. Other events include auditions for American Idol and the annual San Luis Obispo International Film Festival.
With a long history of excellent performances, the San Luis Obispo Repertory Theatre presents year-round live theater in downtown SLO. In fact, it's the only nonprofit, professional theater in San Luis Obispo County. Originally opened as the San Luis Obispo Little Theater in 1947, this organization has produced thousands of plays. From slapstick to whodunnits, dramas to musicals, SLO REP has something for everyone. Previous shows include classics like Blithe Spirit, Our Town and Annie, as well as modern plays like Proof and Picasso at the Lapin Agile.  In addition to its regular season, SLO REP produces a series of reader's theater nights called "Ubu's Other Shoe," featuring intimate, stripped-down plays. Another program called "After Hours" highlights adults-only pieces authored by local playwrights. Don't miss the holiday productions of The Christmas Story and The Santaland Diaries: two favorites for  locals and visitors alike. And for young dramatists, check out productions by the Academy of Creative Theatre for inspiration and entertainment from performers ages 5 to 18.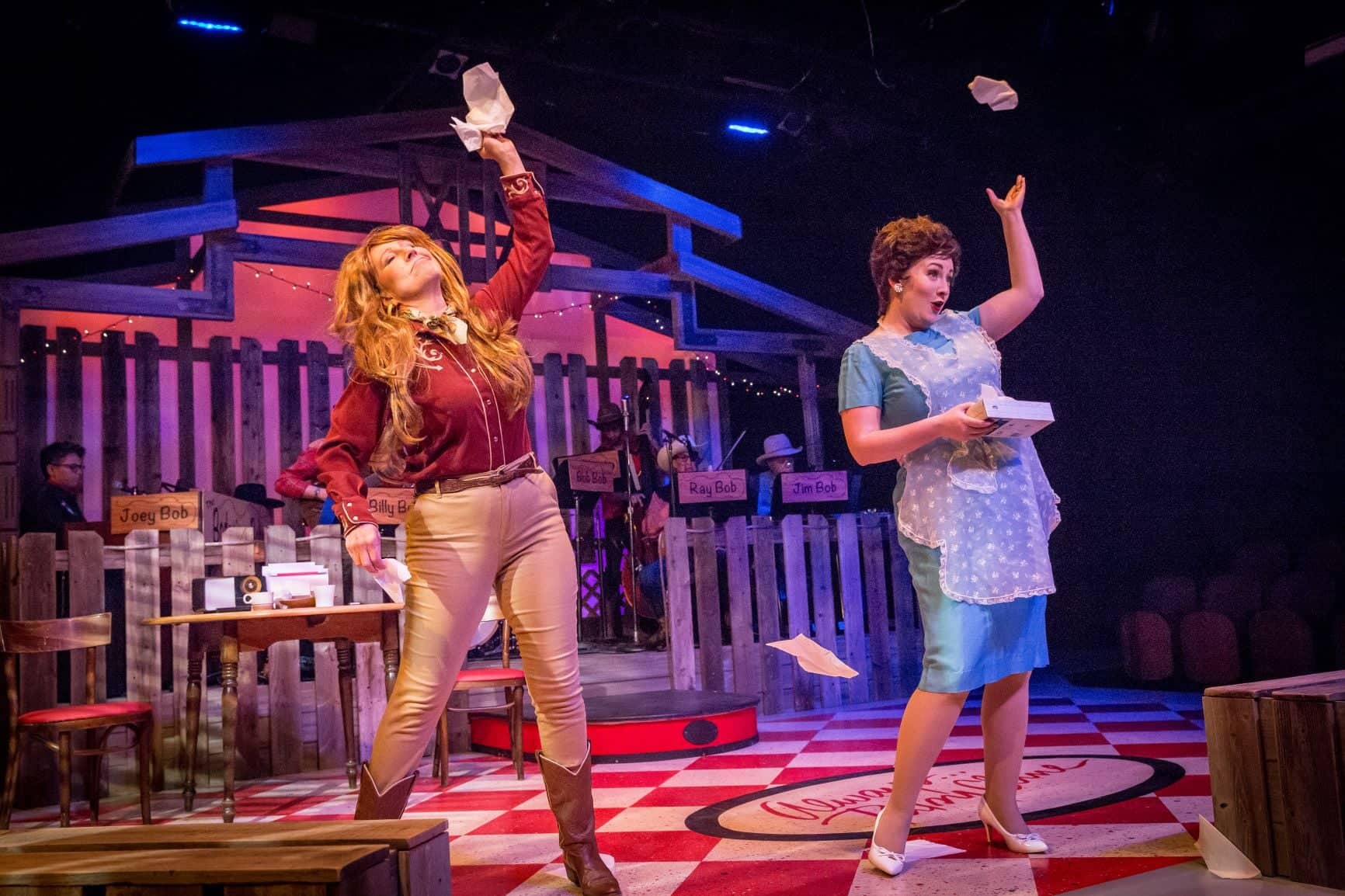 Much of what exists in San Luis Obispo can be traced back to the establishment of Mission San Luis Obispo de Tolosa. Founded in 1772, this Spanish colonial church is the fifth of 21 California missions to open. It is also one of only nine of the California missions founded by renowned Spanish Franciscan priest Junipero Serra. While some California missions have fallen into disrepair and/or disuse, Mission San Luis Obispo de Tolosa remains an active church today. Mass is still held daily in the chapel, and the plaza outside continues to act as the heart of the city. Mission Plaza looks out over San Luis Obispo Creek, and hosts regular events. These include Concerts in the Plaza throughout the summer, cultural festivals, holiday happenings and other pop-up events throughout the year. Kids love to roll on the grass, visit the burbling creek, and sit on the back of the bronze bear statue fountain. Youth and grownups like learning about the mission through docent tours, a small museum and the gift shop inside. Admission to the mission is free.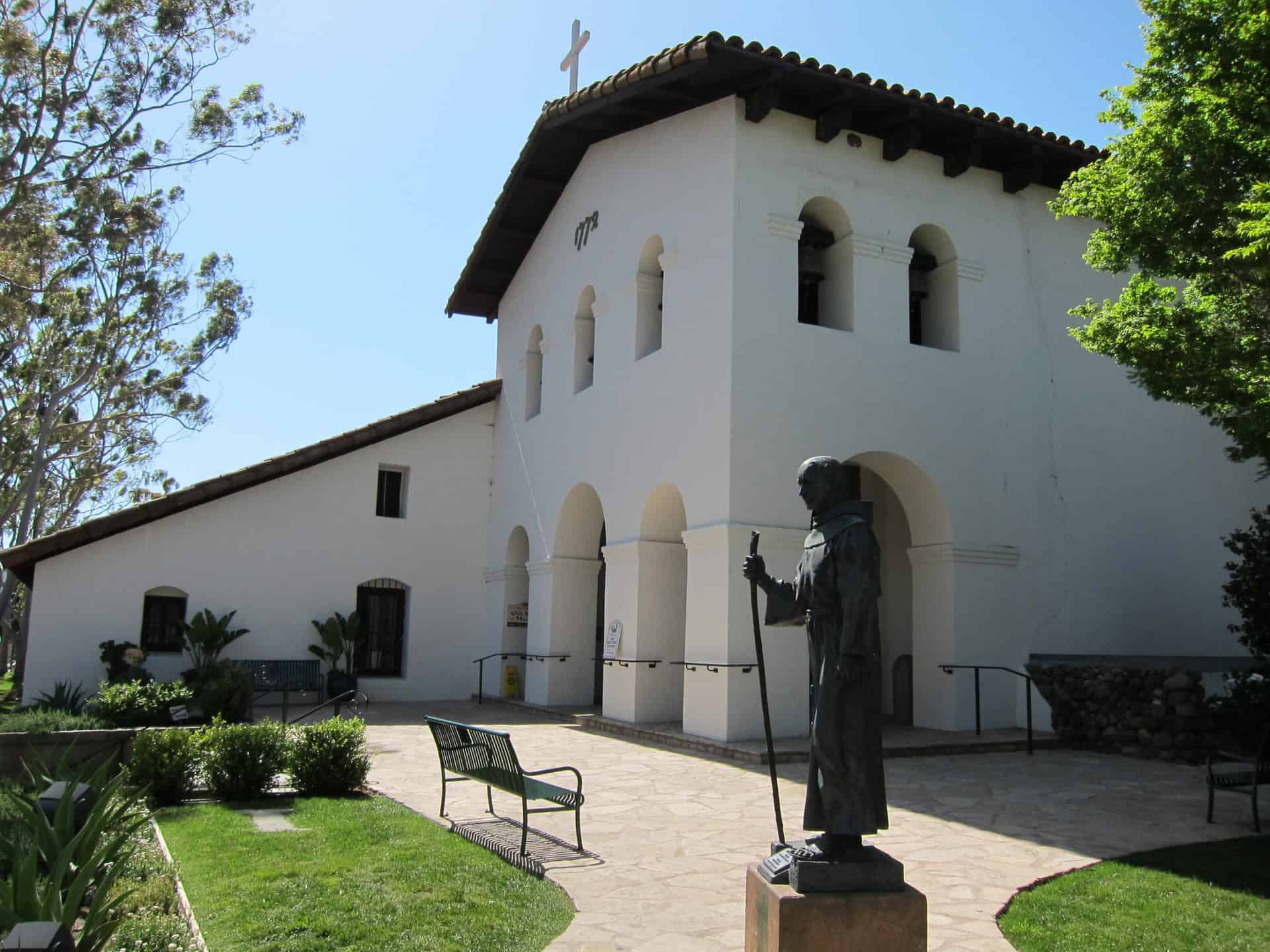 Since the 1950s, the San Luis Obispo Museum of Art (SLOMA) has made and maintained space for artists to show their work and for visitors to experience it. The building sits at the west end of Mission Plaza, and serves as an anchor for San Luis Obispo's cultural corridor. The museum boasts an impressive permanent collection featuring works from local, national and international artists. As for special shows, current exhibits rotate regularly so it's worth visiting SLOMA regularly to keep up with what's new. Examples of SLOMA exhibits include a wide variety of artists, media, and perspectives. "Calafia Was Here" is a large-scale mural project painted on the exterior of the museum in 2022. Another exhibit called "Collision" highlights psychedlic textile work that shows Persian rugs that drip, unravel and pool on the floor. The "Imprinted" show features a printmaking collaboration with the Central Coast Printmakers. And "Poem of the Body" shows a joint exhibition of the work of David Limrite and Lena Rushing. Also make a point of visiting the public art installations around town, including a rotating outdoor sculpture outside the museum.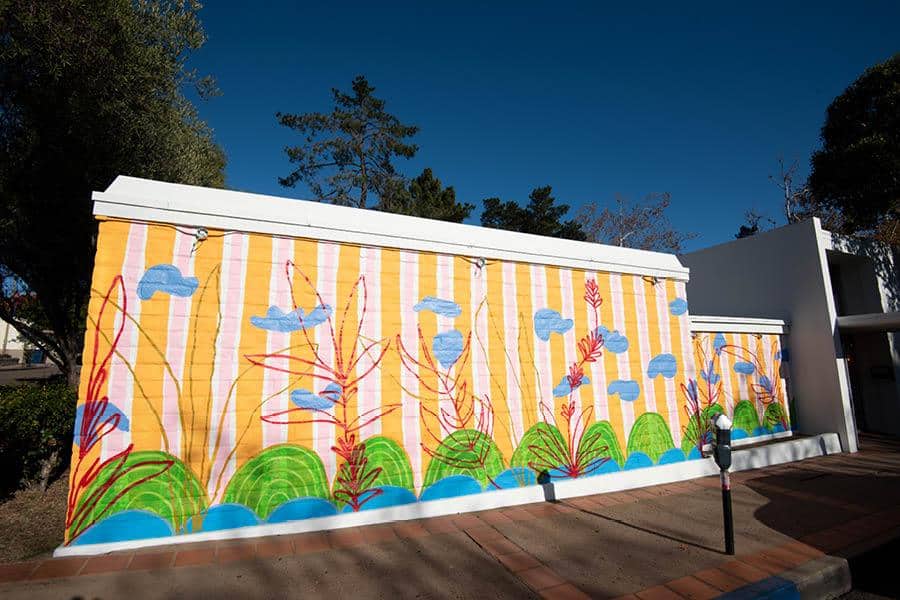 The San Luis Obispo Children's Museum offers a wide array of exhibits, activities, and spaces just for kids. The Children's Museum lies at the corner of Nipomo and Monterey Streets, and the building itself is a wonder to behold. The museum features three stories of fun for children, from infants to teens. On the first floor, learn about earthquakes by building a structure strong enough to withstand the gyrations of a crank-powered motor. Or test your gaming skills with interactive apps projected on the large back wall. Dig for fossils, operate a Mars rover, and even make a claymation video; the first floor is dedicated to older kids. The second floor highlights imagination play, with a child-sized fire station, city bus, restaurant, theater and farmer's market to operate. Sit in the pendulum of a giant clock, climb to the top of a netted play structure and talk with a friend via the magic of sound travel. On the third floor, the littest explorers can enjoy building blocks, a sweet reading nook and a Brio train table with lots of pieces. And don't miss the outdoor area with a water table, sit-and-spins, and music-making percussion instruments.
The San Luis Obispo History Center lies in the historic Carnegie Library adjacent to Mission San Luis Obispo de Tolosa and Mission Plaza. This stately stone and brick building offers an ideal location and venue from which to share San Luis Obispo County history. Walk the steep stone steps to the entrance and enjoy a wealth of historical photos, books, remembrances, and items from early life here. The non-profit museum takes the appreciation and preservation of SLO County seriously, with a research room and collections of photos, artwork and clippings. In 1953, the History Center brought together its collection of pieces and institutional memory to establish its mission to educate and preserve SLO County history. Since then, it has served as a hub of information and scholarship, both for students of history as well as those with a casual interest. Visit the SLO History Center to experience earlier days, whether during the Chumash era, the age of the California Missions, or the Great Depression.
Make a day (or several!) of strolling downtown San Luis Obispo. It's easy to stop in at a variety of eateries located within the downtown corridor. And don't forget your caffeine! San Luis Obispo has one of the highest number of coffee shops per capita in the nation. Check in at any number of cafes for an espresso drink, cup of coffee, or piping mug of tea. For liquid assets of another sort, head out to the Edna Valley for a wine tasting adventure. Here, find 2,000 acres of rolling vineyards and nearly 30 wine tasting rooms to choose from. In the mood for the most beautiful ocean views on Highway 1? Drive north on Highway 1 to Ragged Point, where the "Million Dollar View" beckons at the gateway to gorgeous Big Sur. Along the way, don't forget to visit the Elephant Seals at the Elephant Seal Rookery just north of San Simeon. There, you can see one of the largest populations of these majestic creatures in the world.