With its extravagant antiquities, architecture, and heritage, Hearst Castle welcomes hundreds of thousands of visitors each year. Once the home of businessman William Randolph Hearst, this hilltop estate awed and entertained the luminaries of his time. Winston Churchill, Hedda Hopper, Greta Garbo, Clark Gable and Charlie Chaplin all stayed and played on his "Enchanted Hill." After Hearst's death, the estate opened its doors to the public in 1958. Today, it stands much as it did during his lifetime, comprising 90,000 square feet and Hearst's world-class art collection. In fact, it's the only California State Park that is an art museum accredited by the American Alliance of Museums.
"Few places better capture the opulence of early–20th century California than Hearst Castle, the 165-room former personal estate of publishing magnate William Randolph Hearst. The property, which will celebrate its centennial next year, has its own theater, billiard room, beauty salon and pair of dazzling swimming pools. The Neptune Pool, in particular, is the stuff of legend, with a Vermont marble basin and alcove as well as vast colonnades flanked by a quartet of Italian relief sculptures." ~ Ashlea Halpern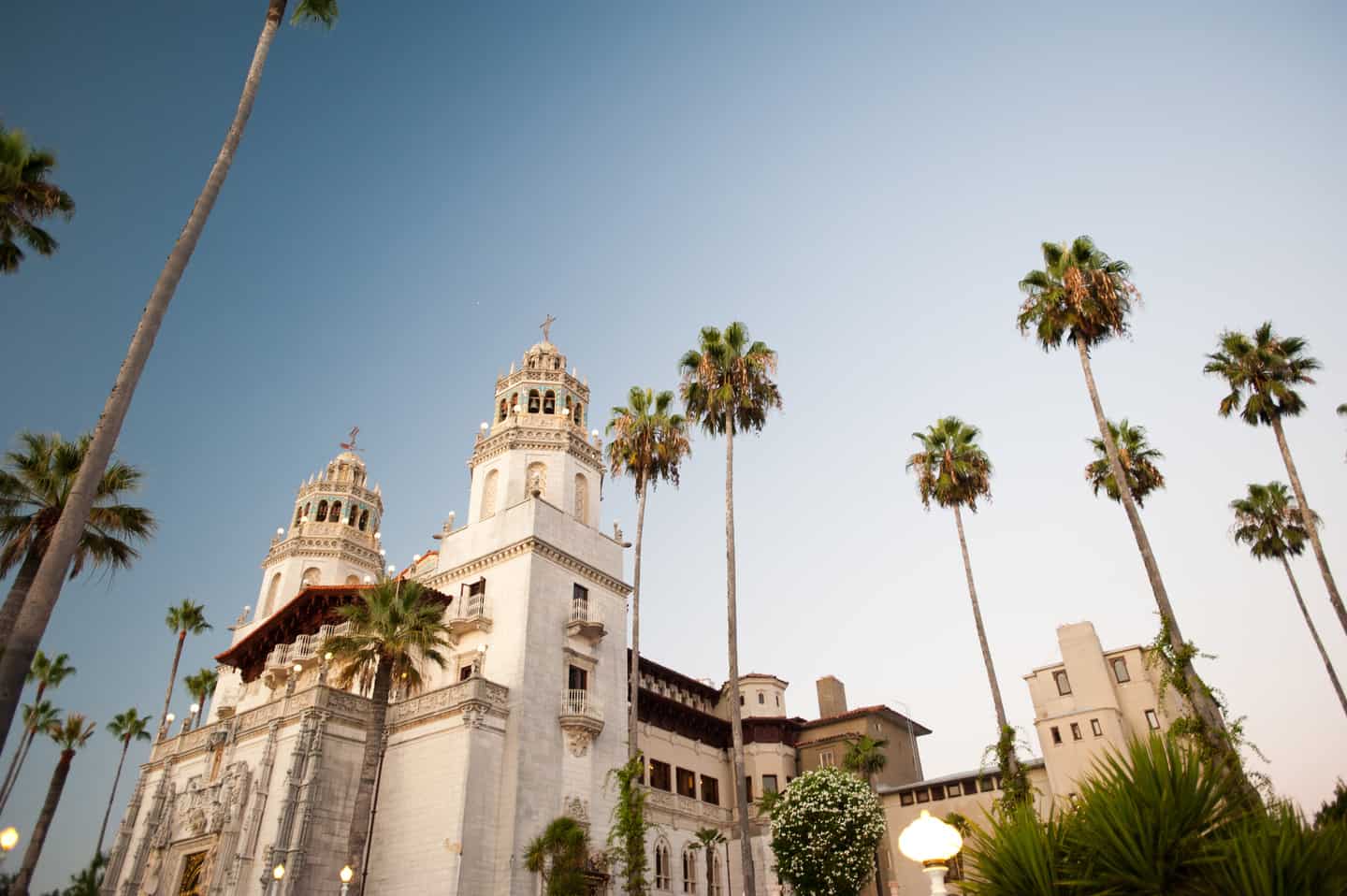 In 1865, Hearst's father George, a wealthy miner, purchased about 48,000 acres from Rancho Piedra Blanca, a Mexican land grant. George Hearst also bought portions of adjoining Rancho San Simeon and Rancho Santa Rosa. After his death and that of his wife, Phoebe, ownership of the property went to their son, William Randolph Hearst.
With additional land purchases W. R. Hearst eventually grew the ranch to encompass about 250,000 acres. Originally called "Camp Hill," its wilderness offered a place for family members and friends to "rough it" on camping trips. Despite elaborate arrangements, Hearst envisioned more comfortable accommodations. In 1919, he told San Francisco architect Julia Morgan, "I would like to build something up on the hill at San Simeon. I get tired of going up there and camping in tents. I'm getting a little old for that. I'd like to build something that would be more comfortable…"
Hearst and Morgan's collaboration was destined to become one of the world's greatest showplaces and later an accredited museum. As they built his dream home, Hearst renamed the site "La Cuesta Encantada"― Spanish for The Enchanted Hill. That hill would see lavish parties and celebrity visits between 1919 to 1947, when Hearst finally left the property.
Among the most awe-inspiring attractions on California's Central Coast, Hearst Castle tours bring history vibrantly to life. Enjoy panoramic views of the Pacific and Hearst's thousands of acres of ranch land. Wander the gardens and witness ancient artifacts Hearst collected. Experience the luxury of the Neptune Pool, the Library, Billiard Room ― even watch historic film footage in the Theatre! With several options to choose from, you're sure to find a tour that satisfies your curiosity.
Year Round Tours at Hearst Castle
Gather in the grand social rooms of Casa Grande ― the largest house at Hearst Castle ― to experience what it was like to be a guest at this hilltop retreat. Includes the Assembly Room, Refectory and Billiard Room. Recommended for first-time visitors, this tour also has the fewest stairs to climb. 60 minutes.
Assembly Room
Enter the grand social room on the ground floor of Casa Grande just as W. R. Hearst's guests did decades ago. Here, celebrities of the day would savor cocktails and conversation in anticipation of their esteemed host. Admire the magnificent room's walnut paneling, Renaissance and Baroque tapestries and masterpieces of neoclassical sculpture.
Refectory
Named in homage to the ancient monastery dining halls of Europe, the Refectory is where Hearst hosted lavish dinner parties and social occasions. While the room's high windows, bright silk banners and gleaming silver candlesticks convey the atmosphere of the Middle Ages, the still-preserved mustard and ketchup bottles show that Mr. Hearst liked to keep things informal at his "ranch."
Billiard Room
The Billiard Room provided a relaxed area for Hearst's guests to relax and play both billiards and pool. Decorated in a variety of gaming themes, it also boasts a 15th century Spanish ceiling emblazoned with scenes of courtly life. Be sure to keep an eye out for a rare Flemish tapestry dating back to the year 1500.
Theater
Silver screen magic was always a cherished part of the Hearst Castle experience, and today is no different. The Theater is where Hearst and his Hollywood film star girlfriend, Marion Davies, joined guests to watch full-length movies and newsreels. Watch in awe as the screen flickers to life, showing historic Castle footage of Mr. Hearst and his famous guests.
Explore the upper floors of Casa Grande and its winding staircases to see exactly how Hearst and his guests lived at the Castle. This tour includes the Doge's Suite, Main Library, Gothic Suite, and Duplex Guest Suites. 60 minutes.
Doge's Suite
Step into the richly decorated Doge's Suite,  inspired by the ornate chambers of Venice's famed Doge's Palace. Admire the magnificent painted antique ceiling, marble balcony and mountain views that welcomed guests here decades ago.
Main Library
This impressive and vast library houses more than 4,000 books, and also showcases one of the Castle's most treasured collections: 150 ancient Greek vases, all more than two thousand years old. At 80 feet in length and filled with precious objects, the Library made a grand impression on Mr. Hearst's guests, both old and new.  
Gothic Suite
The third floor Gothic Suite might have been one of the closest to Mr. Hearst's heart: after all, this is where you'll find Hearst's most treasured collections and sacred objects. Wander through the suite's two bedrooms–including a private sitting room that he and Marion Davies once occupied. Of course, you'll also marvel at the church-like Gothic Study where Hearst conducted the bulk of his business operations.
Duplex Guest Suites
Showcasing Hearst Castle architect Julia Morgan's masterful skill, the Duplex Bedrooms' two tall sitting rooms are a sight to behold. Topped with loft bedrooms and constructed as open light wells, the Duplex Bedrooms were delightful guest accommodations. Stroll through these charming rooms decorated with tapestries and painted ceilings, imagining just what it might have been like to rest your head here.
Discover two very different parts of this fascinating historic attraction. See some of its most personal and practical rooms, including Hearst's Wine Cellar, Casa del Monte, Casa del Mar and industrial-sized Kitchen. 60 minutes.
Wine Cellar
Discover the home of W. R. Hearst's fine collection of wines and spirits—even during the Prohibition Era. Located below the north end of the Assembly Room, the wine cellar is inconvenient in its relation to the kitchen. However, the cellar's placement was probably dictated by the need for a consistently cool temperature, which was more easily maintained on the north side of the building. Though Hearst threw elaborate parties, he was himself a moderate drinker–imbibing in only a glass of wine with dinner. Although San Luis Obispo County is a modern wine-producing region, things were different in Hearst's time. The many grapes grown in his own Pergola area were used for eating only. By all accounts, Hearst's wine cellar showcased bottles sourced from the Alsace, Bordeaux, and Burgundy regions of France and the Rhine and Moselle regions of Germany. Consisting of two rooms with double vault doors, the Wine Cellar is part of the Casa Grande basement and can be seen on the Cottages and Kitchens Tour. 
Casa del Monte
Stroll through the first building ever completed at La Cuesta Encantada, which served as the Hearst family's earliest residence in the summer of 1922. Referred to as "House B," its formal name was Casa del Monte—Spanish for "House of the Mountain"—which referred to the sweeping views of the Santa Lucia Mountains.
Casa del Monte Ceiling
While peering at the ceiling may sound boring, Hearst Castle gives guests a prime reason to do so. While most of the ceilings in Casa Grande date to the late 14th through early 18th centuries and come from Italy and Spain, the ceilings in the guest houses were designed by Julia Morgan and custom-made by craftsmen during William Randolph Hearst's era. Not unlike the two other guest cottages' ceilings, the ceiling in Casa del Monte was made of cast plaster and glistens with 22 karat gold leaf. In addition to numerous classical motifs, the floating masterpiece incorporates many specific local references to decipher: Look for the words "San Simeon" and painstaking renderings of eucalyptus leaves.
Casa del Mar
Referred to as "House A," Casa del Mar—Spanish for "House of the Sea"—is a wonder to observe. This is where Hearst's family stayed there while Casa Grande was under construction, making it a truly unique piece of Hearst's personal history. Stroll through the sumptuous house overlooking the California Central Coast to see where Mr. Hearst lived out the last two years of his residence at this hilltop estate.
The Kitchen
Explore the enormous kitchen where fine meals were prepared for Mr. Hearst and his vacationing guests. The kitchen itself is full of practical devices, including stock pots, industrial-sized mixers and early refrigerators–all fascinating to look at. Admire these mechanical relics of the past alongside the kitchen's rare Monel countertops, a metal alloy of nickel and copper with trace amounts of iron, manganese, carbon and silicon.
This tour focuses on the product of Hearst's working relationship with architect Julia Morgan, highlighting architecture and interior design. The first woman to hold an architect's license in California, Morgan helped Hearst develop his unique home over three decades. Witness her evolution from the Casa del Sol guest cottage and Roman Pool dressing rooms to the 1940's era North Wing. 75 minutes.
Casa del Sol and the North Wing of Casa Grande
Every nook and cranny of Hearst Castle's estate is worth viewing, and Casa del Sol—Spanish for "House of the Sun"—is no exception. Known as "House C," showcases Spanish-Moorish design at its most dazzling. Proof can be found in the deep entrance court, round-arched windows and two small towers decorated with openwork balcony screens. The entire North Wing of Casa Grande was completed in the later years of Hearst Castle's construction (1940s). During this time, design ideas had shifted away from those of the early 20s. Note the terracotta floors and white walls (as opposed to marble or travertine floors, and walls covered in textiles). The result is a surprisingly modern and airy look that invites guests to linger.
Seasonal Tours at Hearst Castle
Offered every spring and fall, this tour allows visitors to view the historic California mansion at twilight. Guests and staff dress in 1930s period attire and wander the Castle as part of the Living History Program. 75 minutes.
Living History Docents
The Evening Tour features a very special element that brings the rich history of Hearst Castle back to life: Living History Docents. Donning period accurate 1930s dress, these breathing embodyments of Hearst's era heighten the drama as the sun sets along the hilltop estate. Available in March, April, May, October and November, this special tour enables you to experience the Castle illuminated at night for an extended adventure (tours run 100 minutes). Watch as Living HIstory Docents move silently through the sumptuous rooms of Casa Grande, painting a picture of daily life. A vintage newsreel in Hearst's private theater rounds out the miraculous evening.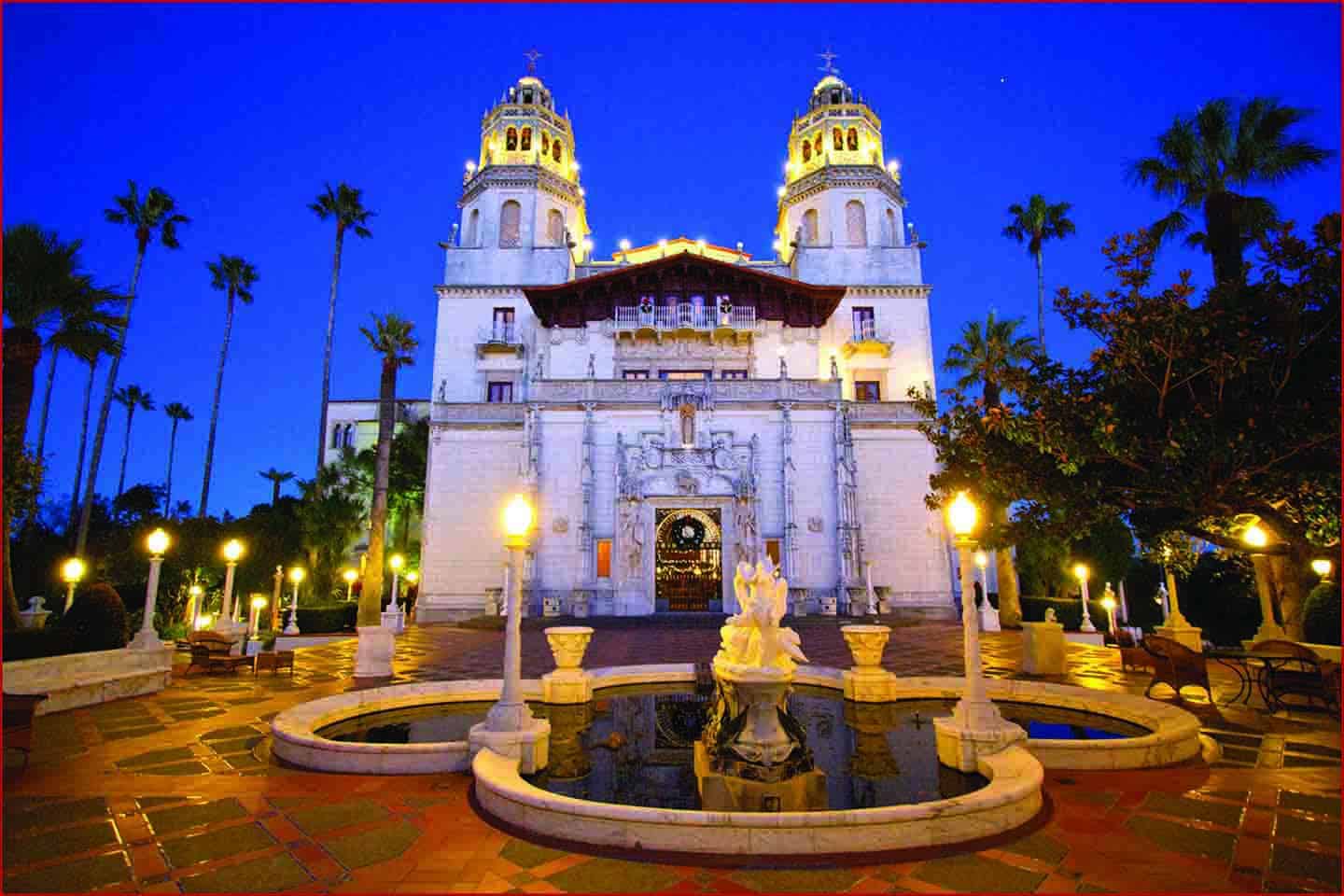 This semi-private tour for eight guests focuses on the many works of art Hearst acquired for the property. Participants will learn about the paintings, sculptures, antiquities, tapestries and other works that comprise Hearst's collection. In addition to four rooms featured in standard tours, this tour includes rooms that remain otherwise closed to the public. (2 hours; not available in summer.) 
Hearst filled his estate with thousands of works of art from around the world. The Enchanted Hill truly doubled as a museum, bringing together centuries-old masterpieces in one stunning setting. These historic objects can still be viewed today among Hearst's gardens, guest houses and Casa Grande. Notable samples from the collection include the Annunciation, Venus Italica and Sculptures of the Goddess Sekhmet, as noted below:
Annunciation
This painting of the Annunciation, one of the most prominent works of art (approx. 8 feet high x 5 feet wide) in the Assembly Room at Hearst Castle, is a masterpiece by the Spanish painter Bartolomé Pérez de la Dehesa (c. 1634 – 1698). Primarily known for his floral still-lifes, Pérez was named painter to King Charles II in 1689. Only a few large-scale figural compositions by him exist. His style is characterized by bold contrasts of pearlescent, pale areas against somber backgrounds. 
Venus Italica
Displayed in the Assembly Room, the Venus Italica is one of Hearst Castle's greatest masterpieces. The composition was created by Antonio Canova (1757-1822) to replace an ancient Greek statue in Florence, Italy, which was seized for France in 1802 during Napoleon Bonaparte's invasion. Canova, at first prepared to carve a copy, instead invented a new figure, called the "Italian" Venus, as to distinguish it from the Greek sculpture. Its delicate beauty brought more requests to Canova for additional examples. A sophisticated Russian aristocrat wanted one, but he never finalized the purchase. Instead, Napoleon's brother bought the statue, which was soon sold to the marquess of Lansdowne, a renowned English collector. When the Lansdowne collection was auctioned in 1930, Hearst acquired the statue and several of Lansdowne's ancient Roman sculptures. Late in his life, Hearst donated those to the Los Angeles County Museum. However, the exquisite Venus Italica remained in the Assembly Room.
Sculptures of the Goddess Sekhmet
The four sculptures known as "Sculptures of the Goddess Sekhmet" are carved from diorite (dark granite) and date from the New Kingdom of Egypt (c. 1550-1070 BCE). By far the oldest works of art housed at Hearst Castle, the sculptures portray the bloodthirsty daughter of Ra, the Egyptian sun-god. With the body of a woman and the head of a lioness, Sekhmet literally means "the powerful one," and she wears a disc on her head that symbolizes the sun. Hundreds of images of Sekhmet are known, and many were commissioned by Amenhotep III (reigned 1411-1375 BCE) for the temple of the goddess Mut in southern Karnak. Hearst bought these rare artifacts from different sources; at least one was in his collection in New York before being sent to San Simeon. On his recommendation, Julia Morgan combined them to create this impressive grouping on the esplanade of the Enchanted Hill. Egyptian. Head on the left, 18th Dynasty (c. 1550-c.1295 BCE); three others, 19th Dynasty (1292-1189 BCE).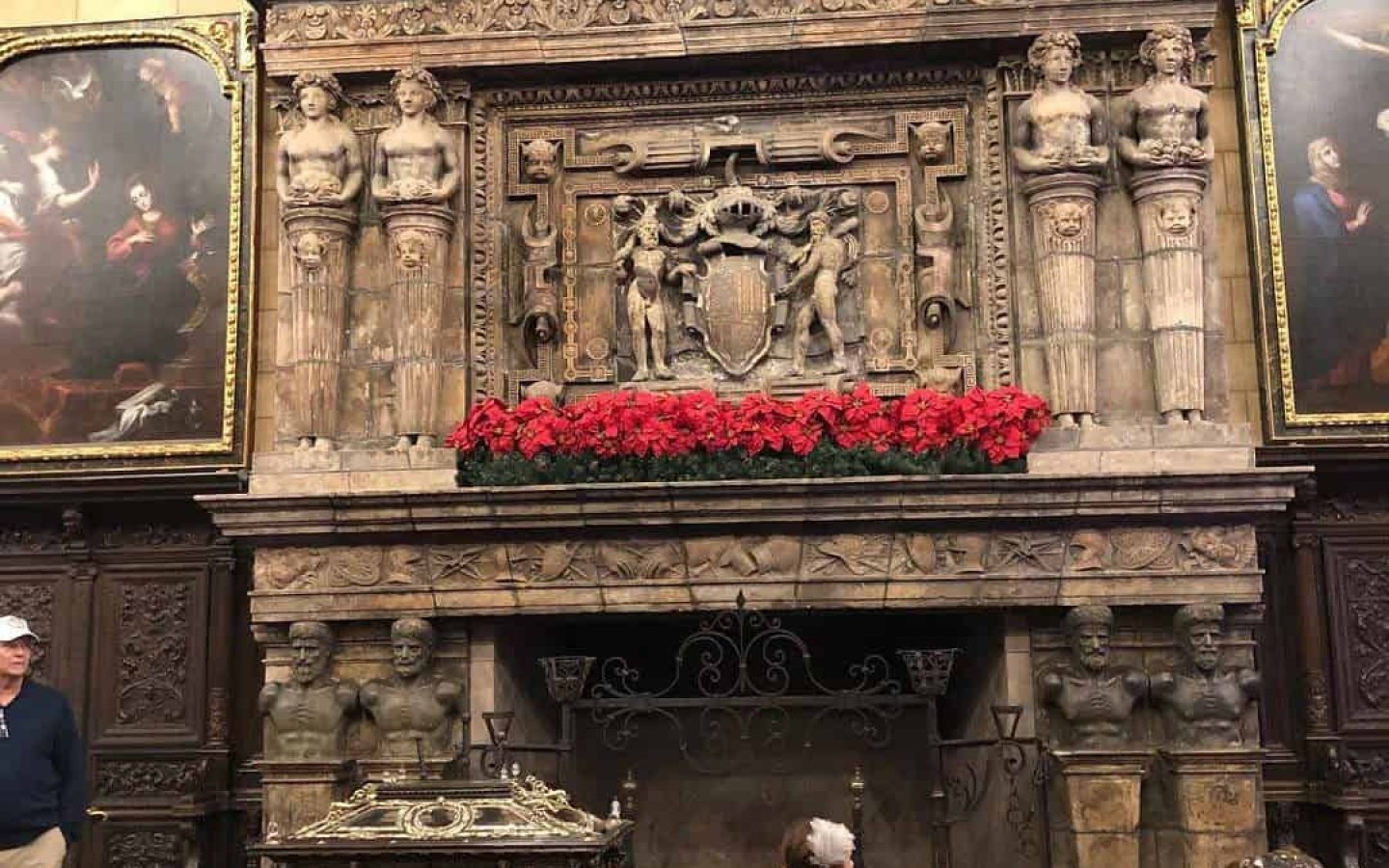 Collaborating with Mr. Hearst for 28 years to build La Cuesta Encantada, mold-breaking architect Julia Morgan made the Hearst Castle dream a reality. Morgan was the first licensed woman architect in California and the first woman architecture graduate from L'Ecole des Beaux Arts in Paris. Her long career spans 700 projects, of which Hearst Castle is number 503. This tour delves deeply into Morgan's life, work and accomplishments with photographic displays of her designs, family photos and personal items. (2 hours, not available during summer.)
As noted above, Northern California's Julia Morgan quietly broke barriers and overcame obstacles as the first licensed woman architect in California. But there is so much more to this incredible engineer and architect born January 20, 1872. Before her death in 1957, Morgan designed more than 700 buildings–including her best known work–Hearst Castle. She also designed many edifices for institutions serving women and girls, including a number of YWCAs and buildings for Mills College. For many of her structures, Morgan pioneered the aesthetic use of reinforced concrete, a material that proved to have superior seismic performance in the 1906 and 1989 earthquakes. She also embraced the Arts and Crafts Movement and used various producers of California pottery to adorn her buildings. She sought to reconcile classical and Craftsman, scholarship and innovation, formalism and whimsy. Morgan was the first woman to receive the American Institute of Architects highest award, the AIA Gold Medal, posthumously in 2014. Her designs went on to grace private homes, college campuses, women's clubs, religious houses, YWCAs, and, most famously, William Randolph Hearst's legendary San Simeon estate. The Julia Morgan tour takes an in-depth look at the life and career of this extraordinary woman, featuring rarely-seen areas of Hearst Castle that highlight her gift for design and keen sense of artistry. Note The two-hour Julia Morgan Tour includes approximately 750+ steps, both up and down. For those who have difficulty walking or standing for lengths of time, the Hearst staff recommends checking out the castle's Accessibly Designed Tours.
Hearst and Hollywood Tour
From the Jazz Age to the Digital Age, Hearst Castle has been a destination for celebrities of the stage and screen. In his day, Hearst hosted some of the most notable figures in Hollywood, from Bette Davis to Cary Grant. This semi-private tour focuses on the connection between Hearst and Hollywood. Participants may choose to visit any of the rooms featured during the four standard daytime tours. (2 hours; not available in summer.)
Hosting dignitaries of the day like Winston Churchill and Calvin Coolidge as well as movie stars like Greta Garbo and Jean Harlow, Hearst's parties were legendary. Cocktail hour saw these varied and illustrious guests rubbing elbows as they awaited the appearance of Hearst himself. Meanwhile, Hearst's charming girlfriend and companion, Marion Davies, would make the rounds with a glowing smile. Beloved for her effervescent personality and warm hospitality, Davies was a massive celebrity in her own right–a former Zegfield Follies girl who went on to become one of the highest paid actresses in Hollywood. 
A typical weekend party at the estate would include 20-25 guests mingling over a few drinks (Hearst did not condone overindulging in alcohol). Later, guests would enjoy a lavish candlelit dinner in the Refectory before ending the evening with a film in Mr. Hearst's private Theatre. While these parties rarely became boisterous, actors like Cary Grant were known to sneak in a little extra booze on the sly. Still, it wasn't as though Hearst was a party pooper: By all accounts, his wait staff was on call from 7 pm on and dinner might not be served till fashionably late at 10 p.m., 11 p.m. or midnight. 
Hearst and his guests reveled in the festivities of the holiday season, and decorating the estate was no exception. Today, Hearst Castle decks the halls for a special tour in the evening, when lights twinkle brightly. Highlights include Casa del Sol, the grand rooms of Casa Grande, the Kitchen, Theater, both pools and the gardens. (75 minutes; available late November through late December.)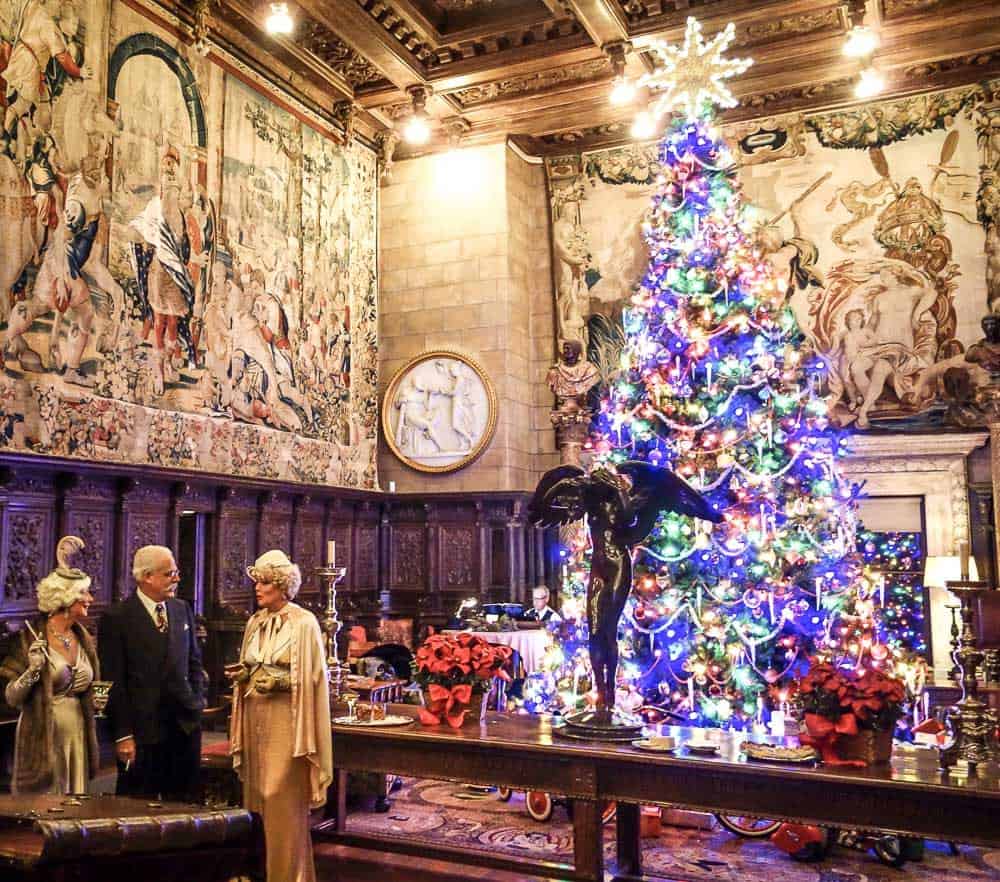 The tour of choice for passionate travelers, this private guided tour accommodates up to six people. Guests may see any area of the estate open to the public on other tours. Tours are offered during normal daytime hours, though availability may be limited during certain seasons. (Up to 4 hours.)
Accessibly Designed Tours (ADA)
Hearst Castle offers many accessibly designed (ADA) tours to accommodate guests. These include visitors who have difficulty climbing or descending stairs, or who can't stand or walk for lengths of time. Accessibly designed versions of tours include:
Grand Rooms Tour (60 minutes)

Evening Tour (75 minutes)

Holiday Twilight Tour (75 minutes)
A place where the who's who of Hollywood once played, the luxurious Neptune Pool at Hearst Castle must be seen to be believed. Finished in 1936, the classical outdoor pool is 104 feet long, up to 10 feet deep, and holds 345,000 gallons of water. A Roman temple façade stands watch over the north end, along with multiple statues of mythical Roman figures. Long stone colonnades flank the poolside, offering shade and seating, and vintage dressing rooms stand as they did during Hearst's time. Perhaps most notable, though, is the pool's 180-degree view of rolling hills and ocean below.
Since its heyday, the Neptune Pool has been a sought-after destination for film crews. Stanley Kubrick filmed scenes from the famous movie "Spartacus" there, and Lady Gaga filmed a music video poolside. Equally breathtaking is the indoor Roman Pool, constructed between 1927 and 1934. Julia Morgan's symmetrical, light-filled design is inspired by traditional Roman baths, with watery "rooms" and hallway links. About 2 million one-inch tiles cover the surface of the pool and walls in dazzling mosaics, reflecting the style of classical antiquity. Elegant finishes include alabaster lamps, marble ladders, and classical statues.
All Hearst Castle tours include a visit to both the Neptune Pool and Roman Pool.
Hearst Castle Visitor Center & Imax Theater
The launching point for any journey up the "enchanted hill," the Hearst Castle Visitor Center offers multiple creature comforts to ensure a pleasant, memorable visit.
Enjoy ample, safe parking in the Visitor Center parking lot before heading inside for your bus trip up the hill. Private vehicles are not permitted on Hearst Ranch.
Restrooms at Hearst Castle
Find clean restrooms available at the Visitor Center before making the trip to Hearst Castle, where options for restrooms are limited.
The Visitor Center offers several dining options for guests' convenience, from a cafe and coffee bar to boxed lunch and dinner options as well as a seasonal barbecue stand.
Hearst Castle IMAX Theater
Admission to the Visitor Center IMAX Theater screening of "Hearst Castle: Building The Dream" is included with every daytime tour ticket. Learn about the Hearst family's fondness for San Simeon and William Randolph Hearst's love of art, architecture and antiquities.
William Randolph Hearst Exhibition
Part of the Hearst San Simeon State Historical Monument, this exhibition shares Hearst family history, artworks, historical photos and documents. The exhibit is free to the public.
Hearst Castle Gift Shop & Bookstore
Find a thoughtful selection of books, jewelry, art pieces, mementos and souvenirs in the Visitor Center gift shop.
The Castle Collection Gift Shop 
No visit to Hearst Castle would be complete without a stop at the gift shops located in the Visitor Center. Find souvenirs, reproductions and even premium-quality fare from the ranches that surround La Cuesta Encantada. The Castle Collection Gift Shop showcases an unparalleled collection of books and tapes about Hearst Castle, plus a variety of gifts and vacation mementos, like T-shirts, posters, glassware, mugs, collectible spoons, charms and other souvenir-related items. Special Hearst Castle videos are also available, so you can relive your tour again and again.
Assembly Collection Museum Shop
Leave Hearst Castle with a new understanding of a bygone era and take a small piece of that magic with you. At the Assembly Collection shop, you'll find meticulously authenticated reproductions of actual Hearst Castle architectural details, art pieces and historic furnishings. In addition, income derived from Assembly Collection sales helps The Hearst Castle Preservation Foundation fulfill its mission to preserve and restore Hearst Castle and educate the public about its architectural, historical and artistic significance.
Hearst Ranch Beef
Experience the rugged side of Hearst Castle with a visit to the Hearst Ranch Beef kiosk, located in the middle of the Visitor Center. A venture  that began when George Hearst acquired ranch land in San Simeon, the operation soon became one of the finest stock yards in the state. Purchase grass-fed beef and lamb, beef jerky, premium pork roasts and more—all raised around the Castle or in nearby Cholame, California. Note: Remember, you don't have to take a tour of Hearst Castle to browse through the gift shops. Just step inside the Hearst Castle Visitor Center to enjoy an array of items for sale.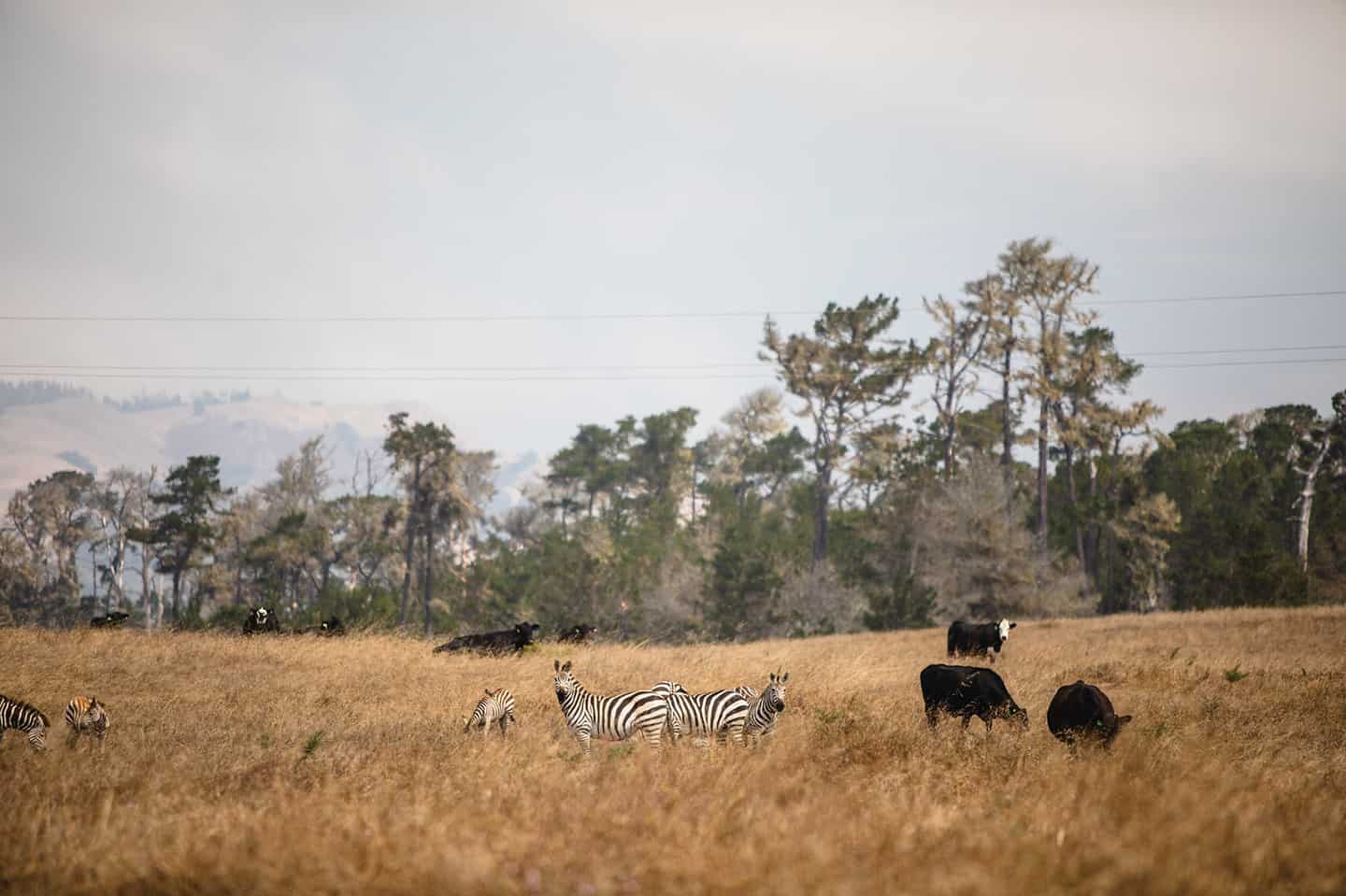 Buying Tickets to Tour Hearst Castle
Tickets for tours can be purchased and reserved on the Hearst Castle website or as available at the Hearst Castle Visitor Center. Each tour ticket includes a shuttle up the hill to Hearst Castle (the only way to reach the property – private vehicles are prohibited). Daytime tour tickets also include admission to the film "Building The Dream" at the Hearst Castle IMAX Theater, and access to the Hearst Exhibition in the Visitor Center.
To see all of the locations along the Highway 1 History & Heritage Trail, check out our interactive map.
Hotels Near Hearst Castle
Guests to Hearst Castle will find plenty of lodging options in San Simeon, Cambria and neighboring communities on Highway 1. Whether it's a chic hotel, boutique bed & breakfast, resort, or budget motel, you'll find your perfect accommodations here.
TIP: Use the Highway 1 Discovery Route lodging finder for direct access and the best deals at area hotels.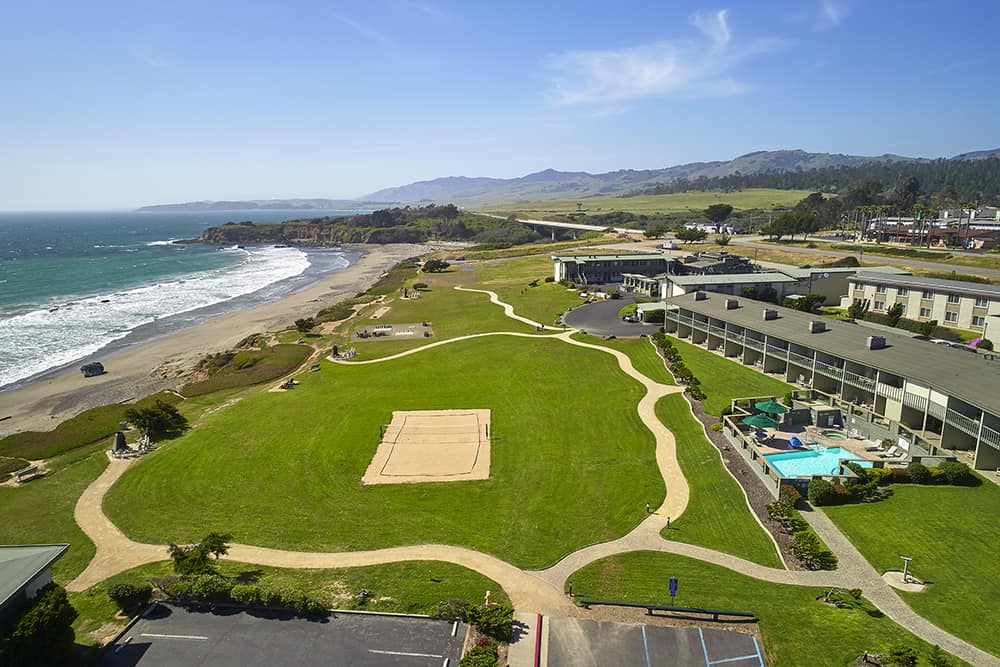 Other Activities Near Hearst Castle
Zebra Viewing
William Randolph Hearst loved animals and even kept a private zoo at Hearst Castle to entertain his guests. Visitors to his home could view antelope, camels, llamas, ostriches, kangaroos, oxen, yaks, giraffes, and zebras. The zoo dismantled slowly between 1937 and 1958, with animals sold or donated to public zoos. But the descendants of Mr. Hearst's zebras can still be seen roaming Hearst Ranch today, especially when the weather is warm.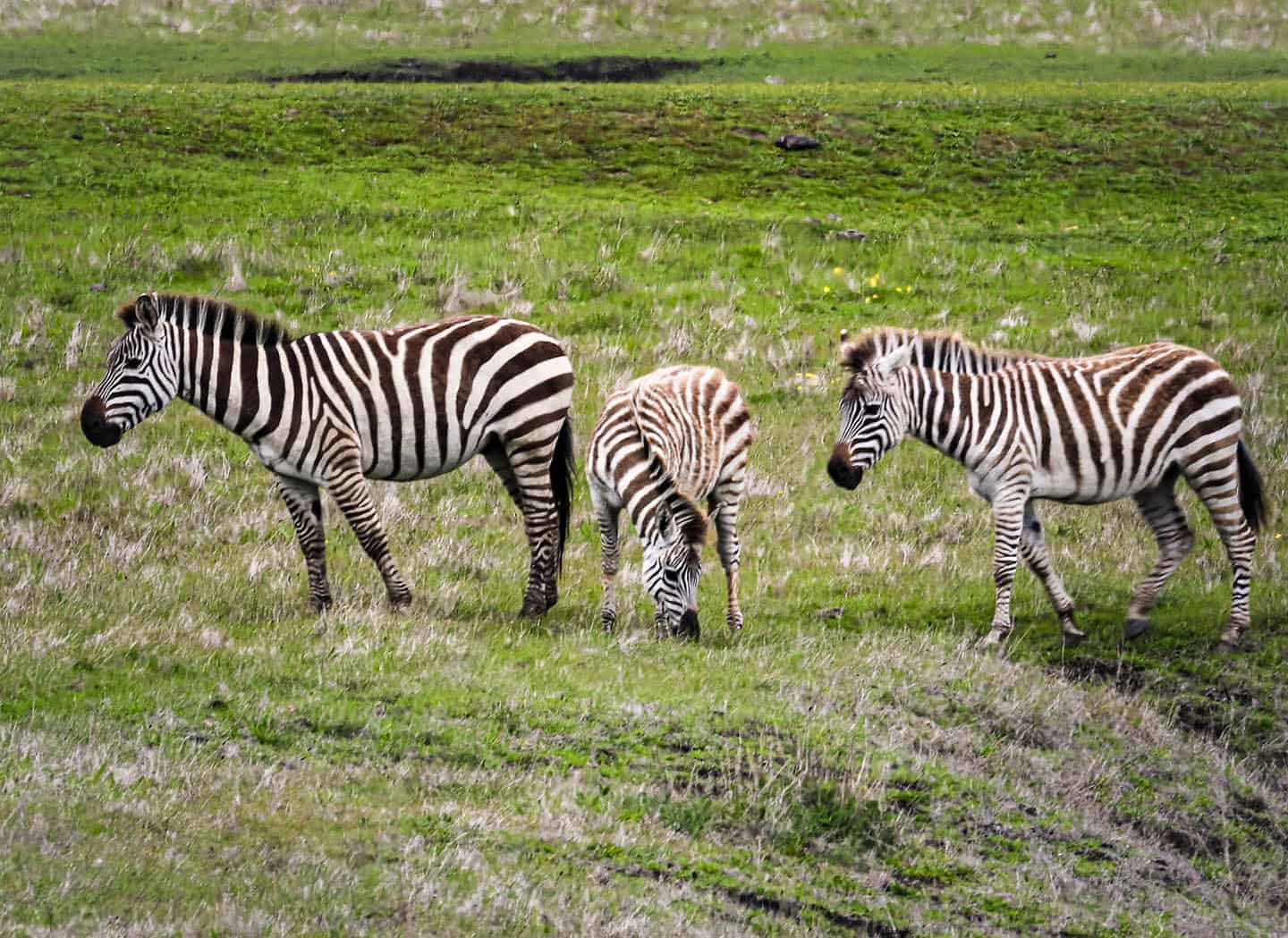 Hearst Ranch Winery
The Hearst Ranch Winery tasting room sits just over Highway 1 from the Hearst Castle Visitor Center in Old San Simeon. Open daily, the tasting room occupies Sebastian's General Store, built by Captain James Clark in 1852 to support the whaling industry. Visit to sample and purchase wines from Hearst Ranch Winery's estate vineyard in Paso Robles. Then, grab a sandwich at Sebastian's Deli and enjoy views of San Simeon Bay from the patio.
Directions to Hearst Castle
Hearst Castle lies midway between San Francisco and Los Angeles on SLO CAL's majestic stretch of Highway 1.
Driving directions from San Francisco:
Drive the US-101 South to Paso Robles. Take exit 228 for CA-46 West toward Cambria and turn right onto CA-46 W/Green Valley Rd. At Highway 1 (CA-1 North), turn right and stay on Highway 1 North for nearly 12 miles. Turn right onto Hearst Castle Rd and follow signs to the Hearst Castle Visitors Center.
Driving Directions from Los Angeles:
Take the US-101 North to San Luis Obispo. Take exit 203B to merge onto Highway 1 North (CA-1 N) toward Morro Bay/Hearst Castle. Turn right onto CA-1 N/Santa Rosa St, and continue to follow Highway 1 North just over 41 miles. Turn right onto Hearst Castle Rd and follow signs to the Hearst Castle Visitors Center.
Driving Directions from Bakersfield (2.5 hours)
Take Interstate 5 North (I-5 N) to CA-46 W / Paso Robles Hwy (signs for Lost Hills). Turn left on CA-46 West and continue for 37 miles. Merge onto the US-101 South. In 4 miles, take exit 228 for CA-46 West toward Cambria and turn right onto CA-46 W/Green Valley Rd. At Highway 1 (CA-1 North), turn right and stay on Highway 1 North for nearly 12 miles. Turn right onto Hearst Castle Rd and follow signs to the Hearst Castle Visitors Center.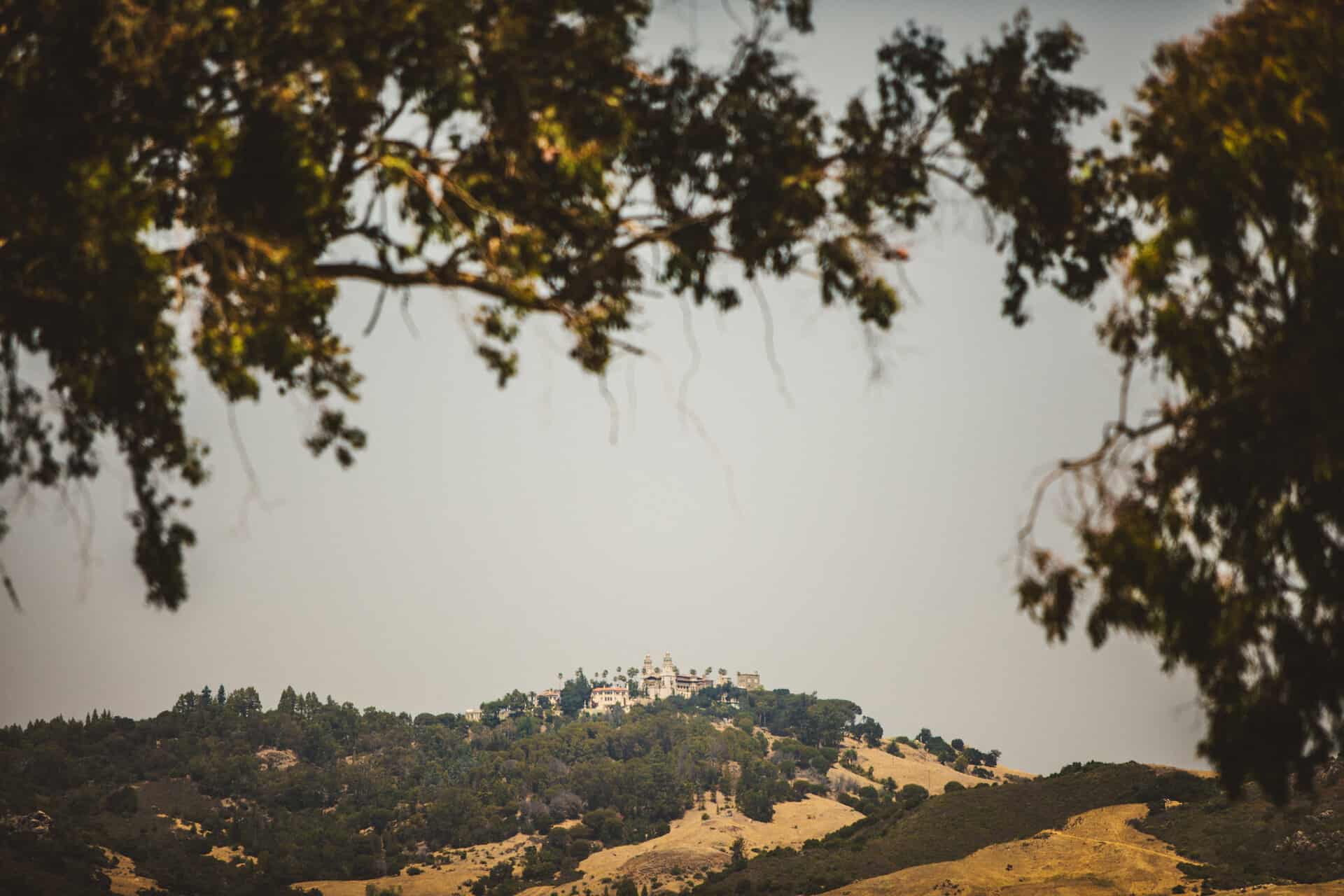 While the Hearst family chose San Simeon for its ideal climate and panoramic views, weather conditions vary depending on the season. In July, August, and September, temperatures average in the mid-70s, with highs sometimes reaching 98°F. (These are also Hearst Castle's most touristed months.) Though lows in November through April can sink to the mid-40s, these months can also surprise visitors with stunningly clear views of and from Hearst Castle. No matter which season you choose to visit, be prepared. Dress in layers and be sure to bring sunscreen, a hat, and bottled water.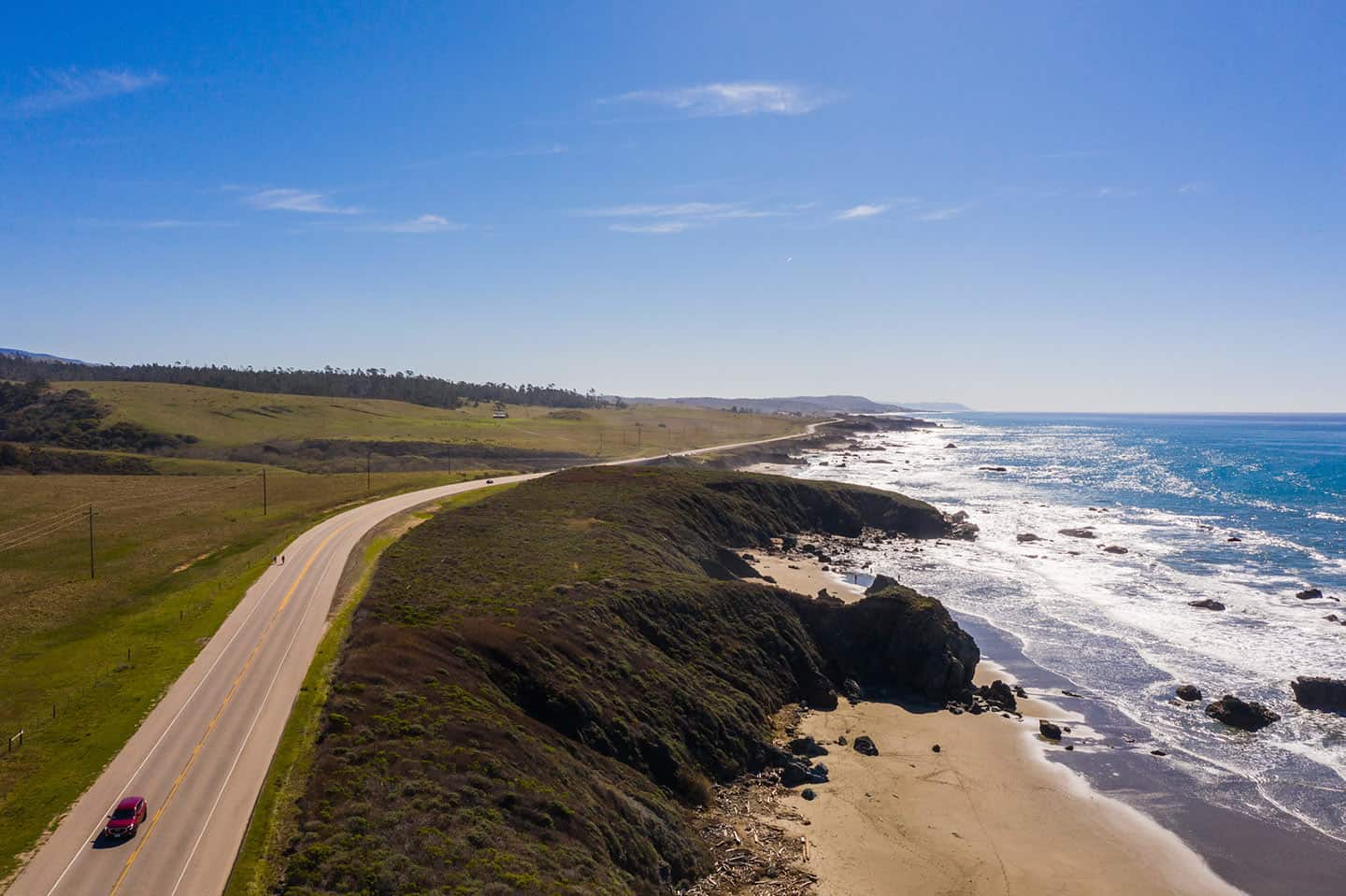 Q: Can you swim in the pool at Hearst Castle?
A: Following the two-year closure of Hearst Castle, only members of The Foundation at Hearst Castle and their guests may swim in the Neptune Pool. A handful of vital fundraising experiences are scheduled for 2022, limited to 40 guests each, so make your reservation today. Ready to swim? Purchase a ticket and begin your experience with a scenic ride up to the Enchanted Hill. Head to historic dressing rooms and pick up a cabana towel in preparation to swim in the iconic Neptune Pool. Splash around or stroll spectacular surrounding terraces, and take in the sunset view and jazzy tunes. Satiate your palate with a fabulous selection of savory and sweet treats, as well as the Central Coast's finest wines and craft beer. To conclude the evening, guests will be escorted down the hill with memories they'll keep for a lifetime.
Q: Can you spend the night at Hearst Castle?
A: You can't stay overnight at Hearst Castle, but you can enjoy the beautiful hotels or vacation rentals located in San Simeon and all along the California Coast on Highway 1. TIP: Use the Highway 1 Discovery Route lodging finder for direct access and the best deals at area hotels.
Q: Who lives in Hearst Castle?
A: Hearst Castle is not a private residence, but it is open to tours daily. Check the schedule for a tour that works for your interests and accessibility needs.
Q: What time is Hearst Castle open?
A: During the Summer, Hearst Castle is open starting at 9 a.m. Hours change on a seasonal basis, so check the website for more information.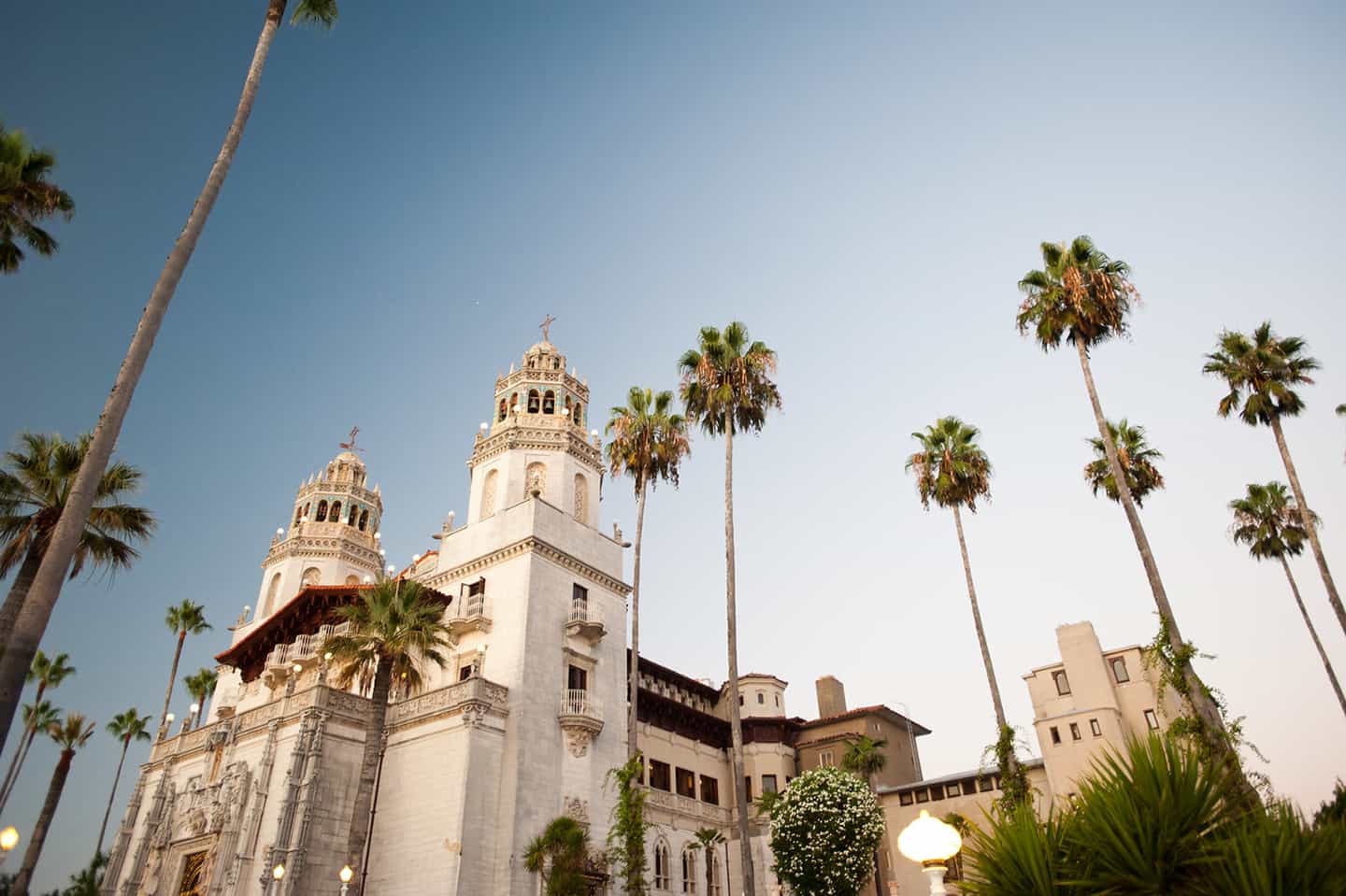 What's your Hearst Castle vacation vibe? As fabulous as it would be to stay at Mr. Hearst's lavish Highway 1 estate, these enchanting San Simeon, Cambria and Ragged Point stays are the next-best thing.
Read More »