With its relaxed small-town-by-the-sea vibe, Cambria welcomes diners to get cozy in a wide variety of restaurants, cafes, bakeries and wine tasting rooms. Here, you'll find everything from casual to fine dining, seaside vistas to tucked away fireside tables for two. Sample from just-caught seafood and locally-ranched beef to vegetarian, vegan, gluten-free and superfood dishes. Parents will be pleased to discover a selection of kid-friendly restaurants, and dog owners will appreciate the accommodations of pet-friendly patios.  The same qualities that draw visitors to Cambria draw talented chefs here, too. They're looking for year-round fresh, locally-grown ingredients, world-class wines, and scenic surroundings. No wonder so many of them land here. So get out there and taste it all. Look for restaurants along Main Street, spanning from the West Village to the East Village. Also check out the eateries that line Moonstone Drive along the water's edge near Moonstone Beach and the Moonstone Beach Boardwalk.
Discover Dining in Cambria
Linn's Restaurant
In many ways, Linn's Restaurant defines Cambria dining. This beloved eatery opened in 1989 after operating for several years as a popular local fruit stand on Santa Rosa Creek Road. (You can still visit Linn's Fruit Bin (temporarily closed) today, just outside town.) Owned by John and Renee Linn, Linn's brought homestyle dishes to Cambria's East Village, at the corner of Bridge Street and Main Street. Due to Linn's connection with the Santa Rosa Creek Farm, fruit factors heavily into the menu — especially Cambria's famous olallieberry. (Olallieberries resemble a cross between a blackberry and a raspberry.) Look for olallieberry syrup on your pancakes, apple-olallieberry slaw with your tri-tip sandwich, and olallieberry vinaigrette on your salad. Kids even get in on the action with olallieberry lemonade! Take your time exploring the breakfast, lunch, dinner and dessert menus. For the tastiest homestyle breakfast in Cambria, order a stack of honey-wheat pancakes, a fluffy omelet, or one of Linn's fruit muffins. At lunchtime, flavorful soups, entree salads and sandwiches take over. For dinner, don't miss Linn's "comfort classics," traditional entrees like chicken pot pie, pot roast, and down-home meatloaf. And for dessert? Nothing beats a slice of Linn's olallieberry pie a la mode — though the rest of the extensive dessert menu deserves a chance.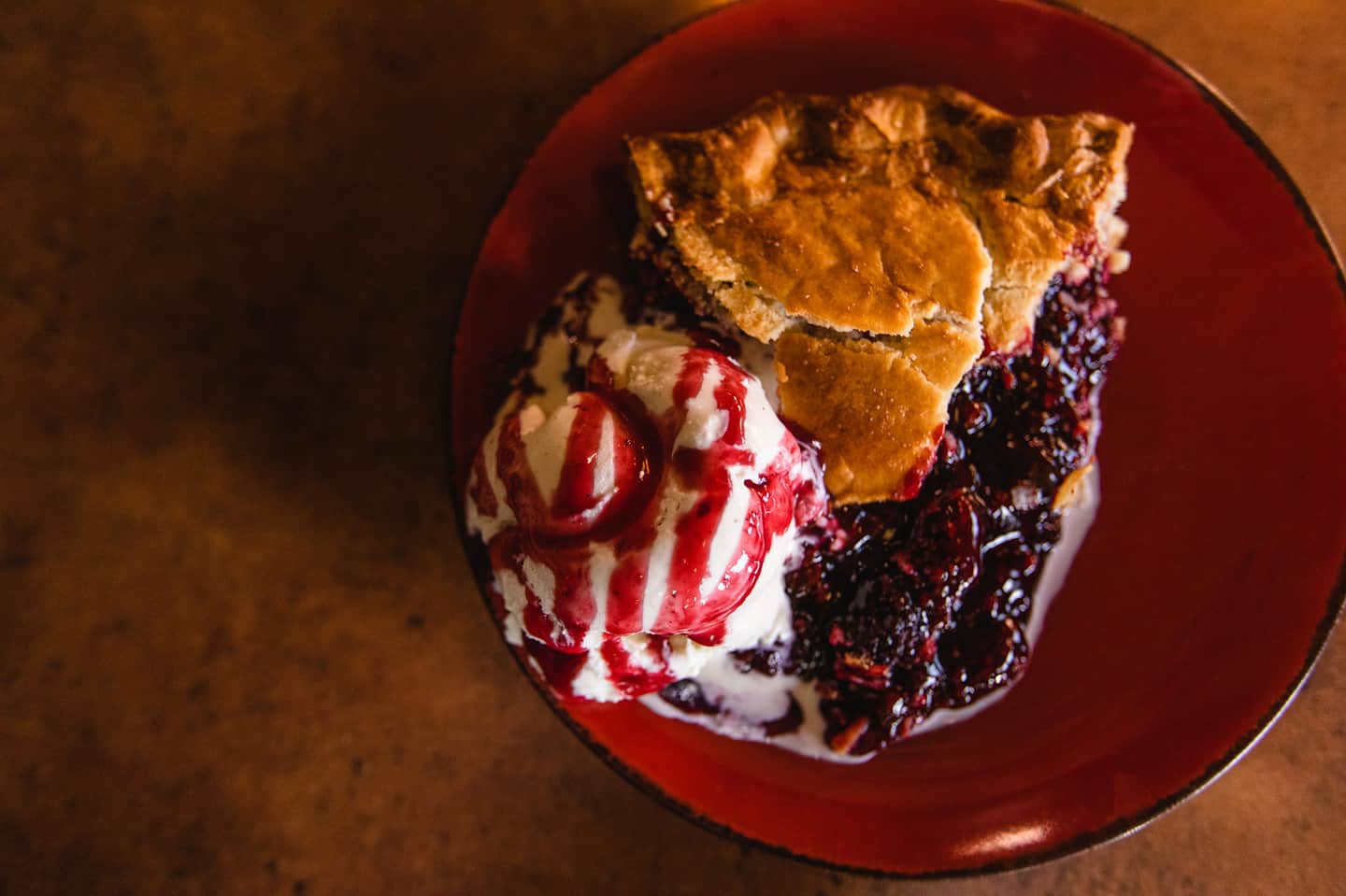 Robin's Restaurant
For decades, Robin's Restaurant has provided locals and visitors alike with the best farm-to-table and globally-inspired fare. The restaurant actually began as part of a health food store owned by Robin and Shanny Covey in the 1980s. As their dishes became more and more popular, they closed the health food store and launched the restaurant full-time. The nourishing and healthful beginnings of the restaurant continue today, with one of the widest selection of vegetarian dishes on the Central Coast. The owners have also maintained a commitment to sourcing primarily from farmers' markets over the years — a real feat. (You may even spot one of them wearing their chef's whites at the Friday Cambria Farmer's Market.) The best way to experience Robin's is with lunch or dinner on the restaurant's expansive, welcoming patio. Tuck into dishes made with global flavors, from Vietnamese spring rolls and cubano sandwiches to North Indian lamb curry and pesto primavera pasta. Robins also provides a children's menu and allows well-behaved, leashed pups on the patio. Don't miss the restaurant's very fine wine list, complete with local and imported bottles.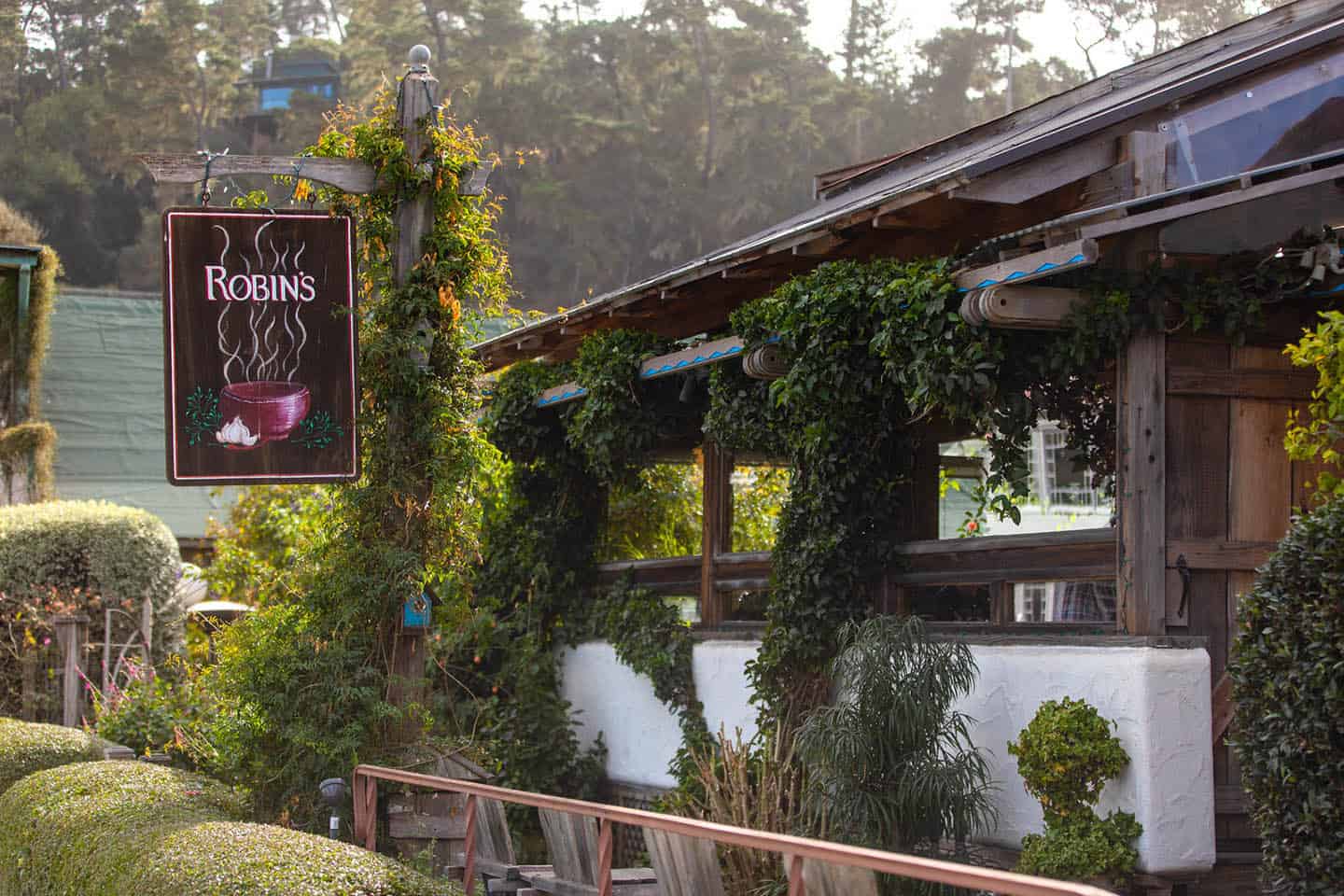 Sea Chest
If you're looking for a top-shelf Cambria seafood restaurant with a killer view, the Sea Chest has to be  at the top of your list. Situated just above Moonstone Beach in a quaint, Nantucket-style building, the Sea Chest was founded in 1975 by Jim and Karen Clarke. The restaurant focuses on all seafood, but specializes in oysters, clams, shrimp and scallops. Dishes include clam chowder, calamari steak, sea bass, king crab legs and Alaskan halibut. With an ever-changing supply of available seafood, the menu and specials change regularly. Because the restaurant is only open for dinner and does not accept reservations (plan accordingly!), a line forms nearly every evening at the door. But many folks make the most of waiting by having a glass of wine outside and taking in the spectacular West Coast sunset. The Sea Chest wine list features primarily local bottles, with some California and specialty imports like prosecco and Champagne. Locals Tip: Be sure to pick up cash on the way to the restaurant; The Sea Chest doesn't accept credit cards or checks.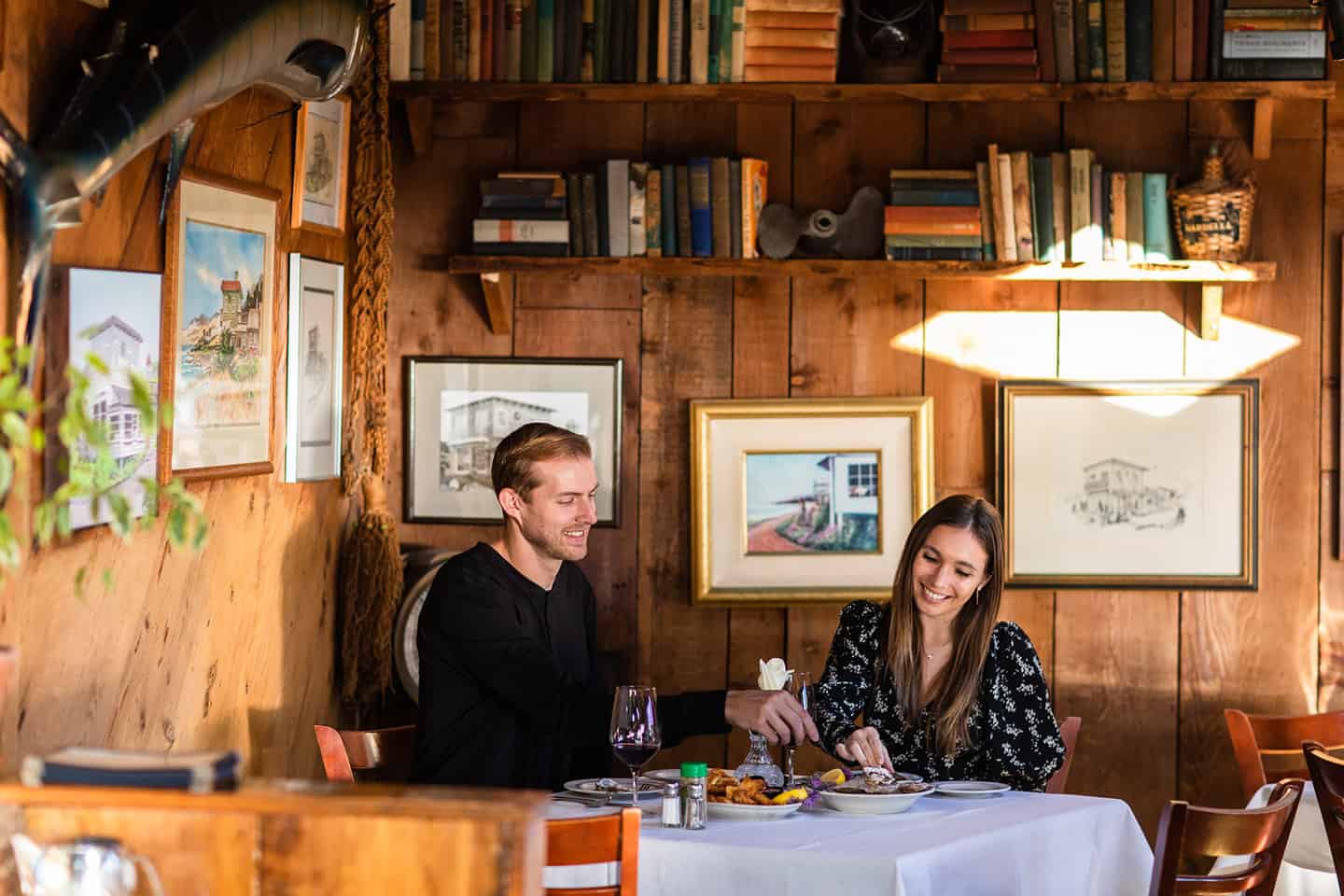 Main Street Grill (Firestone)
Fans of San Luis Obispo's famous Firestone Grill will recognize the menu at the Main Street Grill immediately. The two restaurants (plus the Firestone Grill in Bakersfield and Fresno, California) are owned by the Billingsley family, but it all began in Cambria. The Main Street Grill started in 1984 as a tiny hamburger stand in the West Village. Over time, the stand grew into a very popular bar and grill, serving its famous barbecue tri-tip sandwiches and seasoned French fries. (These fries are widely known to be irresistibly addictive. Consider yourself warned!) Today, the Billingsley family continues to operate the restaurant, slinging juicy burgers, BBQ, onion rings, and fries. Hearty salads, tacos, sausage sandwiches and a variety of local craft beer and wine make this a win-win for casual, flavorful dining. This is also a terrific place to bring kids. (In fact, the kids' menu burger is big enough to feed an adult.) Grab a burger and a pint, and stay to watch the game on one of Main Street Grill's several large-screen TVs.
Madeline's
In Cambria's West Village, chef-owned Madeline's is a white-linen French restaurant that serves lunch and dinner in a cozy, refined atmosphere. Diners will delight in stuffed quail with wild mushrooms, local greens, and lemon beurre blanc, or pan-seared filet mignon with fresh seasonal vegetables. Carefully composed salads, a nightly selection of just-caught seafood, and vegetarian and gluten free options make this a must-visit eatery. And don't forget tasteful desserts like Chocolate Truffle Mousse Cake and a fresh fruit tart baked into a cinnamon crust. The extensive wine list boasts local bottles including Madeline's own proprietary line of wines made in Paso Robles. In addition to the wines offered in the restaurant, the adjacent Madeline's wine shop sells a wide array of wines made in California. It's easy to come for wine tasting first, followed by a tasteful French-American meal amid elegant surroundings. Bring your palate and an appetite to Madeline's for one of Cambria's loveliest fine dining destinations.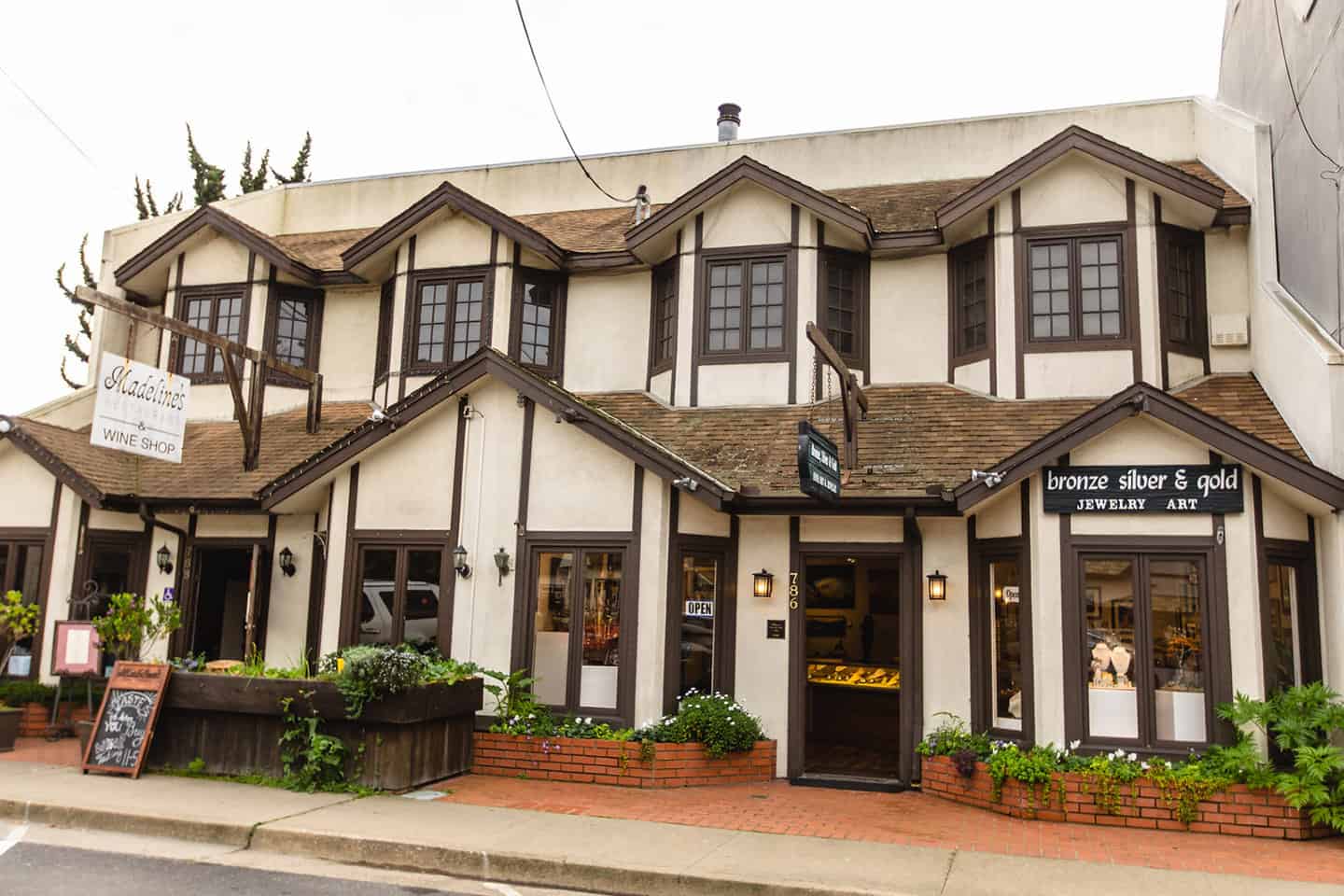 Indigo Moon
This American restaurant in Cambria's East Village serves farm-to-fork cuisine in a warm, craftsman-style ambiance. Owners Jay and Dena have designed the small restaurant to offer many intimate dining spaces within the building. Around every corner, a cluster of tables makes for a quiet and delightful treat for you and your loved ones. Wander through the restaurant, out to the heated back patio with market lights and discover a beautiful space for an al fresco meal. Open for dinner only, Indigo Moon serves American classic dishes with a West Coast twist. Look for lobster bisque, juicy pulled pork sandwiches with red cabbage slaw, thick pork chops, and tempura-battered fish and chips. Specials always include fresh-caught seafood and market-made soups. Don't miss the robust wine list, complete with selections from nearby wine country in Paso Robles, Edna Valley and Santa Barbara County. Labels like Saxum, Denner, Linne Calodo and Epoch are sure to provide just the right pairing for whichever dish you choose.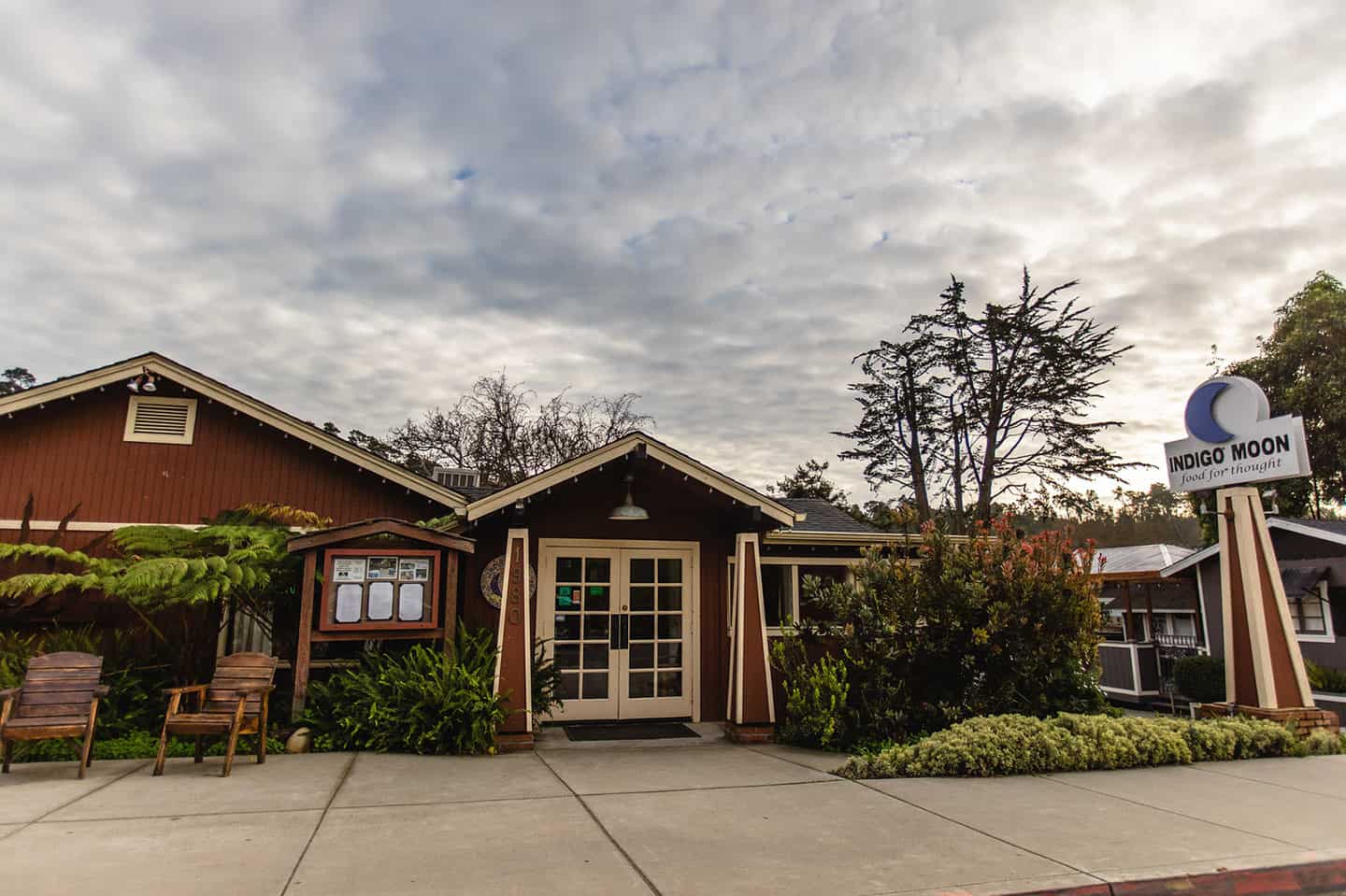 JJs Pizza
Visitors looking for the best Cambria pizza need look no further than JJs Pizza. Located in the East Village, JJs is known for its friendly staff, quick service, and tasty pizza, burgers, sandwiches, drinks and more. Think classic pizza parlor fare: Italian-American-style pies with lots of toppings and a soft, chewy crust. Start with a basket of crispy-tasty chicken wings and an antipasto salad before ordering a build-your-own pizza. (Or do as the locals do and order the "Mexican" pizza with spicy beef crumbles, taco cheese, and bell peppers.) Choose from generous small, medium and large sizes, or opt for personal-sized pies. Char-burgers include the "Marion Davies Burger," named after William Randolph Hearst's longtime mistress who lived with him at nearby Hearst Castle. Topped with sauteed mushrooms and cheese, that burger is a local specialty that's not to be missed. Sandwich lovers will also appreciate the selection of hot and cold sandos available at JJs Pizza. Opt for the wildly popular meatball grinder, slathered in marinara sauce and mozzarella cheese, browned under the broiler. Or go native and order The Cambrian sandwich made with turkey, ham, and three kinds of cheeses, served on sourdough bread. A simple wine and beer selection offer just one more reason to make a stop at this easygoing spot for a quick bite or family meal.
Wild Ginger
Fans of Thai food will love Wild Ginger, an Asian fusion eatery on Main Street in Cambria's East Village. Born and raised in Singapore, chef and owner Deborah Mok opened Wild Ginger in 2002. As the gateway between east and west, Singapore's fusion food culture provides inspiration for Chef Deborah's creations. At times traditional, at times inventive, her dishes make use of local produce that Chef Deborah purchases at the Friday farmers' market at the Veteran's Hall. Look for Thai classics like Pad Thai and Tom Kha Kai, Chinese dishes like Hunan Beef (made with filet mignon), and Szechuan Tofu. Vietnamese Caramelized Prawns and Vietnamese BBQ Pork join Singapore Laksa and Indian samosas for a well-rounded assortment of Asian dishes. Pair your meal with imported beers from China, Thailand, India or Japan, or choose one of several bottles of wine perfect for Asian cuisine. And definitely don't skip dessert at Wild Ginger, where fresh fruit sorbets are made daily.
Black Cat Bistro
An intimate farm-to-table restaurant in Cambria's East Village, Black Cat Bistro focuses on French-inspired California cuisine. The restaurant is simple and elegant inside, with white linens, fine Riedel stemware and just 45 candlelit tables. The eatery opened in 2002 under chef-owner Deborah Scarborough, whose fresh, unfussy style is reflected in every dish that leaves the kitchen. A winner of the Wine Spectator Award of Excellence multiple times over, Black Cat Bistro offers a lengthy wine list with bottles from local wineries as well as from those around the world. Go for a glass of something special to pair with the gorgonzola-stuffed fried olives, crispy brussels sprouts, or crab cakes in remoulade sauce. Entrees cover seafood dishes like wild salmon in sake-miso beurre blanc, and Chipotle Shrimp Linguine with corn, tomatoes, scallions and cilantro. Classic steaks, lamb, chicken and duck are prepared with a slight global twist, highlighting local produce, grains, and proteins. For notable dishes, try the award-winning New England Clam Chowder or the lightly seared Romaine Salad, with lemon Caesar dressing, asiago cheese, and bacon-jam toast.
Moonstone Beach Bar & Grill
Locals and visitors alike come to this Moonstone Beach restaurant for the dramatic coastline views, especially on sunny days when the water sparkles. (You might even see one of the area's beloved sea lions, basking on the rocks below.) Located right on Moonstone Beach, this Cambria institution serves lunch and dinner, with brunch available on Sundays. Find indoor dining as well as tables on the spacious, heated and dog-friendly patio, facing the beach. While seafood and American dishes dominate the menu here, there really is something for every taste — and every taste bud! Tuck into a warm cup of New England Clam Chowder, a hearty Ranch Chicken Salad, or a Smoked Cheddar Cheeseburger. Sandwiches, salads, soup, and pasta populate a menu that is both fresh and unfussy. Young foodies will appreciate the kids' menu — especially the scoop of vanilla ice cream that's included with every order. For Sunday brunch, come with an appetite for omelettes, Eggs Benedict, and Oysters Rockefeller. Enjoy any of these dishes with a glass of locally-made beer or wine, or with a cocktail from the full bar.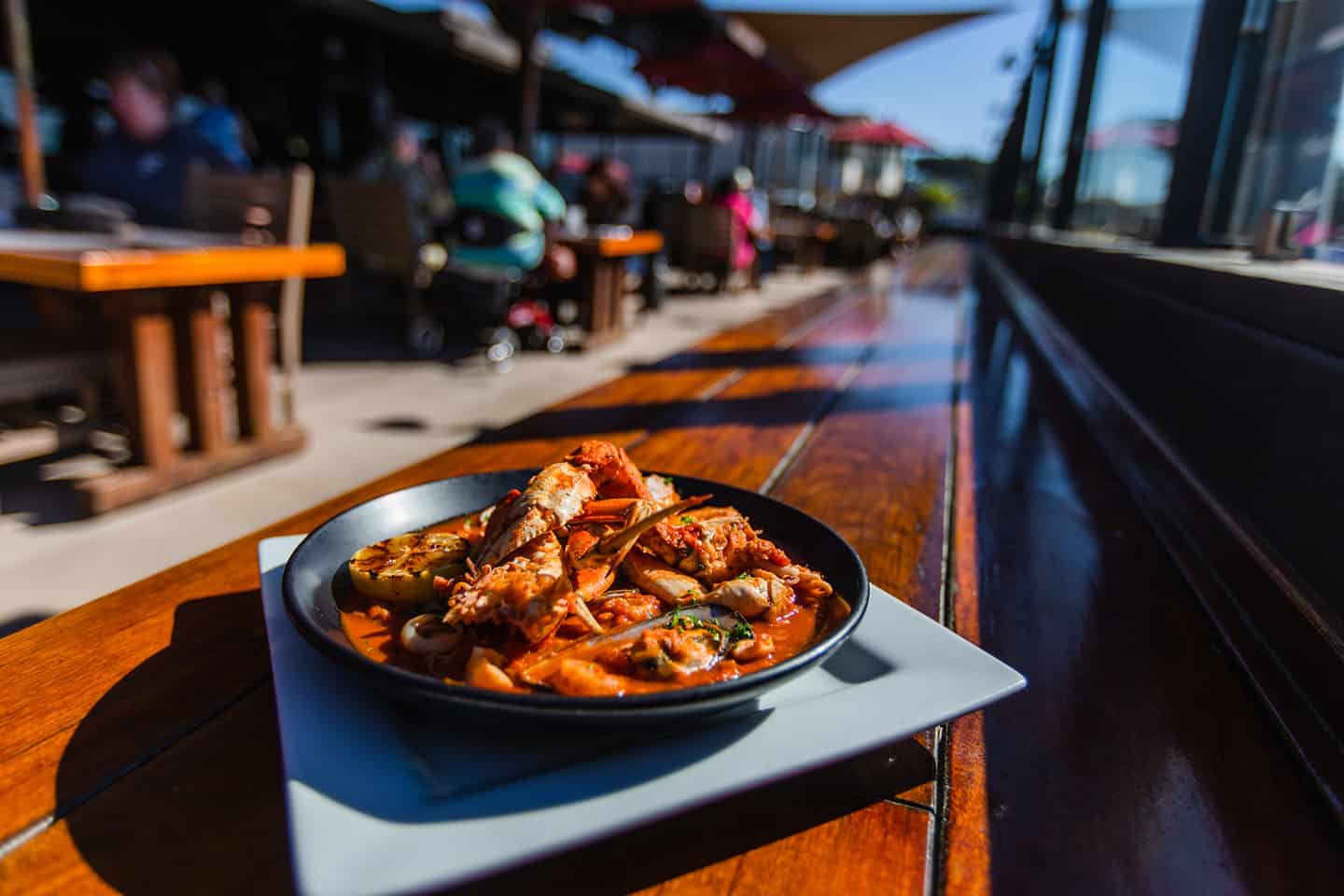 The Hidden Kitchen
It's not just a clever name: The Hidden Kitchen is tucked away, like a little secret off Bridge Street in the . It all began with two roommates who became locally-famous for making superfood smoothies and blue corn waffles in their house. Their unconventional flavor pairings and gluten-free and refined sugar-free approach gained so many fans they had to open a cafe. The result is The Hidden Kitchen, a pint-sized eatery covered in wandering ivy serving smoothies and both sweet and savory waffles. Wait, savory waffles? Yes. The Hidden Kitchen uses their blue corn waffles much as you would imagine using blue corn tortillas for a taco. Try the San Luis Sunrise, with free range fried eggs, bacon, avocado, and delicious "Hidden Kitchen Sauce." Or go sweet with the Olallieberry Local waffle, with dark chocolate chips, olallieberry syrup, coconut whipped cream and cacao powder. Drinks like the superfood smoothies, kombucha, and bulletproof-style coffee will keep you fueled for a hike, bike ride, or walk around Cambria.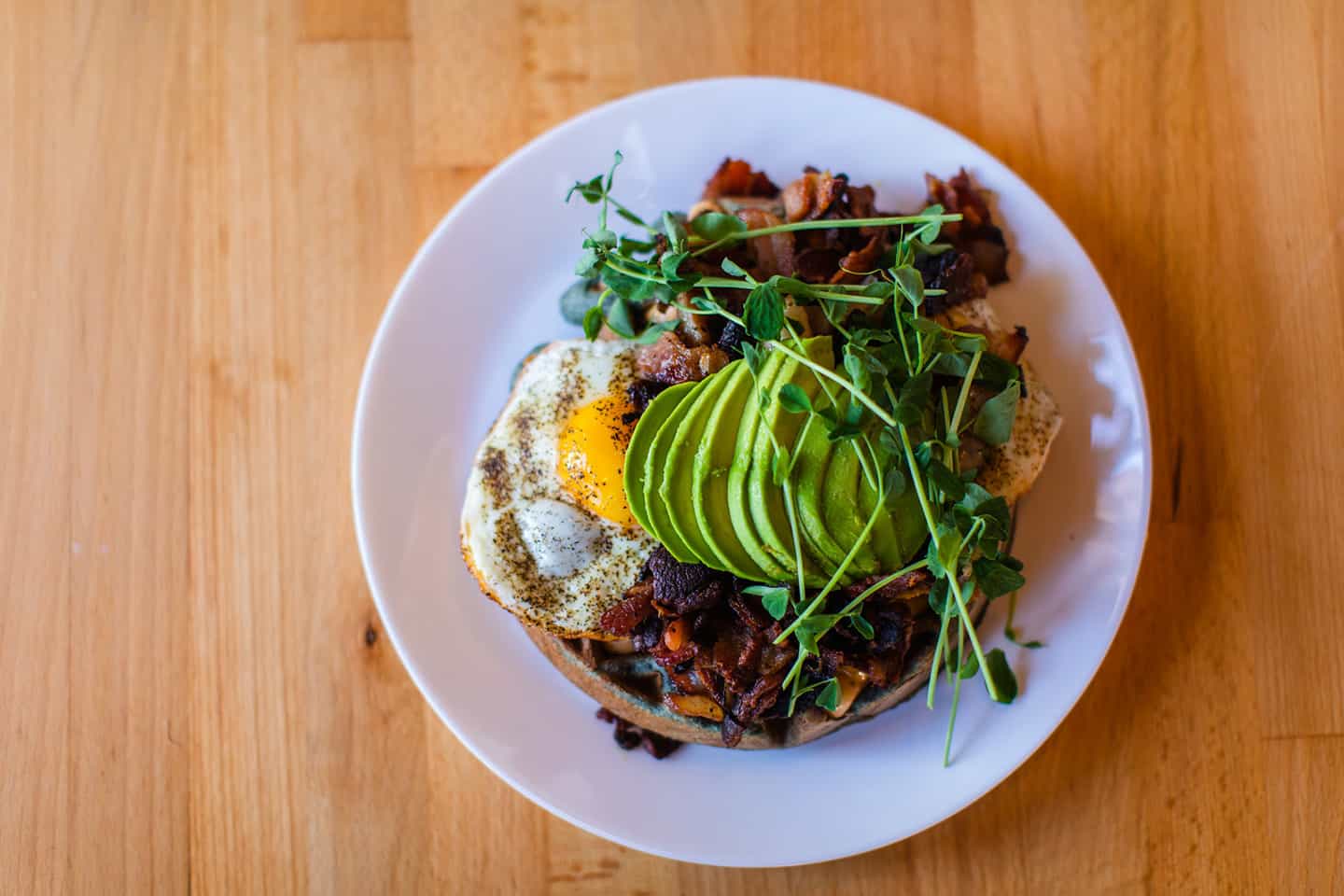 Located in a historic Cambria home, Brydge brings together the abundance of Highway 1's produce and the charm of comfort food in a relaxed environment. Chef Elaine Rivera-Glenn opened the restaurant in 2023 to showcase seasonal flavors inspired by farmers and ranchers in the area. The goal? To serve dishes using a minimum of 75 percent organic and sustainably-made products. To bring that vision to life, she partnered with people associated with Daou Vineyard & Winery in Paso Robles and Soto True Earth Market in Cambria. Expect a crisp, comfortable interior complete with warm serape blankets, available to diners. Shared plates might include vegetarian cassoulet, Spanish meatballs, or clams in a bath of shallots, herbs, white wine, garlic and vinegar. Lunch may be kimchi grilled cheese, a mushroom burger, or a gulf shrimp roll. For supper, options like roast chicken, Wagyu ribeye keep it simple and fresh. Brydge also features a menu of non-alcoholic beverages to keep drinks inclusive and delicious.
Cambria Bakeries
Ready to indulge your sweet tooth? Cambria's several bakeries offer tasty pies, pastries, breads, scones, muffins and more in cozy surroundings. For the official headquarters of Cambria's famous olallieberry pie, go to Linn's Easy as Pie Shop & Cafe. For an indulgent experience, taste the iconic dessert with a scoop of vanilla bean ice cream and a cup of coffee. Linn's has more than ollalieberry pie, though; head over for any of the shop's other pies, cakes, muffins, cookies, and more. At the French Corner Bakery, breakfast goods and cafe pastries can be had with espresso drinks and tea. The cafe also serves sandwiches, and visitors can pick up loaves of bread including sourdough and multigrain. And at the Red Moose Cookie Company, a host of crazy-delicious signature cookies awaits. Try the "Cinnful" cookie, an oatmeal cookie with cinnamon chips, toffee chips and walnuts. Or indulge in the Root Beer Float, a cookie made with root beer reduction, ginger and sassafrass, and rolled in Vanilla Bean Sugar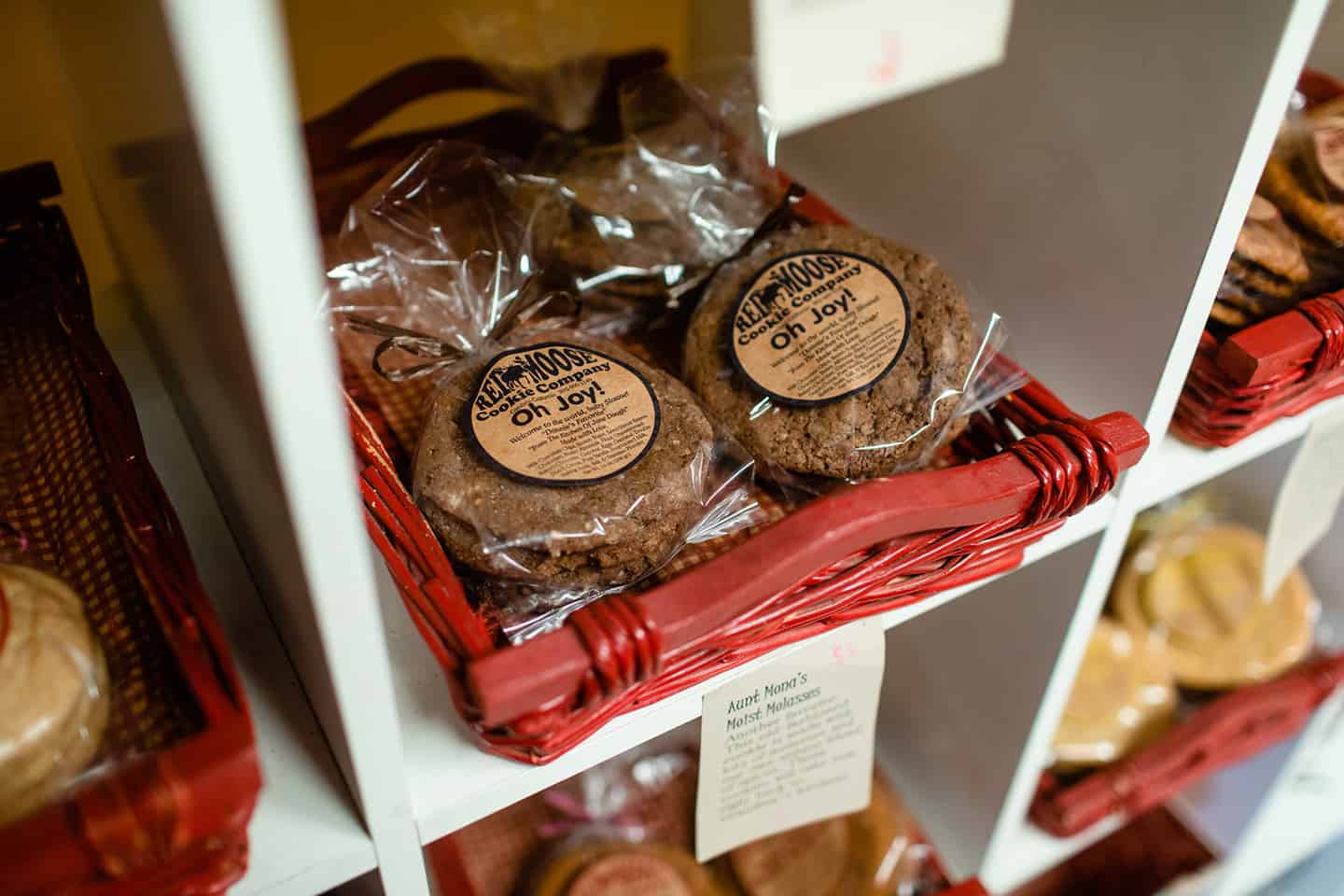 Cambria Coffee Shops
Cambria knows caffeine. Come to the little seaside hamlet and discover the coffee shops that keep everyone buzzing. To get to the Cambria Coffee Roasting Company in the West Village, follow the scent of freshly-roasted coffee beans. This small-but-might coffee house roasts its own beans for a classic menu of coffee- and espresso-based drinks. (Check out the classic Diedrich roaster, when you get the chance!) At Mojo's Village Bean, baristas serve organic espresso drinks, coffees and teas. Pick up a cuppa, along with a fresh baked good, house-made oat bar, or a breakfast sandwich. (Mojo's also offers 16 flavors of ice cream, worth circling back to later in the day.) Also in the East Village, Lily's Coffeehouse makes for a perfect perch to enjoy a slow, lazy morning. Sit beneath the glass-covered patio, where flowers and plants grow beside comfortable chairs. Grab a pastry or breakfast sandwich and a cup of coffee, espresso drink, or tea to enjoy with your morning newspaper. Or come by later in the day for soups, salads, and sandwiches.
Cambria Wine Tasting Rooms
Along Cambria's Main Street, visitors can find a handful of wine tasting rooms to discover a wealth of local wines. Partners Francis Cutrazzola and Lisa Miller own Cutrazzola Vineyards, an estate winery focused on Riesling and Pinot Noir. The Riven Rock Vineyard lies about six miles east of Cambria, so tasting these wines truly is a local experience. At Black Hand Cellars tasting room in Cambria's West Village, the owners lean toward a mafioso theme from the Roaring '20s. Taste wines from their predominantly red wine lineup, including Rhone and Bordeaux varieties. And up above the West Village, Moonstone Cellars welcomes novices and enthusiasts alike to taste through their wines. The mostly-red wine list features Paso Robles Bordeaux varieties, as well as Zinfandel and a local outlier, Tinta Cão, a Portugeuse varietal.