With rolling vineyards and welcoming tasting rooms, California's Coastal Wine region is a popular destination for wine enthusiasts of all walks of life. Savor award-winning vintages at an array of wineries on the scenic California coast. With lively food and wine festivals, educational vineyard tours and intimate winemaker dinners, the Central Coast Wine region pairs exciting activities with world class wine. Consult Highway 1's detailed wine maps and itineraries for the best local tasting rooms and wine trails spanning spanning vines to sand. From boutique tasting rooms to grand estates, the Central Coast Wine region is a welcoming oasis for first time tasters and wine aficionados alike. With dozens of wine varietals to enjoy on the California coast, there's a tasting experience to please every palate.
Wine Tasting Along the California Coast
Central Coast Wine Trails
Highway 1 and coastal San Luis Obispo County offers a variety of scenic wine trails from ocean to valley. Serving up everything from sparkling wine to petite sirah, find top tier reds, whites and blends at diverse tasting rooms. The following wine trails are designed to help visitors easily explore the best of Central Coast wine:
Pacific Coast Wine Trail
For wine lovers, wine tasting along the Pacific Coast Wine Trail is a must. Each of the trail's six tasting rooms are worthy destinations with coastal scenery to match. That said, visitors are encouraged to meander the coastal backroads between each stop. Along the trail, find an array of top notch tasting rooms in Cayucos, Cambria and San Simeon. These include Black Hand Cellars, Moonstone Cellars, Twin Coyotes, Stolo Vineyards, Harmony Cellars and Cayucos Cellars. A highlight of the Pacific Coast Wine trail, San Simeon's Hearst Ranch Winery offers seated wine tasting alongside unparalleled oceanfront views. With shaded outdoor tables a stone's throw from the Pacific, visitors can expect a unique outdoor tasting experience complete with crashing waves and views of Hearst Castle on the hill. Afterward, hungry visitors can order a casual lunch at Sebastian's General Store, a local favorite.
Avila Beach Wine Trail
The Avila Beach Wine Tasting Trail combines the best of Central Coast beach and wine culture. This oceanside trail is small but mighty, with three heavy-hitting coastal producers and many varietals to explore. Start with Sinor-Lavallee Winery and Peloton Cellars, a pair of Avila Beach wine tasting rooms just steps from the sand. Next, head into leafy, historic See Canyon to visit Kelsey See Canyon Winery. In addition to a variety of cool climate and apple-infused wines, visitors can catch a glimpse of the winery's resident flock of peacocks.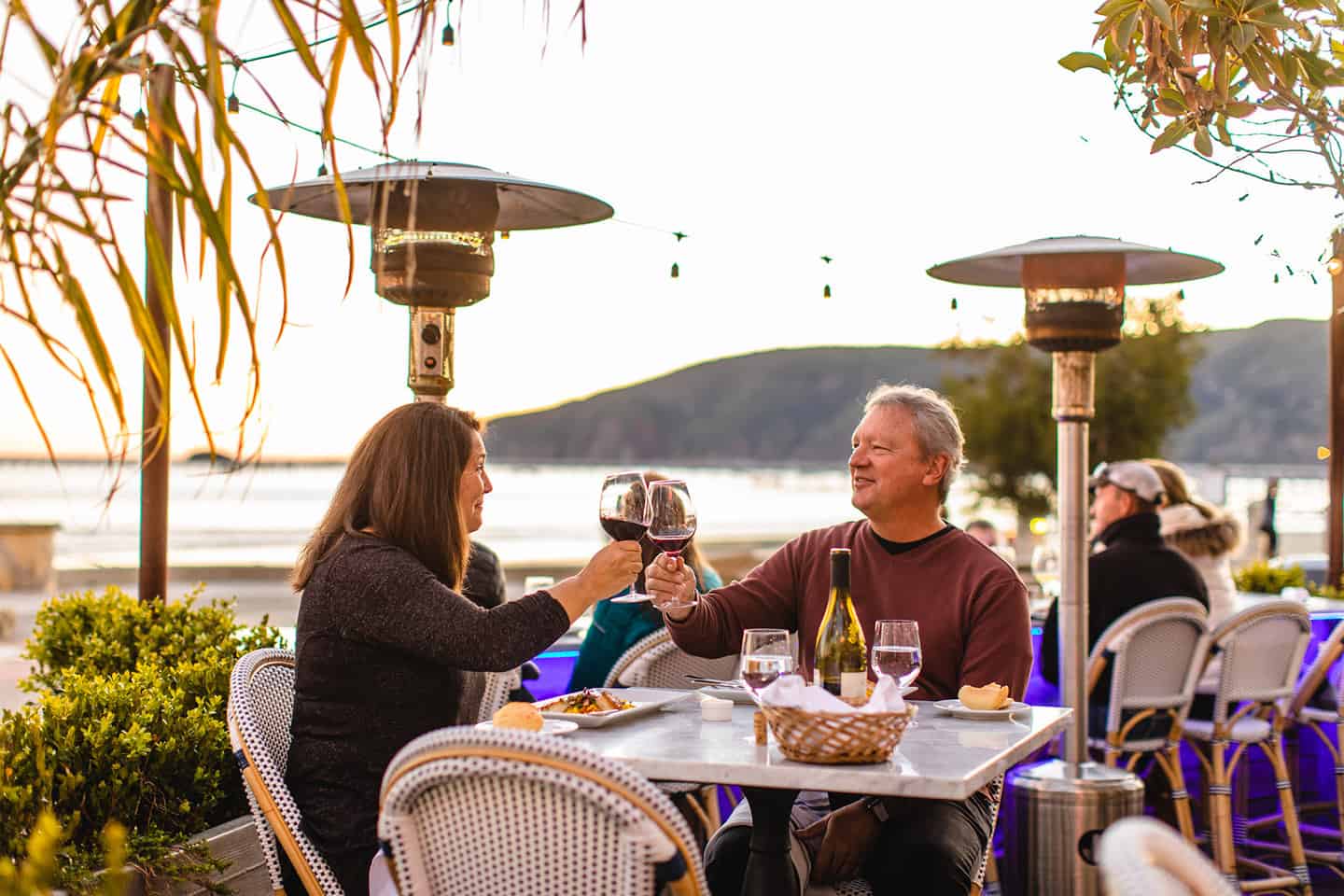 Core of the Coast Wine Trail
While visitors of the Central Coast Wine region can certainly enjoy a single day of wine tasting in Edna Valley, a two-day trip is recommended. Taste your way through seven historic wineries, including award-winning chardonnay and pinot noir. Edna Valley offers up cool climate wines from pioneer producers like Claiborne & Churchill, Saucelito Canyon (the original Henry Ditmas property from 1870), and Piedra Creek. Bask in unparalleled vineyard views at Edna Valley Vineyards and Tolosa. Plus, visitors routinely rub elbows with winemakers at boutique producers like Autry Cellars and Biddle Ranch Vineyard.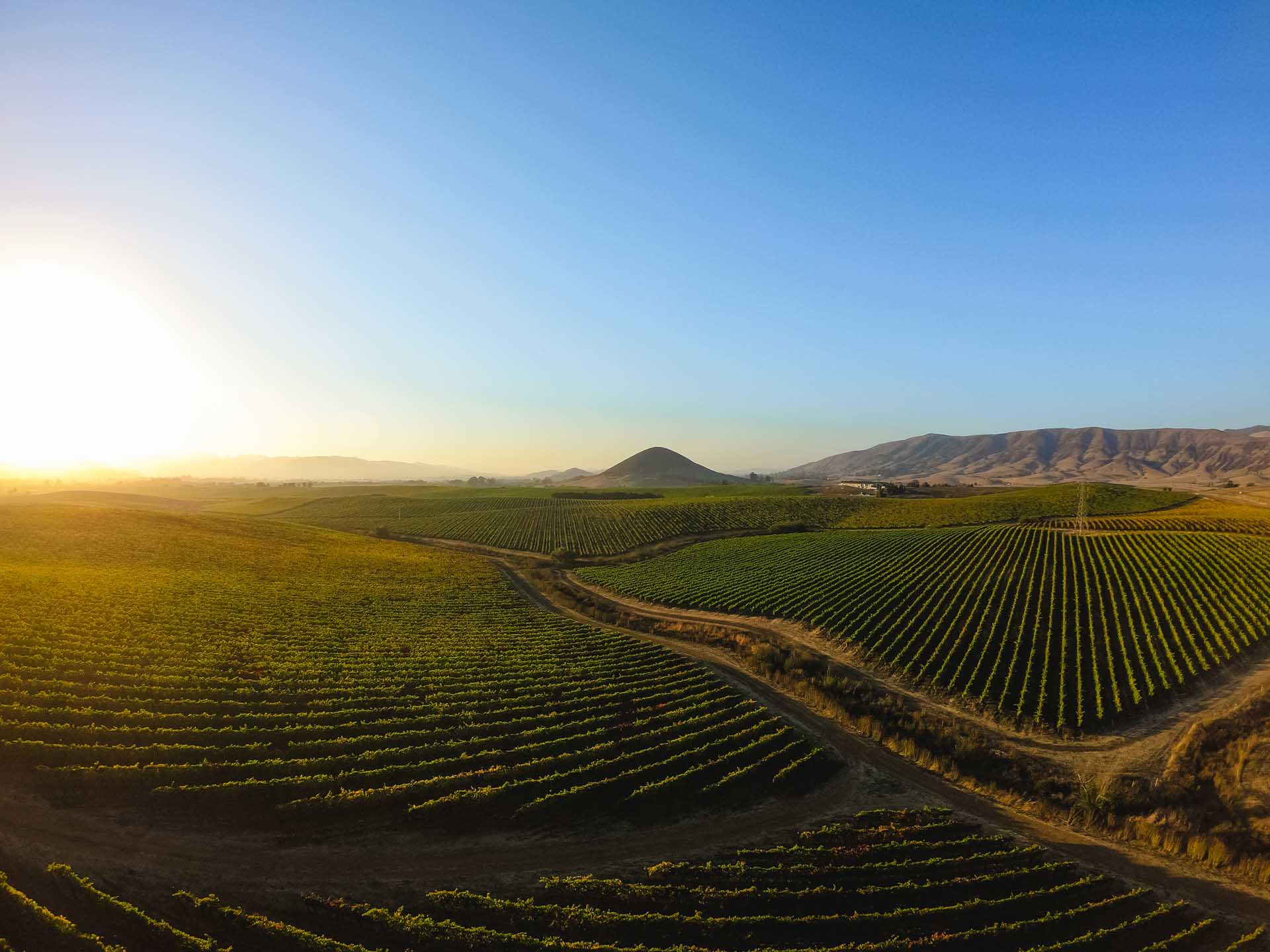 Sparkling Wine Trail
When visiting the Central Coast Wine region, everyday moments are elevated with a pop of the cork. Although many wineries are known for producing still varietals, visitors will also find a variety of sparkling wines, from French-inspired brut to sparkling rosé. Nestled just a few miles from the sea, The SLO Coast Wine Trail is home to a dozen sparkling wine producers with unique tasting rooms and welcoming staff. Ready to clink and sip? Follow the Sparkling Wine Trail for bubbles crafted in the méthode traditionelle (the Old World method used in Champagne, France), as well as bottle fermented and natural styles. All along the Sparkling Wine Trail—encompassing Baileyana, Wolff, Niner Wine Estates, Sinor-LaVallee, Cutruzzola, Stephen Ross, Biddle Ranch, Piedra Creek or Center of Effort—visitors are sure to feel the celebratory spirit. Raise a glass with friends and enjoy a tasting flight or take a bottle or two home for a festive souvenir.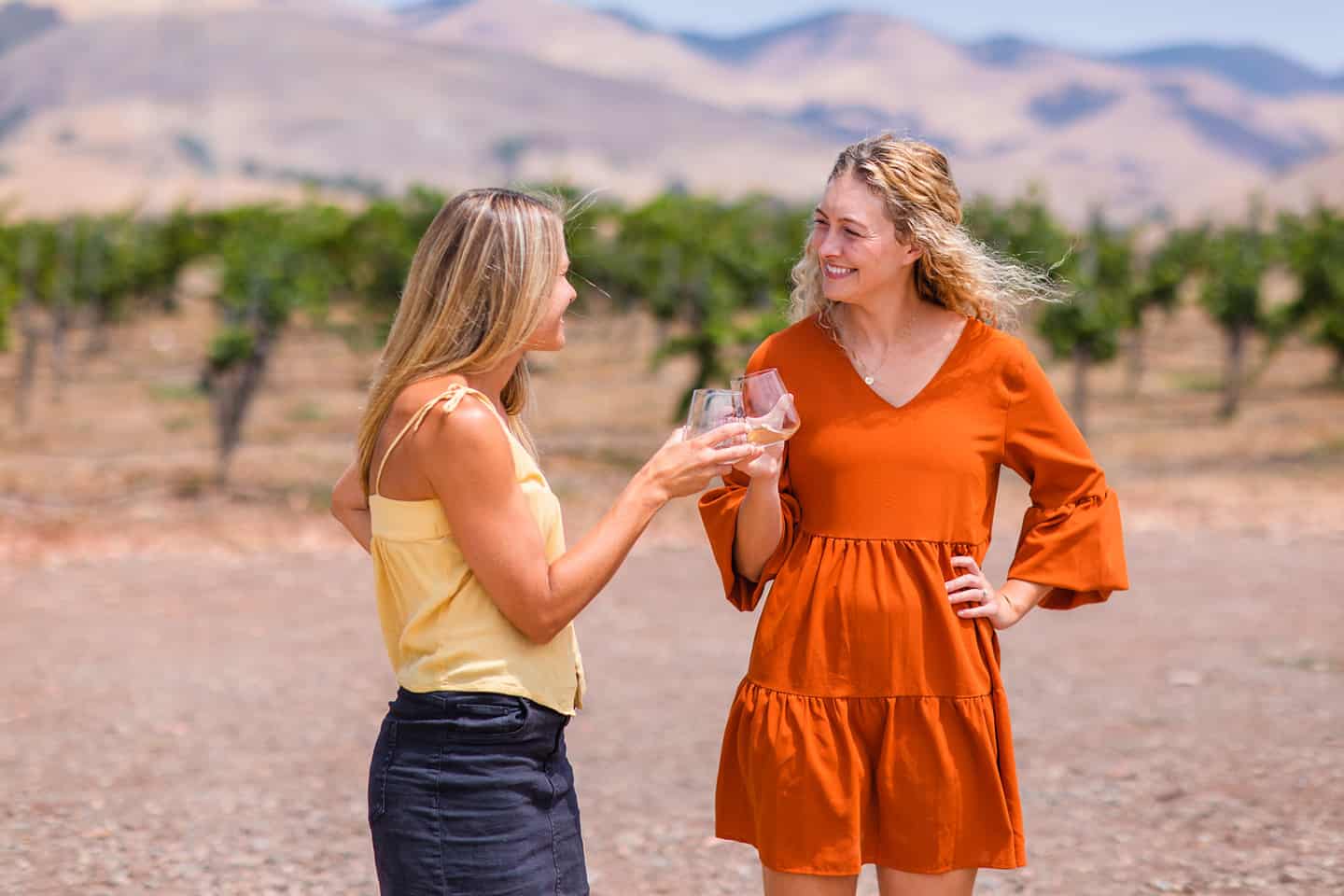 Wine Tours
Several wine tour providers operate along the Central Coast, allowing visitors to sit back and enjoy the ride. From plush vehicles and customizable itineraries to smart add-ons like gourmet picnic lunches and olive oil tasting, each tour offers its own unique perks. Regardless of the tour service, visitors can rest assured that those in the know are in the driver's seat.
101 Wine Tours
101 Wine Tours hosts wine, beer, olive oil and scenic tours of the entire Central Coast Wine Region, including Paso Robles, San Luis Obispo, Edna Valley and SLO Coast Wine areas. Visitors enjoy a personalized tour that includes small boutique wineries and vast estates. Special behind-the-scenes tours are also available seasonally, affording visitors an up-close look at the winemaking process. Wine tasting tours include up to four stops, as well as pick-up and drop-off.
Uncorked Wine Tours
Specializing in private customizable tours, Uncorked Wine Tours allows visitors to create a one-of-a-kind wine country excursion. Serving Paso Robles, San Luis Obispo, Edna Valley and SLO Coast Wine areas, enjoy a range of wine tasting options tailored to each groups' distinct preferences. In addition, itineraries are known to detour through additional points of interest, including local beer, spirits or olive oil tasting rooms. Other add-ons include vineyard tours, horseback riding through the vines, zip-lining, wine seminars and more.
Breakaway Tours
Breakaway Tours invites guests to relax in its fleet of luxury vehicles while taking in some of the Central Coast Wine region's most scenic landscapes, including Paso Robles San Luis Obispo, Edna Valley and SLO Coast Wine areas. Visitors define the route, choosing from a selection of more than 500 wineries of all stripes. Designed to offer personalized itineraries, a knowledgeable concierge is on-hand to plan each tour down to the last detail.
SLO Safe Ride
SLO Safe Ride is a trusted ground transportation operator servicing San Luis Obispo, Paso Robles, Edna Valley, SLO Coast Wine areas and the entire Central Coast Wine Region. The local charter service utilizes passenger vans, buses and limousines to accommodate any size group. Whether the outing includes wine tasting, distillery tasting, wine festival or other event, SLO Safe Ride is on call to provide a reliable ride for all.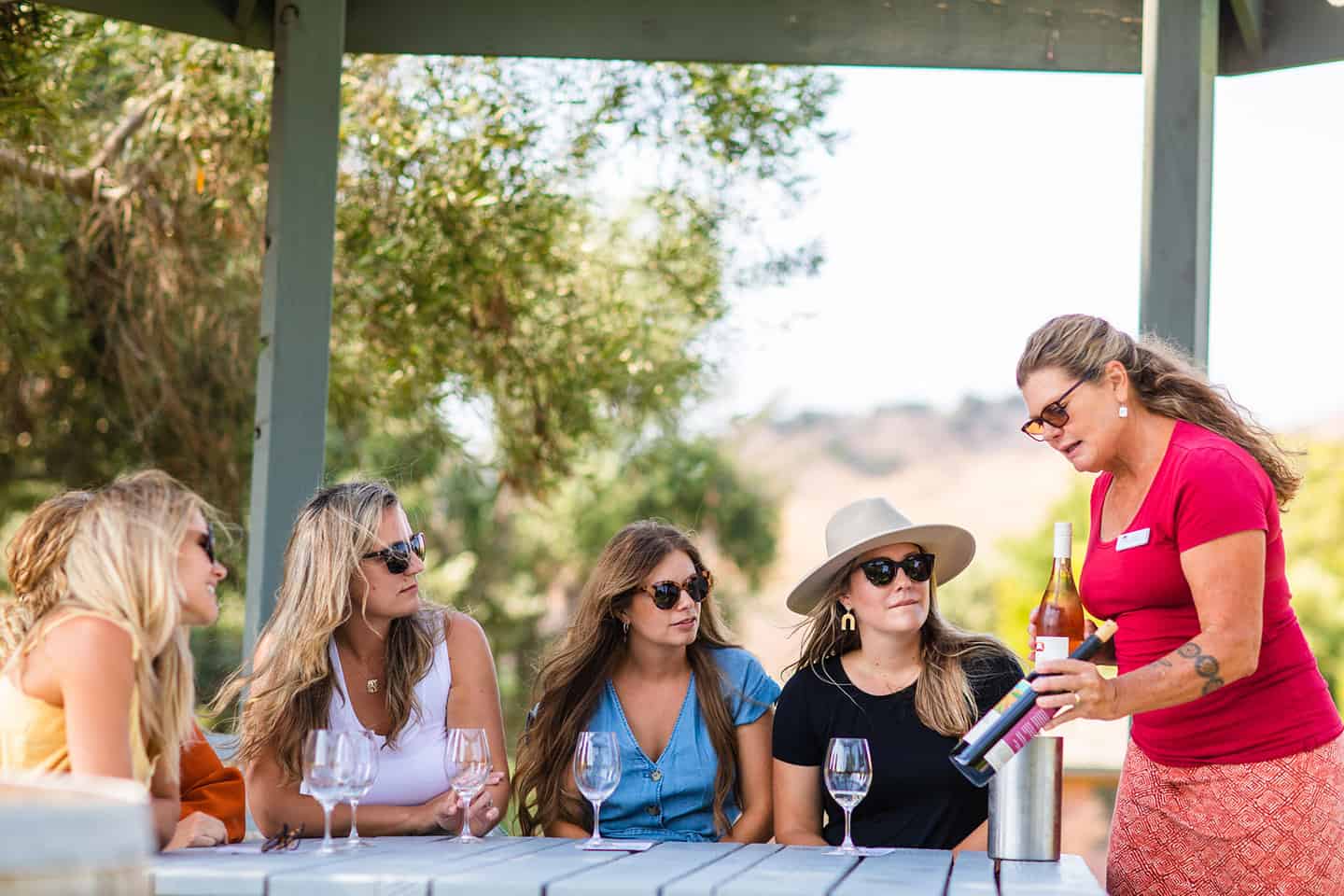 Other Wine Adventures Near the Coast
Cycling in Wine Country
Cyclists flock to Edna Valley, a popular biking destination for locals and visitors seeking the scenic route. Flanked by vineyards and rolling hills, cyclists can easily stop at winery tasting rooms along the two-wheel journey. Many wineries also offer snacks and outdoor picnic areas, providing a welcome break along the way. While wine tasting is a given, each Edna Valley winery is delightfully different. Check winery calendars for other offerings, including live music, lawn games, winemaker dinners and seasonal events.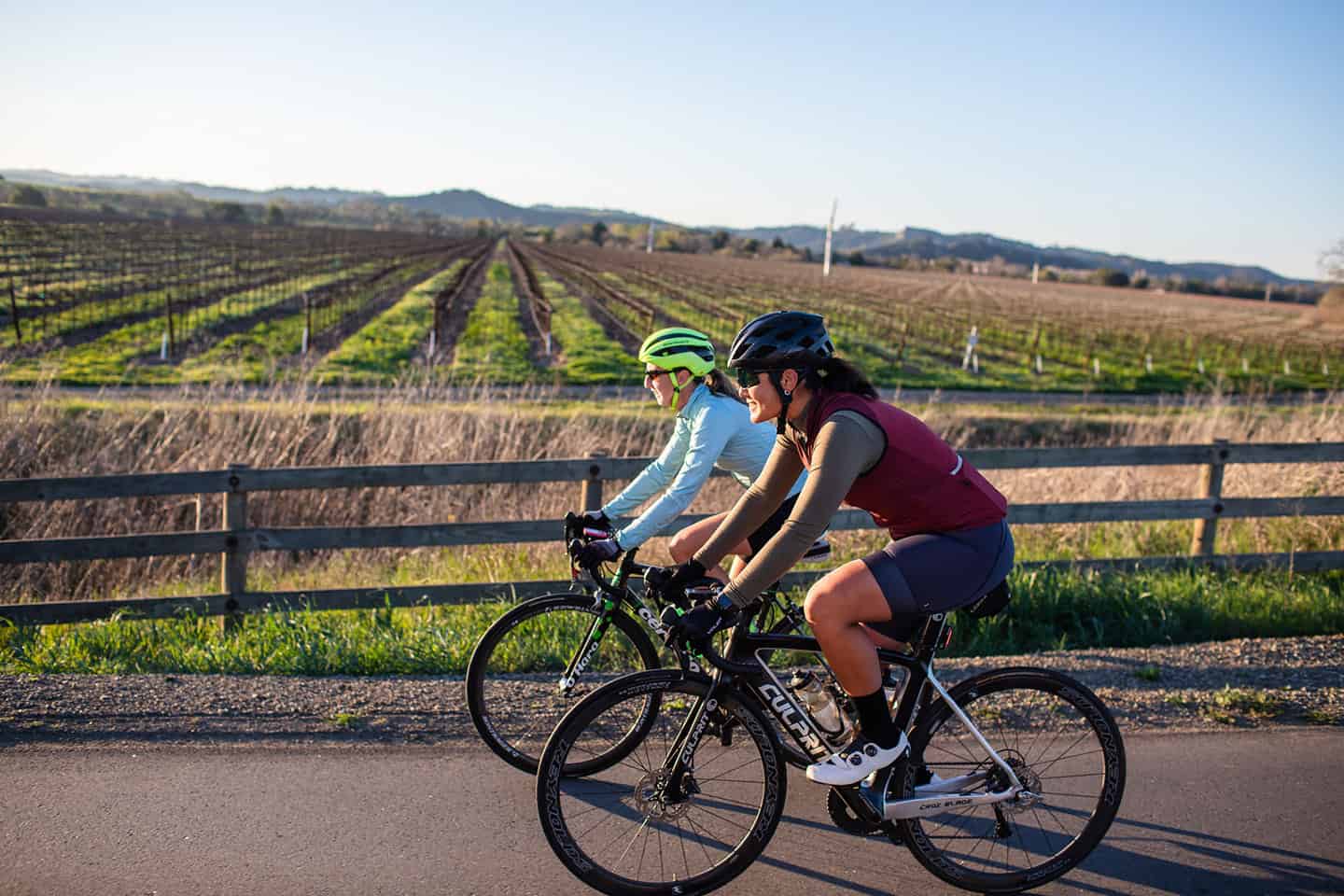 Weddings in Wine Country
Lovebirds routinely exchange vows in SLO Coast Wine Country, where romantic scenery and fine wine come together. Newlyweds tie the knot amid an array of wine country backdrops well suited for proposals, ceremonies and receptions. Choose from elegant estates, rustic barns, barrel rooms, sun dappled terraces and more.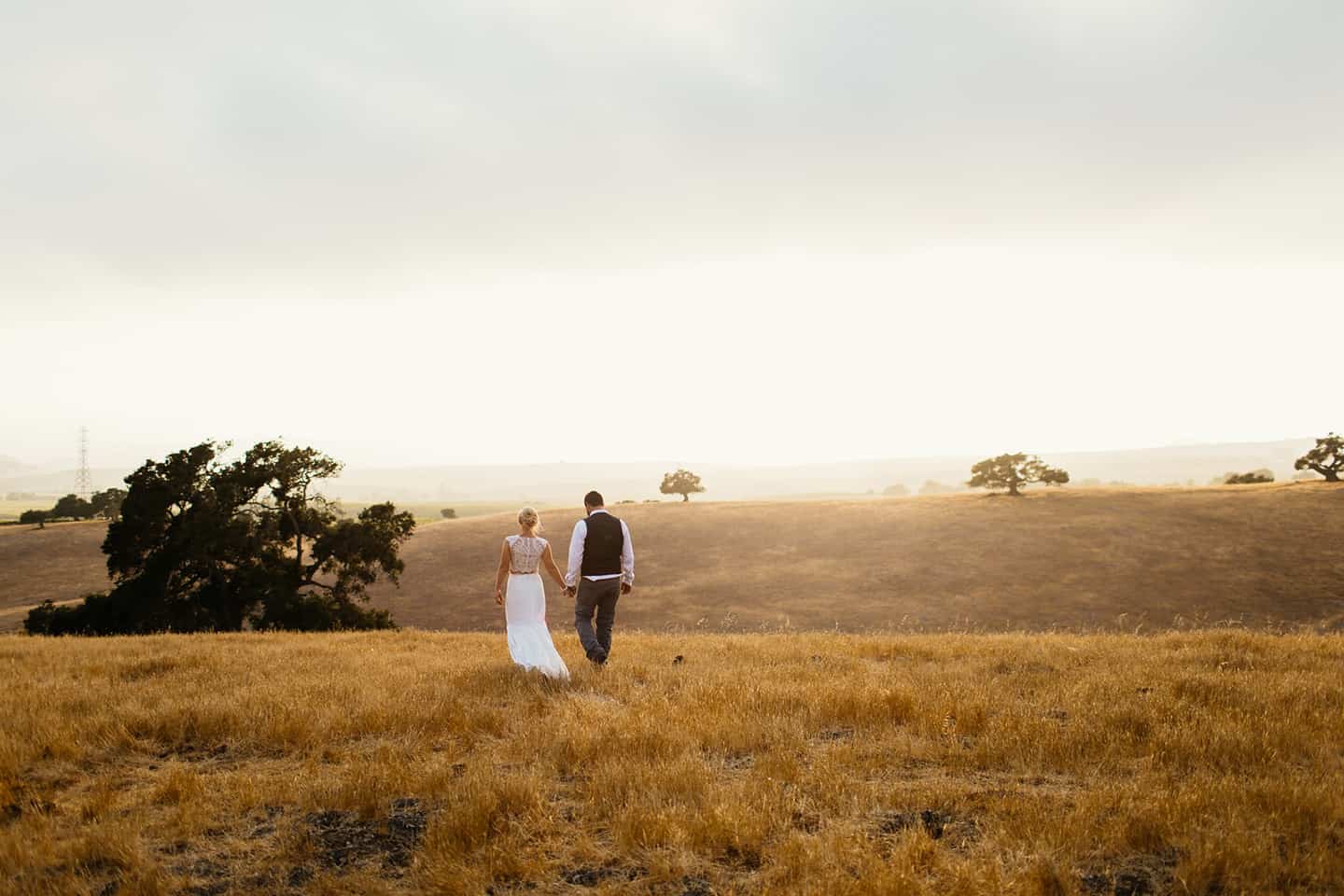 More Towns for Tasting
Pismo Beach Wine Tasting
Pismo Beach wine tasting rooms offer up a sunny destination for visitors of the Central Coast Wine region. Sans Liege Winery is known for its world class Rhone style wines and fun tasting room vibe. Planning to visit the famous Pismo Beach Monarch Butterfly Grove? Stop for a cozy wine tasting at the Monarch Grove Winery tasting room just south on Highway 1. Finally, the tasting room at Tastes of the Valleys wine shop showcases local wines poured by knowledgeable staff.
Morro Bay Wine Tasting
The bustling Morro Bay Embarcadero is home to a trio of excellent wine tasting rooms. Wine taste along the charming oceanfront where children chew salt water taffy and local fishermen haul in the catch of the day. MCV Winery offers bold, Paso-grown reds including tannat and petite sirah. Nearby, Chateau Margene pours up some of the Central Coast's most elegant cabernet sauvignon selections. Morro Bay's Wine Seller wine shop features a taste of local wines paired with regular live music.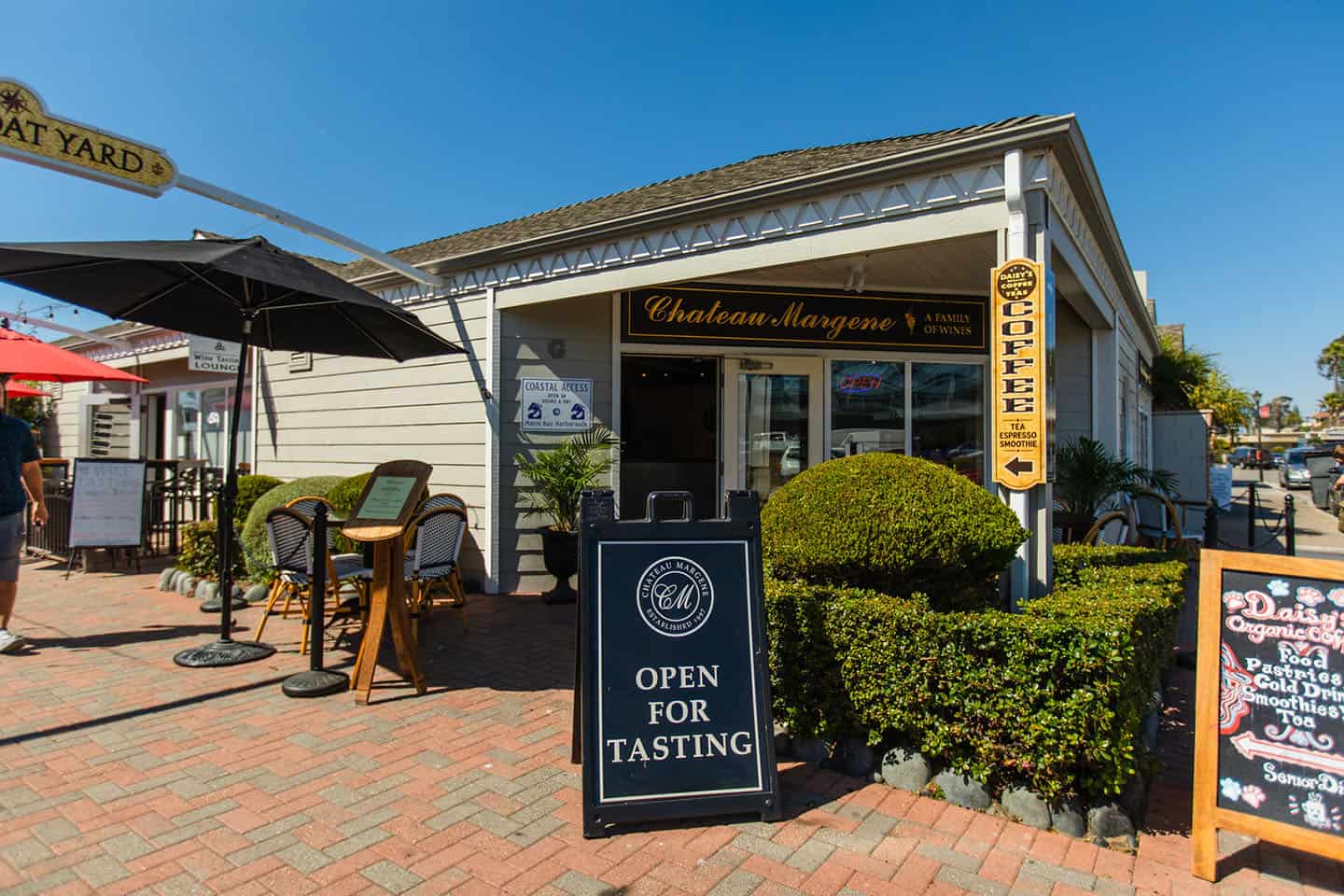 Urban Wine Trail (San Luis Obispo)
Savor the Central Coast Wine region, San Luis Obispo style. Showcasing unexpected and modern tasting rooms, Urban Wine Trail participants provide a fun alternative to the traditional vineyard experience. In San Luis Obispo, brake for Deovlet, El Lugar and Stephen Ross Wine Cellars, industrial wine tasting rooms pouring excellent pinot noir, among other varieties. Fellow urban tasting room Croma Vera specializes in Spanish varieties with a bold California twist. For more San Luis Obispo wine tasting surprises, visit Filipponi Ranch Winery, a charming farmhouse on the outskirts of town. Visitors can also taste the next generation of wine offerings at Cal Poly University, home to a celebrated viticulture program.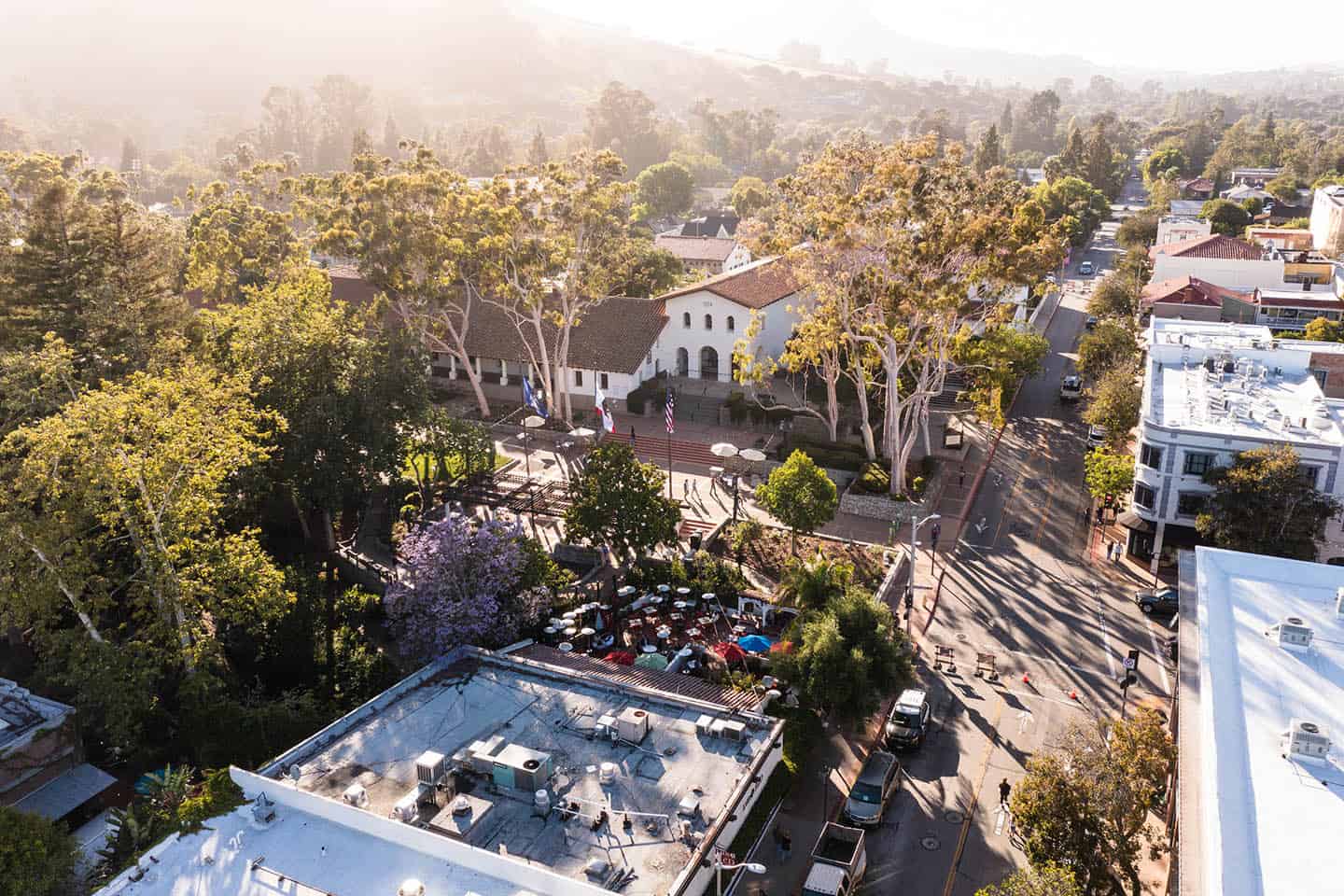 Paso Robles
Located just north of San Luis Obispo, Paso Robles Wine Country is an iconic wine region in its own right. With more than 250 tasting rooms, this world class growing area continues to collect accolades from wine critics the world over. Despite much national and international media coverage, the area remains cozy and hospitable, welcoming in first-time tasters and serious wine aficionados alike. The pioneering spirit is alive and well here, with unique wineries tucked within one of the nation's largest AVAs. Hot, dry days and cool nights help to grow full-bodied red Rhone and Bordeaux varieties—most notably, rich cabernet sauvignon. Visit the Paso Wine Alliance website for information on a variety of wine trails and educational opportunities.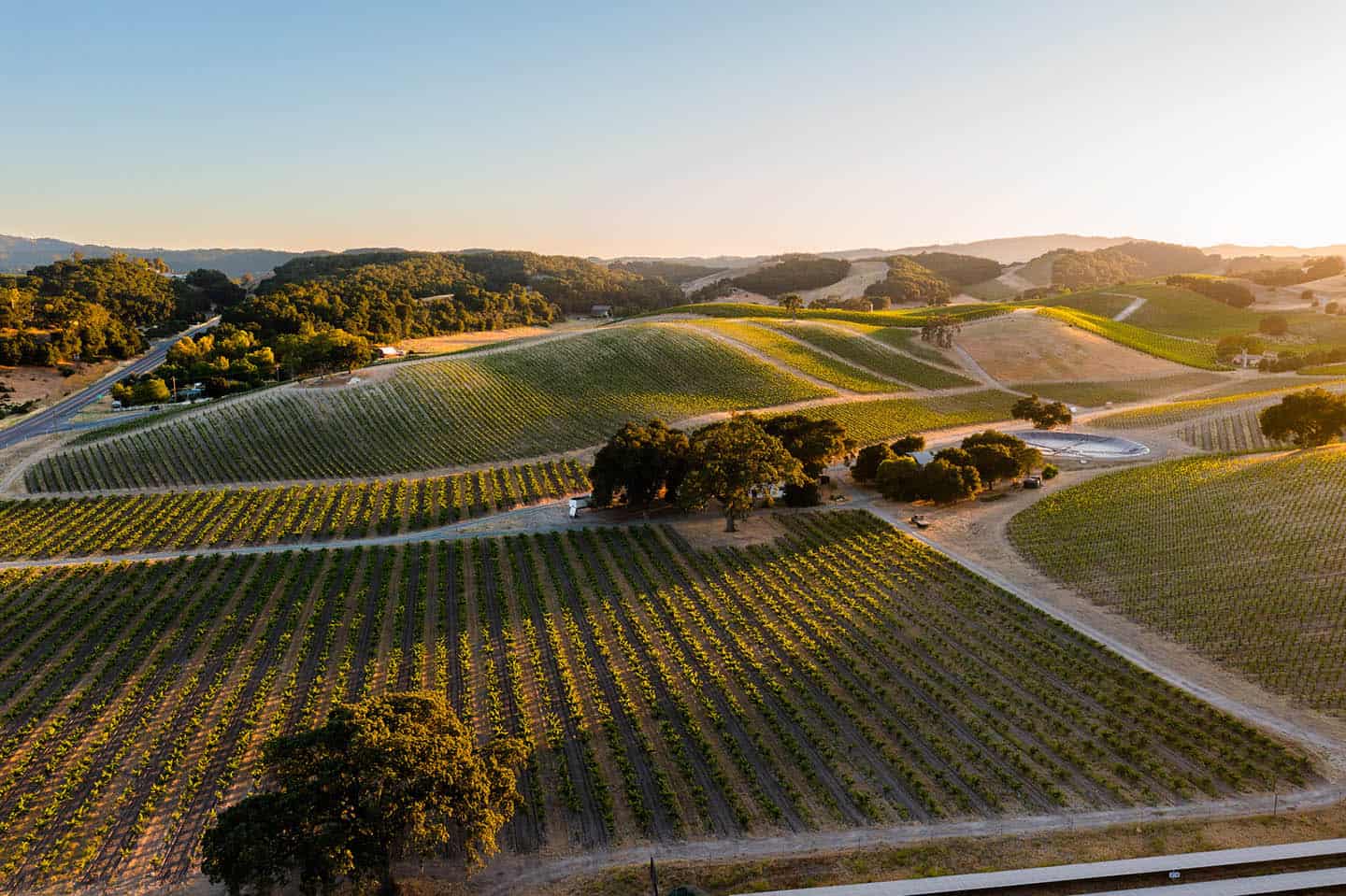 Central Coast Wine Festivals
Cambria Wine and Art Festival
Every January, the Cambria Wine and Art Festival combines the magic of local artists with the flavor of local wineries. Featuring artist demonstrations, winemaker dinners and a grand tasting, you'll find the intersection of winemaking and artmaking. Visitors are also encouraged to take part in an art show and silent auction where wine and artworks are awarded to the highest bidder.
Paso Robles Wine Festival
Each May, Paso Robles Wine Country comes together for the Paso Wine Festival, a multi-day celebration of fine wine, great food and awesome entertainment. Featuring 100+ wineries, the festival includes craft spirits, artisans, makers market, live music and brand experiences. Each year, expect a fresh look at the region with additional winemaker dinners and spotlights on various aspects of the industry. Visitors should note that the marquee grand tasting is not to missed: expect to discover dozens of diverse Paso Robles varietals served up with a side of warm hospitality.
Harvest on the Coast
A premiere wine event in the Edna Valley and Arroyo Grande Valley, Harvest on the Coast is hosted every fall by the San Luis Obispo Wine Collective. The weekend begins with a Crafted on the Coast winemaker dinner featuring culinary treasures paired with local wines. On Saturday, the grand tasting and live auction invites over 60 wineries and restaurants to team up for food and wine pairings. On Sunday, guests can visit their choice of SLO Coast wineries with an all-access pass that includes complimentary tastings.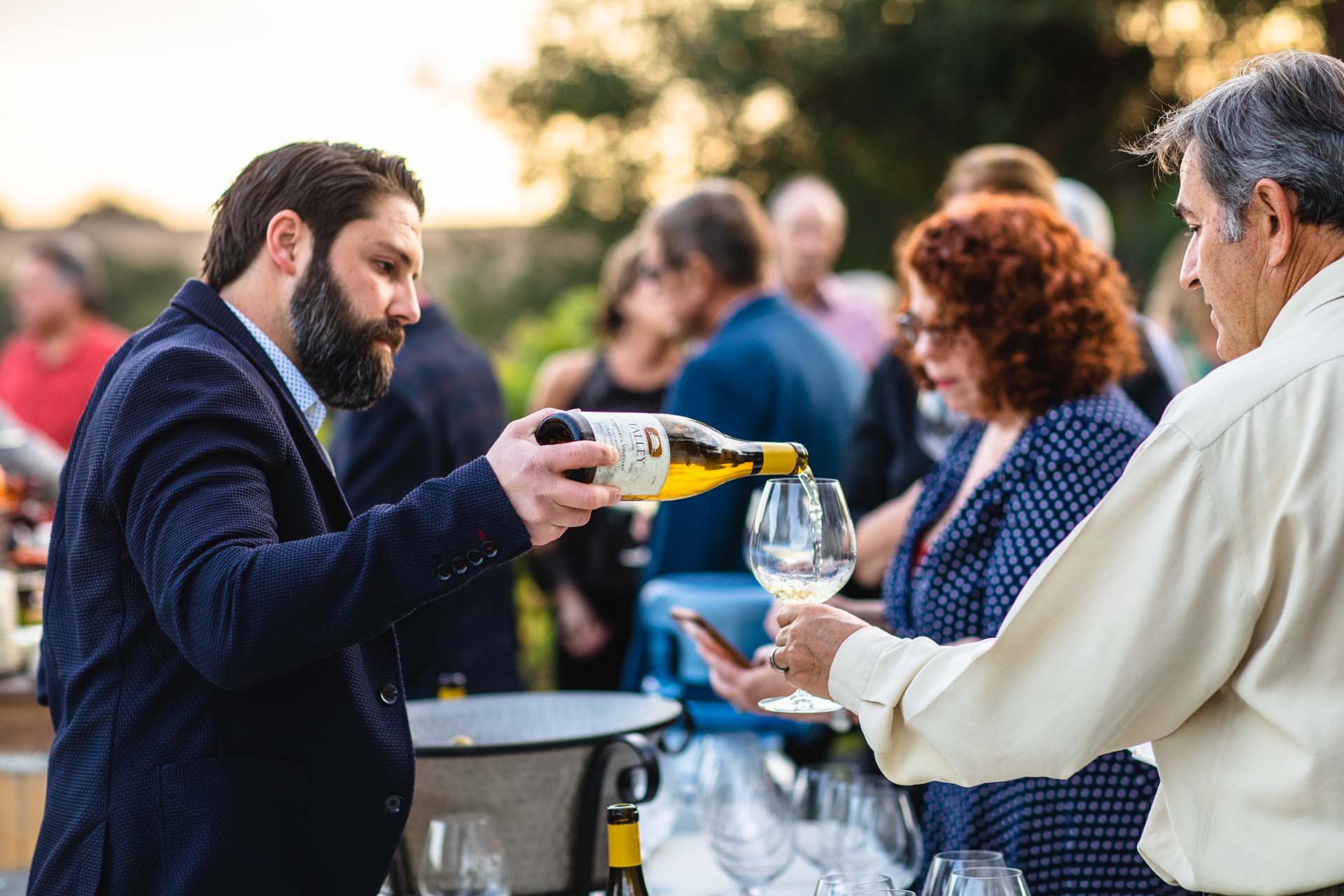 Pismo Beach Wine Festival
Of all the Central Coast Wine region events, Wine, Waves & Beyond is the frothiest. Enjoy a long weekend of wine and surf-related experiences hosted in and around Pismo Beach. Events include a surf movie premier, Volkswagen bus show, surf competition and grand tasting of the finest coastal wines. Wine, Waves & Beyond is also a philanthropic event that has donated hundreds of thousands of dollars to local charities over the years.
SLO County Wine History
The first vineyards in San Luis Obispo County were planted by padres near San Miguel and San Luis Obispo missions. By the 1820s, Mission San Luis Obispo de Tolosa in San Luis Obispo was producing over 100 barrels of wine annually—second only to Mission San Gabriel in Los Angeles. By 1834, those vineyards were abandoned when the Mexican government secularized the California missions.
In the 1850s, Frenchman Pierre Hypolite Dallidet came to San Luis Obispo after an unsuccessful attempt at gold rushing in Northern California. Here, he purchased hundreds of acres of land in what is now downtown San Luis Obispo. He later bought and revived the withering mission vineyards of the area, becoming the first commercial winemaker in San Luis Obispo County. Though his vineyards have since disappeared, Dallidet's adobe home still stands today. Other winemakers, mostly European immigrants, emerged on the Central Coast, planting the county's first zinfandel vineyard in Arroyo Grande in the 1870s.
Local winemaking came to a standstill, at least in public view, during the Prohibition era of the 1920s and early '30s. It wasn't until 1968 that the Central Coast wine industry began to come back to life. A local farm advisor experimented with planting vines in Edna and Arroyo Grande Valley, finding that the area was indeed suitable for vines. Winemakers arrived soon thereafter, including the Piedra Creek Winery, responsible for introducing Italian grape varieties to San Luis Obispo County.
In the 1970s, San Luis Obispo County vineyard acreage skyrocketed from 550 to 4,000 acres. Today, the Edna and Arroyo Grande Valleys remain predominantly family-owned. Producers included notable growers like Jack Niven, Norman Goss, and Bill Greenough, who revived the forlorn Ditmas Zinfandel vineyard in Arroyo Grande.
In 1982, Edna Valley was established as San Luis Obispo County's first American Viticultural Area (AVA). One of its many distinctions is a remarkably long growing period due to sunny days and cool coastal breezes, producing elegant, well-balanced fruit. The nearby Arroyo Grande Valley became its own AVA just eight years later.
As existing wine regions thrived over the following decades, new Central Coast Wine Region destinations have emerged. Today, notable vineyards, wineries and tasting rooms can be found in San Simeon, Cambria, Harmony, Cayucos, Los Osos-Baywood, Avila Beach, and coastal Arroyo Grande. With more than 250 wineries and growing, Paso Robles Wine Country to the north has made a name for itself as a world class wine region. In total, the economic impact of wine on San Luis Obispo County is close to $2 billion as of 2015, an indication of its growth since the early mission days.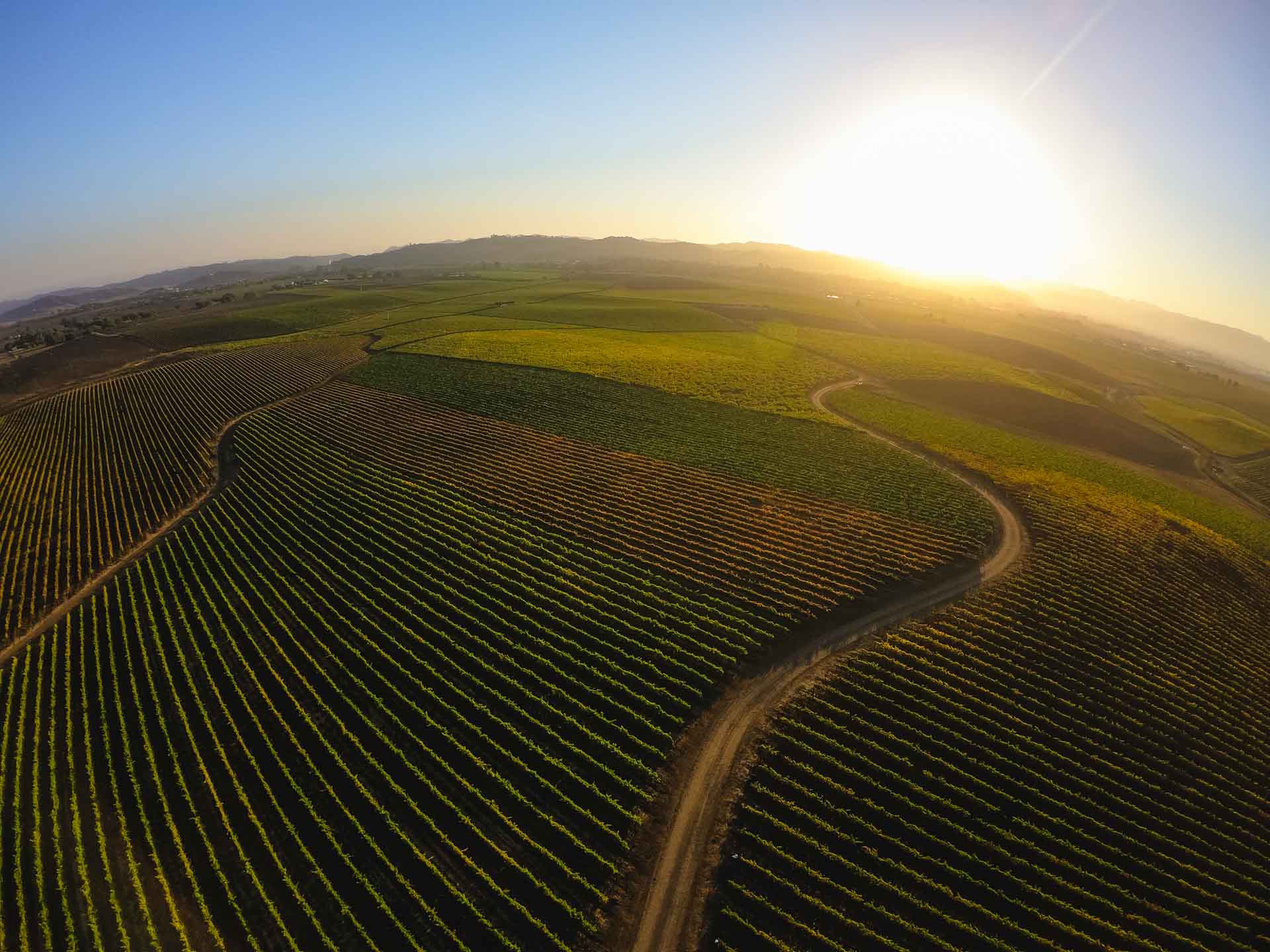 Highway 1 Wine Growing Region
Geography
Coastal wine country is defined by a number of factors, beginning with unique volcanic and seabed soils. Hard bedrock below ensures that vines struggle just enough to produce concentrated color and flavor. Volcanic mountains surround the valleys, keeping vineyards warm during the day and coastal-cool at night.
Climate
A close proximity to the Pacific Ocean brings out bright, lively acidity in the Central Coast Wine region's SLO Coast Wines. A natural warming and cooling cycle—which includes fog in the morning, breezes, then sunshine—makes for one of the world's longest growing seasons. Fruit develops slowly without over-ripening during a long hang time, resulting in wines of great complexity and impeccable balance.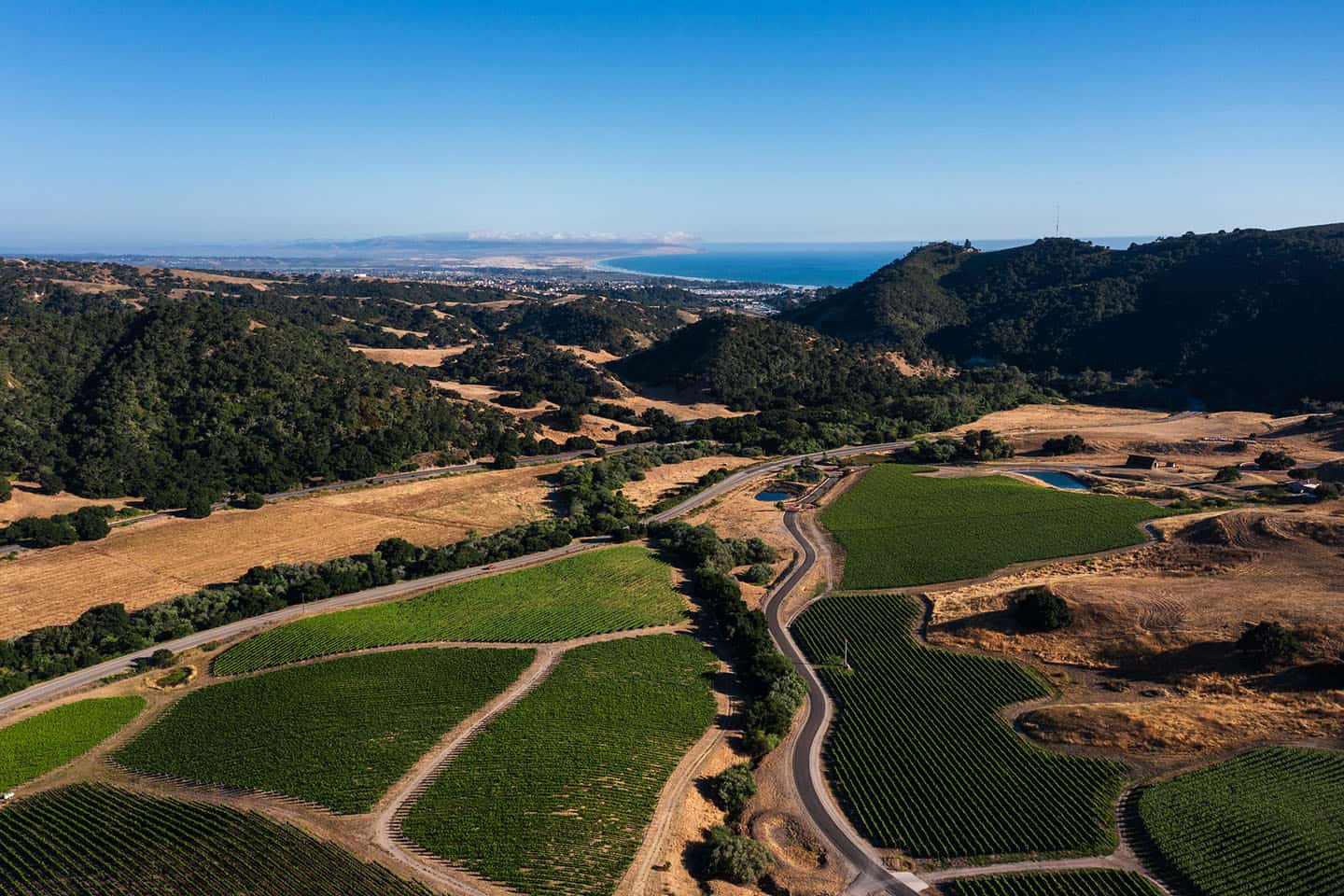 The Coastal AVAs
Coastal San Luis Obispo County is home to American Viticultural Areas recognized by the federal government for producing wines of distinction. Wineries in these AVAs comprise the membership of the SLO Coast Wine Collective, an organization that hosts fun and educational events for the public.
SLO Coast has become an official American Viticulture Area (AVA). This viticultural designation recognizes the distinctive character of California Central Coast wines shaped by cool Pacific Ocean breezes, and makes this region the newest AVA in America. The SLO Coast AVA is bordered by the Pacific Ocean, Monterey County, the Santa Lucia Mountains and Santa Barbara County, and includes all vineyards within a15-mile wide swath. This corridor houses 78 vineyards with 3,942 acres planted to vines. While a majority of acreage is planted to chardonnay and pinot Noir, this cool-climate region also plays host to a diversified lineup of other varieties like albariño, riesling, grenache, zinfandel, and syrah.
Edna Valley
Established as the first American Viticultural Area in San Luis Obispo County, Edna Valley grows 2,000 acres of vines and 20 winegrape varieties. Gentle slopes, complex soils, sunshine and family-owned wineries define this boutique wine region. Edna Valley wine grapes benefit from the maritime effects of an east-west corridor to the Pacific Ocean, just four miles away. The most celebrated and sought-after wines here are pinot noir and chardonnay, as well as aromatic white varieties and syrah.
Arroyo Grande Valley
Contiguous with Edna Valley, the Arroyo Grande Valley excels at growing premium pinot noir and chardonnay. Soils here are also sedimentary and volcanic, though they tend to be heavier, and its climate slightly warmer. Established as an American Viticultural Area (AVA) in 1990, the region reaches 16 miles long on an east-northeast orientation. Maritime breezes keep the vines cool, as do higher elevations towards Lopez Lake.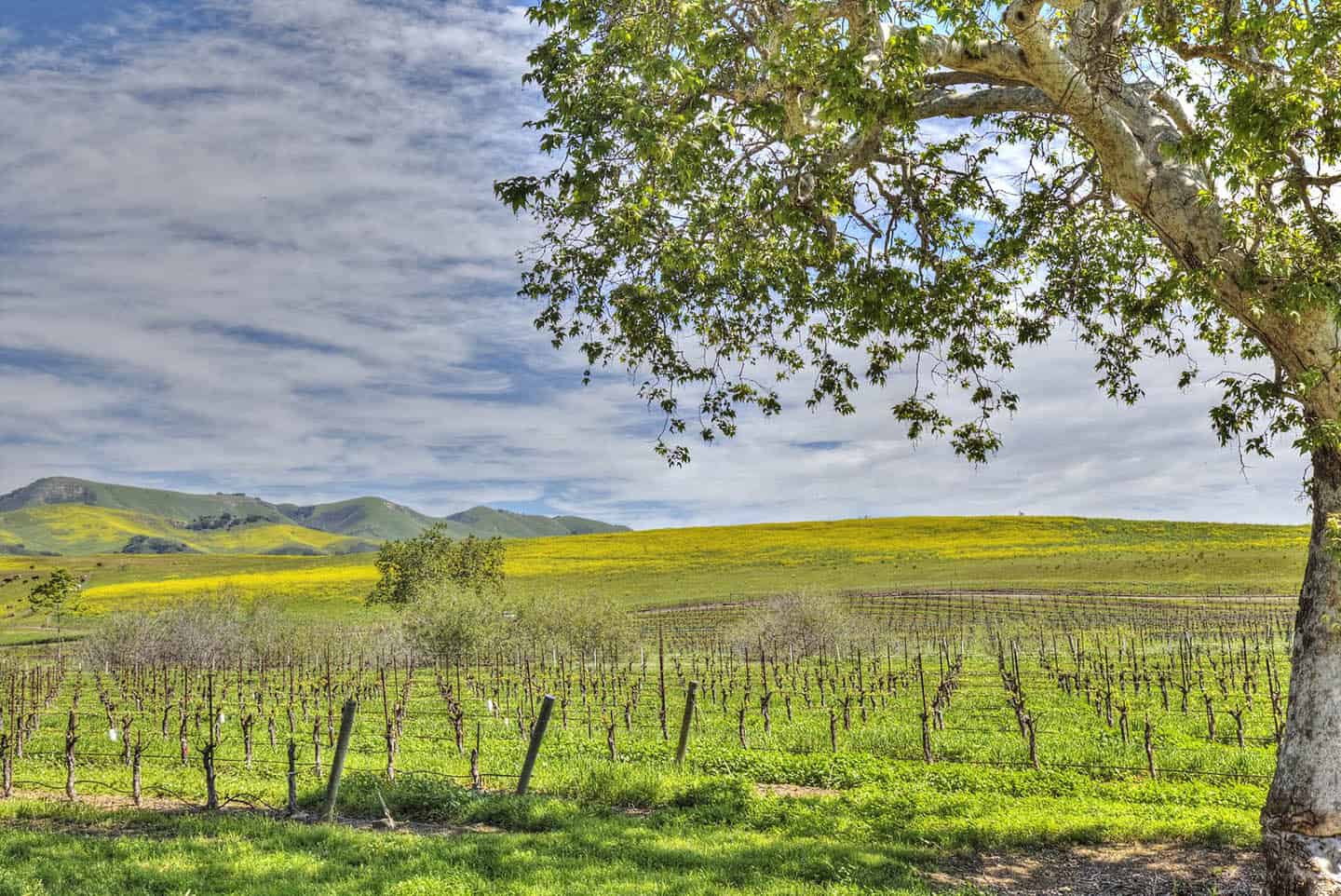 Best Places to Dine
Fine wine and fabulous food pair perfectly along Highway 1. After an exciting day of wine tasting along the California Central Coast, find an array of incredible restaurants ready to round out that epicurean adventure. Interested in pairing local wines with home-grown flavors? Known for fresh farm-to-table culinary offerings, the Central Coast Wine region serves up a bounty of regional delights. From restaurants serving casual fare like burgers and tri-tip to fresh-caught seafood with an ocean view, visitors are sure to savor the best places to eat on Highway 1 and beyond.