Hidden Gems on Highway One in the Central Coast of CA
This Blog Originally Appeared Here
Heading up  the Highway 1 Discovery Route north of Morro Bay just past Villa Creek Road, I discovered a less-traveled hike at the Harmony Headlands that leads you through a meadow livened by birdsong to a wild walk along coastal bluffs.
If you go when morning mists are rising you will spot hawks, finches, meadow larks and more. The scent of sage and meadow grasses float on the air. This is a mellow walk on a well-groomed trail with a couple of benches where you can sit a spell and enjoy canyon views. When you reach the shore, you may run into a few local joggers on the bluff walk, but you will mostly have it to yourself. Keep your eyes peeled for a small parking lot and sign that says coastal access. There is no fee to park here.
 After you walk drive up the coast just beyond Cambria to Exotic Garden Drive that takes you to a great lunch stop. Seating arrangements of all kinds are scattered around grounds bursting with all manner of blooms dotted with sculptures and other artistic creations.  A casual food counter serves dishes prepared from fresh local ingredients that can be taken outdoors and enjoyed in the garden. You can purchase plants here and browse the gift shop.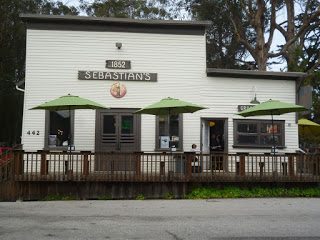 If you haven't been to Hearst Castle, a stop at the spot the newspaper magnate chose for his elaborate estate warrants a visit.  It sits on one of the last undeveloped stretches of coast that begs you to stroll the sands at San Simeon State Park. The beef in the pancake-sized hamburgers at the Sebastians winetasting room and café (walking distance from the beach) comes from local grass fed Hearst Ranch cattle.
Adventure-travel writer, Linda Ballou, has a host of travel articles on her site, along with information about her travel memoir, Lost Angel Walkabout-One Traveler's Tales, her historical novel Wai-nani, A Voice from Old Hawai'i and her latest action-adventure novel The Cowgirl Jumped over the Moon at-www.LindaBallouAuthor.com.  Subscribe to my blogwww.LindaBallouTalkingtoyou.com and receive updates on her books, and travel destinations.Click for more adventures on the Highway One Discovery Route