Monarch Butterfly Groves
What's orange and black and flutters all over? Western Monarch butterflies, of course! Like birds, these jewel-toned beauties migrate twice per year. While other butterfly species can handle chilly winters, Monarchs aren't able to survive in cold northern climates. To warm their wings, these fascinating insects overwinter along Highway 1. Ready to see for yourself? Visit Monarch butterfly groves along Highway 1 October through February for a spectacular show.
During the winter, clusters of orange wings cover the trees in Monarch butterfly groves in Pismo Beach, Nipomo, Los Osos and Morro Bay. In fact, researchers have counted up to 230,000 Monarch butterflies in a single season at the Pismo State Beach Butterfly Grove.
As the weather warms in spring, the butterflies begin migrating north. Western Monarchs can travel over 1,000 miles to reach their next migration point. Western Monarchs live west of the Rockies and migrate up and down the West Coast, between southern Canada and San Diego. Eastern Monarchs, on the other hand, live east of the Rocky Mountains and migrate south each winter to Mexico.
A sunny winter day offers ideal conditions to see Monarch butterflies along Highway 1. Monarch butterflies become active when the sun hits their wings. Appropriately enough, mating season reaches its peak near Valentine's Day ― an animated time at Monarch butterfly groves, indeed! Prepare for a spectacular natural spectacle by bringing water, sunscreen, a jacket, binoculars and comfortable shoes. Use the Coastal Discovery Trail to help plan your itinerary and make the most out of your Monarch viewing road trip.
Explore the Monarch Butterfly Groves
The Western Monarch Trail
Want to see more Monarch butterflies along Highway 1? The Western Monarch Trail shares the best sites to see these gentle, iconic creatures as they migrate across the West. The trail is a partnership between the Central Coast State Parks Association (CCSPA) and multiple organizations working to preserve and steward natural resources.
Until recently, the Western Monarch Butterfly generally migrated between British Columbia and Baja, with overwintering sites along the way. Due to several factors, including loss of habitat and climate changes, the Monarch has adopted an east-west flightpath seasonally between the coast and the inland valleys. The organizers of the Western Monarch Trail keep tabs on the best places to see butterflies in their changing habitats. These include sites across Washington, Oregon, California, Arizona, Nevada, Utah, and Idaho.
Visitors to migration hotspots have noticed a decline in the Monarch's population. Unfortunately, the research bears out this observation. The Western Monarch Butterfly population has decreased in number by 99 percent since the 1990s. This concerns scientists, biologists, botanists and enthusiasts because Monarchs are not just pollinators, but also serve as a food source for birds, animals and insects.
By following the Western Monarch Trail, visitors become interested, educated and invested in the health of the Monarch's threatened population. Each site along the trail includes interpretive signage featuring information key to citizen science and preservation. Though not all locations are open to the public, ten of these sites are located in San Luis Obispo County alone. Be a traveler that cares and donate to the Western Monarch Trail to support the ongoing conservation efforts of the Western Monarch Butterfly. Your donation helps to educate and spread awareness about the plight of the Western Monarch. We, and these winged creatures, thank you.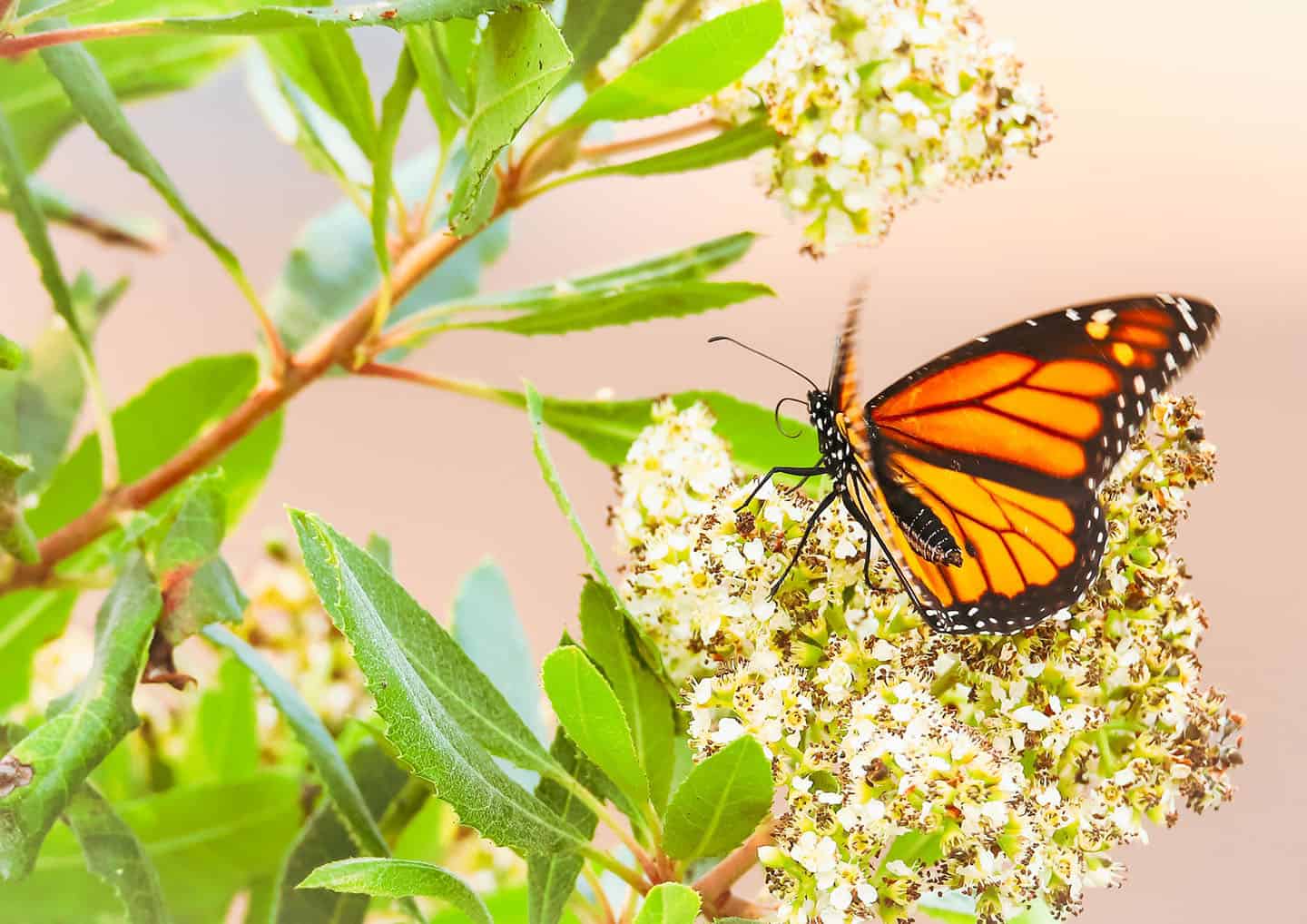 Hearst San Simeon State Park Monarch Butterfly Grove
Western Monarch Butterflies gather in San Simeon each winter for the annual migration to the coast. It's common to see them fluttering throughout San Simeon during the months of November through March, nectaring and opening their wings to the sun.
Look to the eucalyptus trees in any corner of town to spy clusters of their majestic orange and black wings. For a more consistent view of Western Monarch Butterflies, head to the San Simeon Natural Preserve. Located within Hearst San Simeon State Park, this peaceful place includes wetlands, native plant communities, and a Western Monarch Butterfly overwintering site.
To see the site, head to W.R. Hearst Memorial State Beach and park near the Coastal Discovery Center. From here, walk to the eucalyptus grove that stands above the beach, near the warehouses of Old San Simeon and Hearst Ranch Winery. You'll also find a helpful "Western Monarch Trail" interpretive sign located on the nearby San Simeon Pier. How to spy these magical creatures? Simply look high into the trees throughout this eucalyptus forest to spy a Monarch roost.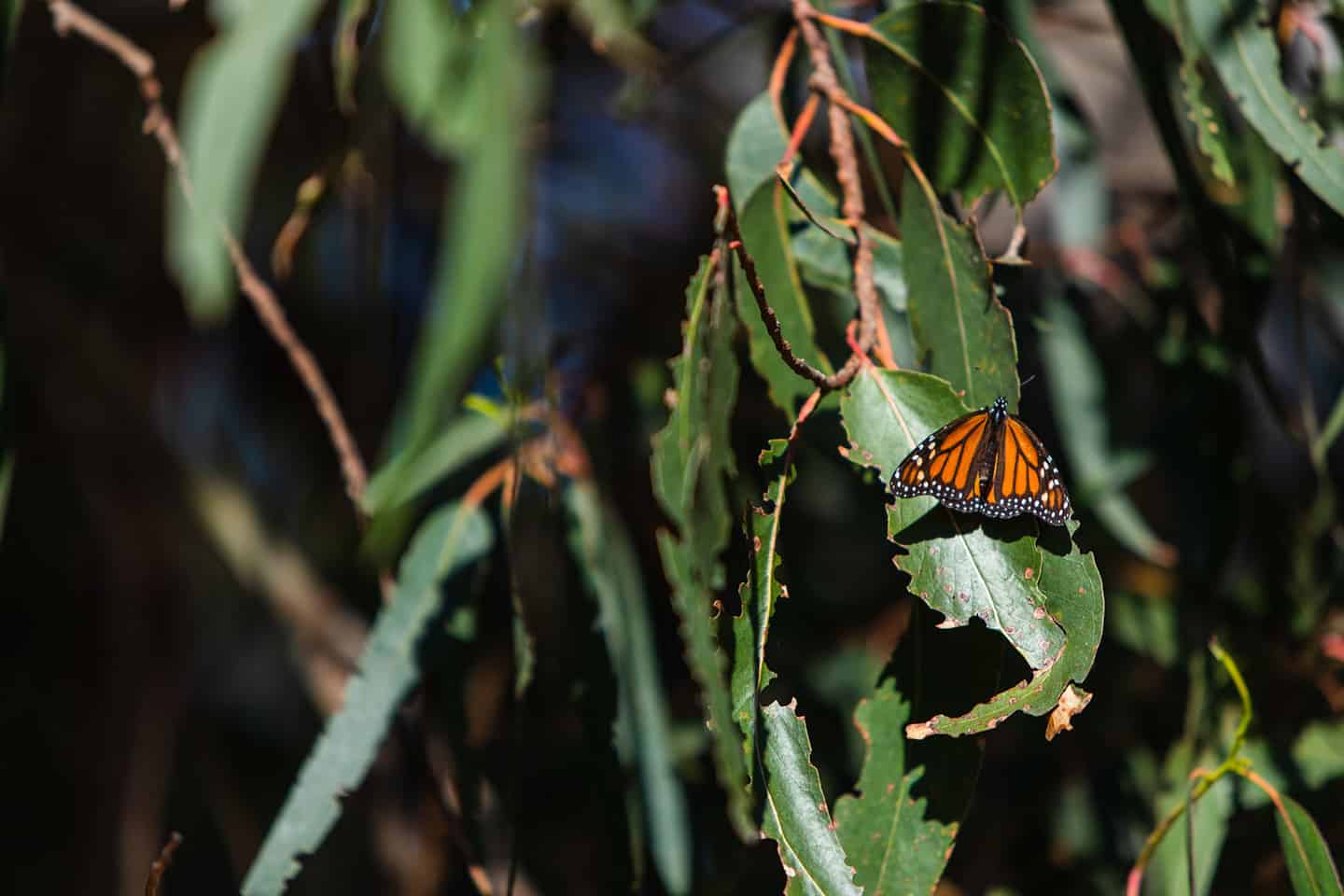 Fiscalini Ranch Preserve Monarch Butterflies
The mysteries of the Western Monarch Butterfly are many, but scientists do generally understand what sort of overwintering habitat they prefer. The Fiscalini Ranch Preserve covers all the criteria, including high humidity from the coast, standing water, dappled sunlight, and nectar sources.
Thanks to the coastal forest, the Monarch butterflies are also protected from wind, storms and extreme temperatures. The preserve is, however, subject to the same threats as any overwintering site, and has seen dramatic drops in its migratory Monarch population.
Fiscalini Ranch is one of just a precious few overwintering sites where Monarchs still roost on native trees. Organizations like the Xerces Society — named after a now-extinct butterfly species — understand that Monarch health represents the health of the community. In fact, the Xerces Society now works with the Cambria Community Services District to build back the population on the preserve.
To see Monarch butterflies at the Fiscalini Ranch Preserve, head into the native forest early in the day, as soon as the sun hits the tops of the trees. Look up into their branches to see clusters of the Monarchs' iconic orange-and-black wings.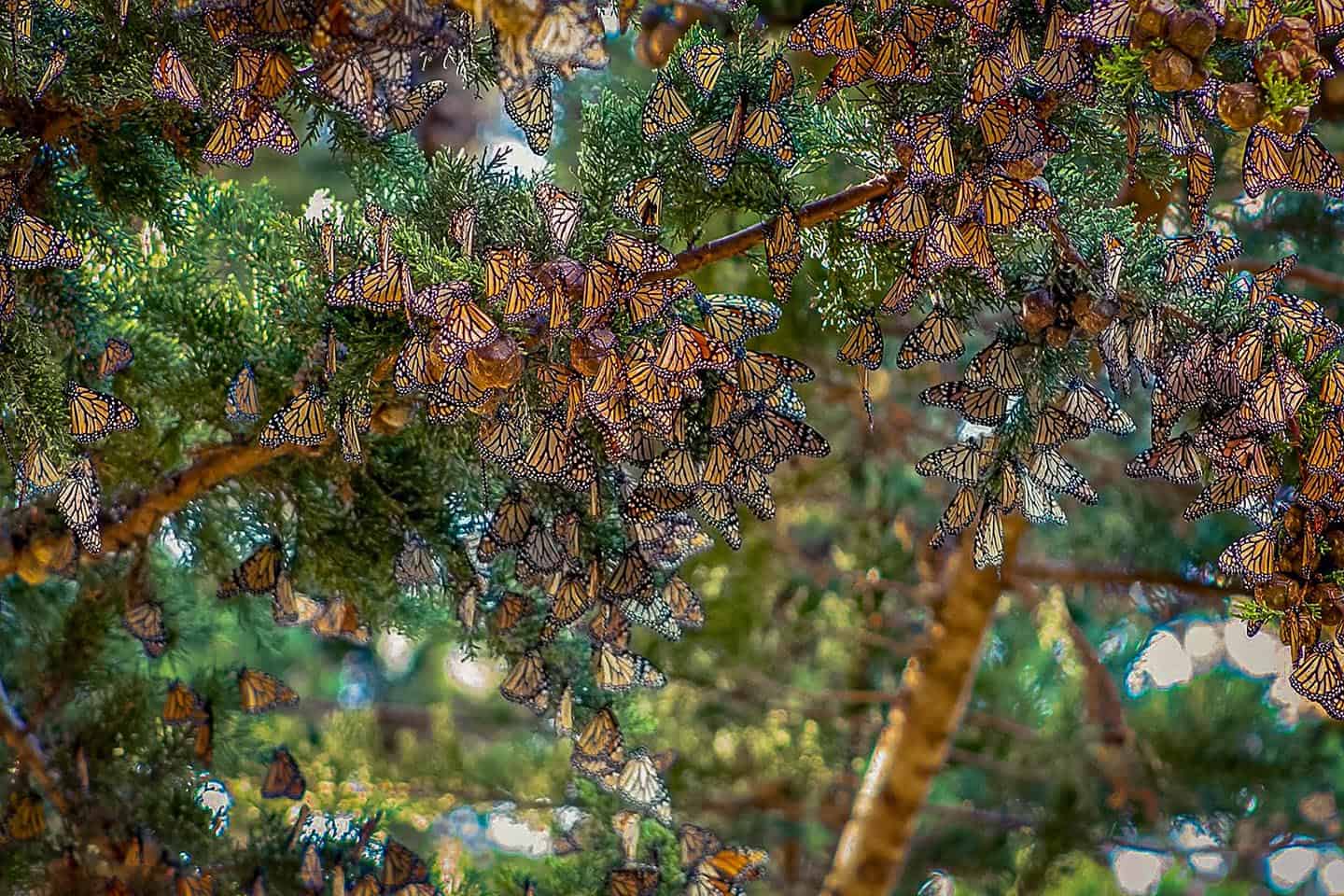 Pismo Beach Monarch Butterfly Grove
One of the largest Monarch butterfly colonies in North America, the Pismo Beach Butterfly Grove sees thousands of butterflies annually. Also known as the Oceano Butterfly Grove, the site has become a popular stop along Highway 1 for visitors from around the world. During the winter season, Monarchs cluster in the branches of a stand of eucalyptus trees in Pismo State Beach.
These Pismo Beach Monarchs live six months ― nearly five months longer than the lifespan of the common Monarch butterfly. Experts believe this is due to a fat-storing system unique to these migrants. In addition to butterfly visitors, the grove welcomes people from across the West to witness these majestic creatures in the trees. Throughout the season, trained docents lead daily talks and offer insight into the Western Monarch butterfly life cycle. Volunteers also offer powerful telescopes for seeing Monarchs high in the trees.
Conveniently located near the Oceano Dunes, the Pismo Beach Monarch Butterfly Grove is a great home base for your next Highway 1 road trip. After viewing the Monarchs, head for the dunes rolling along the Pismo Golf Course. The easily accessible Oceano Dunes Preserve walking trail is approximately 2.4 miles in and back and offers miles of uncrowded coastline. Whether you birdwatch along the trail or pack a lunch to enjoy on the beach, you'll enjoy a full day of wildlife viewing.
How to get to the grove
Address: 401 S. Dolliver St., Pismo Beach
From the north: From Southbound Highway 101, take exit 190B for Hinds Ave/Price Cyn Rd. Head southeast on Price St toward Hinds Ave. Turn right at the second cross street onto Stimson Ave. Turn left at the first cross street onto CA-1 S/Dolliver St and continue for 0.8 miles. The grove will be on your right just past the North Beach State Campground.
From the south: From Northbound Highway 101, take exit 190 for Price St/Hinds Ave. Turn left onto Ocean View Ave, then turn left onto CA-1 S/Dolliver St. Continue for 0.8 miles. The grove will be on your right just past the North Beach State Campground.
When to visit the grove
The Pismo Beach Monarch Butterfly Grove is free to visit and open to the public daily from sunrise to sunset. Peak butterfly season is late October to February, when the Monarchs overwinter in the grove's eucalyptus trees. The area provides picnic tables, a restroom and a mercantile trailer selling books, apparel, toys and butterfly-related items. The Monarch Mercantile Trailer, operated by the Central Coast State Parks Association, is open year-round from 11 a.m.to 4 p.m. During butterfly season, the hours are extended.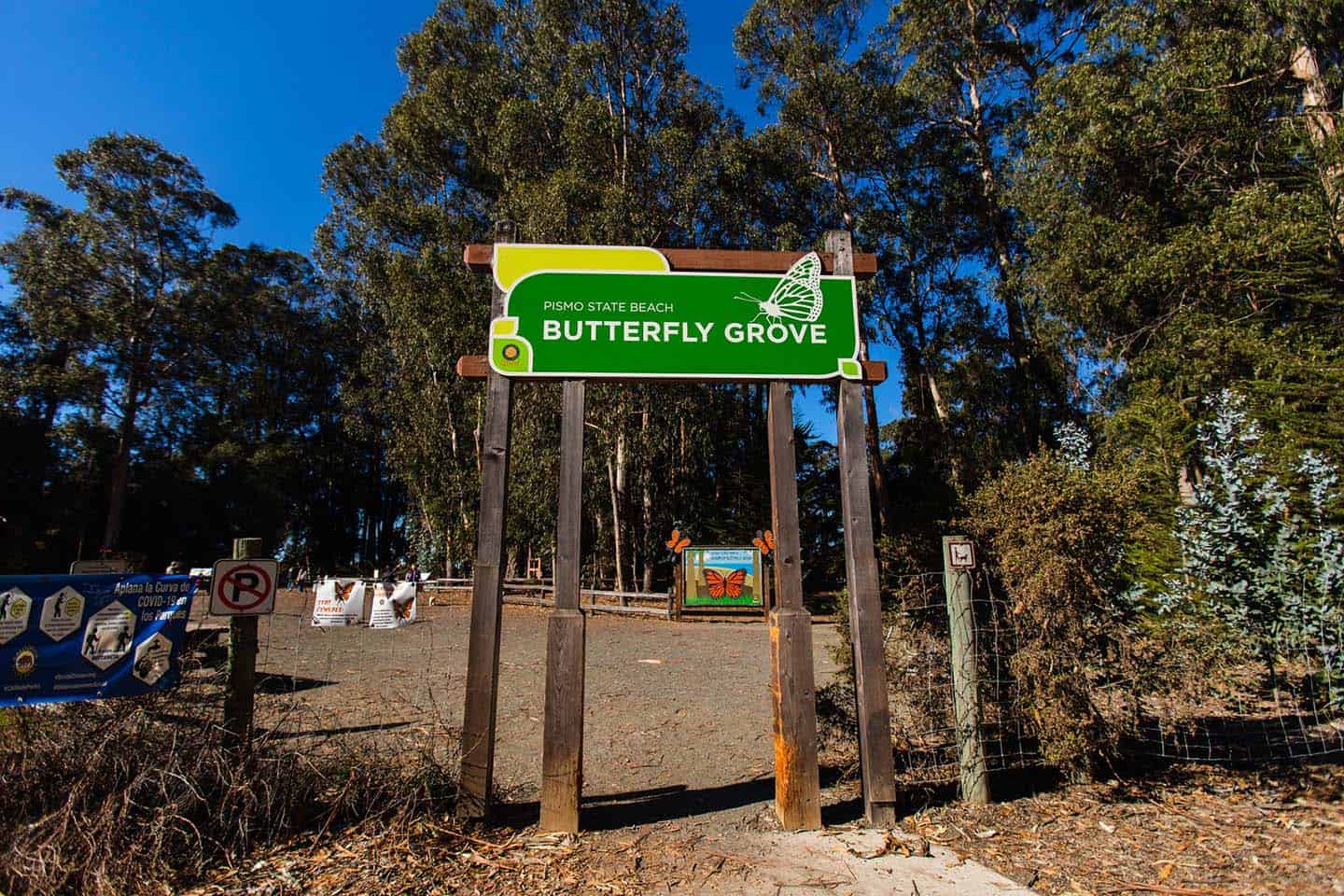 Monarch Dunes Butterfly Grove in Nipomo
In Nipomo, explore a nineteen-acre Monarch Dunes Butterfly Habitat and preserved sanctuary nestled within the Trilogy at Monarch Dunes Resort. Established in 2006, this grove of blue gum eucalyptus trees has been home to as many as 60,000 Monarch butterflies during winter seasons. Bring lunch and watch from public picnic tables located at the site. Although situated within the Trilogy at Monarch Dunes community, both residents and visitors are welcome to enjoy the grove.
An endowment secures management and protection of this precious habitat as a permanent Monarch butterfly migration point for years to come. High winds had historically caused numbers of Monarchs to decrease. An advisory group has planted Monterey cypress trees on the borders of the habitat, though, as a wind buffer for Monarchs. Grove conditions continue to improve, with numbers of overwintering Monarch butterflies increasing annually.
Golf Courses
The Monarch Dunes Butterfly Habitat sits at the heart of the Trilogy at Monarch Dunes resort community in Nipomo ― also home to two destination golf courses. Try the championship "Old Course" or the newest twelve-hole Challenge Course designed by Steve Pate and Damian Pascuzzo. Monarch Dunes Golf Club offers private instruction and dining options on-site.
Volunteer-led tours
The Monarch Dunes Butterfly Habitat offers docent-led tours throughout the winter season. For a list of upcoming talks, contact volunteers at the Monarch Dunes Butterfly Habitat.
How to get there
Address: 1610 Kingston Drive in Nipomo
From the north: Traveling southbound on Highway 1, turn left onto Via Concha Road and travel for .3 miles. Turn right onto Eucalyptus Road and follow for 423 feet. Turn left onto Kingston Drive in .2 miles. End at the parking lot at 1610 Kingston Drive in Nipomo. Traveling on Highway 101 Southbound, take exit 180: Willow Road and follow for approximately 34.1 miles. Follow Willow Road/Via Concha Road to your destination, about 4.5 miles. End at the parking lot at 1610 Kingston Drive in Nipomo.
From the south: Traveling northbound on Highway 1, turn right onto Via Concha Road and travel for .3 miles. Turn right onto Eucalyptus Road and follow for 423 feet. Turn left onto Kingston Drive in .2 miles. End at the parking lot at 1610 Kingston Drive in Nipomo. Traveling on Highway 101 Northbound, exit 180: North to Willow Road and follow for approximately 34.1 miles. Follow Willow Road/Via Concha Road to your destination, about 4.5 miles. End at the parking lot at 1610 Kingston Drive in Nipomo.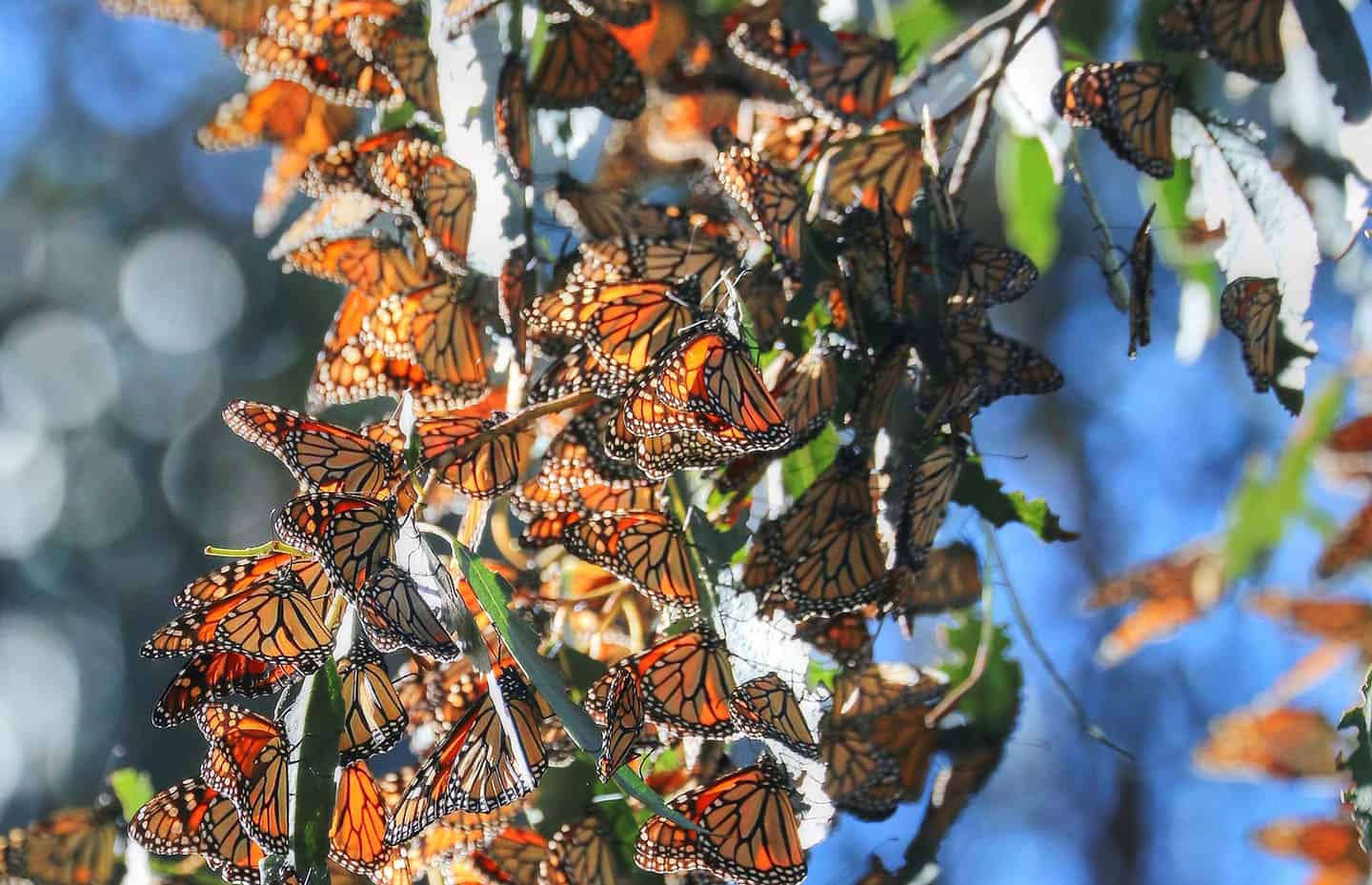 Monarch Butterfly Groves in Los Osos
Home to two Monarch butterfly groves, Los Osos offers the sort of habitat Monarchs prefer: a temperate coastal climate and access to nectar.
Monarch Grove Natural Area in Los Osos
With eighteen acres at the end of Monarch Lane in Los Osos, the Monarch Grove Natural Area offers plenty of habitat to explore. With the help of a retired Cal Poly biology professor, this Monarch butterfly lookout continues to provide a welcome home to visiting Monarchs.
The Monarch Grove Natural Area can be found in the Monarch Grove Homes development, just off Pecho Valley Road in Los Osos. From Los Osos Valley Road, turn right on Monarch Lane, just where the road forks left toward Montaña de Oro State Park. Turn right on Del Norte to the Sea Pines Golf Course. Park at the golf course and follow signs to the Monarch Grove Natural Area.
Sea Pines Golf Course
Not far from the Monarch Grove Natural Area, you'll find Sea Pines Golf Resort. Home to a nine-hole executive golf course and disc golf course, Sea Pines is the only hotel on the Central Coast located directly on a golf course. Enjoy the driving range, practice area and great dining options, all backdropped by views of seaside dunes and wildlife.
Located directly adjacent to both the Morro Bay Estuary and Sandspit Beach, you'll find that there's always more coastal magic to explore. Tucked away in the southern coast of Morro Bay, the 2,300-acre protected estuary spans Morro Bay to Los Osos and is home to more than 250 species of land, sea and shore birds (including rare and endangered species).
Rent a kayak and paddle through the enchanting back bay waters or enjoy a picnic lunch on Sandspit Beach. You can also hike a scenic nature trail meandering from the Monarch Grove Natural Area to the beach. Whichever route you choose, you're sure to make the very most of your wildlife viewing experience along Highway 1.
Sweet Springs Nature Preserve in Los Osos
Located on the Morro Bay estuary, this natural preserve has been managed by the Morro Coast Audubon Society since 1989. The 24-acre preserve provides a home to clusters of Monarch butterflies from late October to March. Follow trails through Monterey Cypress and eucalyptus trees and alongside freshwater ponds. In addition to Monarch butterflies, many shorebirds winter here.
To get to the Sweet Springs Nature Preserve from Highway 1, take the South Bay Blvd. exit just east of Morro Bay. Continue on South Bay Boulevard to Santa Ysabel Avenue and turn right. Turn left at 7th Street and right onto Ramona Avenue. The site is located on the right (north) side of Ramona Avenue. A prominent sign shows the entrance to the trails.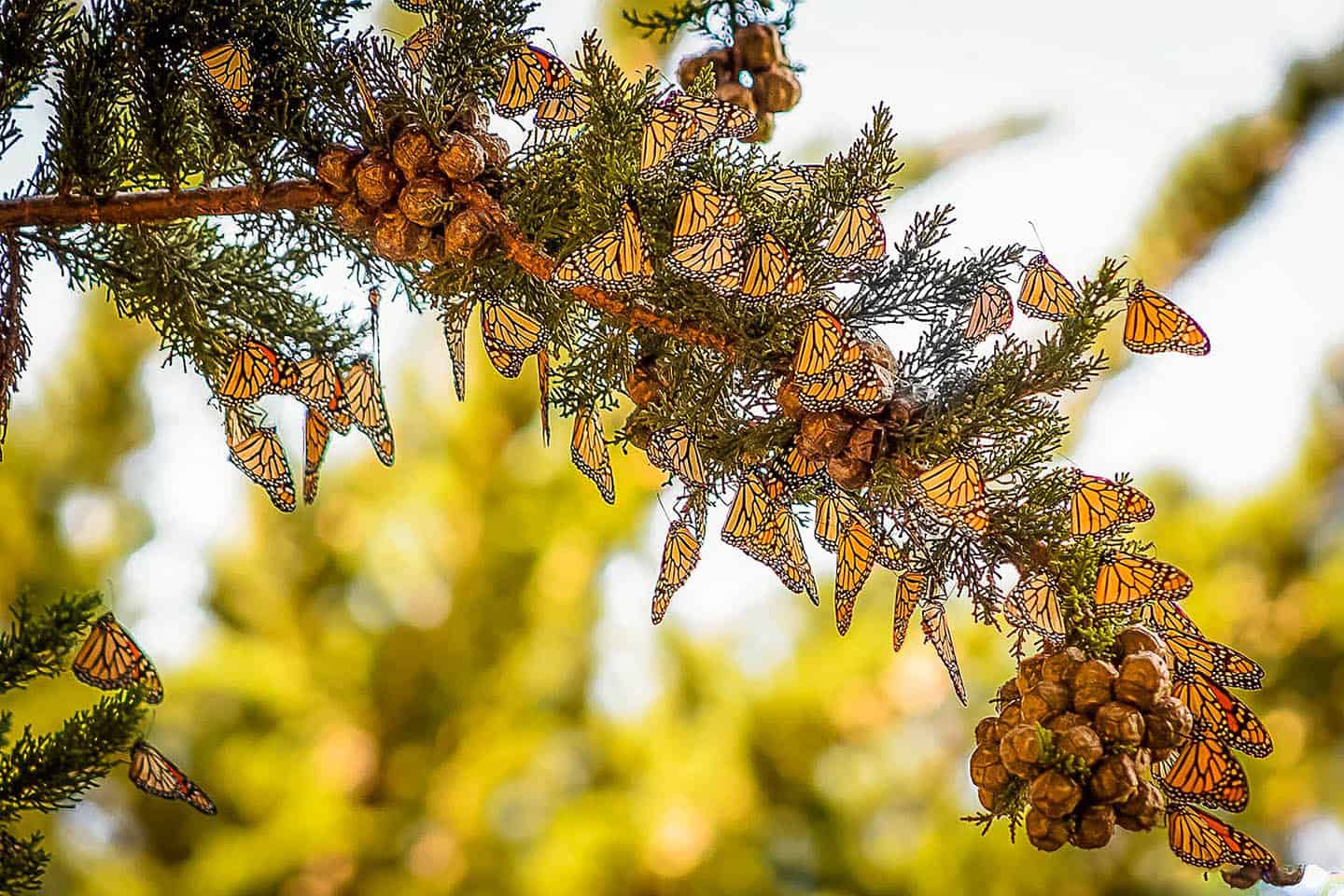 Morro Bay Golf Course Monarch Butterfly Grove
At the center of Morro Bay Golf Course, a grove of eucalyptus trees offers its branches for migrating Monarch butterflies. In fact, this Monarch habitat has been known to receive butterflies early ― as early as August. What's more, the beautiful Monarchs tend to land low on the branches, making them extremely easy for viewers to see.
To reach the Morro Bay Golf Course Butterfly Grove, from Highway 1, take exit 277 toward Los Osos/Baywood Park and turn right onto South Bay Boulevard. Turn right onto Park View Road/State Park Road and stay on Park View Dr. Follow signs to Morro Bay Golf Course.
Tour Info
Morro Bay Golf Course provides tours of the natural Monarch butterfly grove throughout the winter, weather permitting. Witness thousands of Monarch butterflies up close after a short hike to the viewing area. For more information, contact the Morro Bay Golf Course.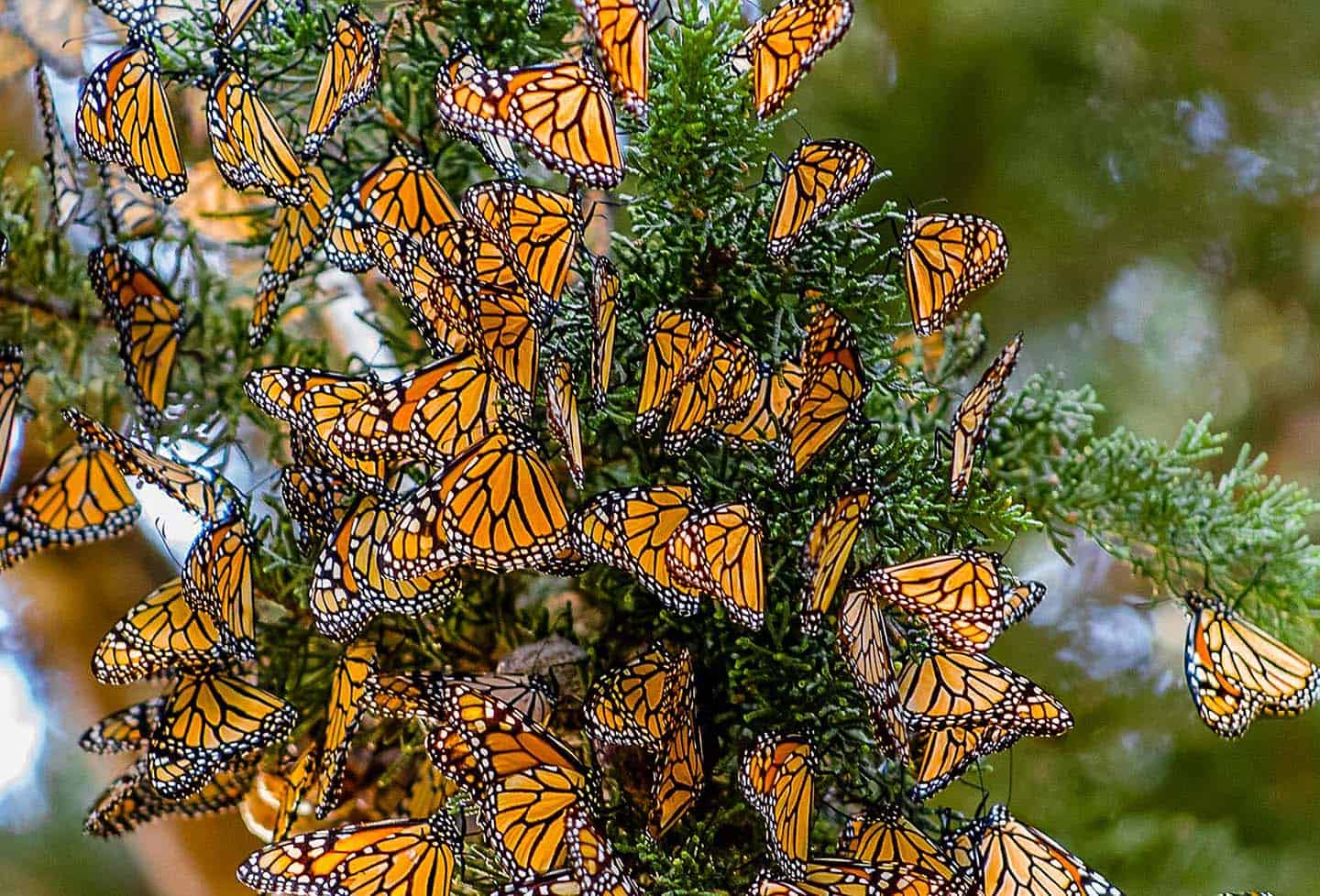 San Luis Obispo Botanical Garden
Located on the Western Monarch Trail, the San Luis Obispo Botanical Garden is a wonderful place to catch glimpses of fluttering Monarch wings in a scenic environment.
Exclusively devoted to plants that thrive in the five mediterranean climate regions of the world, this non-profit botanical garden works to honor and preserve visitors' connection with nature. Nestled along Highway 1 between Los Osos and San Luis Obispo, the 150-acre botanical garden features an onsite interpretive panel to help educate and enlighten guests as they explore.
View Monarchs in the wild–especially in the fall and winter months–and be sure to ask the onsite docents for the best areas to watch. These won't be too hard to find: the garden intentionally grows plants that provide much-needed nectar for migrating Monarchs and many areas provide shelter during winter. Enjoy miles of paved trails as you explore this bountiful garden with both self-guided and docent-led tours available.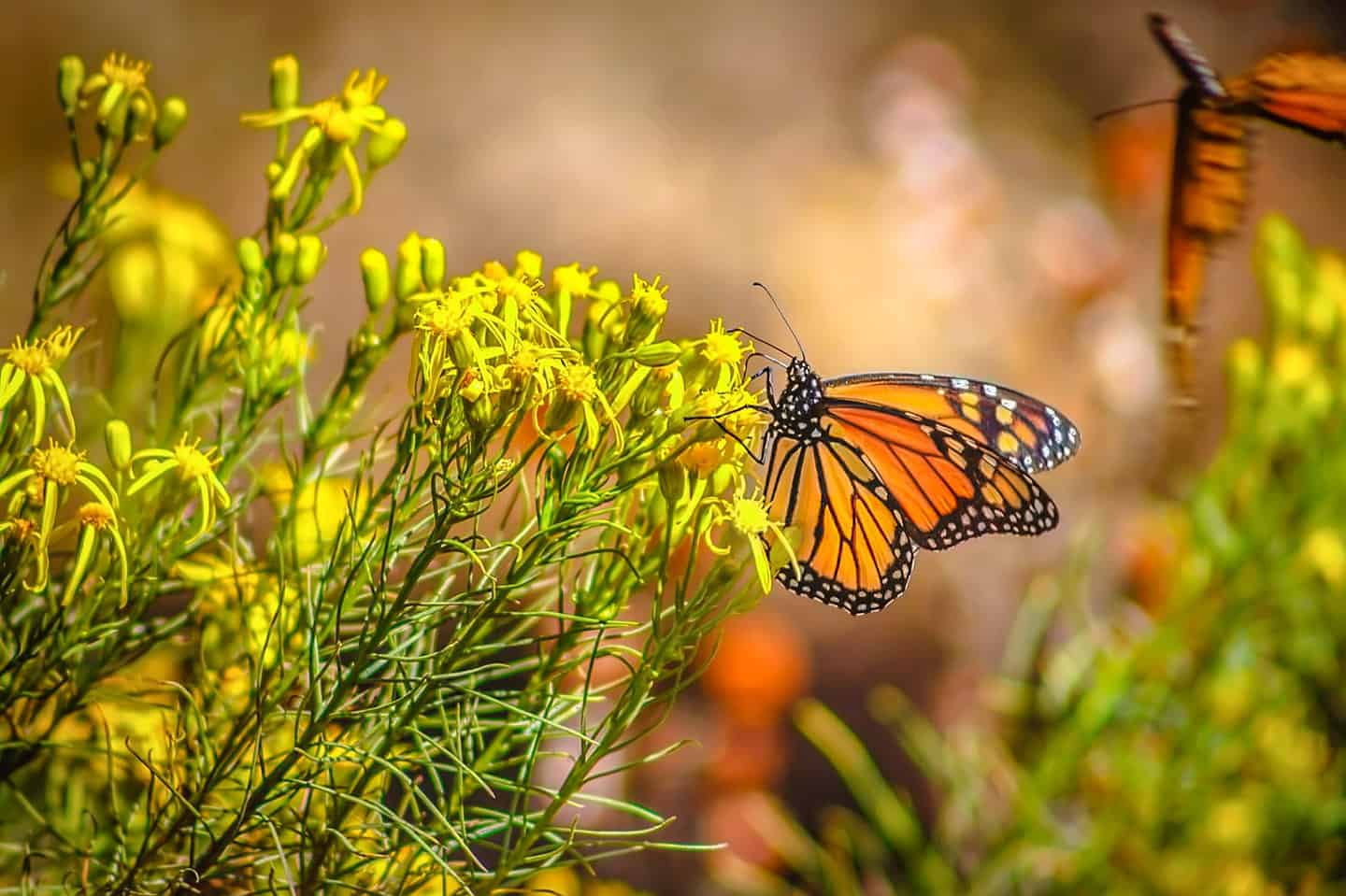 Map of the Monarch Groves
Ready to discover the jewel-toned beauties of Highway 1? Head out this winter to see Western Monarch Butterflies in their natural migratory habitats. Pick a few sites to explore, and use our handy Google map to navigate to your preferred spots.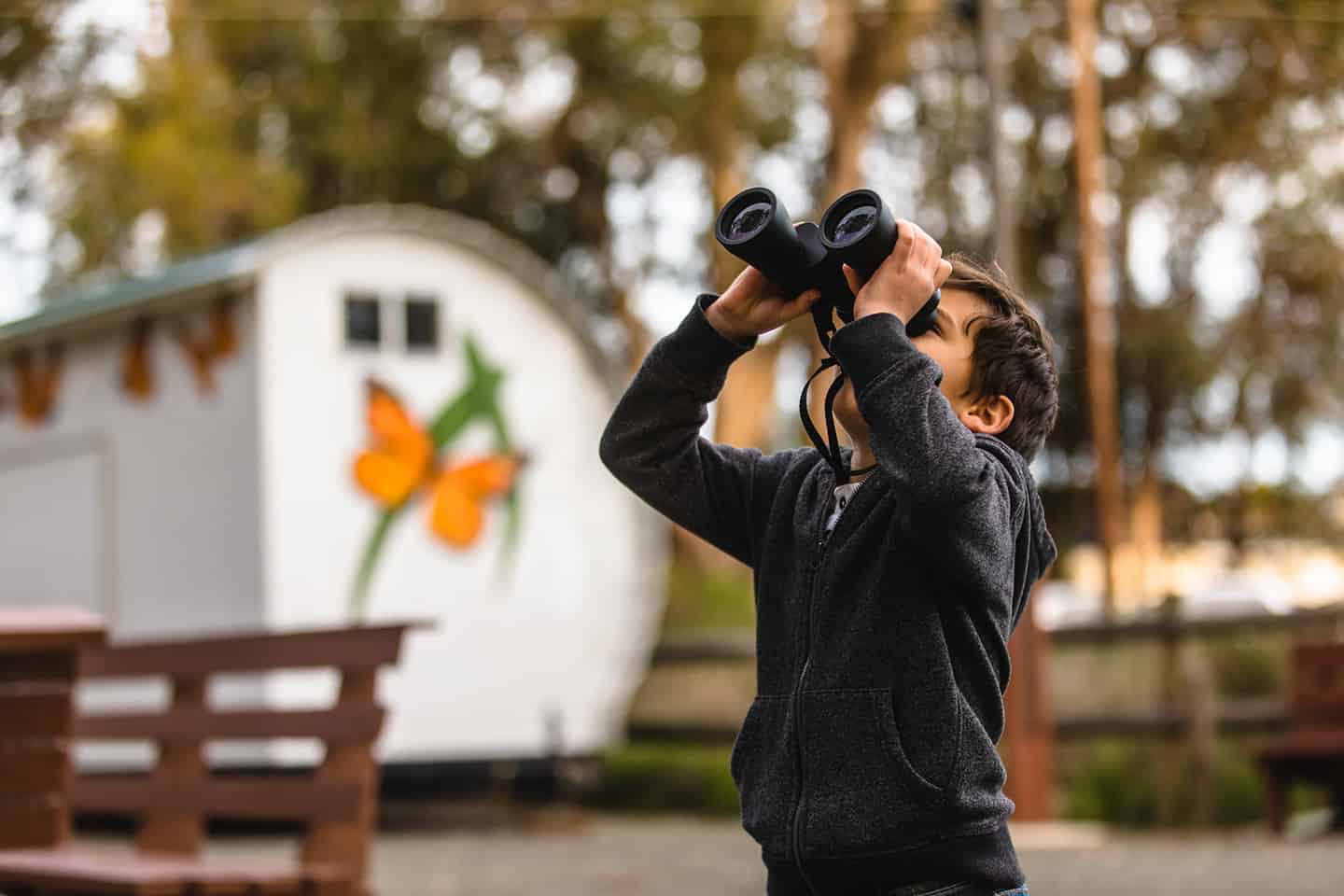 Monarchs are probably the best known butterflies in North America. In fact, seven U.S. states list the Monarch as their official state insect or butterfly.
Monarchs have a wingspan of approximately 9 – 11 cm (4 inches) and an average weight of about half a gram – about the weight of a paper clip.
Monarchs are in the butterfly family Nymphalidae. Members of this family appear to have only 4 legs, but they really do have 6. The front pair of legs is greatly reduced in size and tucked up under the head.
Monarchs have a remarkable long-distance migration. In North America, Monarchs overwinter along California's coastal Highway 1 as well as Mexico.
A Monarch can fly up to 2,700 miles (4,345 km).
Butterfly wings are densely covered with scales that improve their aerodynamic efficiency. The upper surface of the thorax is covered with long hair-like scales that help retain heat.
The bright patterned orange and black wings of Monarchs advertise that they taste bad to predators.
Male and female Monarchs are easy to tell apart. Males have a black scent spot on a vein on each hind wing while females do not. Still not sure? Females have more black in their coloring.
A female may lay several hundred eggs in her lifetime. Eggs hatch after about four to six days in average spring and summer temperatures.
Monarch caterpillars eat plants exclusively in the milkweed family. There are over 100 known species of milkweeds in North America.