Looking to add some color to your life? Discover Central Coast wildflowers in all their natural beauty. A variety of wildflowers bloom along Highway 1 each spring, including Brittlebrush, poppies, bluebells, lupine, sand verbena and evening primrose. You could spend all day meandering meadows, trails and coastal bluffs: there's no shortage of spectacular blooms to spot along our special slice of California coastline. 
While the Carrizo Plain is most famous for spring superbloom events, wildflower viewing is popular all along Highway 1. Most hiking trails offer a stunning display of seasonal wildflowers alongside ocean panoramas and access to local wildlife. Highway 1's many wide open spaces host a tapestry of wildflower hotspots to explore. 
Looking to learn more about Central Coast wildflowers? The California Native Plant Society of San Luis Obispo publishes a list of the plants that can be found throughout SLO County. Bring this list along with a bottle of water, a hat, your phone or camera. Now you're ready to experience an explosion of natural color unlike anything you've ever seen. Not only will you enjoy the spectacle, you'll find easy parking and plenty of room to roam.
Discover Wildflowers Along Highway 1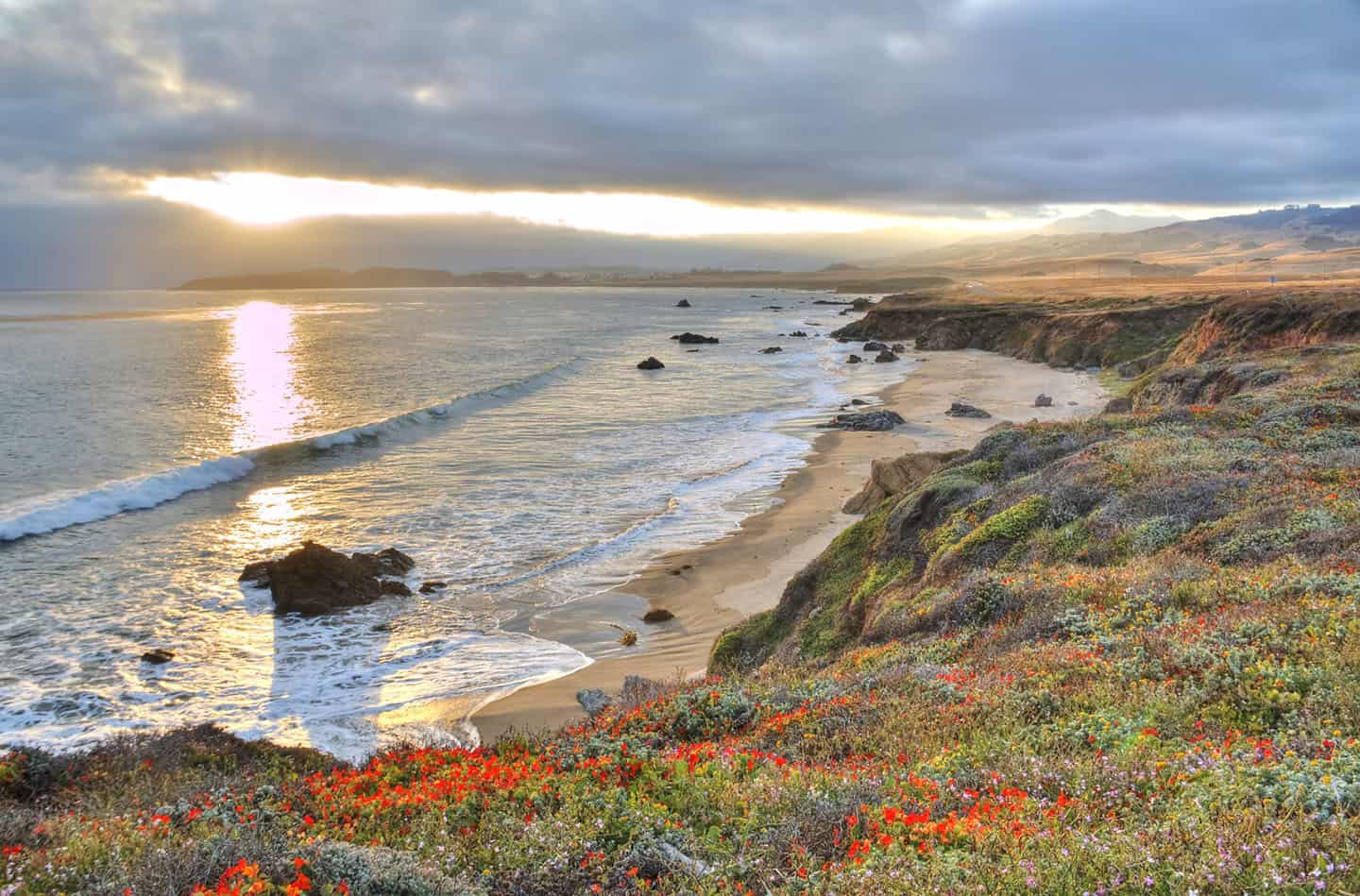 Wildflowers at Fiscalini Ranch
Cambria's Fiscalini Ranch blooms with Central Coast wildflowers all year round. This beloved preserve features over 17 miles of hiking trails, densely wooded forest, coastal plains and rugged coastline. Given the variety of terrain, a wide sampling of wildflowers flourish throughout the year. No visit to the Fiscalini Ranch Preserve is without some degree of botanical splendor. That said, springtime pulls out all the stops. Winter rain and ample sun come together to ensure that blossoms and greenery grow in abundance. Just remember to seize the moment while you can: these picture-perfect wildflower viewing opportunities can be unpredictable and fleeting. 
Your best bet for viewing Fiscalini Ranch wildflowers at their peak? Visit the preserve throughout April and May, a dependable time for strolling coastal trails awash in color. Look for California poppies, sticky monkey flower, wild radish, lupine and mustard, to name a few. At their peak, hues of lavender, yellow, pink, and white soften every vista, turning this favorite open space into a living watercolor. 
For a more in-depth exploration of the flora and fauna at the Fiscalini Ranch Preserve, check out the Fiscalini Plant Guide. The preserve has several entrance points, but the South Windsor Boulevard entrance—located at the start of the Bluff Trail—is the most popular. To reach the trailhead, park on the south end of Windsor Boulevard on Cambria's north side, in the Seaclift Estates.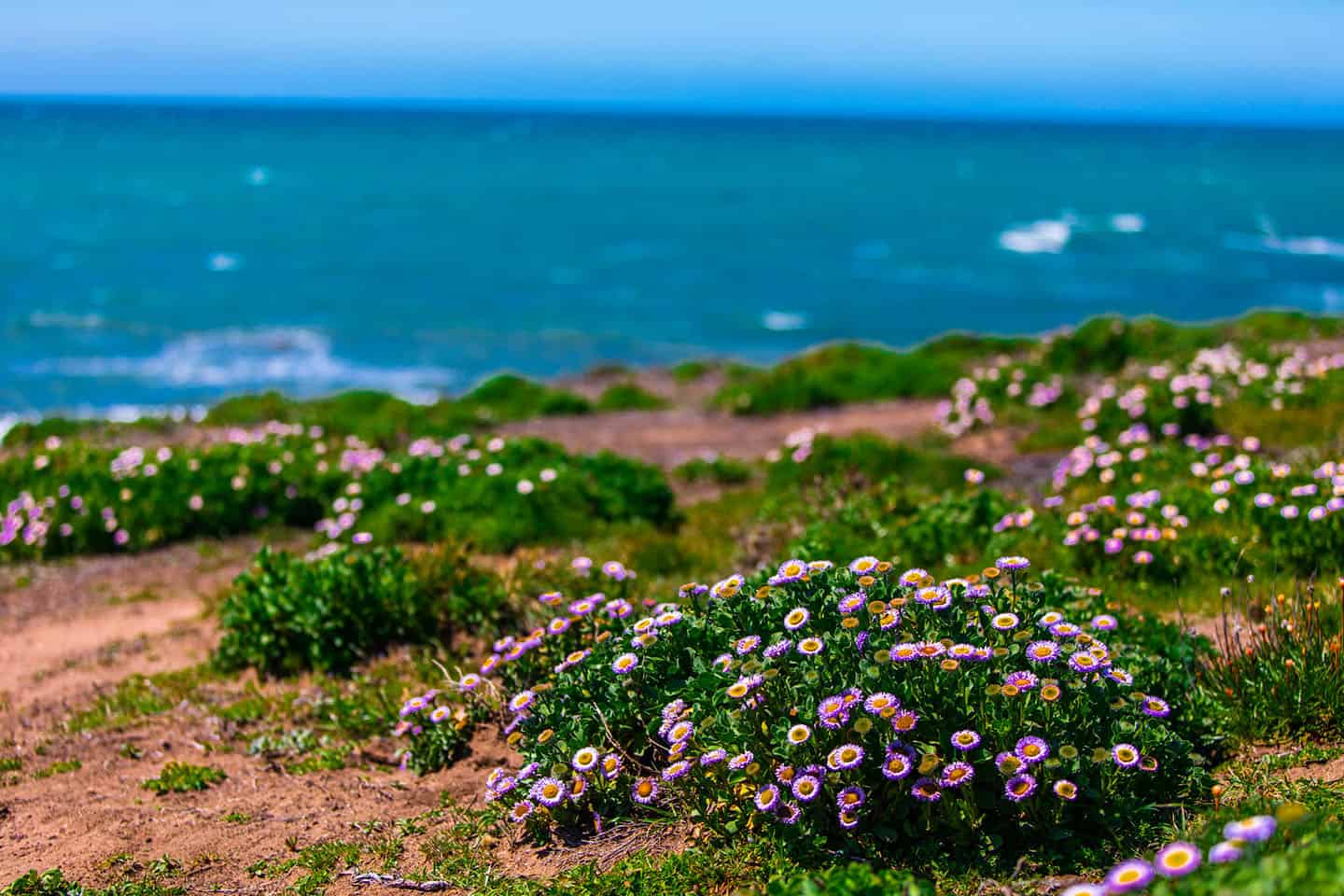 Wildflowers at Estero Bluffs
Estero Bluffs State Park offers 353 acres of unspoiled California coastlands, including a wealth of seasonal poppies. These fiery flowers set the landscape ablaze each spring, a view unchanged for generations. Native Chumash and Salinan people used the delicate poppy for food and oil—precious resources for this area's earliest inhabitants. Today, poppies signal the passing of winter, the birth of spring and the abundance of summer.
Look for carpets of California poppies growing among the native grasses at Estero Bluffs, such as Indian Paintbrush and native purple needlegrass. Walk the 4 miles of trails that run parallel and perpendicular to shore and take in the fresh sea air paired with poppy-framed views of the Pacific. The state park also features dunes, coastal scrub, wetlands and rocky outcrops where poppies flourish in spring. 
To find the Estero Bluffs, look for informal parking areas and gravel turnouts on Highway 1 north of Cayucos. For the easiest spot to access parking and trails, look for where San Geronimo Road crosses Highway 1.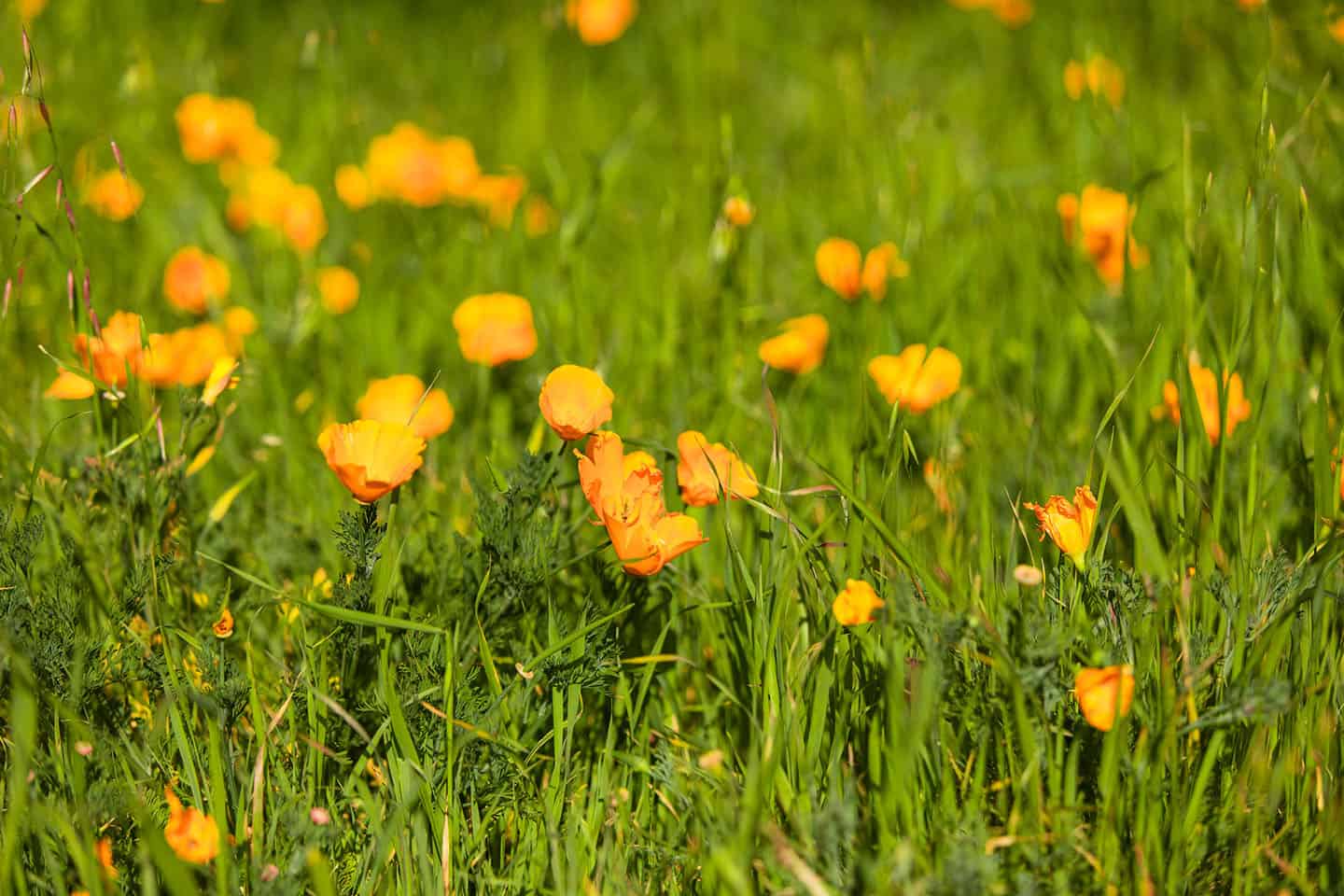 Wildflowers at Los Osos Oaks
A quiet preserve nestled off Los Osos Valley Road, Los Osos Oaks boasts ancient oak trees dating back eight centuries. These oaks tower above vibrant wildflowers, many of which show off their best displays each spring. After winter rains, the Los Osos Oaks Nature Preserve transforms into a carpet of bright blooms. 
Spanning 90 acres of coastal dunes habitat, the preserve's oaks stand anywhere from 5 to 25 feet high, creating a protected canopy for delicate wildflower seedlings to thrive. This symbiotic relationship has allowed native wildflowers to bloom in peace since the beginning of time. Bring your lunch and sit on one of the park's benches, enjoying the color that unfolds before you, particularly in March and April. Look for California poppies, bush lupine, mustard and sticky monkeyflower. 
To see these wildflowers for yourself, drive to 1813 Los Osos Valley Road, where the trailhead stands. Park in the free parking lot and follow signs into the oak grove.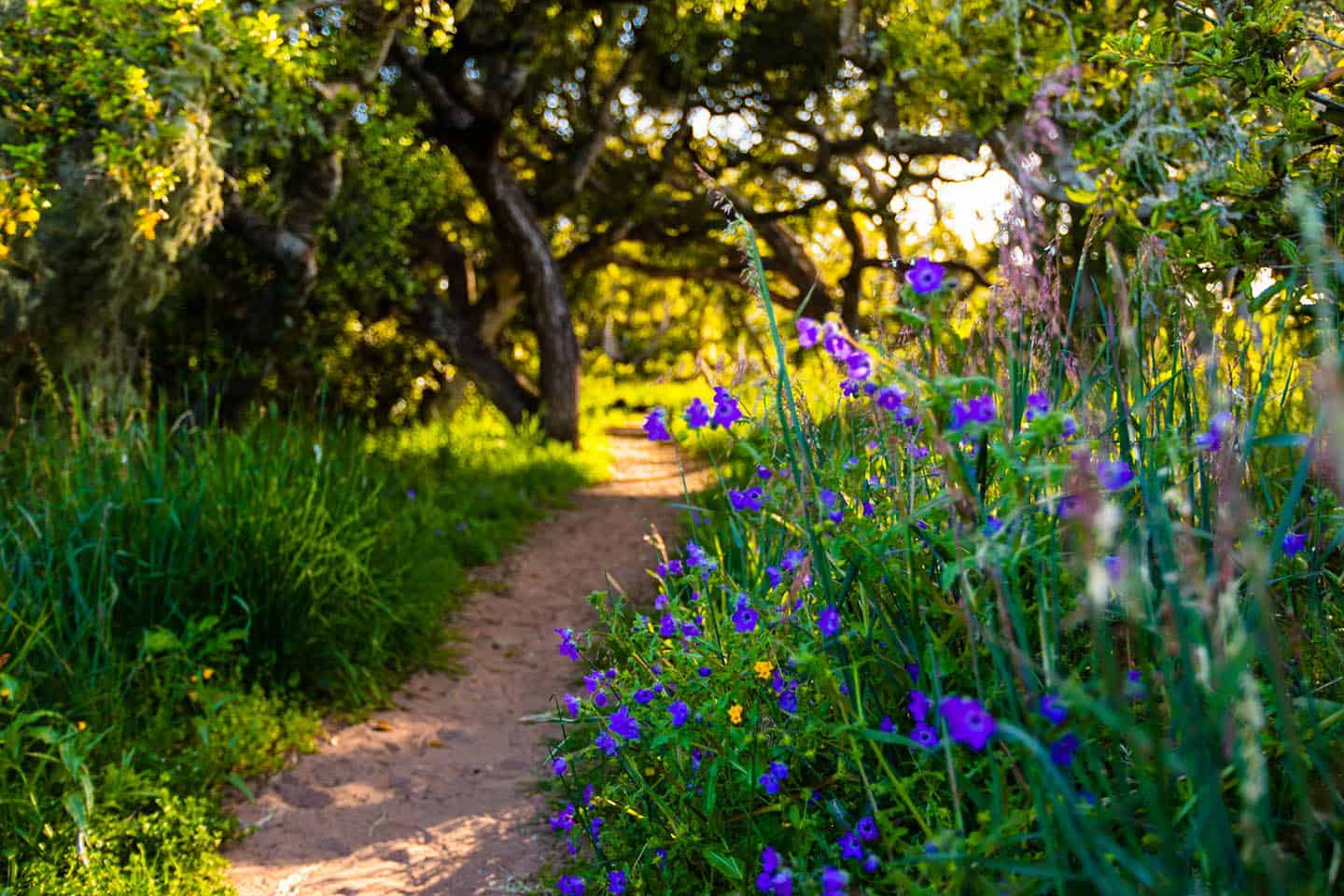 Wildflowers at Montana de Oro
A sprawling state park in Los Osos, Montana de Oro is famous for its wildflower-strewn hillsides. The name "Montana de Oro" translates from Spanish to English as "mountains of gold," an homage to the colorful poppies that cover the terrain seasonally. Temperate coastal weather makes for perfect growing conditions along Montana de Oro's dunes, bluffs, prairies and hillsides. In spring, you'll find more than orange California poppies: Look for yarrow and mustard, wild iris, goldfields, lupine and many more. Hiking, biking and horseback riding are the best ways to access views of these wildflowers up close. Of course, you can also simply drive through the park and catch an eyeful.
For a quick hit of springtime blooms, head to the Bluff Trail. Find the trailhead off Pecho Valley Road, just beyond the Montana de Oro Visitor Center. Park in the lot across from the sign for the Valencia Peak trailhead. For a more immersive wildflower experience, reserve your spot on the Point Buchon Trail. Only open to a handful of hikers at a time, this beautiful trail can only be hiked with a guide. Be sure to reserve your place in early spring to ensure one of the best wildflower views on the Central Coast.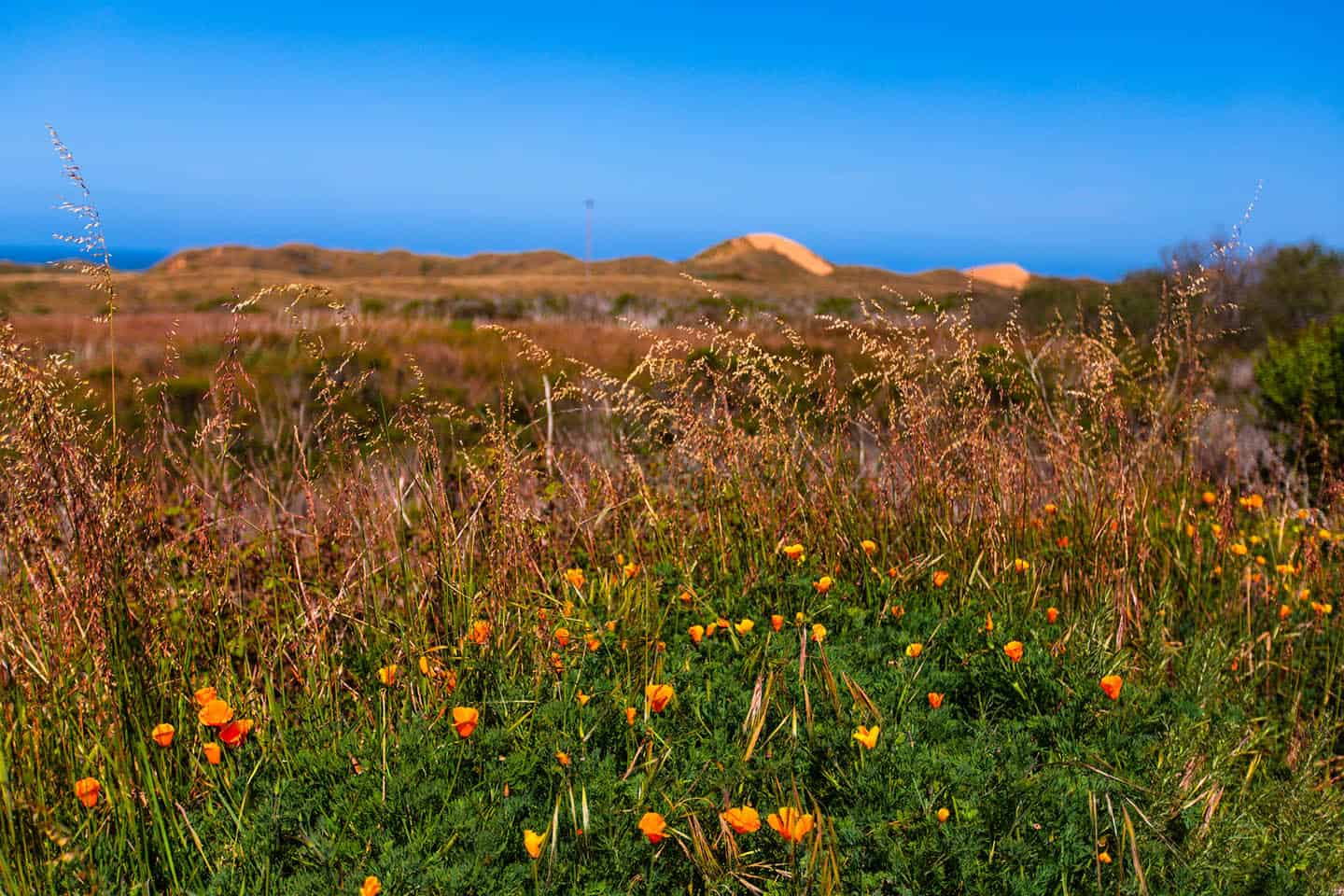 Wildflowers at Lopez Lake
Depending on the time of year, Lopez Lake is transformed by large swaths of wildflowers colored bright orange, yellow, blue and violet. Around late March, blossoms begin to pop up across the hills and saddles surrounding Lopez Lake and beyond. By the time early April arrives, these areas are often blanketed in eye-popping jewel tones. 
During peak wildflower season at Lopez Lake, the California poppy is the most commonly-spotted bloom. These protected state flowers turn the hillsides a deep goldenrod hue that can be seen for miles around. Other common spring wildflowers include tidy tips, goldenfields, arroyo lupine, mustard, fuschias and owl's clover. For some of the best petal peeping at Lopez Lake, take a morning or afternoon to hike the 7-mile Duna Vista Trail loop. This ridge along the Wittenberg Arm offers spectacular views of the lake all the way to the Oceano Dunes and the Pacific. 
To reach the trailhead, enter the Lopez Lake State Recreation Area off Lopez Drive. Pay the day-use fee at the ranger station and follow the road to its end. Park in the turnout on the left and follow signs for the Duna Vista Trail.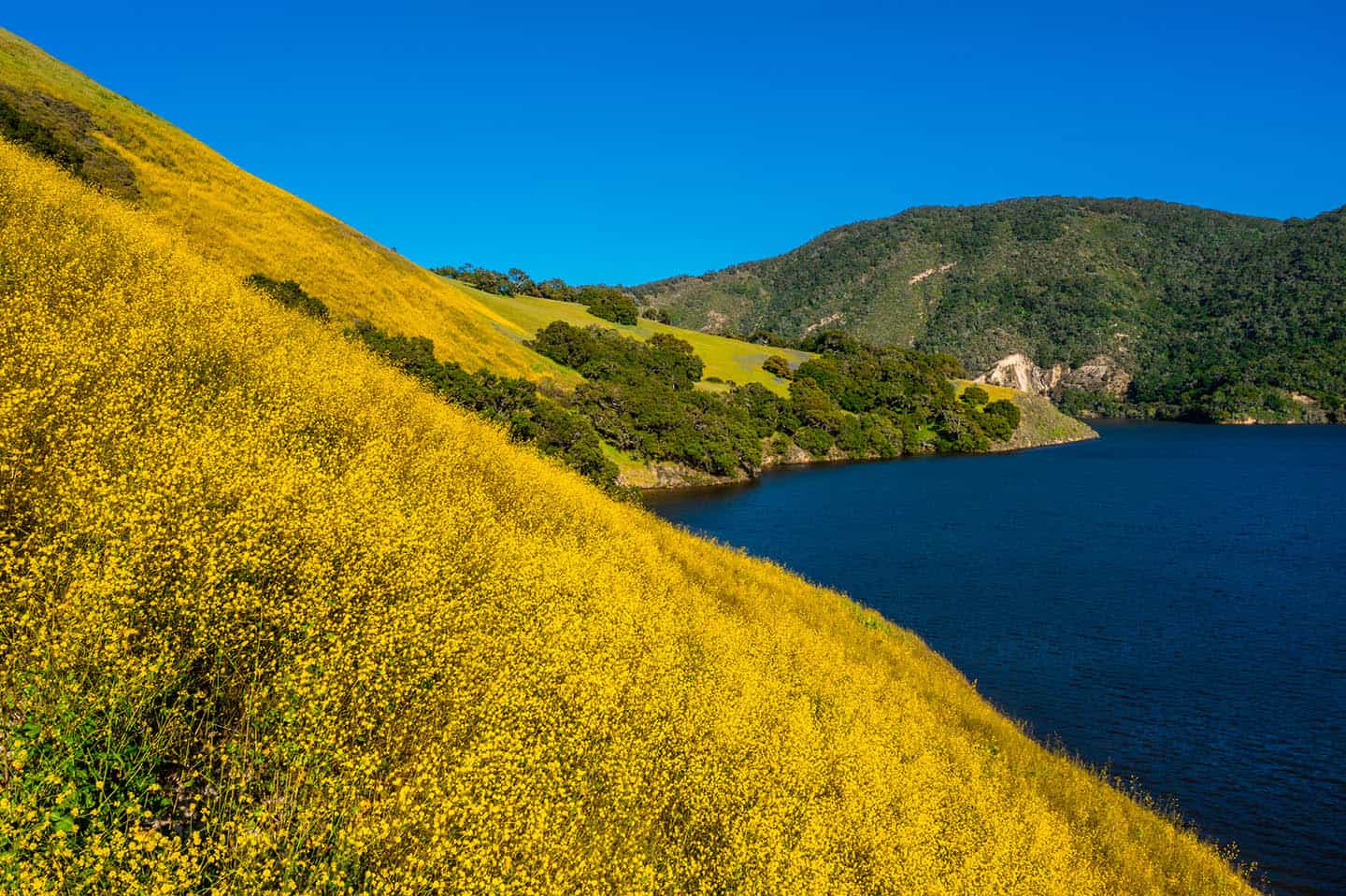 Wildflowers at Oceano Dunes Trails
Central Coast wildflowers are known to bloom along the sandy Oceano Dunes Trails in spring. Despite the dry, sandy conditions, this pristine dunescape is one of the best places to spy seasonal color along Highway 1. Follow the trails winding through the Oceano Dunes and you'll discover an abundance of arroyo willow, California sagebrush and sand verbena. 
Among those native plants, look for tender blossoms of bush lupine and baby blue eyes, also called menzies' baby blue eyes. These dainty, low-growing blue flowers are some of the most beloved native blooms in North America due to their sweet size and hue. One of the best ways to see Central Coast wildflowers at the Oceano Dunes Trails? Trek along the 2-mile Oceano Dunes Preserve Trail, which offers views of the 570-acre Oceano Dunes Natural Preserve. 
Park in the Grover Beach Day Use Area at the west end of Grand Avenue and find the trailhead opposite the entrance to the parking lot. You'll also find native color along the Guiton Oceano Lagoon Trail off Pier Avenue. This 1.5-mile hike starts on the east side of the Nature Center by the Pismo State Beach-Oceano Campground parking lot.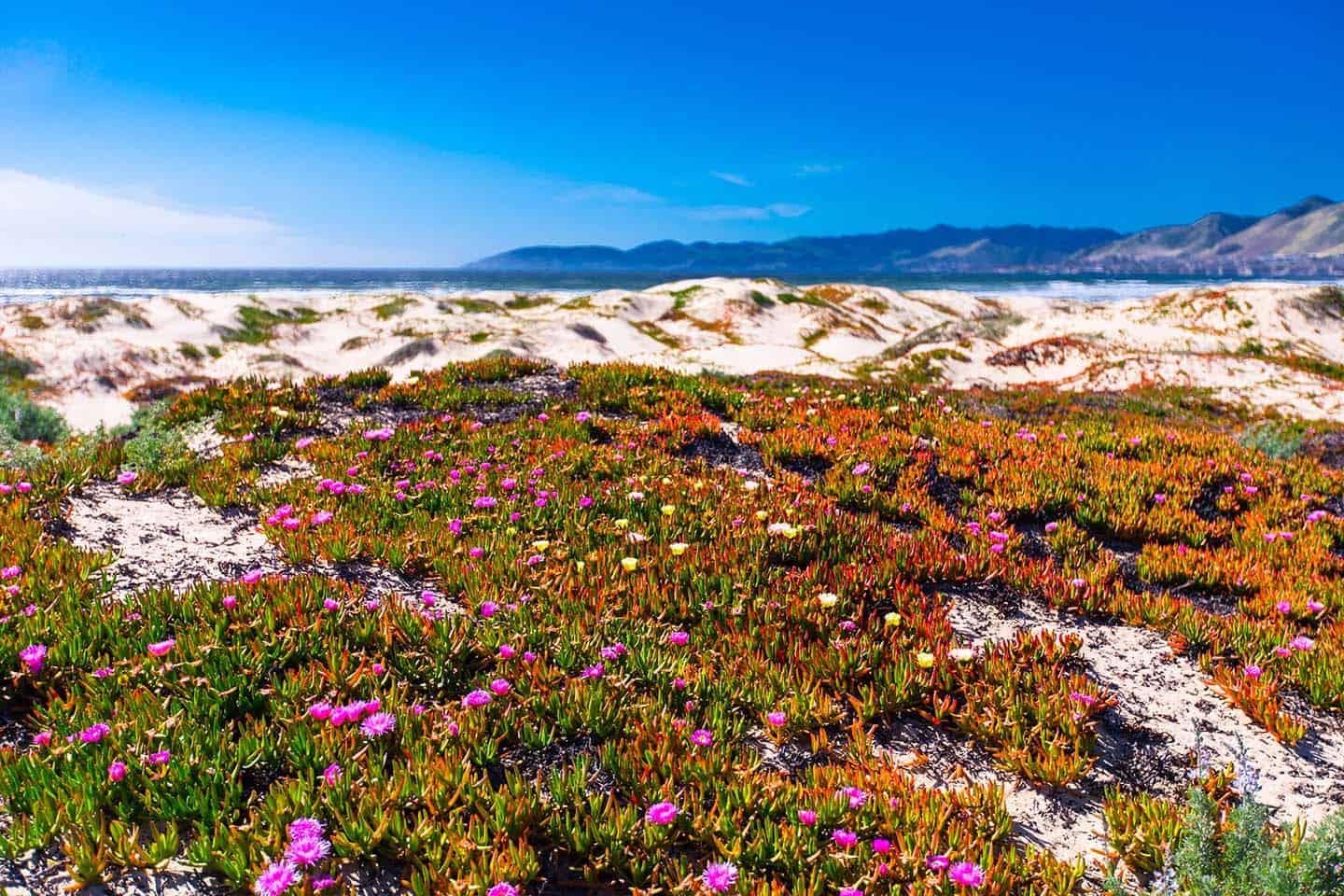 Wildflowers at Nipomo Native Garden
Tucked back from the artery of Highway 101, the Nipomo Native Garden highlights Central Coast wildflowers and plants. The educational destination offers up a curated sampling of flora and fauna not easily seen elsewhere, including blue witch nightshade, California peony, purple clarkia and blue wooly stars. These and many other blooms can be seen on the half-mile trail that weaves through the 12-acre, volunteer-maintained garden.
Study fascinating foliage native to the nearby Guadalupe-Nipomo Dunes, enjoy a quiet moment on one of the trail's benches or take in the view with a leisurely stroll. You'll find that this biologically diverse bouquet is well worth checking out, whether you take in each plant one by one or appreciate it as a whole.
To find the Nipomo Native Garden, take the Teft Street exit off Highway 101 and drive west. At Polmeroy Street, turn right, then turn left on Camino Caballo. Take another right on Osage Street and park on the street outside the garden's entrance.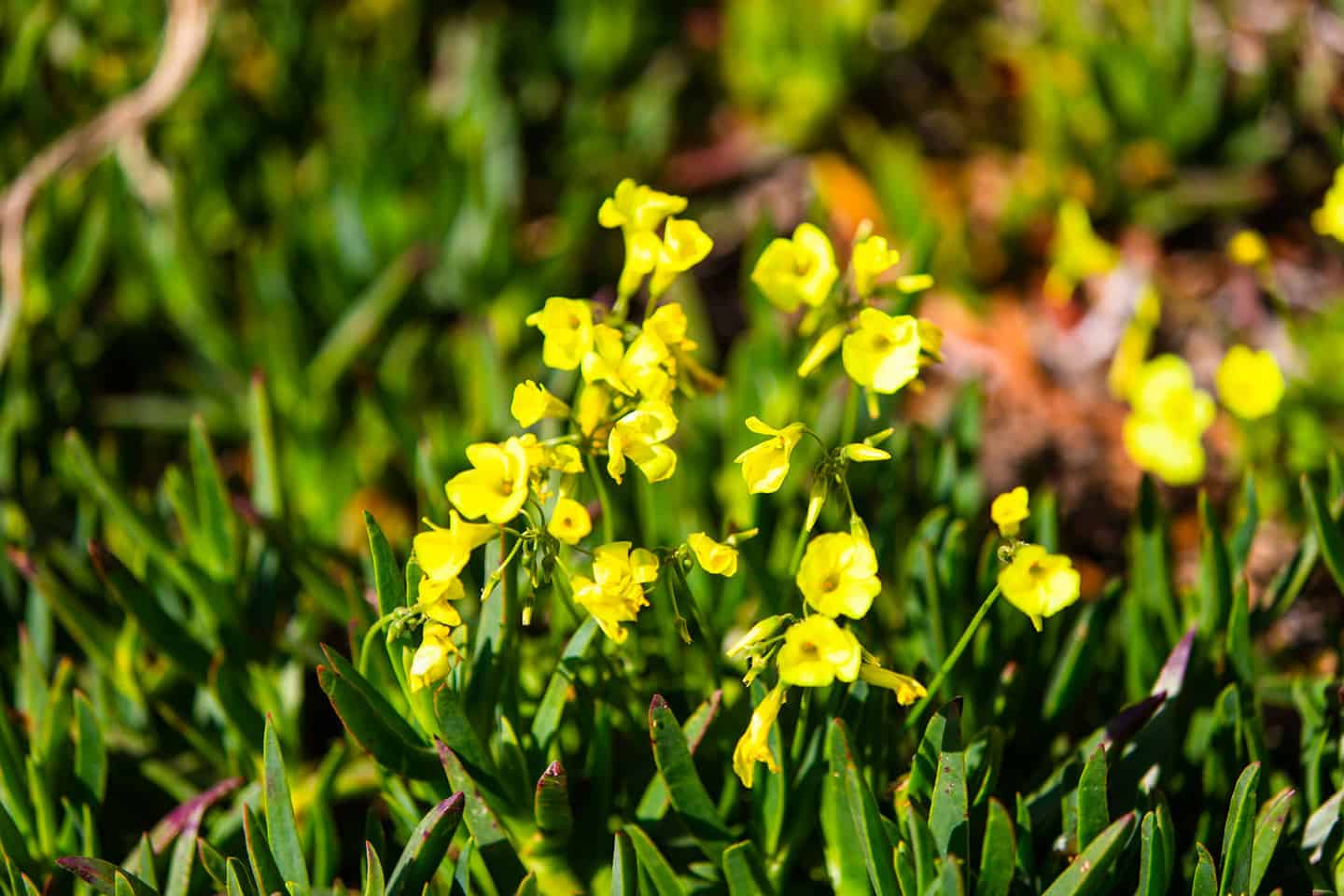 Wildflowers at Pismo Preserve
After winter's wet weather, the hillsides at the Pismo Preserve begin to warm, compelling wildflowers to push through the damp earth. The result? Large areas of yellow, purple and orange that cover towering, Pacific-facing mountains. 
Hike the preserve's 880 acres and 11 miles of trail and ranch roads to catch these colorful views for yourself. See the Central Coast in full bloom: unspoiled, wild and free. Hunt for California poppies, mustard and lupine as well as baby blue eyes, a blossom with five soft blue petals and a white center (you might recognize this bloom—it's commonly included in commercial wildflower mixes). To experience the beauty of the Pismo Preserve's bounteous color, start at the parking lot and take the Discovery Trail or the Lone Oak Trail. These offer some of the best coastal wildflower views around. 
The Pismo Preserve is located just off Highway 101; take exit 191B in Pismo Beach. Find the parking lot on the east side of the freeway, at the southern end of Mattie Road.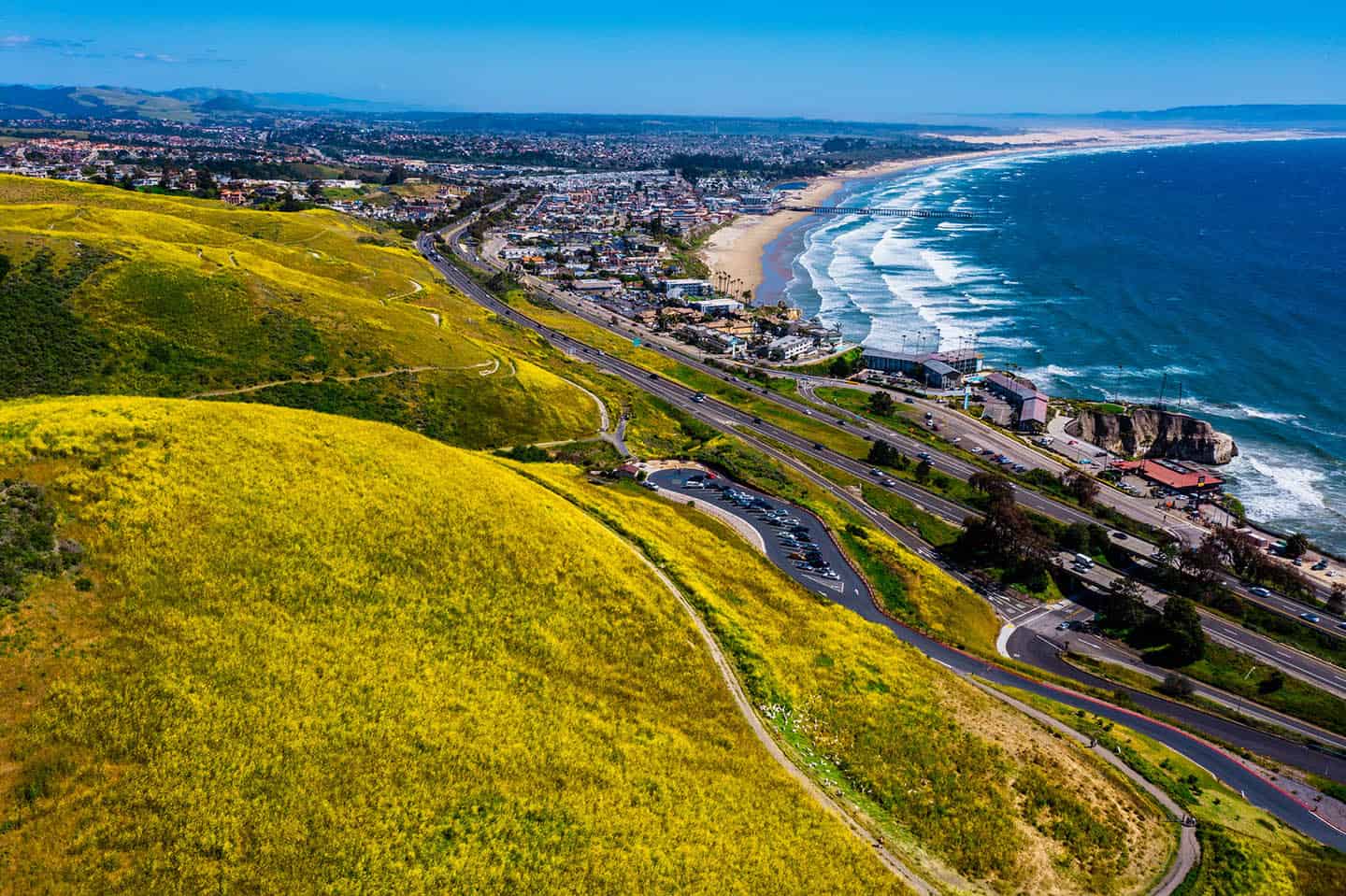 Carrizo Plain Super Bloom
Providing a dramatic backdrop for rare Central Coast superblooms, the Carrizo Plain is a top destination for spring wildflower chasers the world over. A vast grassland in southeastern San Luis Obispo County, this world famous superbloom viewing destination spans more than 200,000 acres and features unique geological formations, including the San Andreas Fault and Soda Lake. Depending on environmental conditions, spring can transform the landscape into a frenzy of color representing a once-in-a-lifetime experience for lucky visitors.
What is a superbloom exactly? With the right annual weather conditions, the Carizzo Plain explodes with a dazzling display of spring wildflowers—a rare event unmatched in breadth and beauty. Owl's clover, hillside daisies, valley phacelia, coriposis, tidy tips, wild mustard and poppies may emerge from the soil during a history-making superbloom. Each flower species employs its own blooming window, allowing visitors to savor an ever-changing display of color. Depending on environmental factors and the timing of your arrival, flowers may reflect a rainbow of rich purples, dramatic oranges or nearly-neon yellows. 
What environmental factors must be met to inspire a true Carizzo Plain superbloom? First, drought conditions allow a large seed bank to amass underground. Then, those seeds must receive an adequate amount of rainfall to bloom into action that spring. While the exact flower species and timing of each bloom varies, superblooms typically peak in March and April (by June, most blooms will have dried up or wilted away). Other environmental factors may come into play, too: A longer than average rainy season may indicate a longer window for flowering, for instance. Superblooms are not always guaranteed year after year, so be sure to check with local wildflower authorities before you travel to this outlying rural area.
The Carrizo Plain National Monument is located in southeastern San Luis Obispo County, approximately 50 miles east of San Luis Obispo. The main entrance to the monument is located off Soda Lake Road, which can be accessed from Highway 166.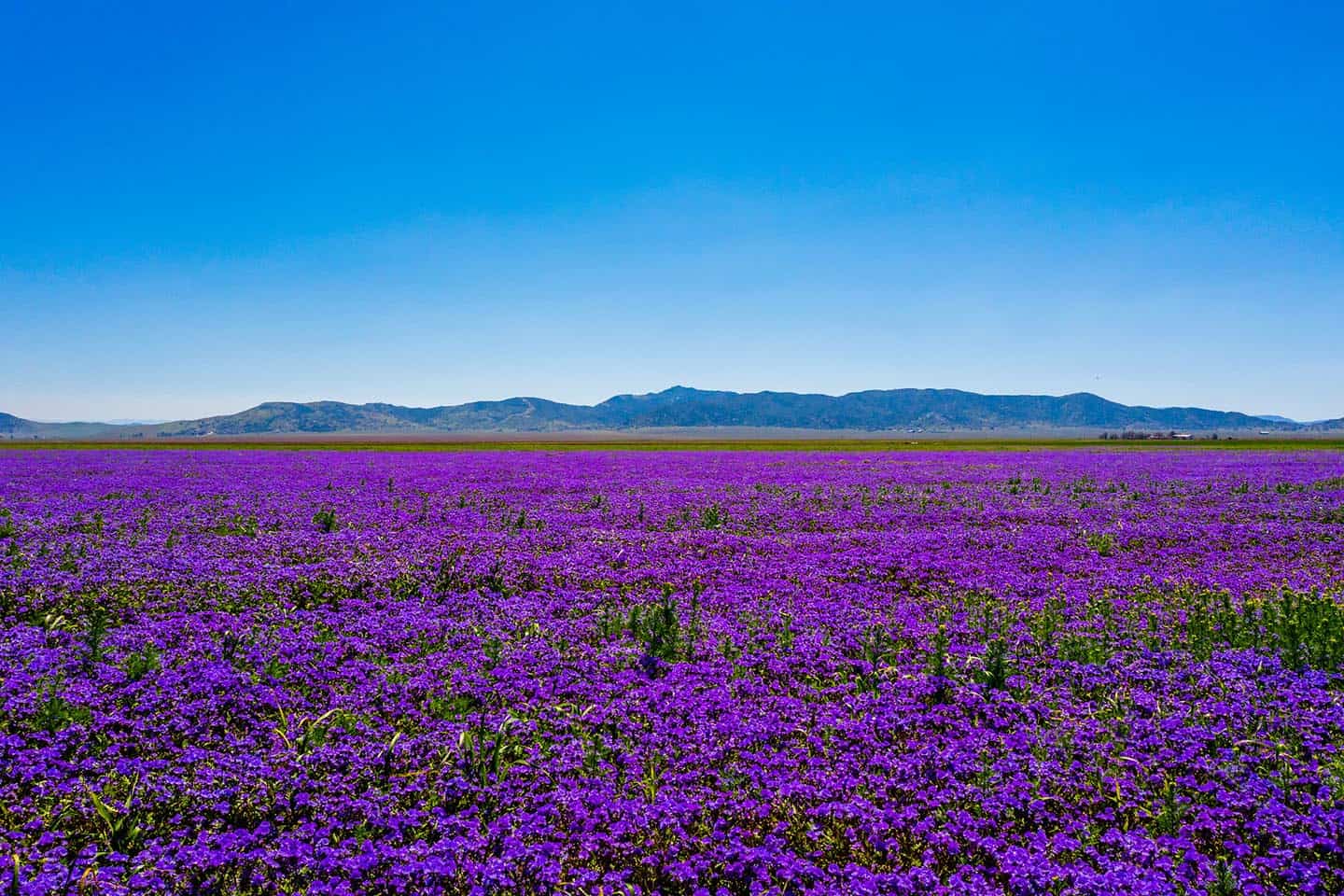 Shell Creek Meadows is a prime family-friendly location for superbloom viewing on the Central Coast. Pack a picnic and enjoy the colorful views brought on by blooming goldfields, coastal tidy tip, baby blue eyes, and California Poppies. Visitors should note that the best location to view the superbloom lies at the intersection of Highway 58 and Shell Creek Road. Here, you'll find ample, safe parking and a variety of trails and creek areas to explore. Even small children can enjoy this vibrant roadside destination—just be sure to stick to designated trails. Additionally, visitors should avoid pulling over on narrow HIghway 58, which can be dangerous after recent rains.
Carrizo Plain National Monument
Superbloom enthusiasts are known to travel hundreds of miles to visit the often-photographed Carrizo Plain National Monument. While this celebrated natural wonder boasts many viewing options during a superbloom, some areas will require offroad vehicles. Whether you rumble up the Temblor Mountain Range in a rugged truck or simply park and trek along the terrain of Soda Lake in a pair of hiking boots, you're sure to find other curious travelers in your midst. This particular superbloom locale garners worldwide press, so be sure to cooperate with fellow wildflower chasers and take photos at a distance.
Visitors should also note the Carrizo Plain National Monument is remote, with no nearby businesses and unreliable cell and WiFi service. Ensure to gas up your vehicle, download or print a map and pack enough food, water and protective clothing.
Looking for places to stay while visiting the Carrizo Plain National Monument during superbloom season? Make plans to stay along Highway 1, where relaxing stays, ocean views and incredible dining options come together on the scenic Central Coast. You'll also find more spring wildflower viewing options to explore—the adventure continues.
To access the coast from the Carrizo Plains National Monument, simply take Highway 58 to Highway 41 toward Cayucos. You can also take Highway 58 to Highway 101, ending in Edna Valley's world class coastal wine region.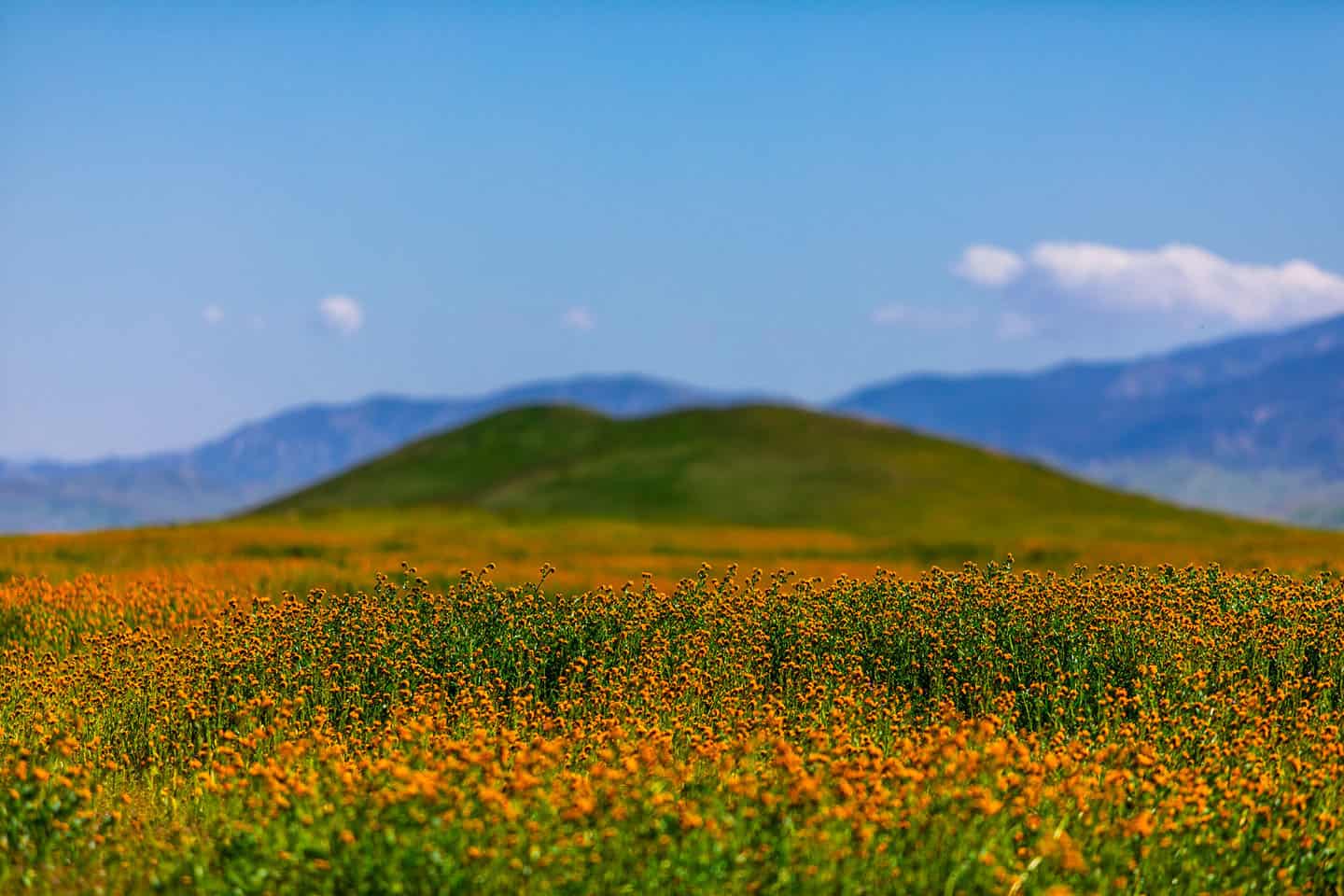 Keep our wildflowers healthy
While searching for wildflowers along Highway 1 and beyond please keep these precautions in mind. Visitors are required to walk on designated paths and refrain from stepping on delicate flowers or surrounding vegetation. The best way to do this? Take photos from a distance, allowing others to enjoy the view. While Highway 1 is known for wide open spaces and an uncrowded coastline, wildflower season can attract enthusiastic crowds. For this reason, it's important that visitors practice patience and cooperation when viewing.
Travel for good and pick up any and all litter you might find before moving on (whether it's yours or someone else's—we thank you for your vigilance). Together, we can ensure that this incredible landscape remains healthy for generations to come.