The stretch of Highway 1 between Ragged Point and Nipomo owes much of its magic to remarkably authentic farm-to-table abundance. Here, restaurants source seafood caught within just a mile or so, straight-from-the-earth produce, responsibly raised meats and poultry, cheeses and locally grown grains. Wines from Cambria, and the Edna, Avila, and Arroyo Grande Valleys showcase cool, coastal growing conditions and small-lot winemaking. Farmers' markets bustle every day of the week, offering fresh fruits, vegetables and proteins, plus rustic breads, cheeses, desserts, flowers, and often entertainment. The flavor extends to dockside fisheries, backroad farmstands, U-pick farms, tours of farms and wineries, and eateries that champion local and seasonal ingredients. (In fact, many local chefs and farmers can be found sharing their favorite recipes in The San Luis Obispo Farmers' Market Cookbook by Kendra Aronson.) Here at the heart of Highway 1, the world really is your oyster — or your steak, artichoke, or cabernet sauvignon.
The following are suggestions for a fantastically farm-to-fork, ground-to-glass agrotourism adventure. To go deeper, try a Stewardship Travel for Good activity, designed to heighten the agricultural experience and forge connections with this abundant place. Maybe you soak in the historic hot springs of Avila Beach before dining on fresh fare at the Gardens of Avila. Or volunteer to help with the Nipomo Native Garden for an hour or two. Whichever Stewardship Travel for Good activity you choose, you can be sure you'll walk away connected and energized. For more on this deep-hearted way to travel, see our Stewardship Travel for Good activities page.
Experience Farm to Table along Highway 1
Peacock Cellars and Farmstand
This beautiful facility stands on the west side of Highway 101 between Nipomo and Oceano. The Nichols family has turned their property into a bounteous haven, with vineyards, a wedding venue, a wine tasting room, and a farmstand. Open to the public from Tuesday through Sunday, Peacock Cellars has become a popular stop for travelers on Highway 1. The farmstand offers a wide variety of vegetables, including peppers, squash, kale, lettuces, cauliflower and cucumbers. For fresh fruits, the selection includes berries, stone fruits and lemons. But the specialty that Peacock Cellars is best known for is tomatoes, which they grow year-round. Pick several varieties to taste the differences between them for a fun, educational (and delicious!) experience. Don't miss their other goods, like eggs, nuts, dried fruit and baked goods. Wine is also available for purchase and tasting at the stand. Feel free to pop by, or call ahead with your order, but be sure to take your time enjoying the quiet country charm.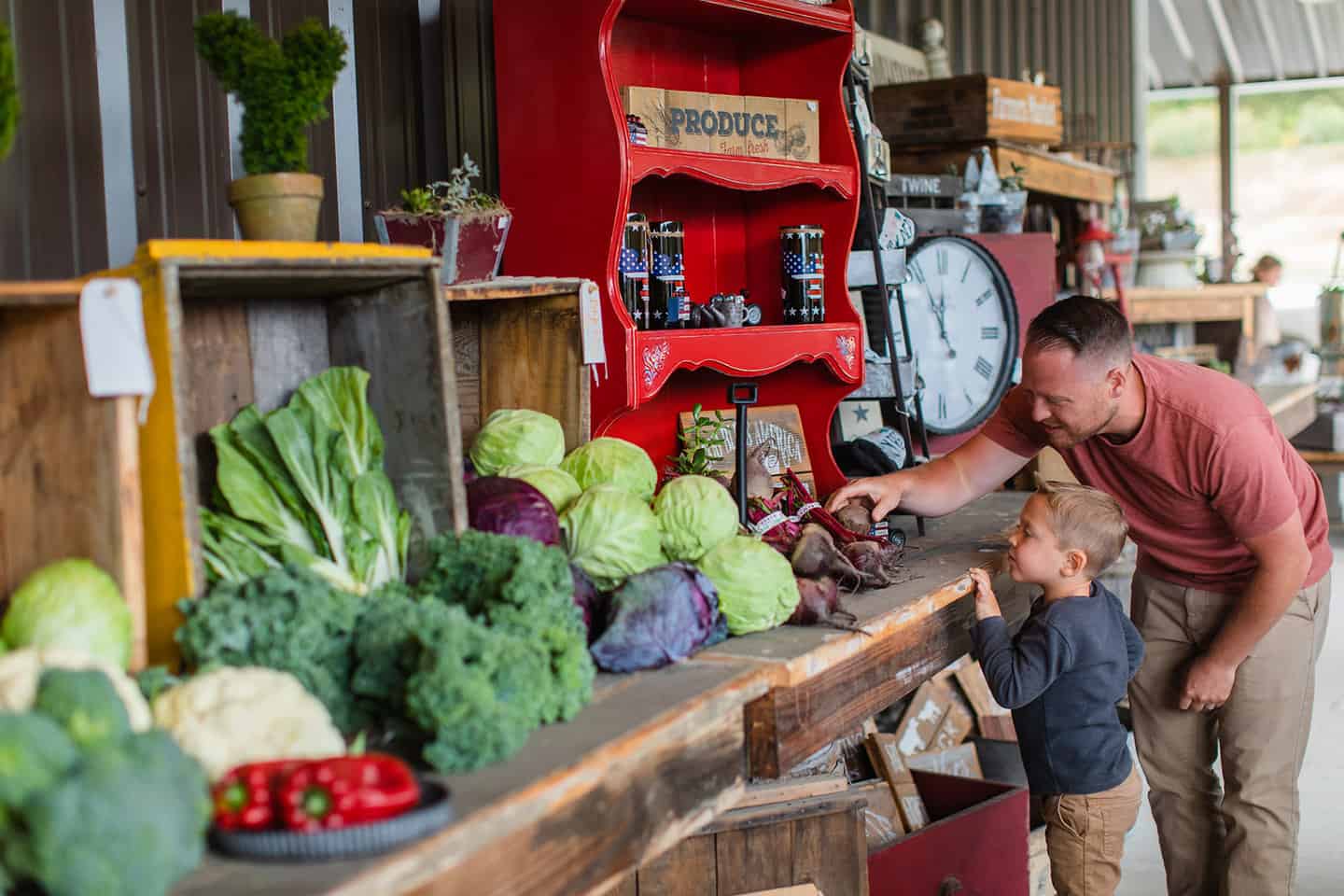 You've likely seen a luffa (often spelled "loofah") before, but you may not realize it's actually a plant that grows on vines. Related to the cucumber, a luffa is a gourd that, when dried, becomes a fibrous sponge used in the bath or the kitchen. The Luffa Farm in Nipomo shares this little-known plant with visitors, educating visitors on how luffas are grown and used. Owner Deanne began cultivating luffas as a hobby in the late 1980s and turned it into a business. Touch the natural luffas she sells in the Luffa Farm gift shop, and you'll immediately notice a difference from chemically-treated luffas. Those sold from the farm on the beautiful Nipomo Mesa are much softer and less abrasive than those sold commercially.
The farm offers free tours Wednesday through Sunday for small parties without a reservation. For small groups, tours require a small fee and reservations.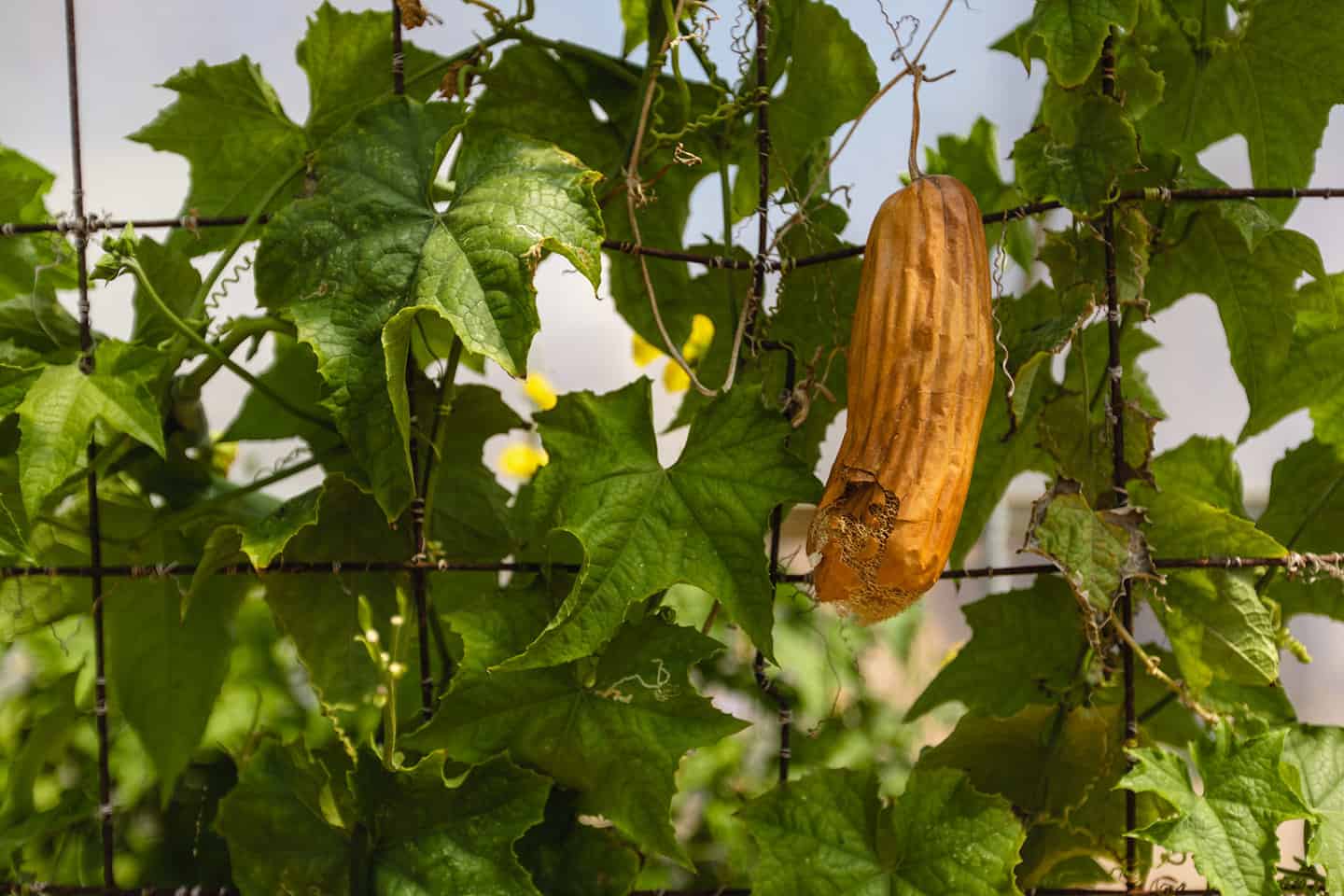 Jerry Rutiz is a graduate of Cal Poly University, San Luis Obispo, where he studied agriculture. In the 1980s, he started growing fruits, vegetables and cutting flowers on a parcel in the picturesque Huasna Valley. He gained a following there which grew as he sold in different farmers' markets, most notably the famous Wednesday Santa Monica Farmers' Market. He eventually moved to the space he occupies now, off The Pike in Oceano. The farm is situated just across from a residential neighborhood, hidden behind a line of eucalyptus trees. At the entrance lies the Rutiz farm stand: a charming little hut teeming with fruits, veggies, eggs and herbs. Some of these are Jerry's own crops, while others are from other local farms. The stand also offers a free culinary/agricultural lending library, garden starters, and a basket of toys for future farmers to play with. Two or three days each week, the stand also hosts ranchers, fisheries, pastry chefs and rustic bread bakers selling their goods. 
With the growth of the farm, Jerry has since stopped attending farmers' markets to focus on customers at the farmstand. Rutiz Family Farm offers harvest boxes of weekly picks from the farm; customers need not subscribe to join in. And don't miss "Jerry's Berries," some of the sweetest, most flavorful and beloved strawberries on Highway 1. During some weeks of the warm season, Jerry opens the berry fields for U-pick. You'll also find much of Rutiz Family Farms' produce used by local chefs at Ember Restaurant and caterer Flora & Fauna.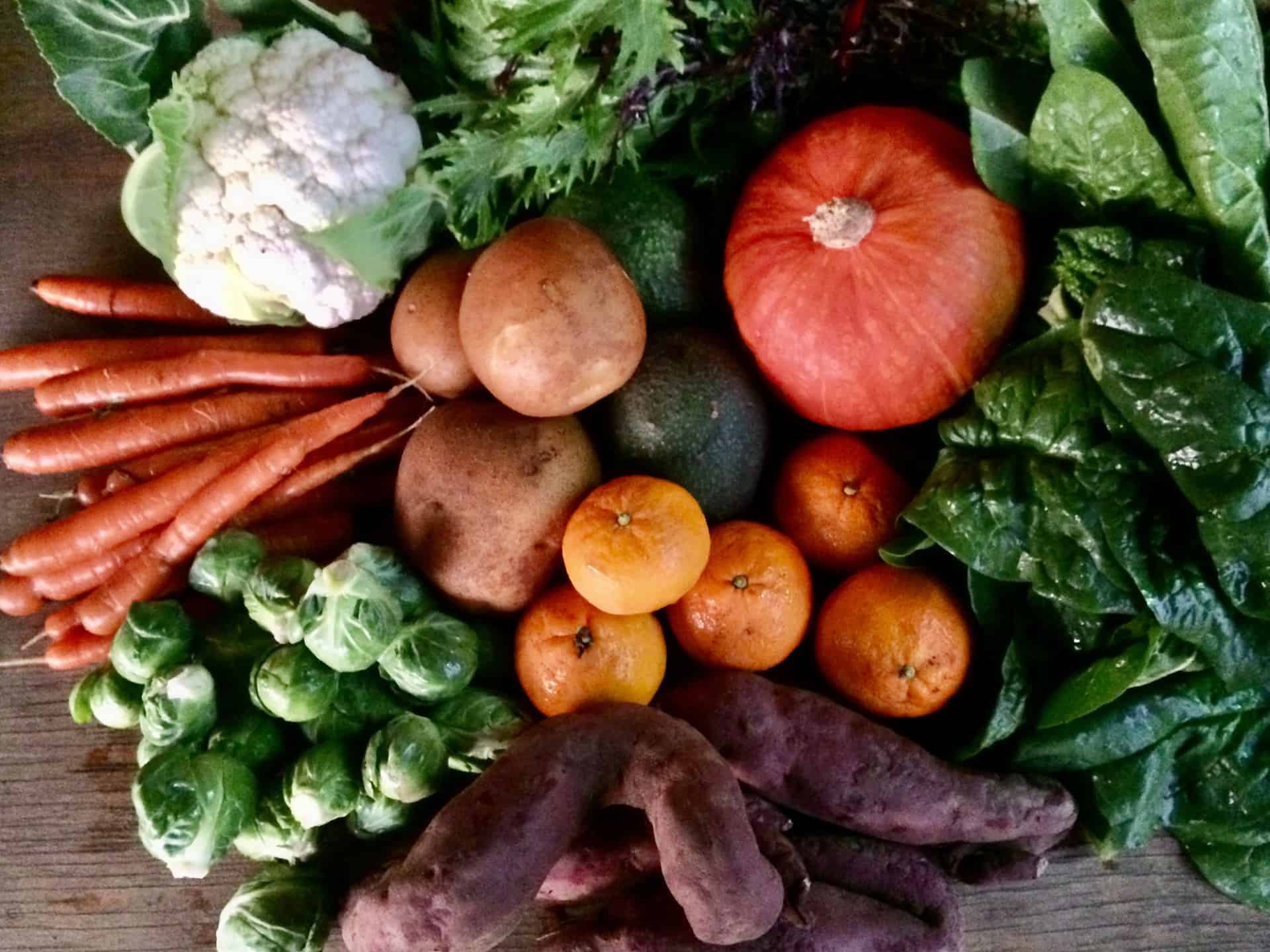 This pretty, secluded spot near Avila Beach specializes in apples, including U-pick apples off the tree in the fall. SLO Creek Farms is a 44-acre certified organic, family-owned farm located across Highway 101 from the Avila Valley. Avila Beach has long been known for its apples, ever since Joseph See planted an orchard in See Canyon in the 19th century. SLO Creek Farms continues the legacy with multiple varieties of apples, as well as vegetables, herbs, honey and flowers. All of these can be picked by you during the open season. And don't miss U-pick pumpkins, throughout October and November! SLO Creek Farms makes and sells hard cider and apple brandy from the fruits of their labor, as well. Pick your own apples between August 30 and the end of November. Or, if time is tight, find SLO Creek Farms at most farmers' markets throughout our stretch of Highway 1.
This historic property was settled by James Brown, who fought for the Union Army during the Civil War. Here, he planted peaches, strawberries, walnuts, and many apple trees. In fact, several of the apple varieties available at the See Canyon Fruit Ranch were planted by Brown and his descendents. Some of these varieties include heirloom selections like Winter Banana, Pearmain and Golden Delicious. The ranch stayed in the Brown family until 1994, when it was purchased by Paul and Susie Kenny, who still own it today. (Fun fact: The Kennys were married in See Canyon in 1976, and their working apple orchard now serves as a popular wedding venue.)
Come by the See Canyon Fruit Ranch during the months of September through November to experience the farmstand and the beauty of this rustic, tucked-away place. Stay to taste and purchase apples, as well as cider, honey, eggs, pears, and other seasonal produce.
At the heart of the Avila Valley, this family-friendly stop brings a smile to the young and the young-at-heart alike. The business began as a tiny roadside table selling fruit in 1985. Since then, it has grown into a sprawling barn that sells fresh produce, pies, preserves, snacks, ice cream, fudge, and old-fashioned candies. Produce features See Canyon apples, peaches, raspberries, blackberries, olallieberries, and apricots. In season, the barn offers tractor rides out to the adjacent fields for U-pick pumpkins, tree fruit, and berries. In fall, the Avila Barn also offers corn mazes and roasted corn, in addition to a wide selection of pumpkin and gourd varieties. Little ones will love the petting zoo that wraps around the barn. Find goats, sheep, donkeys, cows, ponies, turkeys, pigs — even peacocks and an emu! (Sometimes the roosters roam freely!) Buy a bag of lettuce to feed the goats, or just take in the wholesome goodness of a day at the farm. The Avila Valley Barn is open year-round, every day, 9am to 6pm.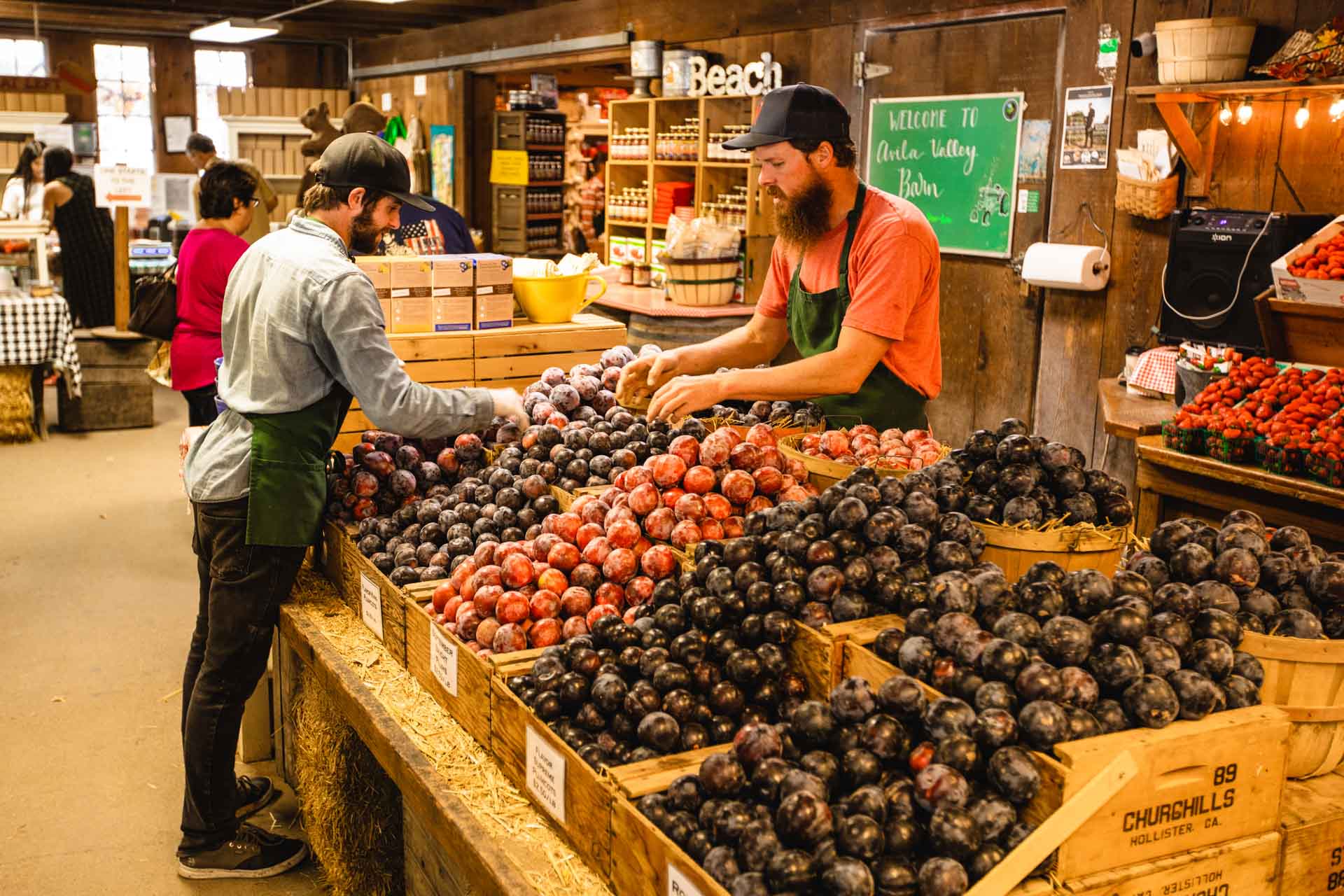 Another farm tucked back into See Canyon, Gopher Glen began decades ago as a hobby for a local orthodontist who loved apple trees. In fact, he grafted his own unique apple varieties, including one called Heaven Sent, named for his wife. This man was also the founder of the Avila Valley Barn on Avila Beach Road. When he died, a longtime employee purchased both properties and today, each has its own unique personality. Gopher Glen focuses primarily on apples, growing 65 varieties at a time, including heirloom selections like Rhode Island Greening, Skinner, and Missouri Pippin. They also develop several of their own crosses each year, and visitors are the first to try these new varieties. 
The Gopher Glen farmstand sits just off See Canyon Road in historic See Canyon. In the fall, the stand offers tastings of ripe varieties — sometimes 12 or more. Purchase these and other fruits like late-season peaches, plums and nectarines, as well as gifts, candies, preserves and housewares. Typically, apple season runs early August through early December — call ahead to learn which varieties are ripe when you'd like to visit. And don't miss Gopher Glens cold-pressed non-alcoholic cider and hard cider, made from See Canyon apples.
In 1865, George Hearst purchased 50,000 acres of the Piedra Blanca Rancho, which had been a land grant from Mexican governor Juan Bautista Alvarado. (He had made a fortune three years earlier when he struck silver at the Comstock Lode, North America's largest silver deposit.) Since then, Hearst Ranch has ranched grass-fed, free-range cattle, including during the heady years that William Randolph Hearst lived atop Hearst Castle. It is one of America's oldest and largest working ranches, and the nation's largest single-source producer of grass-fed beef. The biodiversity of Hearst Ranch's rangeland makes its beef special, thanks to the Hearst Ranch Conservation Project, implemented with the American Land Conservancy. The herds of cattle can be seen from Hearst Castle, occupying the now 83,000 acres that comprise Hearst Ranch. (You might also spy the herd of zebras that roam the ranch, descendents of W.R. Hearst's private zoo.) 
You can take a bit of Hearst Ranch home with you by ordering grass-fed Hearst Ranch beef for shipping and home delivery. In partnership with Larder Meat Co., Hearst Ranch beef is the exclusive selection in their "Mixed Grass-Fed Box." Alternatively, find Hearst Ranch beef in late spring and summer at 41 Whole Foods Markets across Southern California. And don't miss wines from the Hearst Ranch Winery, available for tasting and purchase in Old San Simeon.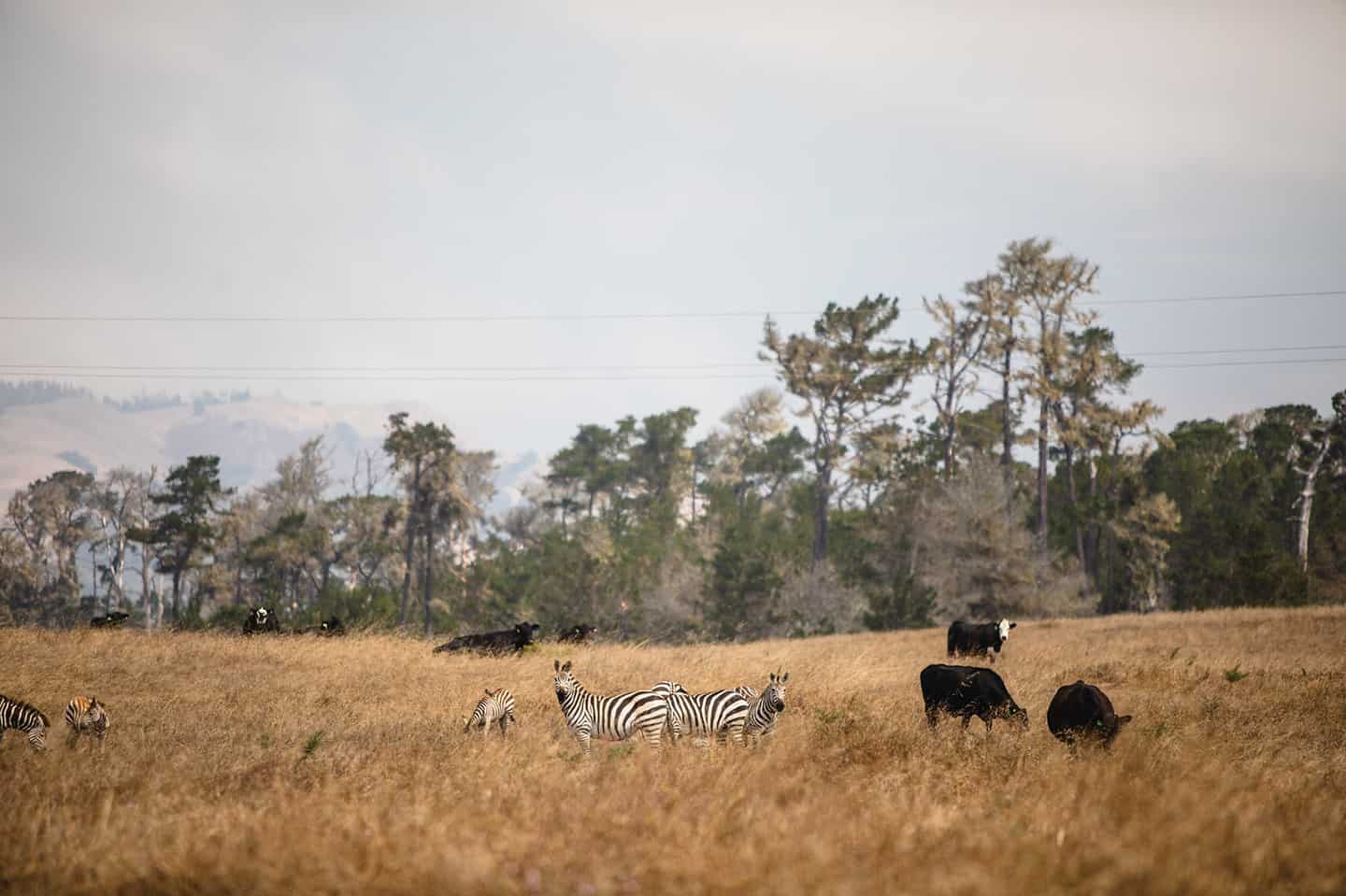 On the country backroads behind Cambria, Linn's Fruit Bin Farmstore is the original location of the Linn's legacy and a working family farm. (Visit Linn's restaurant, pie cafe, bookstore and gourmet shops in downtown Cambria.) Delight in the beauty of its surroundings, a 10-minute drive east of Cambria on Santa Rosa Creek Road. This is also a fantastic bike ride on a warm, Central Coast day. 
The store offers free samples, pies by the slice, and other fresh packaged foods made on site. You can also grab gift crates of Linn's preserves, including olallieberry jam, made from the fruit that Cambria is famous for. The shop also features a wide selection of home and garden decor. Pick up a slice of pie or a cold glass of lemonade, and take your time beneath the sycamores outside the shop. Be aware that hours change seasonally, so call before you plan to visit.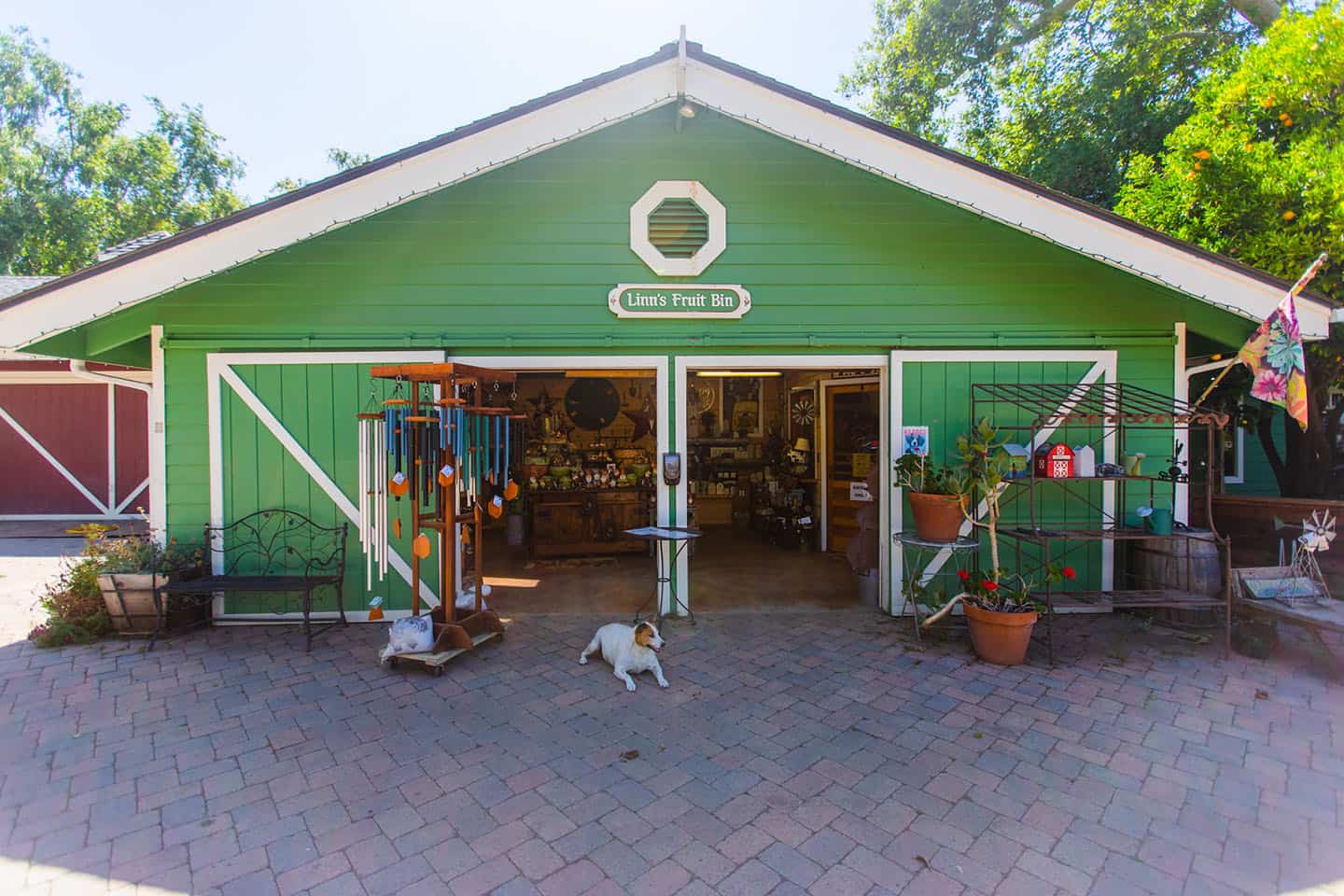 This sweet country farm, located near Los Osos, is a hit with the young and the young-at-heart, October through December. Fall is the busiest season, with Brookshire Farms' pumpkin patch, tractor rides, and the famous corn maze. Each year, the owners plant an epic corn maze that is truly challenging to complete. Seen from above, these mazes are a feat of ingenuity, representing intricate images like scarecrows and sunflowers. (For an extra challenge, try the "Night Maze," which lets visitors find their way through the maze with just a flashlight to guide them!) Brookshire Farms also offers plenty of down-home fun during the fall season, with bounce houses, giant trampolines, corn-shooting cannons, a play structure, duck races, peddle carts, and more. And don't miss the farm stand for seasonal produce like apples, squash, and corn. During the holidays, the farm also offers Christmas trees and other holiday decor. Be sure to call ahead for hours, as the farm is open seasonally.
This charming ranch and creamery lies in a small valley just south of Hearst Castle in San Simeon-Cambria. On the ranch, a young couple herds and milks hundreds of La Mancha goats for small-batch goat cheeses, prized all over California. Originally a Spanish breed, La Mancha goats are thought to have been brought with California's early Spanish settlers. The breed is unique for its very small ears, docile nature, and high-butterfat milk, perfect for cheesemaking. In the off-season, Stepladder Creamery also produces cheeses from cow's milk, sourced from Cal Poly University in nearby San Luis Obispo.
Stepladder Creamery offers tours of their lovely, picturesque valley ranch and creamery. Visit, taste the cheeses and honey, meet the goats, and purchase cheeses to bring home with you. Otherwise, if you can't make a tour, be sure to pick up cheeses at the Cambria, Templeton and Morro Bay farmers markets. Stepladder Creamery cheeses can also be found at farmers' markets and retailers up and down the California coast.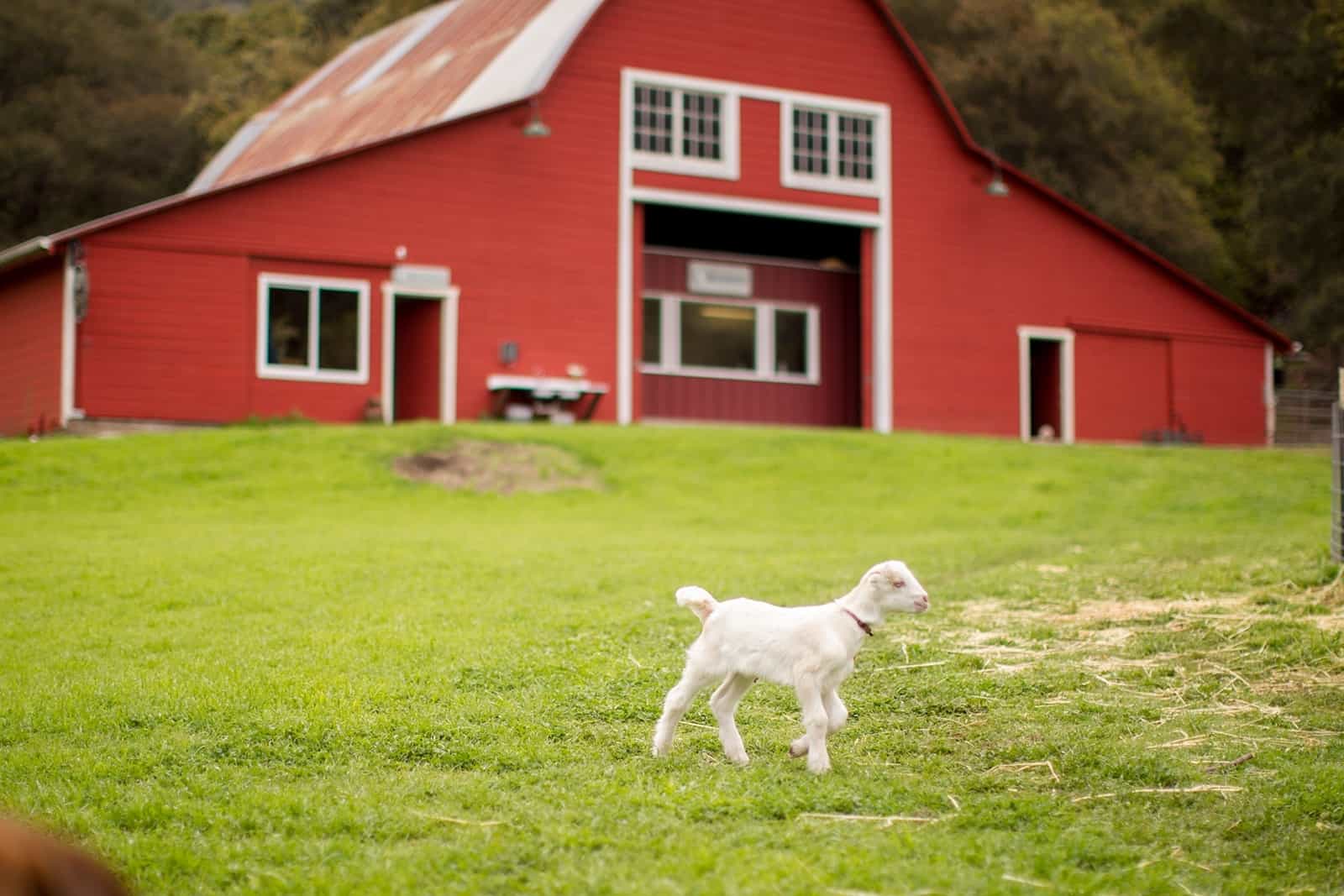 Tucked back into a small canyon in Edna Valley, Tiber Canyon Ranch grows Tuscan olive varieties for olive oil. The ranch has stood between the Pacific Ocean and the Santa Lucia Mountains since the early 20th century. (It even contributed dried apricots and plums to be shipped overseas to Allied troops during World War I.) Today, the property comprises 50 acres of olive trees, including leccino, frantoio, coratina and pendolino varieties — all of Italian stock. The mild coastal climate agrees with these trees and produces some of the finest olive oils available in California. In fact, Tiber Canyon Ranch oils are certified each year by the California Olive Oil Council.
The ranch's owners first came to the property in 1993 looking to build a studio for glass-blowing. Visitors can enjoy olive oil tasting in the ranch barn, glass-blown art throughout the space, and views of native oaks and manzanitas. Tiber Canyon Ranch is also a wonderful stop while wine tasting in Edna Valley; pick up a few bottles for gifts along the way.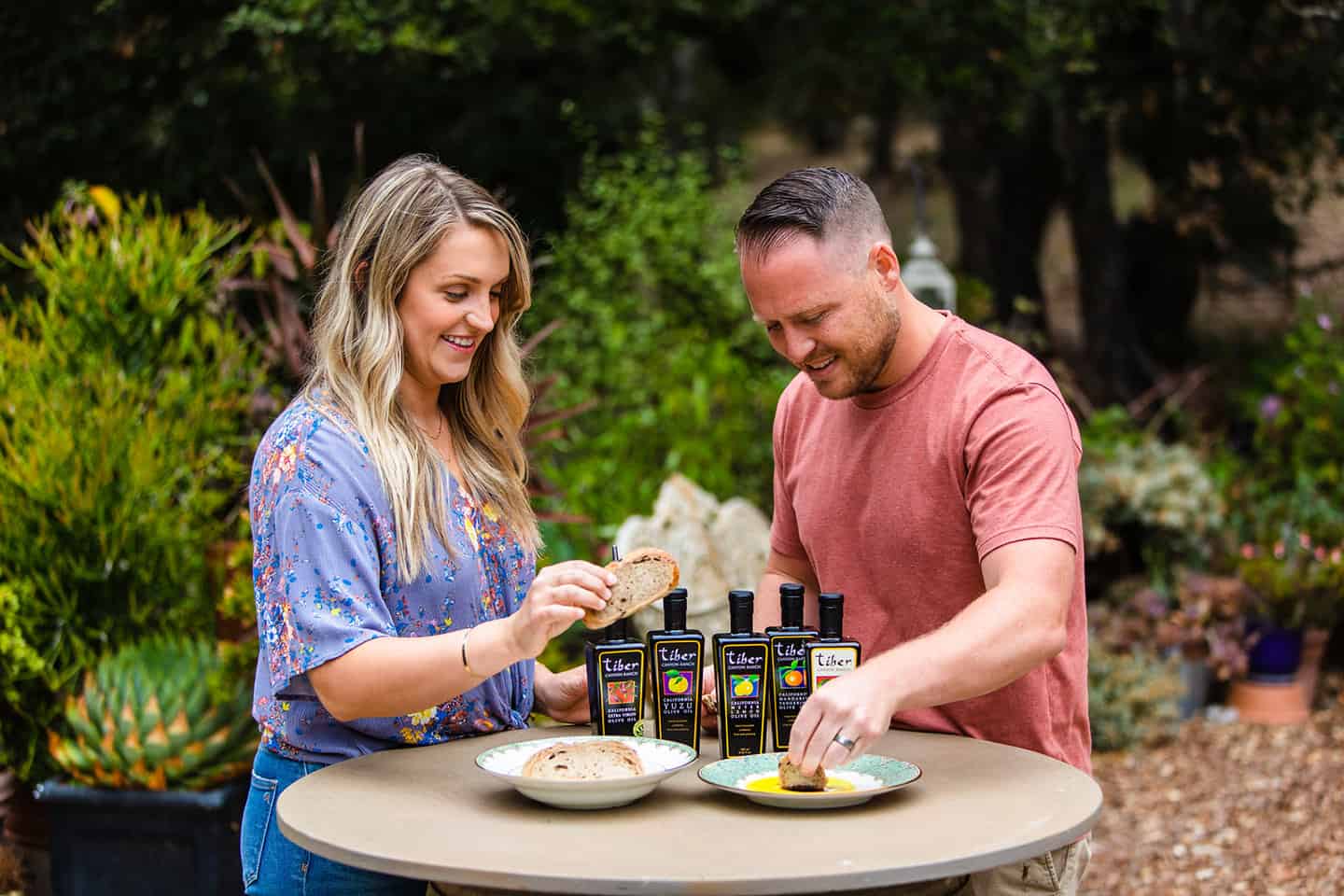 Just off Highway 101 between Arroyo Grande and Nipomo, Windmill Farms is a rambling property with acres of plenty to see, do and taste. Look for fresh farmers' market produce like berries, zucchini, tomatoes, corn, and more. Farm-fresh eggs, seafood, meats and breads line the aisles, as well as gifts and natural body products. You'll also find an assortment of gourmet and locally-produced jams, dips, honey, BBQ sauces, nuts and chocolate. Browse outdoor through the Windmill Farms nursery, featuring succulents, roses, and fruit trees, as well as statuary, benches and garden art. Kids will love hanging with the animals in the "Critter Corral," where they can pet and see pigs, goats, chickens and other critters. Windmill Farms offers classes like floral design and jewelry making throughout the year. It is also available for events like corporate retreats and meetings, as well as rustic barn weddings. Visit, tour the farm, and experience one of the Central Coast's most delicious well-kept secrets for yourself.
If you've ever been curious about California native plants, the Nipomo Native Gardens 12 acres of botanical native gardens will satisfy that curiosity. Planted and maintained entirely by volunteers, this space is a wonderland of diverse native species endemic to the Nipomo Mesa and Nipomo Dunes. Walk the 0.6-mile trail through coast live oak forest, sit on a garden bench, and enjoy examining plants that have survived centuries in this abundant area. Look for Cleveland Sage, Nipomo Mesa Ceanothus, Yello Lupine, Monkey Flower and Blue Wooly Stars, among many others. The garden's website offers a wealth of information about all of the varieties featured on site. Print out guides to the flora and fauna of the garden, as well as guides on how to plant native varieties in your own home garden. Visitors can also perform one-time volunteer jobs at the garden, including weed control, footpath maintenance, growing plants from seed and cuttings, and landscaping.
FARMstead ED & the SLO County Farm Trail
This educational and collaborative project brings visitors and locals alike into agricultural experiences, events and gatherings across the Central Coast. Locales include family farms, ranches and production facilities where food is being grown and raised. In doing so, FARMstead ED hopes to make enthusiastic agricultural ambassadors of the folks who visit these spaces. Some of the educational experiences offered by the organization include farm tours, a demonstration, a hands-on workshop and opportunities to purchase goods. Alternatively, travelers can use the SLO Co Farm Trail map to discover which farms, ranches and facilities are open for visits from the public. Several of these lie along Highway 1, like Gopher Glen Apple Farm and the Avila Valley Barn, SLO Creek Farms and Talley Farm. Previous workshops and classes have helped visitors learn how to make jam, milk goats, and grow a "cocktail garden." The goal is to inspire and empower participants to try these activities at home and connect with their farmers and food producers.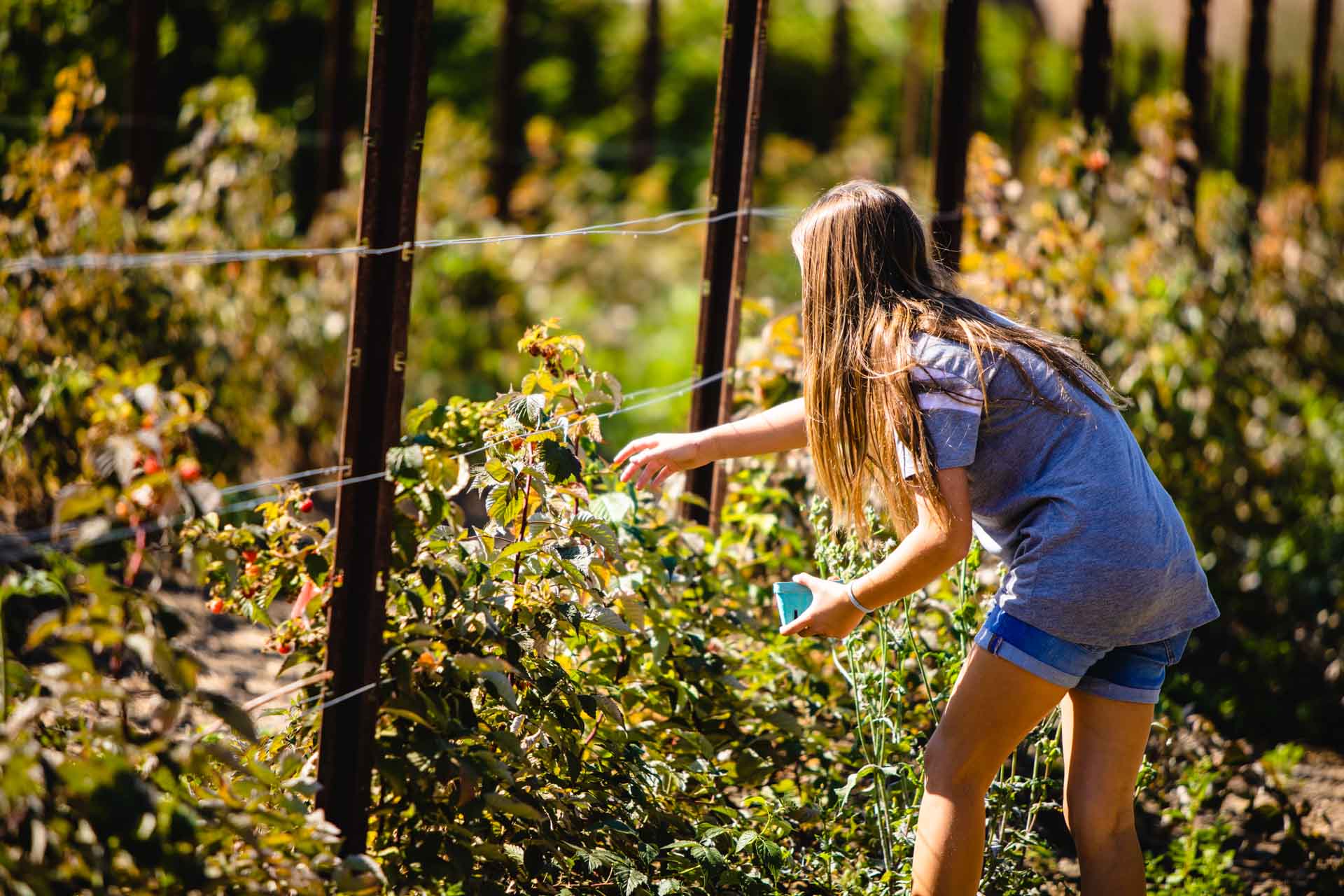 The folks at Kelpful forage to bring seaweed "from the ocean, for the people." Hand-harvested from the shores of Highway 1 beaches during low tide, Kelpful's seaweed products range from flavorful seaweed salt to soothing kelp and eucalyptus goat's milk soap. These are available on their website and with local retailers, and they make wonderful additions to the kitchen and bath. Want to harvest seaweed yourself? Kelpful offers foraging tours in the waters off Highway 1 north of Cayucos. During the 90-minute tour, you'll learn the history of seaweed, how to harvest sustainably and safely, and how to use it. The Kelpful guides will teach you the art of cooking with this ancient superfood, as well as the art of using it for self care. Tour guides meet up with their guests, and provide all the gear they need to start harvesting in the intertidal zone off the coast of Highway 1. They also point out wildlife spotted along the way, making this a terrific family-friendly excursion.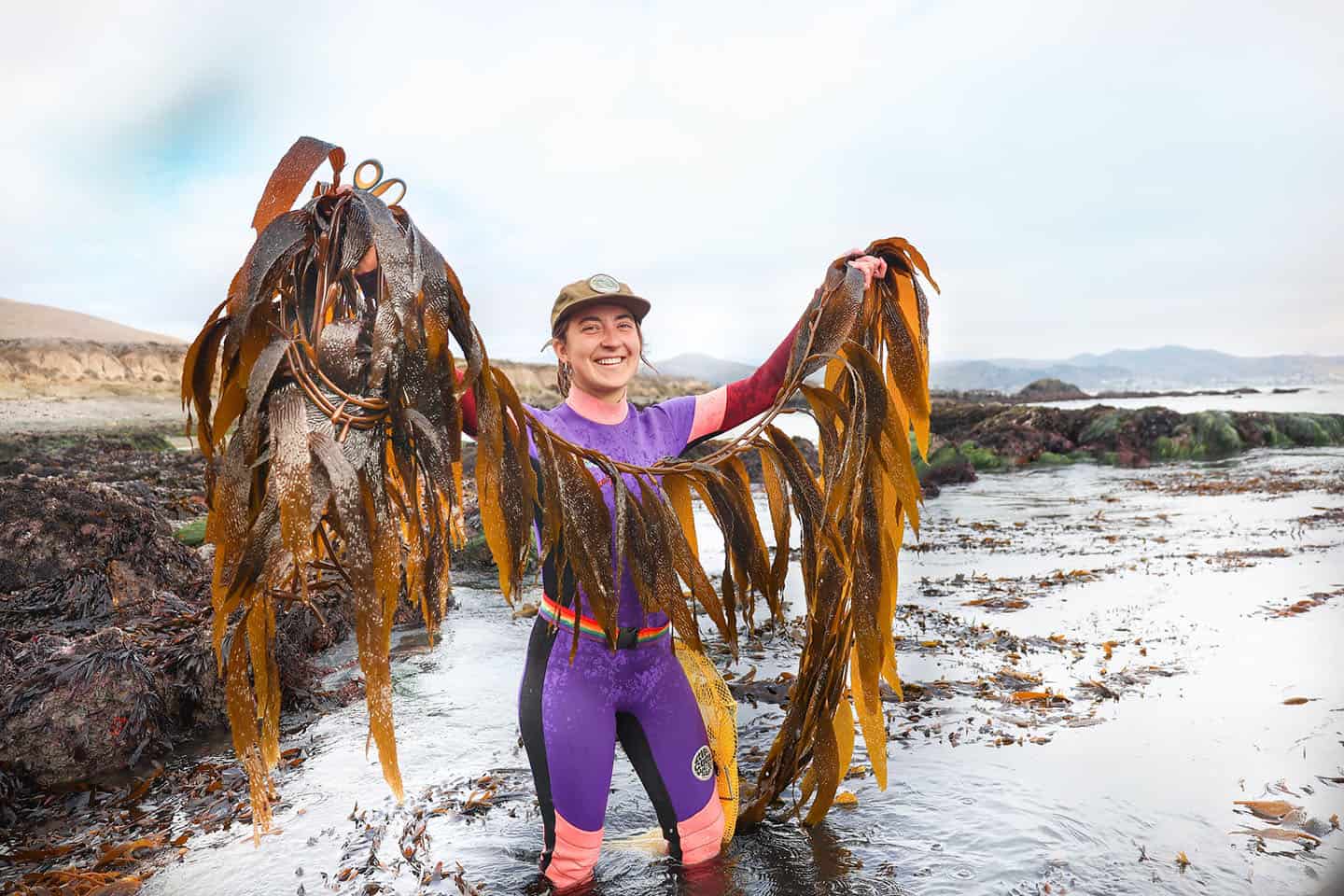 Marley Family Seaweeds offers a seaweed foraging tour considered one of the best in the nation. On each tour, the Marley family covers the basics of marine algae science and how to harvest seaweed sustainably. Participants head to the beach with their guide, and learn how to forage for seaweed on their own after the tour is long over. Aside from kelp, other primary varieties include Wakame, Nori and Kombu. Kids and families will love getting their hands wet among the pristine conditions of their oceanic surroundings. To conclude each tour, the Marleys prepare traditional Japanese seaweed ramen for guests to eat. But if you're unable to join in for a tour, you can still find Marley Family Seaweeds at farmers's markets in San Luis Obispo County. Look for them at North County Farmer's Markets, and those in Templeton and Morro Bay.
If you love seafood, love to fish or just want to learn, fishing Highway 1 can be a memorable — and bountiful — experience. Open water sportfishing is popular here, with companies like Patriot Sportfishing in Avila Beach ready to show you around. Patriot offers tours that last up to 12 hours, and that can reach a depth of 300 feet. You might travel to Point Purisima, Point Sal, Point Lobos, Point Buchon or Point San Luis. Alternatively, charter a boat from Patriot Sportfishing, and design the itinerary yourself. Depending on the season, weather and availability, you might catch rock cod, crab, ling cod, albacore and/or salmon. Crave seafood, but not interested in catching your own? Try Tognazzini's Dockside Too fish market on the Embarcadero in Morro Bay, or the Tognazzini Dockside Restaurant next door. These spots offer some of the freshest just-caught fish and seafood available on the West Coast.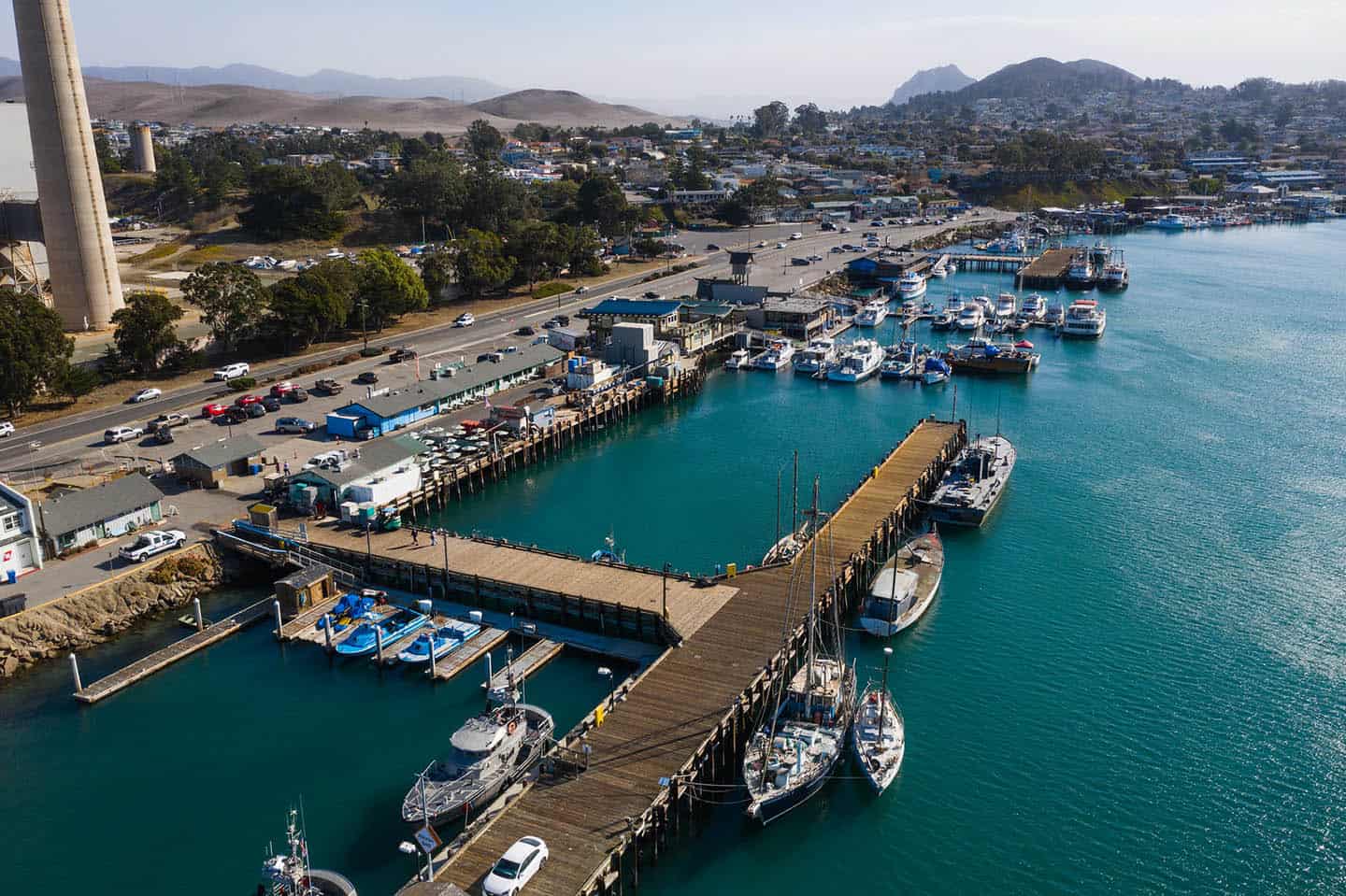 This acclaimed oyster farm raises Pacific Gold Oysters, a species that thrives in the Morro Bay National Estuary in Los Osos. The conditions provided by the mingling of freshwater and saltwater in the estuary is part of what makes the oyster farm possible. In fact, you can see these conditions up close when you kayak the estuary from the Morro Bay State Park Marina. Rent a rig from the Kayak Shack and paddle out to the center of the estuary. Here, flats of Pacific Gold Oysters lie shallow in the water, enjoying the tidal changes that keep them happy and healthy. (Private kayak tours led by Central Coast Outdoors also visit the oyster flats.) The Morro Bay Oyster Company supplies some of the best restaurants in the country, and visitors can buy oysters directly on Saturdays, 11am-5pm. Head out to their warehouse and headquarters on the Morro Bay Embarcadero to buy oysters, or just to chat about the farm.
Rod & Hammer's SLO Stills
The bourbon and rye whiskeys produced at Rod & Hammer's SLO Stills are "cut" with purified water from the Pacific Ocean. Owned and operated by the folks behind iconic brewery SLO Brew, the distillery does this to add to the terroir of their spirits. Co-founders Rodney "Rod" Cegelski and Hamish "Hammer" Marshall are native Californian and native Australian, respectively, and consider themselves united by the Pacific Ocean. To honor that partnership, they add clean ocean water during the proofing process, after the cask-strength whiskey is filtered and blended before bottling. Rod & Hammer produces straight bourbon whiskey, straight rye whiskey, cask bourbon whiskey, and a distiller's reserve rye. These can be found in fine spirits shops and retailers along Highway 1, or in Rod & Hammer's comfortable tasting room in Edna Valley. The tasting room lies next door to SLO Brew The Rock, and offers tastings and tours daily. Come taste the terroir of seawater-cut whiskey, enjoy a tour, and maybe pick up beers and food from The Rock next door.
Farm to Table Restaurants
Located at the historic Sycamore Mineral Springs, this farm-to-table, fishery-to-fork restaurant features seasonal, fresh cuisine. The eatery is known for its use of a sprawling kitchen garden, located just across Avila Beach Drive along the Bob Jones Trail. This 1-acre garden supplies much of the produce used in dishes at the Gardens of Avila, like herbs, edible flowers, fruits and vegetables. (The Chef's Garden is also available for special events — a beautiful, unique setting for any occasion.) The restaurant also makes good use of fresh seafood, caught and harvested just around the bend at Port San Luis in Avila Beach. Find a spot indoors near the natural stone fireplace or mahogany bar, or sit outdoors on the terrace patio. Relax and enjoy casual, fresh dining alongside a list of the finest local wines. Don't miss happy hour or weekend brunch; pair either with a spa treatment or hot springs soak for a luxurious experience.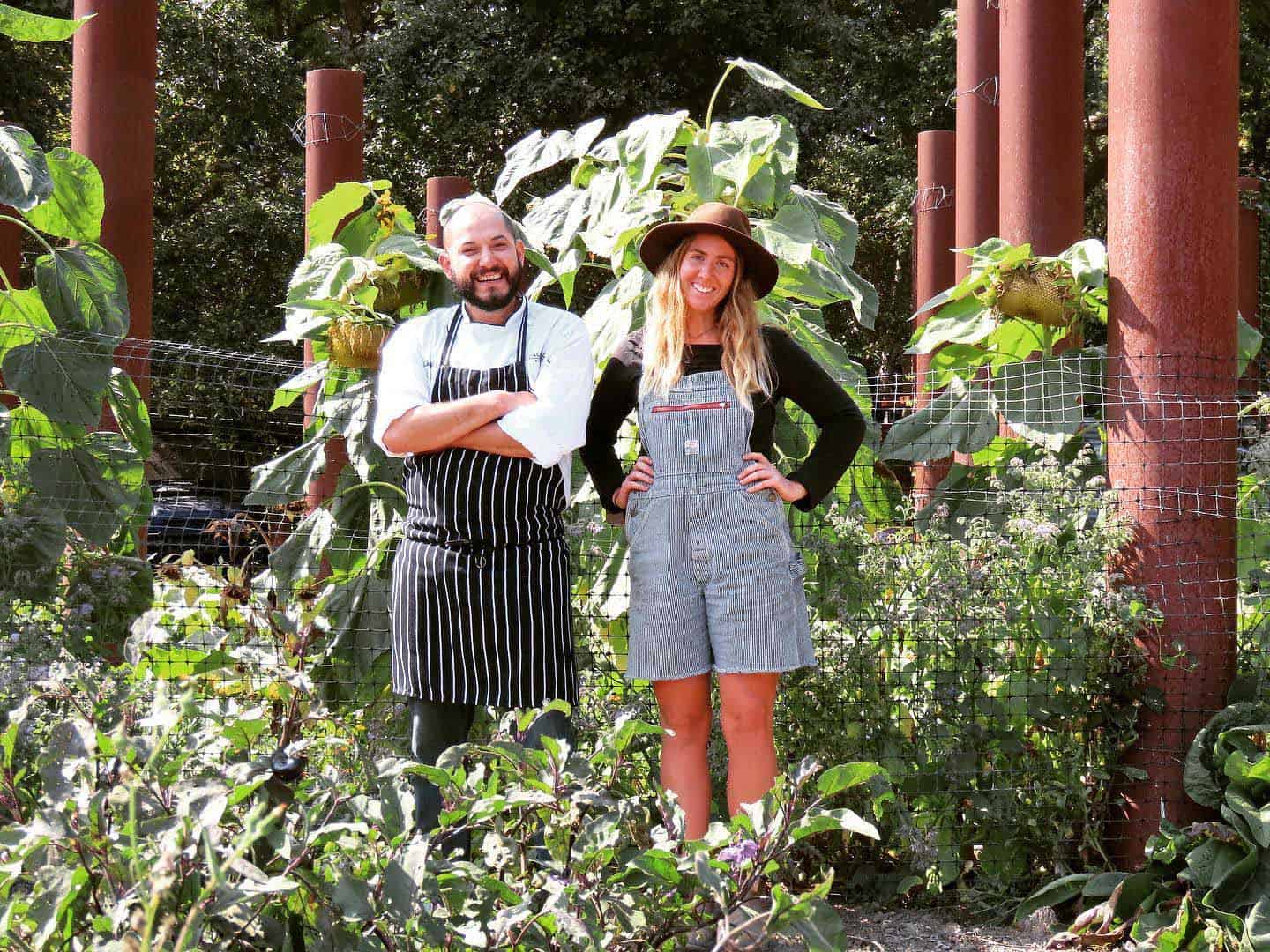 A local staple for decades, Robin's Restaurant champions fare crafted from locally-grown, raised, and made ingredients. The eatery is situated on the corner of a historic block in Cambria, and occupies a restored adobe home with a cozy heated patio. The style of cuisine is eclectic, featuring globally-inspired dishes like caprese salad, cauliflower tempura, and chicken mole enchiladas. All dishes made use of the highest quality natural, organic and humanely-raised products sourced from local farms. The wine and beer list is equally impressive, highlighting local and international bottles paired beautifully with the flavors of Robin's dishes. The restaurant actually began as a small health food store many years ago, and takes dietary restrictions into serious account, as such. Find a wide array of vegetarian, vegan, and gluten-free dishes on the menu, in addition to other decadent offerings. Do as the locals do and grab a glass of wine and an appetizer to enjoy on the leafy, secluded patio.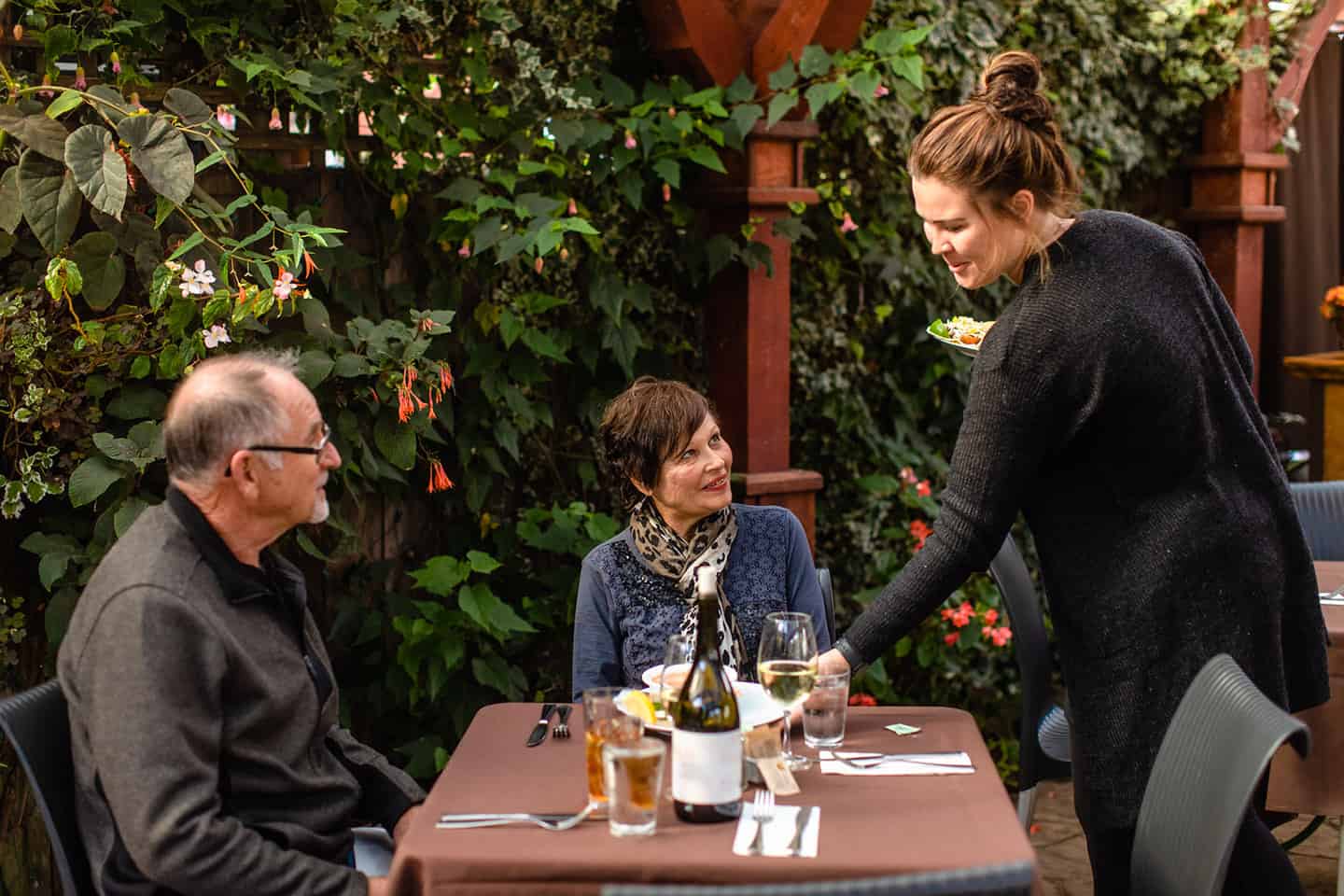 Home of the famous olallieberry pie, Linn's Restaurant shares a wealth of farm-to-table dishes from its charming Cambria kitchen. The olallieberry (pronounced oh-LA-leh-berry) tastes like a blackberry crossed with a raspberry, and originated in 1949 at Oregon State University. Today, however, it's known as Cambria's local berry thanks to the way Linn's has perfected using them in pies, pastries, preserves and sauces. Linn's Restaurant features farm-to-table comfort food, including pot pies, parmesan-balsamic Brussels sprouts, downhome meatloaf, and hearty salads. These dishes make ample use of produce from neighboring farms, as well as beef from nearby Hearst Ranch. Enjoy wine and beer by the glass or bottle, and purchase your favorites in the wine shop at the front of the restaurant. Enjoy breakfast and brunch at Linn's, where tall stacks of pancakes and farm-fresh omelettes start the day right. And don't forget dessert all day, whether it's pie and ice cream, a slice of triple layer cake, or a berry banana split.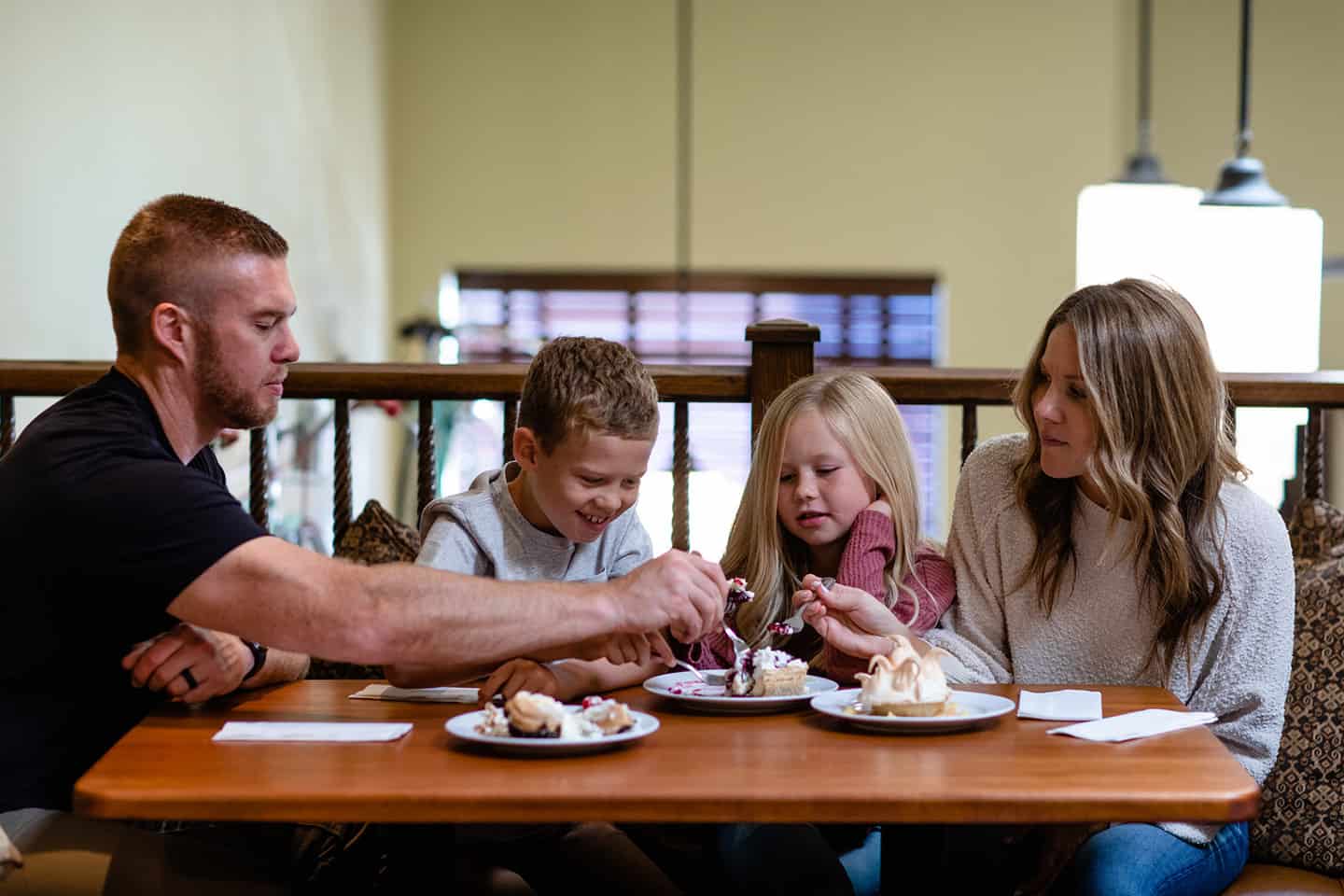 Set in a charming Tudor-style building in Cambria's West Village, Madeline's features dishes made from locally-grown ingredients and wines made from nearby vineyards. Madeline's also offers its own line of handcrafted wines to pair with a French-inspired lunch and dinner menu. The candlelit dining room makes for a romantic evening or a very special occasion. The in-house wine shop also allows guests to discover several of the finest boutique wines made on the Central Coast. These include hard-to-find bottles, new releases, library wines, stemware, and decanters. (You can also pick up gourmet cheese and cured meats for an on-the-go picnic, perhaps while wine tasting in the area.) For in-house dining, try dishes like pesto polenta, stuffed quail, savory crepes, filet mignon and seafood bourride (i.e. stew with aioli). And for a sweet finish? Go with decadent bananas foster, chocolate mousse, creme brulee or fruit cobbler. Everything on the menu speaks to the Central Coast's abundance of produce, meat, seafood, grains, and wine.