Among the thriving culture of wine tasting, craft brewers, and farm-to-table dining along Highway 1, local distilleries have become a destination all their own. The Central Coast distillery boom began as a side hustle for wineries trying to avoid waste in the winemaking process. By distilling unusable wine and leftover grape skins after fermentation, winemakers could maximize sustainability and open a new income stream. And then there were the spirits themselves: beautifully crafted brandies, gins, limoncellos, grappas and more. With the success of these products, a distillery culture grew to include other spirits, including bourbon and rye whiskeys, rum, and even absinthe. Today, visitors can find a wide variety of tasting rooms along Highway 1 and nearby, all made by the hands of local distillers. In fact, the area has been named a top craft spirits destination in the U.S. by the American Distilling Institute and Travelocity. The list we provide here features distillers from north to south on Highway 1, including neighbors on the Paso Robles Distillery Trail. So grab your designated driver (or a tour service like the Wine Wrangler) and enjoy the variety of excellent spirits available here.
Discover The Distilleries of Highway 1
Located on Los Osos Valley Road, just 10-minutes away from Montana de Oro State Park, this distillery specializes in corn whiskey. In fact, it's the only craft distillery in the region to do so. Foggy Bottom Distillery is also one of only a few distilleries not tied to a winery or brewery production. As such, there is an independent spirit to this distillery, with its speakeasy vibe and very loyal local clientele. The distillery lies behind Martin's Restaurant and takes a little hunting down to reach — just follow the signs. Once there, you'll likely catch distiller Todd Adams tending to his still, ready to share about his process and give tours. Enjoy samples of several spirits, including aged bourbon, corn whiskey, gin, spiced rum, and specialty spirits. The distillery also offers a small gift shop and occasionally holds events. Be sure to plan ahead for your visit, as the distillery is only open on weekends: 12-7pm on Saturdays and 12-6pm on Sundays.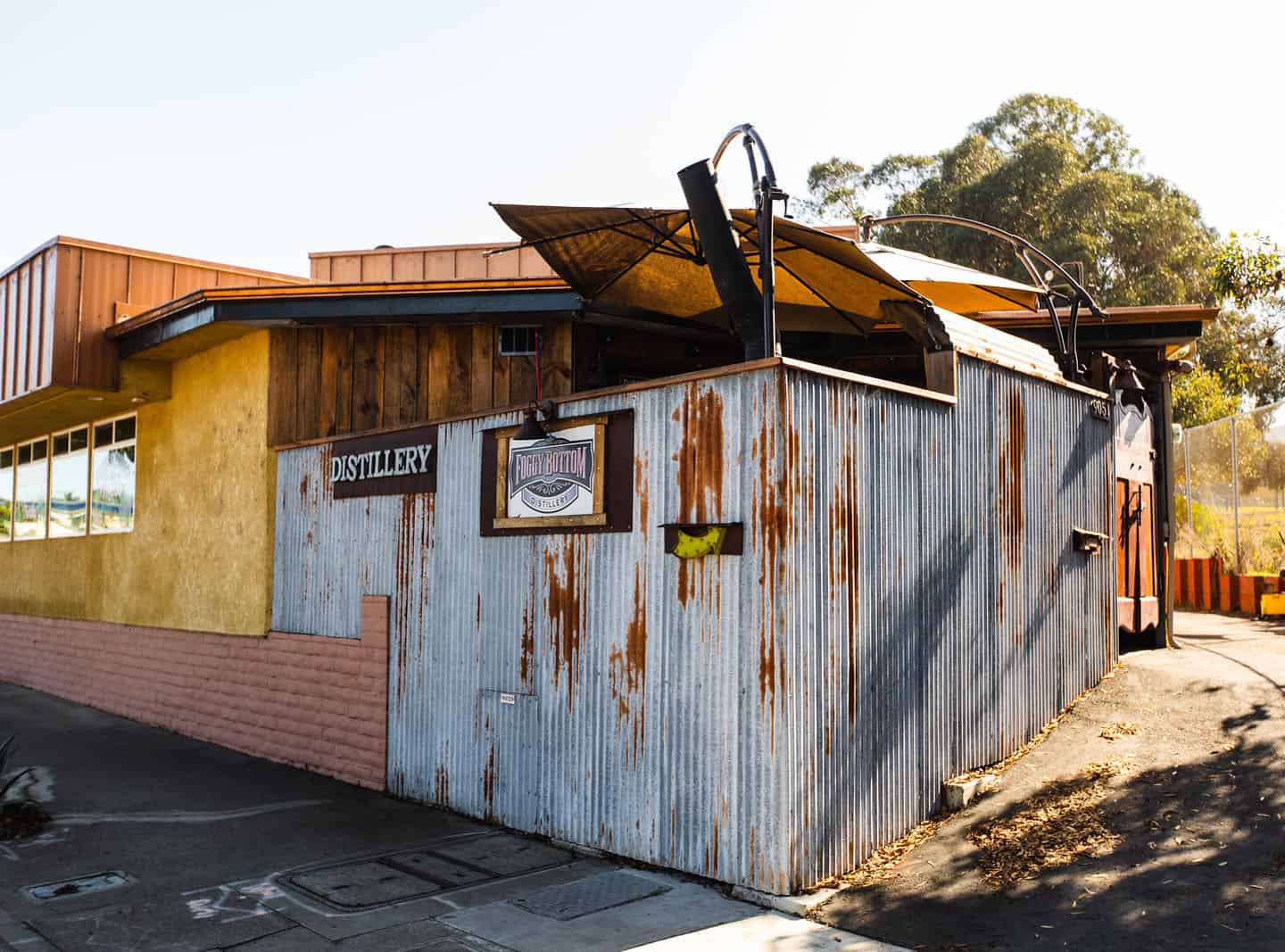 In the midst of a successful winemaking career in Edna Valley, Steve Autry started playing with making brandy and grappa from local fruits. Today, he has a thriving brandy business on top of his Autry Cellars winery. A born tinkerer, Autry is more than happy to explain the science behind the fermentation and distillation processes. Sample from a variety of very small-batch brandies, including apple brandy made from local apples. For grape brandies, Autry gives special attention to barrel aging in American, Hungarian, and French oak. Enjoy a flight of these brandies to taste the different qualities the oak barrels impart to the finished product. Autry also produces a limited selection of grappa, the Italian-style spirit made from grape solids rather than solely grape juice. Typically imbibed in small quantities as a digestive drink after a meal, grappa is a fantastic example of a zero-waste product. Swing by to taste these and more by making an appointment at Autry Cellars.
If you've ever tasted SLO Brew beers, you have an idea of the personality behind Rod & Hammer SLO Stills. Launched in 2019, Rod & Hammer refers to its owners: SLO Brew's Hamish ("Hammer") Marshall and surfer Rodney ("Rod") Gegelski. These two united over a love for brown spirits and have made their own ever since. Stop into the tasting room, located just beside SLO Brew's The Rock on Aerovista Drive, at the edge of the Edna Valley. There, find straight bourbon whiskey, straight rye whiskey, cask strength bourbon whiskey, and distiller's reserve rye whiskey. Order a glass of these individual spirits, or opt for a flight to taste them all; buy a bottle at the end, and the flight fee is waived. Rod & Hammer also offers a short menu of whiskey cocktails, as well as a menu for easygoing bites like pizza, salads, and charcuterie. Stop in anytime Tuesday through Sunday from 12pm to 8pm to experience this Central Coast style take on classic whiskey.
Other Distilleries Near Highway 1
With distinctively different spirits, the Grover Beach distillery SLO de Vie features products inspired by the owners' Portuguese and Russian heritage. SLO de Vie (a play on "eau de vie") focuses on spirits traditionally made from pomace, or the castoff solid waste from the winemaking process. These include aguardente —  which translates roughly as "firewater" —  a Portuguese brandy made using traditional Azorian methods. The distillery produces multiple varieties of aguardente: a reserve, a Maracuja (passionfruit), and an Anise version. They also distill vodka, gin, and grappa, all made with Central Coast fruit and ingredients. In fact, some of the ingredients, like Seville oranges, rosemary and lavender, are grown in the distillers' backyards! Visit the Grover Beach distillery to educate your palate on these perhaps unfamiliar styles, and learn about the distillation process from the distillers. The tasting room stands in a three-story building on 4th Street, just 0.2 miles from popular restaurant The Spoon Trade. Check out the large copper stills, barrels, and bottling lines that make the magic happen.
Steve Kroner and Joe Barton of Krobar Distillery were early adopters in the Central Coast spirits boom, having distilled a number of products since 2012. Both Kroner and Barton started as sons of the wine industry: Kroner with Silver Horse Winery and Barton with Grey Wolf Winery. Today, they oversee a thriving operation with hubs in Paso Robles wine country and San Luis Obispo, both of which welcome visitors. The Krobar location in Paso Robles distills gin and vodka primarily, including some specialty batches like pink gin and kaffir lime vodka. Found behind Grey Wolf Winery, this tasting room also offers weekly craft cocktails and serves a menu of small bites. The San Luis Obispo location, just a mile from Los Osos Valley Road, features brown barrel-aged spirits. These include Krobar bourbon, rye and malt whiskeys, and rum. The distillery in SLO offers fresh craft cocktails made from Krobar spirits and local ingredients as well as a food menu. This location also offers distillery tours.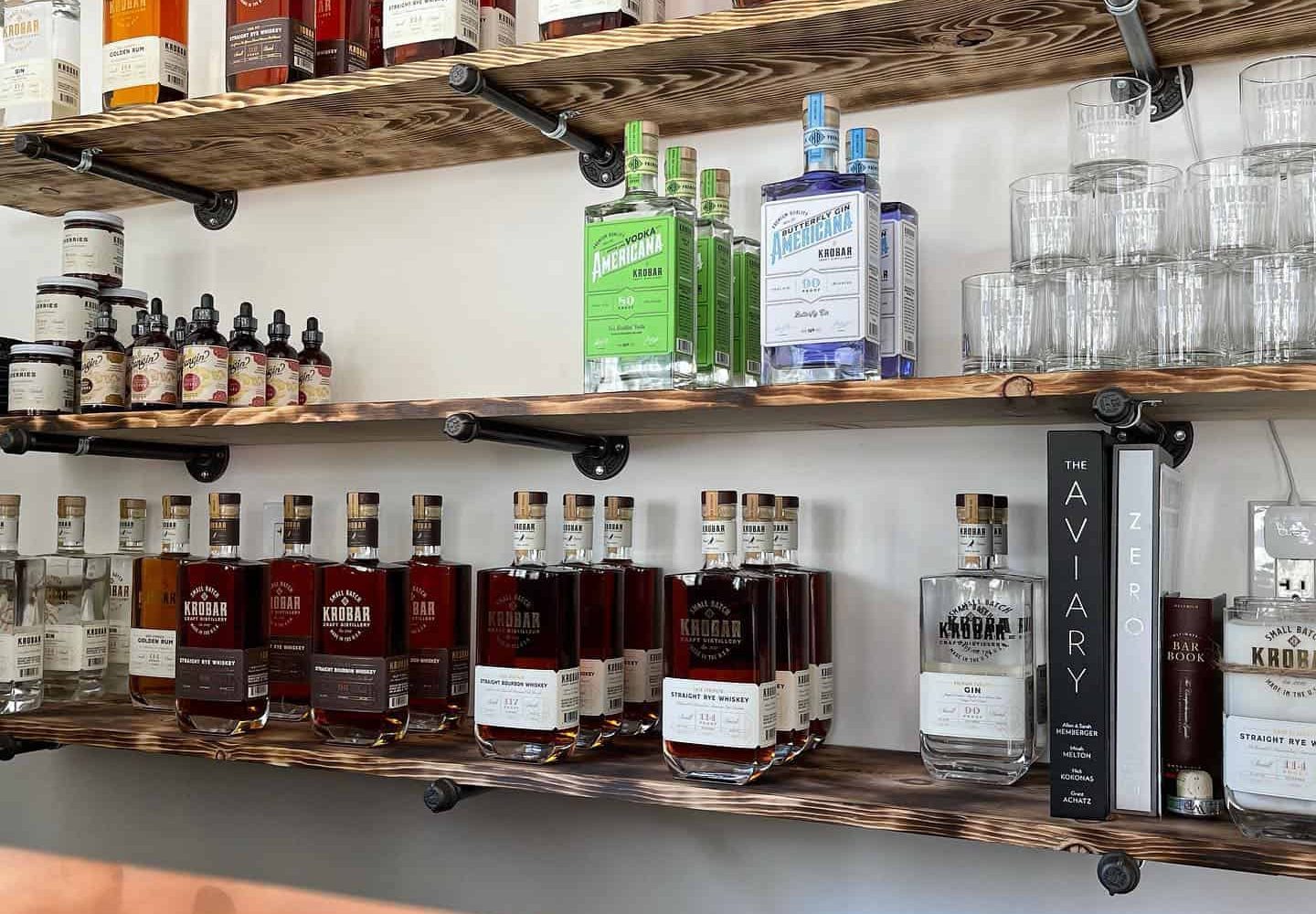 Based in Templeton, Pendray's Distillery began as a way for winemakers Steve and Lola Glossner to produce spirits for fortifying their PasoPort wines. What began as a way to close the production loop became a business in its own right. Today, Pendray's Distillery makes small-batch craft spirits including barrel-aged brandies, grappa, and fruit-based liqueurs in a 500-liter Holstein pot still. Steve Glossner comes to spirits via the wine industry, having made wine for Adelaida Cellars and Halter Ranch before making port-style wines. The company's portfolio now includes PerCaso Wines, PasoPort Wines, and Pendray's Distillery spirits. A visit to the tasting room can include samples of spirits as well as any of the Glossner's other available wines. Be sure to try Pendray's liqueurs, in particular, which are made only from neutral spirits, fruit or herbs, and sugar. The blueberry liqueur makes a perfect sipper for a hot summer day, and the chamomile liqueur can warm up a cold winter night. Stop in at Pendray's for tastings Thursday through Sunday, 11am to 4pm.
This pioneering Paso Robles distillery makes a spirit unavailable anywhere else in the area: absinthe. Fans of this once-outlawed drink will appreciate the opportunity to imbibe "the green fairy" at Red Soles Still House. The distillery shares a tasting room with its parent company, Red Soles Winery, which centerson on Rhone-varietal reds, Cabernet Sauvignon, Zinfandel and Tempranillo. Visitors can choose from a number of spirits to try, like the Absinthe Verte, a grape spirit infused with 13 botanicals and with its signature emerald color. Other spirits include barrel-aged brandy, hooch (unaged brandy), and cinnamon-infused hooch, all of which are great for sipping or mixing into a wintry cocktail. Red Soles also turns trash into treasure by producing Italian-style grappa from winemaking "waste." And limoncello, the beloved citrus-infused spirit from Southern Italy, features prominently on the menu, made from whole Meyer lemons. Settle in at Red Soles Winery and Still House for a tasting of these spirits any day between 11am and 5pm.
Located in Templeton at the corner of Oak View Road and Highway 46 West, Donati Family Vineyard is also the home of Donati Spirits. Established in 2020, the distillery produces 80-proof craft vodkas under the name Bear + Prophet. These vodkas are distilled from Donati Vineyard chardonnay grapes, and include a neutral vodka as well as one that has been barrel-rested for several months. The iconic Donati Vineyards tasting room has its own Spirits Lounge where visitors can taste the neutral and barrel-rested vodkas. The menu also includes flavored vodkas like pumpkin spice, watermelon-mint, pomegranate, pineapple, grapefruit, lavender-vanilla, and blood orange, plus a bloody mary mix vodka. The tasting experience highlights these flavors, with something for every palate, plus ideas for cocktails to make at home. The Spirits Lounge is open for tastings Friday through Sunday from 12pm to 4pm. Reservations are required, so plan ahead for this fun tasting experience.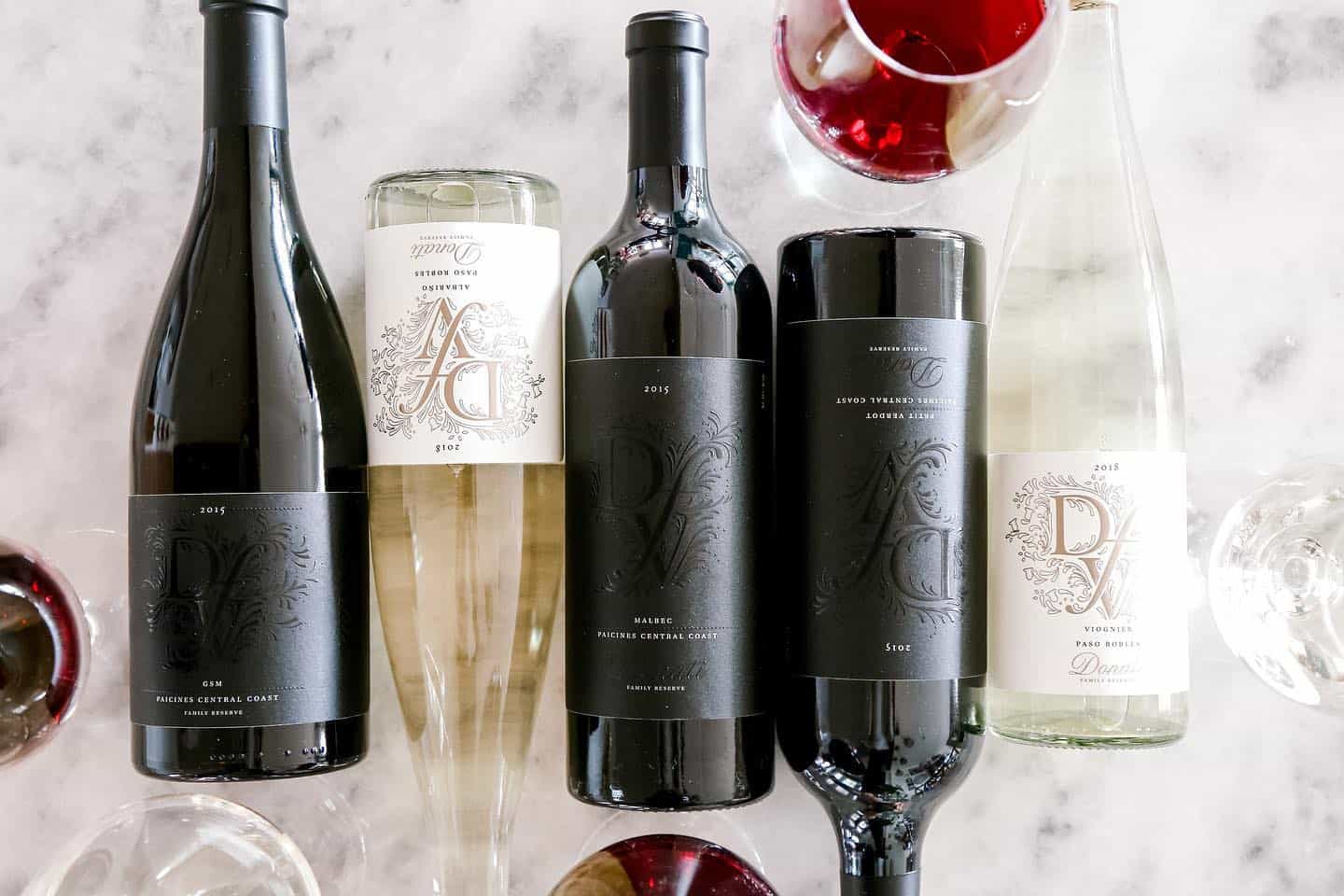 The man behind Central Coast Distillery in Atascadero is not only a distiller but also a forager and a chef of great renown. Eric Olson comes most recently from the world of high-end dining, including four years as Executive Chef at the Ojai Valley Inn & Spa. All throughout his career, he has foraged for ingredients, and he brings that same approach to his new distillery. His line of spirits is called Forager, and features ingredients he has procured in the wild or from beekeepers, ranchers and farmers. At the distillery, find a wide array of spirits, including gin, bourbon, vodka, rum, and even mezcal made from smoked Paso Robles agave. In addition to spirits, Chef Eric also makes cocktails and meals for visitors. In fact, on Thursday nights, he includes a complimentary appetizer with the order of any cocktail. The tasting room in Atascadero is open Thursday and Friday, 5pm to close, and Saturday, 3pm to close.
Re:Find Handcrafted Spirits
Much of what became the Highway 1 distillery boom began with Alex and Monica Villicana at Re:Find. As owners and operators of Villicana Winery in West Paso Robles, they saw the waste that winemaking produces, and sought to become more sustainable. The result was a line of grape-based spirits that completely changed the drinks landscape on the Central Coast. Seeing their success in eliminating waste, they went on to team up with local brewers for spent grains to distill for whiskeys. Today, the Re:Find tasting room stands beside the tasting room for Villicana Winery and welcomes visitors to try its lineup. On the menu, find Re:Find handcrafted vodka, gin and liqueurs  as well as brown spirits like bourbon whiskey and rye whiskey. Re:Find also sells their housemade and locally-made mixers, bitters, syrups, grenadine, tonic water, honey and cocktail cherries. Tastings are available by appointment only with a six-guest maximum, Thursday through Sunday.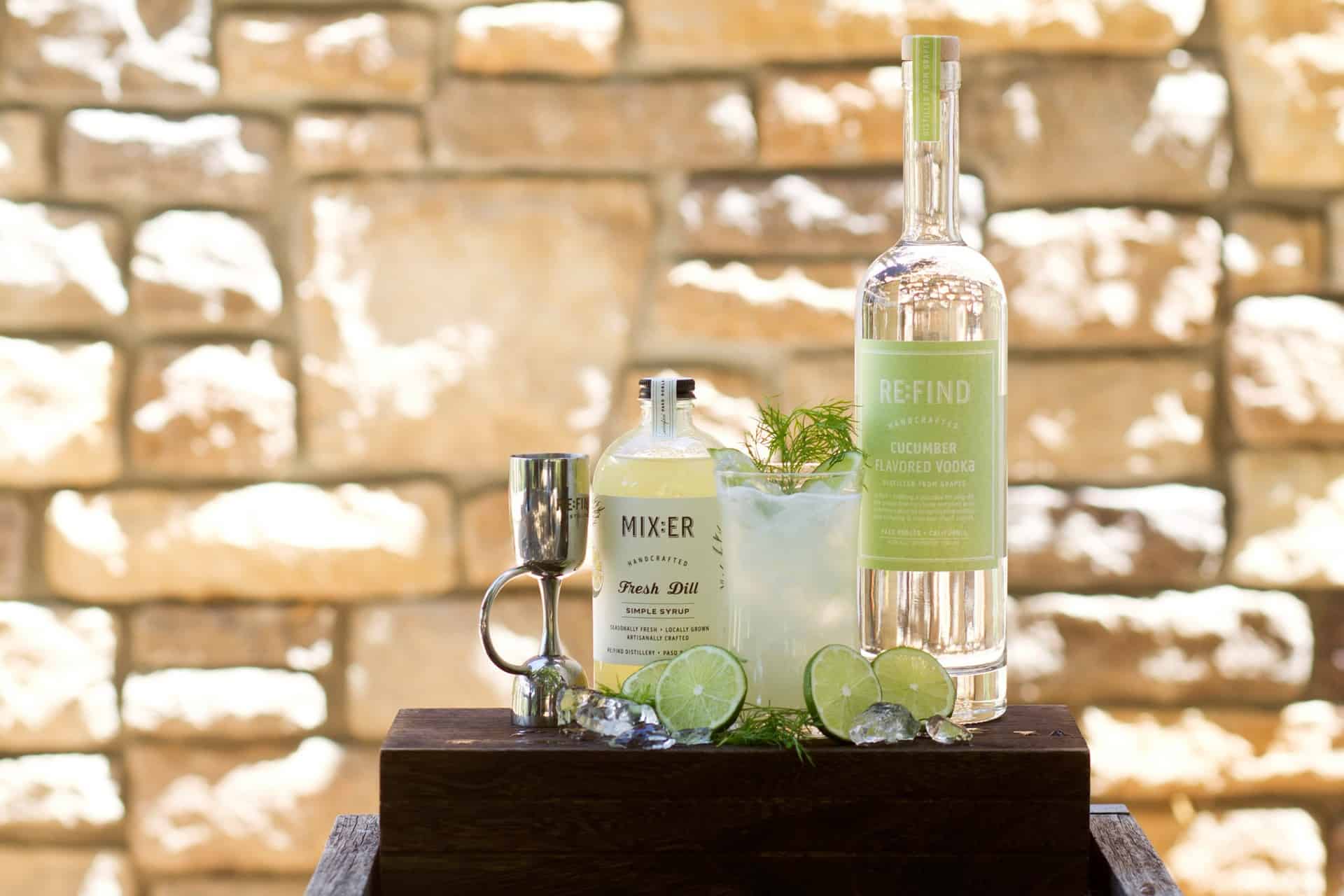 Azeo Distillery is located in Paso Robles, just west of Highway 101 on Riverside Drive. The distillery is owned and operated by David Vondrasek, who started by distilling apples. The flagship product at Azeo is apple vodka, which requires 28 apples to make one bottle. Other spirits in the Azeo portfolio include vodka made from grapes, moonshine, rum, silver rum, and tequila-like agave spirit. The name of the distillery refers to the scientific concept of an azeotrope. This is defined as "a constant boiling point mixture of two or more liquids whose proportions cannot be altered or changed by simple distillation." Visit the Azeo tasting room to taste the spirits, meet Vondrasek, and have him explain an azeotrope to you! The distillery is open for tastings when Vondrasek is at the distillery working on weekdays, between 8am and 4:30pm. For weekend or after-hours visits, appointments are required.
This craft distillery is owned and operated by the Udsen family, best known for Castoro Cellars on Paso Robles' west side. The same pioneering spirit that led him to start the winery also led him to be one of the first distillery owners in the area. Legend has it that Niels Udsen dreamed of distilling grappa in the Italian style ever since he'd lived in Italy years ago. Today, Bethel Rd. Distillery produces grappa and much more. The foundation of every spirit at Bethel Rd. is grapes, from their brandies to their gin. House-made liqueurs originate with estate-grown ingredients like walnuts for the Nocino liqueur and oranges for the orange liqueur. Visit the Paso Robles tasting room for a cozy spot to settle in and sip, Thursday through Monday, 11am to 5pm. Locals tip: the Udsen family loves music, as evidenced by the Whale Rock Music & Arts Festival they hold at Castoro Cellars each fall. You can also find music at Bethel Rd. Distillery, where live sessions include top touring musicians, local bands, and more.
The maker behind Paso Robles' Calwise Spirits Co started distilling spirits in his dorm room at Cal Poly University. Today, that independent, scrappy and entrepreneurial spirit serves Aaron Bergh well as owner of Calwise Spirits Co. Bergh's flagship bottle is a grape-based gin he calls Big Sur Gin, made with wild native herbs. Reminiscent of a walk in Big Sur, he infuses neutral grape spirits with sage, elderberry, yerba santa, bay and juniper. Other offerings include a whiskey called Axe Hole, made from chocolate-roasted malts and aged on American oak for 18 months. Then there's the lineup of straight and flavored rums made from molasses, called Hazard Reef. Bergh also produces a tangy orange liqueur from California oranges called Western Fruit Exchange. In addition to tastings and artisan-made cocktails, Calwise Spirits Co also offers tours of the distillery. These include a guided history of the distillation process, a tasting of Calwise spirits, and the opportunity to see where it all happens. Calwise is open Thursday through Monday, 12pm to 6pm, as well as by appointment.
Like many distilleries around Highway 1 wine country, Willow Creek Distillery began as a way to use what's unusable in the winemaking process. Opolo Winery owners Rick Quinn and Dave Nichols saw an opportunity to use estate-grown fruit for grape-based spirits. Named after the sub-appellation Opolo occupies in Paso Robles wine country, Willow Creek distills only grapes grown on the property. Helmed by head distiller Kevin Coulton, Willow Creek produces a unique set of spirits to please nearly every spirit-drinker's palate. Sips range from VS Brandy with notes of caramel and vanilla to a malted corn and grain-based spirit called "Malt 'n Oats." Brandies made with Williams pears (in the style of Poire Williams), figs and from Morello cherries bring new styles to the distillery trail. And then there are the liqueurs: walnut liqueur from estate-grown walnuts, coffee liqueur and chocolate-mint liqueur. The Willow Creek tasting room can be reached via the entrance to Opolo, and is open daily between 10am and 5pm.
This popular spot in Paso Robles's Tin City district began as "Wine Shine," a grape-based spirits producer that sourced from Paso's best vineyards. Today, the project has a new name as it's grown to include many other styles of spirits. Wander into Tin City and find Tin City Distillery right at the heart of it all. Here, you'll likely find someone like distiller Patrick Brooks behind the counter, ready to pour rye whisky, bourbon whiskey, gin or vodka for you. He'll also offer sips from The Manhattan Project, a pre-mixed, bottled Manhattan crafted from rye, vermouth and bitters. Pre-made drinks (or darn near close to pre-made) are actually something of a specialty at Tin City Distillery. Don't miss the Dirty Martini Deal, which includes a bottle of Tin City Distillery gin or vodka, plus locally-grown olive juice. Definitely try TCD's vodka lemonade, which comes in four-packs of tin cans, perfect for taking to the beach. A series of interesting brandies, including mango, ghost pepper, and hibiscus brandies, make for an entertaining and delicious tasting experience. Tin City Distillery is open Wednesday through Sunday, from 12pm to 6pm.