With the need for social distancing, there's never been a better time to dream about your next party-of-one trip. And on our unique stretch of Highway 1, traveling solo connects you deeply with the ocean, wildlife, history — and yourself. Wander over the white sands of a near-empty beach, and maybe spy a pod of whales migrating offshore. Kayak out to a remote, historic lighthouse and see the shoreline from the perspective of a long-ago lighthouse keeper. Hike open trails that take you over mountaintops and dunes, through lush valleys, along coastal bluffs, and into eucalyptus and Monterey pine forests. Our part of the world begs for exploration, but not crowds. If you're looking for solo travel ideas in California, this might be the quiet, wide-open journey you've needed all along. Even better, many of these activities are part of the Stewardship Travel for Good program, which takes travelers even closer to the heart of the Central Coast. 
Remember: traveling alone on Highway 1 can only be self care if you take good care of yourself while you're here. Pack a jacket for changeable weather (or s'mores by the fire pit!), hiking shoes, a water bottle, and a phone. Always tell someone where you're going when you leave, as well as the route you intend to take. And then?
Get out there and go your own way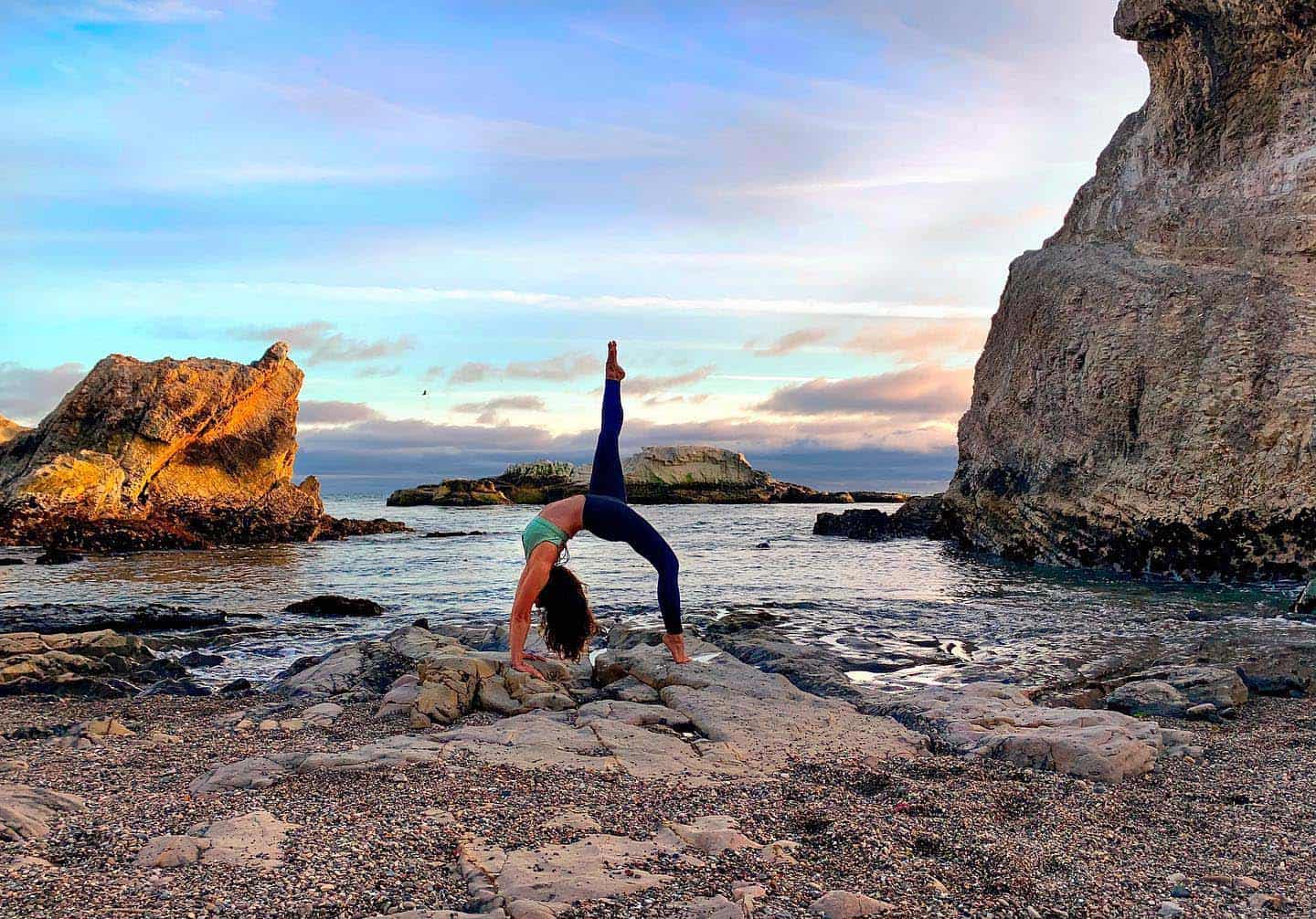 Solo Travel along Highway 1
Whale Watching on the Whale Trail
Encountering the majesty of whales traveling the Pacific shoreline should be on every solo traveler's bucket list. Here on Highway 1, it's possible to spy a puff from a blowhole, a fin or a tail out at sea, or even close-up. You just need to know the right seasons and spots to look, as well as what to look for. Fortunately, the Whale Trail organization makes it easy with a trail of the best whale-watching viewpoints along the West Coast. Of the Whale Trail's 100 recommended viewing spots, San Luis Obispo County boasts ten; seven of those stand along Highway 1. They are in San Simeon (two sites), Cambria, Cayucos, Los Osos-Baywood Park, Avila Beach, and Oceano. Each of these Whale Trail spots includes interpretive signs with information about which whales can be visible, when to watch, and what to look for. These are all easy places to reach right off Highway 1, but you can also see whales easily from nearly any turnoff. Wherever you choose to pull over and enjoy the view, it will be uncrowded, scenic, and spellbinding.
Hiking Off the Beaten Path
Low-traffic trails can be found in nearly every destination along our stretch of Highway 1, making for perfect solo hiking conditions. Meander through sycamore forests, watching a mother quail followed by a line of her babies.Scramble down a steep cliff to a black sand beach and gaze up at a 96-foot waterfall. Summit a 1,373-foot sand dune and enjoy the view of 25 miles of coastline and Morro Rock. Walk beside streams, lakes, estuaries and beaches — all with ample room to roam freely. Some walks are short and easy, like the Moonstone Beach Boardwalk in Cambria, or the Guiton Trail Oceano Lagoon in Oceano. Others are challenging and long, like the Trout Creek Trail outside Arroyo Grande, or the Point Buchon Trail between Los Osos and Avila Beach. Whether you're looking for a casual, easygoing walk or a serious heart-pumping climb, the trails here offer plenty of views and space.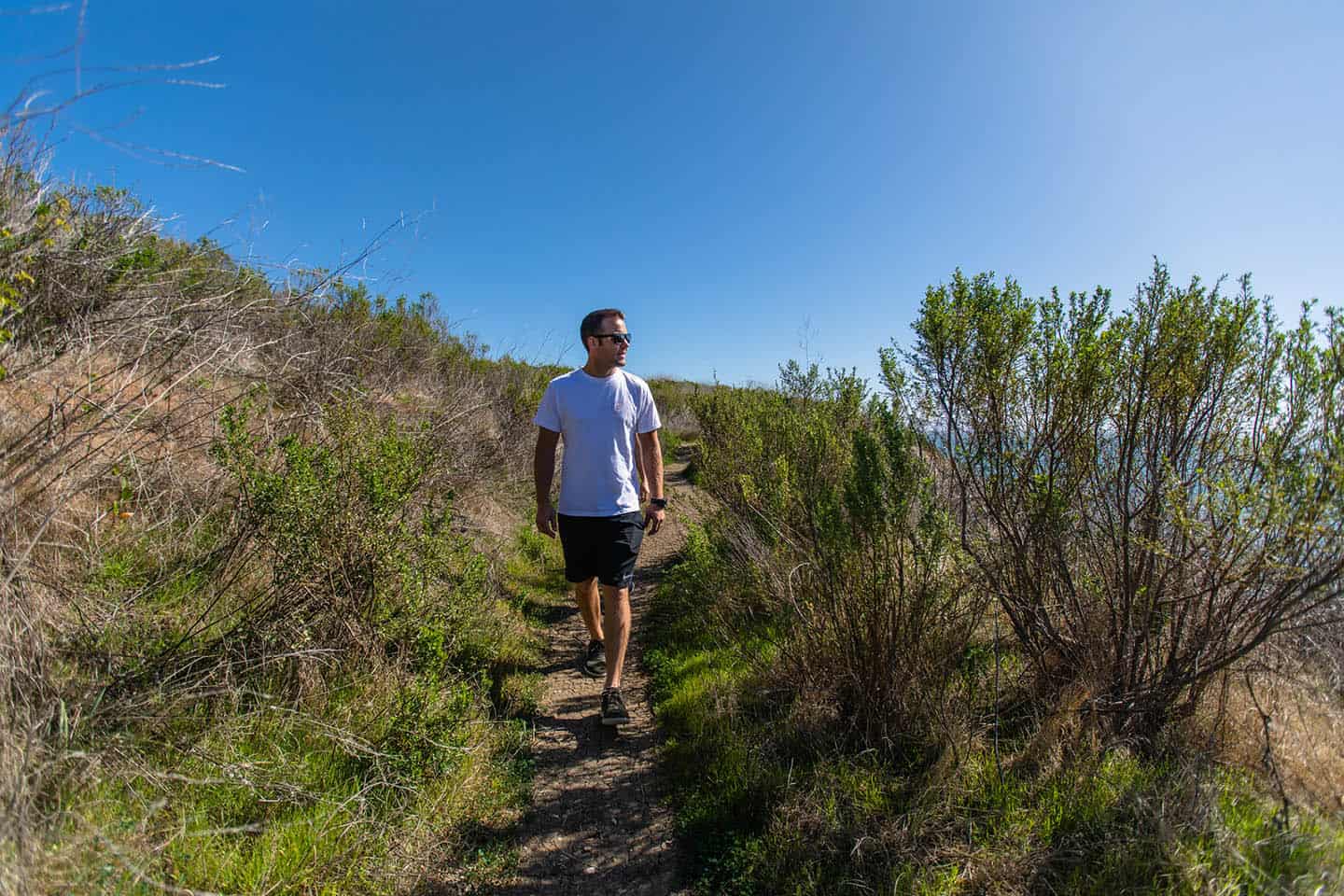 Historic Piers & Lighthouses
The Central Coast boasts a wealth of history and heritage, particularly among the piers and lighthouses along Highway 1. The Piedras Blancas Light Station in San Simeon and the Point San Luis Lighthouse in Avila Beach served as beacons along the shoreline. Both were built in the late 19th century to protect offshore vessels from the rocky cliffs, ensuring the health of Central Coast ports. Today, both of these lighthouses remain in operation, and both offer tours of very small groups of people. In fact, you can even take a kayak tour that leads to a secret beach below the entrance to Point San Luis Lighthouse.
The six piers along Highway 1 are also a result of sea trade, with wharves dating back to 1868. These include piers in San Simeon, Cayucos, Pismo Beach and Avila Beach, which has three. Each of these is a treasure of California history, hidden in plain sight. Walk the piers and enjoy watching surfers and swimmers below, while fishers drop their lines from above, hoping for a catch.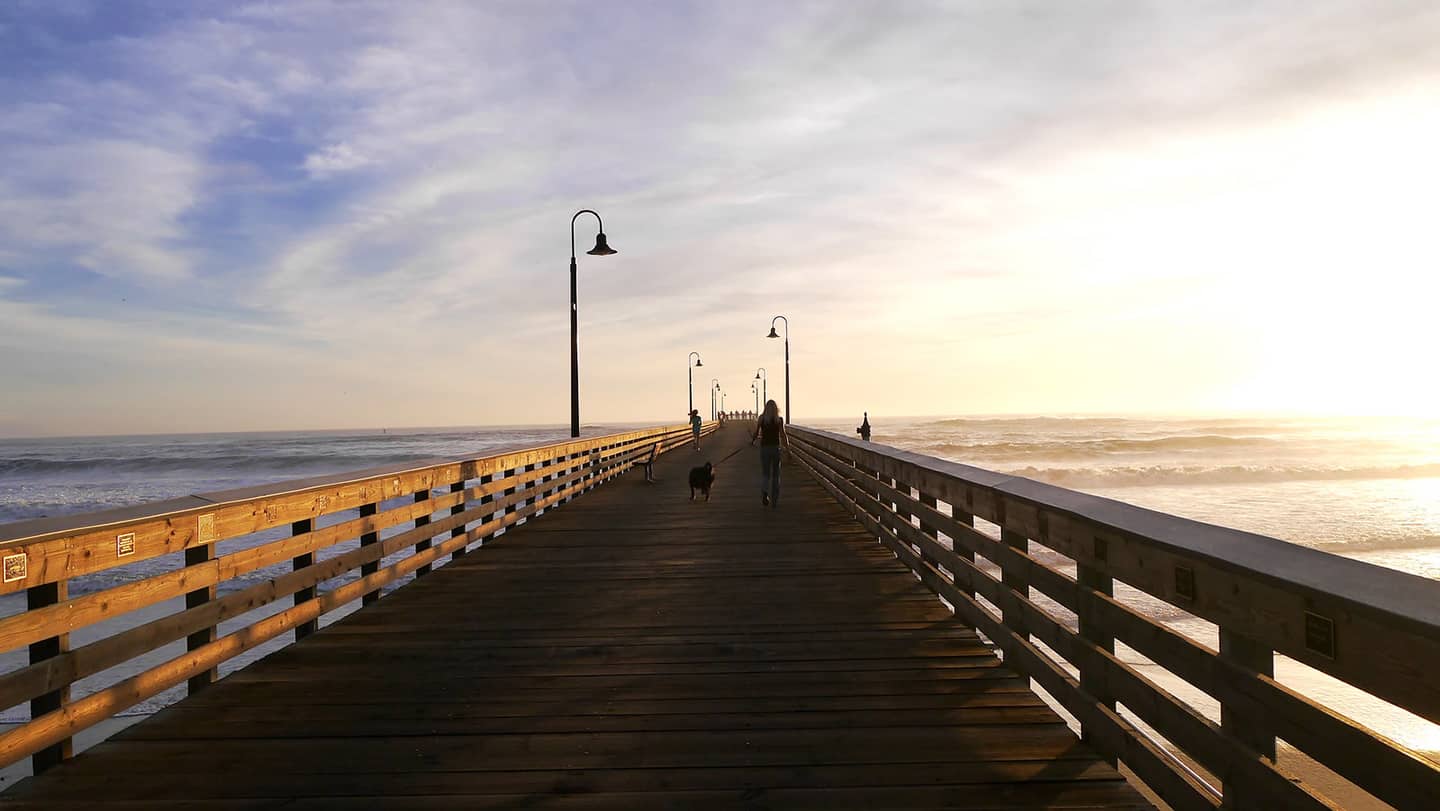 Cambria's History Tour
The town of Cambria once bustled with the spoils of the whaling trade, Mexican land grant ranchos, and dairies. Today, the sweet seaside hamlet is much sleepier, yet beautifully preserved. The Cambria Historical Society offers a self-guided walking tour of Cambria's historic streets, with glimpses into the lives and businesses of times gone by. Each of the 28 sites on the walking tour sits within one square mile; some are open to the public while others are private. Look for Camozzi's Bar and Hotel (now called Mozzi's Saloon), built in 1922 as a hotel, card parlor, barber shop and pool hall. Or take in the sweet blue and white farmhouse-style Olallieberry Inn, built in 1875 for the Manderscheid Family. And don't miss the tiny Santa Rosa Chapel, built in 1850 and often visited by celebrities staying at Hearst Castle, up the road. Grab a cup of coffee or tea, and spend a morning or afternoon walking through Cambria's rich history.
Otter Spotting & Elephant Seal Viewing
Humans aren't the only ones who like the peace and space of our special stretch of Highway 1! Wildlife of many species live and migrate here under ideal conditions, including the California Sea Otter and the Northern Elephant Seal. Adorable otters can be seen diving, playing, and breaking open shellfish with rocks on their bellies. They can also be found nursing and caring for their young among the kelp forests here, which anchor them and support their hunting. Look for these adorable, furry creatures in peaceful coastal waters or anywhere you see kelp offshore.
Sea lions, on the other hand, can best be seen on the sand of several San Simeon beaches just off Highway 1. These massive, fascinating animals spend much of their lives mating, birthing, nursing and molting on these beaches, all within full public view. In particular, the Piedras Blancas Elephant Seal Rookery allows close-up views of beached elephant seals by the hundreds during high season. (Visit in late fall or late spring for the least crowded times in the viewing area.) The rookery also offers interpretive signs and docents who share their extensive knowledge of the species — from a safe distance, of course.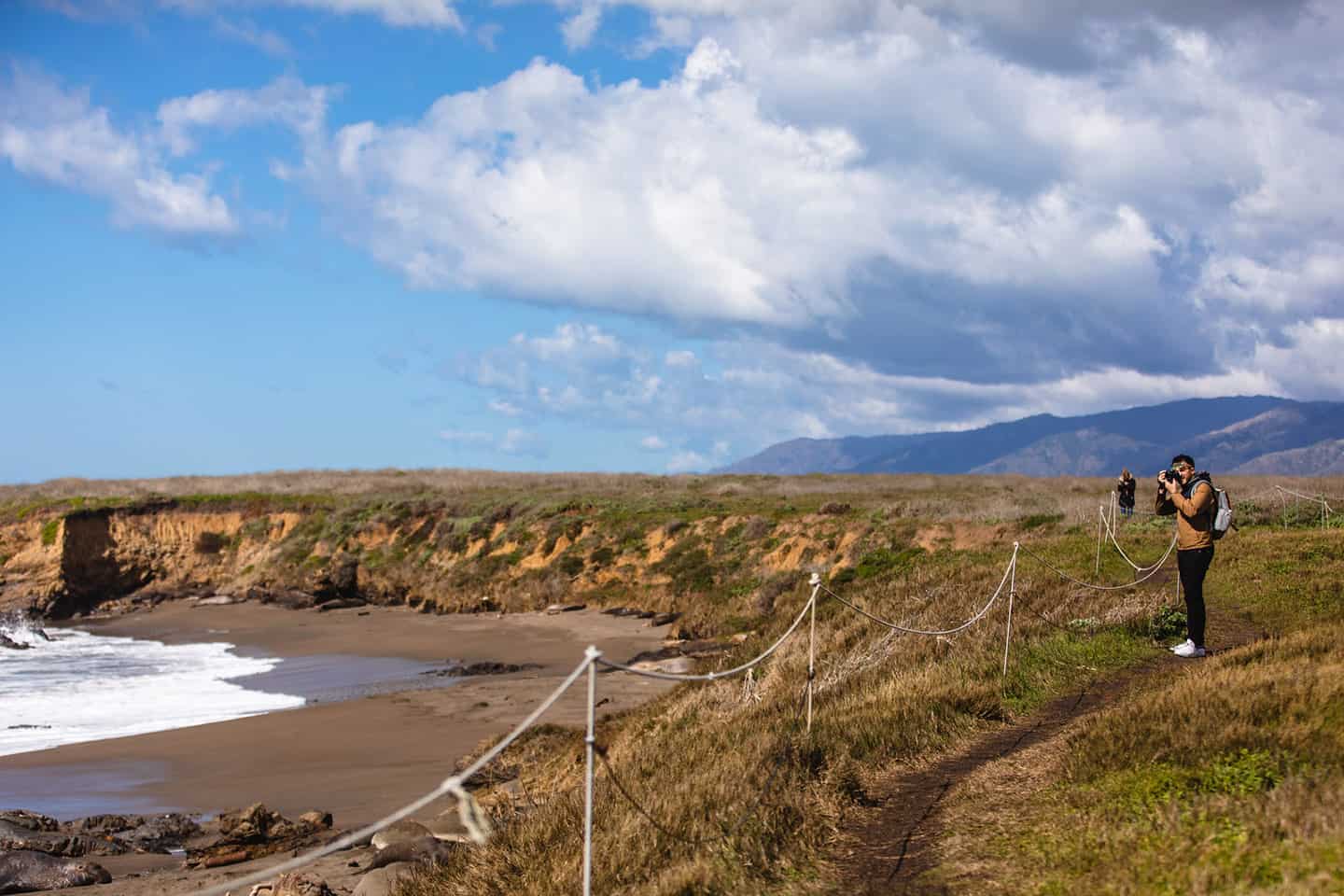 Visit Oso Flaco Lake
The picturesque, preserved beauty of Oso Flaco Lake makes for a peaceful solo outing. This remote, diverse natural area lies at the southern end of the Guadalupe-Nipomo Dunes, the second-largest dune complex in California. (That means plenty of space to explore without the hassle of crowded trails.) Find abundant wildlife here in a wide array of environments, from a creek to the lake, dunes to the seashore. The boardwalk across the 75-acre Oso Flaco Lake offers benches for sitting and daydreaming, journaling, birdwatching or meditating. Meander through the base of the dunes and spy the threatened Western Snowy Plover, California Least Tern or California Red-Legged Frog. If you'd prefer to walk with a guide, the preserve offers naturalist-led two-hour walks to the end of the Oso Flaco Lake boardwalk. These can include specialized information about the flora, fauna, wildlife, and cultural history of the area in a safe small group setting.
Seaweed Foraging Tours
Named one of the best foraging destinations in the United States, our stretch of Highway 1 offers small group seaweed foraging outings. Marley Family Seaweeds specializes in foraging for wild Pacific seaweeds including Big Sur wakame, kombu and nori. The Marley Family harvests these seaweeds by traditional Japanese methods, and shares these methods with visitors. Participants in the foraging adventure follow the Marleys through the intertidal zone, and finish with a bowl of seaweed ramen at the end. The Marleys share their favorite tips and recipes for putting the seaweeds to good use in the kitchen and beyond. Founder Spencer Marley is of Irish/British descent and has seaweed harvesting, drying and cooking in his blood. He also has a long career of working in aquaculture, from farming oysters to working on a commercial salmon fishing boat. Share his passion for sustainable culinary seaweed on a foraging visit along the Pacific coastline, all from a safe social distance.
Fiscalini Ranch Preserve Nature Walks
This 434-acre preserve in Cambria was once a Mexican land grant rancho, and later a working dairy and cattle ranch. Today, this spectacular outdoor space offers something for everyone to enjoy, from hiking to wildlife viewing. Wander one of 17 hiking trails, from short and flat paths to longer, more challenging ones. (Two trails are ADA-accessible: the Bluff Trail and the Marine Terrace Trail.) These paths can be mixed and matched, with routes through one of the world's last remaining Monterey Pine forests, or along coastal bluffs. The preserve also offers benches in places perfect for taking in the scenic shoreline views. For a naturalist's perspective, join a small-group walk led by one of Fiscalini Ranch Preserve's knowledgeable docents. These guides ensure safe social distancing while teaching about the preserve's sizable coastal ecosystem. This includes freshwater marshes and wetlands among the rich riparian habitat — an ideal birding destination. (Bring your binoculars!)
El Moro Elfin Forest
Don't miss the unique chance to experience a true natural oddity in this miniature oak forest. The coastal oaks at the El Moro Elfin Forest have been stunted by sandy soils and spring winds, dwarfing most of them to just four feet tall. A one-mile boardwalk winds among the trees, and is ADA-accessible. Vast views of the Morro Bay National Estuary highlight the significance of this local treasure. Some of the Central Coast's best birding opportunities are here at the "Siena's View" landing, which faces the estuary and the Morro Bay State Park Marina. Find up to 110 bird species here, including the red-tailed hawk, black phoebe, black-headed grosbeak, and ruby-crowned kinglet. Walking the 90-acre preserve, look out for the 200 species of native plants growing among the dwarf oaks. But if exploring the El Moro Elfin Forest on your own doesn't interest you, docents offer small-group one-hour weekly nature walks.
Pet-Friendly Activities
Want to bring your four-legged friend on a not-so-solo trip to the Central Coast? Pet parents have many options for pet-friendly travel here on our special stretch of Highway 1. Due to our mild, comfortable weather, many restaurants have patios that allow pooches to sit tableside. Many wineries also have outdoor tasting rooms and picnic facilities, and several welcome Rover and Fido to join in the experience. Dog beaches and parks like Morro Strand State Beach and Avila's Olde Port Beach allow pups to roam off-leash. (Most, but not all, other beaches invite dogs on-leash.) Nothing beats watching Rover stretch his legs over a white sand beach! Most hiking trails across San Luis Obispo County's length of Highway 1 are open to on-leash dogs, as well. (Be sure to check your trail, however, as some have strict no-dog policies.) So pack your bags, bring a leash and a dog bowl, and enjoy a wide-open adventure, just the two of you.