At the heart of the California coast, this special stretch of Highway 1 includes over a dozen state parks, beaches, and historical monuments. These places are under protection from the state for the specific purpose of preserving natural areas and promoting the public's enjoyment. As such, they are precious to locals, Californians, and visitors from all over the world.
From Ragged Point to Nipomo, you'll find scenic beaches, quiet woodlands, marine protected areas, art, antiquities, and driveable dunes. It's all within reach here, plus a whole lot more. So get ready to check items off your bucket list — you won't want to miss a single one of these state treasures, listed below from north to south.
Hearst San Simeon State Park
One of California's first state parks, Hearst San Simeon State Park stretches beside the Pacific Ocean with coastal bluffs and scenic views of the rocky shoreline. In the 1880s, the 500 acres that comprise the park served as a ranch and dairy operation owned by Ira Whittaker. He planted the many eucalyptus trees standing there today for a windbreak and for firewood to heat the dairy's boiler for cheese-making. 
Visitors to this unique place can enjoy plenty of scenic walks through untouched natural surroundings. Take the 3.5-mile Washburn Trail through wetlands and past beaches, with places to sit and interpretive signs detailing flora and fauna. For about 1/4 mile, the path is also accessible by wheelchair. Sections of this trail offer glimpses of long-ago California, with cows grazing, windmills, and the majestic Santa Lucia Mountain Range.
In addition to eucalyptus, the park is populated with Monterey Pines, part of a native stand of only four groves across the globe. During their winter migration, Monarch butterflies have been known to cluster in San Simeon State Park's pine trees. Other plants here include willow, cottonwood, wild blackberry bushes and wax myrtle.
Plenty of wildlife can be found throughout the park's Santa Rosa Creek Natural Preserve, San Simeon Natural Preserve and Pa-Nu Cultural Preserve. Some species include the endangered red-legged from, Western pond turtle, and migratory birds like the cinnamon teal, mallards, herons and egrets. And for an up-close-and-personal wildlife viewing experience, nothing beats a visit to the Elephant Seal Rookery on the park's northern end. Here, witness the life cycle of hundreds of Northern Elephant Seals in their natural habitat, with docents on hand to answer questions.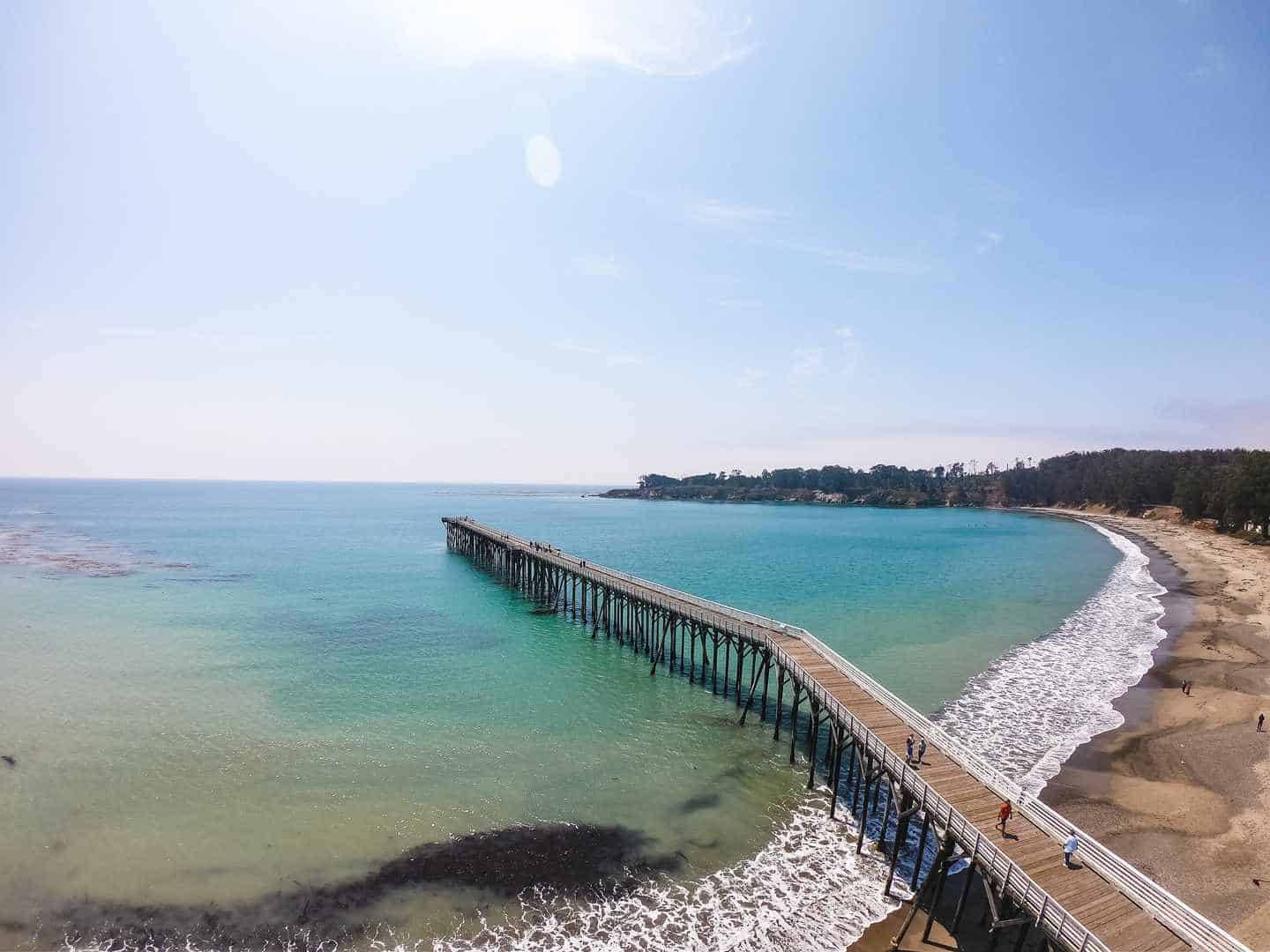 Hearst Castle State Historical Monument
A visit to this uniquely beautiful state park should be on every traveler's bucket list. Hearst Castle State Historical Monument is the only museum that's also a state park — and it's a museum like no other. Newspaper magnate and heir to George Hearst's mining fortune, William Randolph Hearst was a passionate collector of art and antiquities from across the globe. The magnificent home he built to house his collection and entertain A-list guests sits atop a hill in the Santa Lucia Mountains, overlooking the San Simeon coastline. He broke ground with his architect, Julia Morgan, in 1919, and construction continued until 1947. The home covers nearly 69,000 square feet, 38 bedrooms, 40 bathrooms, 2 jaw-dropping swimming pools, a theater, and a beauty salon. 
Fortunately for visitors today, Hearst Castle became a California State Park in 1958, opening its doors to the public to see Mr. Hearst's incredible home and collection. The estate offers a number of tours, from general tours of the main rooms and pools to specialized tours highlighting Mr. Hearst's Christmas traditions. Witness the opulence of this unique place, as well as the natural splendor of the surrounding mountains and coastline below. And don't miss the chance to catch a peak at the famous zebras of Hearst Ranch, descendants of Mr. Hearst's private zoo.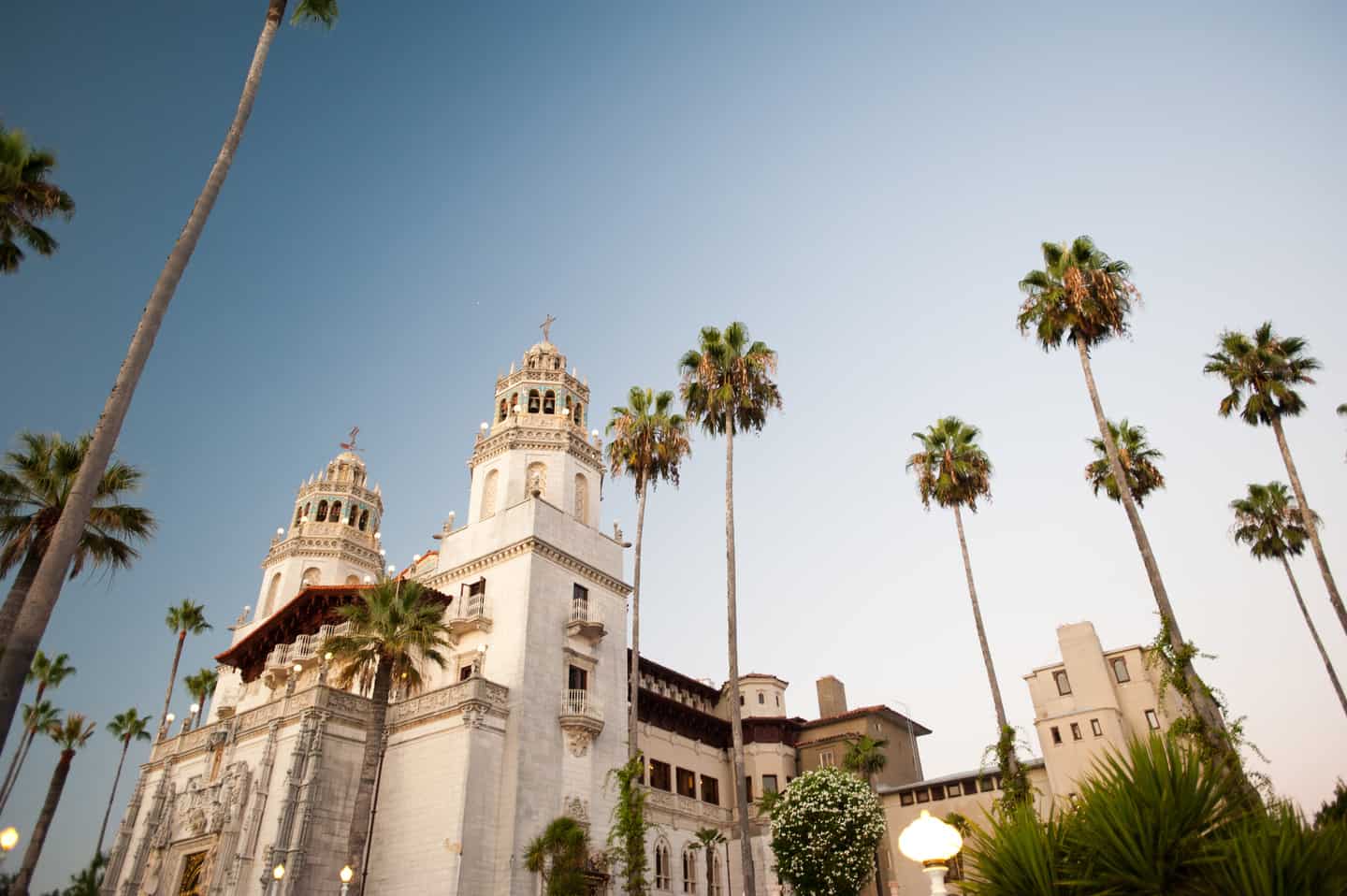 W.R. HEARST MEMORIAl BEACH
Popular with locals, this San Simeon beach once belonged to William Randolph Hearst, the publishing mogul whose towering estate stands just up the hill. No wonder Hearst wanted it all for himself: the protected waters and leafy cove are pretty enough to be a movie set.
Before Hearst's time, this beach saw much activity with whalers, whose catch provided oil for gas lamps across the world. But with the advent of fossil fuels, whaling declined and sent San Simeon into a recession. During that time, savvy businessman George Hearst purchased 45,000 acres of San Simeon property on the cheap. He built the San Simeon wharf to make local import and export easy. Though his son William Randolph Hearst was only 15 when he built it, he would go on to import his collection of art and antiques to Hearst Castle from here in the early 20th century.
Today, the pier still stands at William Randolph Hearst Memorial Beach, and offers a great place to launch a kayak, SUP, boogie board, or fish – no license necessary! Enjoy a picnic, hike San Simeon Cove, sunbathe on the sand or swim in the surf. Visitors can also take a walk through the Coastal Discovery Center next to the beach to learn about local wildlife and history.
Leffingwell Landing
This cove, once rumored to be a hot spot of import during the Prohibition, now serves as a picturesque park in Cambria. The park includes a flat lawn area that extends dramatically out to the ocean, dotted with native trees and very popular for weddings. The beach below has soft sand and tidepools teeming with anemone, urchins, crabs and other sea life. It provides a primitive boat ramp for kayaks and small vessels, as well as many scenic spots for picnics and sunset-watching
Leffingwell Landing is named after William Leffingwell, who settled here from Connecticut in 1859. He owned and operated a sawmill, a large part of which helped build Cambria as we know it today. He, his wife and their eight children lived at Leffingwell Cove in the early days of Cambria's establishment.
Leffingwell Landing lies at the northern end of the Moonstone Beach Boardwalk, a mile-long wheelchair-accessible boardwalk that ends at Moonstone Beach in Cambria. A walk from Leffingwell Landing to Moonstone Beach and back provides excellent opportunities for whale watching. Look for the California Gray Whale migration during the winter (heading south) and spring (moving north). Other common species to see here include dolphins, sea lions, sea otters — sometimes even humpback or minke whales.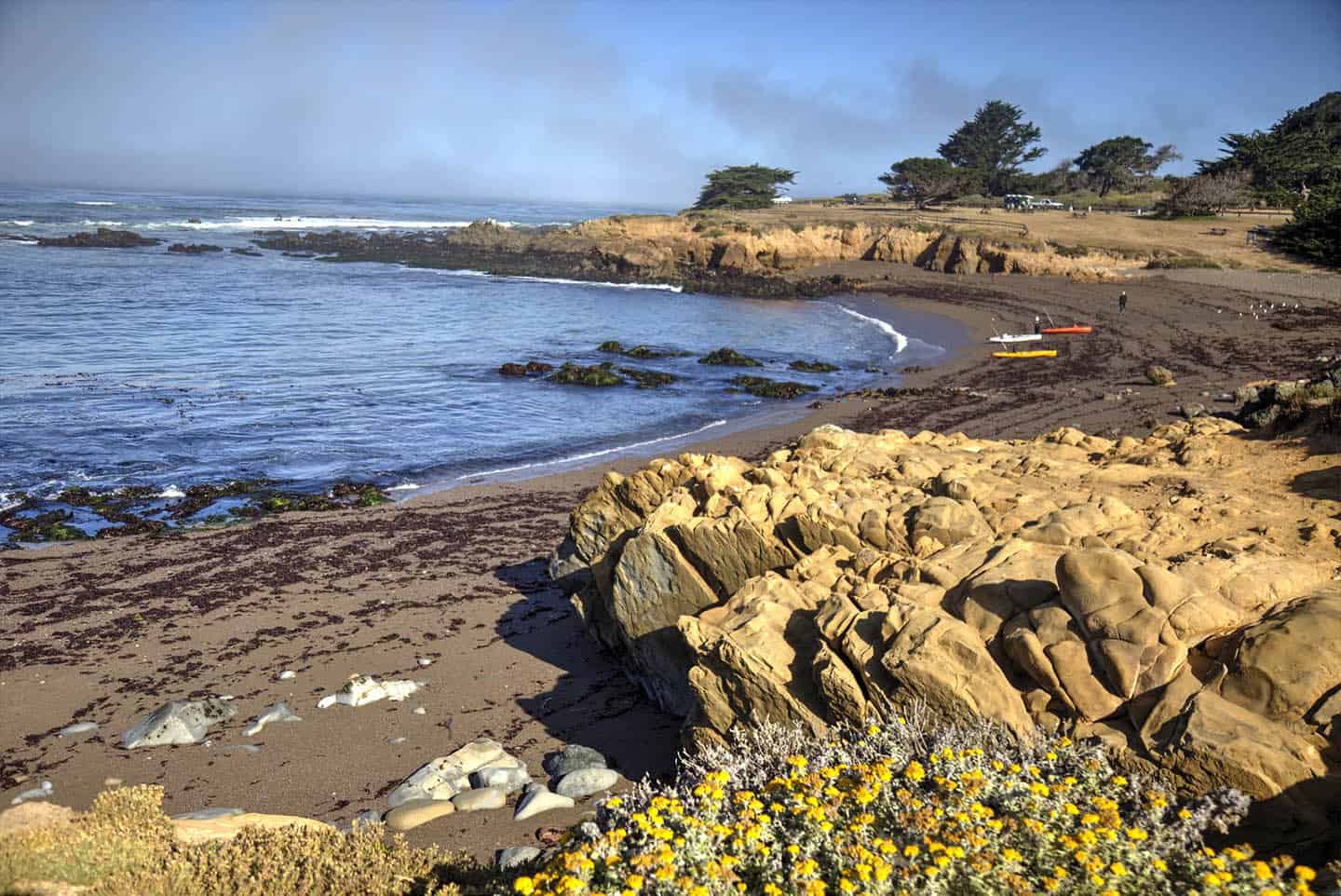 Harmony Headlands State Park
This quiet coastal park feels like a world away. Find a marked turnout along Highway 1 between Cayucos and Cambria, then walk the Harmony Headlands Trail, a scenic hike through coastal plains to the sea.
Harmony Headlands occupies 748 acres once part of Rancho San Geronimo, a Mexican land grant from 1842. It later became a dairy farm owned and operated by the Storni family until the mid-1960s. After changing hands several times, the ranch became property of the state in 2003. 
The hike through marine terraces to the ocean spans 1.5 miles or 3 miles, there-and-back. The trail opens to wide views of the Pacific Ocean where whales, dolphins, and other sea life can be spotted. Enjoy vistas that include steep, rocky bluffs, crashing waves, and seabirds. Benches stand along the coastline to provide rest and perfect places for wildlife viewing.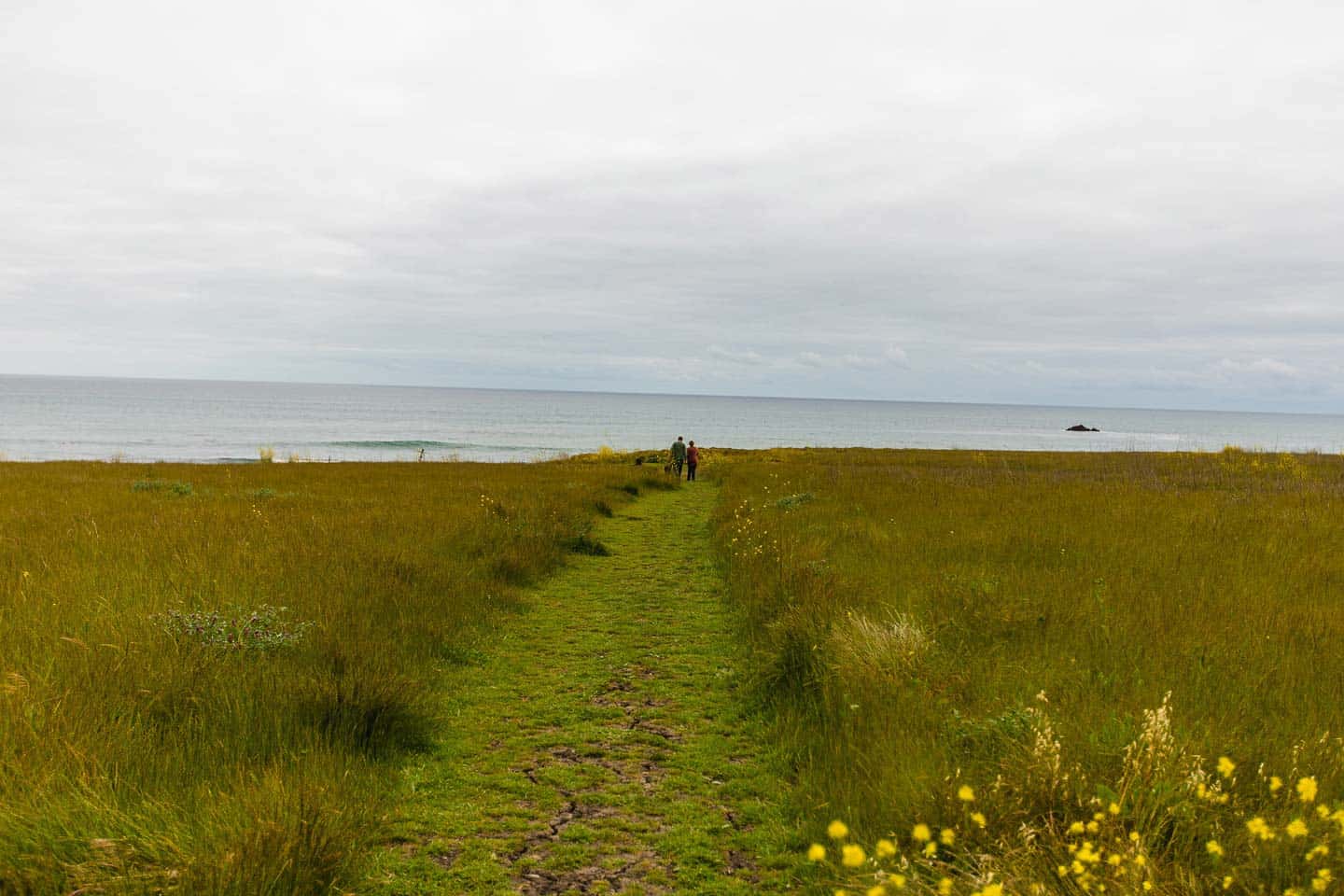 Estero Bluffs State Park
At Estero Bluffs State Park, visitors can explore the coastline north of Cayucos. The park offers a 4-mile hike that's popular with locals, as well as whale watching, bird watching and tidepools. 
Like Harmony Headlands, Estero Bluffs State Park was once part of the 8,893-acre San Geronimo Mexican land grant of 1842. And like so many Central Coast state parks, the Estero Bluffs also served as a dairy and ranch for Swiss-Italian immigrant farmers. In this case, the dairyman was Abram Muscio; in fact, his Aermotor windmill by San Geronimo Creek still stands in the Estero Bluffs State Park. Heirs to Muscio's estate sold the land to developers in the 1960s, but by the 1980s the Cayucos community advocated to preserve the area. In 2002, the trust for Public Lands purchased the property and handed it over to the State.
Across its 353 acres, Estero Bluffs State Park offers numerous trails to hike. The main trail, from beginning to end, is about 4 miles long, though lateral trails can easily add mileage. The trail takes in views of the rocky shoreline, the bay, and Morro Rock in the distance. A small beach can also be found here near San Geronimo Creek, where tidepools beg to be (carefully, responsibly) explored! Sea life in the tidepools can include limpets, barnacles, sea anemones, hermit crabs, mussels, and snails. Migrating whales, otters, harbor seals, gulls, pelicans and snowy plover can also be found on- or off-shore at this beloved state park.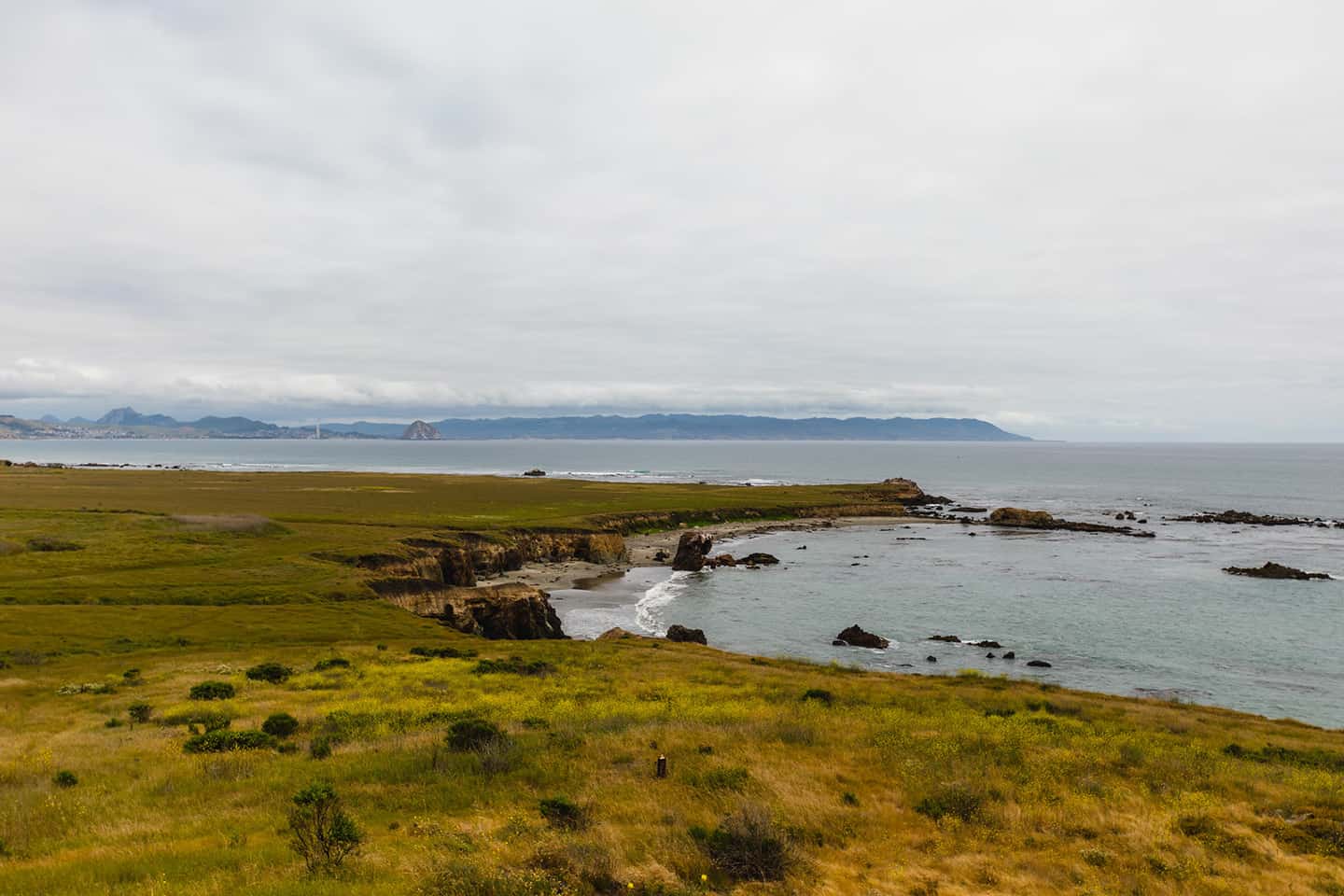 Cayucos State Beach
Fun is the name of the game at this family-friendly state beach. Here, visitors can enjoy sand, sun, and surf, all mere steps from the quaint and historic town of Cayucos. The name "Cayucos" refers to a time when this area's earliest inhabitants used kayak-like boats, observed by Spanish explorers. Cayucos's appeal remains the same as when the native Chumash lived here: a mild climate, bountiful ocean, and protected bay.
Later, Captain Cass would take advantage of Cayucos' many charms by setting up a wharf here. His pier still stands, and represents the spine of the state beach, and of the whole town. Locals and visitors alike enjoy walking the pier, casting off for surfperch, rockfish, walleye, and halibut. Look for the Whale Trail sign at the base of the pier for tips on how to spot a migrating whale offshore. The pier also offers great views of the many surfers who take on the waves here. But, for those who'd rather be in on the action, a number of surf outfitters and schools make sure that they're surf-ready. Swimming, stand-up paddleboarding (SUP) and kayaking are also popular activities at Cayucos State Beach.
For young visitors, a large play structure stands right on the sand, begging to be explored — tidepools, too. And for extra fun, this beach hosts the Carly Soule Memorial Polar Dip each year on New Year's Day, as well as a sandcastle contest on the 4th of July.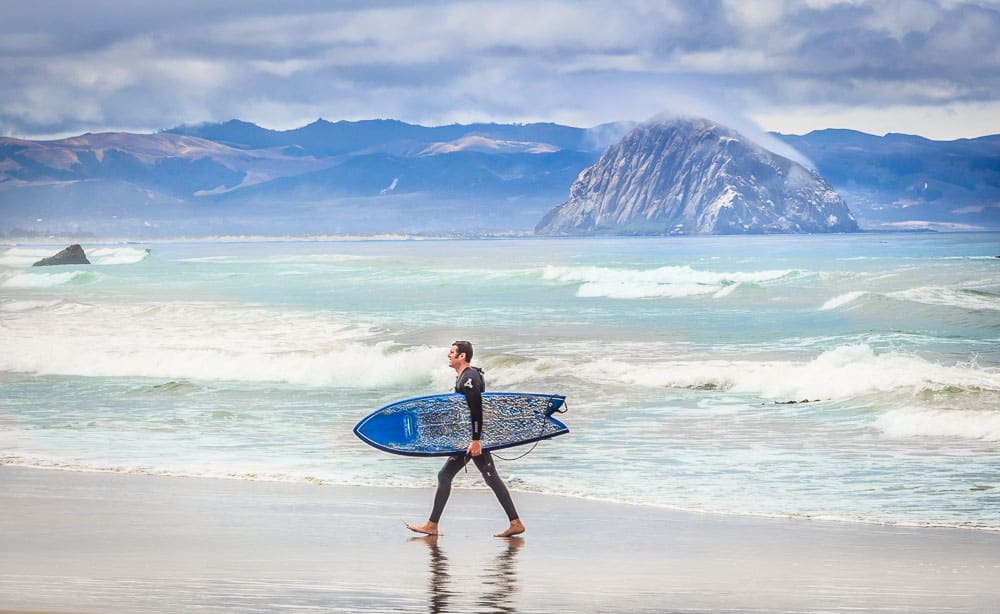 Morro Strand State Beach
With six miles of soft sand between Morro Bay and the Cayucos Pier, Morro Strand State Beach provides an ideal setting for a walk, a run, or a picnic. This long beach sits up against a series of white dunes, just west of Highway 1. The beach offers picnic facilities for a picturesque meal with a view, including wide-angle shots of Morro Rock. 
For watersports, people from all over the world come to Morro Strand State Beach to windsurf its waves. Surfing and swimming attract locals and visitors, too. Take advantage of perfect conditions for flying a kite. (This beach lies adjacent to Morro Rock Beach, home of the Morro Bay Kite Festival.) Or break out your surf-fishing getup and spend a morning or afternoon casting off. And parents of babies and small children: bring your jogging stroller and wheel it across the hard-packed sand for some precious self-care time.
To finish a day at Morro Strand State Beach? The best way is with a sunset walk, toes in the sand.
Morro Bay State Park
Set above a peaceful lagoon overlooking the Morro Bay National Estuary and Los Osos, this state park offers a multitude of natural wonders. Enjoy hiking a network of picturesque trails, including the Black Hill Trail and Quarry Trail, with views of seasonally green hills. Or launch a kayak from the State Park Marina to see sea otters, seals, pelicans and more sea life in the calm waters of the bay. 
Find the Morro Bay Natural History Museum on the point above the estuary, where interactive exhibits cover cultural history, preservation, the tides, sand dunes, and wildlife. In the nearby State Park Marina, the Bayside Cafe serves American favorites and seafood fare with a view of Morro Rock in the distance. 
For golfers, the Morro Bay State Park offers a favorite 18-hole public golf course. (Don't miss the natural Monarch Butterfly habitat at the course's entrance, where the jewel-toned butterflies migrate each year.) The park is also a destination for birdwatchers, whose saltwater marshes on the bay's northeast edge support a diverse population of birds.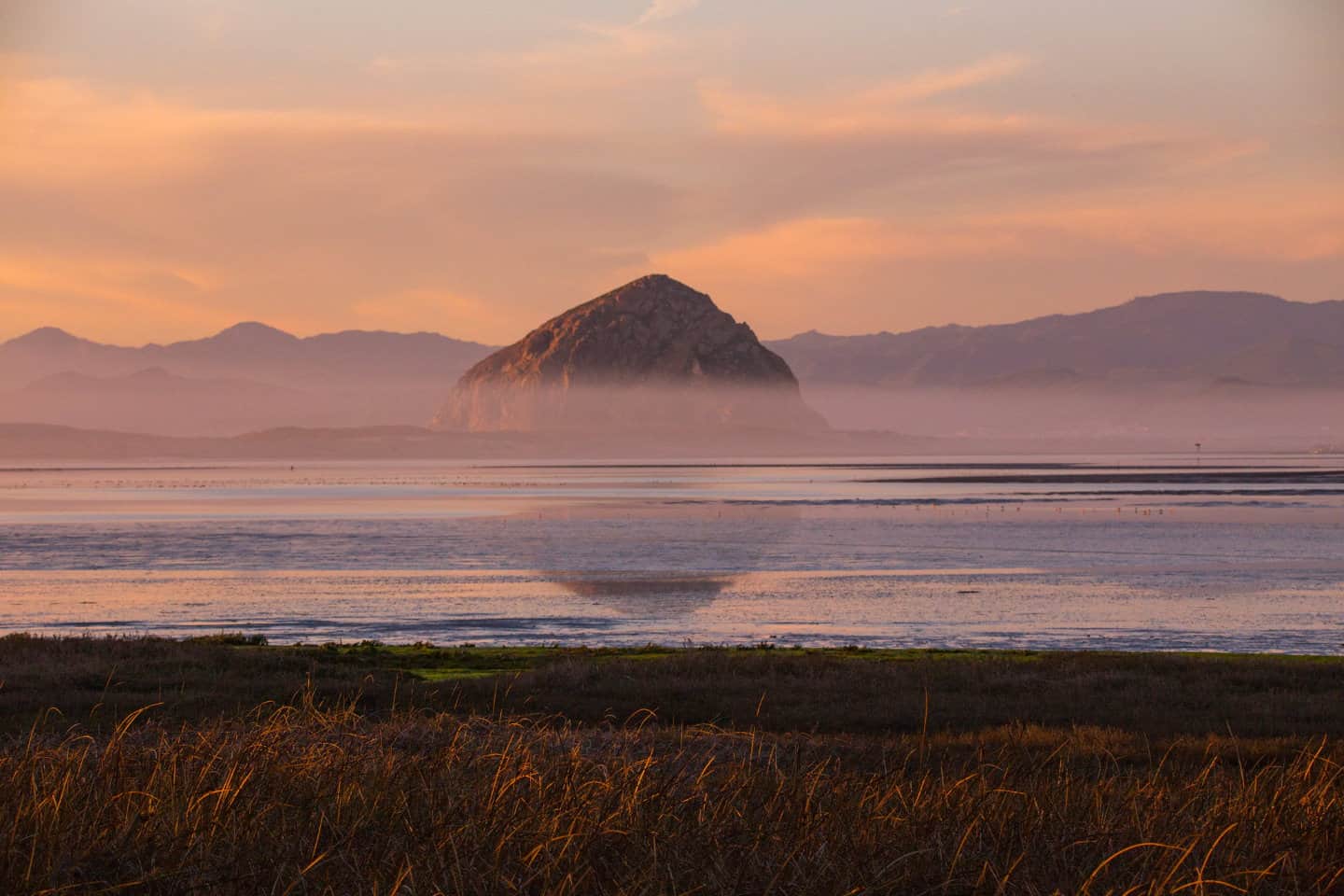 Montana de Oro State Park
This sprawling state park clocks in at 8,000 acres — one of the largest in California. This includes seven miles of shoreline, each of which offers an abundance of natural and cultural riches to explore. 
One of Montaña de Oro's greatest draws is its complex network of trails for hiking, mountain biking and horseback riding. Visitors the world over come to summit Valencia Peak, Oats Peak and Hazard Peak, whether on foot, wheels or hoofs! Take advantage of the panoramic vistas available at the top of these trails, all the way to Morro Rock and far beyond.
Several favorite beaches welcome visitors to Montaña de Oro, including the family-friendly Spooner's Cove. Named after a rancher who made his home here in the late 19th century, this beach is extremely well protected. The setting includes a freshwater stream for younger kids to wade in, as well as a rocky point that older kids and grownups love to climb. Find the Spooner Ranch House just opposite the beach, where history comes to life with tours and exhibits. 
Of course, in spring you can witness the golden wildflowers for which this park is named.  But however you experience magical Montana de Oro, you will always come away moved by its untouched beauty.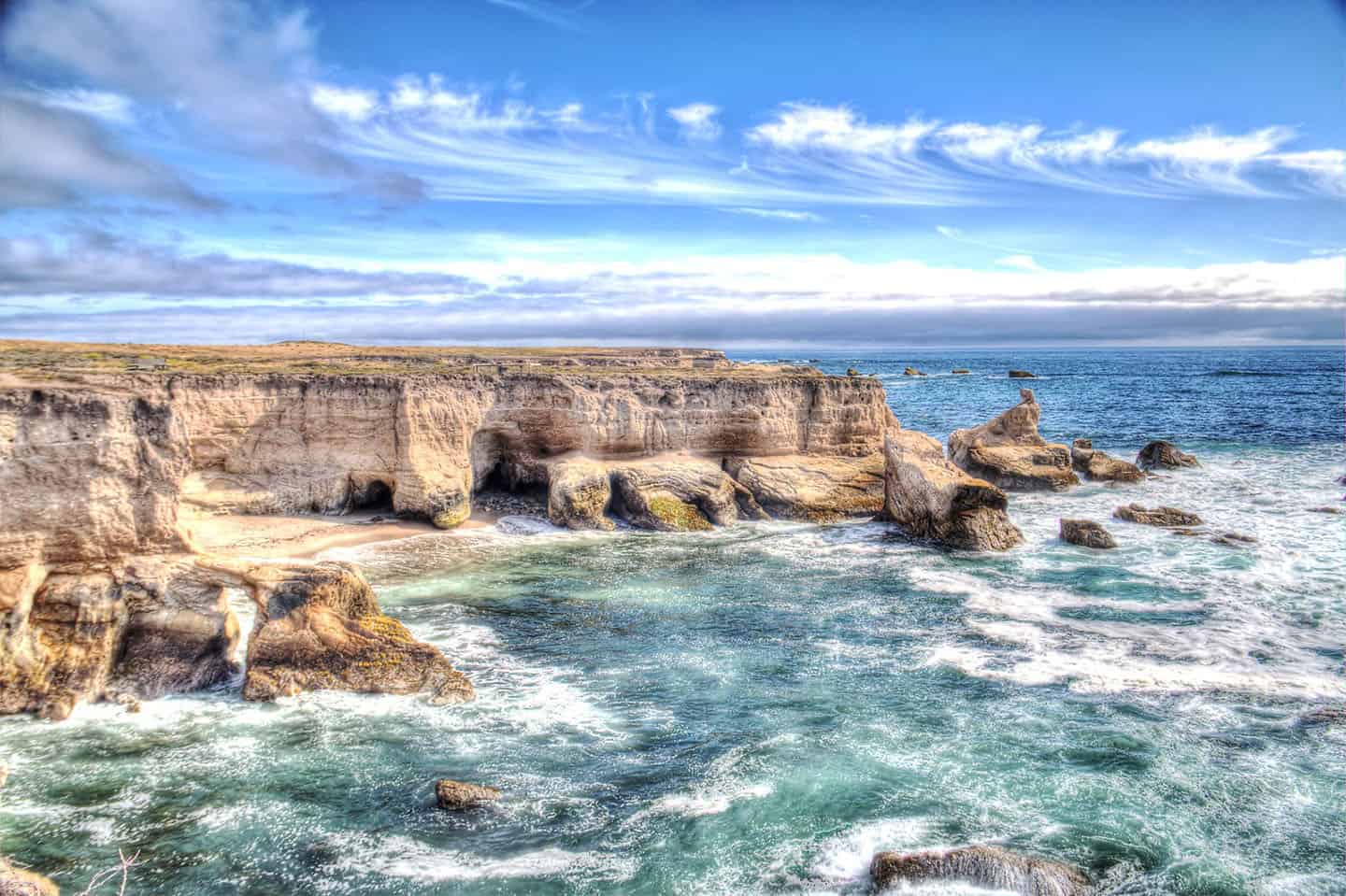 Los Osos Oaks State Preserve
This protected natural area boasts a small network of hiking trails that lie beneath centuries-old oak trees. Enjoy the peace of unspoiled terrain and unique opportunities for wildlife and bird-watching.
The Los Osos Oaks State Natural Reserve is comprised of 90 acres of ancient oaks. Some of these oaks are 800 years old or more, their knotted roots and long branches attesting to their age. Three hiking trails wind in and amongst these trees. One, the Chumash Trail, walks the center of the grove, with large branches straddling the path. This trail also passes through the remains of a Chumash midden, or trash site. Heaps of shells from abalone and clams can be found, remnants of the many meals the Chumash people ate here. Another trail, the Los Osos Creek Trail, makes its way east, named for the seasonal stream it follows. The last, the Oak View Trail, loops southward, underneath a canopy of oak branches and amidst native chaparral. 
Throughout the park, listen for birds singing, wind moving, and streams flowing. Quail, brush rabbits, and plain titmouses scurry among the underbrush; and unique species of lichen and moss make their home on branches throughout the park.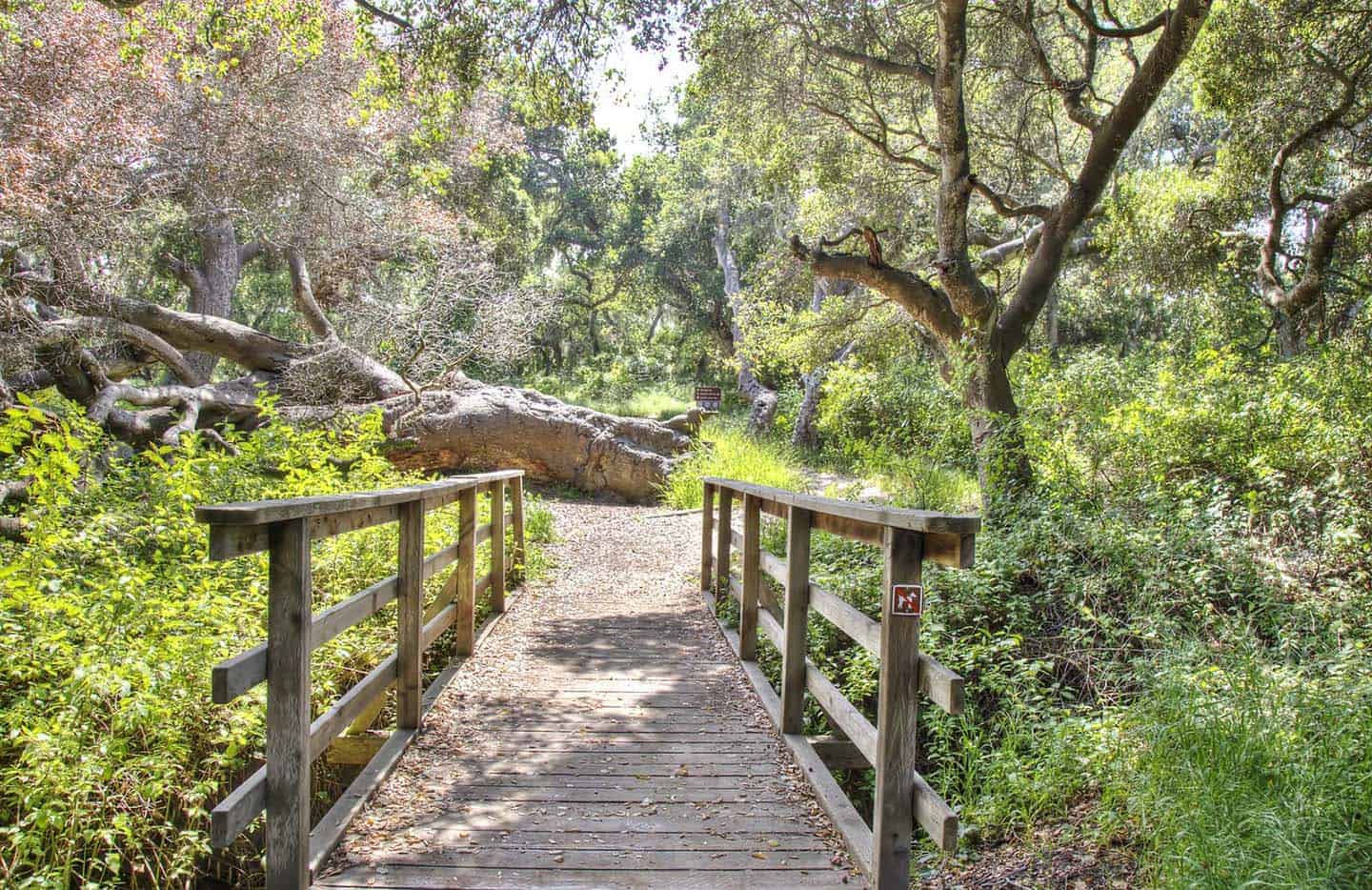 Pismo State Beach
Famous for its surf, this state beach boasts what many consider to be perfect waves. Pismo State Beach hosts multiple surf competitions, including those for the World Surf League and Surf For Hope. But you don't have to be a pro to experience Pismo's waves for yourself; people of all abilities jump in the water to get stoked here.
Surf isn't the only draw at Pismo State Beach, though. Spin your wheels on the Oceano State Vehicular Recreation Area (SVRA — see below for more), the only driveable dune complex in the United States. This state beach is also one that welcomes horseback riding. Bring your own horse to board at the Pacific Dunes Riding Ranch, or take one of theirs out for a beach ride.
To see wildlife, the adjacent Monarch Butterfly Grove brings visitors close to these beautiful creatures in their migratory home. See thousands of Monarchs cover the coastal eucalyptus trees, warming their wings in the sun, with docents nearby to answer questions. Bring your binoculars to see them, and to see the diverse bird population that lives in the nearby lagoon.
Other activities at Pismo State Beach include swimming, sunbathing, kite-flying, walking the beach boardwalk, and digging for the famous Pismo clam. Bring a blanket, a picnic, your sunglasses, sunscreen and a hat, and get ready for your Pismo State Beach adventure.
Oceano Dunes SVRA
This state recreation area is extremely unique: it's the only one of its kind to allow driving directly on the dunes and beach. Freewheeling enthusiasts gather here to enjoy riding the dunes and beach, whether in their own vehicles, or on specialized tours. 
This complex of dunes isn't unique only for its driveability; it's also very different geographically. Recognized by ecologists, government agencies and scientists as the largest coastal dune complex in the state, the Oceano Dunes have attracted interest for generations. The dunes are formed from material that's flown down to the ocean via rivers, creeks and run-off. That material remains at the water's edge here, and is shaped by coastal winds to appear the way they do today.
The Northern Chumash tribes were this area's first settlers, building encampments by the water's edge and taking advantage of natural resources. Hundreds of years later, in the 1930s and '40s, another group settled here at the water's edge seeking solitude. The Dunites, as they were called, comprised a group of artists, writers, and mystics who believed the dunes supplied creative energy. They lived in lean-tos and shacks, and welcomed guests including some of the most notable writers, journalists, and artists of the day. (Artifacts and one of the Duneite shacks can be seen at the nearby Oceano Train Depot Museum.)
Other attractions at the Oceano Dunes SVRA include the Oceano Dunes Visitor Center for exhibits on the natural and cultural history of the area. And don't miss the short walk along the freshwater lagoon for a picturesque view of Oceano wildlife.