The Highway 1 Discovery Route welcomes everyone, not just two-legged travelers! California's Central Coast provides a fun and safe playground for both dogs and their humans. Stay in dog-friendly lodging, dine in dog-friendly restaurants, and frolic on dog-friendly beaches, hikes and parks. Many wineries even welcome dogs, making for an easygoing good time for both you and Rover alike.
Note: The following guide offers dog-friendly ideas for where to visit in coastal San Luis Obispo County. Please observe on- and off-leash permissions, as designated by listing.
Explore Dog Friendly Activities
Dog-Friendly Hotels & Vacation Rentals
Destinations along the Highway 1 Discovery Route offer several comfortable options for lodging with your pup. The following guide leads to filtered lists on the Highway 1 Discovery Route website for pet-friendliness.
This sweet seaside hamlet appeals to more than just people. Take your dog along and experience its quaint charms together.
Dog-Friendly Hotels in Cambria
Looking for sand and surf for both you and your pup? Look no further than Cayucos, where many lodging properties welcome pets.
Dog-Friendly Hotels in Cayucos
Edna Valley & Arroyo Grande
Dog-Friendly Restaurants & Wineries
Take your furry friend out for a bite to eat, or to a number of pup-welcoming wineries. The Highway 1 Discovery Route's temperate climate makes for many dog-friendly patios and cellar doors. Just be sure to pick up after your pet and keep all dogs on-leash and well-behaved.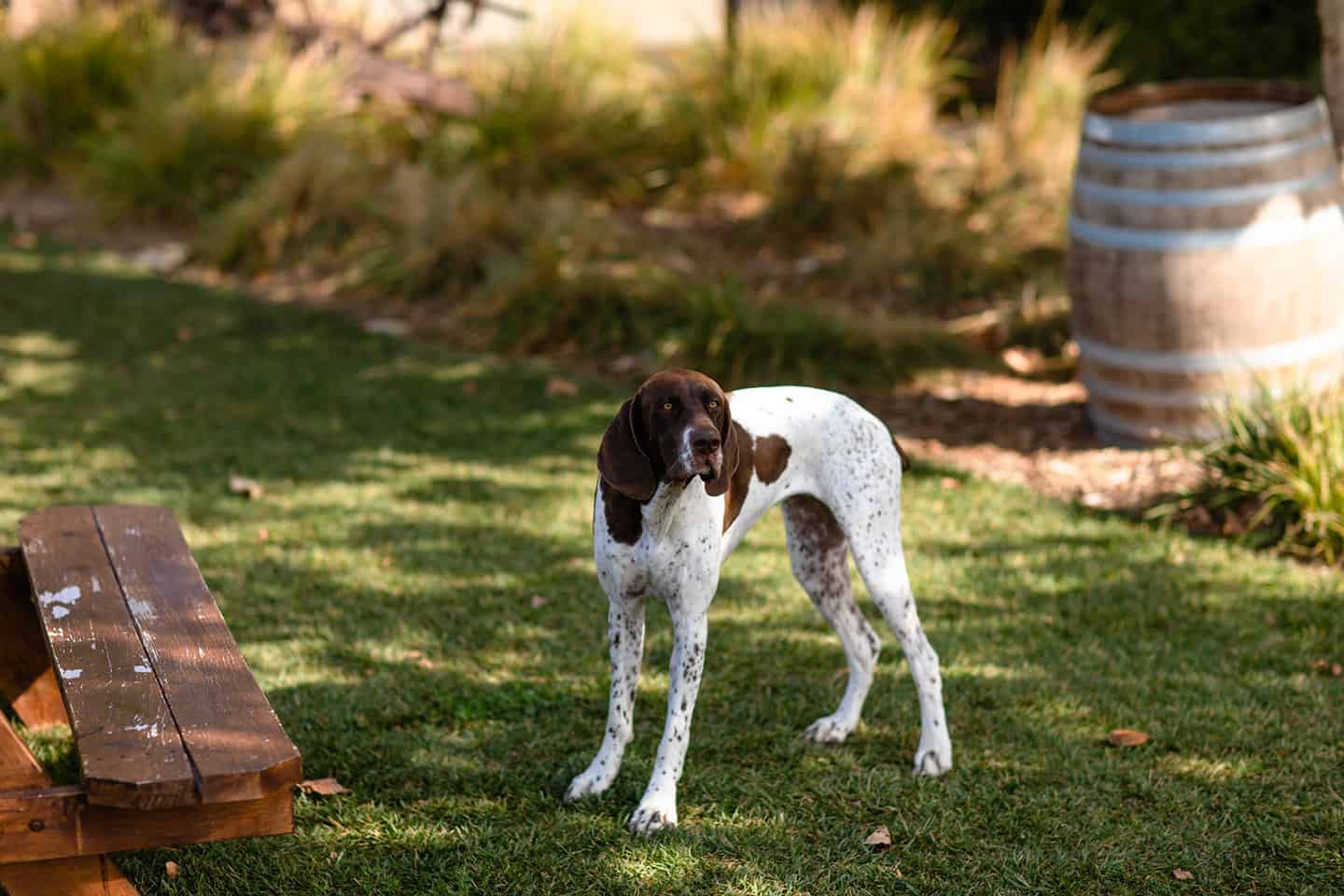 Take Rover to the patio at the Ragged Point Inn for delicious fare and a spectacular ocean view.
Head to the patio at Blue Heron for farm-to-table dining, or the Back Bay Cafe for breakfast and lunch with a pierside view. The Clubhouse Grill at Sea Pines Golf Resort restaurant also welcomes pets to the patio.
Dine beside your four-legged friend at pet-friendly restaurants like Mersea's in Avila Beach.
Everyone's invited to dine in Oceano and Nipomo! Bring your pup to restaurants like Sylvester's Burgers for classic beachy fare in a relaxed atmosphere.
Edna Valley & Arroyo Grande
Other Dog-Friendly Locations Along Highway 1
Many other eateries welcome pups and their humans across the Highway 1 Discovery Route. Try Novo for global cuisine and a leafy patio, or Marisol at The Cliffs for seafood and an ocean view. Or, if wine country fare is your speed, head to Paso Robles for Thomas Hill Organics. Check our list of other pet-friendly restaurants in Morro Bay, San Luis Obispo, Shell Beach, Pismo Beach and Paso Robles.
SLO CAL wineries are for the dogs! It's easy to find other wineries that offer a warm welcome to your four-legged friend. Visit East Paso to experience the caves at Eberle Winery, or West Paso for Rhône-style wines at Tablas Creek Vineyards. Better yet, take Sparky on a winery bus tour with the Wine Wrangler or Wine Line.
Dog-Friendly Restaurants in San Luis Obispo County
Dog-Friendly Beaches
Dogs love the beach, and the Highway 1 Discovery Route has plenty of space to run (and sniff). What makes a beach dog-friendly? It mostly has to do with your pup's leash. Some beaches allow dogs on a leash, some are leash-optional, and others prohibit dogs altogether. The beaches listed below all welcome dogs, but check each listing for specifics on leashes. And no matter where you go, remember good etiquette: always pick up after your pet.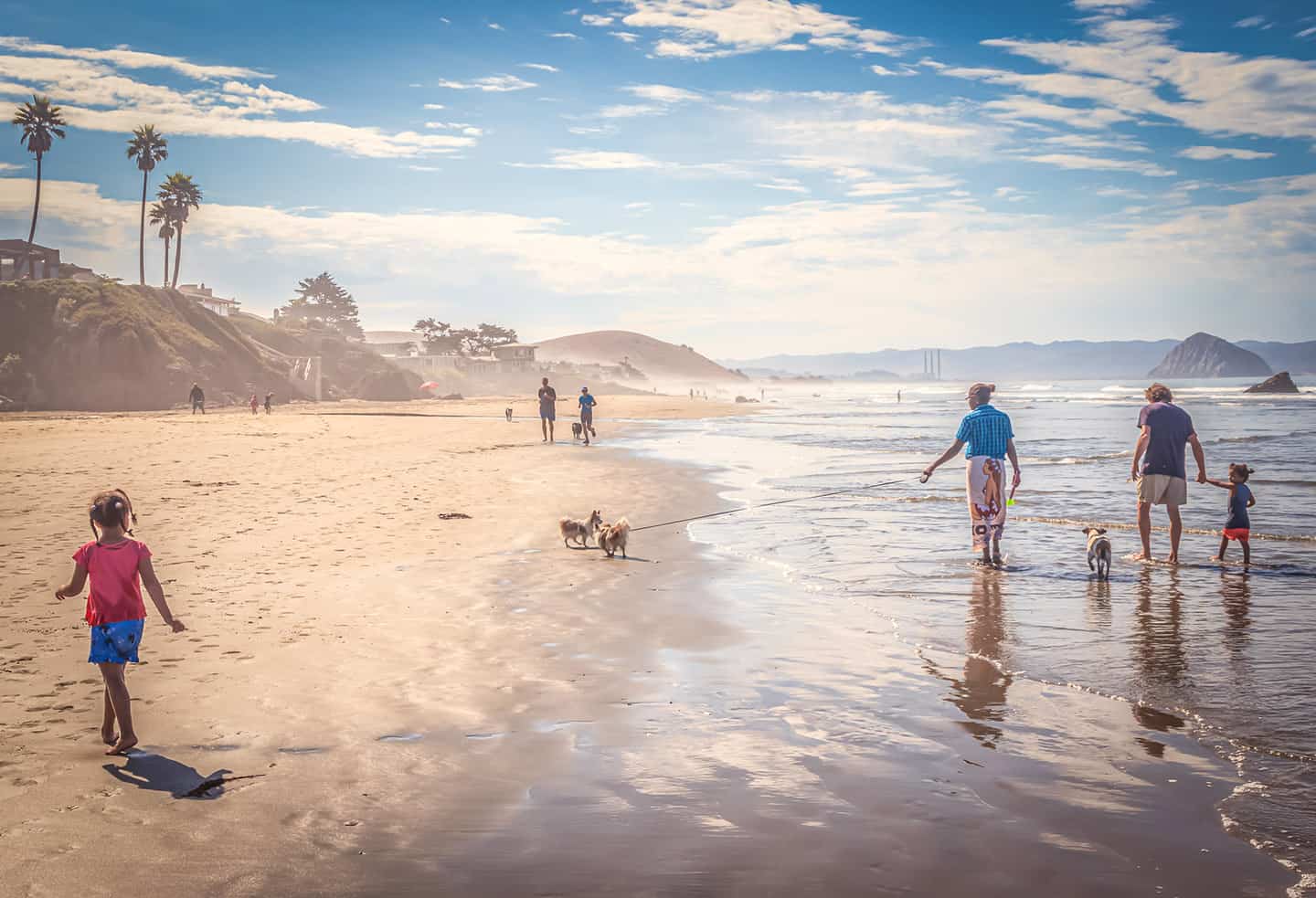 Check out these dog-friendly beaches along the Highway 1 Discovery Route:
Ragged Point & San Simeon
Cayucos State Beach invites on-leash dogs to enjoy its sun and sand from the Pier south to Chaney Avenue.
Dog-Friendly Beaches in Cayucos
Sunbathe or go tide-pooling with your on-leash pooch at Spooner's Cove in Montaña de Oro State Park.
Dog-Friendly Beaches in Los Osos
Nothing beats watching the off-leash dogs at Olde Port Beach, where they can play and sniff to their heart's content.
Dog-Friendly Beaches in Avila Beach
Other Dog-Friendly Beaches Along Highway 1
Want your pup to be free to roam? Check out the Morro Strand State Beach between Morro Bay and Cayucos for a dog-gone good time, off-leash.
Dog-Friendly Parks & Dog Parks
Get the wiggles out at a friendly dog park! The following sites welcome well-behaved pups along the Highway 1 Discovery Route.
The Highway 1 Discovery Route runs past the Cambria Dog Park, which is fenced fully, shaded, and allows pups to play off-leash. The Norma Rose Park otherwise known as the Cayucos Dog Park is another must stop for Fido on your trip. This 1.5 acre fenced park offers public restrooms, covered picnic tables, a security gate, a play area and a Mutt Mitt dispenser. To the east, Atascadero's off-leash Heilmann Dog Park offers water, shade, picnic tables ― even a doggie spa.
Dozens of SLO CAL parks welcome dogs on leash. 3rd Street Park in Cayucos offers history (the former town jail still stands there) while Arroyo Grande's Biddle Park offers space and seclusion. Each dog-friendly park in San Luis Obispo County has its own look and feel. Check the list for one that's perfect for you and your pup.
Dog-Friendly Hikes & Trails
Ready to hit the open trail with your four-legged buddy? Try these suggestions for a heart-pumping fresh air outing together.
A quick and challenging walk along the Cliffside Trail get the blood flowing for both people and their on-leash dogs.
Dog-Friendly Hikes in Ragged Point
Edna Valley & Arroyo Grande