From Stephanie Osmanski at Parade
These days, most Americans are choosing to road trip over boarding a plane, which makes for scenic views and unforgettable experiences. Some of America's most beautiful hidden-gem destinations are accessible by car. Ranked one of the best 50 road trips throughout the U.S., Highway 1 Discovery Route is also known as the Pacific Coast Highway.
A 100-mile stretch of coast not to be missed, Parade was lucky enough to see it all through the windows of a 2021 Ford Bronco Sport. Situated on the Central Californian Coast between beach towns Big Sur and Santa Barbara, Highway 1—and the charming coastal towns of San Luis Obispo County tucked along with it—isn't just a roadway. Highway 1 Discovery Route is a destination in its own right!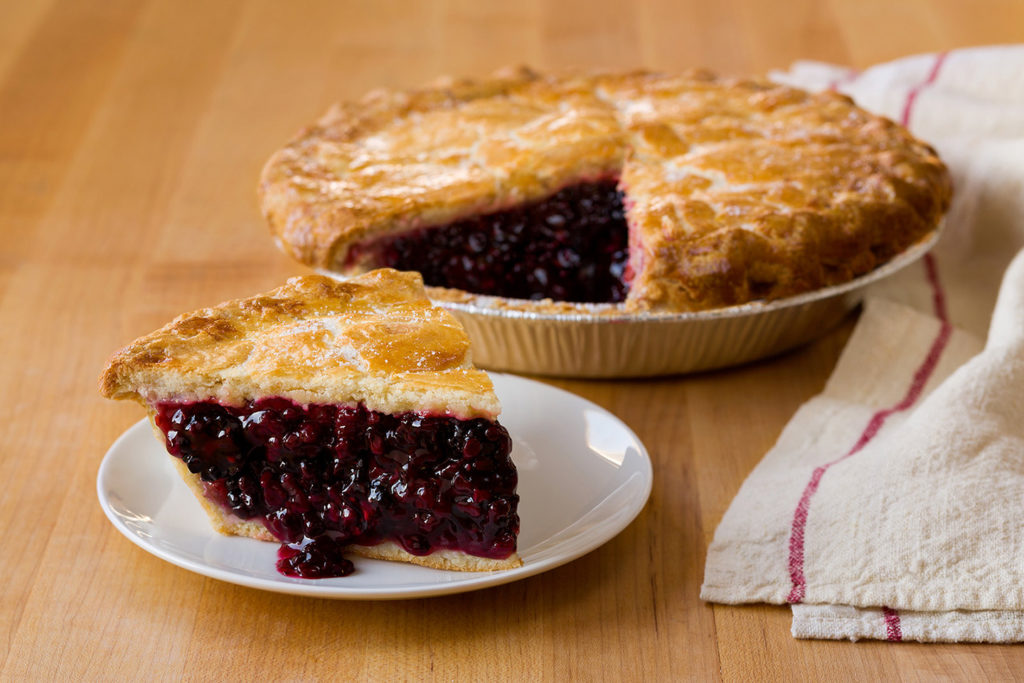 1. Eat olallieberry pie at Linn's Restaurant
Linn's Fruit Bin began as a simple farmstand outside Cambria in the 1970s, known for its fruit, preserves, and pies. Take a country drive to the stand and taste Linn's famous pie made with olallieberries—an unusual cross between Loganberries and Youngberries.
2. Kayak amongst otters, sea lions, and whales
Stop by Avila Beach Paddlesports to pick up your gear and within minutes, you'll be kayaking amongst otters, sea lions, and maybe even whales as you paddle through San Simeon Bay to the Point Sain Luis Lighthouse. The only surviving Prairie Victorian model lighthouse remaining on the West Coast, you can register for an interior tour of the lighthouse by visiting the Point San Luis Lighthouse website. (Just leave your kayak and paddles on the beach right before the steps up to the lighthouse!)
3. Snap photos of the wild zebras at Hearst Castle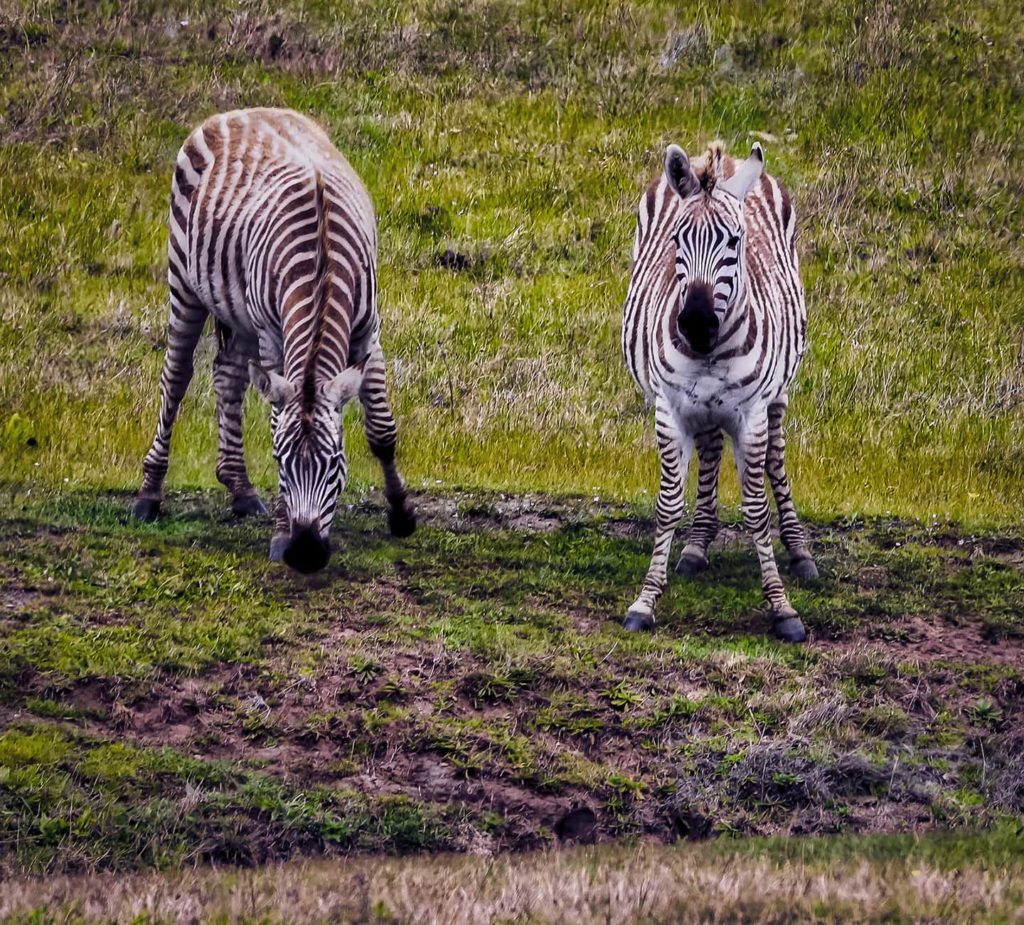 Yes, you read that correctly. Zebras! As you drive between Cambria and Hearst Castle, you'll notice a herd of zebras as they graze on the East side of Highway 1.
4. Hike down Black Swift Trail to access a hidden waterfall
Talk about hidden gems! At Ragged Point, hop on the Black Swift Trail for an exciting hike to a small black-sand beach. There's even a hidden waterfall, so bring your hiking shoes with the best grip!
5. Enjoy the views at Ragged Point
Don't leave Ragged Point just yet! Known as one of the most IG-friendly spots ever, Ragged Point is known as the Gateway to Big Sur. Not sure where to snap your Instagram pic? There's a round sculpture near Ragged Point Inn that showcases the Big Sur coastline like a framed photo.
6. Visit the Elephant Seal Rookery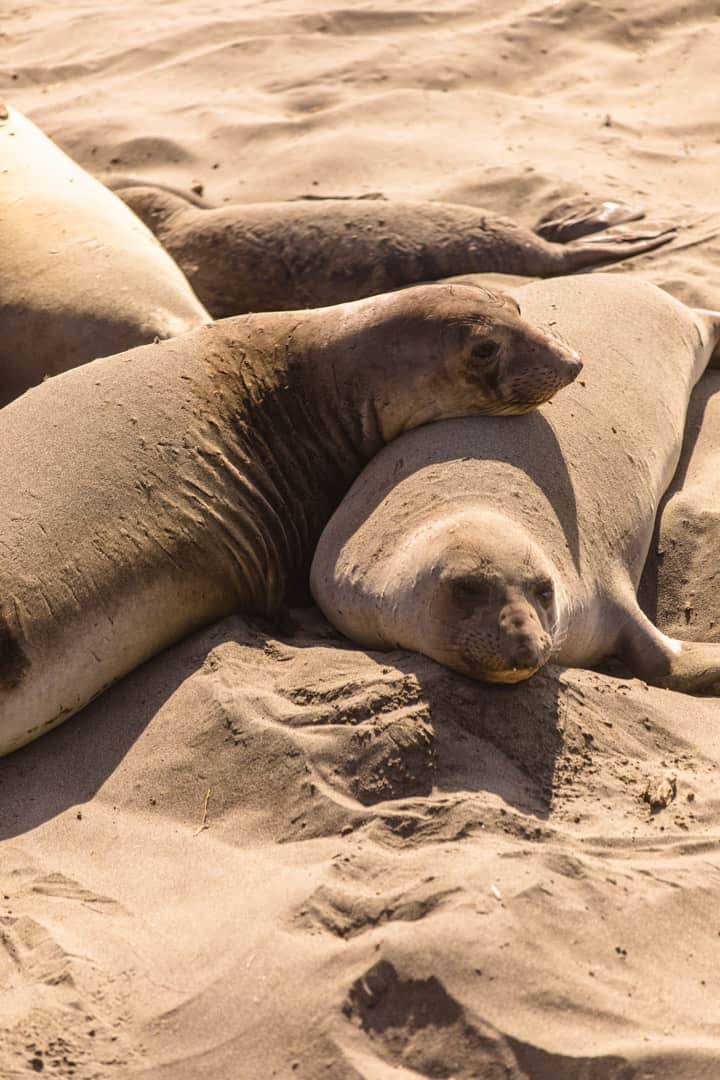 Off of Highway 1, the Piedras Blancas Rookery is the only elephant seal rookery in the world that's free and open to the public all year. Just pull off the highway and into the parking lot, and you'll immediately see thousands—yes, thousands!—of elephant seals on the beaches near San Simeon.
7. Ride a Clydesdale Horse
Covell Ranch in Cambria has the largest free range herd of  Clydesdale horses in their countryside. You can arrange a trail ride on one of the horses, prancing through the hills and Monterey Pines.
8. Forage for (and eat!) seaweed
Join Spencer Marley of Marley Family Seaweeds as you sign up to forage for edible seaweed on the beaches along Highway 1. A complete experience of learning which kinds of seaweed to choose and then how to even cook it right there (a la seaweed ramen) on the beach!
9. Bike ride down Old Creek Road
Amateur bicyclist? Hop a bike and jet through Cayucos and Cambria down Old Creek Road, taking in the hills and ocean views as you go along.
10.  Go swinging at the Point San Luis Lighthouse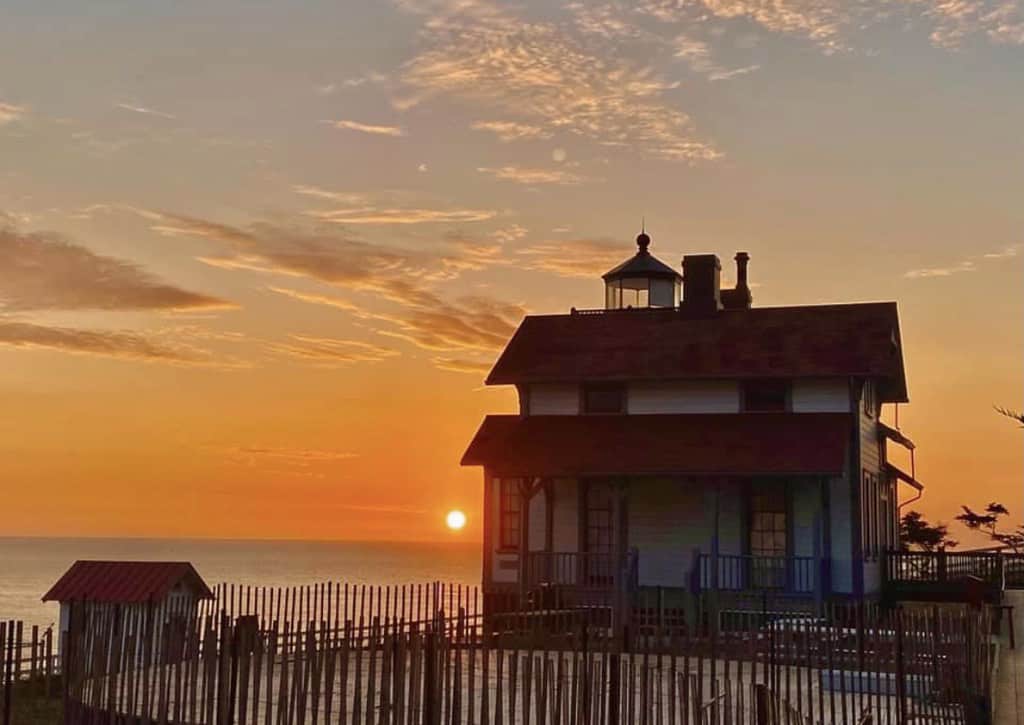 The Point San Luis Lighthouse is a hidden gem within itself. Yes, you have to kayak to get there, and as we mentioned in #2, you can set up a digital docent-led tour. But if exploring by yourself is more your style, be sure to check out the tree swing on the property and give it a go. (It makes for a great pic!)
11. Drive the dune buggies at Oceano Dunes
Drive your own private Dune Buggy Tour from Sun Buggy Fun Rentals. You'll learn the ins and outs of driving a dune buggy (prepare yourself—at least, mentally—to get stuck at least once) and then take a short bus ride out to meet your vehicle. You'll boogie around the Oceano Dunes State Vehicle Recreation Area (SVRA), a regular off-roading sand-dune playground.
12. Start your tasting in Wine Country at Hearst Ranch Winery
Let's get to the wine, shall we? The first stop on the vino-lover's tour of Highway 1 is Hearst Ranch Winery in old San Simeon. Still owned by the William Randolph Hearst estate, sit outside to grab the best views of the shore and even whale-watch a bit as you sip.
13. Hike the Boucher Trail to Piedras Blancas Light Station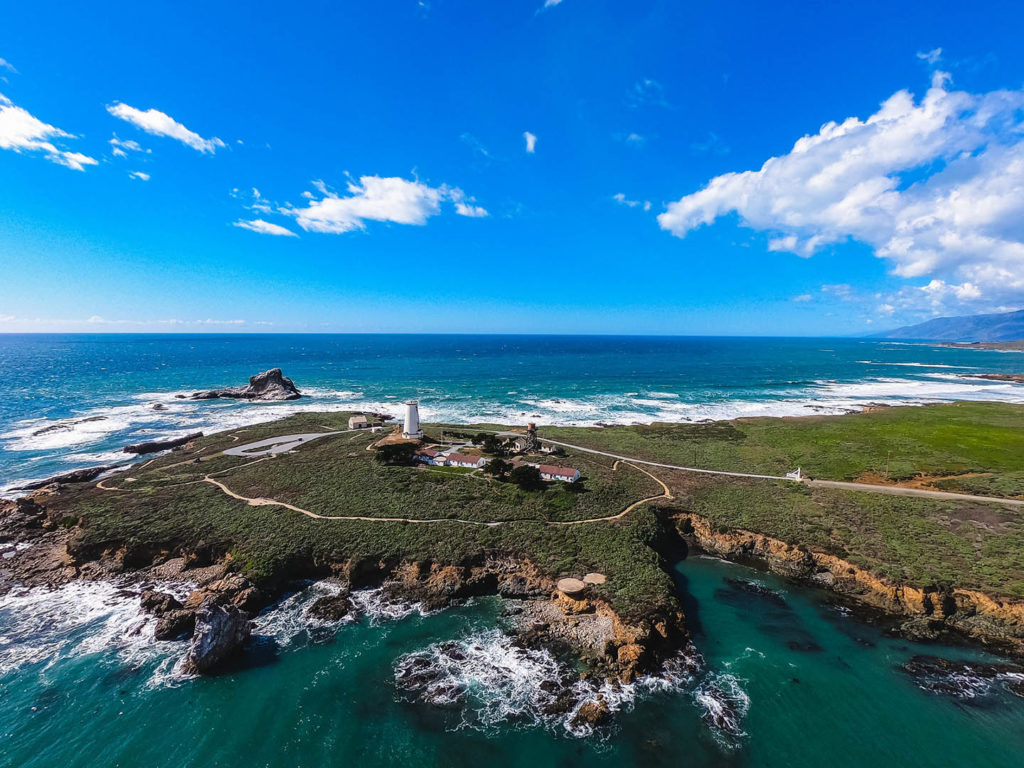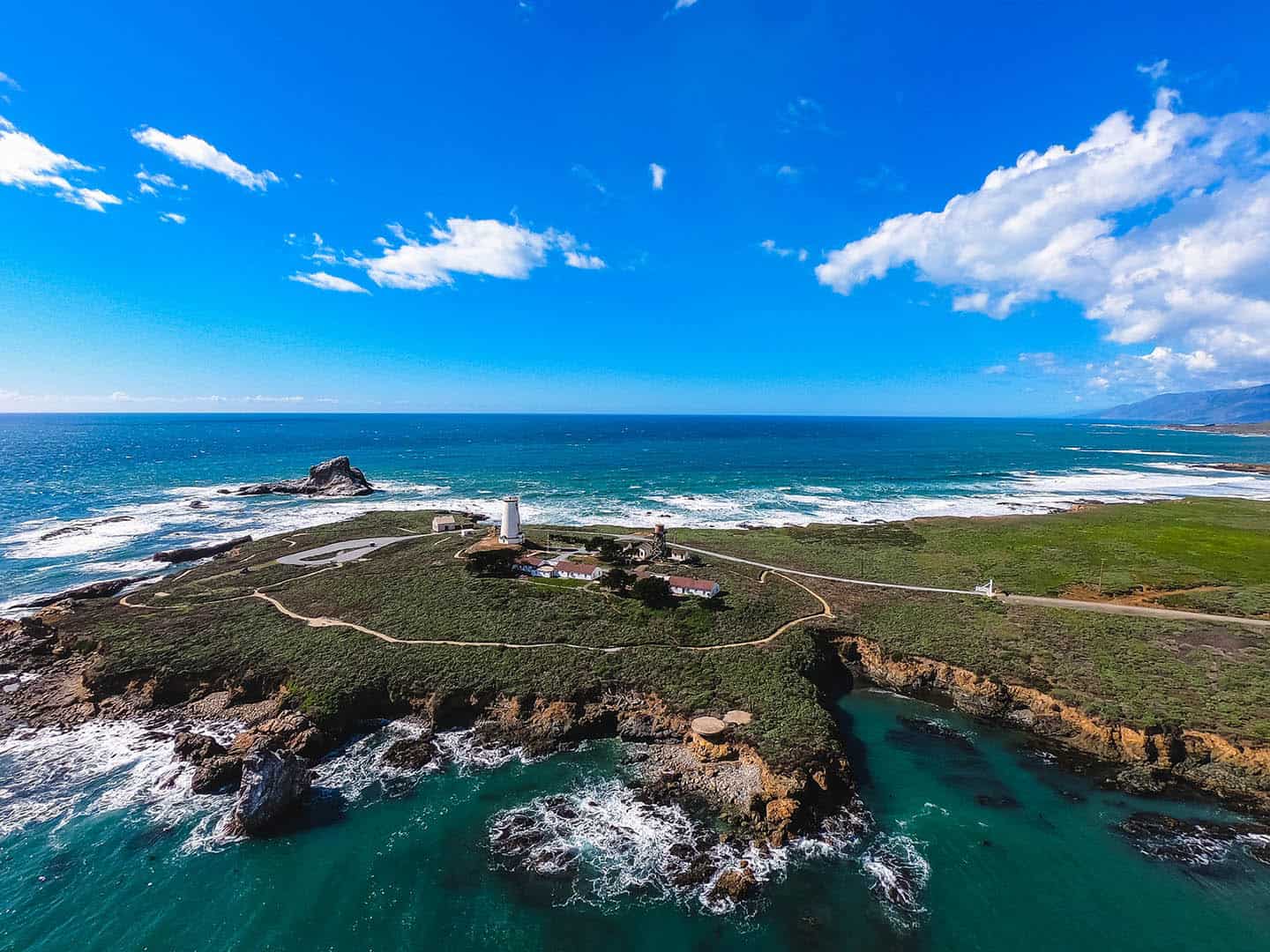 Nearby the paved elephant seal viewing parking lot near the Rookery, the Boucher Trail runs to the Piedras Blancas Light Station. The trail boasts everything from vistas of the coastline, wildlife, coastal bluffs, grasslands, wetlands, and more.
14. Explore Downtown Cambria
Downtown Cambria has so much to offer. The historical East and West Villages are chock-full of galleries, boutiques, historic buildings, tasting rooms, restaurants, and photo opportunities.
15. Stop for dinner at Robin's Restaurant
Head to Robin's Restaurant for dinner at 4095 Burton Drive in Cambria. Here you'll be treated to handcrafted cuisine featuring international flavors and, of course, fresh farmers' market ingredients. Surrounded by an intimate garden, Robin's is cozy, hospitable, and the food's delicious to boot.
Oceanpoint Ranch is a fun, family-friendly hotel situated on Moonstone Beach. With enjoyable amenities like lawn games, a private beach trail, and firepits on which you can roast s'mores, there's plenty to do at this destination alone.
17. Grabe a bite at Brown Butter Cookie Company
A drive-by style kind of place, Brown Butter Cookie Company is a must-visit. Be sure to try out their signature sea salt cookie, but honestly, all of their flavors are worth taking a bite.
18. Plan a walk along Moonstone Beach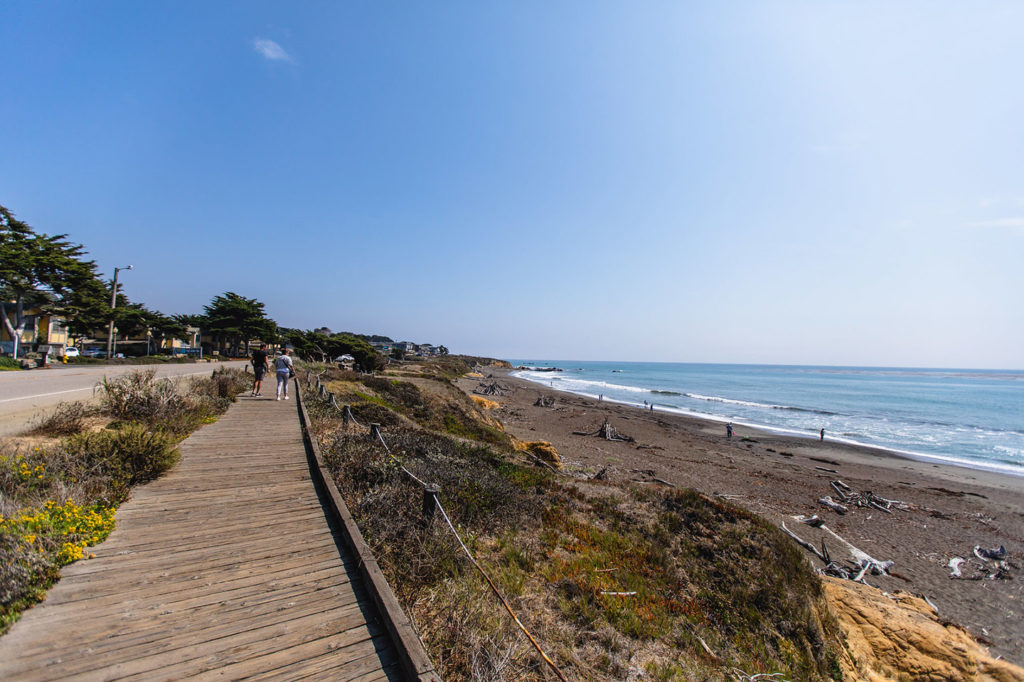 Moonstone Beach has a charming one-mile-long boardwalk. Plan a walk along with it and take in the surrounding scenery and check out the wildlife.
19. Feed the animals at Avila Valley Barn 
The Avila Valley Barn, at first glance, is a sweet little farmstand with fresh produce, locally made ice cream, baked goods, jams, and even flowers. But continue 'round the back of this family-owned farm to visit and feed all the farm's animals—goats, sheep, and more. Then, depending on the season, you can pick your own apples, flowers, and more, as well as take a family-friendly hayride.
20. Check out a sculpture garden by independent local artists
The sculpture garden at Nipomo's Monarch Club at Trilogy features work by independent local artists and is totally free and open to the public. You'll see sculptures of different mediums—steel, marble, stone, and glass.
21. Visit the Central Coast Aquarium
The Central Coast Aquarium in Avila Beach is a family-friendly, hands-on experience that seeks to connect visitors with the ocean. There's everything from hands-on exhibits and outdoor excursions to laboratory lessons, making it a fun and educational experience for all.
22. Bike the Bob Jones Trail
Kid-friendly and relatively quick, the Bob Jones Trail is known as the City to the Sea bike trail. Rent your bicycle at the Sycamore Mineral Hot Springs Resort and Spa and hop on the paved trail, which winds along San Luis Obispo Creek toward Avila Beach.
23. Tour Nitt Witt Ridge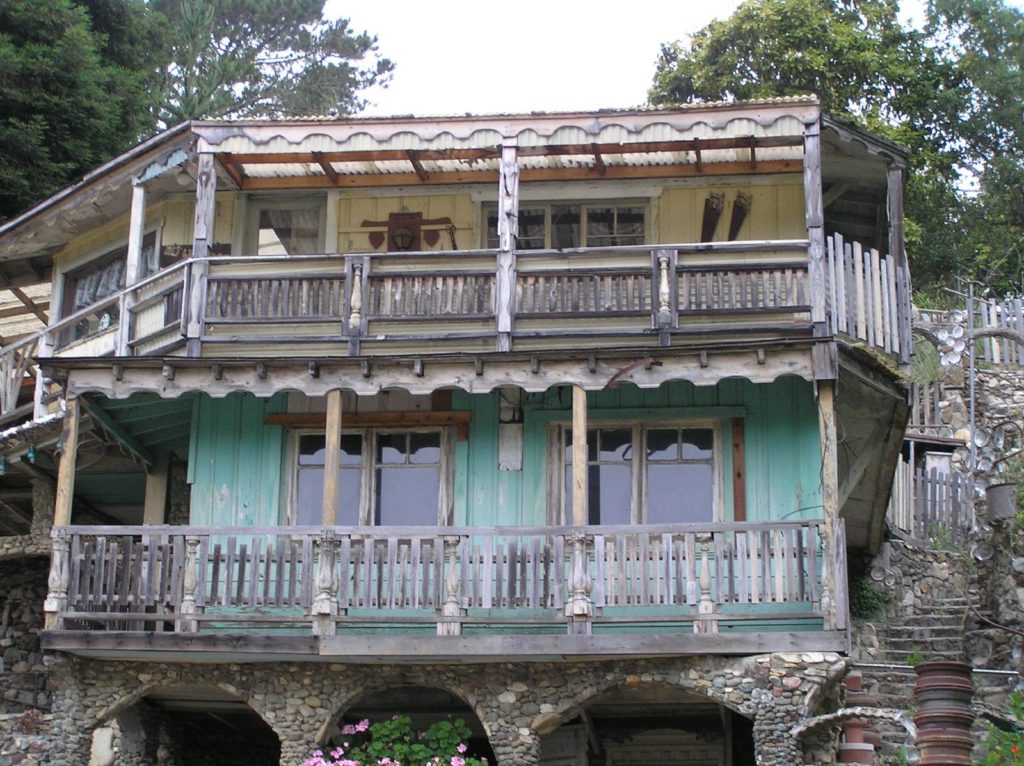 Nitt Witt Ridge—located at 881 Hillcrest Drive in Cambria—is quite a sight to see. A California Registered Historical Landmark, the now uninhabited home was once the dwelling of Arthur Harold Beal, who purchased the property for $500 and built his home out of some rather unusual parts: shells, car parts, beer cans, old appliances, washer drums, and more.
24. Keep the Wine Country tour going at Chamisal Vineyards
Back to the wine! Take a scenic drive to Chamisal Vineyards—the first-ever vineyard planted in Edna Valley. With a distinct taste to their wine, most often called "Chamisal Spice," you'll notice hints of everything from nutmeg and orange zest to other indications of holiday spices. Chamisal also uses the stainless steel fermentation process, an innovative trend in wine-making that's worth noting.
25. Dine at Moonstone Beach Bar & Grill
Moonstone Beach is as beautiful to look at as it is to walk along, which is why Moonstone Beach Bar & Grill is a must-stop on this list. With oceanfront views of Moonstone, the dinner menu is full of locally-sourced ingredients, including the freshest of seafood.
26. Paddle-board San Simeon Bay
In addition to kayaking San Simeon Bay, Avila Beach Paddlesports also offers a fun paddle-boarding (SUP) option. Just be sure to hold your ground if you're standing up—you don't want to get spooked by an otter and fall into the bay!
27. Shop for rare and unusual succulents at Grow
A delightful little succulent shop is hidden in the back of the Garden Shed on Cambria's Main Street, this East Village gem specializes in rare and unusual succulents. At Grow Nursery, you'll also find handmade pottery, crystals and minerals from around the world, a fascinating array of air plants, and fun apparel.
Also tucked away, right off Main Street in Cambria, is an endearing rustic home decor and gifts shop called Simplistic Home. Have someone who is responsible take away your credit card so you don't buy out the whole store. (Speaking from experience here!)
29. Take a biplane ride over Oceano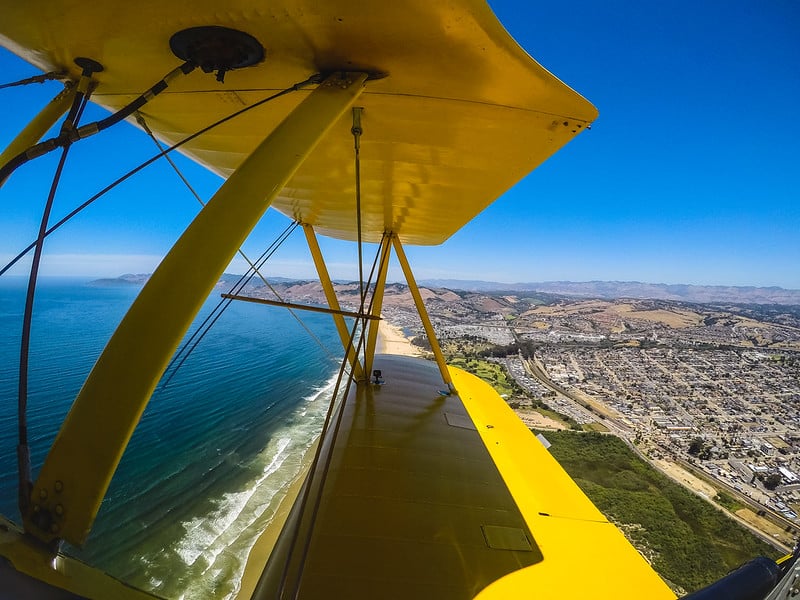 Board a biplane out of Banner Aways and fly over Oceano, the Pacific Ocean, Pismo Beach, and the magnificent dunes. The airplane ride includes a leather jacket, helmet, goggles, and life jacket so you get the full-on biplane experience—plus, all of the planes were used to train American pilots during World War II. That's an unreal bit of history to experience!
30. Wine taste at Tolosa Winery
Another must-stop on the Central Coast winery tour is Tolosa Winery. Located on Edna Road in San Luis Obispo, this winery's Edna Valley Pinot Noir and Chardonnay are standouts. Sustainably farmed and featuring a Sustainability in Practice (SIP) Certification since 1988, Tolosa is as beautiful property as the wine is delicious. Grab yourself a tasting flight and be sure to ask the staff questions as they're full of fascinating winemaking knowledge.
31. Grab lunch at Lunada Garden Bistro
If you've ever wanted to dine in a garden, Lunada Garden Bistro is the experience for you. Stop by for a quick lunch and we promise you won't be let down. Located in the historic Way Station, Lunada is one of the founding properties of Cayucos. In fact, William Randolph Hearst was known to frequent the place before his own castle—that's Hearst Castle, of course—was finished being built.
32. Shop and walk around Main Street in Cayucos
10/10 can't recommend this enough! Stay overnight at Sycamore Mineral Hot Springs Resort and Spa, where every room features a private hot tub with authentic mineral water from the hot springs. To get the most out of the hot springs experience, bathe in the Hillside Hot Tubs or for larger parties, book the Oasis Waterfall Lagoon (both of which are by reservation).
34. Walk across a historic swinging bridge
Hope you're not afraid of heights! The historic Swinging Bridge in Arroyo Grande rests 40 feet above the Arroyo Grande Creek, spanning 171 feet across. It's wobbly, it's wiggly, and it's one of the only swinging bridges throughout the state.
35. Stop by the Secret Garden at Sycamore Mineral Springs Resort & Spa
A hidden gem within another hidden gem, make sure to stop by the Secret Garden at Sycamore Mineral Springs Resort & Spa. Nestled between the historic Swinging Bridge and the entrance to the Bob Jones Trail, the Secret Garden is open from 10 a.m. to dusk, but boasts beautiful string lights at night and is the perfect hang-out spot for listening to live music and grabbing a drink from their mobile bar.
Get your hike on at Fiscalini Ranch Preserve, a network of 17 different hiking trails across the seaside. It has everything a hiker could look for: forest, hills, shore, and even a driftwood bench on which to rest.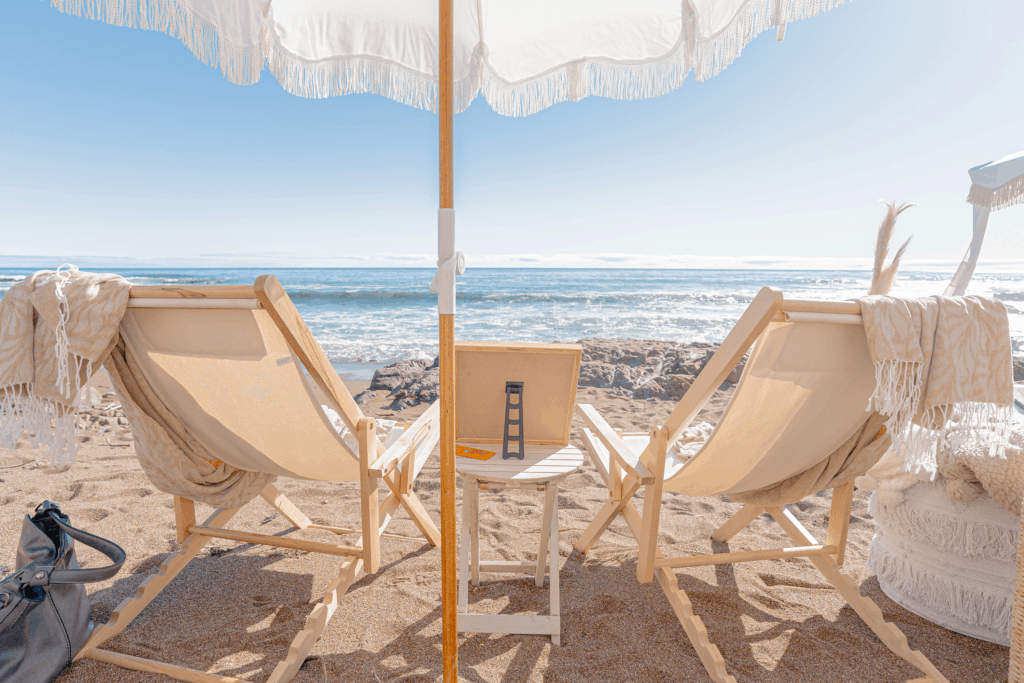 Professional picnics are all the rage right now, so don't miss out on the awesome opportunity to plan one with Cayucos Picnic Company. They plan it all, actually—from the white-sand, hidden beach location to the gourmet spread, blankets, and pillows. Just sit down, eat, and enjoy the view (and the company!).
38. Watch California Sea Otters at play from Morro Rock
It's not uncommon to see California Sea Otters in the nearby waters, but if you're looking for a more up-close-and-personal experience, check out the sea otter preserve overlooking Morro Rock in Morro Bay. Sea otters are basically sea puppies (IMHO) and they're known for their pretty adorable antics.
39. Witness the sunset from the whale tail bench in Cayucos
The sunset in Cayucos is always beautiful, but here's a pro tip: Watch it from the whale tail bench from Cayucos' 1st Street beach access. It's the ideal, little-known spot for sunset viewing.
Can't recommend this one enough! A totally unique experience, Bee's Knees Fruit Farm and Country House is an enchanting farm stay unlike any other. A two-level home featuring a wrap-around porch, movie room, and full bar, what makes your stay at Bee's Knees most special is the pick-your-own orchard on the property.
Pick your own apples, pears, plums, apricots, peaches, citrus, and berries (depending on the season), tomatoes and lettuce, too. It's all the mixings for a dinnertime salad and Bee's Knees owner Pattea Torrence arranges for fresh seafood from Giovanni's Fish Market to be delivered. Then, prepare it all yourself in the property's gourmet kitchen and enjoy the 360-degree views as you eat a truly authentic farm-to-table meal. Just don't let the cat inside!
41. Whale-watch at Avila Beach
There are plenty of whale-watching spots along Highway 1 but it's Avila Beach that sees the most whale action. Grab a spot on the Hartford Pier, paddle out into San Luis Bay, or opt for a tour.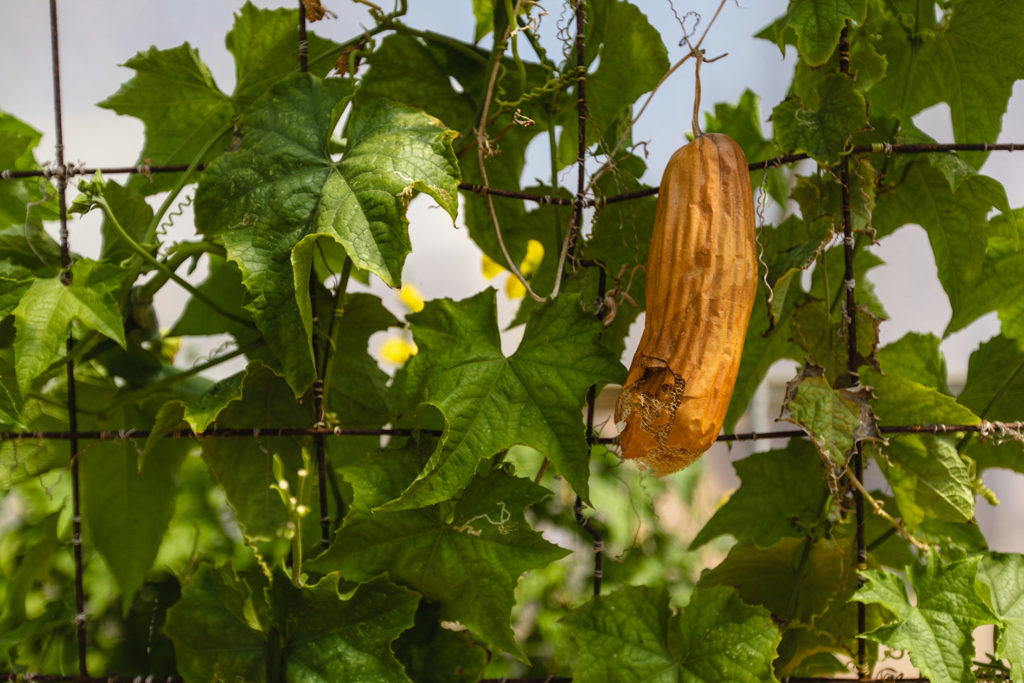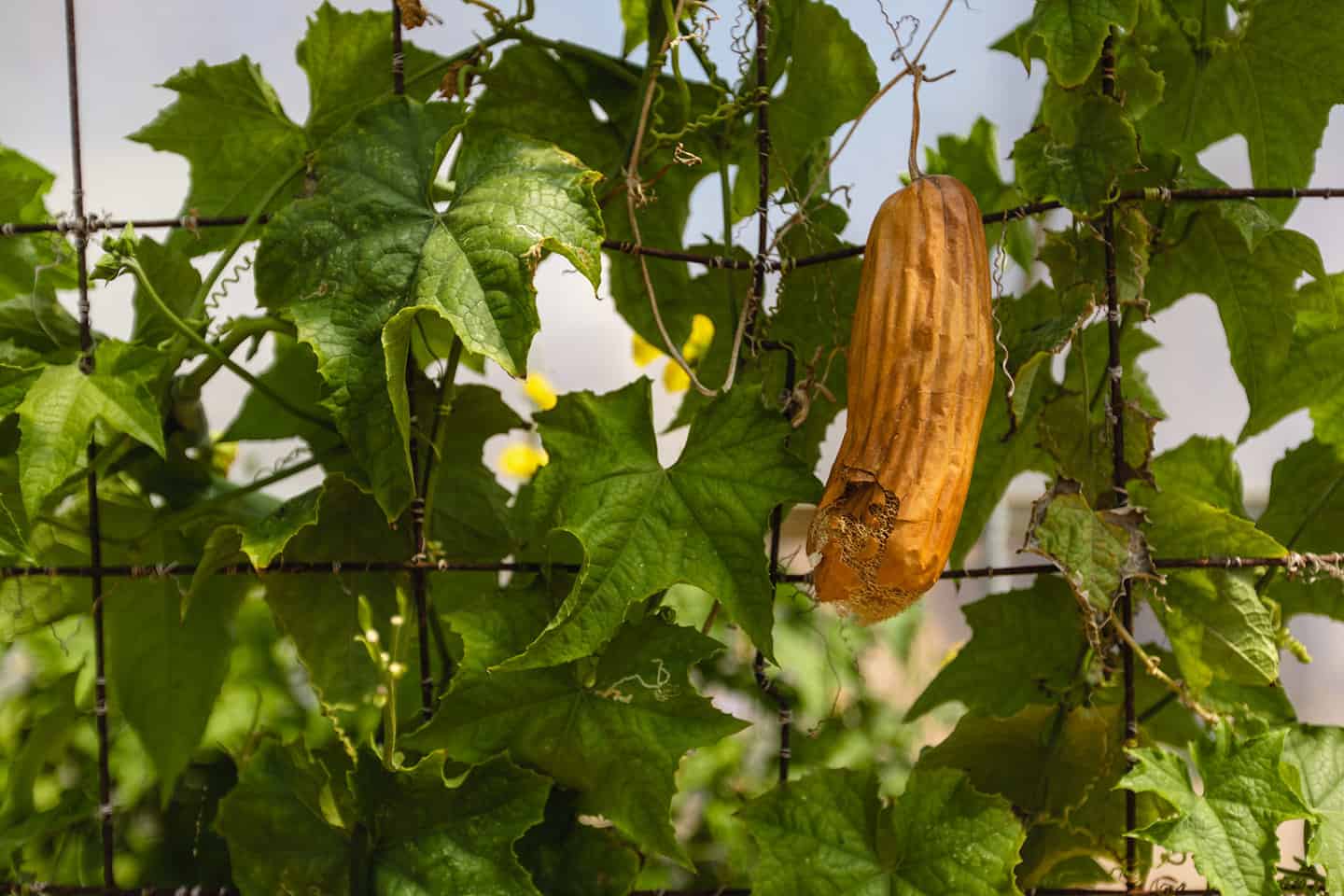 The Luffa Farm in Nipomo is a funky experience you won't soon forget! Free to the public with no reservation required, The Luffa Farm quite literally grows sponges and has for the past 30 years. Open to the public since 1999, you can drop in for a quick tour around the property—from the greenhouse to the gift shop, which features fully-grown luffas, luffa products, and handcrafted bath and herbal products. If you're lucky, some of the goats on the nearby property might show up, too. Be sure to feed them a handful of the growing mint nearby!
If you're a true-blue wine connoisseur, stop by Sextant Wines for a remarkable wine-tasting experience. Nestled in the hillside of Edna Valley in Old Edna—a historic townsite established in 1909—the Old Edna General Store has since been transformed into Sextant Wines' tasting room and is just a stone's throw away from the oldest vineyard in Edna Valley: MacGregor Vineyard.
The property at Sextant is quite literally exquisite—with a honeymoon suite that's available to be rented out and a gorgeously curated event space. And, of course, the wines are not to be believed either. Pro tip: Be sure to order dessert before you go.
44. Explore the tidepools of Cayucos
The tidepools in Cayucos are home to all kinds of wonders: anemones, urchins, hermit crabs, and so much more. An interactive, family-friendly lesson on the ecosystems of the Central Coast, explore the tidepools and local wildlife and sea life. (Just be sure to leave it as you found it and refrain from touching it!) Need some wildlife viewing tips? Watch for low tide, as that's the premiere timing for tide pool viewing. If you're lucky, you may even notice a dolphin or two in Cayucos' protected waters.
45. Hike to the end of Montaña de Oro Bluff Trail in Los Osos
Hike out to Montaña de Oro Bluff Trail in Los Osos and you won't be disappointed. One of the most panoramic vistas imaginable, this hidden-gem spot offers a clear view from Point Concepcion to Piedras Blancas Lighthouse.
46. Catch a glimpse of an old, abandoned fishing boat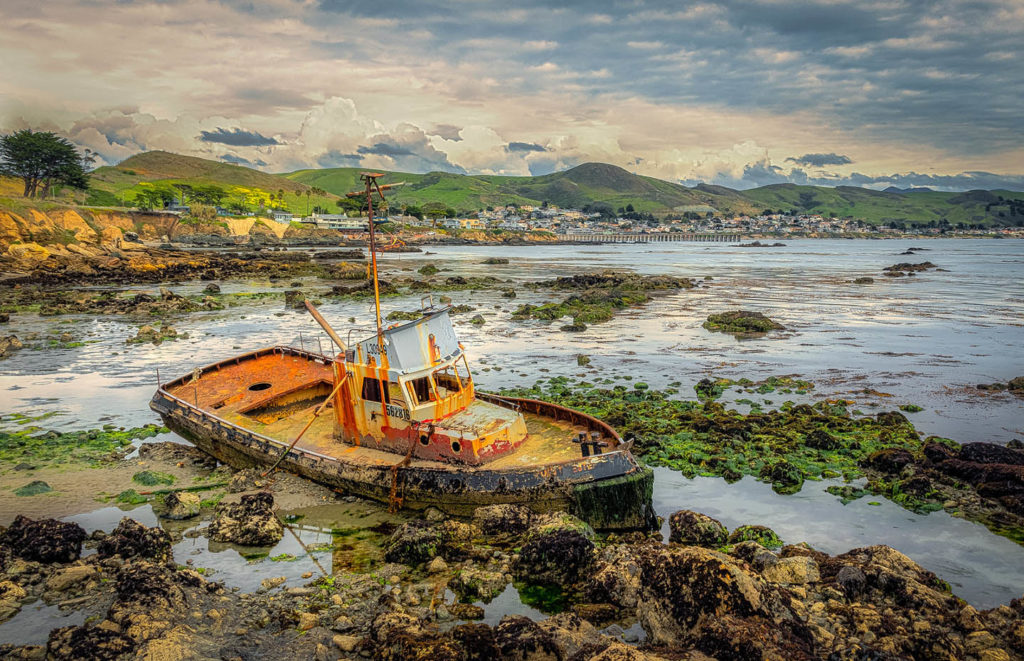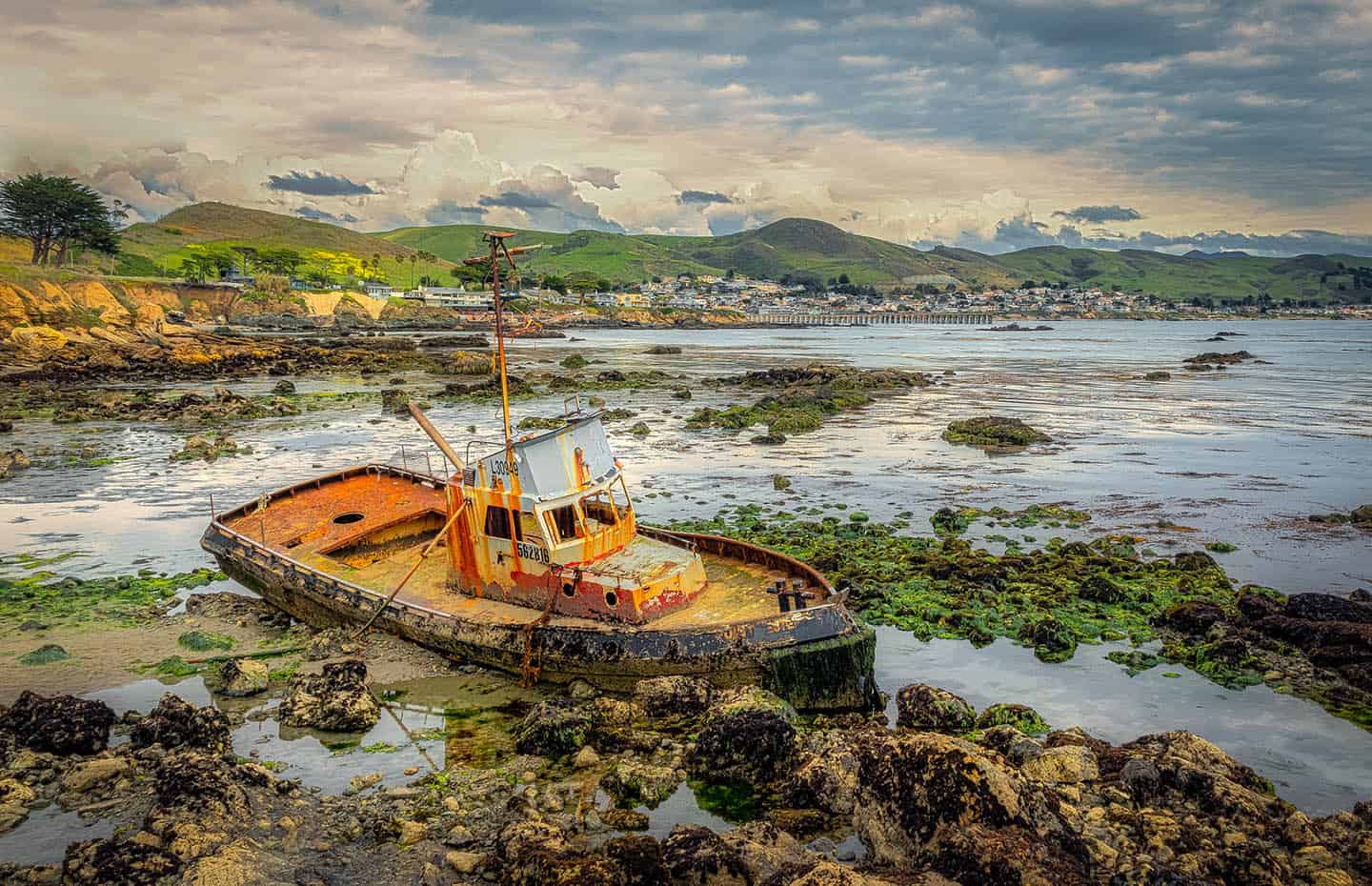 An old fishing boat that ran aground years ago in a little cove is now one of Cayucos' quirkiest tourist attractions. To get there, walk down Estero Bluffs Trail in Cayucos. It's best to go when it's low tide because it's most visible.
Mersea's Restaurant at the Harford Pier in Avila Beach is a dine-over-the-water destination with a menu seafood lovers will go crazy for. A favorite of locals, the ocean views are incomparable and the live music is always good. (Psst—go for the clam chowder!)
48. Take a detour onto Highway 46
How about a quick detour? Check out Highway 46 between Cambria and Paso Robles. Particularly in springtime, the rolling hills are a sight for sore eyes. Emerald green to the naked eye and leading up to a sparkling ocean and stunning view of Morro Rock, you'll want to take out your camera for this one.
49. Grab a history lesson at Guadalupe-Nipomo Dunes Center
Ready for a history lesson? Cecil B. DeMille directed the movie The Ten Commandments on the Guadalupe-Nipomo Dunes in 1923. But since then, many of the set pieces were buried in the sand (unreal, right?). Years and years later, excavators dug up a Sphinx's head and to this day, that small chunk of Hollywood history is now on display at the Guadalupe-Nipomo Dunes Center.
Back to the Sycamore Mineral Springs Resort, the Gardens of Avila Restaurant has been voted "most romantic." Upon visiting, it's not hard to see why! Gardens is aptly named for a gorgeous garden setting with farm-to-table cuisine from local and organic farms, ranches, and culinary artisans from the region.
Read the full article on Parade.