Considered one of the Central Coast's best beaches, Moonstone Beach is an ethereal outpost where waves meet a shoreline perfect for beachcombing. The settlers of Cambria gave this beach its name for its smooth stones that are soft underfoot, and which wow visitors with their intricate patterns. With Shamel Park adjacent, plus access to the Moonstone Beach Boardwalk, this popular and picturesque spot belongs on any visitor's must-see list. Bring the whole family, a picnic, a blanket, and your sense of adventure.
Leffingwell Landing State Park
This day-use area occupies what once served as the center of Cambria, then called Slab Town. The active wharf at Leffingwell Cove saw all the busy comings and goings of the lumber trade, ranching and mercury mining. Today, though the wharf is gone, Leffingwell Landing remains a popular beach spot with visitors and locals alike. Along the rocky shore, tiptoe among the tide pools to see sea life up close. If your timing's right, you may even spy a whale spouting in the distance, along its migratory path. Launch a kayak from the boat ramp, enjoy a picnic, or simply take in the scenery on a park bench. 
This day-use park lies north of Moonstone Beach. Catch the north end of the Moonstone Beach Boardwalk just south of Leffingwell Landing, over Leffingwell Creek. Or, alternatively, walk the shoreline north from Leffingwell Landing to reach the WR Hearst Memorial State Beach. (Leffingwell Landing makes up the southernmost part of this state beach.) No matter which direction you choose to walk, make sure to stop off at the Moonstone Beach Bar and Grill for fresh salads, sandwiches, seafood and drinks.
Find the entrance to Leffingwell Landing on Moonstone Beach Drive, north of downtown Cambria. Look for parking lots with signs across the street from the San Simeon Pines Seaside Resort.
Moonstone Beach and Boardwalk
At Shamel Park, on the eastern edge of Moonstone Beach, find an interpretive sign from the Whale Trail. This national organization identifies the best places to see whales, and the lookout from Moonstone Beach is one such spot. Gray whales are commonly seen from here, as well as white-sided dolphins, sea lions, seabirds, and sea otters. Enjoy viewing all the sea life from the beach or from the raised platform of the Moonstone Beach Boardwalk nearby.
The Moonstone Beach Boardwalk affords visitors sweeping views of the beach from its bluffs along the Pacific shoreline. This easy, accessible walk covers about 2 miles, out and back, and is great for dogs on leash. Remember, though, that it is a very popular attraction, and can be busy.
Moonstone Beach has long been a favorite hunting ground for beautiful, smooth stones, worn down by the tumbling of the sea and the passage of time. Although it was named for moonstones, this beach doesn't boast actual moonstones, which are composed of the feldspar mineral. Instead, the mineral chalcedony comprises these "moonstones," which are just as enchanting as the real thing. Even better, they can be seen up and down the beach, along with smooth, tumbled jade, agate, and jasper. Look for sea glass and interesting driftwood, as well.
Walk along the Moonstone Beach Boardwalk headed north, and look for paths down to the rocky seashore for tidepools. These are some of the best tidepools on the Central Coast, and will keep you (and your family) occupied for hours. Look for crabs, sea anemones, urchin, sea slugs and more.
Lining Moonstone Beach on Moonstone Beach Drive, find a wide variety of lodging properties with fantastic views of the coastline. And don't forget breakfast, lunch and dinner! Dining options overlooking Moonstone Beach include seafood destination The Sea Chest and the relaxed Moonstone Beach Bar & Grill.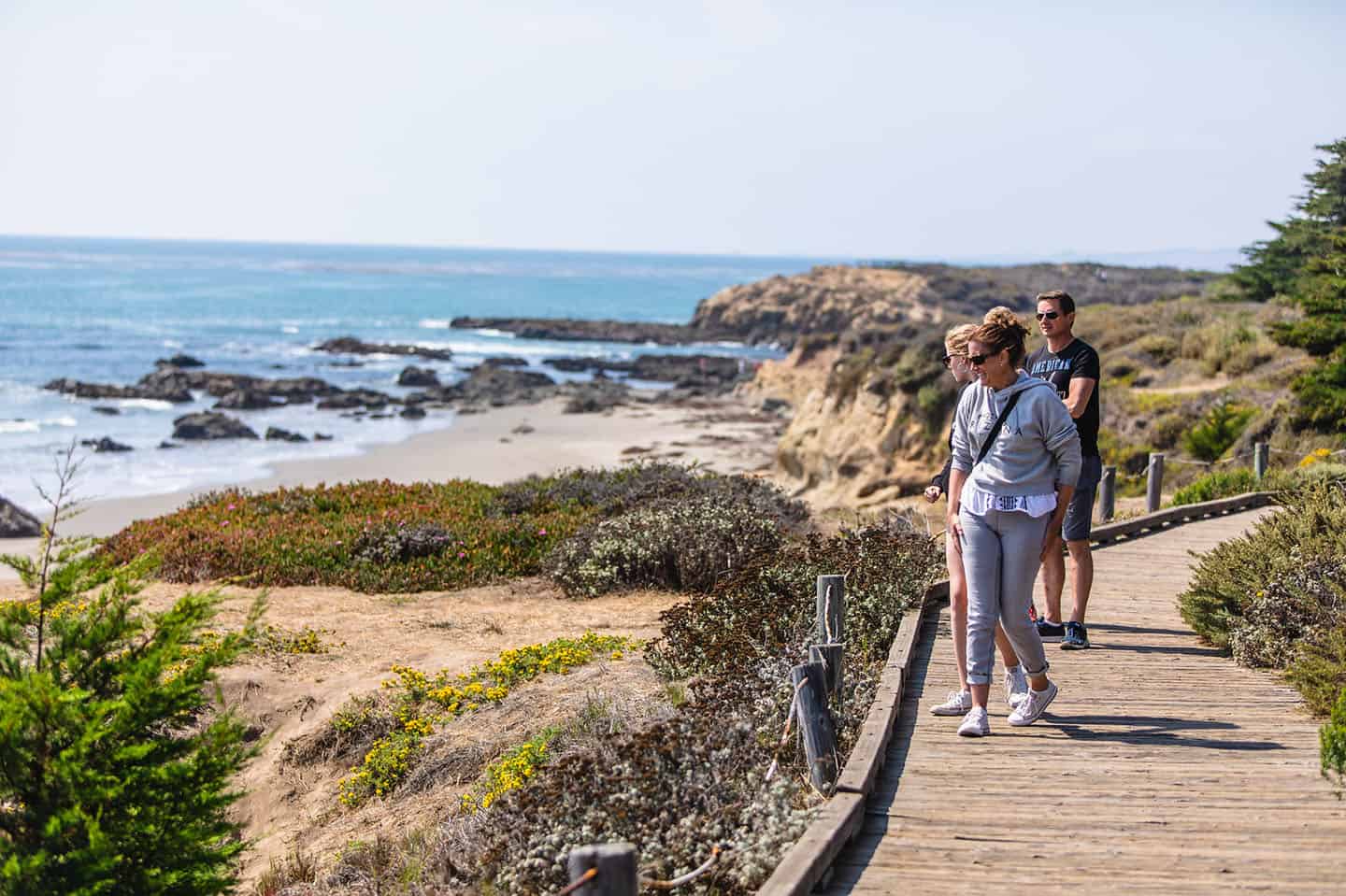 Moonstone Beach Park
At the southernmost end of Moonstone Beach, find Moonstone Beach Park, an area perfect for kids of all ages. This area is the outlet for Santa Rosa Creek, a small freshwater creek that offers safe wading play for kids and their parents. Set up a blanket and chairs near the creek and enjoy dipping your toes into the water and hunting for semi-precious moonstones. The nearby Santa Rosa Creek parking lot also provides a good access point for the Moonstone Beach Boardwalk. Find the parking lot entrance at the south end of Moonstone Beach Drive. 
Shamel Park
Just steps from the sand, Shamel Park comprises six acres just off the southernmost end of Moonstone Beach. This is a local favorite, with an epic playground, heated public swimming pool (seasonal), a playing field, and two group day-use areas. Kids love the rambling play structure, and lovebirds appreciate the park's gazebo, perfect for beachside weddings. Come for a picnic, a family reunion, or just an easy-breezy day at the beach. Find Shamel Park off Windsor Boulevard, to the west of Highway 1 near Cambria's East Village.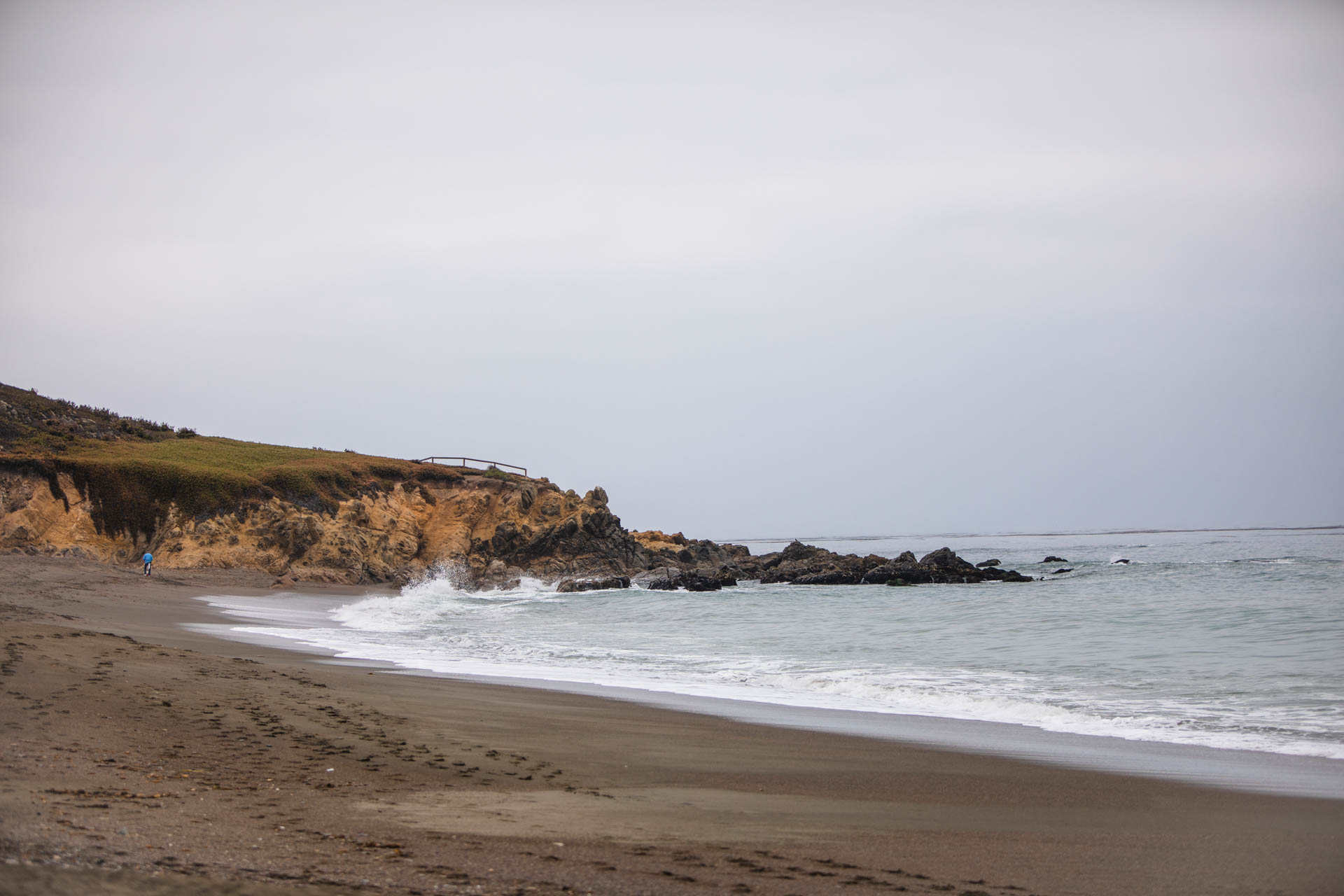 Stewardship Travel for Good
For travelers who want more from their Moonstone Beach visit, try a Stewardship Travel experience like the Moonstone Beach clean-up kit and tote bag. Do good and feel good, wherever you roam. To learn more about how you can get more out of your next visit, see our Stewardship Travel for Good list of experiences.