Surfing and Eating Our Way Through the Central Coast
Avila Beach is a truly beautiful beachside city. With colorful vistas upon entering and the kindness of the locals, this is a place where everyone – of any age – should flock to. In fact, while staying in our hotel, Avila La Fonda Hotel, we met 3 generations of women who came to Avila for a little escape: a grandmother, mother, and daughter. Each living in a different locale, it was the way they talked about being in Avila that just emphasized what an extraordinary place to visit it really is.
While we were starting our second day of our family vacation, we grabbed some breakfast croissants from the hotel lobby, fresh cups of coffee, and stopped into the common store (a cute little room with everything you need – AND – you simply take what you need, sign it out and are billed at the end of each day). Picking up some bottles of water and a pack of gum, my daughter, cousin, and niece got ready for today's adventure. On the docket? SURFING!
Avila Beach Surf School was going to be meeting us in Pismo, just a few miles down the road. We would have surfed in Avila but the waves were a bit unpredictable as a storm front was making it's way into shore.  Surf School owner, Justin Hodges arranged for Crystal Robb to take the four of us out in to the big blue for what would be quite the adventure (and test of wills). When we arrived at the Lifeguard station in Pismo, we were fitted for wetsuits, given a board and off to the sand we went for a tutorial on how to paddle, stand, and master the art of surfing. All they ask is that you bring a good attitude! My daughter was the youngest of the bunch and a little hesitant (and by a little I mean she was certain she wasn't going in) until Crystal gave her a pep talk and I assured her 30 minutes of trying would result in an "ok" if she decided not to keep going. As it turns out, she ended being the best surfer out of all of us! She rode the waves in and even cheered me on when I finally got up on the board and rode a wave myself.
After an amazing day in the Pacific, we headed back into town for lunch at Old Custom House. The afternoon couldn't have been more perfect. A temperate eighty degrees, the sun kissing our cheeks like a warm hug, by the time we arrived, we were ready to eat. While the menu here wasn't anything to boast about, it satisfied our hunger. That said, to hear the server tout that they had award-winning Bloody Mary's, upon actually tasting one, I was sorely disappointed. We ordered fish and chips, salad, and their house tacos. The batter on the fish n'chips was definitely something worth writing about but everything else fell way short. This was a bit of a let down in the culinary department but the local Farmer's Market and dinner would soon make up for it.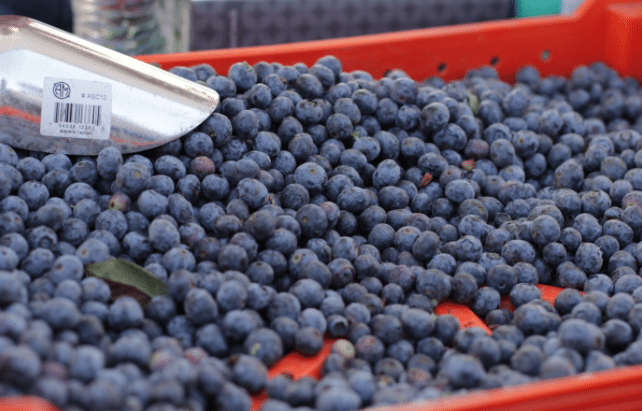 Shortly after lunch, for the first time this year, was the 1st Avila Beach Farmer's Market. Local farmers proudly displaying their very best from plump blueberries to exquisite greens, even fresh batches of honey! While the traditional funnel cake and gluttonous sweets were available, it was the veggies and those blueberries that won us over (and the reggae band!). The Farmers Market was packed with locals and travelers alike and from the looks of it, this was a festivity that the entire area looks forward to. Fresh produce in tow, we returned to our Hotel just in time for afternoon wine and cheese. We ran into the trio of women on vacation, spent a little time in the lobby talking and all agreed an afternoon lull sounded perfect….. Read more by clicking here!