Picture gently rolling hills blanketed in vineyards, glasses of wine ranging in color from palest gold to deepest purple, and relaxed, friendly people. Or imagine a hopping tasting room situated in a buzzy downtown setting, where wine and conversation flow. These are the two faces of Paso Robles wine tasting, and each has its benefits. For those who seek classic countryside charm, wineries on and off Highway 46 offer the opportunity to sip wine right where it's born. And for wine tasters interested in a city setting, complete with access to restaurants, shopping and more, downtown Paso Robles provides just that. While the Paso Robles wine region is large, it is manageable; get the best of both worlds on the same day! This trending wine destination offers several varieties, most of which like hot days and cool nights. Classic grapes grown here include syrah, cabernet sauvignon, and the heritage variety, zinfandel. More and more, though, winemakers are pushing the boundaries on what grows well here. You can easily find counoise and malvasia bianca growing beside more mainstream varieties like chardonnay and pinot grigio. Note that, thanks to its growing notoriety, Paso Robles can be very busy and crowded. It can also be extremely hot over the summer and into the fall. Consider visiting the Coastal Wine Region and/or Edna Valley wineries instead, where both temperatures and tasting rooms tend to be more chill.
Best of Wine Tasting in the Paso Vineyards
Drive just a few minutes outside downtown Paso Robles, and you'll find yourself in some of the world's most stunning wine country. Just like people, grapevines like Mediterranean climates that are warm during the day and cool at night. In Paso Robles, the average summer day runs around 92 degrees F (33 degrees C) and nights are about 52 degrees F (11 degrees C). Vines love this wide swing between daytime and nighttime temperatures, as it warms and cools the grapes during the growing season. It's no wonder wine wins hearts and awards so often here: the landscape is reminiscent of other wine-centric destinations. Sit on a tasting room patio and look around: you could easily be in France, Italy, Spain or Portugal. The comparison is not lost on wine enthusiasts who flock to Paso Robles to experience the beauty and charm of its rural wineries. Pick from a wide selection of excellent producers that lie tucked among the hills, trees and vineyards of Paso Robles's countryside.
Daou Mountain Tasting at the Daou Family Estates
A force along Paso Robles' respected West Side, Daou Vineyards brings luxury and finesse to the wine tasting experience. The tasting room sits atop "Daou Mountain," a 2,200-foot outcropping that overlooks Paso's picturesque vineyards and hills. When they founded Daou Vineyards in 2007, brothers, Daniel and Georges Daou, chose this mountain as the site of their Mediterranean-influenced winery. Their inspiration? The brothers' childhood in Beirut, as well as their youth and early adulthood in France. Visit the spacious tasting room to experience the Daou's commitment to Bordeaux-style wines. Their flagship wine, "The Soul of a Lion," is composed solely of estate-grown Cabernet Sauvignon, and consistently receives top scores from critics. Discover Daou wines for yourself with barrel tastings, vineyard tours, and vertical tastings of "Soul of a Lion." Want to take savor more? Pair your tasting with seasonal fare from Chef Elain Rivera Glenn, served with a not to the Daou family's Lebanese heritage. Be advised that tastings are held by appointment and reservations are required.
Sculpture Garden Tasting at the Sculpterra Winery
Located on Paso Robles' historic East Side, Sculpterra Winery and Sculpture Garden celebrates masterpieces of both wine and art. The winery sits in the Linne Valley, a climate that is somewhat sheltered and ideal for the growth of wine grapes. Varieties grown on the 260-acre estate include reds like merlot, syrah, and primitivo; and whites like viognier, sauvignon blanc and chardonnay. The crown jewel at Sculpterra, however, is Cabernet Sauvignon, which shines in pure varietal wines as well as in their trademark blend, "Figurine." But wine just part of the appeal of tasting at Sculpterra Winery. Owner Sr. Warren Frankel commissioned a massive sculpture garden for the grounds from renowned artists. The result is an outdoor museum, complete with large sculptures like "The Mermaid," "Puma," and "Dancing Horse" by the late sculptor John Jagger. Sculpterra encourages visitors to purchase wine by the glass or bottle to enjoy in the sculpture garden — no reservation required. Tastings of estate wines are also available; reservations are recommended.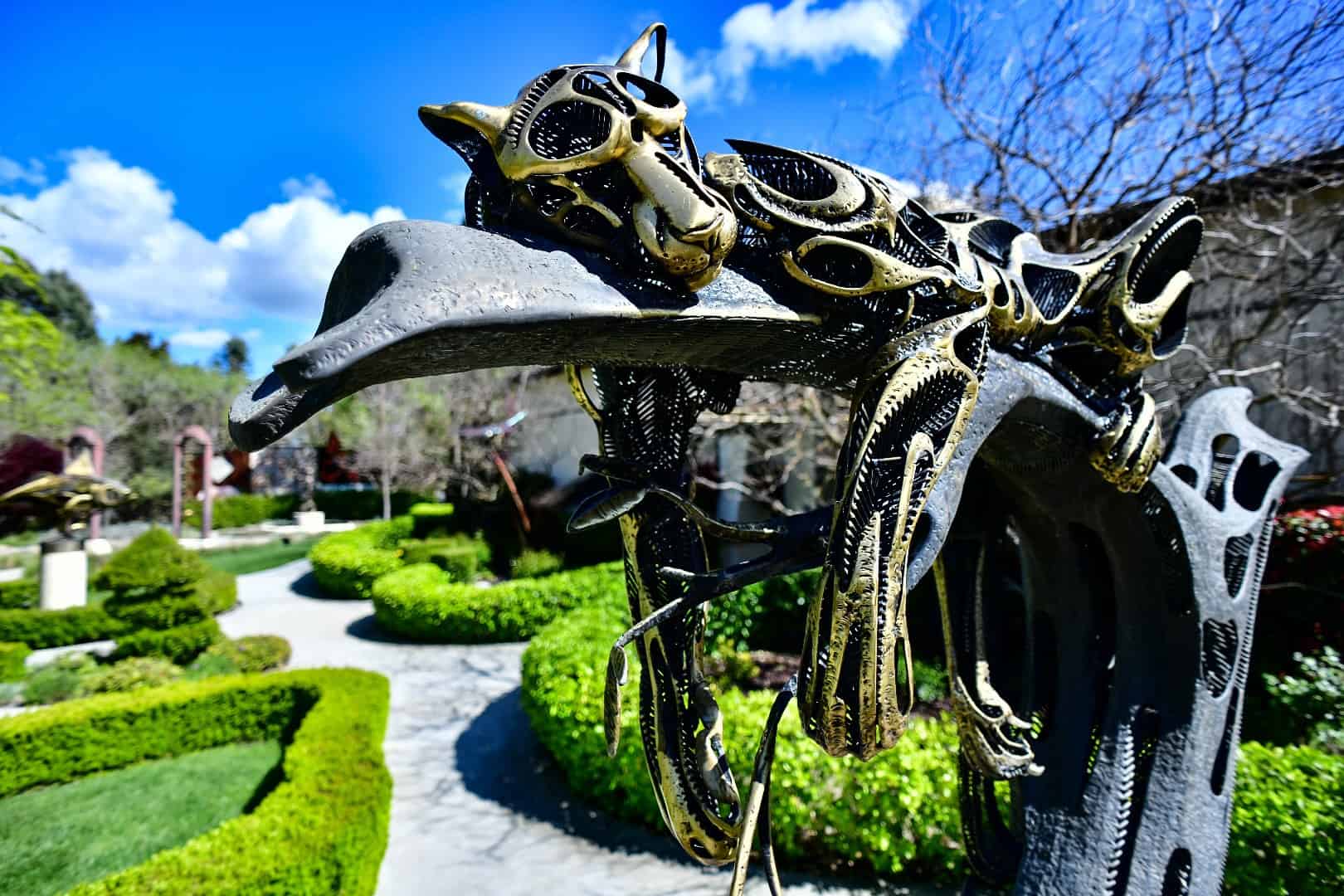 Castle Rooftop Tasting at Tooth and Nail Winery
What could be better than wine tasting on the rooftop of a castle? Tooth & Nail Winery occupies a castle (complete with parapets and a moat!) along Highway 46 West, in Paso Robles wine country. But while the setting takes its cues from the Middle Ages, Tooth & Nail wines are anything but traditional. The winery produces wine for several distinct wine brands, with characters ranging from casual to serious to elegant and more. This wide variety of styles offers potential for several different kinds of tasting experiences, from indoor to outdoor, rooftop to vineyard. Enjoy a tasting flight with access to dining and bottle service,or a private library wine and food pairing in the "Inner Sanctum." But the most popular tasting experience occurs on the rooftop terrace, including samples of limited release and reserved wines paired with charcuterie and cheese. These Twilight Tastings happen on Fridays and Saturdays and also offer access to the full kitchen menu for a castle rooftop dinner. For those who want the full view of Tooth & Nail, the winery offers two-hour tours of the vineyard, barrel room and castle. Reservations are recommended or required for all tasting experiences.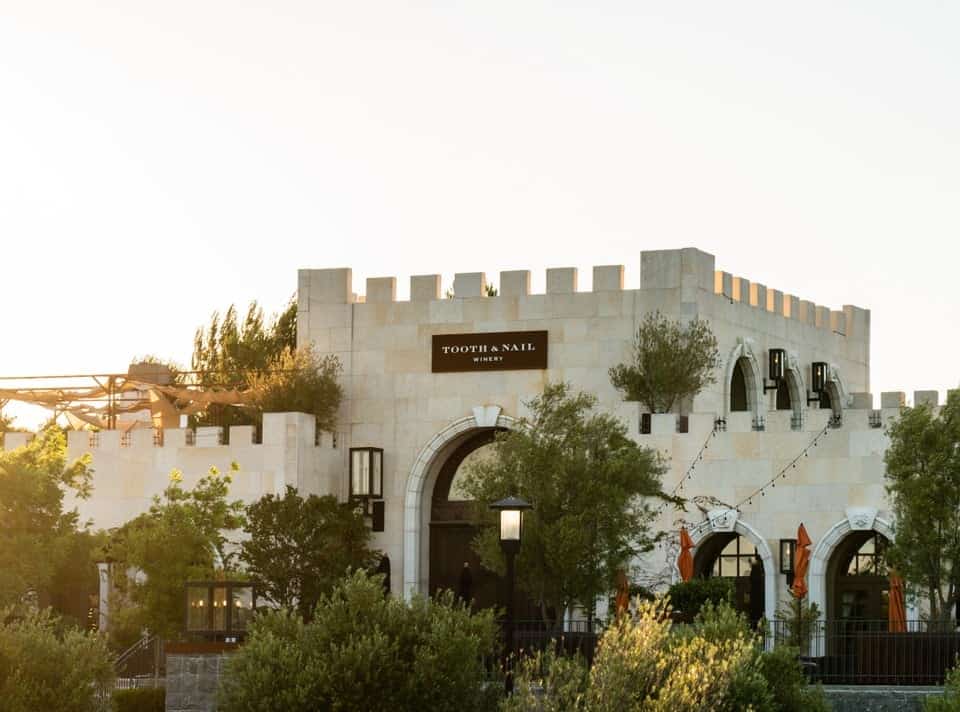 Cavern Tour at Robert Hall Winery
With its rambling gardens, water features, and stately brick tasting room, Robert Hall Winery certainly makes an impact. Here, you can experience the pioneering spirit of Paso Robles wine, as Robert Hall himself has said: "easy living through hard work." That mentality pervades every corner of the Robert Hall Winery tasting room, making for a fun and inspirational visit. Highly recommended is a cavern tour and barrel tasting at Robert Hall. These 1 1/2-hour tours begin with tastings of Cavern Select wines, followed by an escorted walk through the estate grounds. Learn about founder Robert Hall, the winery, and the history of the Paso Robles AVA, which Hall and winemaker Don Brady helped establish. Afterward, travel below ground to the Cavern, where the focus is on winemaking. Taste two wines straight from the barrel, then head back to the tasting room for a private tasting with paired bites from Chef Michael. Note that reservations for this experience are required.
Food & Wine Pairings at Villa San-Juliette
The Tuscan-style architecture and Mediterranean-esque surroundings at this luxurious Paso Robles winery might fool you into believing you're in Europe. Villa San-Juliette lies on a 130-acre estate vineyard, tucked back into the Cholame Hills of Paso Robles's Estrella District, dotted with oaks. Founded by television producers Nigel Lythgoe and Ken Warwick (of American Idol fame), the winery specializes in Bordeaux- and Rhone-variety wines. Head to this under-the-radar corner of Paso Robles wine country, and prepare to be wowed by this hidden gem. Before you taste through their offerings — which include 12 estate-grown varietals — ask Chef Lavarini and the kitchen team to prepare culinary pairings. They craft shared plates specifically for tasting on the property, with dishes like bruschetta al pomodoro, crab cakes and shrimp tempura. Don't miss the opportunity to lounge on the patio and look out over the vines. Note that tastings last 1 1/2 hours and require a reservation.
Best of Downtown Wine Tasting
While Paso Robles wineries were established in the countryside in the 1970s, tasting rooms in downtown Paso Robles are a fairly new attraction. Centered loosely around Paso Robles City Park, these "urban" tasting rooms often have a fun, buzzy energy, similar to a cosmopolitan wine bar. Several downtown tasting rooms are associated with large wineries with vineyard property located outside the city limits. Others belong to those who don't own vineyards or large wineries. These small producers are sometimes called "garagiste" winemakers, tongue in cheek, because their facilities are reminiscent of (or they literally are) a garage. It's in these "garages" that some of the most exciting winemaking occurs. It's here that winemakers can avoid overhead expenses and instead devote their energy and capital into sourcing excellent fruit and making excellent wines. Take a chance on these producers, and you'll be delighted by their creativity and innovation. You'll also enjoy the ability to shop and dine along your route between downtown Paso Robles tasting rooms.
Named one of the top 10 tasting rooms in the country by USA Today readers, LXV Wine Lounge offers a sophisticated sensory experience that visitors love. The winery was founded by Nitta and Kunal Mittal, both born in India with a passion for flavor. That passion led them to wine as well as spices — an important part of the LXV Wine Lounge experience. There, you can choose from several different settings for your tasting. Choose from the Blue Room, with its lavish Indian daybeds; the Cellar Room, appointed like a Tuscan villa; or the patio, where grapevines and flowers grow in the sun. Then, indulge in a unique wine tasting paired with a selection of spices, providing a multi-sensory experience. This tasting is called the "Wine Tasting and Flavors" flight, and has come to define the LXV tasting experience. Just be sure to make a reservation first.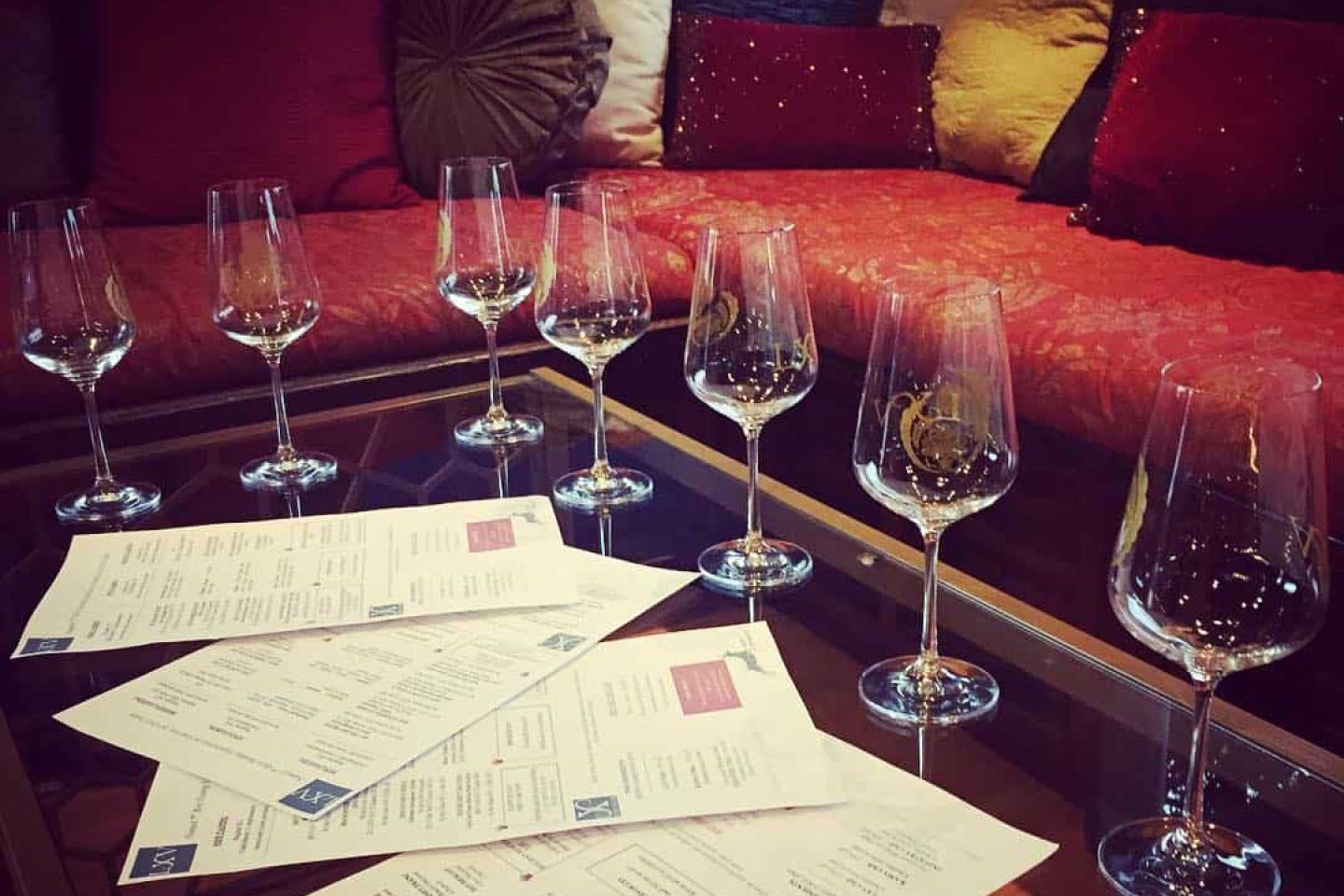 For those interested in tasting the work of several different small-batch winemakers, the Paso Underground is a great option. The producers represented here are true "garagistes," usually one-person operations. If you're looking for under-the-radar wine stars, you'll definitely find a few here — and all under the same roof. Currently, the Paso Underground is home to five winemakers. Ranchero Cellars winemaker Amy Butler plays with carignan, a variety uncommon in Paso, as well as Rhône varieties. At Rhônedonnée Wines, winemaker Aaron Guerrero works exclusively with Rhône varietals, particularly grenache and mourvèdre. Lost Blues Winery winemaker Gio Grandinetti crafts small lots of much-loved wines primarily from Paso Robles's thriving Rhône varietals. At Ultima Tulie, winemaker Cameron Stoffel focuses mostly on syrah, petite sirah and chardonnay from the historic Bien Nacido Vineyard. And finally, at Primitive, winemaker Gary Irving spends his time crafting Cabernet Sauvignon from Paso Robles. Note that each winemaker holds different hours. If you'd like to taste from a specific winery, it's best to call in advance to ensure the winemaker is available.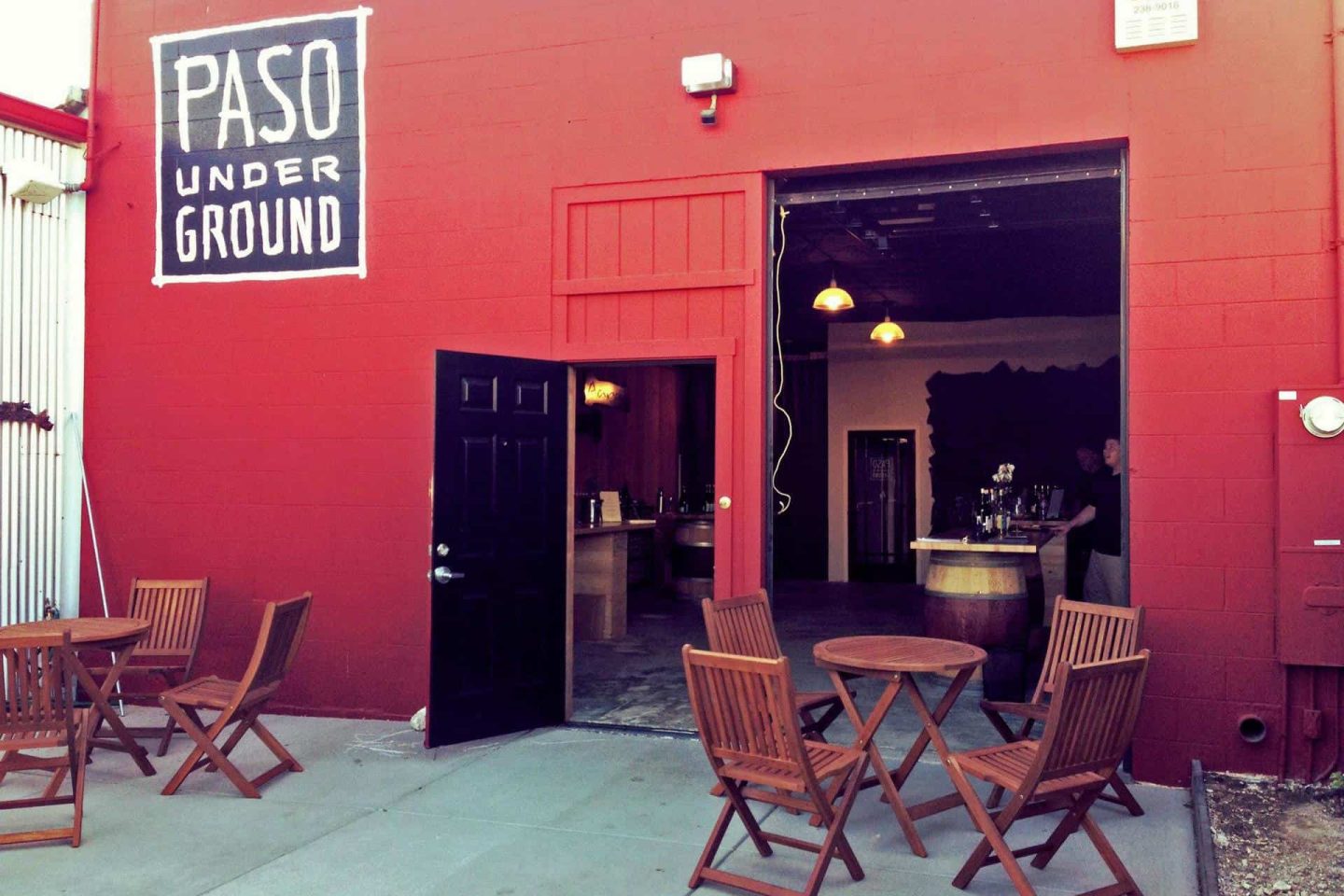 Justin Downtown Tasting Room
Fans of Paso Robles wine know that Justin Winery has produced some of the finest wines (and highest scores) this area has ever known. Since Justin Baldwin founded the winery in 1981, it has helped establish Paso Robles as one of the top wine regions in the world. The winery itself lies on West Highway 46, but Justin also offers a downtown tasting room perfect for a day around City Park. The brand's focus? Bordeaux-varietal wines. Think: opulent blends of cabernet sauvignon, cabernet franc, and merlot, plus crisp sauvignon blanc. All wines are sourced from just four estate vineyards located in different areas of the Paso Robles appellation. Taste them all in the downtown tasting room, by the glass or by the bottle. Pair these with accompanying bites or even full dishes (Thursday through Saturday) from the executive chef. As one of the most popular tasting rooms in Downtown Paso, Justin Winery asks that you make a reservation for your experience.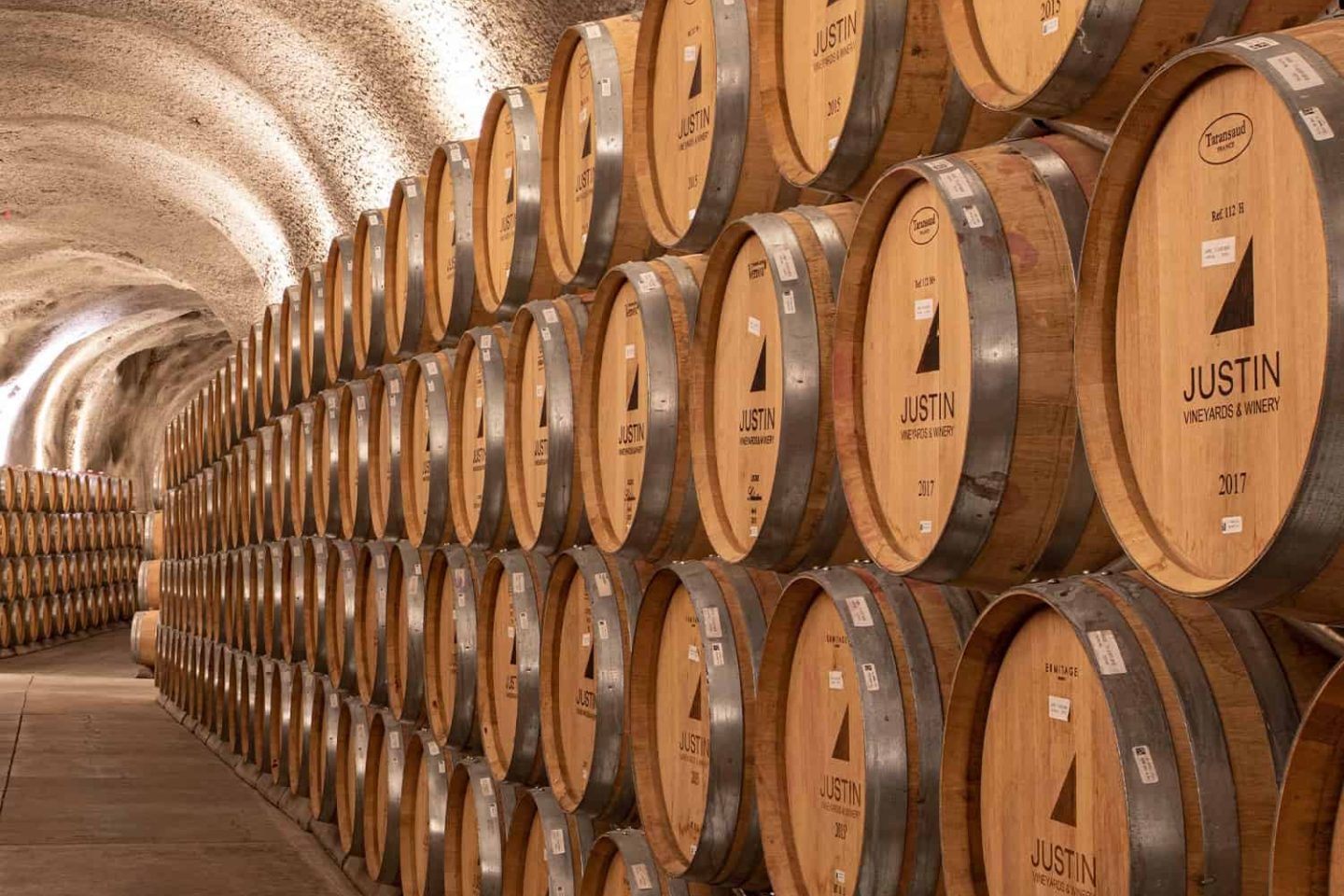 Copia Downtown Tasting Room
At Copia's comfortable and posh downtown tasting room, winemaker Varinder Sahi and general manager Anita Sahi offer a bouquet of Rhône-varietal wines. The Sahis have a long history of enjoying and sharing wine, both between them and with others, producing just 1,500 cases per year. The tasting room is an extension of that passion, with easy spaces in which to gather, taste, learn and savor. A signature wine flight consists of five Rhône-varietal wines sourced from Paso's Willow Creek District and Adelaida District, as well as other premium vineyards. Enjoy this tasting in the tasting room, with its warm exposed brick, blown glass fixtures and rustic walnut table. Alternatively, the Copia Lounge offers a more unique experience, with a 60 to 90-minute tasting with a wine expert. This guide pairs five of Copia's premium wines with artisanal cheese and charcuterie, bringing out the best in both wine and food. Due to the intimate nature of these tastings, reservations are highly recommended.
Want to hop in the way-back machine? Try a visit to Bushong Vintage Co's tasting room in downtown Paso Robles. Having worked in the wine industry for decades, winemaker Jason Bushong sources fruit from top vineyards in Willow Creek and Adelaida. At the tasting room, sample his wines, including those made with Zinfandel and Rhône varieties like grenache, and mourvèdre. Bushong also crafts wines from less-common varieties grown in and around Paso Robles like carignan, tempranillo, and albariño. Located just a block from City Park, the Bushong Vintage Co tasting room takes the word "vintage" seriously. There, you'll find a turntable and a sprawling record collection you can use to spin your own unique wine tasting soundtrack. Blue velvet couches, a "Major Award" leg lamp, a Magic 8 Ball, and an original Star Wars pinball machine set a fun tone. Sit at the bar indoors or take it outside to the bar facing out on 13th Street.
Sometimes, it's best to let someone else set up your wine tasting excursion. Wine tours offer an easy, hands-off way to experience wine country without needing to map out the entire day for yourself. Several wine tour companies in Paso Robles exist to take away the stress and hassle of planning and driving. For guided wine tours that accommodate couples to groups, call Breakaway Tours, 101 Wine Tours, or Eat Drink & Be Merry. Each emphasizes fun, education and safety. Or, if you want to use your own car and just need to find a designated driver, hire a professional driver from Destination Drivers. For the best limousine services, try Lush Limo, whose fleet includes everything from an executive bus limo to a classic 1989 Caddie limo. Elegant Image Limos also provides options for parties of all sizes. The stretched party limo buses seat up to 30, luxury coaches seat up to 56, and executive stretch limos can accommodate 10-12 passengers.
Want to do away with cars entirely? Horseback wine tasting trail rides are available throughout Paso Robles Wine Country for riders of all abilities with Central Coast Trail Rides. Paso Air Tours flies guests for all-day aerial tours around Paso Robles with stops at wineries with landing pads or space. And for vehicle-free wine tasting, try Central Coast Food Tours for walking tours of the downtown Paso Robles tasting rooms.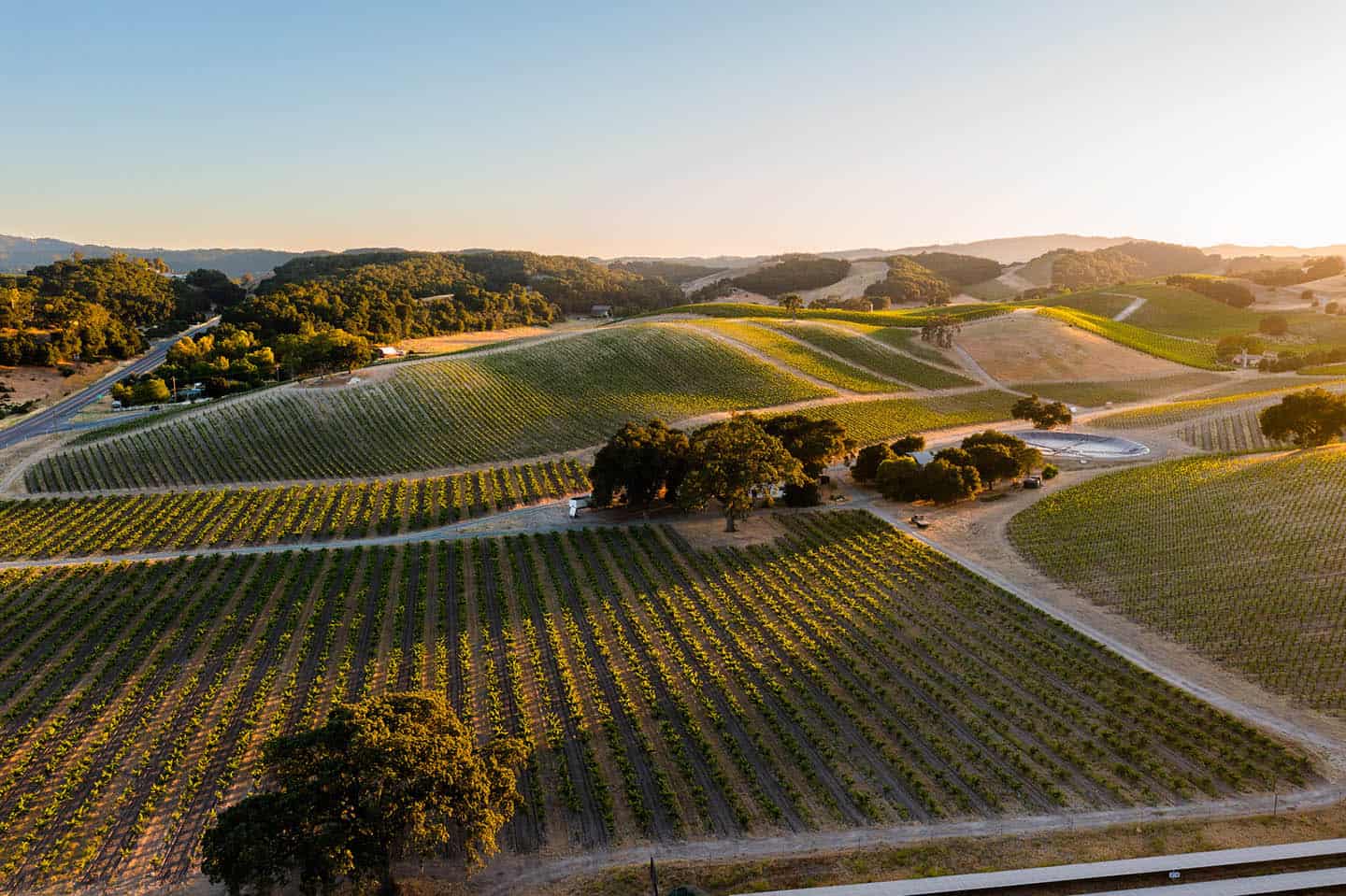 Paso Robles wine country is just one of many experiences worth savoring on your Highway 1 road trip. Head to the coast for cooler temperatures, access to white sand beaches, wildlife, unique shopping and dining — plus plenty of wine tasting opportunities. Edna Valley wine country lies just south of San Luis Obispo, and boasts beautiful cool-climate pinot noir and chardonnay. These lean, elegant wines provide a counterpoint to the big wines of Paso Robles, thanks to Edna Valley's proximity to the Pacific Ocean. The vast majority of its 30 wineries are family-owned: reserve a tasting and the person pouring your wine is likely the owner and winemaker! Craft beer is another great local obsession on Highway 1, home to some of the most renowned brews in the nation. Wind your way down the coast on a beer gardens and craft brewery trail, tasting beer everywhere from brewpubs to dive bars. The distilleries of Highway 1 are also booming, with distillers using creative techniques and imaginative ideas to craft spirits of the highest quality.