Sure, it might seem crazy to plunge into the frosty waters of the Pacific on New Year's Day, but why not start the year with a bang? The SLO CAL stretch of Highway 1 boasts two "polar bear dips" on the first day of the year, both of which are beloved traditions. Make like a local and bring your towel (but not your wetsuit!) for a fun, invigorating morning in either Avila Beach or Cayucos. Afterward, use the chilly conditions as an excuse to warm up with a bowl of clam chowder or artisan grilled cheese sandwich near the beach. However you decide to dip, you'll wash away the old year and welcome the new one in style.
Cayucos Polar Bear Dip
History
This beloved event began in 1981 when resident Carlin Soule saw how quiet Cayucos became on New Year's Day. Soule and his wife owned The Way Station restaurant, and invited employees and friends to take an ocean dip to kick off the year. The first year, seven participants took to the waves. Since then, the event has grown to include thousands of dippers every year, often in teams and in costume. Soule died just eight years after the inaugural Polar Bear Dip, but his spirit lives on every New Year's Day.
Experience
Taking part in the Cayucos Polar Bear Dip is a must for locals and visitors, but it doesn't necessarily require getting wet. Plenty of spectators enjoy watching their intrepid friends and family run into the chilly Pacific ― especially those in outrageous costumes. But those who do take the plunge can get a participation certificate to remember the day, and commemorative shirts are available for purchase. Just remember: no wetsuits allowed!
Day/Time/Location
The Carlin Soule Memorial Polar Bear Dip takes place every New Year's Day at noon beside the Cayucos Pier. The event is free and does not require reservations or tickets.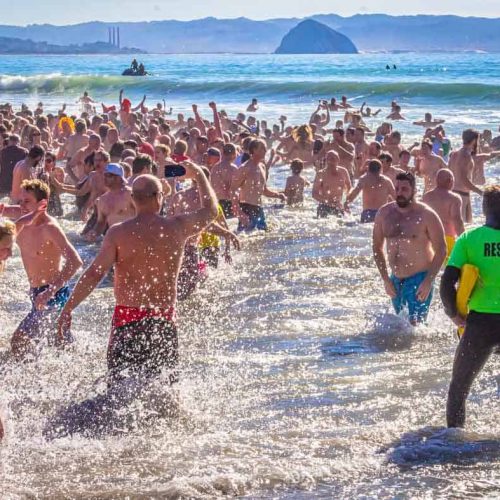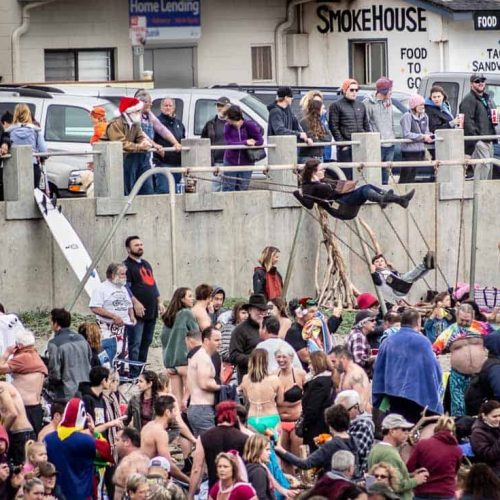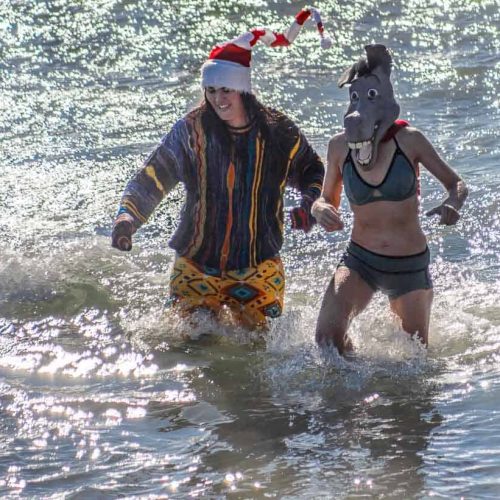 Cayucos Polar Bear Dip on KSBY News
Avila Beach Polar Bear Plunge
History
In 2013, local friends Alan Raul and Cary Geihs decided to take a quick New Year's Day dip to go out with the old and in with the new. The next year, they invited friends and the event has since blossomed to include thousands of eager dippers.
Experience
Ready to "be bold, get cold"? Leave your wetsuit at home and come with friends and family to the east side of the Avila Beach Pier. Bring costumes, floaties, etc, but no dogs, please. Commemorative shirts are available for purchase, and proceeds benefit the 40 Prado homeless shelter.
Day/Time/Location
The annual Avila Beach Polar Bear Plunge takes place New Year's Day at noon on the east side of the Avila Beach Pier. Participation is free and neither tickets nor reservations are required.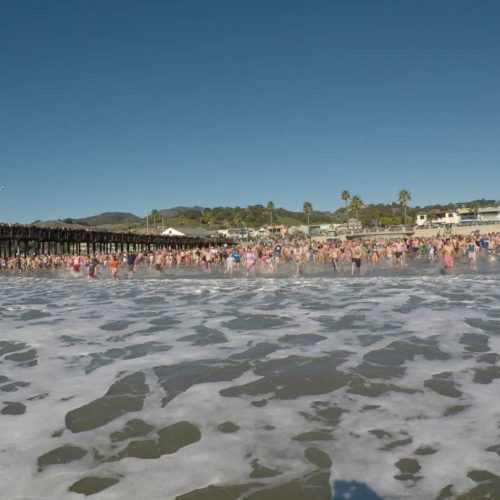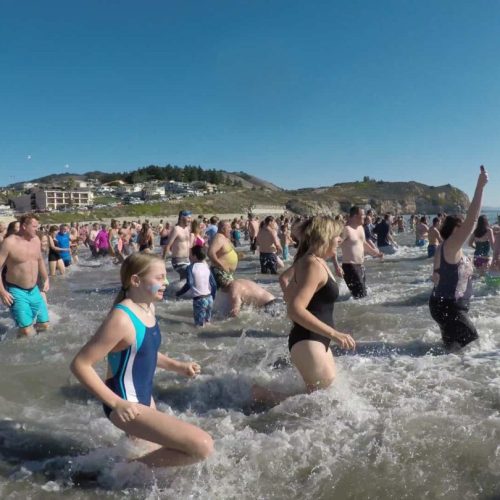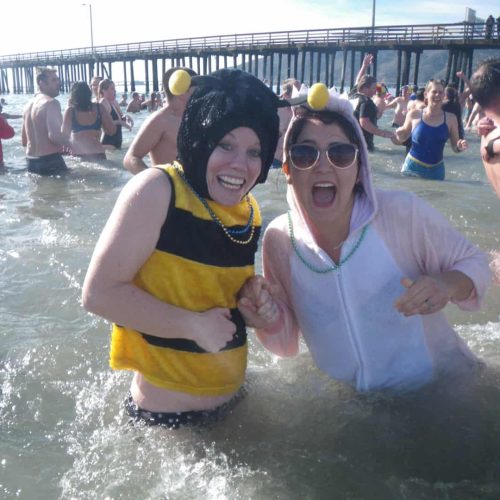 Avila Beach Polar Bear Plunge
What to bring to the polar bear dips
Though our local polar bear dips aren't quite as chilly as those in snowy cities like New York, Boston or Chicago, Pacific waters are still quite cold. Participants should prepare for water temperatures in the low- to mid-50s F. Bring a towel, a camera, a costume, and a change of clothes. (You may also want to bring fuzzy boots and a warm coat!) Also bring cash or a credit card to enjoy a fun time after the dip.
What to do afterwards
Ready to warm up after the plunge? Prepare for toasty fun the rest of the day.
In Cayucos
One of the best spots to visit after the Carlin Soule Memorial Polar Bear Dip is Duckie's Chowder House, at the entrance to the Cayucos Pier. Try two different kinds of clam chowder – Manhattan style and New England style – in a cup, bowl, or bread bowl. Duckie's also offers fish 'n chips, fish tacos, and steamers for post-dip appetites. Afterward, walk the pier, window shop, and maybe even indulge in a hot toddy at Schooners.
In Avila Beach
There's plenty to do in this quaint beach town on New Year's Day, especially for dippers chilled to the bone! Try a toasted sandwich like the famous croque monsieur (also known as grilled ham and cheese) at Blue Moon Over Avila, or decadent biscuits and gravy at the Old Custom House. Walk the boardwalk, taste wines at one of Avila Beach's several tasting rooms, and maybe visit Fisherman's Beach with a furry friend.