If you're looking for family friendly fun in the sun, Morro Bay Beach and Morro Rock are an excellent stop on beautiful Highway 1. With stunning views of iconic Morro Rock jutting from the Pacific, get ready for a day packed full of seaside adventures sure to dazzle and delight every member of your group. Watch sea otters lounge along the harbor, allow your dog to play off-leash at Morro Bay Dog Park, kayak the estuary from a secluded beach and get ready to explore dozens of Highway 1's most coveted attractions when you stay in nearby Cayucos, Los Osos/Baywood Park, Cambria or San Simeon. Whether you prefer to catch the surf at dawn, fly a kite at noon or stroll the beach at sunset, you'll find round-the-clock opportunities to get your toes in the sand along Highway 1.
Explore Beaches Along Highway 1
Majestic views of Morro Rock and close proximity to Cayucos to the north make Morro Strand Beach a scenic and convenient place to soak up the sun while creating lasting memories with friends and family. Encompassing the stretch from Atascadero Road north to the North Point Natural Area, Morro Strand State Beach includes Morro Strand State Park Campground, complete with RV hookups, scenic picnic areas, barbecues and a three-mile stretch of sand popular for fishing, windsurfing, and kite flying. Wake up to the fresh sea breeze at a campsite or stay in nearby Cayucos, Los Osos or Baywood Park, where lodging options are plentiful and awesome attractions await. Dogs must remain on-leash at Morro Strand Beach and Morro Strand State Park Campground; however, six miles north on Highway 1 in Cayucos, you'll find a sprawling dog beach perfect for your four-legged friend to explore (views of Morro Rock are also lovely from Cayucos' unique vantage point). The kids can also roam free at Cloisters Community Park, where the playground is just a stone's throw from the shore. The sound of giggling children, soaring seabirds and crashing waves is a balm for the soul, especially if you haven't enjoyed a beach day in quite a while. When it comes to parking, skip the crowds and park at the northernmost tip of the strand at the end of Toro Lane. You can also opt for a space at the middle of the strand at the end of Azure Street or go for the southernmost tip of the strand located where Atascadero Road and Embarcadero merge at Morro Creek. Remember, bring your SPF, a hat and a good book. Sunny, Central Coast days were made to be enjoyed outside!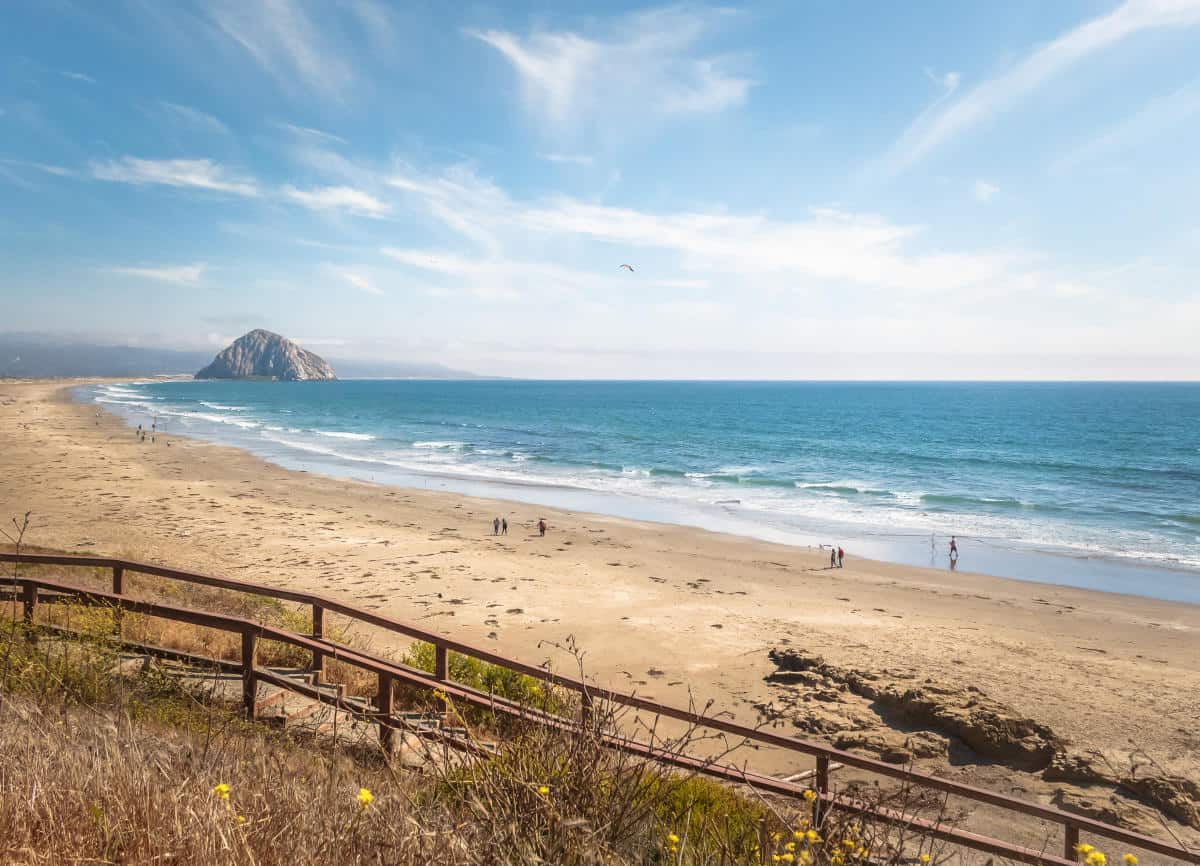 With an oceanfront parking lot located directly under the shadow of awe-inspiring Morro Rock, this popular surf spot is as close to the rock as it gets. Although technically part of Morro Strand, this beach is often referred to as Morro Rock Beach by locals and travelers alike, for reasons that will become obvious the moment you arrive. Easily stroll the base of Morro Rock, keeping an eye out for seabirds (fun fact: the rock is the last of "the nine sisters," or volcanic mountains that run from the Central Coast to Southern California). Today, Morro Rock is a historic landmark and bird sanctuary home to Peregrine Falcons, Seagulls and all manner of waterfowl which thrive along the rocky landscape. Surfers, picnickers, kite-flyers and sunbathers flock to the beach located just north of the rock, while the south side—protected by the harbor—is popular among kayakers and fishing enthusiasts. Planning on staying in San Simeon or Cambria, two popular Central Coast kayaking destinations in their own right? We encourage you to bring your kayak south to Morro Bay for a unique experience unlike what you've already enjoyed. While you might see whales and elephant seals to the north on Highway 1, Morro Bay features its own menagerie of critters, including friendly harbor seals and a year-round otter population that can be observed regularly snacking, napping, and communing among Morro Bay's plentiful kelp beds.
Similarly, surfers staying in Cayucos love the close proximity to Morro Rock—known as one of the most popular surf spots on the Central Coast. Why not rent a board and catch a few iconic waves for yourself? Depending on the swell, you can also paddle across the harbor side to Sand Spit beach (also accessible from the Los Osos side). Large waves are common here, so it's important to watch kids while they play in the water (lifeguards are staffed from Memorial Day Labor Day from 10am-6pm). Please note that dogs must be on-leash in this area, but they are welcome to roam freely at the Morro Bay Dog Beach, which stretches six miles north to dog-friendly town Cayucos. With its vast, sandy beach and views of Morro Rock in the distance, you'll enjoy the walk just as much as your pup. Lastly, parking at Morro Rock Beach is a breeze: just take your pick of spots in this massive parking lot with bathrooms and outdoor showers to clean off sandy toes. Plus, parking wraps south of the rock, providing even more convenience for busy days (you'll enjoy even greater views of the rock, local wildlife, and glittering back bay as you park the car). That's a true win-win!
Need to get some wiggles out? Nestled between Morro Bay's defunct power plant and towering Morro Rock, you'll find Coleman Park, a perfect hangout for families and kids of all ages (fun fact: the three stacks belonging to Morro Bay's old power power plant have become a landmark almost as famous as Morro Rock, a unique aspect of the coastal landscape). Picnic, sunbathe, build a sand castle or command a kayak/standup paddle board in some of Morro Bay's safest waters. Located directly across from the park, "Mother's Beach," offers up a calm estuary oasis completely free of the large waves or rip tides that can sometimes be present at Morro Rock Beach. Launch a kayak from this quiet, sandy shore, cross the estuary, and explore the dunes along the Sand Spit (it doesn't get more secluded than this and just think of the family photo opportunities you'll enjoy). Just a short walk to the Morro Bay Boardwalk, Coleman Beach offers up an incredible starting point for a day filled with kid-friendly adventures along Highway 1. Staying in nearby Cayucos and heading out for a scenic drive? There's no better family pit stop for enjoying a snack or picnic along your way.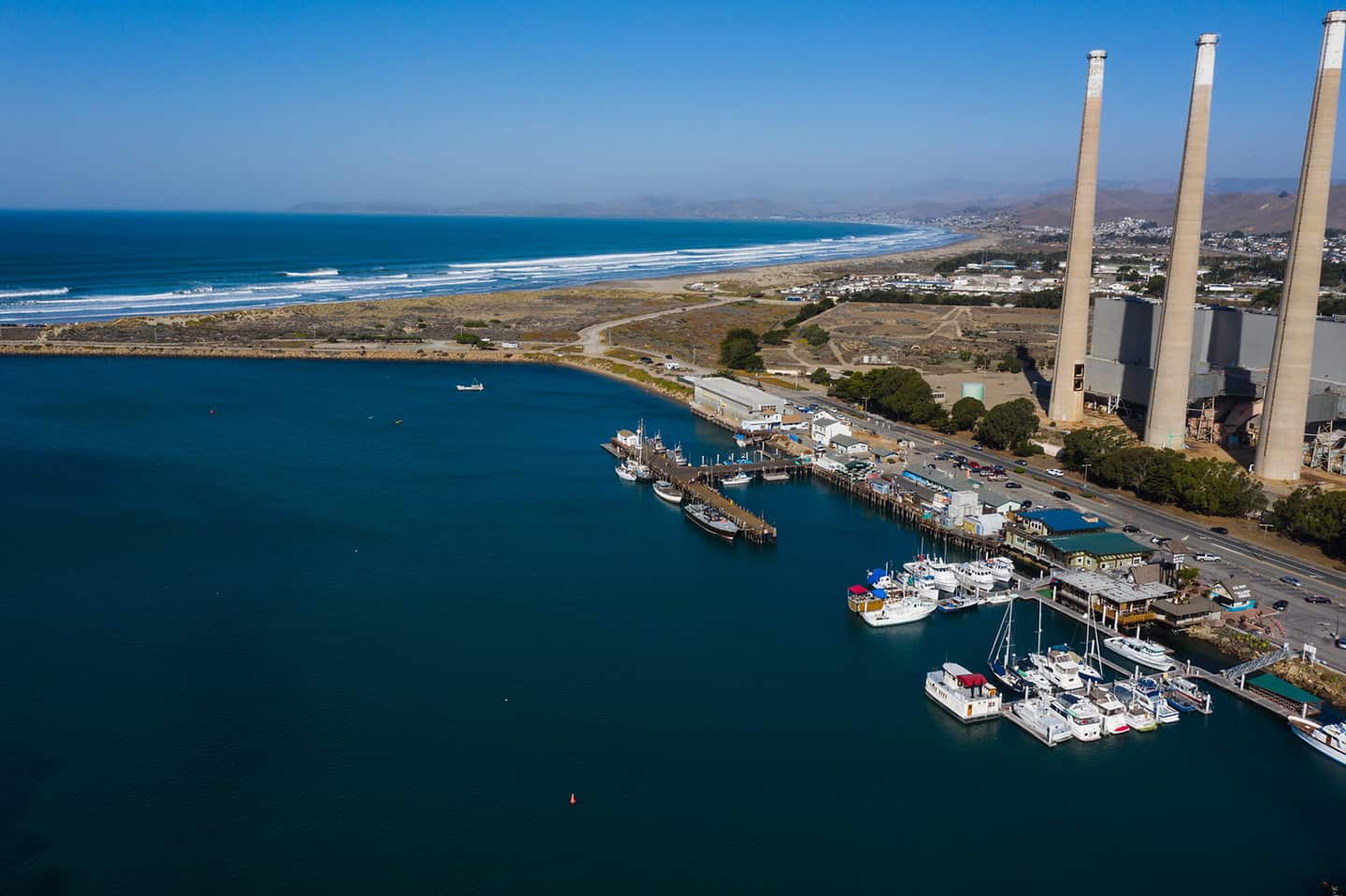 Ditch the leash and watch your dog leap, bound and splash along the water's edge at Morro Bay Dog Beach. Located just north of Morro Strand, past the North Point Natural Area and stretching six miles north to the uncrowded, dog-friendly town of Cayucos, this popular dog beach is awash in pure bred pooches, mixes and mutts alike. After a long, leisurely stroll, it's time to explore Cayucos' historic pier, antique shops and quaint downtown all with your four-legged friend at your side (dogs are allowed in many places in Cayucos). As far as parking goes, we recommend two parking options located off Highway 1: The first, the 24th Street in Cayucos at the marked Day Use Area (complete with public restrooms, if needed). Secondly, parking at Studio Drive at Sand Dollars Beach, located just off the highway, is another great choice. Whether you throw the ball, roll in the surf, or just let them sniff and play among the shells and starfish, your best friend is bound to have his day at Morro Bay Dog Beach.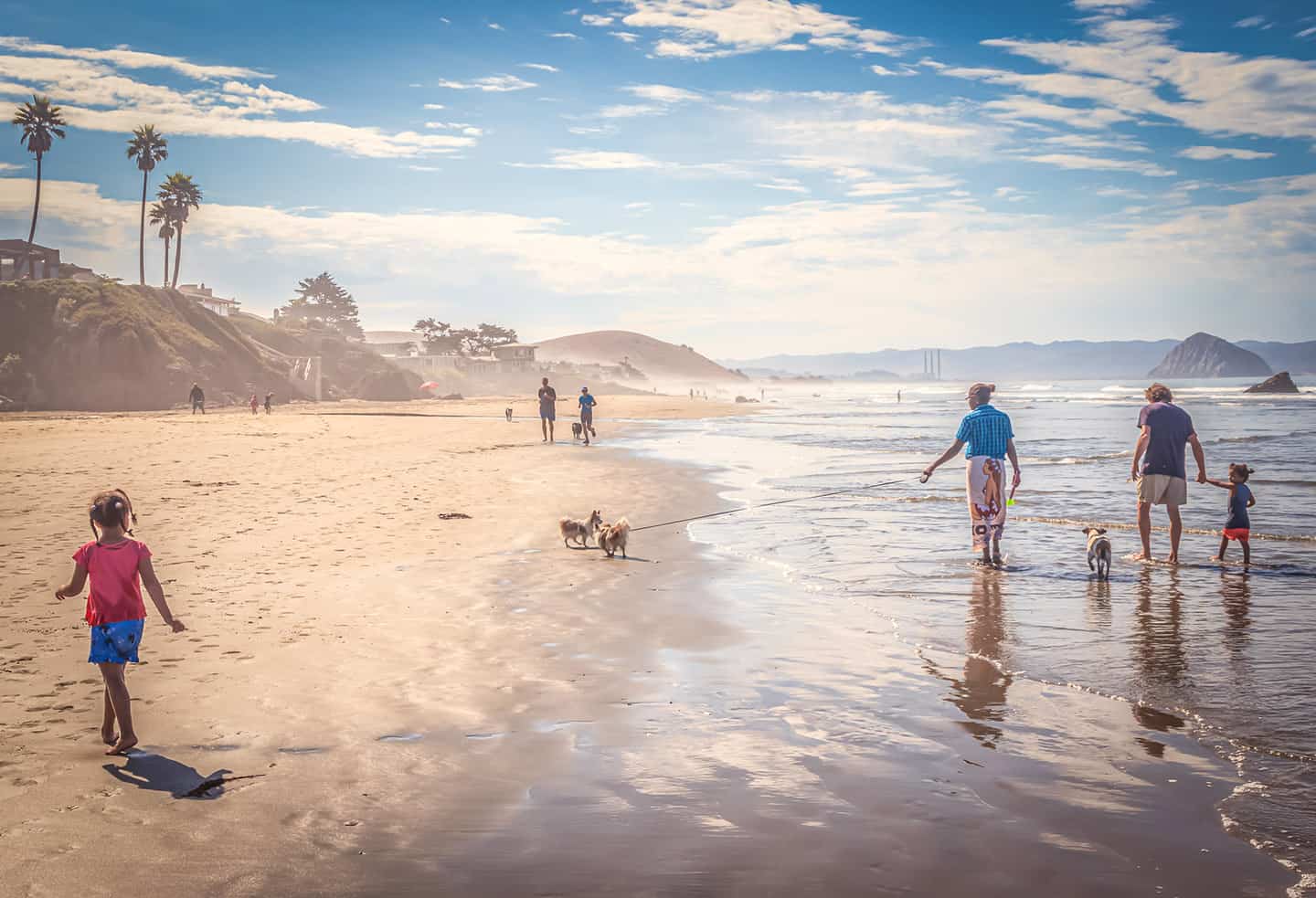 Explore nearby Cayucos, Los Osos and Baywood Park
Morro Bay Beach and Morro Rock is conveniently situated near a bevvy of family friendly Highway 1 lodging locations and exciting destinations, including Cayucos, Los Osos, Baywood Park, Cambria and San Simeon. From intimate bed and breakfasts to resort style hotels and modern inns, these Highway 1 beach communities offer unique and enticing places to stay and play while visiting Morro Bay Beach and Morro Rock.
Located just six miles north from Morro Bay Beach and Morro Rock, Cayucos is a small, laid back beach town known for its mild weather, friendly hospitality, smoked fish tacos, and quiet beauty. Home to a historic pier, antique shops, family owned restaurants, dog-friendly beach and a charming, unhurried downtown, a stay in Cayucos is rejuvenating and relaxing. Fun fact: the nearby hamlet of Harmony (population 18, if you count the cows) is like something out of a storybook, featuring glass blowers, artisanal ice cream truck, wine tasting and even a teeny tiny post office and wedding chapel.
Just six miles south of Morro Bay Beach and Morro Rock, you'll find Los Osos and Baywood Park, where casual dining and outdoor adventures await. Whether you yearn to trot horseback along the surf, hike a challenging peak surrounded by coastal wildflowers, discover untouched beaches or explore tide pools teeming with sea life, a stay alongside Los Osos' Montana de Oro State Park does not disappoint. End your day with casual flavors of local sushi, Mexican food or craft beer. No reservations required!
For those seeking a wind-swept and secluded Highway 1 stay, the romantic allure of Cambria and San Simeon to the north cannot be understated. The views along this stretch of Highway 1 are some of the most coveted in the world, featuring dramatic cliffs, black sand beaches and secret waterfalls. Where pines meet the sea, Cambria is known for art galleries, tasting rooms and a quaint downtown square complete with a self-guided historic walking tour. Just north of Cambria, San Simeon is home to world famous Hearst Castle, where sun-dappled terraces, ancient statues and gold-flecked pools await. From elephant seals and whale watching to discovering the magic of Ragged Point and the Gateway to Big Sur, all of this wonder can be easily accessed and experienced during your visit to Morro Bay Beach and Morro Rock. Simply stay in Cayucos, Los Osos/Baywood, Cambria and San Simeon and you'll enjoy the best coastal experiences that Highway 1 has to offer.