Hiking in Pismo Beach is all about blue skies, golden sand and gorgeous coastal vistas. With a bevvy of beach hiking and walking trails that range from effortless to challenging, your entire family can enjoy the view. Enjoy warm sunny days, ocean-hugging treks and surprise animal sightings, including dolphins, seabirds and whales. Take time to discover Pismo Beach's incredible hiking opportunities along Highway 1 and you'll understand why this beach community is beloved for its "classic California" charm.
Explore Pismo Beach Hiking
Beach hikes and walking trails abound in Pismo Beach, where perfect weather and family fun collide. Enjoy three distinct hiking areas in the scenic beachfront community, all of which boast close proximity to the glittering Pacific. Hiking options include the Dunes to the south of Oceano, The Pismo Preserve located just outside downtown Pismo Beach, and a smattering of cliffside hikes that border the towns of Shell Beach, stretching north to Avila Beach. Wherever you roam, you'll find exceptional coastal trails that fit your skill level.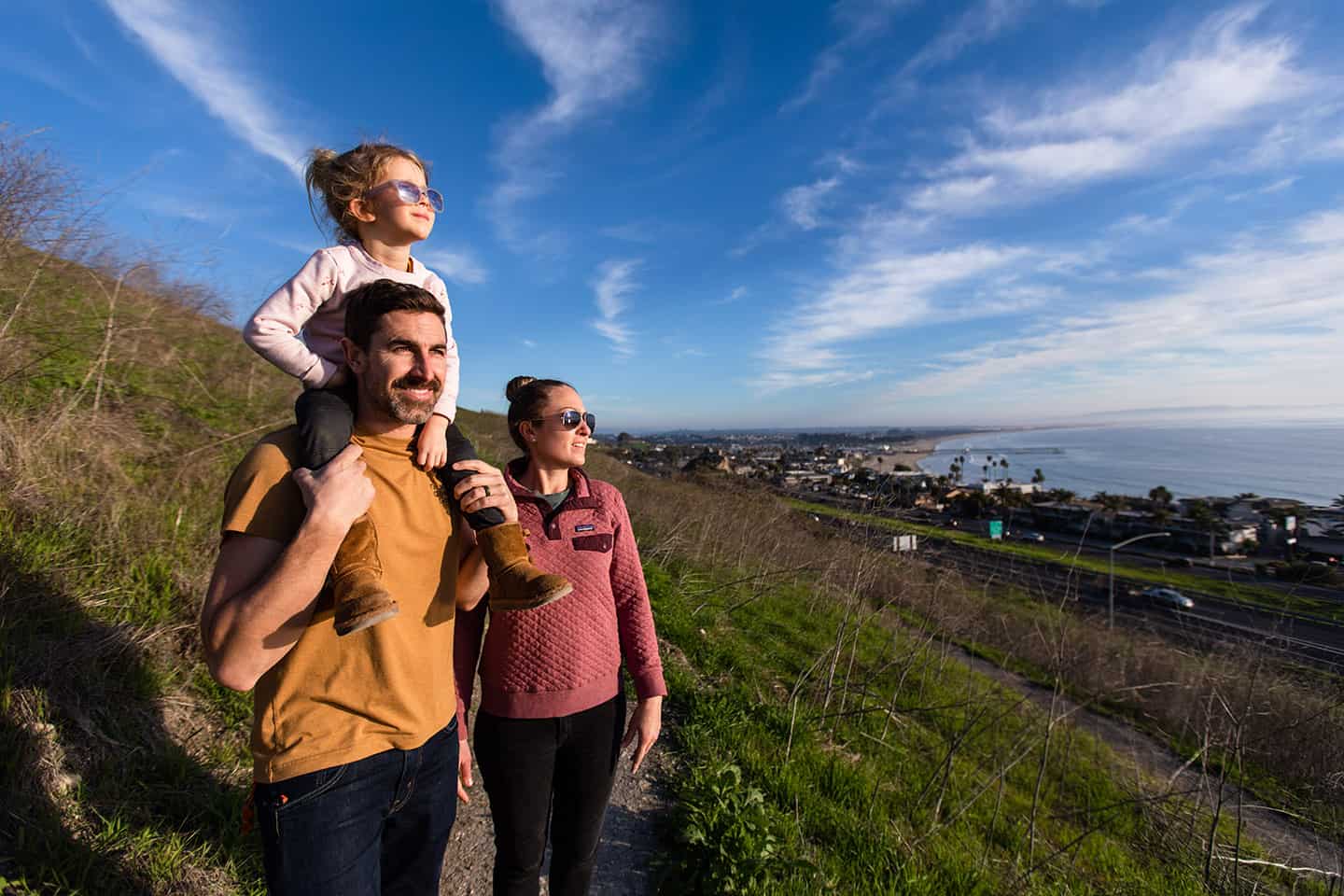 Hike from coastal vistas to oak forest at The Pismo Preserve, famous for elevated, panoramic vistas. Home to some of the most widely accessible hiking trails in the area, this 880-acre preserve features 11 miles of trails, plus an ADA accessible parking lot and picnic bench at its entrance (note: an ADA accessible trail is coming soon). With acres of pristine open space framed by majestic photo opportunities, you can explore the area in myriad ways: Pull on your hiking boots, enjoy a horseback ride through the coastal brush or invite your leashed pup to an adventure. Mountain biking is another popular route to enjoy the rugged scenery—just be sure to bring a bell to alert pedestrians along the way. With five incredible trails rated from easy to challenging, the Pismo Preserve is the perfect hiking opportunity for all ages and skill levels, including families with small children. Check out the Pismo Preserve profile for a full overview of everything this incredible hiking destination has to offer.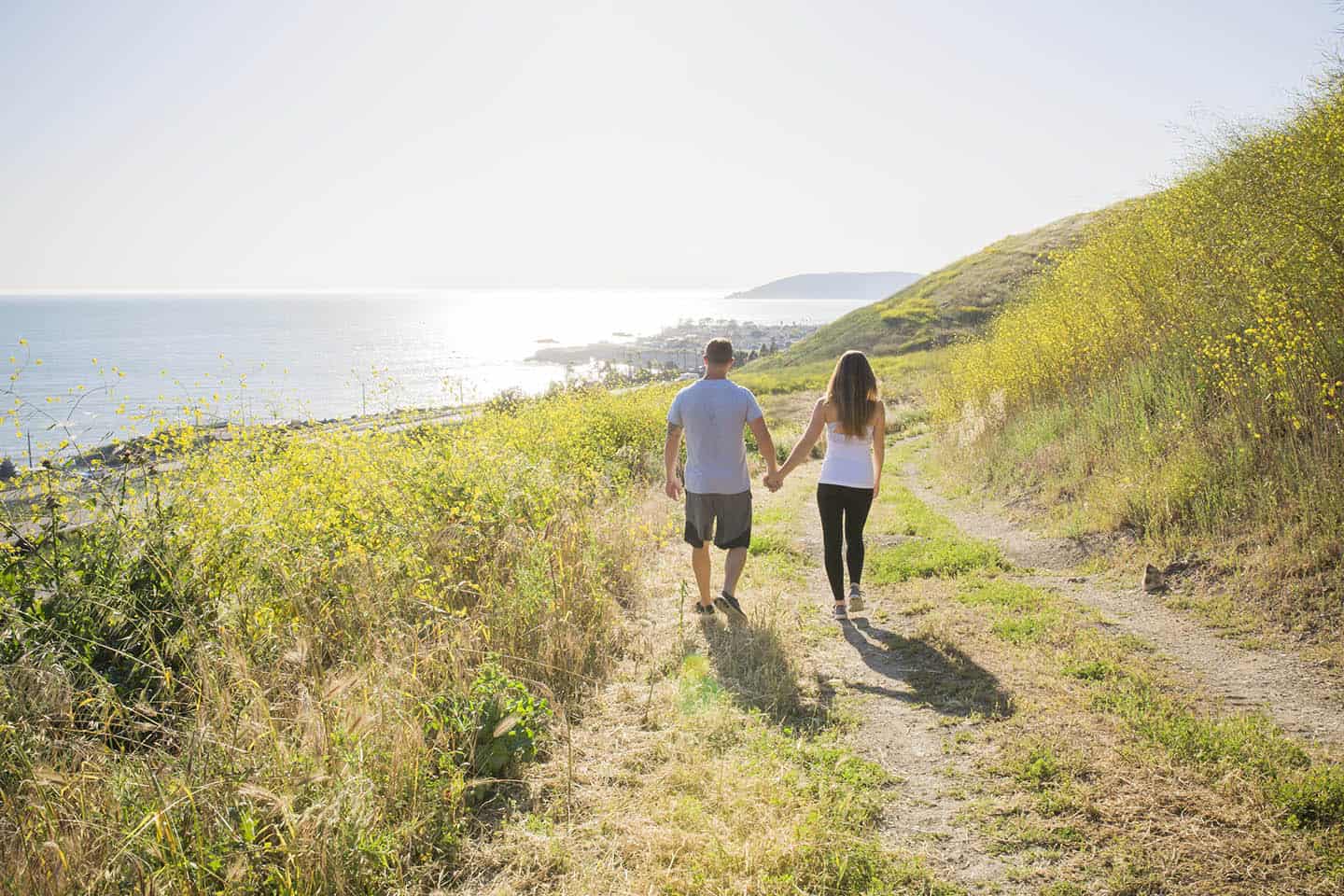 Beach hiking is elevated to new heights of wonder at the Dunes located just south of Pismo Beach. A staggering expanse of white, undulating sand dunes create a stunning backdrop for hikers of all ages. The Oceano Dunes Preserve walking trail is the most notable way for visitors to explore this otherworldly landscape and is easily accessible from the Pismo Beach side. Clocking in at approximately 2.4 miles in and back, this unique coastal trail is both easy and fruitful, affording dramatic dune-swept views of the sea as well as native plant and wildlife.
Meandering through the Monarch Butterfly Grove, the Meadow Creek Trail in Pismo Beach brims with pastoral charm. An easy, breezy walking path running approximately 1.5 miles out and back, this scenic trail is open year-round to hikers and leashed dogs, too. Note: Monarch butterflies migrate to this area seasonally, so be sure to know before you go. Heading farther south, you'll find even more incredible beach hikes and walking trails to discover, including Oso Flaco Lake, which leads from rural farm fields and oak woodland to marsh habitat and dunes. Check out our Nipomo/Oceano hiking page for more nearby outdoor excursions to enjoy.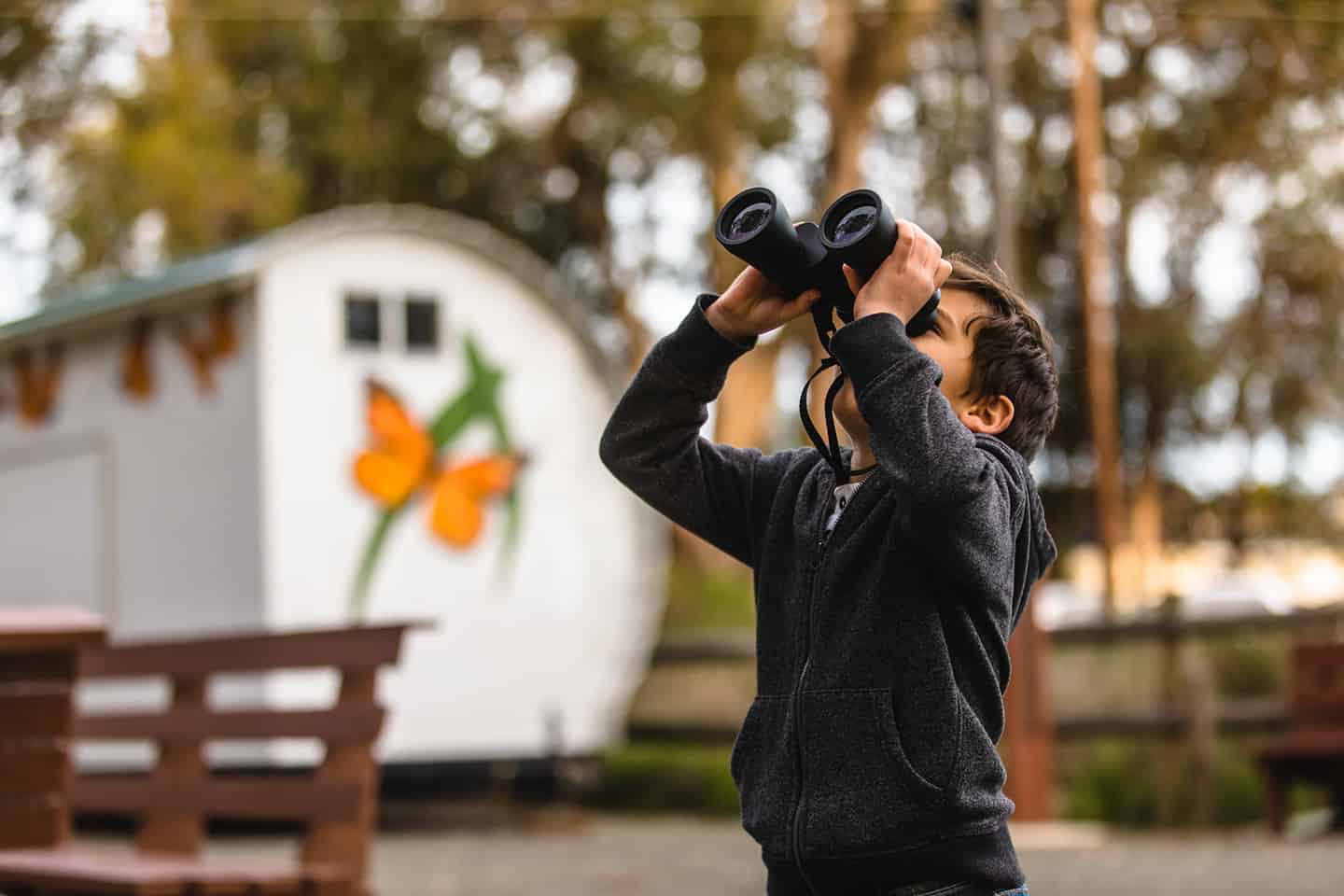 Skirting the unmatched coast of Pismo Beach, you'll find a variety of worthy walking trails nestled along the cliffs. Weaving through coastal bluffs, these picture-perfect Cliffside Trails transform from easy to more challenging as you travel north, so be sure to take note and wear proper foot attire. A patchwork of swaying palm trees, blue ocean vistas and native wildlife come together to create a cliffside hiking experience like no other.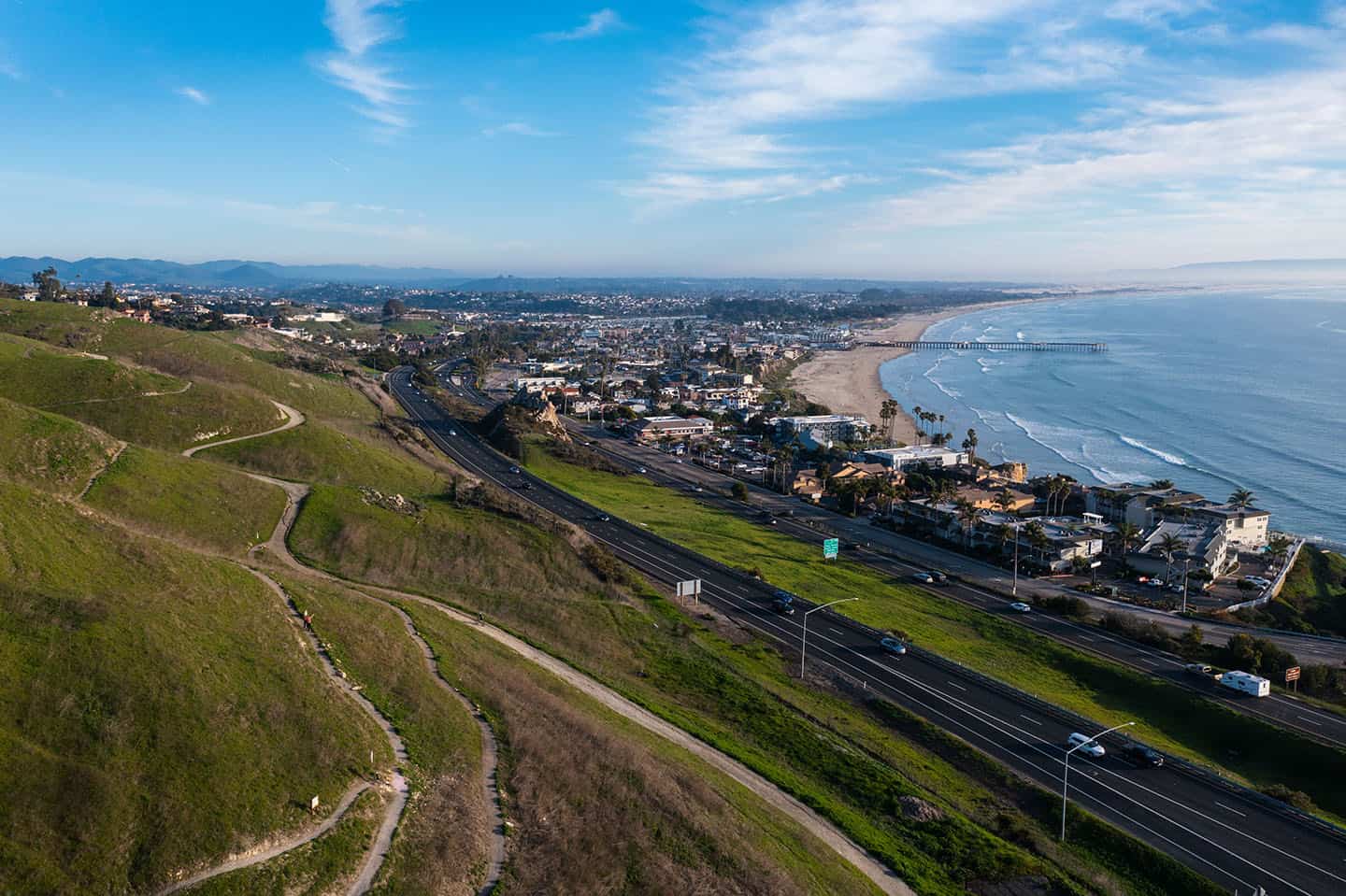 Enjoyable walking trails abound at Dinosaur Cave Park in Pismo Beach, an 11-acre, oceanfront bluff-top dreamscape that'll inspire you reach for your camera. Here, a green, grassy park complete with children's playground and native plants greets visitors year round. Elevated on a craggy bluff just above the Pacific, you'll experience unforgettable views from almost anywhere you stand, jog, walk or trek. Plus, a quick exploration of the region reveals a network of easy walking trails perfect for all ages to enjoy (leashed dogs are welcome, too).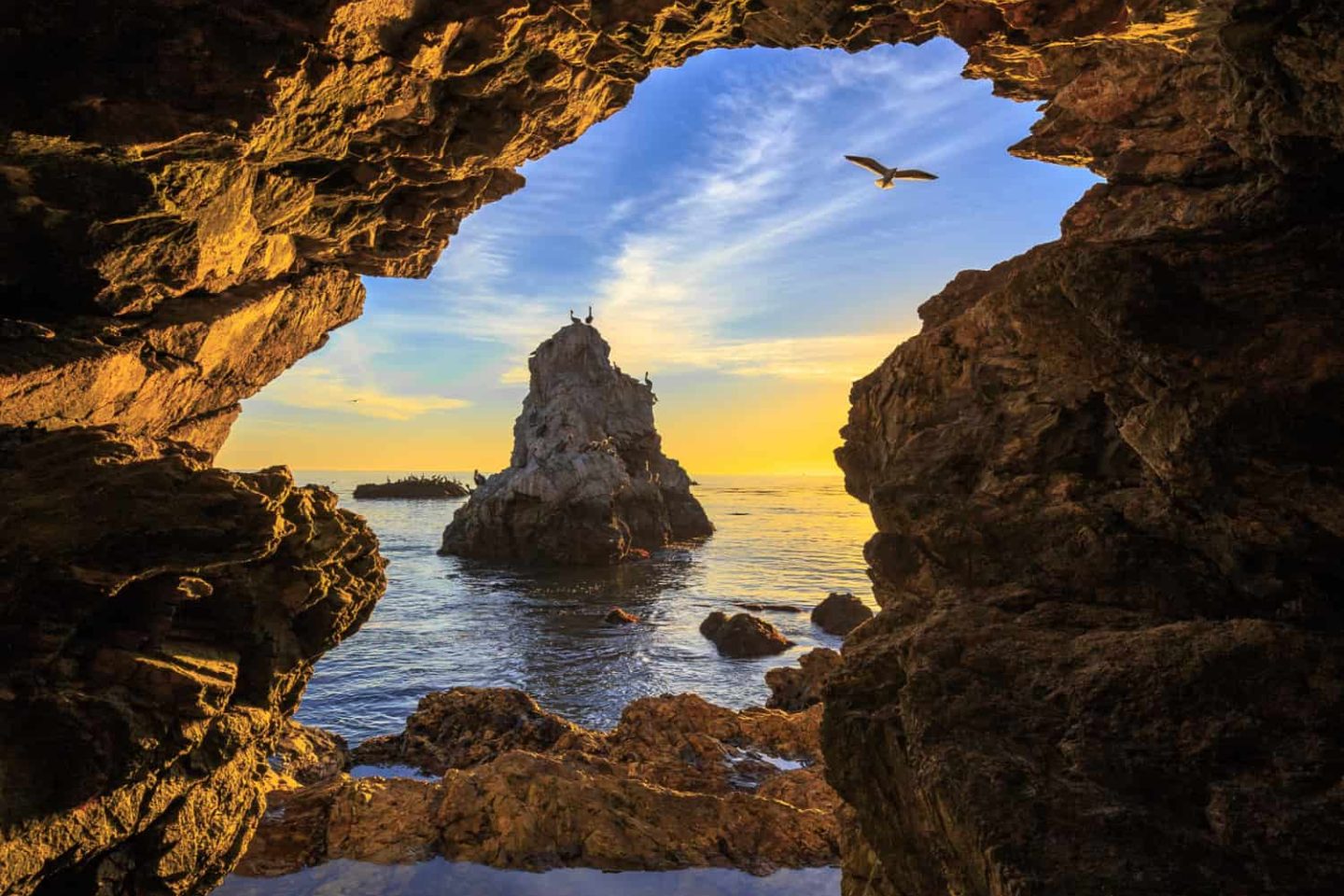 Shell Beach Bluff and Ontario Ridge Trails
The Shell Beach Bluff Trail is an effortless hike that delivers handsomely on coastal allure. Crossing from Shell beach and into Avila Beach to the north, you'll take in the unparalleled beauty of Mallagh Landing (a.k.a. Pirate's Cove), a view not unlike a fine oil painting. The Ontario Ridge Trail requires a steep climb over a short distance, and is well worth the extra effort. Check out our comprehensive Avila Beach Hiking Trail overview for more top notch beach hikes located along Highway 1 just north of Pismo Beach.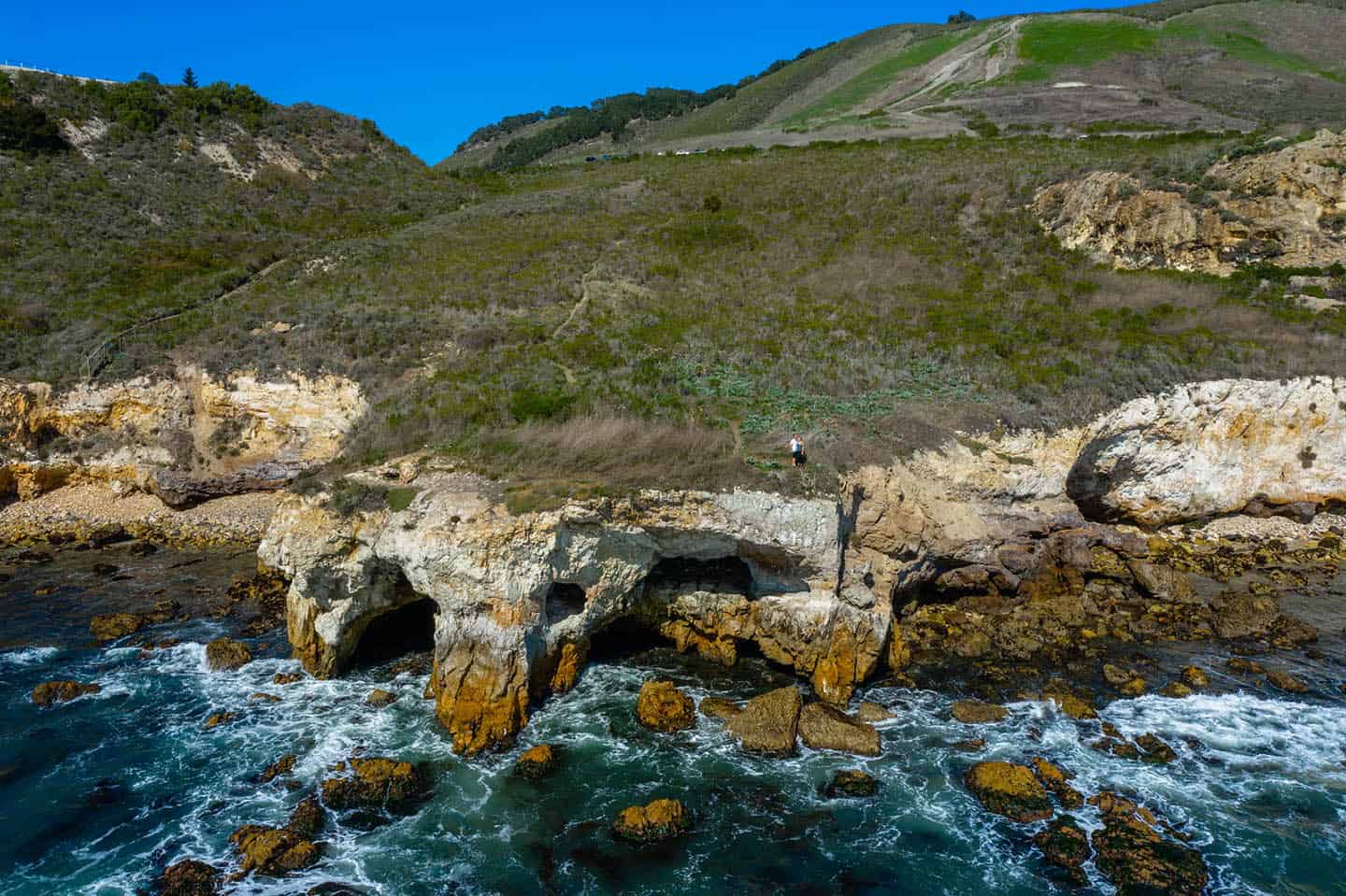 Other things to do in Pismo
Pismo Beach isn't just about the beach—although the sand and sun are truly unparalleled around here! Explore Pismo Beach's dynamic downtown, conveniently located just along the water's edge. Cast a fishing line off the newly revamped Pismo Pier and Promenade, shop at a variety of surf and gift shops, dig into world famous clam chowder or simply rent a board and hit the waves.