Since the mid-20th century, surfers have enjoyed shredding the waves in and around Pismo Beach. In fact, Pismo Beach hosts one of the qualifying events of the World Surf League, called the "SLO CAL Open." This occurs on the south side of the Pismo Beach Pier, the last weekend of January, when surf conditions are ideal. In terms of ability levels, Pismo's waves lie in the middle ground between Avila Beach and Oceano. In Avila Beach to the north, the swell tends to be small and gentle with no rip current — perfect for beginners. More advanced surfers love the uncrowded stretch of beach breaks to the south in Oceano, with no one around for miles. But Pismo Beach offers a mid-range experience that works for a number of surfers with a wide variety of abilities. If you're new to surfing, the Central Coast Surf School operates locally and offers a surf camp every summer for all ages. They also provide group lessons year-round, including a board and wetsuit. The Shell Beach Surf Shop and Sandbar Surf also offer lessons year-round. You can even get in on surfing with the locally-famous goats of Pismo Beach. No really: these goats can surf! Let them teach you how to surf, paddleboard, and on the hang ten on the Party Wave Board. To get pumped for surfing Pismo Beach, or to check conditions before you head out, check the Live Webcam.
Located centrally along the Pismo Beach coastline, the Pismo Beach Pier lies within a short distance of many surf shops. You'll find well-known stores like Moondoggies, Esteem and Panchos close by in downtown Pismo. The pier sees a consistent beach break, with the south side generally mellower and less crowded than the north side. This is a great spot for beginners as smaller waves roll in all summer long, even when beaches everywhere else see none. While it can be surfed the rest of the year, too, the conditions in winter provide waves that are head-high. The shoreline at Pismo Beach faces southwest and is best surfed at high tide. (In fact, under the right conditions, the waves have even been known to barrel.) Get out to the beach early in the morning to avoid the wind, which can be significant by the afternoon. Locals tip: Come out for a nighttime surf session, possible thanks to the pier's lights.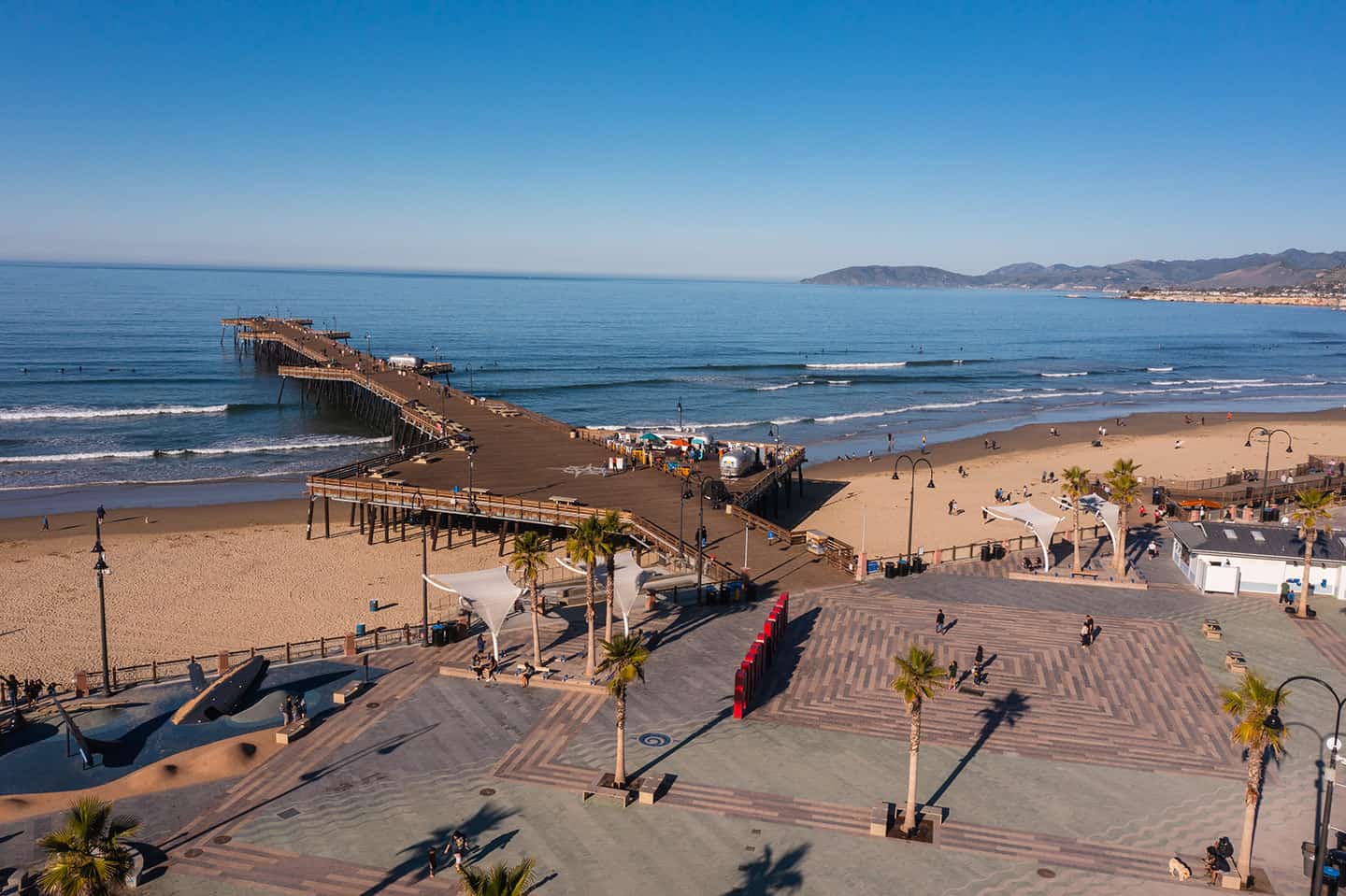 Addie Street Sandbar (South Pismo)
Look about half a mile south of the Pismo Beach Pier, towards Grover Beach, and you'll discover the Addie Street Sandbar. A lot of folks find this sandbar to be a more consistent surf spot than the rest of Pismo Beach. As such, this can make for a really fun day out on the waves, especially for newer surfers who want a mellow break. Addie Street Sandbar isn't exactly a hidden gem, though: it's popular with everyone from out-of-towners and newbies to veteran local surfers. It doesn't hurt that parking is free, either! Unheard of in Pismo Beach, the free parking makes this an especially appealing spot. Head out early to avoid the crowds (and the wind), and you'll find Addie Street Sandbar a great spot to catch a consistent wave. For that famous free parking lot, drive to 163 Addie Street. From there, take the staircase down to the shore.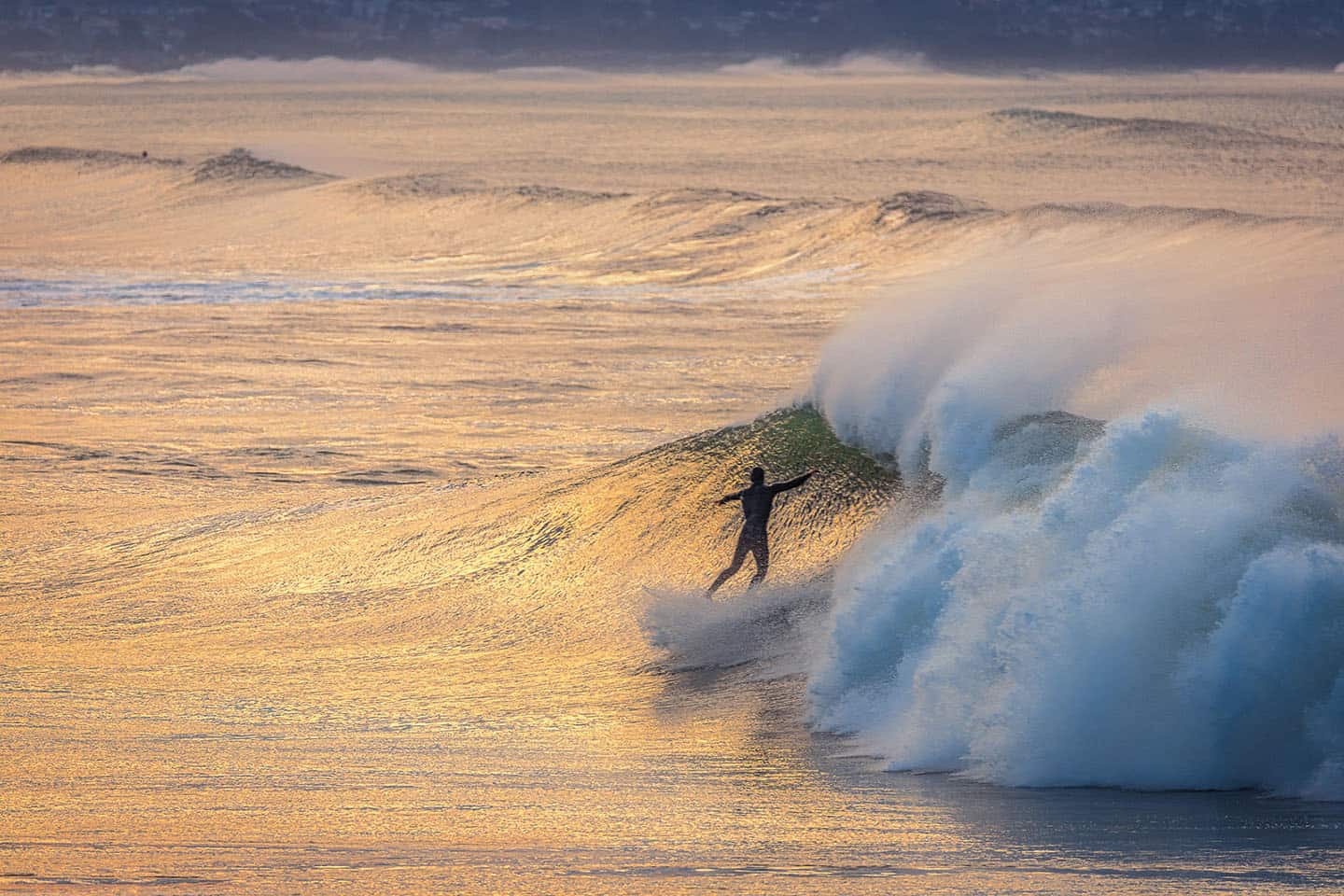 This popular local surf spot was named "Saint Ands" after the Saint Andrews tract of homes overlooking the bluffs there. (Some people also call it "Saint Anne's.") Follow Shell Beach Road to the stretch between Shell Beach Elementary School and DePalo's Delicatessen; everything west of this stretch is Saint Ands. Here, a reef break attracts locals and visitors quite a bit on the weekends. Watch out for crowded conditions on Saturdays and Sundays, but definitely show up on weekdays, when it's nice and empty. And beware: that reef can be exposed at lower tides, so watch out for jagged areas and stay on top of the tides. Saint And's is also a really rocky beach, so come ready with calloused feet or booties. To reach Saint Ands, head to Memory Park off Seacliff Drive or Spyglass Park off Solano Road. Beneath Spyglass Park lies Spyglass Beach, which also offers excellent tidepooling.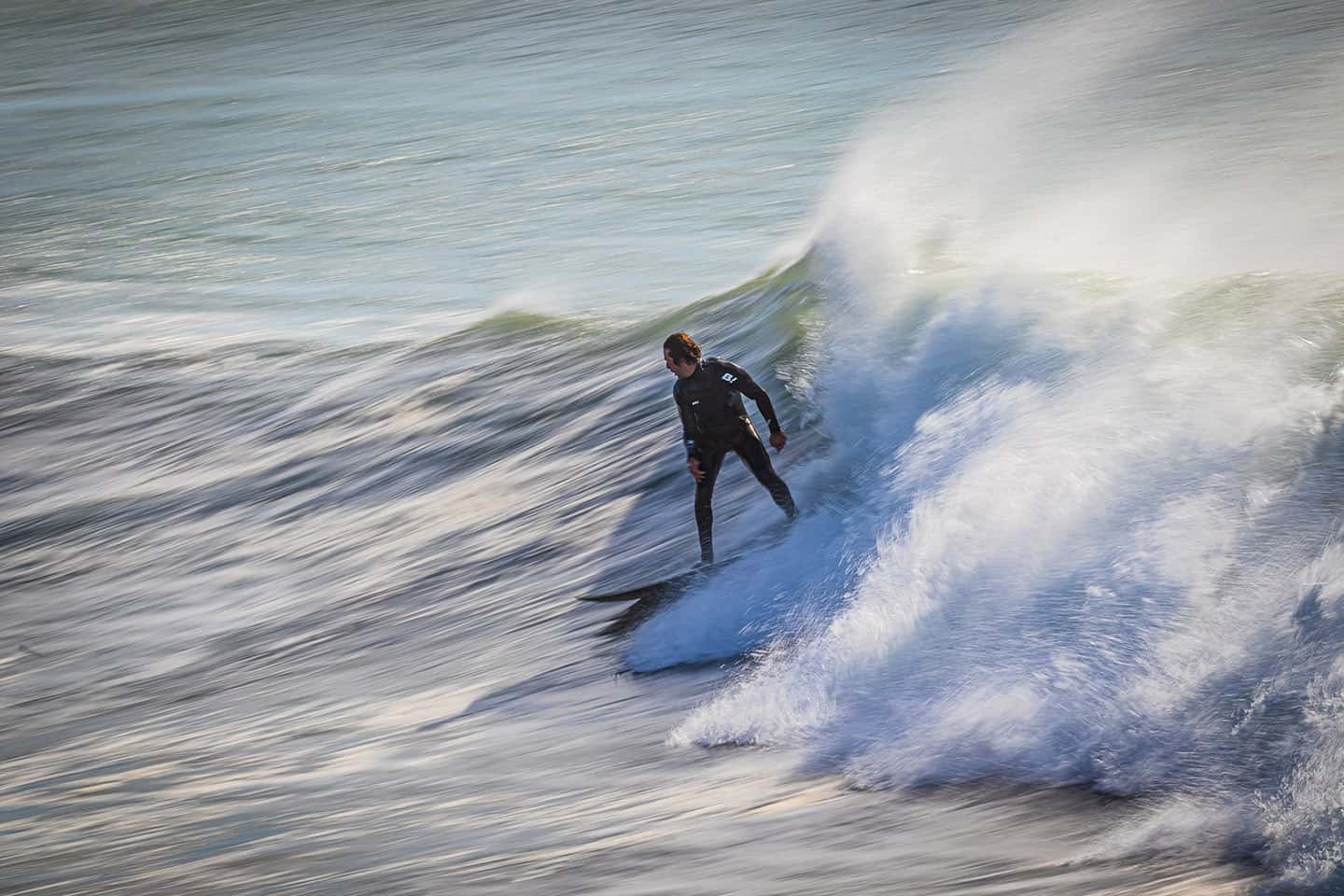 Although Pismo Beach is considered by many to be a classic surf town, the truth is Highway 1 offers a variety of less-crowded surf spots with better waves. Ask any local surfer and they'll tell you: head north. Check out some of the options between Los Osos and San Simeon that are highlighted in our locals' surfing guide to Highway 1. There, you'll discover the breaks of remote beaches like Sand Dollar Beach, San Carpoforo Creek, Willow Creek and Ragged Point Beach in San Simeon. Beaches like Moonstone Beach in Cambria offer surfing, bodyboarding, and exploration of its famous "moonstones" and seaglass — all within walking distance of town. In Cayucos, well-known waves at the Cayucos Pier stand alongside lesser-known waves like Mouse Rock, A-Frames, and Studios. And in Los Osos, Sandspit, Spooner's and Hazards draw the most advanced of advanced surfers to tackle its swells. All of these waves and more await you just a short drive north — and with less competition.