San Luis Obispo nightlife combines top notch bars, exciting entertainment and creative culinary offerings into an irresistible cocktail of fun. As you might expect, Friday and Saturday nights are busy for downtown hangouts, when Cal Poly students close their books and cut loose for the weekend. With bars that both embrace this fun-loving college atmosphere and many others offering up a more relaxed vibe, you can choose the best nightlife adventure for you. Whether you're looking for a laid back night sampling local wines or plan to hit the dance floor while the DJ spins, San Luis Obispo nightlife delivers a multitude of ways to kick back. Hang at a casual gastropub with friends, enjoy a romantic date night or soak up the ambiance of a swanky cocktail lounge. Interested in exploring fresh new libations? SLO's popular tasting and tap rooms serve up everything from international wines and local craft beer to hard cider and more.
Explore San Luis Obispo Nightlife
McCarthy's Irish Pub in downtown San Luis Obispo is a laid back local favorite where everyone knows your name—or at least is happy to learn it. From the well worn bartop to the friendly staff and clientele, you'll find a sense of authenticity so often missing from today's modern nightlife offerings. Here, college students and retirees can enjoy a well-earned drink while partaking in a game of shuffleboard. Join the locals and put a few songs in the jukebox or hang on the popular patio, where all walks of life mingle under the glow of McCarthy's iconic pink neon sign. Not sure what to order? The undisputed Jameson capitol of SLO, you can't go wrong ordering whiskey and a beer.
Frog and Peach Pub in downtown San Luis Obispo combines time honored European pub vives an eclectic mix of musical entertainment. Featuring local and national touring bands nearly every day of the week, there's always something fun pouring up at this popular haunt. Boasting a secluded patio area that faces San Luis Obispo Creek, you can easily find a quiet place to chat with friends between bands. Plus, there's an English phone booth just begging for a photo opp!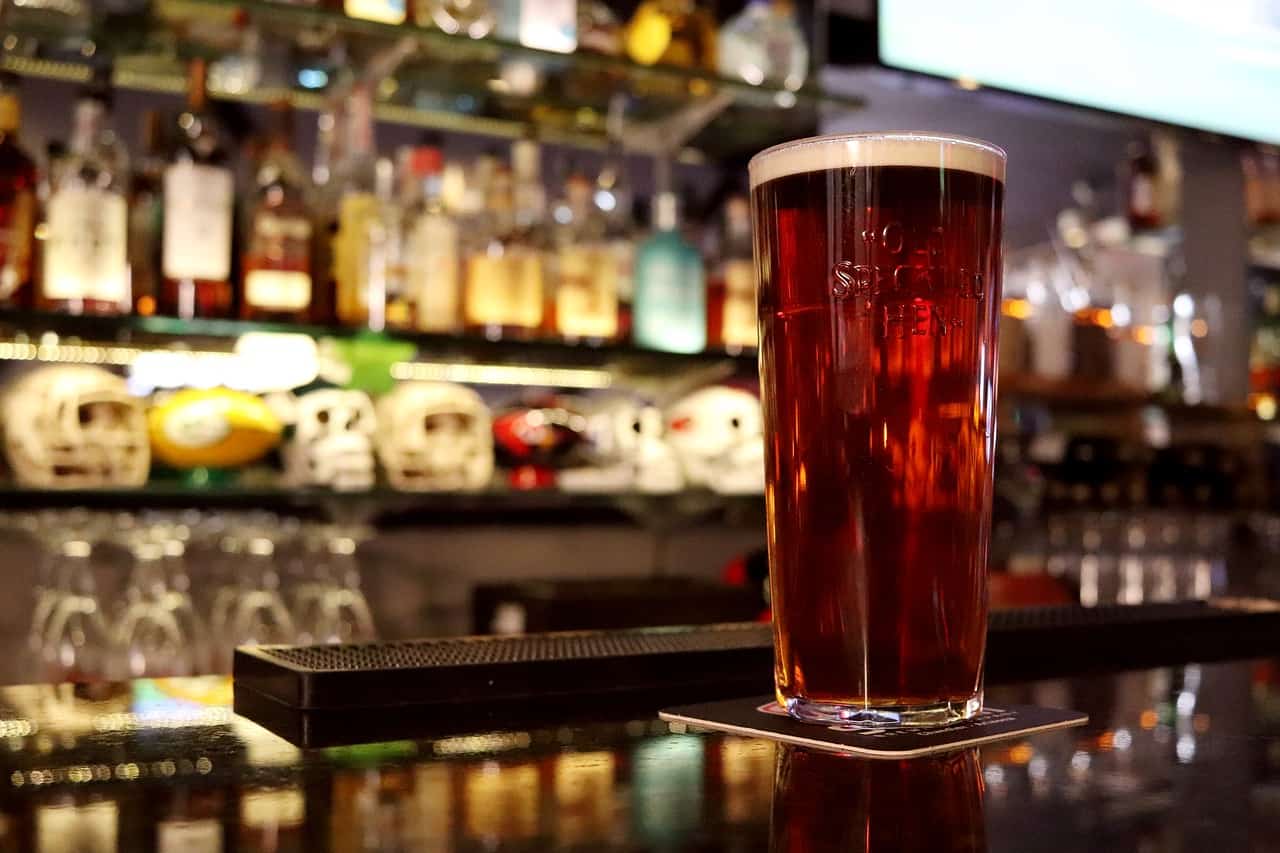 Bull's Tavern in downtown San Luis Obispo is all about keeping it real–real local, that is. Established in 1935, their motto remains "traditional, not trendy." Despite its old fashioned mantra, the bar has remained a popular clubhouse for each new wave of Cal Poly students, all of whom agree that Bull's is the ultimate starting point for a fun downtown bar crawl. A proud hole-in-the-wall located just a stone's throw from SLO's historic mission, you're sure to find a welcoming and fun-loving crowd, any day of the week. Strong stomach? Order the Bull Sweat, Bull's fiery house special: whiskey, gin, Tabasco, Worcestershire sauce, salt, lime and a few other secret ingredients. Not only will the regulars admire your courage, but you'll be invited to shoot the drink while standing on the bar (a bartender will ring a cowbell to alert the crowd of your bravery).
Top Shelf Cocktails and Food
Sidecar Cocktail Co mixes up artisanal cocktails paired with elevated American comfort food–but that's not all. Overlooking San Luis Obispo Creek, the outdoor tables are coveted by locals and visitors alike. Inside, enjoy the swanky dining room and downstairs alcove perfect for an intimate date night. Featuring house made bitters and tinctures—plus cannabis terpenes available in select drinks—Sidecar is all about delivering a truly unique experience, shaken, stirred or served straight up.
Novo Restaurant and Lounge is a mainstay for fine cocktails and world fusion food in downtown San Luis Obispo. Housed in SLO's iconic cigar factory, this famous creekside restaurant is a celebrated gathering place for drinks, dinner and weekend brunch. The creekside patio—shaded by majestic trees and strung with twinkle lights—provides a scenic backdrop for special occasions, whether it be a birthday or date night. Serving up an award winning international wine list that encompasses over 200 selections, you're sure to find the perfect pairing for your meal (all with the help of Novo's knowledgeable staff). Nearby sister restaurant, Luna Red, remains a fabulous choice for top shelf drinks and seasonal small plates, too. Located just down the street across from SLO's historic mission, you'll enjoy a sun-dappled patio, impressive drink selection and (depending on the season) live music from local artists.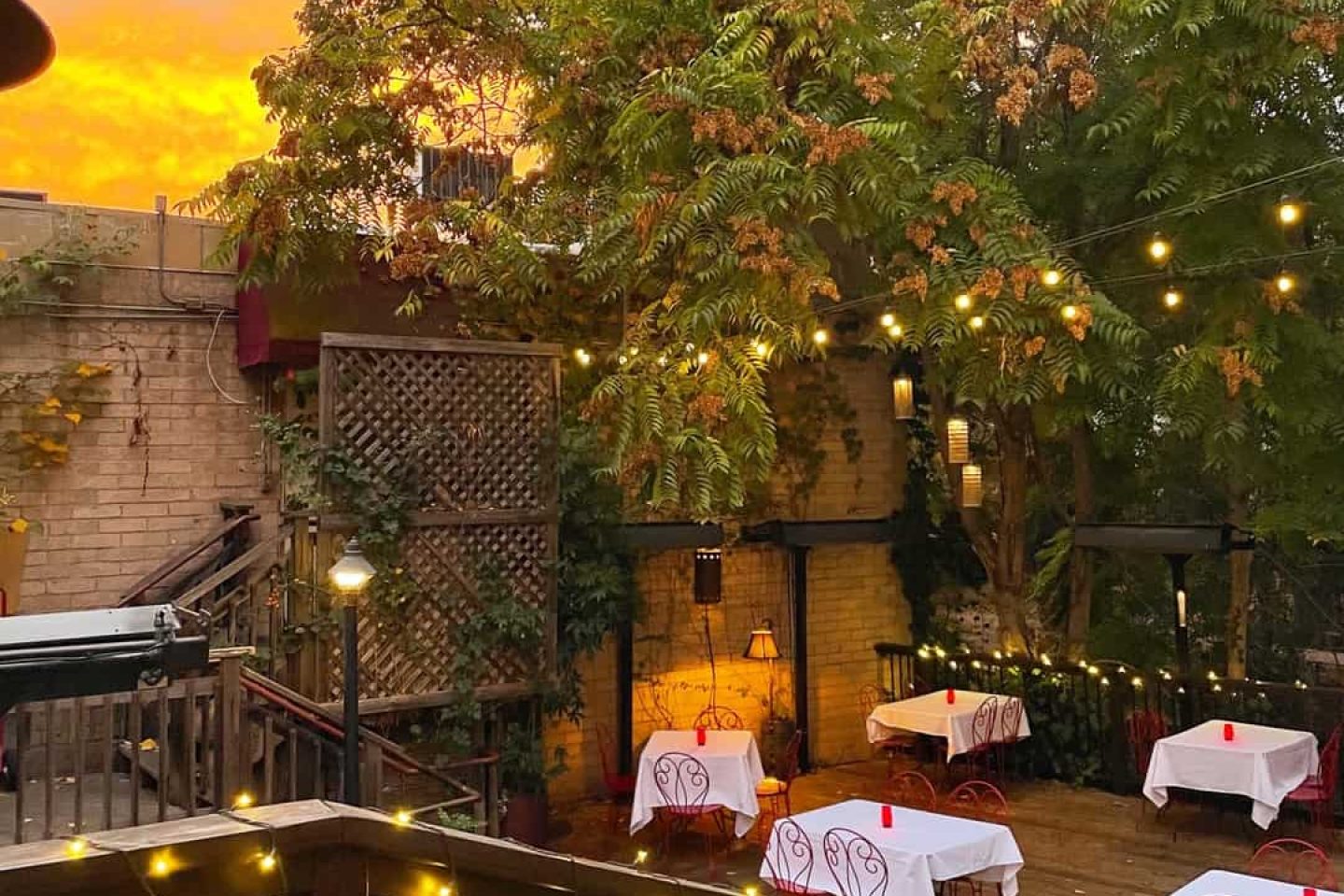 The Mark Bar & Restaurant
The Mark Bar & Restaurant in downtown San Luis Obispo is home to upscale Spanish tapas and tacos paired with flavorful craft cocktails to match. In fact, their margaritas are legendary, especially when sipped ice cold on a hot summer afternoon. Featuring live music on the patio each Saturday night, you're invited to sit back, relax, and enjoy a colorful combination of culinary and creative zest.
Black Sheep Bar & Grill in downtown San Luis Obispo might be known for its award-winning mac and cheese creations, but there's even more to discover at this cozy gastropub. Widely considered to serve up the best bar food in the area, you can't go wrong ordering local favorites like the Guinness Burger or Killer Nachos. With a truly casual atmosphere and craft beer on tap, you'll find yourself bellying up to this bar alongside a friendly crowd of hungry locals in no time.
Buffalo Pub and Grill in downtown San Luis Obispo invites young and old to grub down on complimentary popcorn and gourmet pub fare. Beloved for its casual atmosphere and warm hospitality, you're welcomed to linger over your drink. Serving specialty cocktails and craft beer, get ready to pair your libation with elevated versions of comfort favorites like wings, patty melts, tacos and more.
Breweries and Distilleries
SLO Brew Rock is San Luis Obispo's answer to top notch refreshment plus live entertainment. Serving up SLO Brew's own craft beers alongside a lineup of delicious local libations, this unique restaurant, beer garden and venue is known to attract regional and national musical acts to its impressive stage. Located outside of downtown San Luis Obispo near the SLO Regional Airport, the venue boasts manicured landscaping, fire pits and an ample outdoor grassy area perfect for sipping a cold one. With menu offerings that soar past the typical bar food, you can nosh on elevated pizza, burgers and salads crafted just for you. Plus–thanks to a thirty-barrel onsite brewhouse, canning line and tasting room–you're never far from your next fresh pour.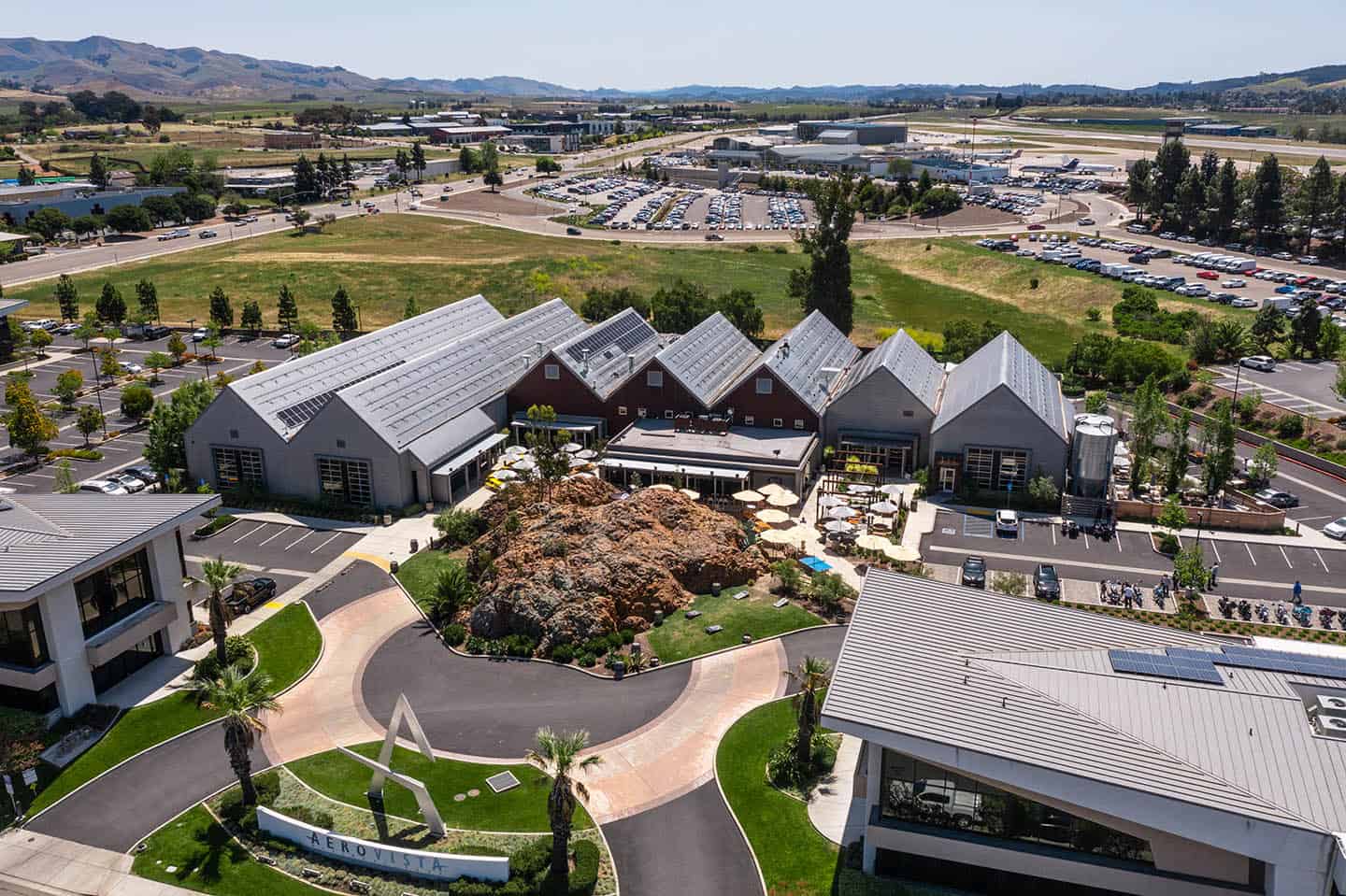 Barrelhouse Brewing Co. in downtown San Luis Obispo puts its own unique twist on the local craft beer scene. Pouring up IPAs, lagers, stouts, sours and wild ales brewed at their Paso Robles brewing facility, this one-of-a-kind tasting room offers up sixteen rotating taps to explore. Join the fun for trivia night (hosted most Wednesdays), or catch a live band on Thursdays and Saturdays. With a barber shop positioned up front and mysterious steps leading to the bar's lower level, this underground beer hangout only feels like a speakeasy: all are welcome to hang, even your four-legged friends. No password required!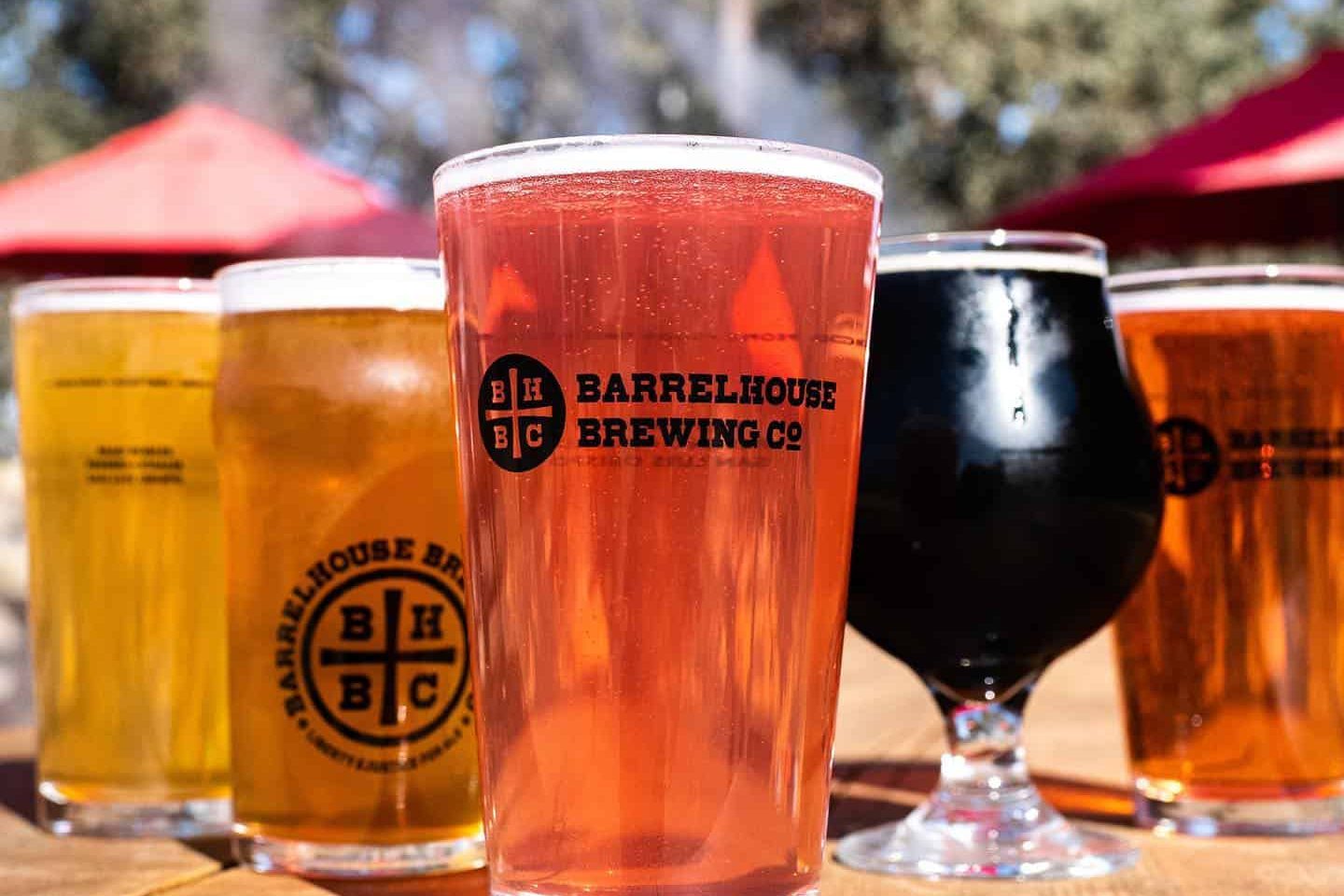 Bang the Drum Brewery is a feel-good local brewery popular among Cal Poly students and free-wheeling locals alike. Tucked away within an oak grove on the south side of San Luis Obispo, this dog-friendly microbrewery offers indoor seating as well as scenic outdoor accommodations nestled beneath shady oak branches. Sip on a simple blonde ale, enjoy a powerful IPA or discover an innovative twist on a classic. With a cast of reliable flagship brews served alongside an ever-changing lineup of new creations, there's always something fun to try. Plus, you can groove to live music, sign up for a salsa dancing class or take part in open mic events. What are you waiting for?
SLO Stills is your best bet for local bourbon and rye whiskey in San Luis Obispo. Located near The Rock at SLO Brew, you're invited to take a tour of the distillery when you visit this Central Coast-inspired tasting room. Sample a true taste of San Luis Obispo with every sip: Each bottle of handcrafted spirits is cut with purified Pacific ocean water.
Mother's Tavern in downtown San Luis Obispo invites you to shake a tail feather after dark. Enjoy dancing all night long—but be prepared to wait in line to get through the door. Known locally as "MoTav" or "Mo's Tav," the vibe is youthful and fun, showcasing downtown's vibrant nightlife (be sure to check out karaoke each Sunday). A favorite among local Cal Poly students, this rocking club serves up burgers by day, featuring professional lighting, visuals, and live Djs come nightfall.
Creeky Tiki Bar & Island Grill
Creeky Tiki Bar & Island Grill in downtown San Luis Obispo combines a colorful tropical ambiance with cold drinks and hot comfort food dishes. Home to ample indoor and outdoor tiki-themed spaces, this local hangout buzzes with activity on weekend nights. Serving everything from burgers to pizza to quinoa bowls, you can enjoy dinner and a round. Looking to party like the students do? Try the six person "shotski," which—although requiring immense coordination to drink—offers up a fun way to share a night out with friends.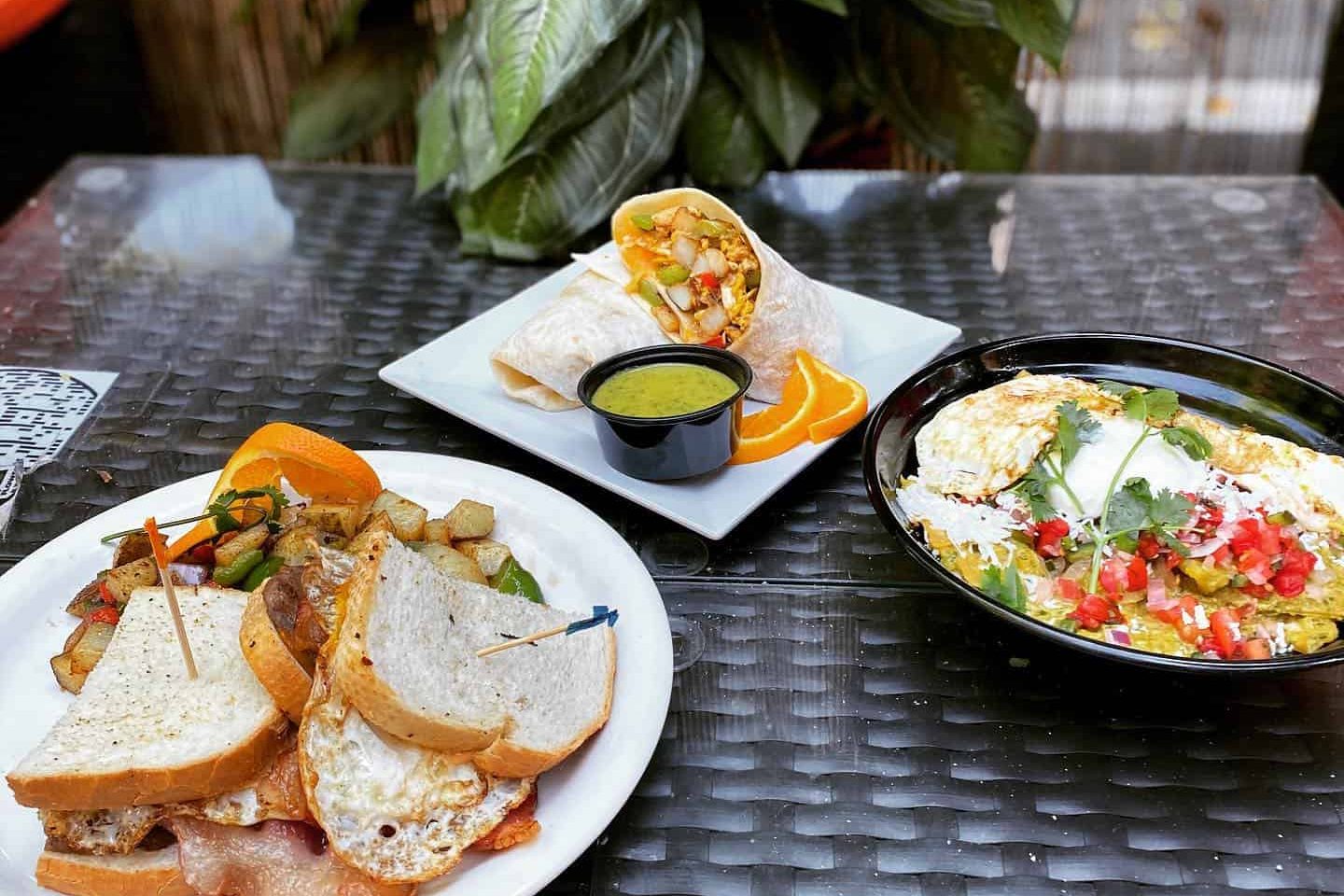 The Library may sound like a quiet place to study, but it's really one of downtown San Luis Obispo's favorite dive bars. Located next to Mother's Tavern and offering up a similar (albeit cozier) vibe, you can expect a crowded dance floor and DJS spinning around 10:30 p.m. If you're looking to make a few new friends, this is your best opportunity. Due to the extremely close quarters, you're sure to rub elbows with new pals and potential dance partners.
For folks who graduated college more than a few years ago, a more relaxed nightlife experience is usually preferred. If you'd like to experience downtown San Luis Obispo's exciting bar scene sans the boisterous crowds, we've got you covered. Allow us to show you an array of chill beer gardens and friendly taverns featuring everything from live local music to trivia nights and gourmet pub grub.