Ready to roll? Skate Parks can be found all along Highway 1, providing a fun way to enjoy the great outdoors on four wheels. Whether you're a beginner to the sport or lifelong skateboarder, you'll find plenty of half-pipes, handrails, vert ramps and bowls to explore along the coast.
Explore Activities Along Highway 1
The Cayucos Skate Park is the perfect solution for skaters looking to fly high near the ocean. Enjoy an ample, L-shaped bowl and mini ramp with four-to-eight-foot extensions covered in smooth skatelite material and metal coping. A smaller concrete bowl is located adjacent to the ramp for added fun. Built back in 2012, a documentary captures the community spirit of the park, entirely constructed by local volunteers. Located at the foot of the Cayucos Pier, this unique park allows folks to skate a stone's throw from the Pacific. Plus, Cayucos Surf and Skate, located at 146 North Ocean Avenue in Cayucos, is nearby to address all your board needs.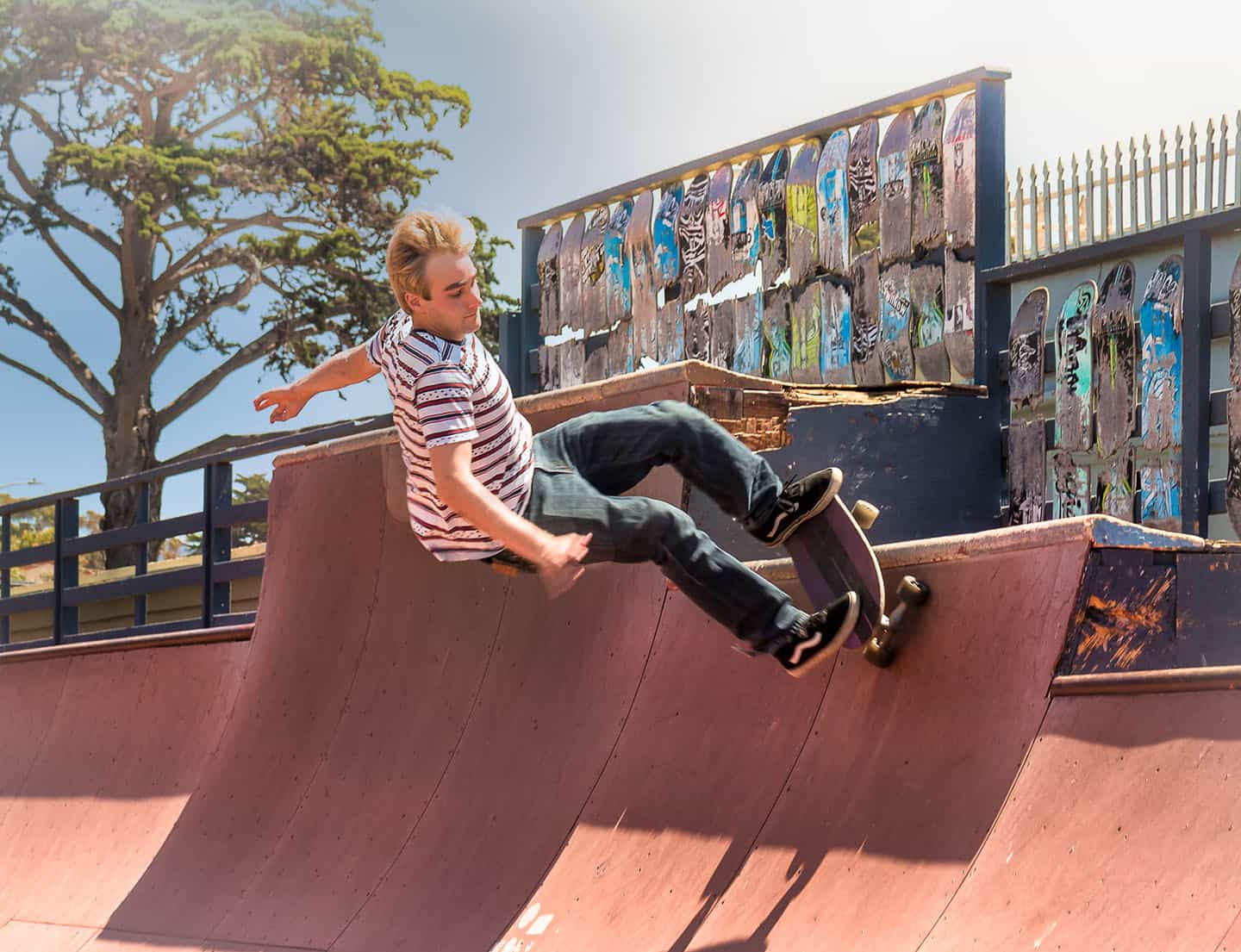 The Los Osos Skate Park is one of the largest and most celebrated skate parks located along Highway 1. Built in 2005 and measuring in at a whopping 17,000 square feet, the park is often busy until dusk, when the park closes to the public. Featuring two large bowls–an oval bowl as well as kidney shaped bowl with a minimal vert–this park caters to advanced skaters who know what they're doing. An upper section of the park features ledges, a small two-stair jump and metal bars to grind on while the rest of the park is set into a deep, mellow bowl. Located at 2180 Palisades Avenue in Los Osos, you'll find the nearest skate shop at Wavelengths in Morro Bay (998 Embarcadero). With tons of exciting features for skateboarders to enjoy, there's never a dull moment. Perhaps that's why the Los Osos Skate Park was featured in the Central Coast Monster Skate Contest series, a regional competition geared toward all age groups.
The Morro Bay Skate Park is a classic attraction for skateboards of all walks of life. Known as "Rockies Skate Park," this park is home to the Skateboard Museum, an iconic local institution, now defunct but fondly remembered. Featuring a four-foot mini ramp, banks and a half pyramid with a stair set and a rail, most of the equipment is made from skatewave, a modular plastic composite material. The street section of the park, however, is rough blacktop, so softer wheels are recommended. Located at Rockies Teen Center at 231 Atascadero Road in Morro Bay, the nearest skate shop to the park is Wavelength's Surf Shop, located at 998 Embarcadero.
San Luis Obispo Skate Park
The San Luis Obispo Skate Park is expansive, allowing for hours of fun, regardless of skill level. Known locally as the "Concrete Jungle," this 15,00-square-foot concrete park is modern and well kept. Opened in 2015 on a swath of land that once held a basketball court and wooden ramps, the facility is the only park along the Central Coast that features lights, allowing for skaters to roll into the evening (hours are 7 a.m to 10 p.m.). Unfenced, anyone can walk right in at any time of day, allowing for maximum accessibility. As far as the features go, there is much to explore. The park is split in half, dividing transitions and obstacles. On the transition side, skaters will appreciate a massive vert bowl and snake run with an over-vert wave feature, plus a shallow and deeper kidney bowl, respectively. The streetside features a variety of hubbas (ledges), handrails and stairs, including a three-stair and two-space-two stair–angled brick wall designed for wallrides. A bank at the bottom of the course showcases coping across the top and fabricated trees can also be skated as well. Featured as a location for the all-ages Monster Skate Contest, the park sees skaters from near and far. Located at 1050 Oak Street, the closest skate shops are Moondogies and Central Coast Surfboards, both located in downtown San Luis Obispo. The Skate Warehouse, nestled closer to Edna Valley, is also a great go-to for skateboarding accessories.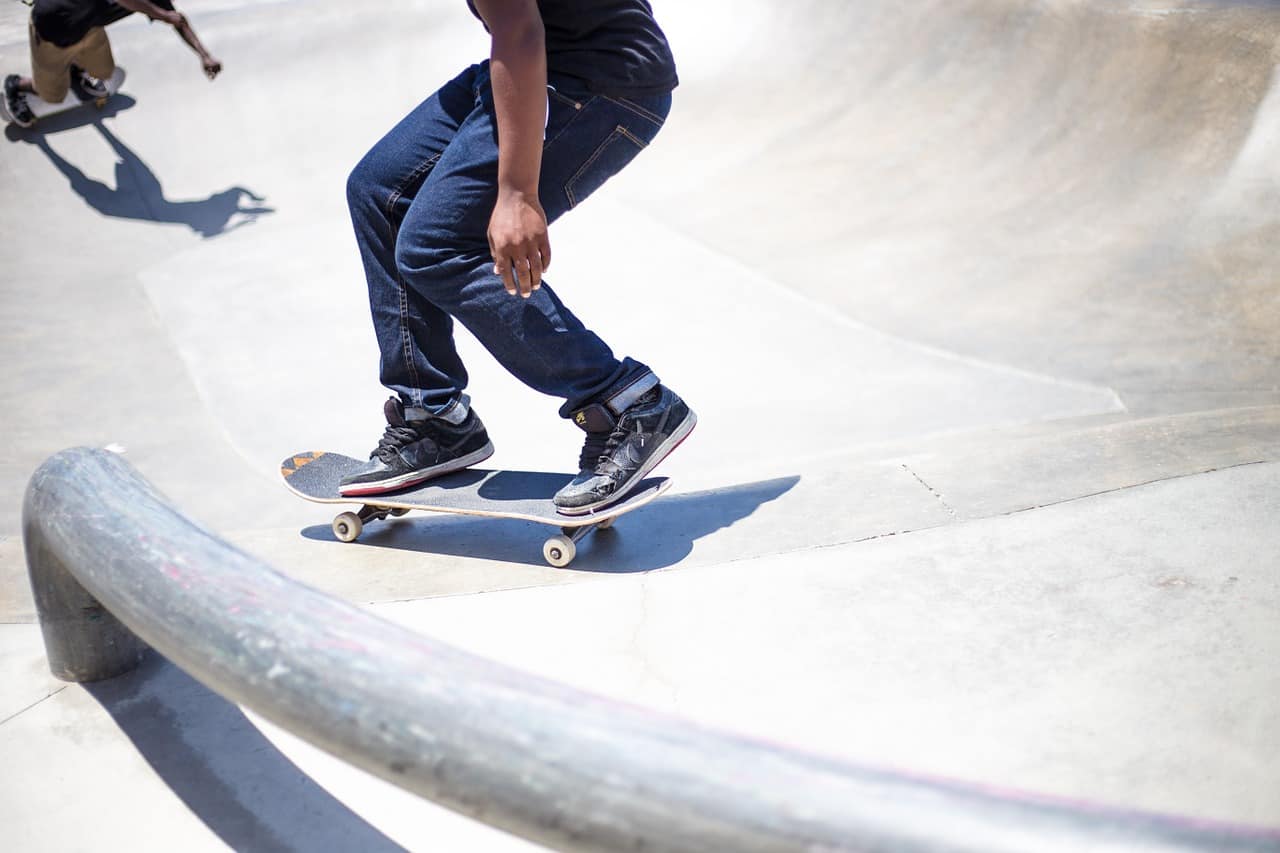 South County Skate Park offers up an expansive concrete thrillride in Grover Beach. The 13,234-square-foot park opened in 2013 and is also known as the "Grover Beach Skate Park." Amenities include a five-stair with hubbas and handrails on both sides and parking blocks and ledges surrounding the top of the park. Home to a large bowl with a four-sided pyramid in the middle, it's no wonder why this park was utilized in the Monster Skate Contest series open to all age groups. Located at 1750 Ramona Avenue in Grover Beach, the nearest skate shop to the park is Pancho's Surf Shop in Pismo Beach.
The new Nipomo Skate Park represents the combined efforts of many in the local skateboarding community along Highway 1. After Nipomo's beloved DIY skate park, "The Rec," was torn down in 2020, a new project was planned. The community broke ground on the 10,000-square-foot park in 2022. The park includes three-quarter pipes, (one with a window opening), two bowls, multiple ledges, hand rails, stairs, flat bars and banks. Located at the corner of Orchard and West Tefft Street in Nipomo, the park opened in 2023.
The Cambria Skate Park has seen considerable changes through the years and is no longer in operation. Once consisting of a mini ramp and both wood and cement transition features, the park was torn down in 2020 due to disrepair. That said, skateboarders need not worry too much: The community is currently fundraising for a new park, location to be determined. Donations can be made via SkateCambria.com.
Discover The Skate Parks of Highway 1
Whether you're a new skateboarder looking for accessible parks or are constantly building your skills as a seasoned veteran of the sport, you'll find a skate park along Highway 1 to cater to your needs. With the wind in your face and plenty of exciting ramps and bowls to discover, you'll find a friendly, ever-growing skateboarding community on the coast.