These aren't your everyday beach hikes! Pull on those hiking boots, grab your walking stick and suspend your disbelief. Spring is the best time to hit the trail along Highway 1, where incredible hiking terrain meets and stunning coastal scenery, elephant seals, wildflowers—even a shipwreck! Hike like a local and discover hidden waterfalls, fearless hang gliders, excellent wine tasting, whale watching and local flavor—all along scenic Highway 1! So, what are you waiting for? Awesome rewards await for all your trekking. With dozens of stellar sea-hugging trails to climb, each summit is your oyster.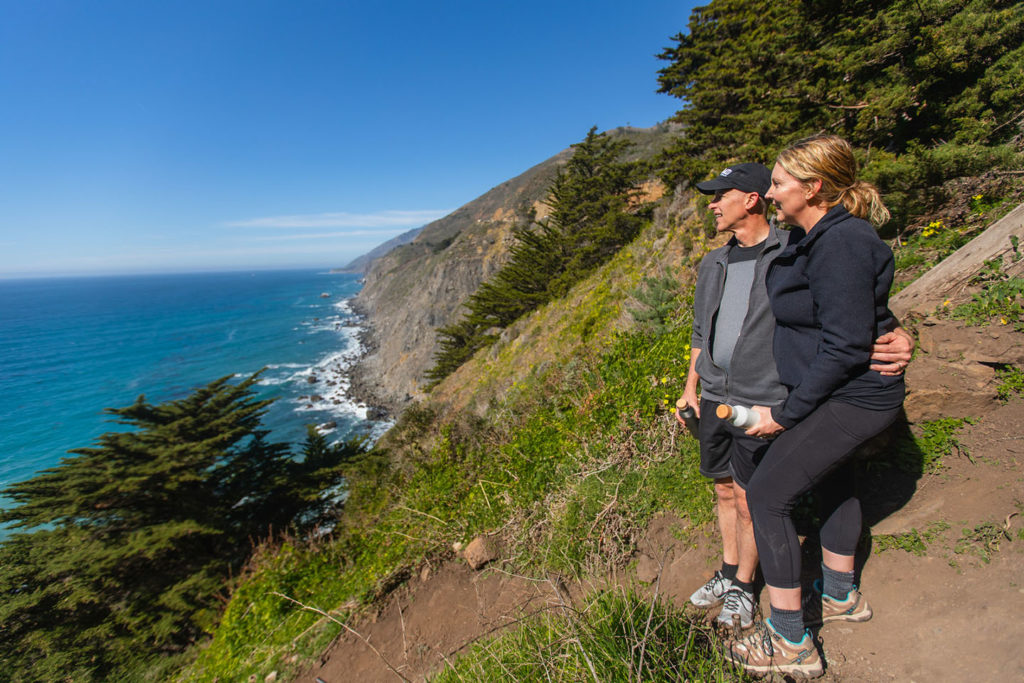 1. Chase a waterfall
Go with the flow: Dramatic cliffs and selfie-worthy panoramas mark Black Swift Falls, a classic Ragged Point hike that should be on your radar this spring. It's not difficult to see why locals covet this adventure: short and sweet, the trail measures less than one mile long, but descends (and ascends) 400 feet in elevation! On this hike, a narrow path of switchbacks leads to a secluded black sand beach, a view torn from a classic romance novel. Now, behold the stunning seasonal waterfall! Tip: Be sure to wear suitable hiking shoes for this trek—the terrain is steeper than it looks. Kiddos in tow? Salmon Creek Falls—nestled within the southern gateway to Big Sur—offers up much of Black Swift Falls' beauty (with a lot less legwork). A flat, easily accessible trail leads to a staggering 120-foot waterfall that'll make everyone in your family look up from their phones in awe. Enjoy the view, savor a picnic lunch, then head back to civilization—or take the trail to its lovely conclusion some 6.5 miles in. Whether you get a workout or not, you'll still feel accomplished.
Nearby and noteworthy: Make a pre-hike pit stop to salute the elephant seals in San Simeon! An ever-evolving population of wild elephant seals play out their daily dramas at the Piedras Blancas Elephant Seal Rookery, free to the public all year round. A flat, easily accessible viewing boardwalk connects with the scenic California Coastal Trail, allowing anyone of any ability to enjoy the view. Depending on the season, you'll catch these majestic mammals birthing, sunbathing or seeking out a mate. It's intriguing stuff, to be sure!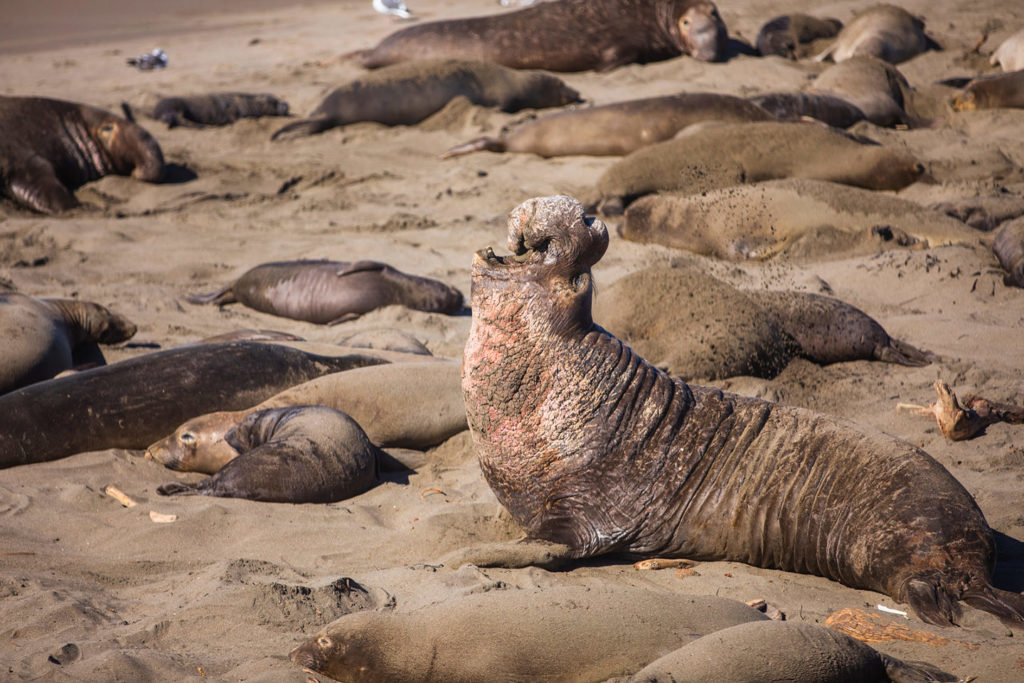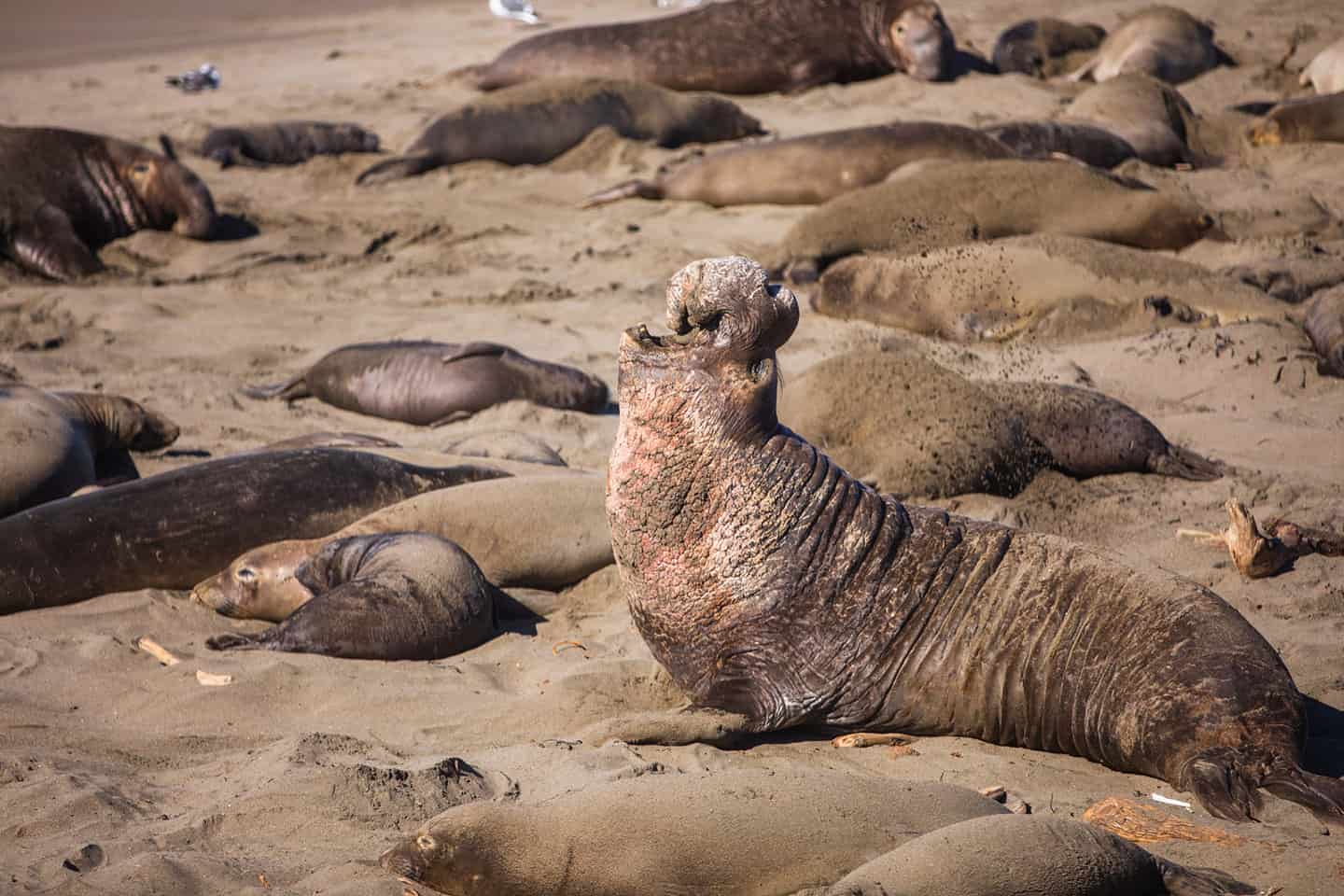 2. Preserve your peace
Take a break from the noise: Reclaim your sense of calm when you embark on a secluded Cambria beach hike brimming with classic coastal scenery. Super accessible and easy to hike, The Moonstone Beach Trail features rolling waves, glittering tide pools and a chance to catch up with your favorite audiobook or podcast. At just 2.85-miles out-and-back, all skill levels can stroll these quiet bluffs (plus, leashed dogs are invited along for the ride, too). Where no one knows your name: Deemed sacred by the native Chumash and Salinian tribes, Cambria's Fiscalini Ranch Preserve remains peacefully wild, centuries later. One of the most coveted hiking trails on the Central Coast, this protected land is home to 437 acres of lush wilderness and plenty of unbelievably awesome hiking opportunities. ADA accessible and dotted with mystical Monterey pines, you'll come face-to-face with a host of wildlife, including birds, insects and sea animals (the colorful red-legged frog—among many other endangered species—call this precious habitat home). Although you can horseback ride or bicycle through portions of the preserve, many locals are simply happy to hike among the brush, taking in the vistas along the way. Here that? Yep. It's your own thoughts.
Nearby and noteworthy: End your hike with a glass of local wine grown a stone's throw from the rolling blue Pacific. At Stolo Vineyard in Cambria, a dreamy green lawn plays host to seasonal concerts and picnics. Enjoy a flight or pop a bottle bottle, meet the on-site goat and reward yourself for a day well spent.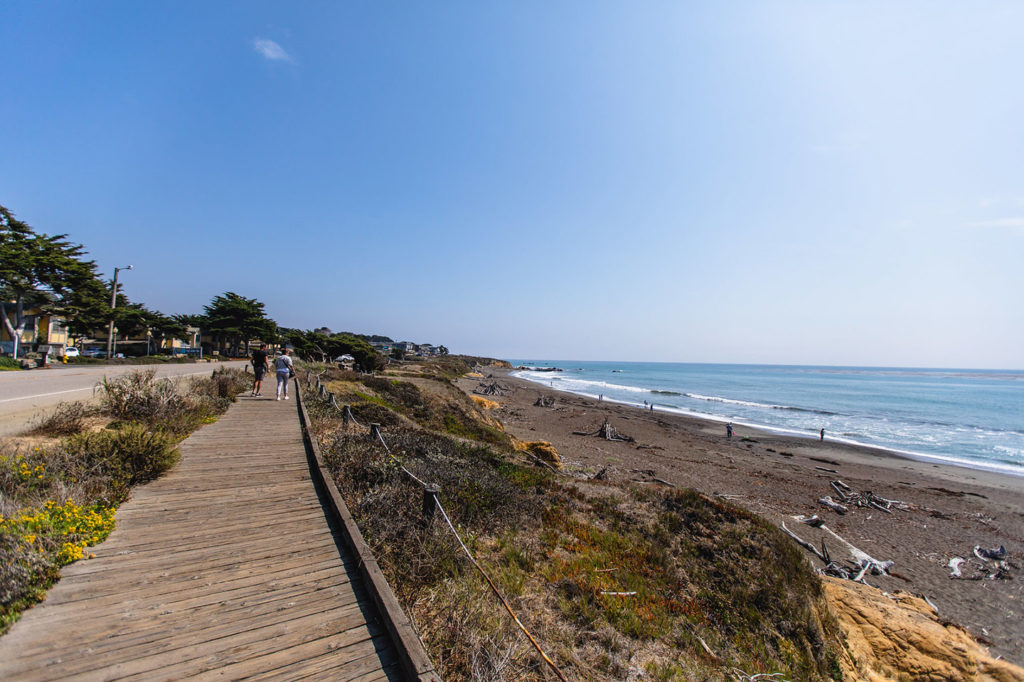 3. Uncover a shipwreck
A chill beach hike that ends in a real-life shipwreck? No, this isn't the plot of some dramatic movie…it's your life on Highway 1! Locals know that Estero Bluffs State Park is one of the best places to savor Highway 1's breezy charm. This easy three-mile hike includes wide, flat trails curving through sandy bluffs. Enjoy epic views of Morro Bay and Morro Rock in the distance before hitting a shipwreck site! (To be clear, no one was hurt in this years-old wreck; it remains as a hidden-away destination for visitors in the know). Needless to say, the small beach surrounding the skeleton ship is lovely for enjoying a post-hike snack while quoting your favorite lines from Titanic. Whale of a time: One of the best beach hikes with total 360-degree views, the Whale Rock Reservoir in Cayucos is fabulous April through November, when wildflowers bloom and birdwatching is at its peak. These uncrowded and easily accessible trails run out-and-back at a total of four miles, twisting through a scenic 1,350-acre coastal reserve. Feel free to bring leashed dogs, but watch closely for ticks and rattlesnakes! It's wild out there, people.
Nearby and noteworthy: Stretching some 784 acres along the coast between Cayucos and Cambria, Harmony Headlands State Park is a sight to behold. From Highway 1, enjoy a 4.5-mile lollipop loop perfect for all skill levels. The easy bench-lined hike ascends approximately 85 feet up a dirt path before dropping 135 feet to the coast. Here, a footpath leads to rugged oceanfront terrain.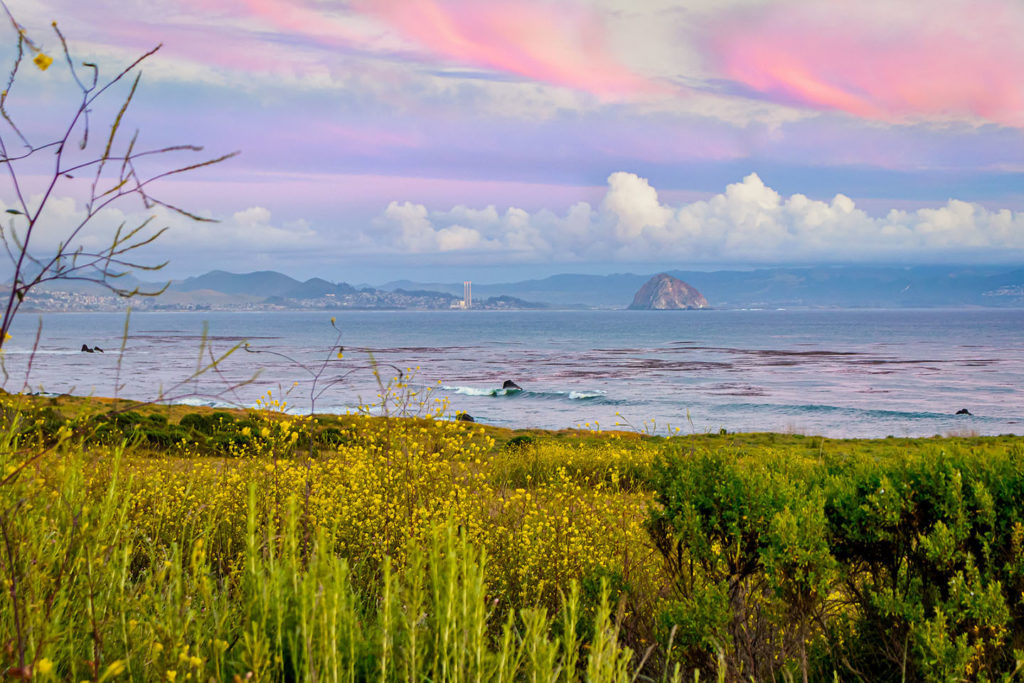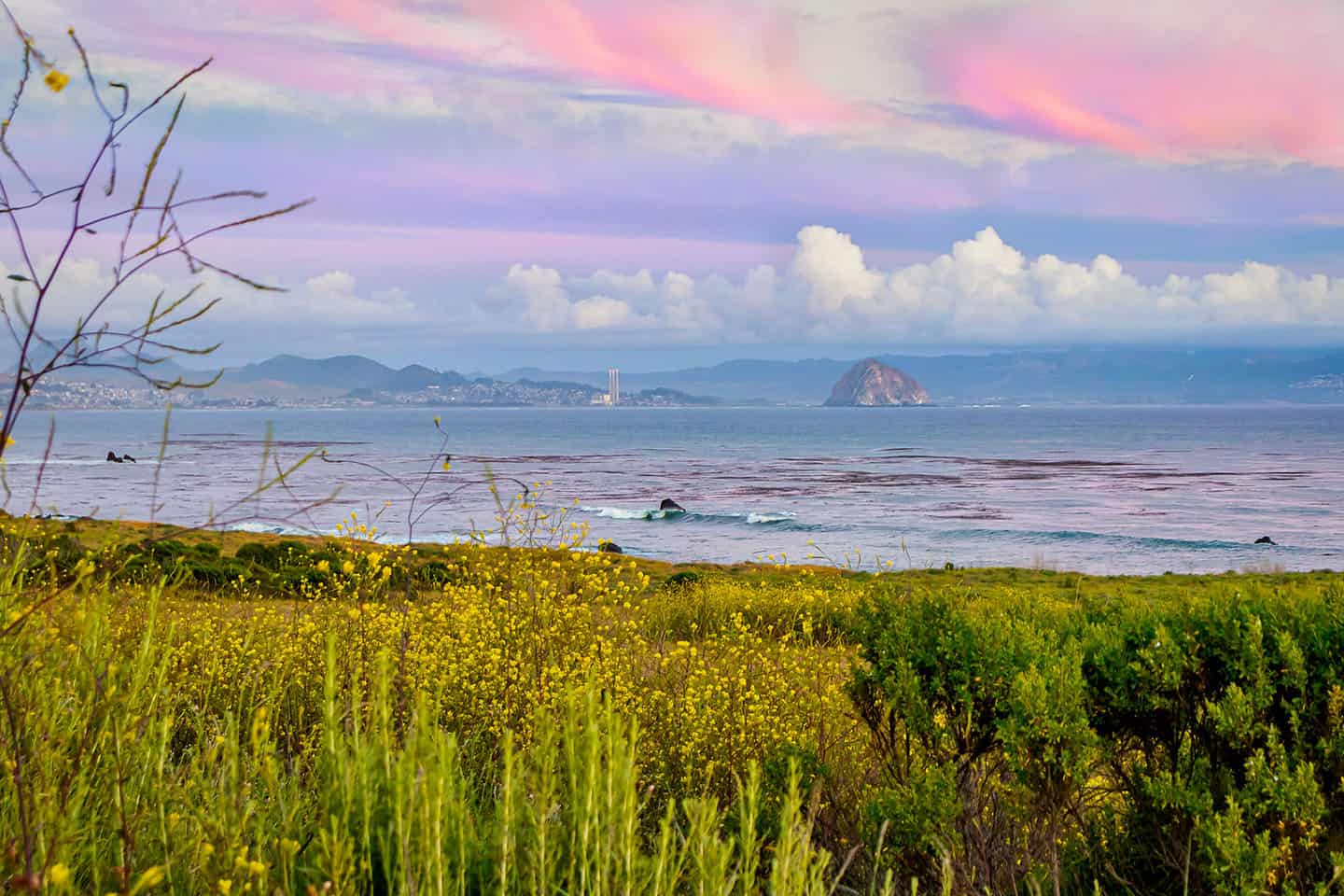 4. Embrace the joy of getting lost
What's the opposite of FOMO (fear of missing out)? Probably the Joy Of Getting Lost (JOGL)! Allow us to help you veer off the beaten path in the most satisfying way: Undulating dunes await explorers of Oso Flaco Lake, where a rainbow of birds nest, feed, soar and sing. Embark on this unique trail from the Guadalupe-Nipomo Dunes to Preserve to Mussel Rock, which spans about 5.2-miles out and back (trust us, you haven't experienced anything like this before). Traverse through oak forest to a wooden boardwalk all while taking in a picturesque lake, river, grasslands and coastal brush. All roads lead to a spectacular beach sandwiched by rolling dunes, of course! Surf, boogie board, sunbathe or search for shells—we promise you'll want to spend ample time soaking up this picturesque playground. Forest to sea: With several trails of differing difficulty to choose from, the Pismo Preserve in Pismo Beach allows hikers to trek from oak woodland to seaside cliffs and back again. With gorgeous elevated vistas perched over an endless expanse of azure ocean, it's not uncommon to spot whales breaching in the distance! Seriously, we're making JOGL a thing.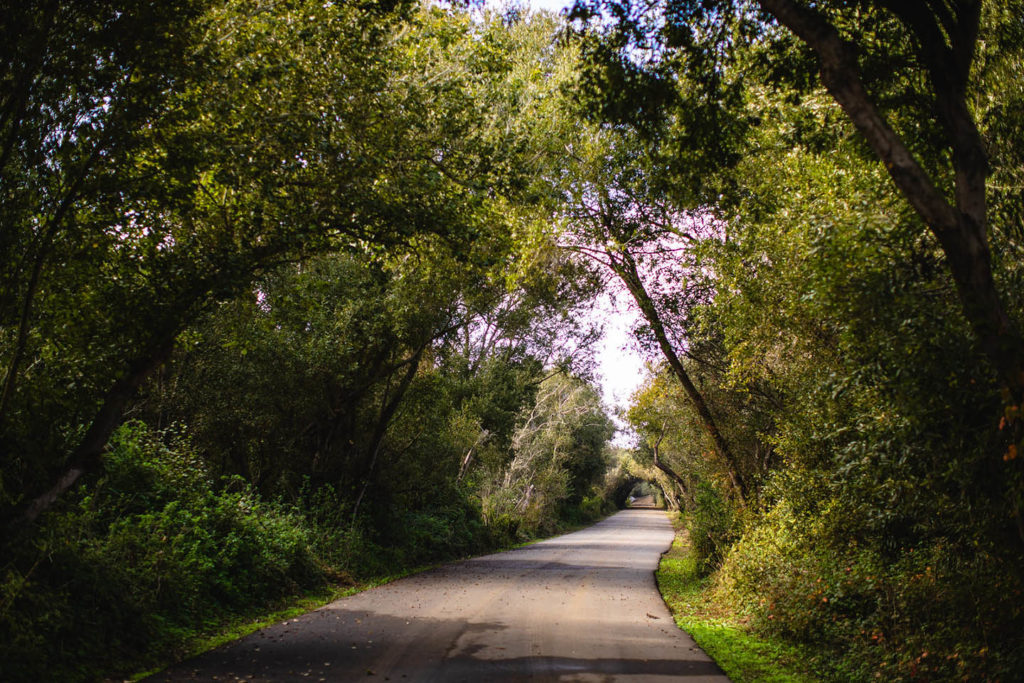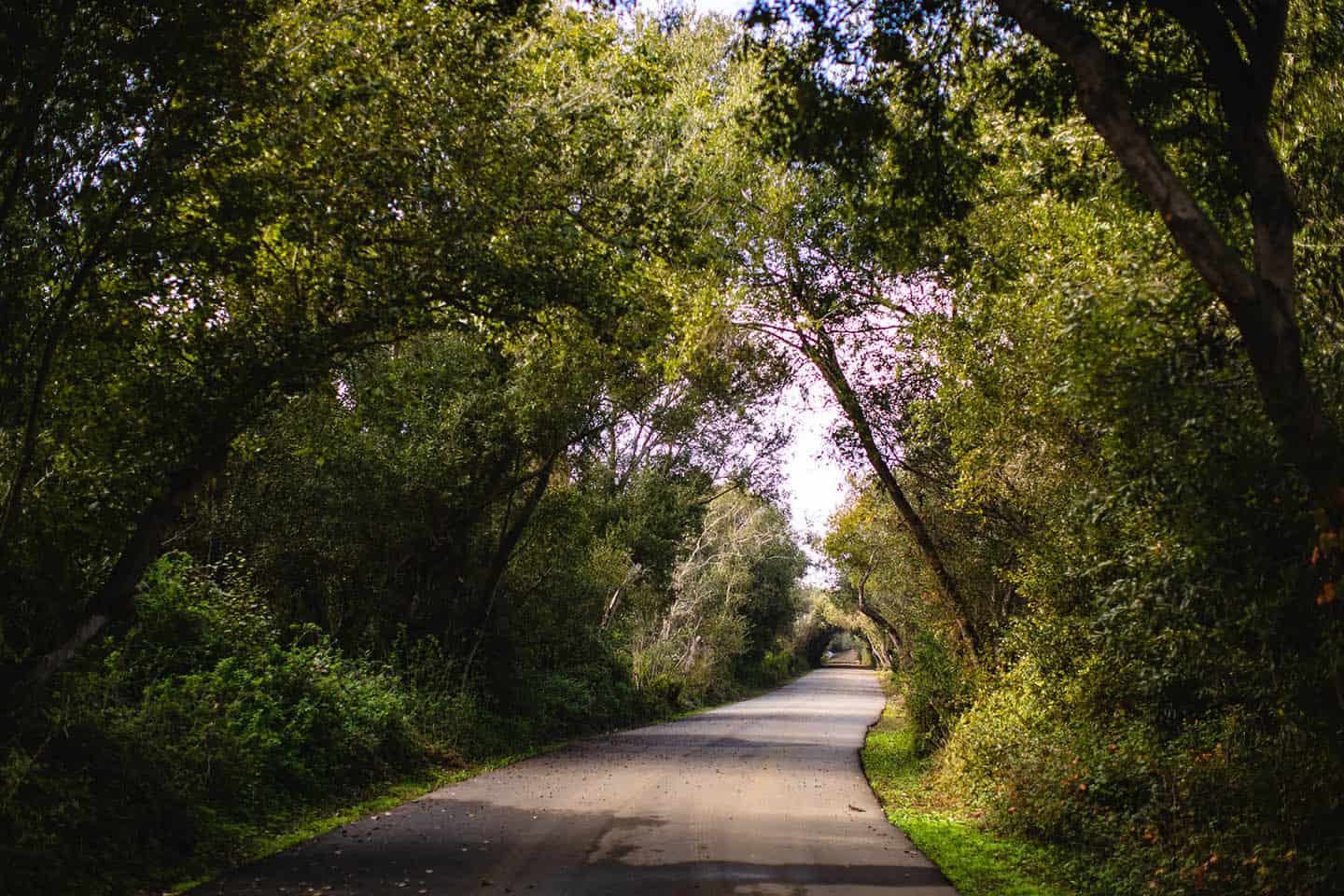 5. Expect the Unexpected
You'll never know till you go: Montaña de Oro is like another planet—a planet where hiking is like breathing and every view is drop-dead stunning! With diverse terrain that ranges from wildflower-emblazoned mountains, staggering coastal peaks, and sandy trails to pristine pebbly beaches and vibrant tide pools, hikers of all persuasions count this Los Osos-based state park as a top bucket list destination. With an array of trails—including the Bluff, Hazard Peak, Islay Creek, Oats Peak and Reservoir Flats Trails and the challenging Valencia Peak, there's a hiking experience fit for every skill level. We're not in Kansas anymore: Although the Bob Jones Trail in Avila Beach measures only 2.8 miles long, you'll wander from a wooded creek environment, past a manicured golf course, and finally, to the sea! Yes, that means you can end your hike with a sunset stroll of Avila's famous pier and white sand beach. Tip: plan your adventure to coincide with the seaside community's Friday night Farmer's Market for maximum sensory overload: Sample fresh fruits and veggies, take in some local music and fill up your backpack with souvenirs before heading back the way you came. This flat, pedestrian route is suitable for all ages (even Fido)!