Picnic in Paradise along CA Highway 1 Discovery Route in
Coastal SLO County and Find Your Perfect Spot
Coastal Hikes with Pristine Vistas, State Parks and Recreational Lakes,
Wine Trails and Coastal Bluffs, or Historic Dunes and Gentle Coastal Peaks, Take your Pick!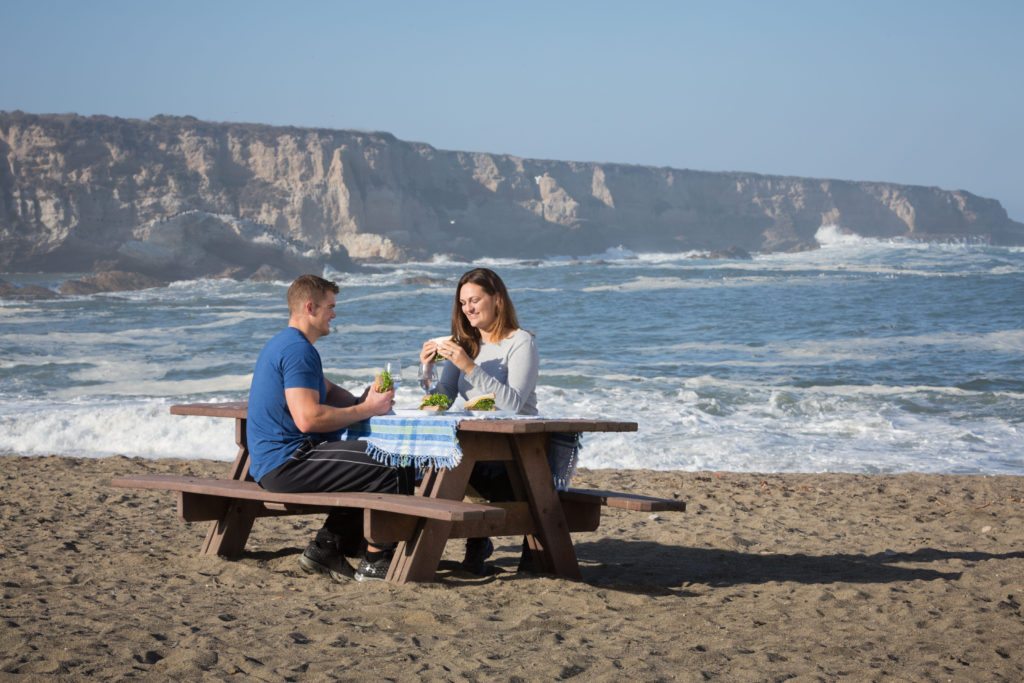 As summer turns to fall along the CA Highway 1 Discovery Route, locals and visitors alike find some of the best weather and the best fresh food options this time of year for a picnic in paradise. Agriculture is abundant and available in Coastal San Luis Obispo County, and there are abundant 
farmers' markets
, delis, specialty markets and local wine and craft beer for visitors to pack a fresh picnic basket filled with local goodies. Not only does the region produce award-winning wine that can be found along  Pacific Coast Wine Trail or in 
SLO Wine Country
, an abundance of other crops including strawberries, avocados, oranges, walnuts, lettuce, blueberries and more items perfect for a healthy picnic. Whether you want a hiking expedition to the perfect picnic spot in one of the State Parks, a kayaking trip to a secluded beach, or the opportunity to hike and view the native flora and fauna, you're sure to find a unique picnic spot and generate lasting memories.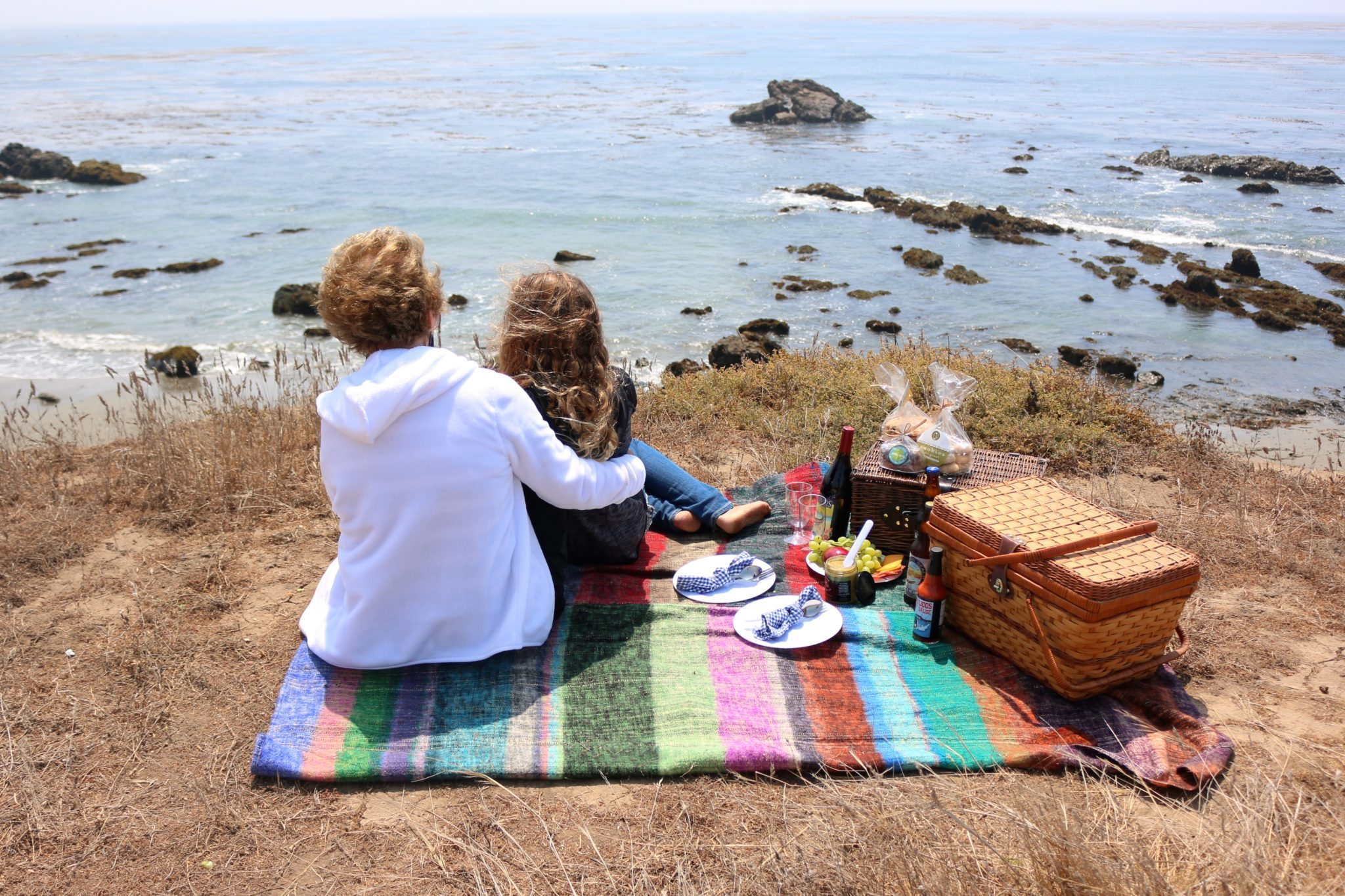 San Simeon & Ragged Point
Plush with views of castles, cliffs and wildlife, feel free to plan your paradise picnic in San Simeon or Ragged Point. Ragged Point is the gateway to Big Sur offering vast ocean views from grassy cliff tops high up above, along with a 
restaurant
 and market offering up some great picnic fare. The coffee and wine bar located at the Ragged Point Inn offers craft brews also, which are a must for wine and beer aficionados.
San Simeon offers views of 
Hearst Castle
 and the historic 
Piedras Blancas Light Station
 replete with ocean views and abundant wildlife including elephant seals, zebras and Hearst Ranch grass fed cattle. Enjoy the stunning natural beauty of San Simeon Cove or set out your blanket at Arroyo Laguna Beach, a windsurfing and kite boarding spot just north of San Simeon. This section is a popular spot for picnics and the cove has barbecue pits available. Kayak with Sea For Yourself Kayak Outfitters and explore marine life at NOAA Monterey Bay National Marine Sanctuary 
Coastal Discovery Center
.
When stocking up for your San Simeon picnic be sure to stop at historic 
Sebastian Brother's General Store
 in the old village for snacks, sandwiches and salads. The most Northern location of the Pacific Coast Wine Trail is also located in the village general store. 
Hearst Ranch Winery
 is open for wine and olive oil tastings daily so be sure to pick up a bottle to take with you. You'll be glad you did. And, don't be surprised if Steve Hearst himself shows up! It's happened plenty of times.
Cambria
Moonstone Beach
 is one of Cambria's best known locations and most scenic spots with several locations perfect for picnics. With a boardwalk that meanders along the coastline offering beach entries with steps to the shore, there are picnic tables, sandy beaches and rocky shores to choose your perfect paradise picnic spot.  Harmony Headlands State Park offers picnickers a chance to work up an appetite with mile hike out to pristine ocean views untouched by buildings, or anything commercial. And, how many places on earth can you choose your picnic spot from almost 2,000 acres of pristine Monterey Pine forest and rolling pastures, all with exquisite views of the ocean? The 
Fiscalini Ranch Preserve
 in Cambria does just that. This preserve is one of a kind and offers abundant picnic options to create memories that will be yours forever.
Downtown Cambria offers many options for loading up the picnic basket. Soto's True Earth Market is filled with healthy food options and picnic ready specialty items, or find gourmet pies and take food to go at Linn's Fruit Binn. Soups, sandwiches and salads are easy to find at Harmony Cafe at Pewter Plough Playhouse or the Cafe. And if wine is in order, there are several more wineries along the Pacific Coast Wine Trail in Cambria and Harmony where you can taste, then buy a bottle to go.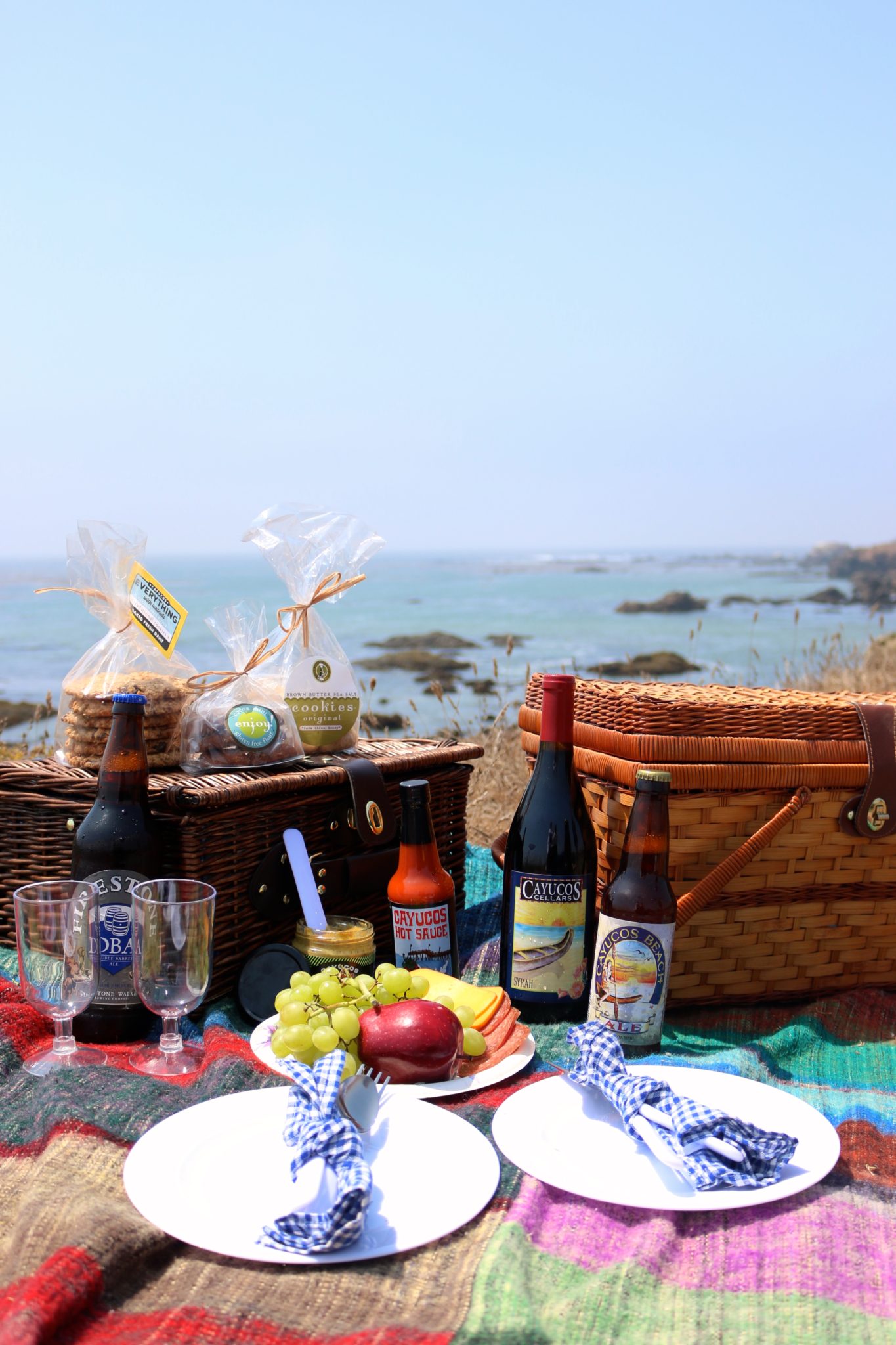 Cayucos
Learn about the diversity of life within the kelp forest while walking along the Estero Bluffs State Park, north of Cayucos, where there are plenty of perfect spots for laying down the blanket, and pulling out the picnic basket full of goodies. Like the Historic Windmill spot locals call Windmills, located just north of Cayucos on Highway 1. It's a nice hike out to the ocean bluffs and is marked with an old classic windmill found just before Estero Point, by San Geronimo Creek. Or picnic along Cayucos State Beach, a sandy beach that offers mild weather, watersports such as surfing, kayaking, swimming and tide pooling. Good Clean Fun offers kayak rentals and tours where they can guide you to the best secret beach spots for picnicking.
Where to fill the picnic basket in Cayucos? Ruddell's Smokehouse is a great downtown location for smoked fish tacos and salads.  For dessert, don't miss the renowned Brown Butter Cookie Company in downtown Cayucos. Featured in the New York Times, this sister-owned cookie company is nationally known for its signature sea salt cookie: a melt-in-your-mouth shortbread morsel with just a touch of sea salt, the perfect ending to the perfect picnic. Visitors are welcome to smell the butter browning, watch the dough-makers in action, and sample freshly baked cookies during regular business hours at this charming small factory and storefront. Picnic Yum!
Los Osos & Baywood Park
Picture rugged cliffs, secluded sandy beaches, coastal plains, streams, canyons, and hills, not to mention a 1,347-foot mountain peak overlooking the Pacific, and miles of hiking, biking and horseback riding trails and you will have envisioned Montana de Oro State Park. Spooner's Cove in Montana de Oro is a beachy cove with picnic tables and tide pooling, perfect for a paradise picnic with the family. Or, head on a hike along the back side of Morro Bay through the El Moro Elfin Forest that supports more than 200 species of plants, as well as 110 kinds of birds, 22 species of mammals and 13 species of reptiles and amphibians. You can picnic under hundred year old Pygmy oak tree while witnessing wildlife watching at its finest.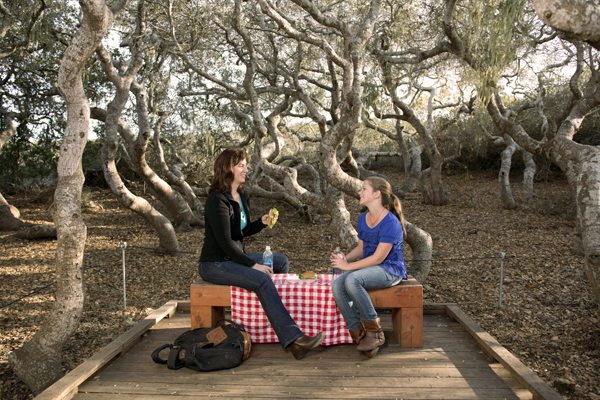 Looking for the best local sandwiches in Los Osos? Stop by the surf themed Beach Hut Deli and get your picnic to go, and then come back in the evening for live music! Before you head out on your picnic adventure, stop by Baywood Ale House for craft beer to go, it's perfect for what "ales" you. Open daily and serving up a wide selection of beers. You can also get food to go for your paradise picnic made from local, organic and farm fresh ingredients. There's also a pup-tastic menu for your furry friend.
Avila Beach
A picnic in Avila Beach is an opportunity to watch wildlife, kayakers and plenty of happy people enjoying sunshine and a beautiful beach. If in town on the weekend, be sure to visit the Avila Beach Farmers' Market held every Friday night from spring through fall along the boardwalk at the pier. The Avila Valley Barn is also a great spot to pick up fun picnic items and explore this magnificent farm before finding your perfect beach picnic spot. Before or after your picnic be sure to check out the Point San Luis Lighthouse and the Central Coast Aquarium. And, for the wine lovers, feel free to pick up some great picnic wine at one of the award-winning wineries and tasting rooms along the 
Avila Wine Trail
. The 
Avila Wine Trail
 features family-owned and operated wine venues offering award-winning vintages that capture the essence of wine making on the Central Coast.
Edna Valley
Whether traveling with a group or just your significant other, SLO Wine Country offers a plethora of beautiful vineyards and wine trails teaming with tasting rooms to enjoy your perfect paradise picnic. Many wineries offer food on site and the historic landmark Old Edna Townsite offers the Pairing Knife Deli in the historic mercantile building that is as delicious as it is charming. Not to mention, Sextant Wines tasting room is right on site and makes it easy to grab a bottle and go; after a tasting, of course. Edna Valley is located just four miles off the Pacific Ocean and is known for award-winning Chardonnay and Pinot Noir.
Arroyo Grande Valley
You can't go wrong with a picnic at one of the many spots throughout the beautifully wooded and mountainous Lopez Lake Recreation Area, one of the top choices for boating, kayaking and leisure trips. On the way to the lake, stop by Talley Farms for fresh produce or 
Talley Vineyards
 for a tasting and a bottle for lunch later.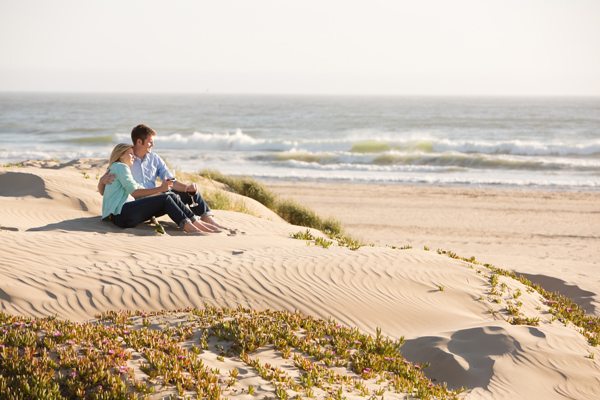 Oceano
The Oceano Dunes State Vehicle Recreation Area, recognized by scientists, conservationists, government agencies, and the public as the finest, most extensive coastal dunes remaining in California and is the only beach in California where vehicles can drive right on the beach. This sand dune complex is geologically unique and also provides an impressive playground for off-highway enthusiasts. Drive onto the beach, bring your beach chairs, picnic blanket and cooler and don't stop until you find your perfect paradise spot to picnic in the dunes. Stop by Grand Deli to pick up a fresh made sandwich made with bread baked fresh on site daily. Or, pick up lunch boxes to go at the Rib Line by the Beach. From slow cooked ribs and roasted chicken to potato salad and Cole slaw, there is a whole lot of BBQ options to take to the beach for a picnic in the dunes.
Nipomo
Oso Flaco Lake is at the southernmost part of the Oceano Dunes State Park.Having come to see dunes, you might be surprised to find yourself in this beautiful wooded area that ends at an incredible boardwalk bridge that takes visitors out over the lake. At the end of the boardwalk you will find a viewing platform with views of the entire San Luis Bay from Point San Luis in the north, to Mussel Rock in the south. After your picnic, have fun visiting the Luffa Farm, the Eucalyptus grove on Nipomo Mesa near the Historic Dana Adobe and the dunes near the Guadalupe-Nipomo Dunes Natural History Center.
When you are getting your picnic together, stop by Willow; part craft beer and wine bar, part deli/restaurant, and specialty market, Willow is your one stop shop for all things picnic. Highlighting local California Coastal fare that focuses on sustainable, farm to table and offering organic coffee and specialty drinks, you can create a deli sandwich of your choice, grab a hand-tossed flatbread pizza, or add their house-made salads to your picnic basket. You'll also find a vast array of craft beers and wines to take on your merry picnic way.
The Discovery Route offers some of the best wildlife viewing opportunities anywhere. Use these tips to improve your chances for a memorable wildlife experience on your next Paradise Picnic!