Your guide to hiking, camping, surfing, fishing and more along Highway 1
Summer road trips are made of this! Pack the cooler with sandwiches and sodas, grab the camera and pull on your favorite hiking boots. The whole family is about to embark on a coastal adventure along coastal Highway 1 and beyond! These SLO CAL State Parks and State Beaches are packed with stunning sights to savor and thrilling summits to climb. Kayak along blue waves, marvel at ancient oak trees or fly a kite with the kiddos. Trust us: there's more sun and fun to soak up than ever before.
San Simeon & Ragged Point: Beach day, the Hearst way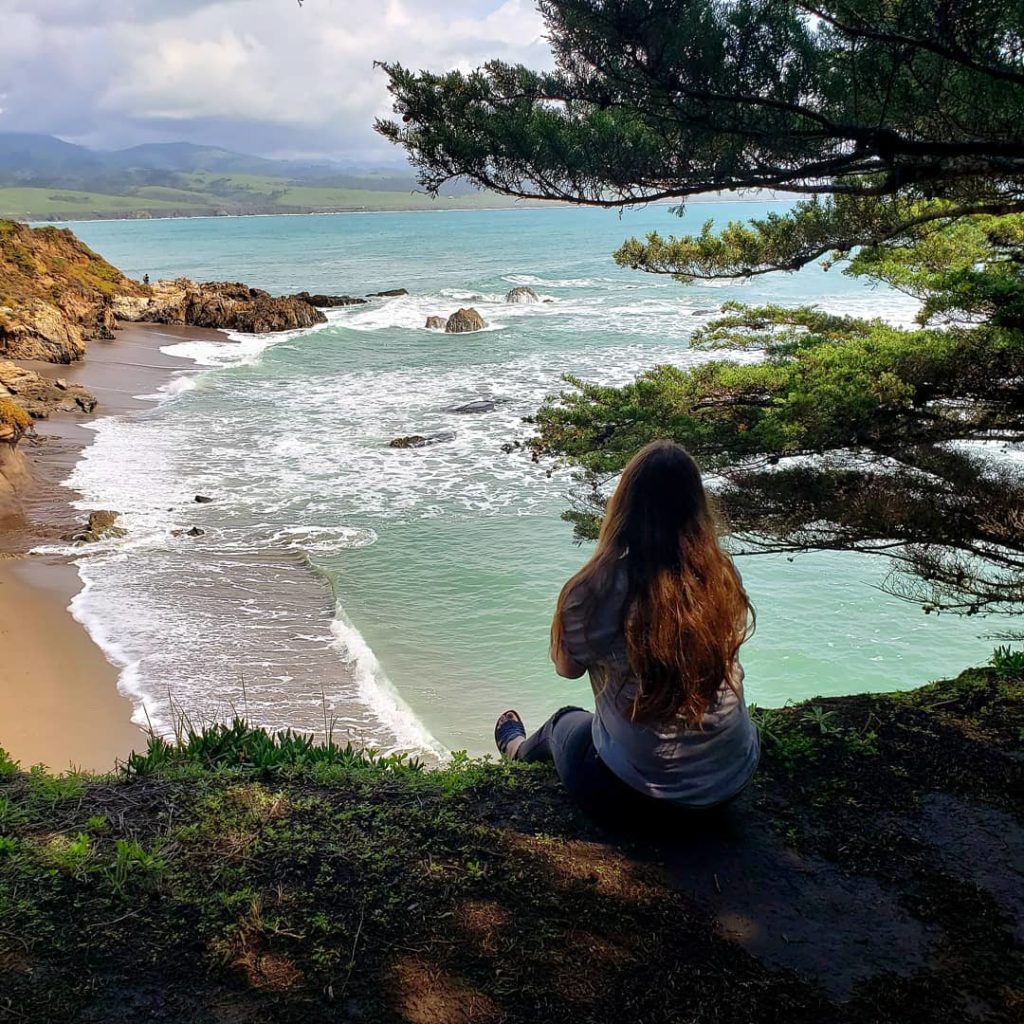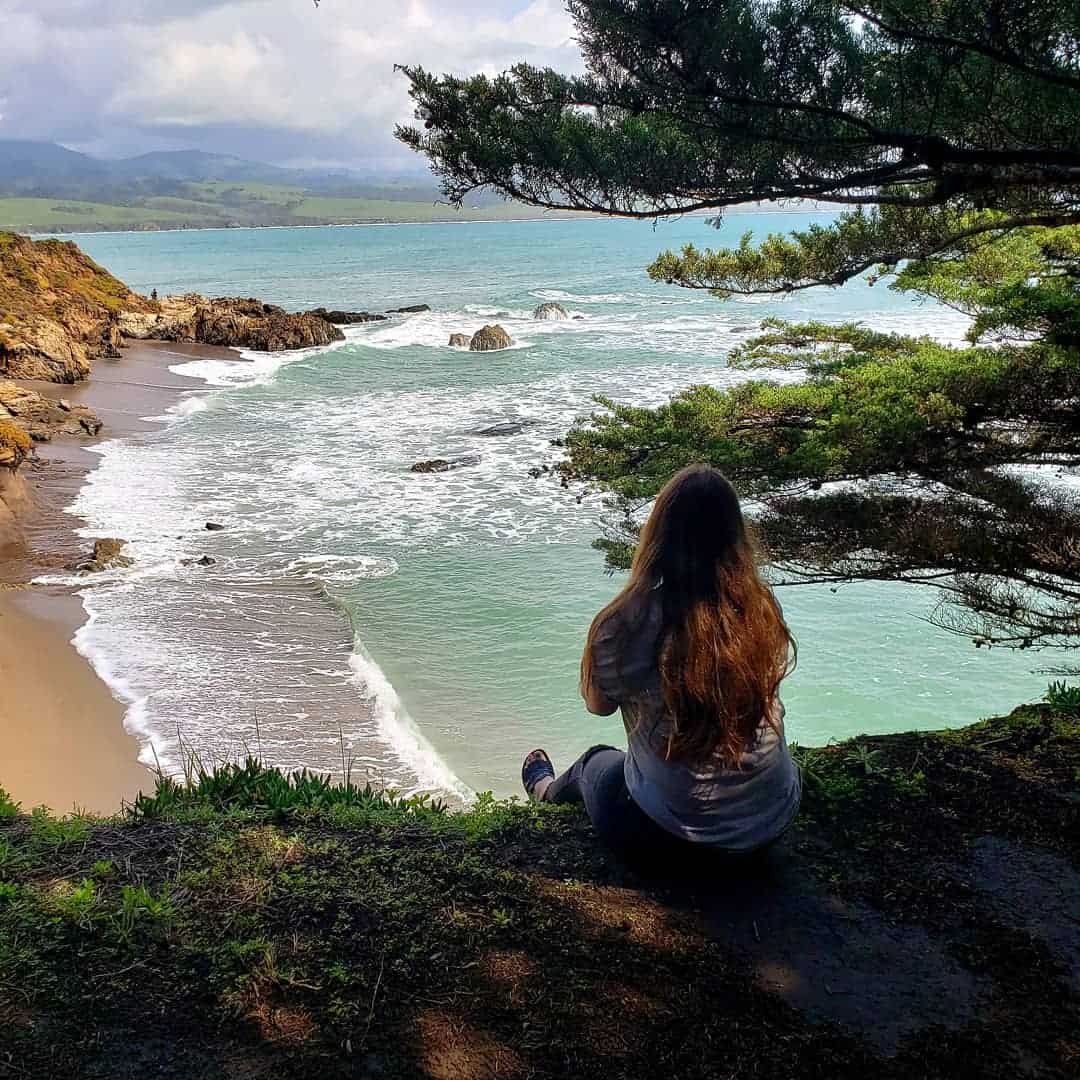 Lay of the land: Cruise north on Highway 1 and you're in for a magnificent sight: Cinematic cliffs, crashing waves and staggering views of the Pacific that seem to drift on forever. In San Simeon and Ragged Point, the scenery is home to historic light houses, secret waterfalls and—to top them all—world famous Hearst Castle.
Main Attraction: San Simeon State Park
Captivating San Simeon: Ready to feel the coastal breeze in your hair and the sun on your face? You've come to the right place. Unobstructed views of the ocean and a scenic, rocky shore make San Simeon State Park—one of the oldest in the California State Park System—a superb stop on your SLO CAL adventure. Hike a lush, 3.3 mile trail winding through parts of the San Simeon Natural Preserve as well as the Washburn Campground (camping is fabulous here, as you can stake your tent just one mile from the sea). Tip: Seeking endless nature walks along the coast? San Simeon State Park also includes the Santa Rosa Creek Natural Preserve and the Pa-nu Cultural Preserve, rife with natural wonders. Trust us, there's more mesmerizing terrain than you could ever explore in a single day!
Main Attraction: Hearst Castle State Historical Monument State Park
Luxurious landscapes: Pay your respects to the man who built San Simeon's opulent crown jewel: Hearst Castle. William Randolph Hearst may have traveled all the world in his lifetime, but when it came time to build his dream home, only one locale would suffice. This uniquely beautiful state park showcases the natural grandeur of the San Simeon coastline (which, it is quite evident, the late great publisher fell deeply in love with). Tour the sprawling hilltop estate, brimming with art, statues, fruit trees and antiques. Be sure to visit the Neptune Pool, studded with Grecian statues (once an aquatic playground for old Hollywood stars). We think you'll agree: The surrounding mountains and sea below add an unparalleled mystique to this world-renowned destination.
Main Attraction: WR Memorial State Beach
Sunny skies ahead: Splash, play and lounge on the sand in San Simeon, just as Hearst's famous visitors once did. The WR Hearst Memorial State Beach offers a beautiful day-use area offering 24 picnic sites, parking, restrooms, water faucets, barbecue facilities and beach access. The beach lies off Highway 1 in San Simeon, just down the hill from Hearst Castle (in fact, the beach was once a port to receive shiploads of antiques for Mr. Hearst's home). Tucked inside a protected cove, the beach enjoys mild weather year-round (highs reach an average of 78 degrees F between June and October, while December's average settles around 60 degrees F). San Simeon Point extends in the shape of a crescent from San Simeon Cove, along a pristine sandy beach. Astoundingly scenic, "The Cove" (as locals call it) is popular for swimming, fishing, sunbathing, picnicking, kayaking, whale watching and more.
Nearby and noteworthy:
Seal of approval: Say hello to SLO CAL's happy seals! The Northern Elephant Seal migrates thousands of miles twice each year to San Simeon, where it breeds, births, molts and rests between trips (wow, would our flippers be tired). The Piedras Blancas Elephant Seal Rookery lets visitors see elephant seals up close, in their true element. Find these magnificent marine mammals on the beach, just off Highway 1, along a beautiful stretch of coastline. Tip: The rookery is easily accessible, free and open to the public all year-round. Best times for viewing? Late January, late April and late October.
Self guided gold: Want to learn more about SLO CAL's unique coastal wildlife? Take a self-guided tour at The Coastal Discovery Center at San Simeon Bay! A joint venture between the Monterey Bay National Marine Sanctuary and California State Parks, the center offers interactive exhibits and educational programs illuminating the cultural and natural history of Old San Simeon, California State Parks and the Monterey Bay National Marine Sanctuary.
Not-so-ragged: Find your black sand beach. The trail to Ragged Point Beach is only a half mile, but quite steep (so wear comfortable shoes to be safe). From an elevation of 400 feet, the views of the beach below are incredible: ever-changing cliffs to the north, a black sand alcove below and endless blue ocean to the west.
Cambria: Claim your coastal oasis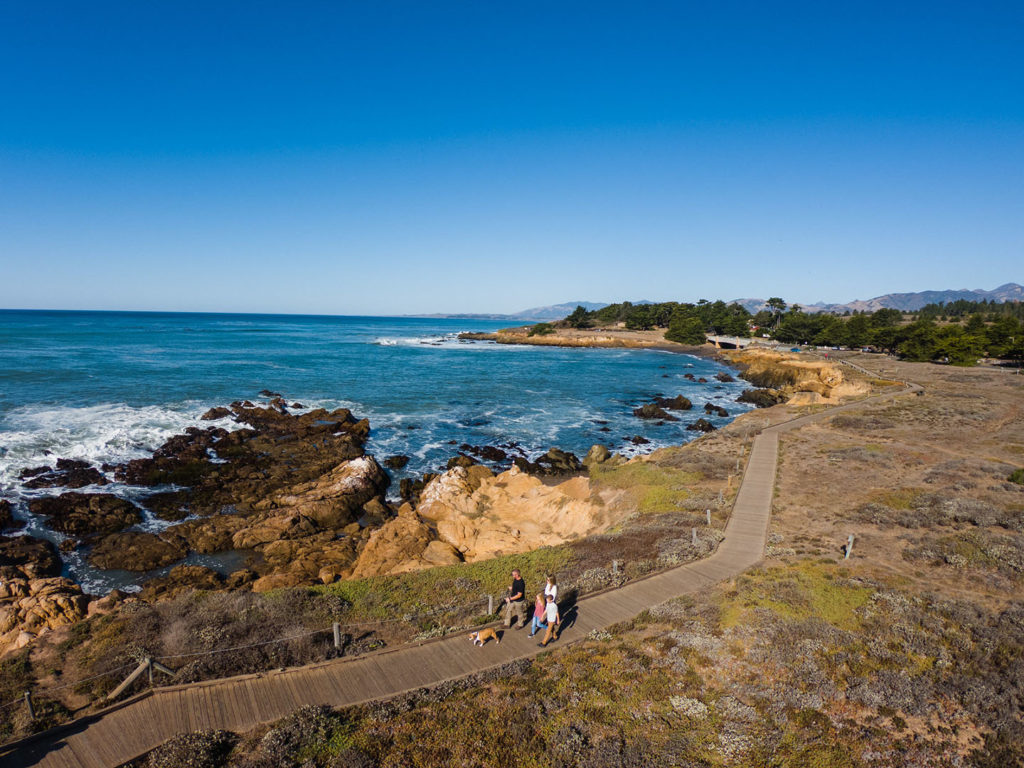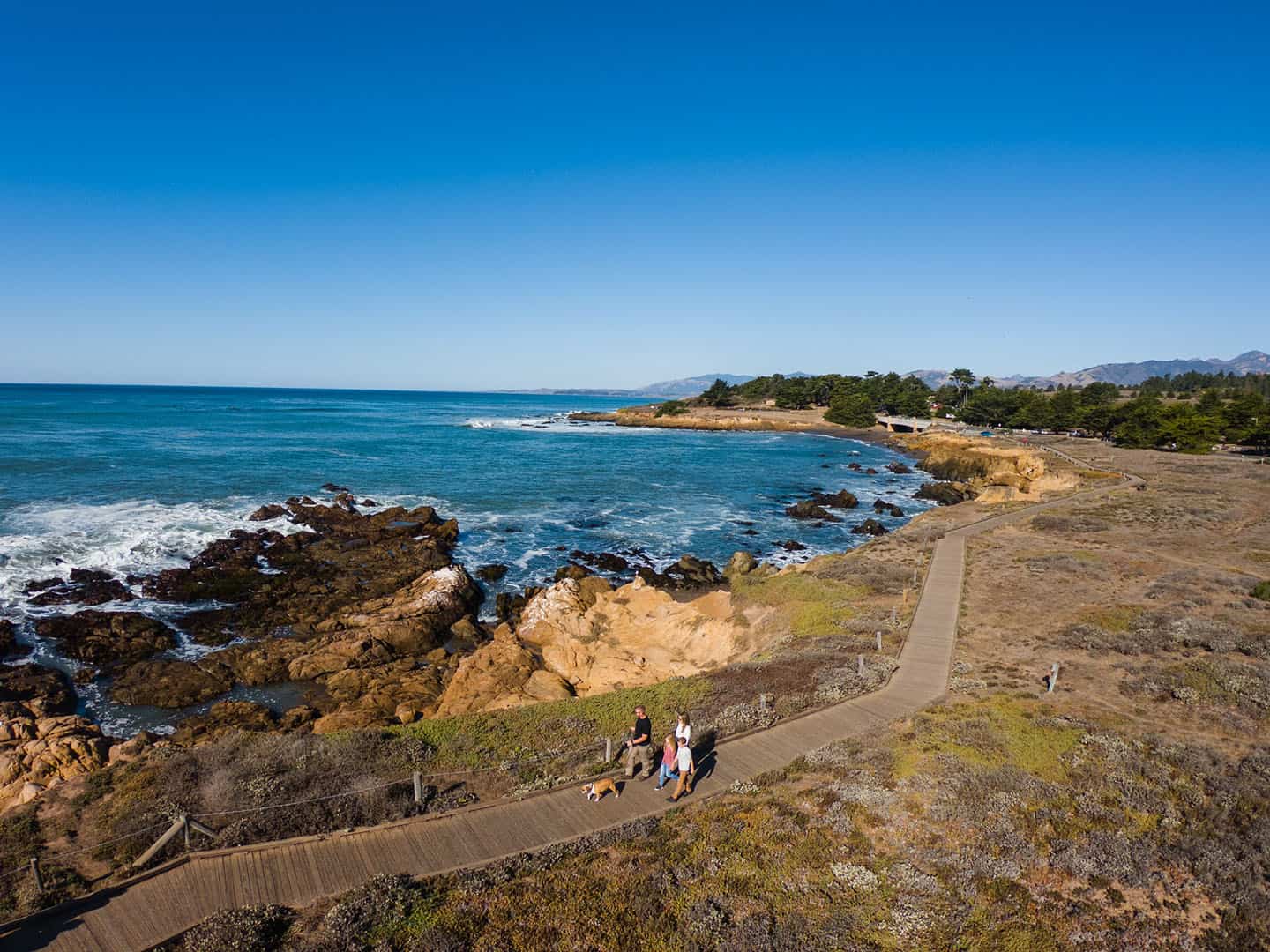 Lay of the land: Regal pines and churning surf meet in the magical realm of Cambria. Home to majestic beaches studded with moonstones, breathtaking coastal hikes overlooking expansive ocean views and wine tasting galore, you'll come back to life–and back to nature—in this calm oasis.
Main Attraction: Leffingwell Landing State Park
Take in the scene: Looking to chill out and slow down? Take a breather at Cambria's Leffingwell Landing State Park, which once served as the center of Cambria commerce. The active wharf at Leffingwell Cove may be long gone, but the landing remains a popular beach spot with visitors and locals alike. Meander along the rocky shore, where tide pools allow for an up-close view of the local sea critters. Tip: Launch a kayak from the boat ramp, enjoy a picnic or simply take in the scenery on a park bench.
Nearby and Noteworthy:
Moonstone mission: Perhaps one of SLO CAL's most beautiful beaches, Cambria's Moonstone Beach is an ethereal outpost where beach-combing is elevated to art form. Early settlers came upon the name thanks to the smooth, otherworldly stones found underfoot—so keep your eyes peeled for glittering treasure of your own. With Shamel Park adjacent, plus access to the Moonstone Beach Boardwalk, this popular and picturesque spot belongs on your SLO CAL coastal itinerary. Tip: At the Moonstone Beach Boardwalk, check out an interactive sign for info on the region's awesome Whale Trail. Who knows, perhaps today is the day you'll see a behemoth breech. 
Kiddos can, too: Got the tots in tow? No worries. At the southernmost end of Moonstone Beach, find Moonstone Beach Park, an area perfect for kids of all ages. This area is the outlet for Santa Rosa Creek, a small freshwater creek that offers safe wading for kids and their parents. Set up a blanket and chairs near the creek and enjoy dipping your toes into the water while the kids frolic in the sun.
Go farther: A precious and protected open space, Cambria's Fiscalini Ranch Preserve stretches for one mile along the Pacific shoreline (and you've got to see this scenery to believe it). With multiple hiking and biking trails — some ADA-accessible — this beloved preserve is a biologically diverse natural wonderland. Bring your family, Fido (on leash), your bike, or just a sturdy pair of walking shoes. There's no better time than now to enjoy the quiet, wildlife and coastal views.
Cayucos: Step back to simpler times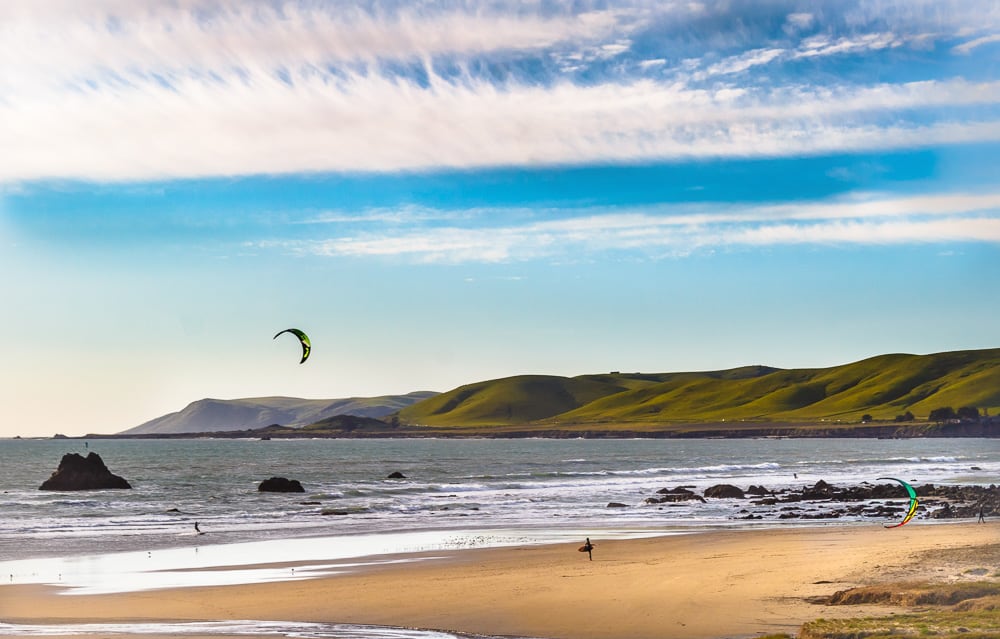 Lay of the land: Drop a line off the historic Cayucos Pier or stroll downtown Cayucos' charming antique shops, and you'll feel it: a sense that time has stopped. There's no need to rush—just enjoy the moment. Bring back life's simplest pleasures with a romp through Cayucos' unhurried beach town, USA vibe.
Main Attraction: Cayucos State Beach
Family fun made easy: Cayucos State Beach is known for its historic fishing pier, uncrowded beach and historical buildings, which now house everything from eateries to antique stores. The sandy beach offers mild weather and water sports (many folks enjoy surfing or boogie boarding here, but be aware: lifeguards are on duty only during peak summer months). Tip: take over a picnic table at Cayucos State Beach and let the kids roam to nearby play equipment. Everything you need for a day of outdoor family-fun is here, including restrooms and outside showers for washing off. Your four-legged pal will be glad to know that dogs on-leash are also welcome from the Pier south to Chaney Avenue.
Main Attraction: Harmony Headlands State Park
Harmonious vibes: Want to take in a view that deserves a spot as your laptop screensaver all year long? Harmony Headlands State Park, a 784-acre coastal park located approximately five minutes north of Cayucos on Highway 1, is your destination for jaw dropping beauty. Not far from the parking lot, you'll find a 1.5-mile trail winding west to coastal marine terrace. Take the path and you're in for a treat, especially at sunset: Grassland greenery, undulating hills and panoramic views of the Pacific. The park is open for day use hiking from dawn till sunset, so plan a day of it and bring your camera and some snacks. Tip: Your cell phone signal may be a bit sparse here. Take the opportunity to unplug and enjoy real life, in real time.
Main Attraction: Estero Bluffs State Park
No bluffing: Keep an eye out for otters! The majestic, four-mile Estero Bluffs State Park in Cayucos offers up a heavenly collection of beaches nestled on the northern end of Cayucos. Whether hiking, bird watching or tide pool spelunking, anyone at any age can appreciate this precious stretch of unspoiled coastline.
Los Osos & Baywood Park: Open up to wonder
Lay of the land: From the multifaceted splendor of Montana de Oro State Park's golden hills to a storybook forest occupied by odd-looking pygmy oaks, Los Osos does not disappoint in the "wonderment" department. Need a moment of solitude in this too-busy world? Secluded Baywood Park's chill back bay waters are perfect for unwinding the day.
Main Attraction: Montana de Oro State Park
Hills of gold: Tide pools teeming with life, horseback rides along the sand and fiery sunsets await at Montana de Oro State Park in Los Osos. If you love to hike, you're in luck. With many popular trails—including the Bluff, Valencia Peak, Hazard Peak, Islay Creek, Oats Peak and Reservoir Flats Trails, there's a difficulty level for everyone. Tip: While the Valencia Peak Trail—which affords a 360-degree view for those willing to trek 4.5 miles at an elevation of 1,275 feet—may be a tad harder for young kids, there's plenty of easier trails (and all offer similarly astounding scenery).
Main Attraction: Los Osos Oaks State Preserve
Ancient roots: Isn't it amazing to think about how much history a single oak tree has experienced in its lifetime? The Los Osos Oaks State Natural Reserve protects 90 acres of ancient dwarfed oaks in a coastal dune habitat unlike anything you've ever seen. Dating back 800 years, the oaks' gnarled roots make a spectacular backdrop your next SLO CAL adventure. El Moro Elfin Forest, adjacent to the Morro Bay Estuary, showcases not just oak woodland, but also coastal brackish marsh, riparian woodland fringe, maritime chaparral and coastal dune scrub. Fun fact: The Elfin Forest supports more than 200 species of plants, as well as 110 kinds of birds, 22 species of mammals, and 13 species of reptiles and amphibians. Wow! It's also home to rare plants, butterflies, snails and birds. Can't wait to see for yourself? Enjoy a docent-led hike.
Nearby and Noteworthy:
A farmhouse with a coastal view? Only in SLO CAL! Today, the historic Spooner Ranch House serves as park headquarters, museum and gift shop for Montaña de Oro State Park in Los Osos. Back in the 1850s, the farmhouse was surrounded by bountiful crops. The crop rows may be long gone, but the house still offers unmatched ocean views!
Oceano and Nipomo: Do the dunes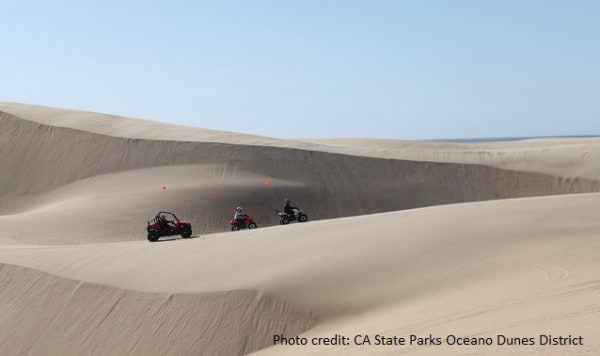 Lay of the land: Where can you hike, surf, paraglide, fish, dig for clams, ride horseback and drive on the beach? In SLO CAL, there's only one place: Oceano. Known as "The Southern Gateway to SLO CAL," Nipomo is awash in agricultural and early Rancho California heritage. A detour off the beaten path offers up clear blue skies, placid lake waters and a surprising swath of animal life.
Main Attraction: Oceano Dunes State Vehicular Recreation Area
From Dune-dwellers to drivers: We bet you've never experienced a state beach that offers history, beauty and thrills like this. The early Chumash people and the artists' community the Dunites both called the Oceano Dunes home. Now, the surreal, moon-like scenery is probably best known for the Oceano Dunes State Vehicle Recreation Area (SVRA), the only one of its kind to allow vehicles to drive on the sand. Kick it into high gear and roll on to your heart's content. Whether you drive your own vehicle or hop in an ATV, you're sure to get that adrenaline going. Tip: You can also ride on the dunes in nearby Grover Beach. Nestled on Highway 1 between Oceano and Pismo Beach, this family approved destination is home to casual eateries where everyone can dine happy. Leave the car at home and enjoy the Amtrak station located right near the coast. End your action-packed day with a bonfire on the beach with a round of gooey s'mores.
Nearby and Noteworthy:
Sands of time: Intrigued by the dunescape's unique allure? Head to the Oceano Dunes Visitor Center, where you can partake in hands-on exhibits and learn about local plant and animal species (including those famous Pismo Beach clams). Tip: Take a historical tour for a deeper look at the Chumash and Dunites. End your visit with a short stroll behind the center for a view of the fresh-water lagoon and all its natural inhabitants.
Lakeside: Enter a world apart. Oso Flaco Lake Natural Area in Nipomo offers a quiet preserve for flora and fauna unique to SLO CAL. With a river, freshwater lake, dunes, and sweeping ocean views, this scenic setting is part of the Oceano Dunes State Vehicular Recreation Area (SVRA). Tip: Bring binoculars for bird sightings along the placid lake's edge.
Green thumb: How does your garden grow? The Nipomo Native Garden is a marvel for anyone interested in cultivating the earth (or just admiring the flowers). This native botanical garden features plant communities endemic to the Nipomo Mesa and dunes complex, and oh, are they lovely! Fun Fact: A local, community-based federal and state non-profit organization composed of volunteers, Stewardship travelers are welcome to join the effort or just enjoy the beauty of the park.
Arroyo Grande Valley: Get wet and wild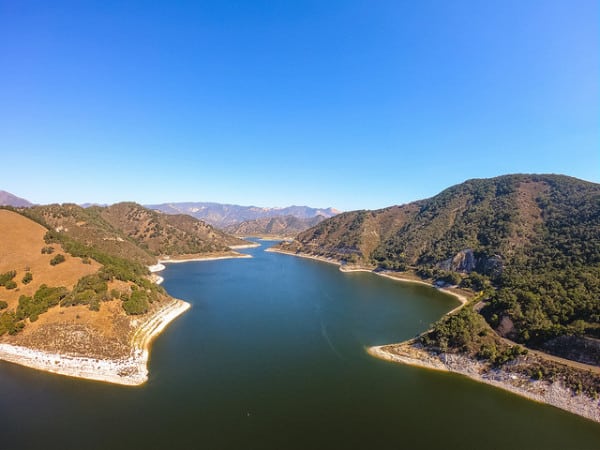 Lay of the land: Take a tip from the native Chumash tribe, who flourished in the canyons surrounding Lopez Lake. Located just ten miles east of Arroyo Grande, Lopez Lake Recreation Area is the perfect place to fish, camp, horseback ride and hike. Incredible natural beauty combined with oodles of family-friendly activities make for an active day trip like no other.
Lopez Lake Recreation Area (County Park)
The water's fine: OK, this water's better than fine—it's fantastic! Lopez Lake's 22 miles of shoreline and warm waters are downright inviting. With an average year-round temperature of 79 degrees Fahrenheit, you'll never worry about jumping in. The recreation area's 4,200 acres of open space encourage camping, hiking, mountain biking, and riding horseback, too. Rent a boat or launch your own from the marina, then cruise out for fishing, water skiing and wake-boarding. Yep, you can also Jet Ski, stand-up paddle-board, windsurf, sail and kayak. Of course, you can also just take a dip, then lay out with a good book. 
Nearby and noteworthy:
Calling all thrill-seekers: Action ahead! Visit Vista Largo Adventure Park, for high-adrenaline thrills, including zip lines, ropes courses and more, all conveniently located at Lopez Lake. Zip over terrain with a combined 2,100 feet of line, including two high-speed lines that'll likely inspire shrieks of excitement. Endurance nut? Challenge yourself on high-elevation ropes, from beginner level to double black diamond.
Edna's calling: The nearby coastal Edna Valley wine region, located just a few miles from the SLO CAL coast is also home to incredible hiking trails offering up vineyard-swept views for those who make the trek. Leave your work emails behind as you immerse yourself in the climb through SLO Coast Wine Country.