In a land of natural splendor, it's no surprise that the public has access to breathtaking, fun, and fascinating parks. On this special stretch of Highway 1, the wild and the wonderful conspire to bring kids and their grownups closer to nature — and to each other. Here, you can hold moonstones in your hand, ride a tall slide right down onto the beach, and barbecue for a crowd. You can climb multiple playgrounds, shred on your skateboard, or hike to get a better view of the ocean. You can even peep thousands of butterflies, fight swashbuckling pirates, or pretend to be a billionaire in his hilltop estate. All of this — and more — is possible in our top 10 parks, and can be done as a family, experiencing together the beauty and bounty of coastal California. Best of all? These experiences won't break the bank. So hop in the car, cue the road trip tunes, and head out to see these top 10 parks along Highway 1.
1. Hearst Castle State Park
This historic mansion is a billionaire's playground rather than a children's playground, but it's a playground kids can appreciate nonetheless. Situated high above the San Simeon coastline, Hearst Castle is the vision of 20th-century media tycoon William Randolph Hearst. This hill he called "La Cuesta Encantada" — The Enchanted Hill — for its spellbinding views and natural beauty. But it was also enchanted because it hosted Mr. Hearst's celebrity friends, from famous actors and writers to political figures and dignitaries. Built in a European style he saw throughout his life's travels, Hearst Castle was designed by famed California architect Julia Morgan. After he died in 1951, the entire estate — including its treasure trove of antiquities— became property of the state of California. Today, Hearst Castle welcomes 750,000 visitors to tour its buildings and grounds each year. Kids will be amazed to see the iconic Neptune Pool and indoor Roman Pool, made with real gold. They'll delight in seeing where Mr. Hearst slept, walked, and ate, and to watch reels of celebrity visitors in his private theater. If that gets them really interested, consider viewing the IMAX film "Hearst Castle: Building The Dream" in the Hearst Castle Visitor's Center. Admission is free with every tour of the estate.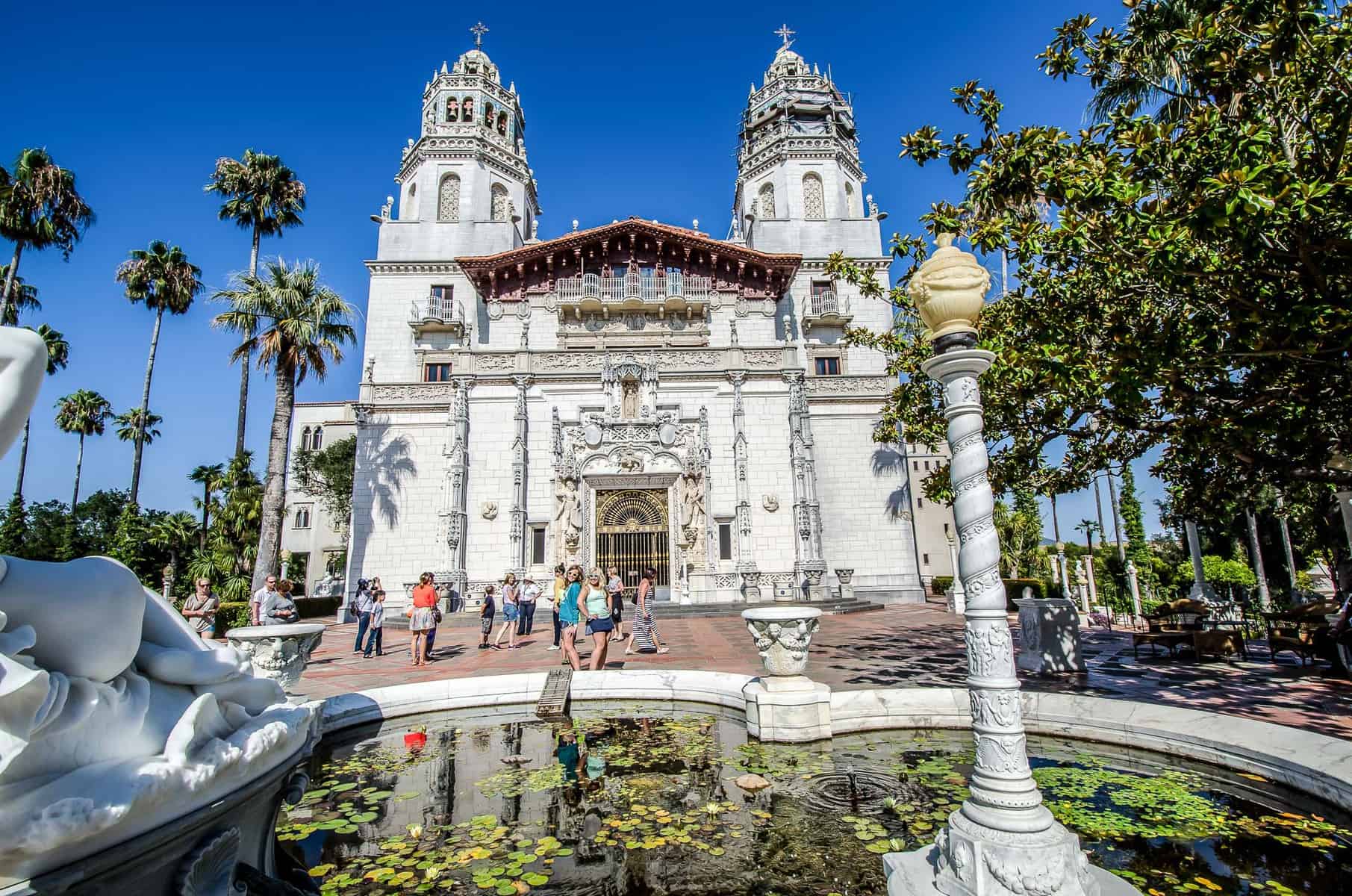 2. Shamel Park on Moonstone Beach
With its special, rambling play structure, public swimming pool, and pretty gazebo, this Cambria park is already sensational. But the fact that it lies up against one of the most picturesque and interesting beaches in California makes it truly exceptional. With six acres of clean, well-maintained facilities, Shamel Park has something for everyone. Kids love the playing field, play structure and ADA-accessible heated swimming pool, and lovebirds like the wedding-friendly gazebo and oceanfront location. Horseshoe pits, day-use areas with barbecue facilities, and easy parking make this an appealing park for multiple reasons. And when you're ready for something a little different? Walk down to Moonstone Beach and hunt for sea glass, driftwood, and the ocean-polished moonstones along the shore. This park also provides access to the Moonstone Beach Boardwalk, a one-mile path that hugs the coastline and provides excellent views of the Pacific below. Pack a picnic and the kids' swimsuits, and settle in for a full and fulfilling day at Shamel Park.
3. Cayucos Beach Playground at the Pier
How often do you see a really excellent playground right on the beach? There's nothing else quite like the Cayucos Beach Playground at the Cayucos Pier. This play structure appeals to kids of all ages — even the ones who think they're too old to play at the park. Think: plenty of climbing bars and footholds, bucket swings and big-kid swings, spring riders, and a tic-tac-toe board. There's also a unique section of the playground with swinging monkey bars, lilypad jumps, and a set of rigid bongo drums to play. But the crown jewel on all of this wonderfulness is the steep, steep slide, shaped like an elephant's trunk. For years, this slide has double-dared kids to take the plunge, and many have accepted the challenge. The playground is also great for when one sibling wants to surf or wade in the waves, and another just wants to climb and play. A restroom, outdoor shower and foot shower stand just feet away for convenience, as do restaurants, antique stores and sweets shops.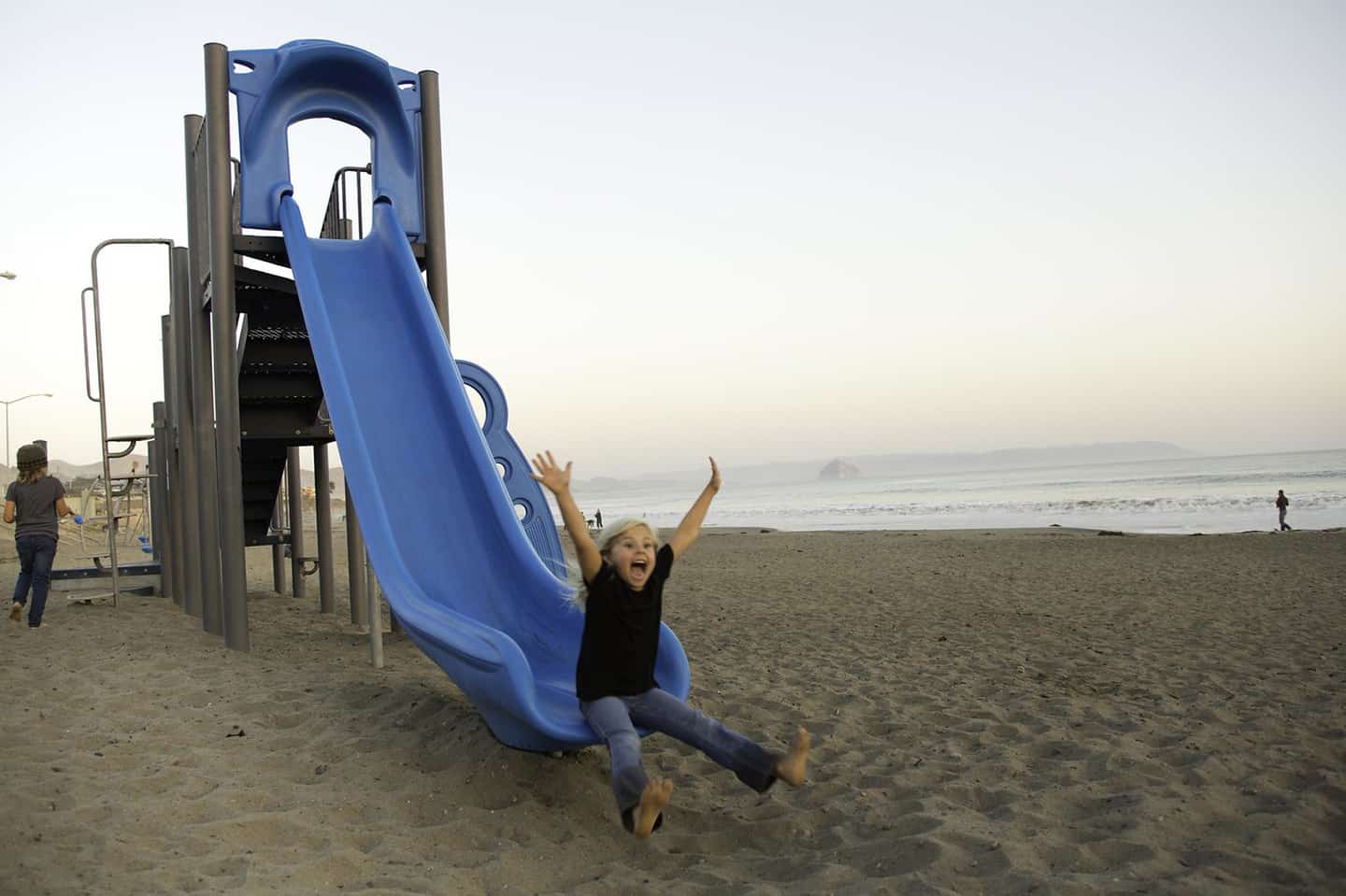 4. Hardie Park in Downtown Cayucos
Named after a family of Scottish immigrants who settled here in Cayucos's early days as a town, Hardie Park is another multi-faceted public space with a lot to offer. Just a few minutes' walk from downtown Cayucos's shopping and restaurants, the park straddles across the corner of Ash Avenue and B Street. On one side lies a well-maintained lawn, a covered day-use area and BBQ facilities. You'll also find horseshoe pits, a play structure, and restrooms, making this the perfect spot to hold a celebration or gathering. The other side of the street boasts tennis courts plus a heated ADA-compliant swimming pool with a kiddie pool, showers, and restrooms. These facilities can be rented by the hour for celebrations like reunions and graduation parties — or just for fun. When the party ends, have everyone walk one block over to downtown Cayucos for adult beverages, a sweet treat, or just to watch the sun set.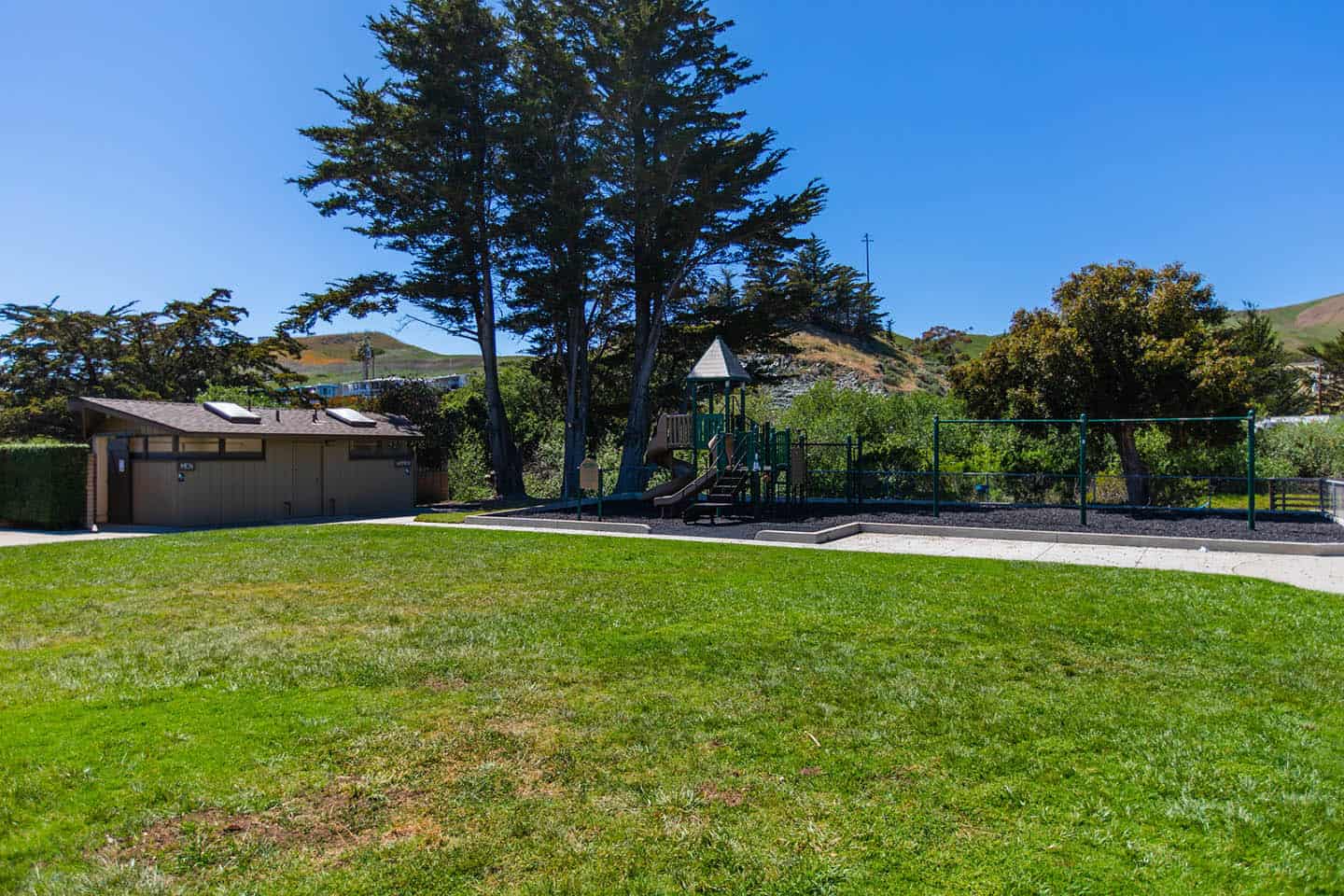 5. Pirates Park on Avila Beach
Ahoy, mateys! This parrrrrrk is arrrrrrguably the very best (and only!) pirate-themed park around, with a seaside view and plenty of room to play. A sandy bottom surface makes Pirates Park safe for little ones, while older kids get a kick out of trying to climb the crow's nest. Big rocks form a bridge that's fun to hide beneath for hide-and-seek, while the play structure offers slides, climbing walls, a spinning coil and two bucket swings. The park is surrounded by a rolling lawn where it's easy to lay down a blanket and see the kids play nearby. Restrooms, water fountains and soda vending machines can also be found here. Other amenities within view of the Pirate Park? First and foremost is Avila Beach itself, located just a few steps from the park, with its white sand, pier, and gentle waves. Also nearby are the Central Coast Aquarium, beach volleyball, basketball courts, picnic tables and barbecue facilities. Fun fact: parts of Disney's Pirates of the Caribbean trilogy were filmed just south of Avila Beach at the Nipomo-Guadalupe Dunes.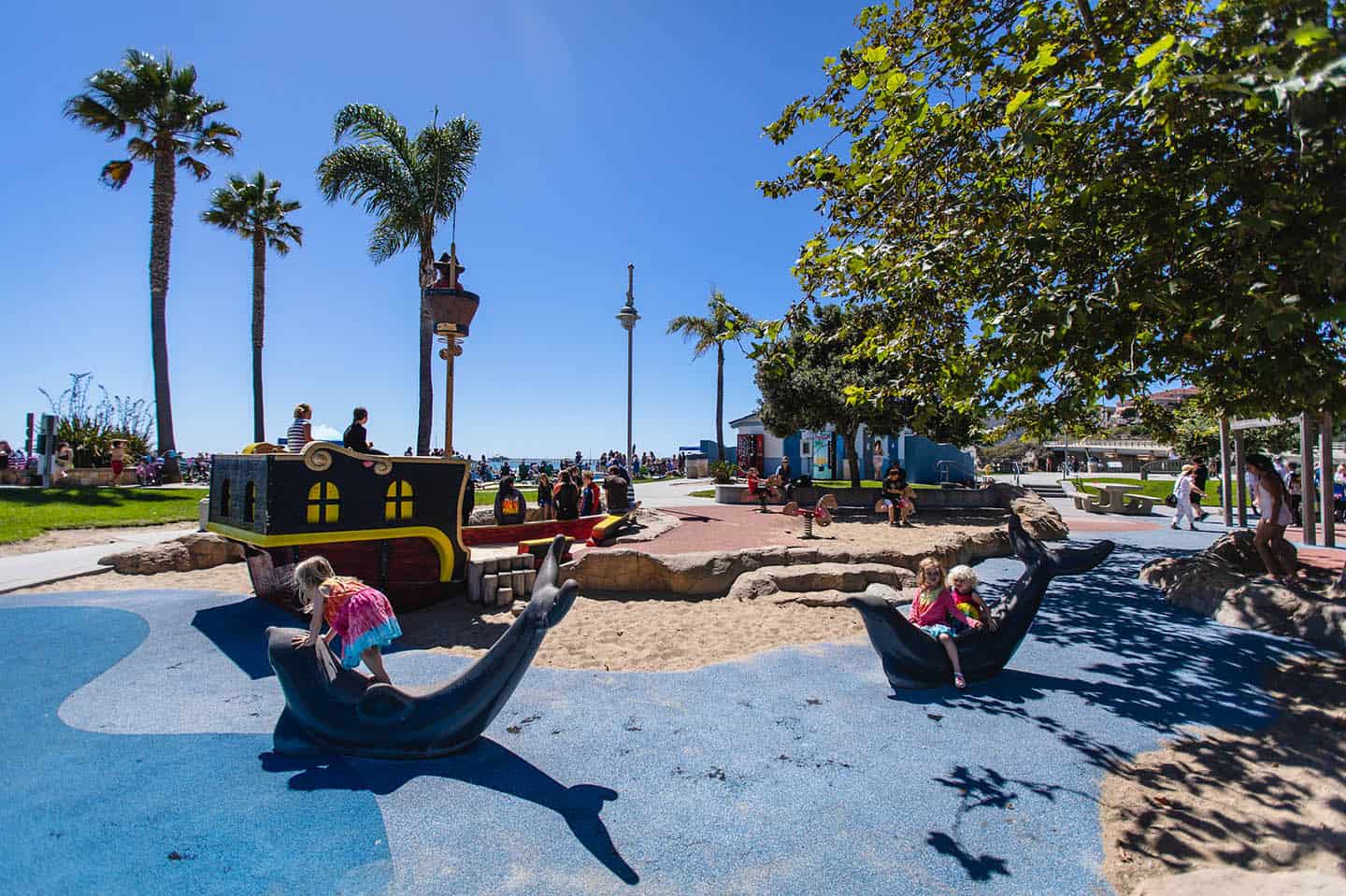 6. Los Osos Community Park
This sprawling park feels like multiple parks in one, with plenty of room to roam — and kids will love every inch of it! Bring a quilt and snacks, and relax on the grass while the kids play on the two modern, challenging and fun play structures. Or, for older kids, walk a few feet over to the adjacent Los Osos Skate Park. This wonderful new 17,000-square-foot addition invites skateboarders and scooterers to explore its three bowls, transitions and street options. If Rover is on-leash, he can explore Los Osos Community Park, too. Grownups, take note of the two tennis courts and horseshoe pits available for games. Are you looking for a gathering site? Have a look at the Grizzly and Red Barn group picnic areas, which can accommodate 150 guests and are available to rent. And for history buffs, check out the one-room Sunny Side School House from 1875. It's still possible to see inside the windows of this storied Los Osos landmark.
What this park lacks in play structures it more than makes up for in wildlife viewing, mellow hikes and ocean views. One of the newest and most noteworthy parks on Highway 1, the Pismo Preserve affords visitors views of the Pacific that had not been available before. Rambling above Pismo Beach, the Pismo Preserve's 880 acres include nearly a dozen miles of trail and ranch roads to explore. Hikers, mountain bikers, and horseback riders are welcome to take these trails over hills, through valleys, and to hilltops with a panoramic view. Walk through oak forests and wander across grassy glens where only cattle and ranchers once roamed. Folks who reach the highest heights may even be able to see Irish Hills to the north and Point Sal to the south. Insider tip: With its elevated position, this is one of the best spots from which to watch whales migrating off the coast. Check in with the Whale Trail to learn which whales are migrating during your visit and what to look for.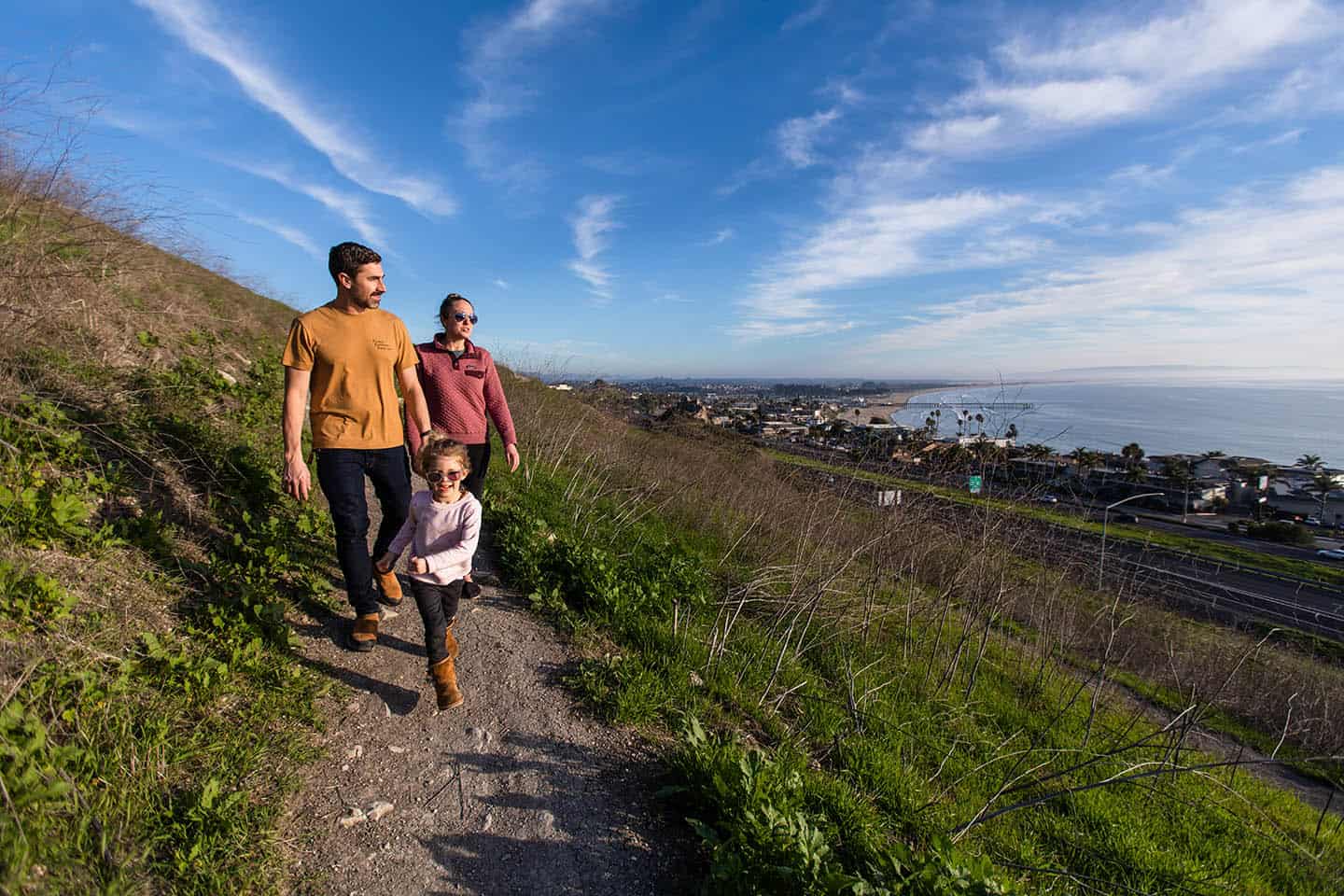 8. Monarch Butterfly Grove in Oceano
Many visitors can't believe their eyes when they arrive at this protected natural Monarch Butterfly Grove. Are those leaves on the eucalyptus trees, or are they really clusters of butterfly wings? Yes, they're wings: tens of thousands of migrating Monarch butterflies have been known to rest, mate, and warm themselves here each year. The Western Monarch follows a migratory path twice per year, much like migrating birds. As they travel to warm climates, they pause along the way in Oceano to warm their wings in the sun while hanging on eucalyptus branches. And at their peak here, the Monarchs comprise one of the largest populations of this species in the world. Come between October and February to see them in their natural habitat, and learn from knowledgeable docents about their life cycle. You can even use their high-powered telescopes to see the Monarchs up close as they cluster on the trees. So while this isn't a traditional park with a play structure, it certainly is a magical place for the whole family to enjoy.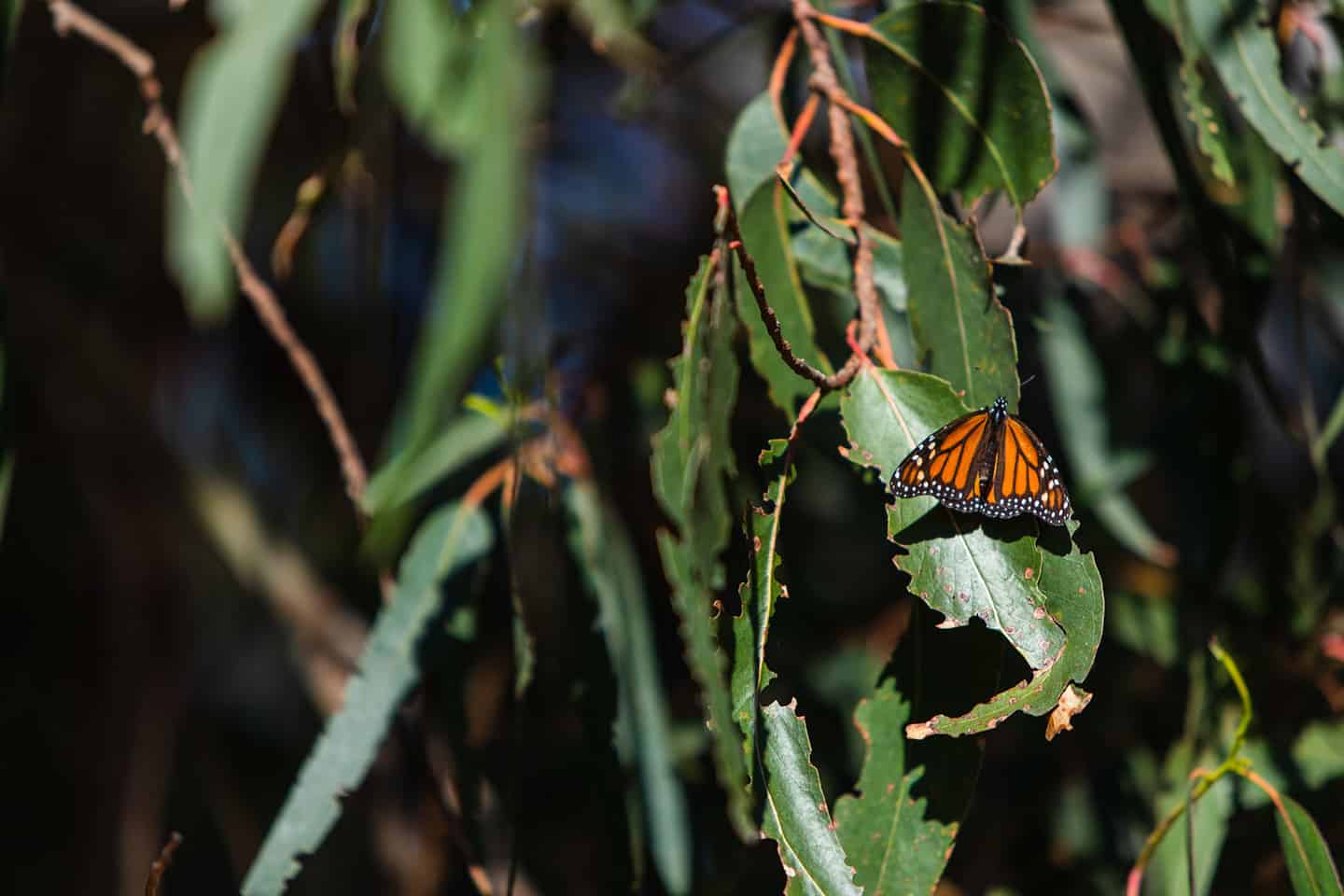 9. Biddle Regional Park in Arroyo Grande
Looking for a quiet greenspace to get away to? This Arroyo Grande park lies far away from crowds, noise, screens or any other modern distractions. The setting feels like a secluded ranch, occupying 47 acres with sports fields, horseshoe pits, volleyball courts, picnic tables and barbecue facilities. A creek channel provides a natural boundary for the park, with a network of cottonwood and sycamore trees and the wildlife they support. Locals love this park for its spaciousness, its remoteness, and its facilities for hosting both large and small gatherings. Biddle Park boasts five day-use areas, with plenty of restrooms and parking, but it's also perfect for a family picnic and discovery time. Play on the play structure and explore the greenbelt around the park. Just beware of the prevalent poison oak here. Know what it looks like and be careful when wandering into brush. Bonus points: hit up Talley Winery & Vineyards across the road for wine tasting before or after your visit.
10. Nipomo Community Park
To play like the locals play in Nipomo, head to the Nipomo Community Park. This expansive green park has been the civic center of town life for many years. Everything from Oktoberfest to tee-ball games, picnics to pickleball have brought the locals together here. Take advantage of the rolling green turf: it really does beg for kids (and kids at heart) to run and roll down its gentle slopes. They'll also enjoy the farm-themed play structure — one of the biggest and most impressive in the area. The park includes three day-use sites for groups, each of which has Santa Maria-Style barbecue pits/screens and seating for a crowd. Want to play softball, volleyball, soccer, football or horseshoes for a family reunion or team-building weekend? Find all the courts and sports fields you need within the 140 acres of Nipomo Community Park. And what about your furry, four-legged friends? They can come, too: set Fido and Rover free in the fenced dog area with other pups to sniff and chase.