Tucked amidst Oceano's historic storefronts and authentic Mexican restaurants, the Great American Melodrama brings old-timey entertainment and belly laughs to visitors of all ages. The Oceano Melodrama encourages audiences to cheer the hero and boo the villain, and has fans all over the world. Cap a full day of exploring the nearby Oceano Dunes and Oceano Dunes Visitor Center with a fun night at the theater, Melodrama-style.
Located in beachy Oceano, the Great American Melodrama has attracted both locals and visitors to the Central Coast for four decades. A destination for all ages, from kids to teenagers to adults to grandparents, the theater was established in 1975 by John Schlenker and Anet Carlin. 
The plays they produced in the early years were "melodramas," a style of theater dating back to the 18th century, incorporating songs and live music. These old-timey stories show square-jawed heroes save damsels in distress from evil villains, along with lively piano accompaniment. Most importantly, melodramas require audience participation, even if only hissing the villain and cheering the hero. This becomes the magic ingredient that makes seeing a classic melodrama so fun. 
Many professional actors get their start at the Oceano Melodrama, which is known as a proving ground for the theater and film industry. Some notables include Kelly McGillis of "Top Gun" fame, Leslie Jordan from "Will & Grace," and Broadway star Patrick Page.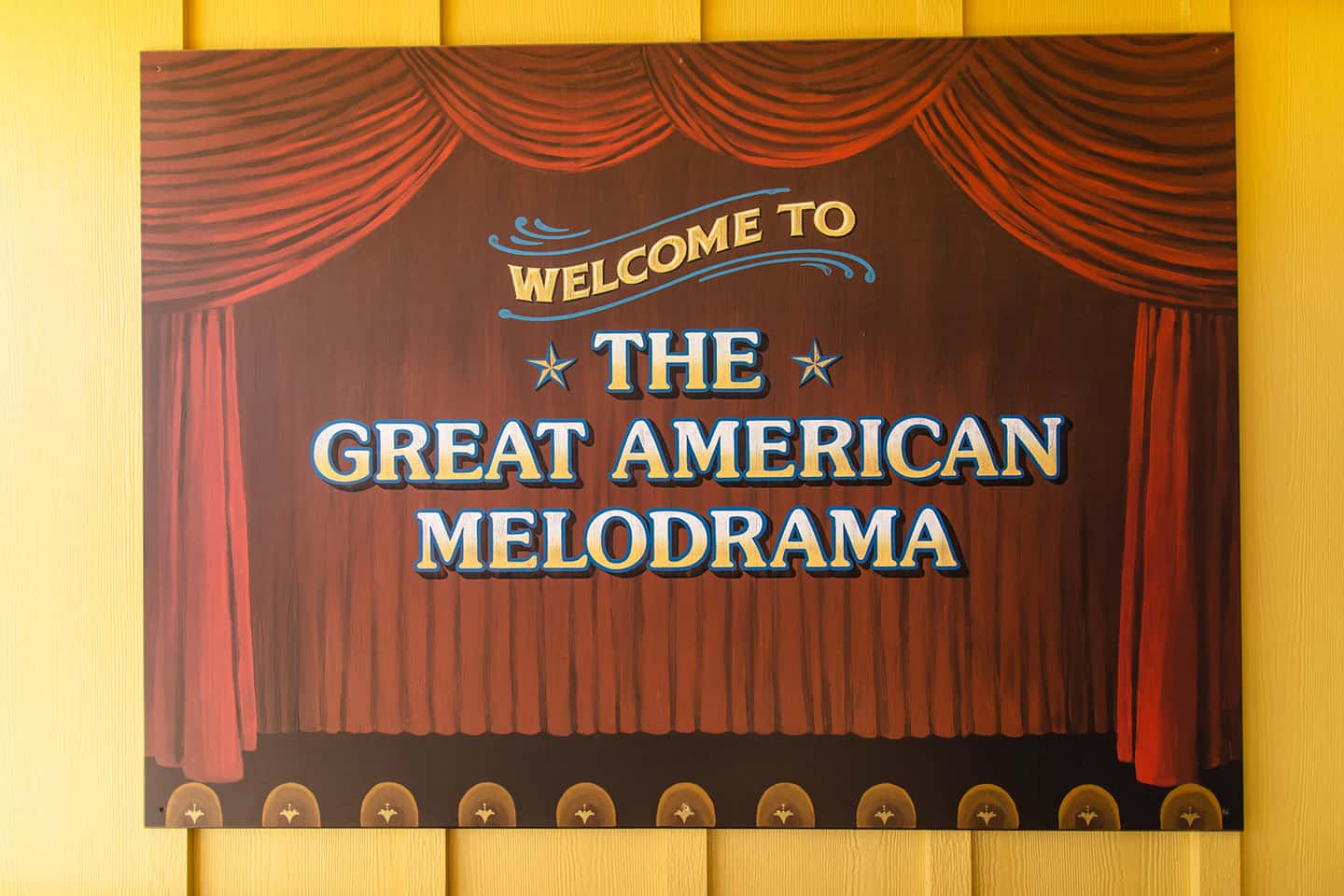 The Great American Melodrama isn't like any other professional theater company. Costumed actors enter the audience experience, ushering guests to their seats, taking orders at the snack bar, and serving grub. A sing-along kicks off the show each night, followed by anything from a modern comedy to a musical parody, in addition to traditional melodramas. Some have called these shows as a cross between a cleaner version of Saturday Night Live and Disneyland.
Between acts, the snack bar serves hot dogs, chili, baked potatoes, beer and popcorn, among other items. Be sure to leave a tip for the actors serving your fare ― they'll sing you a mini-rendition of a popular song in gratitude. After the play, the actors perform a vaudeville revue with sketches, songs, and uproarious spoofs on pop culture.
The building that houses the Great American Melodrama is as much a character as any you'll see on stage. Converted from Oceano's Rexall pharmacy in the 1970s, the theater has recently expanded to provide more space for the ticket office, parking, restrooms and snack bar line. Painted backdrops, props and elaborate costumes are now produced in an adjacent building.
The Melodrama stages shows year-round, with seasonal favorites like "Scarry Poppins" in October and "A Christmas Carol" during the holidays. Shows like these sell out quickly ― further proof that the Oceano Melodrama is a Central Coast institution.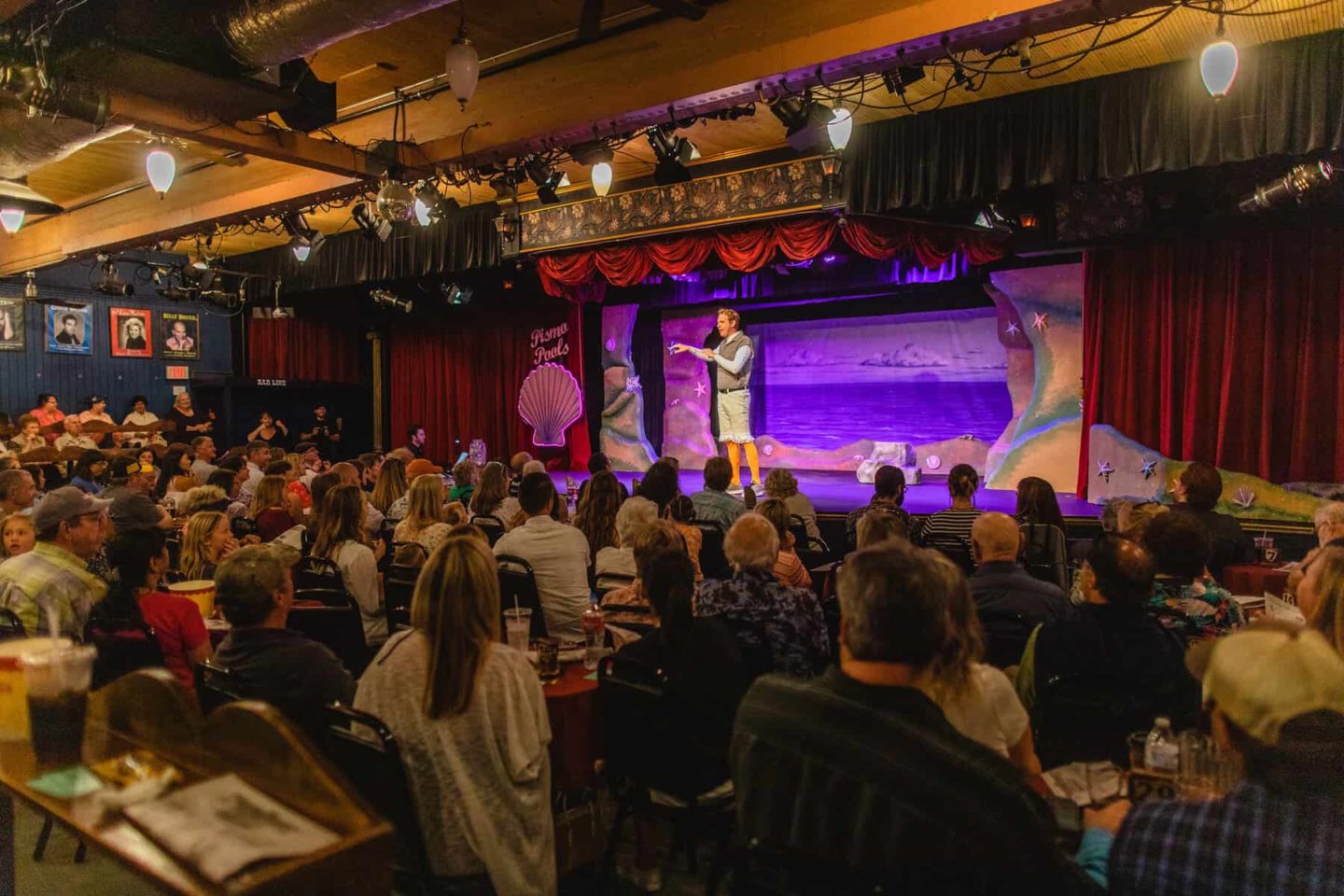 Who to take
Remarkably, the Great American Melodrama satisfies everyone's sense of humor, from young kids to great-grandma. Unless stated otherwise, all shows are rated G. (Some can be rated PG for mild humor and innuendo.) While babes in arms are welcome, the Melodrama encourages parents to take fussy little ones to the lobby, where performances are televised live. Check in with the box office for more details on the specific show you want to see. The Melodrama also offers accessible seating.
What to eat
Dine and drink at The Great American Melodrama & Vaudeville Revue! Audience members have a wide variety of options to choose from. For hearty grub, there are nachos, pulled pork sandwiches, and chili dogs. In particular, the Melodrama is known for its stuff-your-own baked potato bar, which includes cheese, bacon, sour cream, chives, and other goodies. Lighter options like turkey wraps, garden salads, and hummus plates are also available. Wash it all down with any number of beers and cider on draught, local wines, or soda. And don't forget a bucket of the Melodrama's famous popcorn!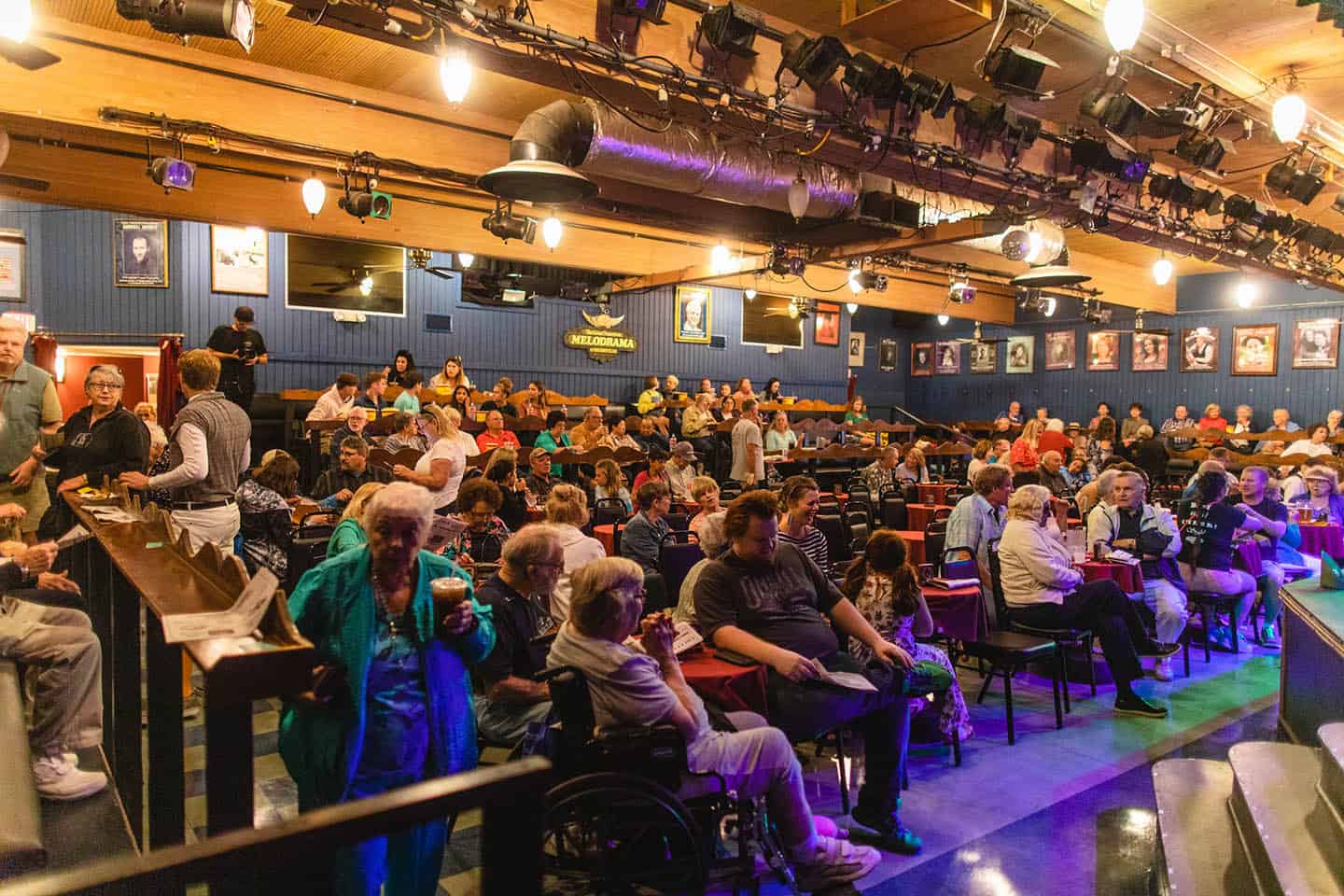 November-December, 2022
Of all the holiday events on Highway 1, this is one that needs to be on your calendar. The annual Great American Melodrama Holiday Extravaganza has become one of the most beloved and most anticipated events of the holiday season. Expect not one, not two, but three acts, full of heartwarming stories, hilarious antics, and lots of good cheer. As always, the evening kicks off with A Christmas Carol, Dickens's traditional tale of Ebenezer Scrooge and the three ghosts that change his life. Afterward, enjoy an operetta of fractured fairy tales, followed by a holiday vaudeville revue, complete with the Reindeer Rap and Oceano Drinking Glass Orchestra. You'll leave with a spring in your step and tidings of comfort and joy in your heart after an evening at the Melodrama's Holiday Extravaganza. Truly, no holiday season is complete without it! Just be sure to get your tickets early, as this one sells out fast.
February-March, 2023
Based on the book and lyrics by Fred Ally, this adorable meet-cute takes place in Haywire, Minnesota, in 1912. Five bachelors live together among their fellow lumberjacks, hundreds of miles from the nearest member of the opposite sex. But when one of them mistakenly orders Rose, a bride by mail, hilarity ensues—and leaves chaos in its wake! The arrival of this plucky young woman changes the bachelors' lives and forces them to contend with their true hearts' desires. The Great American Melodrama's professional actors and musicians bring verve and vibrancy to this hilarious tale. With toe-tapping songs and excellent writing, LumberJacks in Love is guaranteed to warm your heart and make you laugh.
Sherlock Holmes and the Final Problem
March-May 2023
In the mood for a whodunnit? Nothing satisfies quite like a Sherlock Holmes mystery, and the Great American Melodrama has exactly the show for you. In this exciting adaptation of Sir Arthur Conan Doyle's work, Sherlock must face his greatest nemesis and thorn in his side: Professor Moriarty. In the process, he will also face death, dark streets, imprisonment in a locked room, and a harrowing fight on the Reichenbach Falls. The Melodrama's small (but hardworking) cast of seven plays dozens of characters in the creative interpretation of Sherlock's toughest and most personal case. Music, lights, sound and costumes round out the show and make for excellent entertainment, for all ages. As always, the show ends with a fun vaudeville revue that will put a smile on your face.
May-July 2023
Surf's up! Join the talented cast of the Great American Melodrama for Under the Boardwalk, a tale of love, betrayal, revenge, and…seagulls. This comedy, inspired by Romeo and Juliet and West Side Story, takes a look at Pismo's longstanding rivalry between the Clams and the Gulls. Everything is singing and dancing as normal until one day, the unthinkable happens: a young Clam and a young Gull fall in love. Watch as all heck breaks loose when their respective families discover their secret romance! Will the lovebird and love-clam be able to make a life together? Will their clans allow them to be happy? Find out what happens in this whacky tale of local lore that takes place on Pismo Beach.
Gold Fever at the Rough and Ready
July-September 2023
Don't be afraid to share your strongest feelings during this old-timey Melodrama favorite. Booing the villain and cheering the hero is encouraged! All part of the Great American Melodrama theater-going experience. Gold Fever at the Rough and Ready has all the hallmarks of true saloon theater, including a dastardly villain, a valiant hero, and a damsel in distress. Witness the action, love, deceit and betrayal performed by a cast of colorful characters as you laugh yourself silly. This is a rough and tumble look at the California Gold Rush—an uproarious (and unofficial) history of how the Golden State got its name.  
September-November 2023
Halloween is one of the spookiest and most festive times to visit the Great American Melodrama! Come for Mummy Dearst, a side-splitting horror story spoof. Follow along as explorers Jake O'Conner and Eve Kinsignton work together to discover a lost city in the desert. In the process, they awaken two ancient villains who come back to life in the most entertaining of ways: as a mummy, and trapped inside a mannequin. Come prepared to boo, hiss, cheer and giggle as Jake and Eve take on these resurrected evildoers. Afterward, stay for a spook-tacular vaudeville revue sure to send shivers up and down your spine.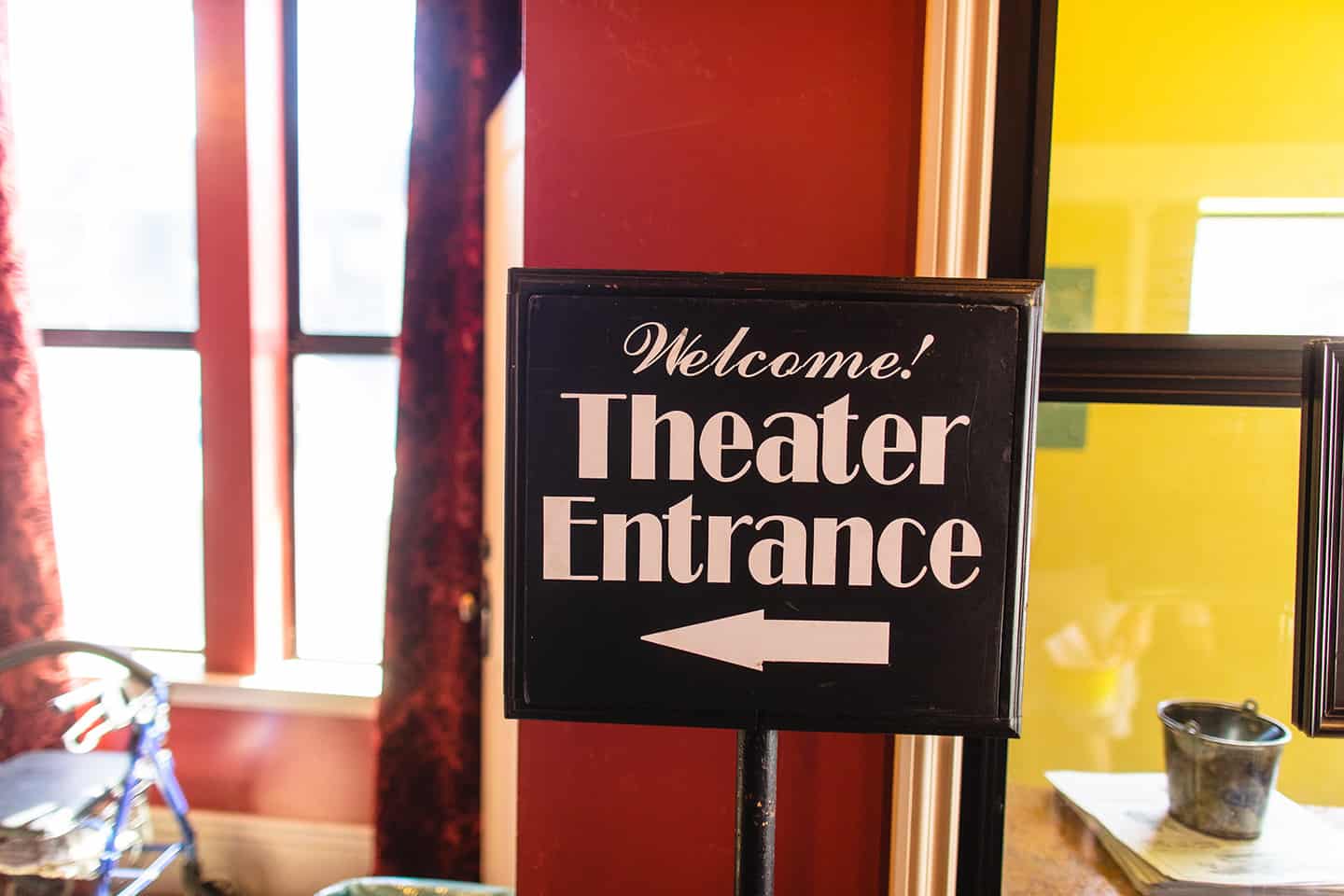 Here we go again! Pappa Pia spoofs the popular musical Mamma Mia, with a story that takes place on and around the Pismo Pier. With characters like a seagull who falls in love with a clam, this is humor that both locals and visitors can chuckle along with. With repurposed pop songs and the world-famous Great American Melodrama vaudeville revue, you have a recipe for a fun, family-friendly night.
This rendition of the famous novel brings swashbuckling fun to the Oceano Melodrama. Young Jim Hawkins is the hero of this story about treasure and treachery. Cheer Jim and boo Long John Silver in the comedic sendup of a well-loved adventure story.
How The West Was Really Won
Who knew the history of the wild west was this whacky? Travel to the Arizona frontier, where saloons, duels, and card games mix with pillow fights and modern-day pop songs. Marvel at the actors' physical comedy and a witty script, all inspired by the spirit of the great wide open.
At the Great American Melodrama, it's completely normal for a vampire to conquer the Old West. In this rendition of Dracula, the horror of Transylvania hops a train to Tombstone, Arizona to woo an innocent young woman and take over the town.
This famous comedy about six Southern women who gossip in the local hairdresser's shop is a heartwarming tale for all ages. Enjoy big personalities, big laughs and big hair, and bond with them as they weather life together. WATCH TRAILER.
Two cops meet three crooks in a cheap motel…and hilarity ensues! Watch as a crooked mayor and his female accountant meet with cops waiting nextdoor to catch them red-handed. With eight doors on set, this is an open-close fast-paced comedy that will get you giggling in no time. WATCH TRAILER.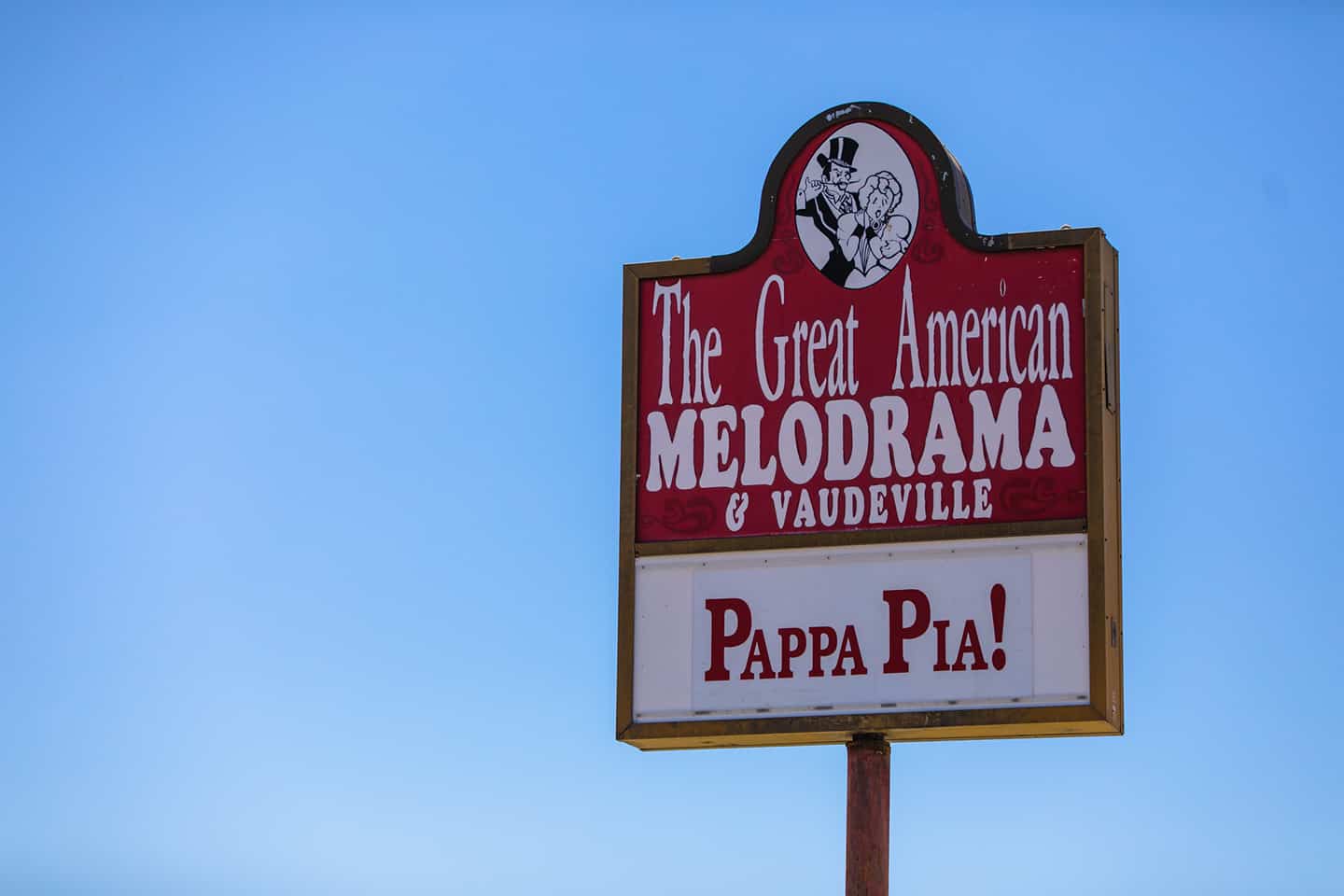 Directions to the Oceano Melodrama
The Great American Melodrama theater sits along Highway 1 in Oceano. From Pismo Beach, drive south on Highway 1 about 3.5 miles. After passing the Oceano Train Depot and Museum on the right, look for the Melodrama on the left and park in the parking lot.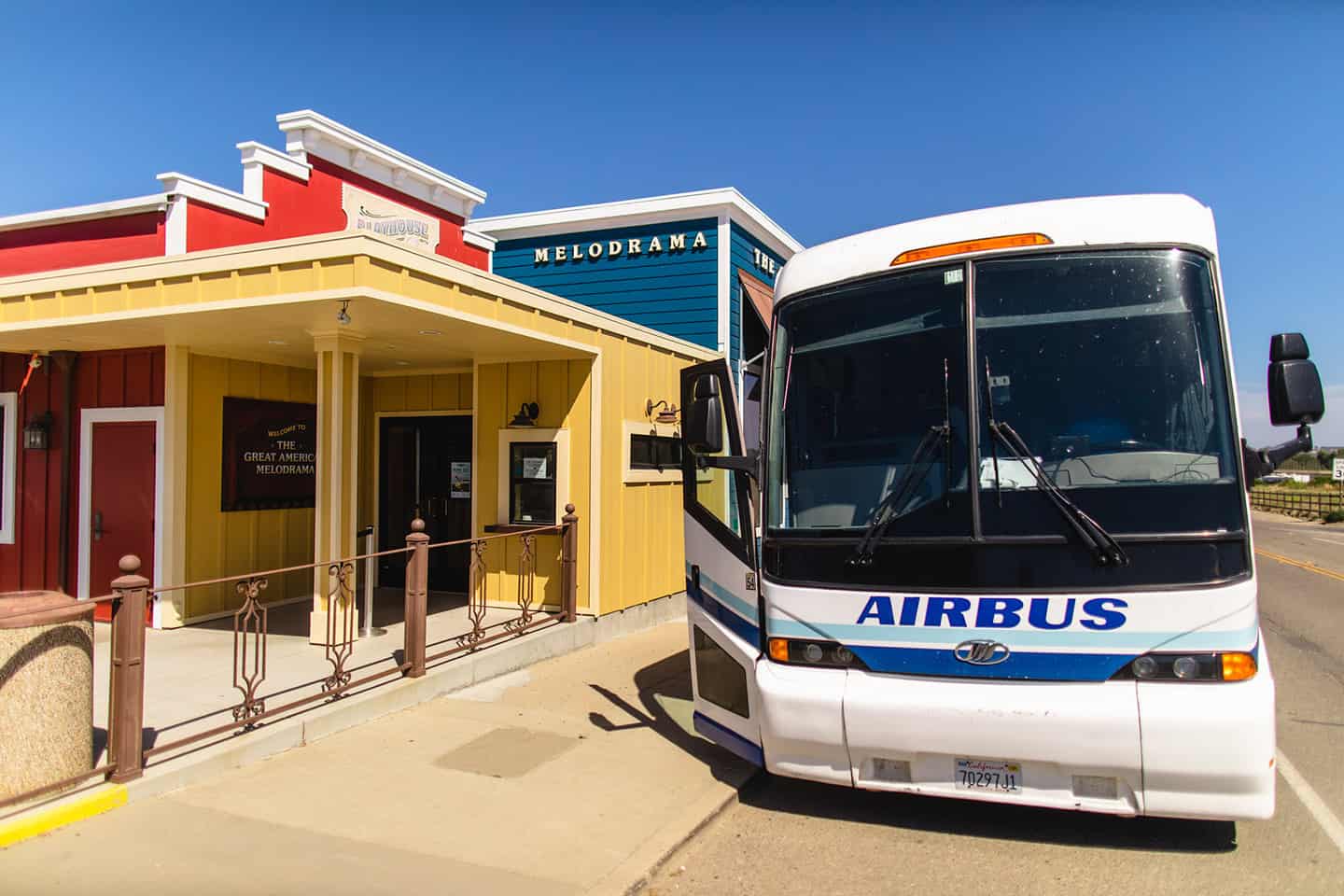 Buying tickets for shows at the Great American Melodrama is easy online, or by phone if you prefer. Check the show's page and choose from an array of seats, including chairs at tables and in the perimeter benches. While it's possible to purchase tickets at the box office on the day of a performance, it's not recommended as shows can sell out quickly. In fact, holiday performances can sell out months in advance. Admission fees vary for holiday shows (like the Halloween and Holiday Extravaganza performances), and for children, seniors, students and active military. Due to high demand for holiday shows, the Halloween and Holiday Extravaganza offer multiple showtimes per day. The Melodrama also issues season passes at a discount for show-goers who intend to return.
Nearby the Oceano Melodrama
Oceano Dunes Visitor Center
This state-of-the-art center offers hands-on exhibits featuring native plant and animal species, Pismo clams, off-highway vehicles, and cultural history. Take a historical tour for a deeper look at the Chumash people and the Dunites community of artists. End your visit with a short stroll behind the center for a view of the fresh-water lagoon and all its natural inhabitants. And don't miss the nature store, where all sales support local state park programs and events.
Jocko's Steakhouse
For Santa Maria-Style BBQ, head to Jocko's in Nipomo, where the steaks are fired over red oak coals. Known for its giant portions and commitment to authentic West Coast barbecue, Jocko's is a beloved local treasure. Start in the low-lit bar with a cocktail, and move to the no-frills dining room for a meal you won't soon forget.
The Train Museum
Just up Highway 1 from the Oceano Melodrama, find the Train Depot and Railroad Museum. This historic train station once served as the local hub of the Southern Pacific Railroad. Closed in 1973, the train depot became a museum with the help of several devoted volunteers. Find artifacts, vintage railroad gear, and photos, as well as a 1907 wooden caboose and a 1940s Southern Pacific boxcar to explore.
Golf Courses (Blacklake & Monarch Dunes)
Why not get in a round of golf before dinner and a show? Courses ranging from laid-back to challenging lie within minutes of the Great American Melodrama. Try Blacklake Golf Resort in Nipomo, with 27 holes in three nine three-hole layouts. Or head to Monarch Dunes Golf Club, where an 18-hole course as well as a challenge course await.