Old Edna San Luis Obispo
Visiting Old Edna is like stepping back in time to see the Highway 1 Discovery as it once appeared. Preserved with care over generations, this historic townsite may be one of San Luis Obispo County's oldest. Today, it serves as a wine tasting room, gourmet deli, and rustically elegant vacation rental.
Old Edna Valley Townsite
With its warm coastal climate, the historic townsite of Edna lies amidst the vineyards of Edna Valley, not far from Lopez Lake. The property's history can be traced to the 1840s when it comprised part of a Mexican land grant awarded to Jose Maria Villavicencia. After that, Edna changed hands several times before landing with a Swiss-Italian dairyman, John Tognazzini, in 1899. Tognazzini built two homesites and the two-story Edna Building that is still the centerpiece of the property today. In its lifetime, the tiny townsite housed a stagecoach stop, blacksmith, butchery, two saloons, general store, dance hall, cheese factory and slaughterhouse. In the 1940s, the Wendt and Ahearn families bought the property from Tognazzini, building several homes in the area along with other investors. The property became known for its resident artists, including local legends Frederick Holley and Tracy Taylor. Old Edna changed hands again in 2000 when Pattea Torrance and her husband bought and restored it to much of its former charm. Until 2019, when she sold the property to the Stoller family, Torrance worked to honor the history of this special place. Today, the Edna Townsite serves as a delicatessen and tasting room for the Stoller's Sextant Winery.
Fun fact
To this day, no one is certain who "Edna" is or why the town is named after her.
Retreats at Old Edna
The Old Edna townsite is an ideal boutique retreat for small-group events and gatherings. The property boasts two vacation rentals, restored and appointed with antique, rustic furnishings and a world-away atmosphere. Old Edna also offers the use of its "Blacksmith Shop," straight out of the 1800s, where guests can enjoy a private seated tasting of exclusive Sextant wines.
Wine tasting in Edna Valley
The historic Old Edna townsite lies at the heart of Edna Valley wine country, and serves as its hub. Here, coastal influences and volcanic soils make for one of the longest growing seasons in California ― and some of its most balanced wines. Find dozens of wineries just minutes from the townsite, where the region's flagship Pinot Noir and Chardonnay varieties hold sway. Start with Old Edna's resident producer, Sextant Wines ― which overlooks MacGregor Vineyard ― and explore from there.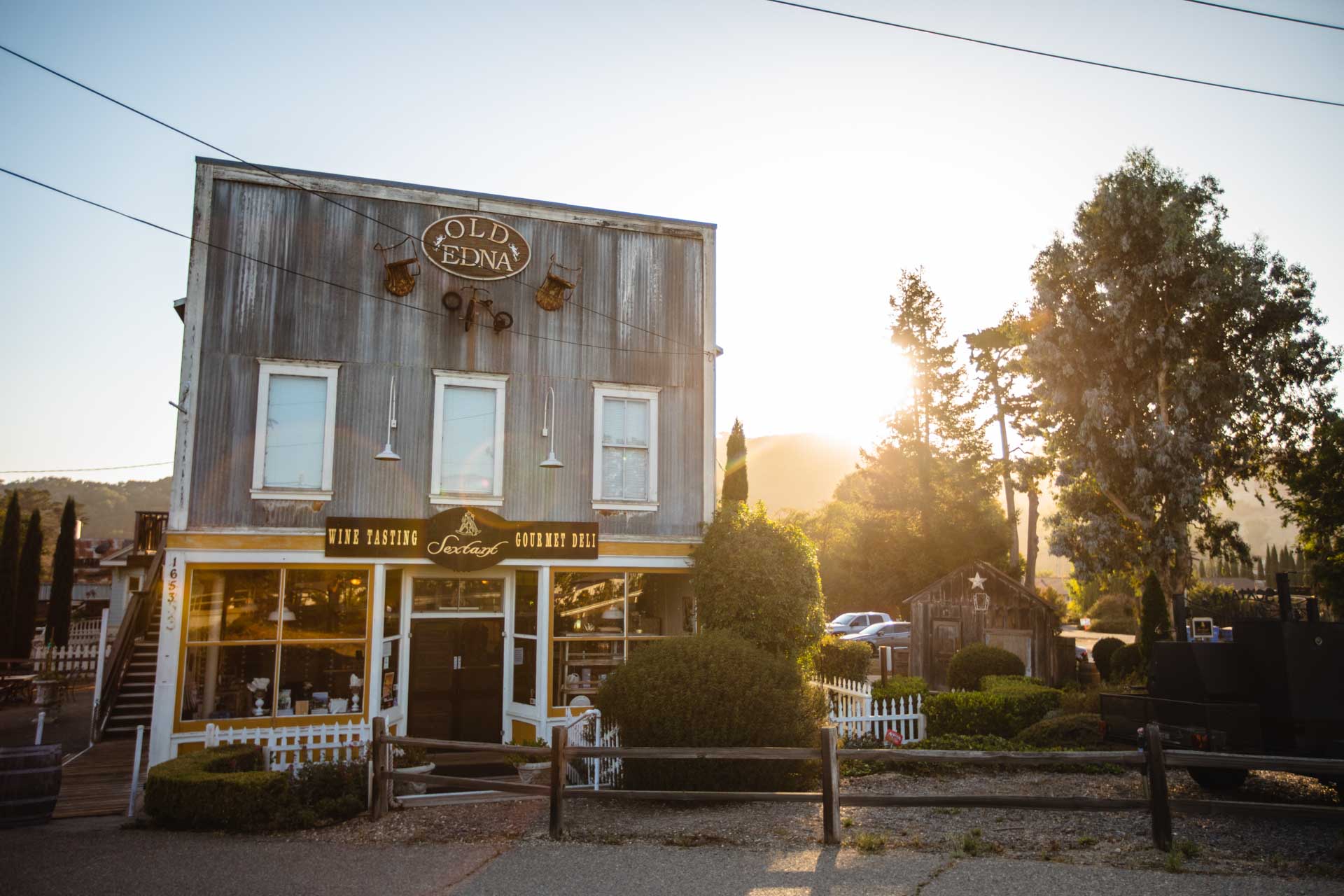 Where to eat in Edna Valley
Before heading out for a wine tasting adventure, grab a bite at Old Edna's Gourmet Deli. The rotating, seasonal menu includes small plates, cheese and charcuterie, as well as paninis, meal-worthy salads and delicious desserts. Other nearby eateries include Farmhouse Corner Market, a bistro with fresh, flavorful fare as well as grab-and-go items, ice cream, and a specialty grocery. Other options include the Edna Valley Market Deli, American fare at the Spirit of San Luis, and brewpub cuisine at Mason Bar in Arroyo Grande.