On California's Central Coast, a low-key exploration of wineries, restaurants and nature
We were instructed to meet at the San Geronimo Pullout at Estero Bluffs State Park near Cayucos, Calif., and to wear water shoes. I was apprehensive about the morning's activity: foraging for seaweed. Would this involve snorkeling, diving or scaling underwater rocks?
But, having enjoyed eating seaweed in various cuisines, I was intrigued. A small group of us followed erudite and friendly seaweed expert Spencer Marley of Marley Family Seaweeds as he walked down a path and climbed over rocks, leading us to a remote beach where different types of seaweed can be found. What ensued was a crash course on phycology — marine algae science — and on searching for and gathering edible seaweed, including kelp, wakame and kombu.
The tour culminated with Marley bringing out a portable stovetop and cooking us ramen for lunch. Standing on an empty beach slurping noodles mixed with seaweed freshly plucked from the ocean and laughing with new friends, I realized that California's Central Coast, with its low-key vibe, was exactly what I needed for my first post-pandemic trip from my home in New York City.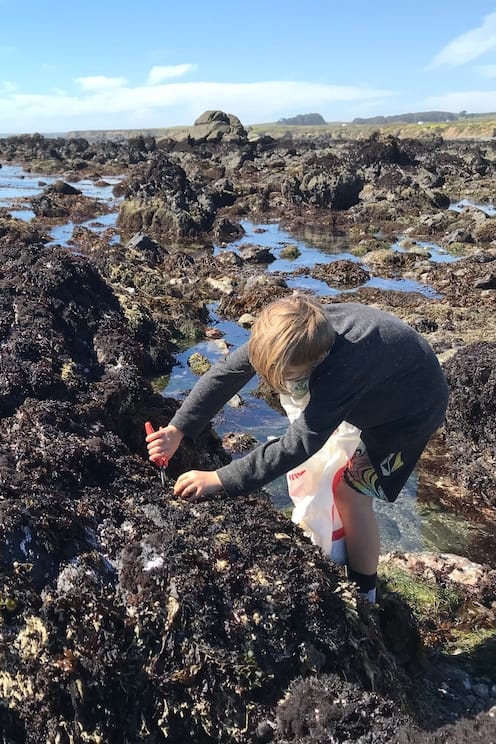 "The Central Coast is still a bit off the radar," said Jennifer Medina, estate director of Tolosa Winery in the Edna Valley, where I stopped in for the "1772" wine flight, named for the year the nearby Spanish mission, San Luis Obispo de Tolosa, was founded. "But there's so much to do here," she added as she poured me a glass of Pacific Wind Pinot Noir.
She was right. The Central Coast, a vast region that spans from north of Los Angeles to just south of San Francisco, is known for its breathtaking ocean views, quiet beach towns, wineries, farms and wildlife. My boyfriend and I spent five days focusing on things we enjoy — food, wine and nature — and, best of all, we got to do it away from the hustle and bustle of urban life.
Food
I was struck by the many pioneering people in the food industry I met; their creativity, in concert with the rich farmland and the Mediterranean-like climate, is what lures food lovers here.
After the seaweed excursion, we sampled olive oil at Tiber Canyon Ranch in San Luis Obispo. Years ago, Will Carlton, an artist, and his wife, Chris Anderson, met a woman who offered them Italian olive cultivars that were bred for desired traits. On a whim, they planted them. "Unlike wine grapes, olive cultivars remain true to their flavor characteristics, no matter where in the world they're planted," Carlton said. "Our Tuscan varietals produce a Tuscan-style oil here in California." At their 50-acre grove, they offer tastings, sell olive oil and host intimate weddings amid the olive trees.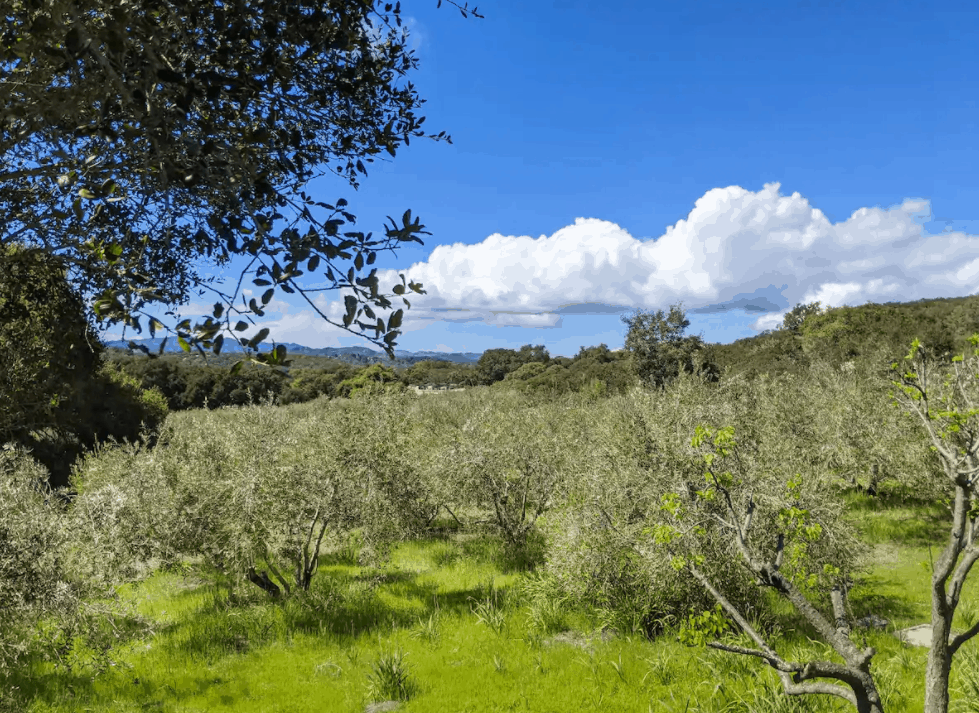 In Cambria, I picked up a delicious latte at Cambria Coffee Roasting Company, which I sipped at the farmers market, mingling with locals and admiring the large onions and colorful squash. For lunch that day, we visited Linn's, a family-owned restaurant known for its olallieberry pie. Sweet and tart olallieberries, a hybrid of blackberries and raspberries, are found throughout the menu: as preserves on French toast, as syrup on pancakes, as the star ingredient in a milkshake. The pie didn't disappoint. Another find in Cambria: The lush garden at Robin's, a favorite among locals, is a special place to unwind with beer and food.
Cioppino is a fish stew that originated in San Francisco; one of the best versions I've had was at Schooners, in Cayucos, where we sat in the old-world bar. And I'm still craving the namesake cookies from the Brown Butter Cookie Company located there, too.
Perhaps the highlight was eating at Mersea's in Avila Beach in San Luis Obispo County, with its dreamy setting. Situated on a working pier on San Luis Obispo Bay, Mersea's offers a quintessential California experience: eating fresh seafood amid mountains, ocean and fog, along with the sounds of otters and seals.
Wine
The Central Coast's optimal climate and varied terrain are ideal for viniculture. As an oenophile, I was in heaven. With a choice of more than 200 wineries to visit, we narrowed it down to three recommended by a friend who's a sommelier.
At chic, modern Tolosa Winery, we sat outside, adjacent to the vineyard. Thanks to its winemaker Frederic Delivert, who's from Toulouse, Tolosa's wines are made with a nod to the French style of winemaking, which focuses on the terroir — the character of the wine imported by the environment where the grapes are grown. Nearby Saucelito Canyon, which dates to the 1880s, is famous for its zinfandels. During our tasting, a band played and a busload of women celebrating a bridal shower arrived, adding to the lively atmosphere.
Hearst, the renowned publishing family, maintains a presence in the area, mainly for the famed Hearst Castle, which was closed because of the pandemic. Fortunately, the tasting room of the Hearst Ranch Winery in San Simeon was open. We were led to seats out back overlooking San Simeon Bay, where the scenery and ocean soundtrack were sublime. Damon Miele, the manager, approached us with a unique arched-iron carrier holding glasses of wine from the Proprietor's Reserve tasting. Miele's wine descriptions were lively; his enthusiasm for wine was so contagious (and the wines were so good) that I ordered several bottles to be shipped home.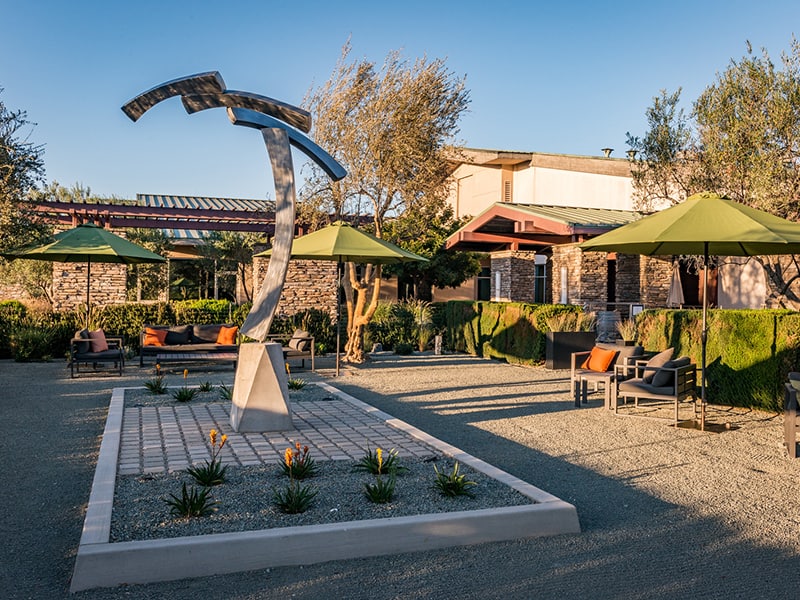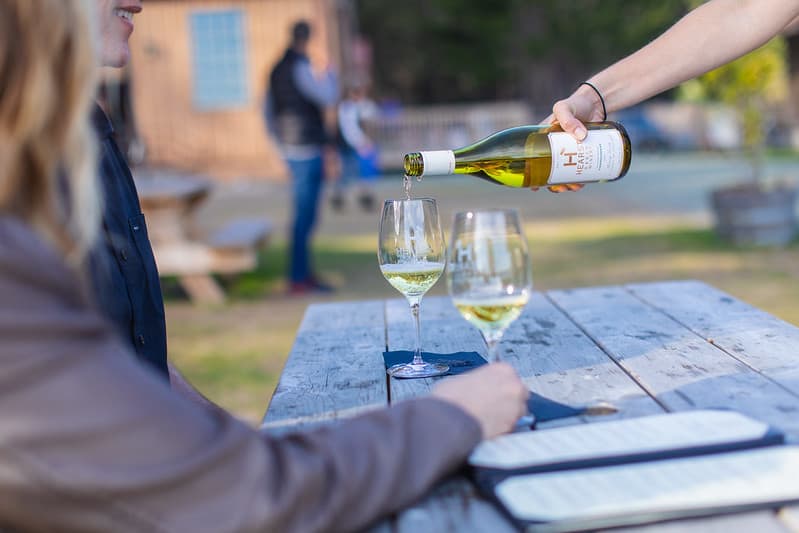 You can't visit the Central Coast without stopping by the Piedras Blancas Elephant Seal Rookery. To see hundreds of elephant seals snuggled up to each other — the males bellowing as they battle to mate — is an unforgettable experience. Scientists have been trying to determine why these seals, which can weigh up to 5,000 pounds, convene at this spot, yet the reason remains an enigma.
It was a giant horse, however, that reinforced what made this trip special. At Covell Ranch in Cambria, I was happy to be assigned reportedly "mellow" Eileen. "Mellow" turned out to be an understatement, however; Eileen would come to a complete stop, unconcerned about the other horses trotting ahead. Once I was comfortable, I grew slightly annoyed at her lethargy.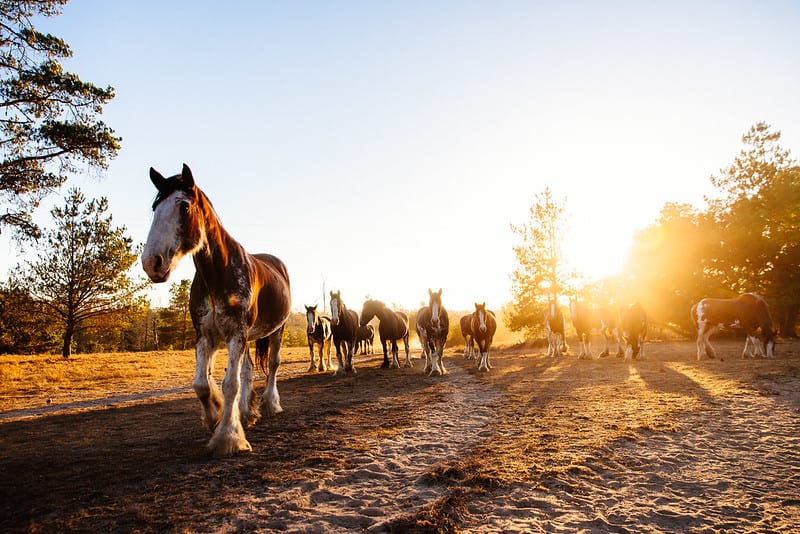 But when we reached the view, I suddenly appreciated that Eileen moved — or didn't — at her own pace. While she stood still, I looked out at the vast sky and ocean and was reminded of the importance of slowing down. The Central Coast is the perfect place for doing so.
Read the full article on Washington Post.