Find your sanctuary (and preserve your sense of well being). If solitude and serenity is what you seek, allow SLO CAL to ease your mind as you stretch your legs. Dreamlike hills, untouched cliffs, vibrant wildlife and endless uncrowded beaches and hiking trails await travelers along pristine Highway 1. Finally: fresh air, open sky and unhurried happiness can be yours. You are now free to roam about the cabin—or, the coastline—that is.
Say hello to our furry friends: Southern End of Monterey Bay National Marine Sanctuary
Pop up and say hello to playful seapups in San Simeon
Howdy neighbor! From near extinction to celebration, SLO CAL's plucky sea otter population offer up a story of resilience and inspiration. Although you can sometimes find California Otters (and their adorable pups) hanging out on their backs among the kelp in Morro Bay and Cayucos, you'll also see the endlessly entertaining critters thriving along Highway 1's rugged San Simeon coastline. They enjoy protection here, as the nearby Monterey Bay National Marine Sanctuary encompasses 276 miles of shoreline and 5,322 square miles of ocean.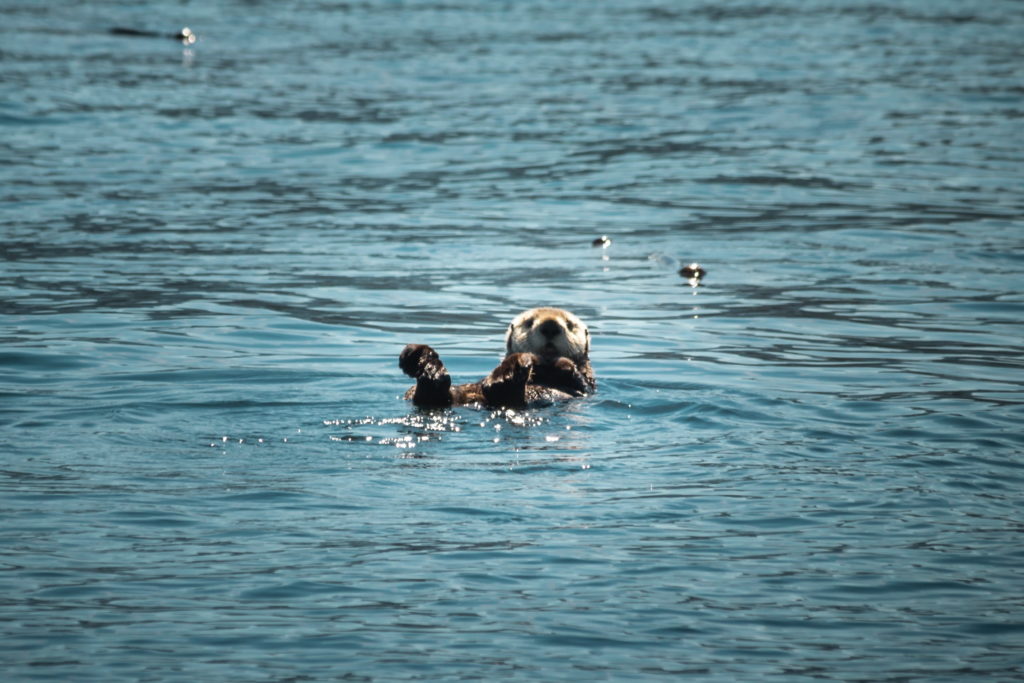 Fun fact: A 60-pound adult sea otter eats at least 15 pounds of food (25% of its body weight) each and every day—the same as an average teenager eating 120 hamburgers. That's right: Otters may enjoy lolling around on their backs all day, but they're anything but lazy. Watch closely to see how the crafty animals utilize rocks to pry open tasty abalone shells (a favorite snack).
Uncrowded fun: In SLO CAL, we adore hitting the open road. Traverse 87 miles of untouched coastline by car, stopping along the way to enjoy beaches, vineyards, lighthouses and photo opps. Experience the drive from Cambria to the Ragged Point Inn's beloved viewing area and you'll soon understand why this stretch of coastline is some of the most photographed in the world.
Captivating Cambria: Fiscalini Ranch Preserve
Explore enthralling ecosystems by the sea in Cambria
Walk along the web of life and you'll soon see your place within it. A precious and protected open space, Cambria's Fiscalini Ranch Preserve stretches for one mile along the Pacific shoreline. With multiple hiking and biking trails —many ADA-accessible—this small-yet-mighty preserve is a biologically diverse natural wonderland. You'll see an amazing variety of habitat packed into one beautiful setting: riparian, tide pools, seasonal freshwater marshes and wetlands, plus a native Monterey pine forest—one of five remaining in the world.
Tip: Seeking an epic photo to share with friends back home? Climb the preserve's 200-foot coastal ridge, where migrating whales, birds, and playful otters frolic below.
Uncrowded fun: Wine tasting is always relaxing and tasteful in artistic and eclectic Cambria. Stroll downtown, stopping for art galleries and tasting rooms along the way, or head to Stolo Family Winery for fresh, acid-driven whites crafted just a few miles from the Pacific.
Where the wild things are: Kenneth Norris Rancho Marino Reserve
Find solitude along this watery wilderness at Cambria's southern cusp
Experience the SLO CAL Coast as it existed during the time of native tribes: raw, rugged and untamed. Located at the Southern tip of Cambria, the Kenneth S. Norris Rancho Marino Reserve extends from the frothy sea to a towering 700-foot-tall ridge. With rocky shoreline, freshwater ponds, coastal grasslands, and a mix of rare native Monterey pine and coast live oak forest, wildlife thrives in this untouched habitat.
In fact, 24 mammals reside in this coastal oasis, including badgers, mountain lions, bobcats, and long-tailed weasels. Bird fancier? With more than 100 species of birds and even a population of red-legged frogs—this truly is a sacred oasis for the wild at heart. Look out toward the West and you might even catch a glimpse of migrating gray whales and California sea lions. Otters also enjoy making their home within the vast offshore kelp bed, one of the largest in California.
Tip: Managed by UC Santa Barbara, the reserve lands remain in private ownership, although you can apply to visit year the reserve round. We feel it's well worth the effort. Here, you'll finally hear yourself think (and you'll find yourself wondering aloud at how any place could be so lovely).
Uncrowded fun: Big on bikes? Cycle along the rocky coastline of Moonstone Beach, keeping an eye out for wildlife along the way. Looking for a picturesque pit stop? Swing by the tiny hamlet of Harmony, located between Cambria and Cayucos.
Commune with the oaks: Los Osos Oaks State Reserve
Meet a family of miniature oak trees thriving in quiet solitude
Respect your elders. The Los Osos Oaks State Natural Reserve protects 90 acres of ancient dwarfed oaks in a coastal dune habitat unlike anything you've ever seen. Dating back 800 years, the oaks' gnarled roots make a spectacular backdrop your next Highway 1 adventure. El Moro Elfin Forest, adjacent to the Morro Bay Estuary, showcases not just oak woodland, but also coastal brackish marsh, riparian woodland fringe, maritime chaparral and coastal dune scrub.
Fun fact: The Elfin Forest supports more than 200 species of plants, as well as 110 kinds of birds, 22 species of mammals, and 13 species of reptiles and amphibians. It's also home to rare plants, butterflies, snails and birds. Can't wait to immerse yourself in a whole new world? Enjoy a tranquil docent-led hike.
Uncrowded fun: Nearby Montaña de Oro State Park offers up unique camping and hiking opportunities. Explore tide pools and wild flowers and end the day strolling the beach by foot or horseback. If you want to really disconnect and let loose, try standup paddle boarding along the calm back bay waters of Baywood Park.
Tweet, tweet: Sweet Springs Nature Preserve in Los Osos
The stiller you are, the more birds you'll spot
The wind beneath your wings: Flying friends love flitting from branch to branch at the Sweet Springs Nature Preserve, home to more than 32+ acres of Eucalyptus trees, coastal trails and peaceful views of Morro Bay and Morro Rock. Located off Ramona Avenue in the friendly town of Los Osos, this magical preserve is owned by the Morro Coast Audubon Society for good reason. From a secluded estuary/mud flat viewing point, you'll spy hundreds of species of birds as they sing, dine and soar to their heart's delight.
Tip: To get to the best viewing spot, follow a leisurely one-mile trail to a 250-foot long boardwalk fixed with four informational kiosks. Golden eagles, hawks, and majestic Great Herons are known to make an appearance at this singular locale, so keep those binoculars handy.
Uncrowded fun: Dining in the chill community of Los Osos is always a breeze (no, you don't need a reservation and there's never a line to worry about).
Morro Bay National Estuary and Nature Preserve
Where freshwater meets the salty sea
Enter the Morro Bay Estuary, where two worlds collide—salty ocean waves and freshwater streams. This combination of water sources creates magic: Did you know estuaries create more living matter each year than comparably sized areas of forest, grassland or agricultural land? This dynamic 2,300 acre estuary—protected from the open Pacific ocean from a long sand-spit—is home to plentiful biodiversity.
Hike alongside native maritime chaparral, coastal scrub, grasslands, oak woodlands, sand dunes and creek corridors lined with Willow trees, honeysuckle and California blackberry. In the creek water blow keep an eye out for steelhead trout and western pond turtles. In the bay, see California brown pelicans dive for fish, southern sea otters float with their pups and bat rays gliding below the surface. Make a day of it: Go boating, biking, paddling, diving, birdwatching, and hiking throughout the preserve.
Uncrowded fun: Want to take in the whole scene? Hike up the Black Hill Trail for a stunning view of the water, visit the State Park Museum of Natural History or just watch the fishermen haul in their daily catch.
Green gold: Irish Hills Natural Reserve
The hills are alive with the sound of solitude
Green with envy? Don't be. Each spring, SLO CAL is reborn in fresh shades of green. San Luis Obispo's Irish Hills Natural Reserve received this name because (you guessed it) early Irish immigrants felt the verdant landscape bore a strikingly similar resemblance to their homeland. Hike the Froom Creek Trail Loop (leashed dogs welcome) and explore broad views of San Luis Obispo's most prominent peaks, Bishop Peak and Cerro San Luis. We also recommend checking out nearby Perfumo Canyon Scenic Overlook, which offers up a gorgeous view of Morro Rock and the coastline below.
Uncrowded fun: Want to get your blood pumping? Ride your bike along the Bob Jones Trail, which ends at the sand in golden Avila Beach.
All a flutter: Monarch Butterfly Nature Preserve
Set your sights for butterflies and blue skies in Pismo Beach
Step into an enchanted dream where your imagination truly takes flight. Yes, we're talking about the unmatched wonder of the Monarch Butterfly Nature Preserve. Here, Western Monarch butterflies visit twice a year, flapping thousands of wings among tall, stoic eucalyptus trees. Best viewing times are October through February, which also just so happens to be the off season for SLO CAL Beaches. That means more sight-seeing for you with viewer crowds to contend with. What could be more magical?
Uncrowded fun: In the off season winter months, the Pismo Beach Pier exudes a serene. calm quality. Walk the 1,370-foot-pier and take in the sun, spray and good vibes.
Another world: Oceano Dunes Natural Preserve
Dive into an unreal dunescape in Oceano
Plant your flag on the "moon." Hike, surf, paraglide, fish, dig for clams or ride horseback along the Oceano Dunes Natural Preserve, one of the largest expansive coastal dunes left in California. Here, you'll view an array of seabirds emerging from smooth, undulating bluffs.
This surreal, moon-like landscape is also home to several protected species, including the California red-legged frog, California least tern, and tidewater goby. The one you've probably heard the most about? The snowy plover, a rather cute, fluffy shorebird.
Care to clear your head? Some activities are best enjoyed with a party of one. The Oceano Dunes State Vehicle Recreation Area (SVRA) allows wheels to fly along the sand. Kite board, surf, or hop in a kayak and explore protected coves, caves and rock formations only accessible from the water.
Tip: The Oceano Dunes Visitor Center offers up hands-on exhibits illuminating local flora and fauna. End your visit with a short stroll behind the center for a view of the fresh-water lagoon and all its natural inhabitants.
Uncrowded fun: Step back into a simpler time at the Oceano Train Depot, a fascinating museum dedicated to local rail travel throughout the decades. Nearby Grover Beach is a great place to savor a relaxed, casual dinner.
Wonderful watering hole: Oso Flaco Estuary
Let lapping lake waters melt your worries away in Nipomo
Meet you on the bank! Known as "The Southern Gateway to SLO CAL," Nipomo is awash in agricultural and early Rancho California heritage. A detour off the beaten path offers up clear blue skies, placid lake waters and a surprising swath of animal life. Oso Flaco Lake Natural Area in Nipomo offers a quiet preserve for native wildlife to congregate. With a river, freshwater lake, dunes, and unmatched ocean views, a day at this local watering hole will put the spring back in your step. Tip: Bring binoculars for varied bird sightings along the shore.
Uncrowded fun: Mysteries of early California heritage resonate within the mud-laden walls of the Dana Adobe in Nipomo.