A championship seaside golf course with stunning views, the Avila Beach Golf Resort is a must-visit for any golfer. The course is conveniently located in charming Avila Beach, set between a vibrant estuary and the ocean. Though it's known for its challenging 18-hole course, Avila Beach Golf Resort also serves as an elegant, multi-use event space. Find concerts, weddings, food festivals, holiday fairs and more at this popular and picturesque venue.
Opened in 1969, the Avila Beach Golf Resort was designed by PGA pro Olin Dutra and British course architect Desmond Muirhead. Today, the 71-par championship course comprises 6,500 yards on kikuyu grass fairways and bentgrass greens. Situated on hilly terrain in an oak-lined valley, the front nine boasts small, smooth greens. The back nine crosses a peaceful estuary with plenty of forced carries over water and greens of mixed levels.
Beyond the 18-hole course, the Avila Beach Golf Resort offers practice facilities and a driving range with grass teeing areas (open dawn to dusk). Golfers can also practice chipping, putting and pitching on the golf resort's two-tier putting green, framed by a scenic ocean view.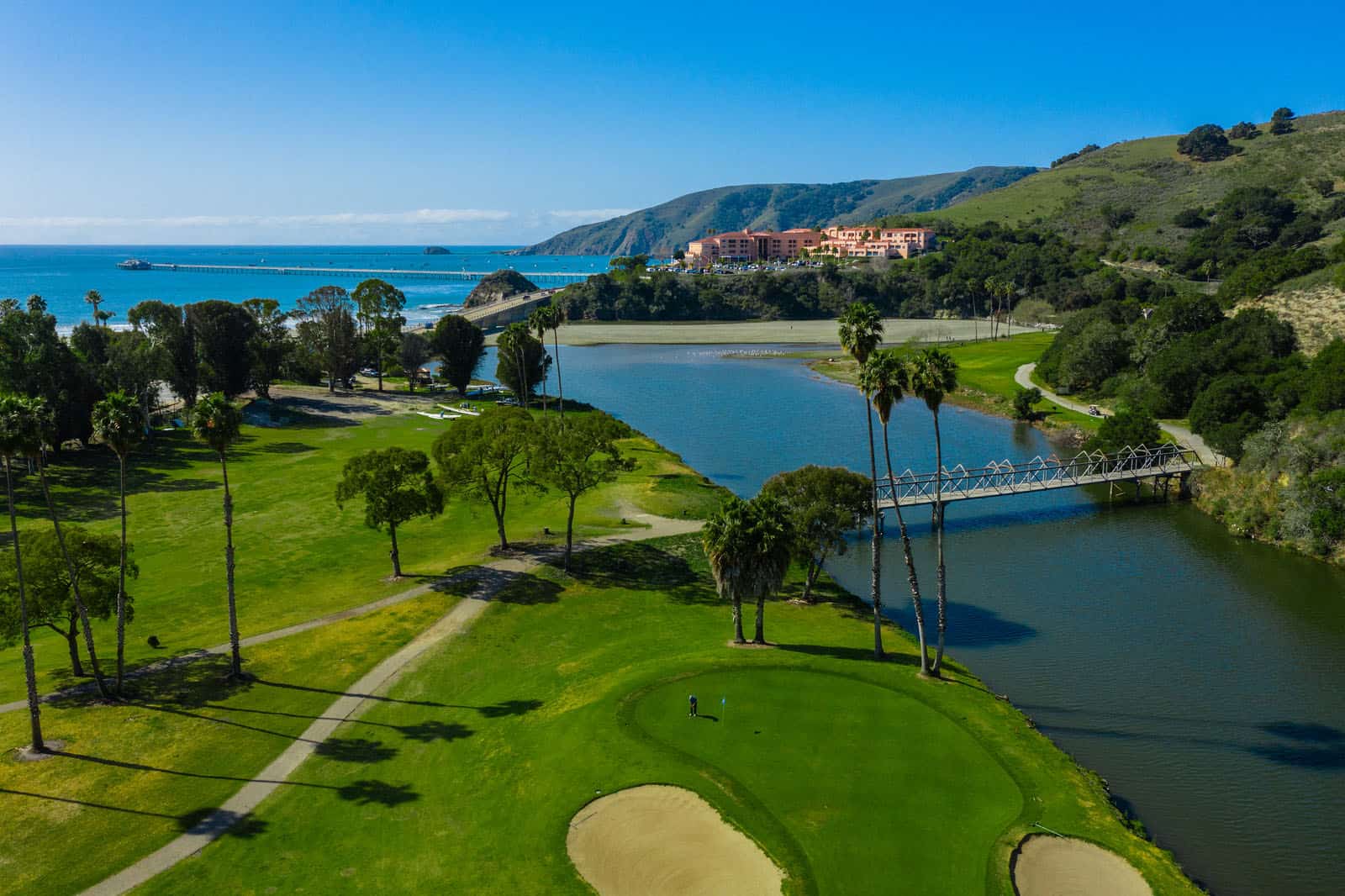 Pro-Shop & Private Lessons
Visit the Avila Beach Resort pro shop for a wide variety of golf apparel for men, women, and youth. Find branded items including hats, visors, bags, shirts, golf balls, towels and tags to support your game. Gift certificates can also be purchased (in-person and online) good for merchandise, green fees, lessons and memberships.
For players seeking quality golf instruction, the Avila Beach Golf Resort's PGA pro teachers provide group and private lessons by appointment. Golfers of all skill levels have their choice of programs, from individual instruction to group and corporate clinics, junior lessons and multi-day packages.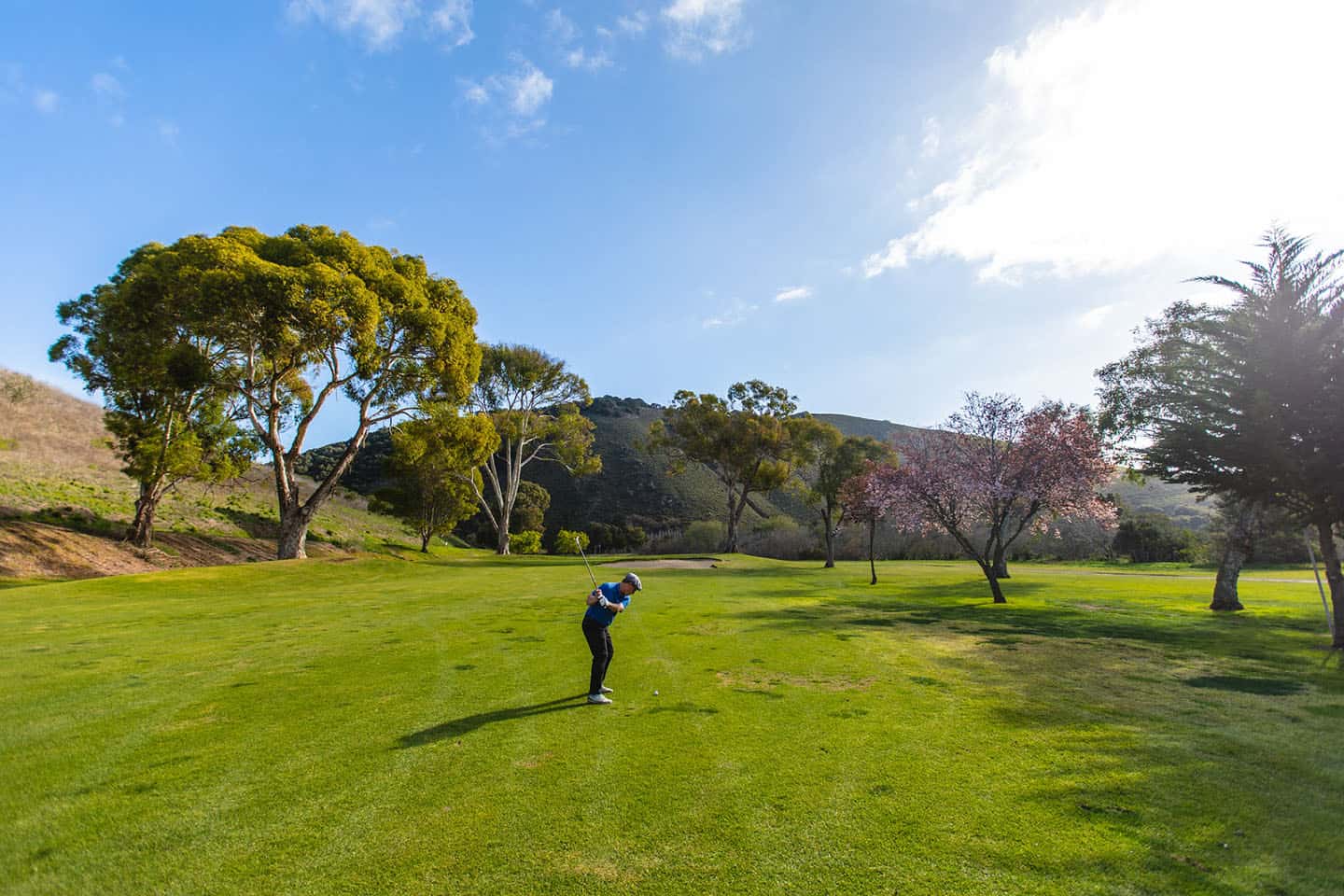 An Avila Beach favorite, Mulligan's Bar & Grill is sure to keep you happily fed all day long. Located at Avila Beach Golf Resort, this family friendly restaurant is open daily for breakfast, lunch and dinner Thursday-Saturday from 5 to 7 p.m. and Sundays from 2 to 4 p.m. Looking to gather with friends over an unforgettable meal? Check out Mulligan's live music offerings, beachfront outdoor dining and beachside fire pits. Fuel up on classic dishes like egg sandwiches and Cobb salad, or try new fresh favorites like avocado toast or a chicken Caesar wrap. Happy hour, which kicks off at 3 p.m. daily, includes pub snacks like soft pretzels with cheese and fried pickles—a great pairing with beer, wine and cocktails. Have a special event coming up? Consider hosting weddings, reunions and more at Mulligan's.
Avila Beach Concerts at the Cove
Over the past two decades, the Avila Beach Golf Resort has hosts a range of exciting mainstream entertainment at its sprawling event space. Concerts on the Cove provides audiences with quality entertainment and ocean views overlooking beautiful Avila Beach. If you've never been, grab a blanket and make a beeline for this incredible event: Aside from great music and entertainment, you're in for one of the most scenic views on the Central Coast. The resort's popular annual concert series also runs from May-October featuring a variety of top shelf entertainment sure to delight music fans of all kinds.
The Avila Beach Golf Resort hosts a handful of excellent food and drink festivals throughout the year. A crowd favorite for obvious reasons, the Macaroni & Cheese Festival offers decadent mac and cheese tastings from local chefs, plus beer, wine and live entertainment. Each November, Harvest on the Coast brings together local wineries of the SLO Coast Wine Region for a day of tastings and festivities. Grab a glass and join in on the fun, which includes fine wine, culinary creations and entertainment backdropped by stunning seaside views.
Avila Beach Wedding Venue
Looking for the perfect wedding venue by the sea? The Avila Beach Golf Resort hosts weddings of all sizes, from intimate affairs to big, boisterous celebrations. Here, the sound of crashing waves and sea birds make for a picturesque backdrop for your big day. Enjoy indoor and outdoor options with coastal charm to spare. The most popular wedding offering includes a beachfront ceremony, Beach Club cocktail hour and breezy reception beneath romantic string lights. Tour the spacious property with your photographer in a six-seater golf cart and scout out multiple locations for incredible photo opportunities.
Looking for a wedding venue that also appeals to your guests? Loved ones will delight in Avila Beach's oceanfront oasis nestled along the curve of San Luis Bay. At Avila Beach Golf Course, guests can toast s'mores around fire pits, dance on the lawn and even steal a moonlit stroll along the waves. Your guests will also enjoy close proximity to plenty of lodging within walking distance. And when the reception ends? Grab a nightcap at Avila Beach's local bar, Mr. Rick's, to keep the party rolling.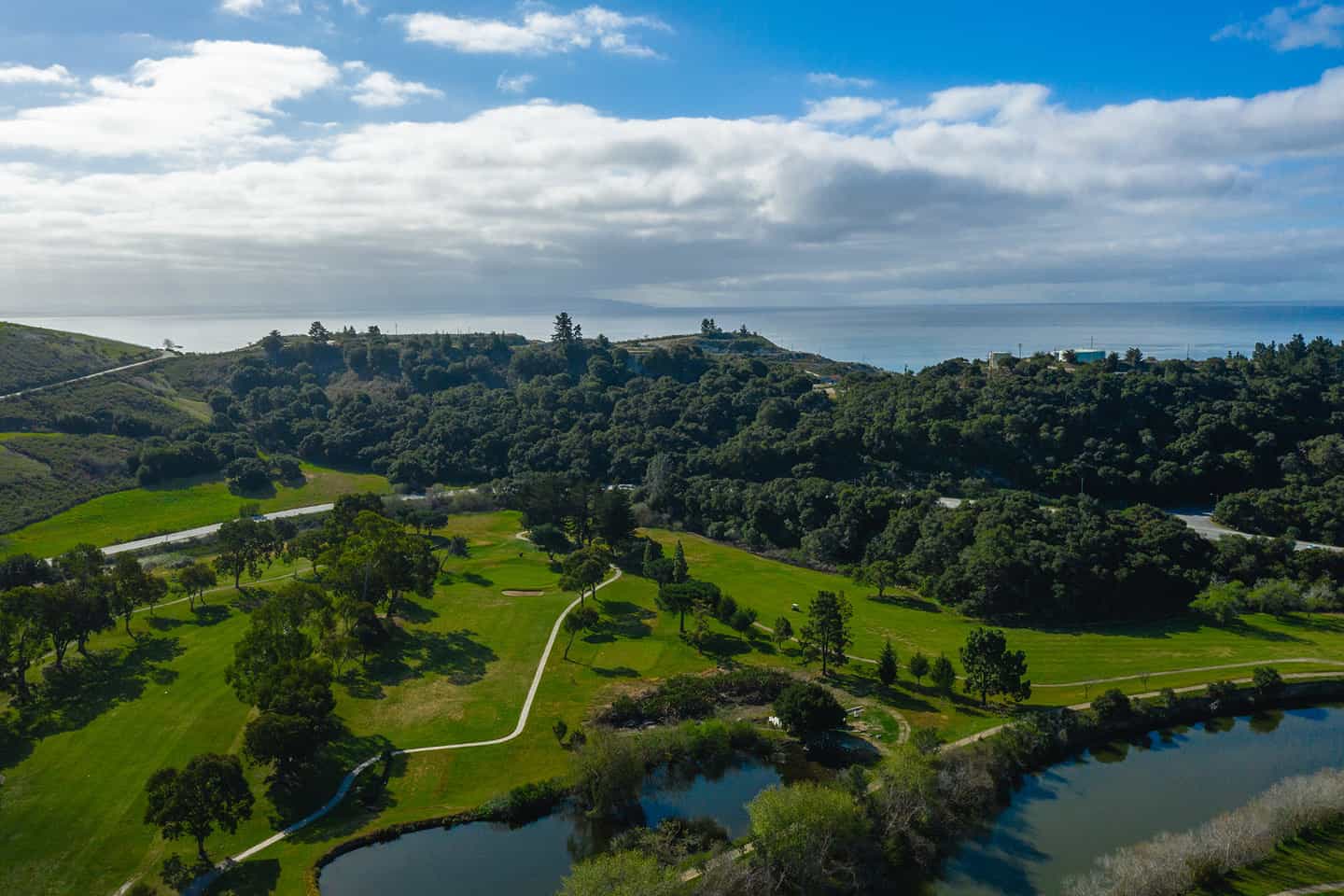 Other Courses Near Highway 1
The spacious beauty of Nipomo provides a welcome home for two remarkable golf courses. At Blacklake Golf Course, enjoy a relaxed vibe and unique 27-hole course layout, plus practice facilities, instruction and a bar and grill. Monarch Dunes Golf Course is an award-winning pair of courses designed in the style of a Scottish links course, plus a driving range and restaurant.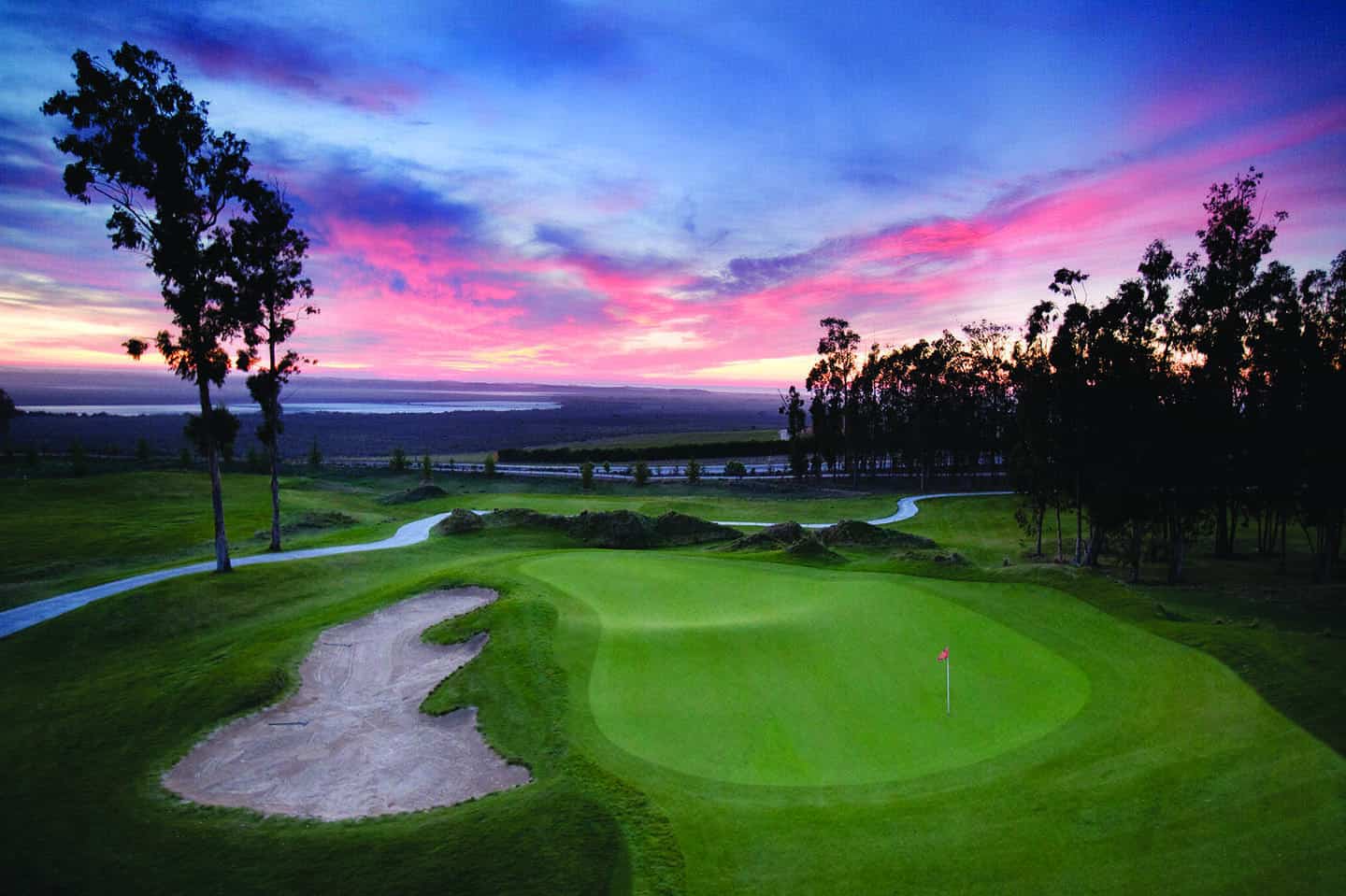 Cypress Ridge Golf Course
The award-winning Cypress Ridge Golf Course in Arroyo Grande is set amidst stately cypress trees and cooled by coastal breezes. Named one of the "Best Places to Play" by Golf Digest, Cypress Ridge is a Peter Jacobsen Signature course known for manicured fairways and greens. Enjoy the natural scenery, as well as practice facilities, a thoughtfully-designed event venue and a seasonal Music on the Mesa concert series.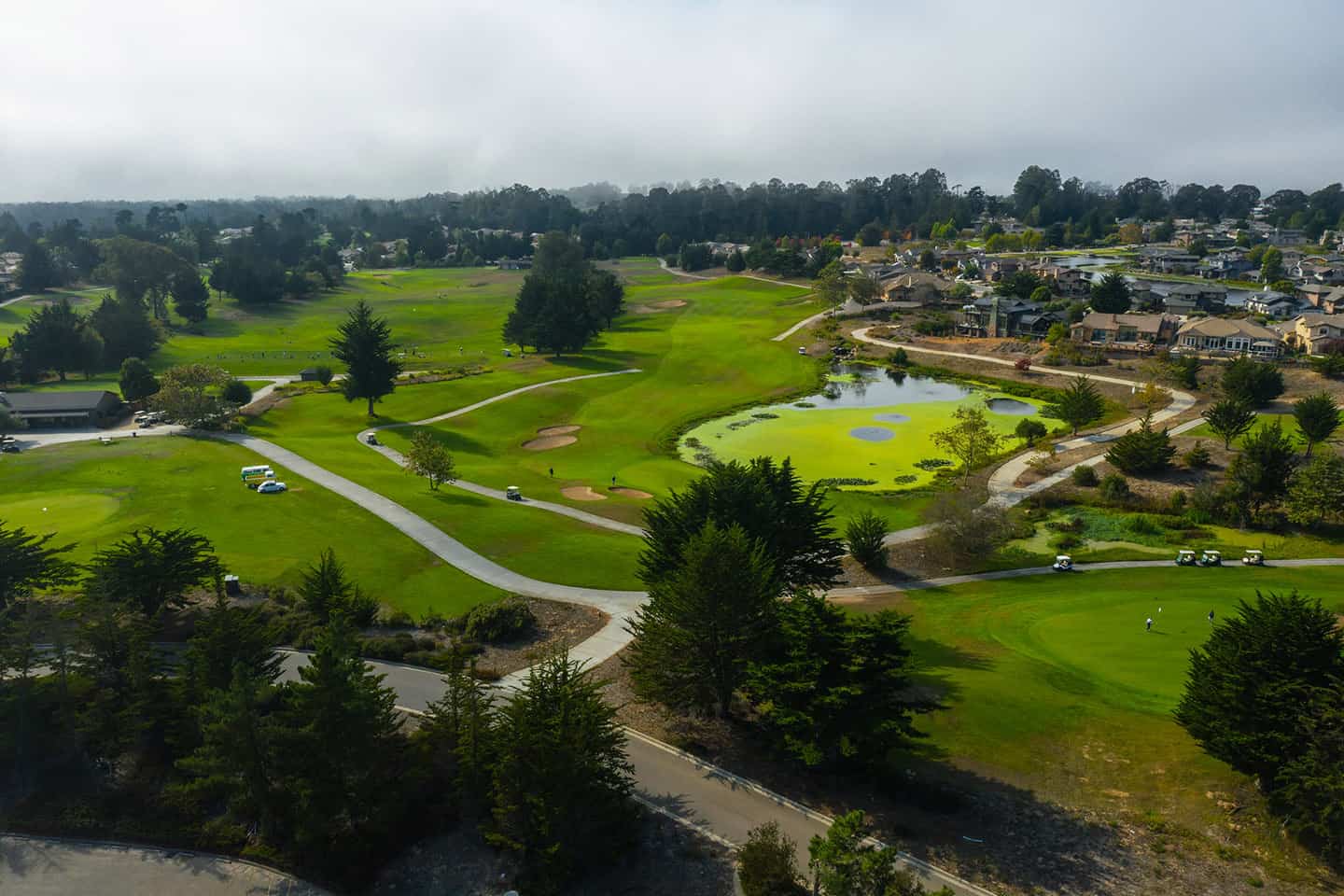 Overlooking the Pacific Ocean in Los Osos, Sea Pines Golf Resort is a scenic course with views of Morro Rock in the distance. Enjoy short wait times, challenging holes and well-kept grounds on this executive-style 9-hole course. The resort is also home to disc golf and footgolf courses, as well as a pro shop, bar and grill and seasonal concerts on the green.
For fans of tennis and pickleball, San Luis Bay Inn Courts is a fantastic playground by the sea. Located directly adjacent to the Avila Beach Golf Course, San Luis Bay Inn features three tennis courts, two pickleball courts and one basketball half-court. Enjoy these great facilities while taking in Avila Bach's sun, fresh air and awe-inspiring views.
Work up a sweat and enjoy the view when you pick up a game at the Oceanfront Basketball Court. Located at Avila Beach's oceanfront Pirate Park, you'll dribble and shoot just steps from the sand as well as downtown Avila Beach. This popular full court offering is well worth the visit and a great option for families who wish to enjoy the park's Pirate-themed playground.
Whether you're an avid nature lover or just looking to get some fresh air, you'll find plenty of reasons to love The Bob Jones Trail in Avila Beach. This flat, family friendly path leads pedestrians and cyclists on an enchanting journey from forest to sea. Enjoy the splendor of Avila Beach's diverse terrain before or after your golf game: This well-paved trek meanders directly through the Avila Beach Golf Course. Featuring benches along the way, this accessible five-mile out-and-back adventure reveals creekside critters and picturesque views for all.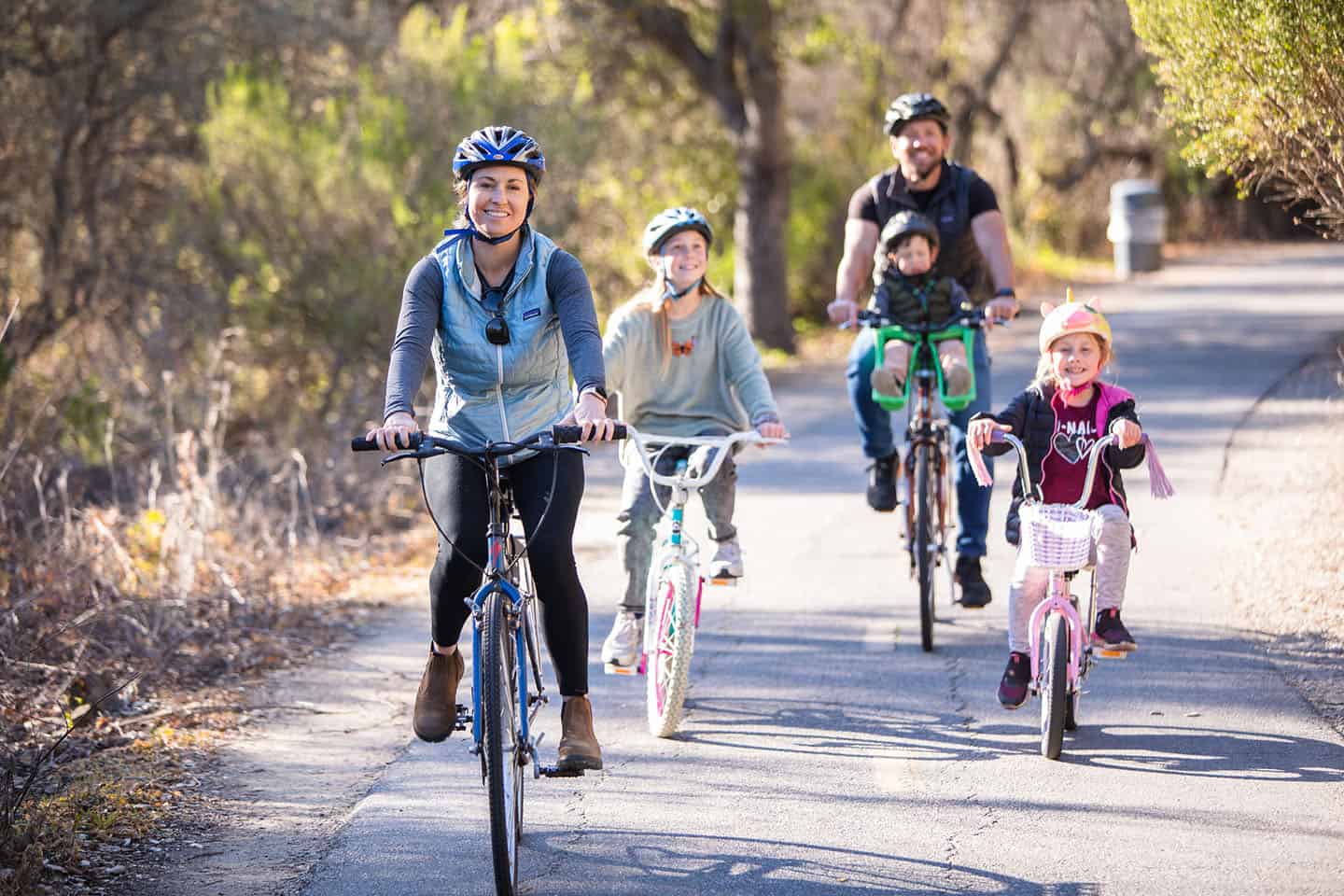 Paddle along Avila Beach's glittering shore with a variety of kayaking and paddle boarding tours suited for all skill levels. Experienced kayakers will get a kick out of a Dinosaur Caves kayak tour, a seafaring adventure that splashes through ancient sea caves and around dramatic rock outcroppings. Of course, you can also paddle board serenely along the calm bay waters with or without a local guide. The whole family will enjoy paddling back in time with a self-guided kayaking trip launching from Harford Pier to the historic Port San Luis Light Station. Whether you seek a challenging paddle or prefer a laid-back cruise along the water, the choice is yours in Avila Beach.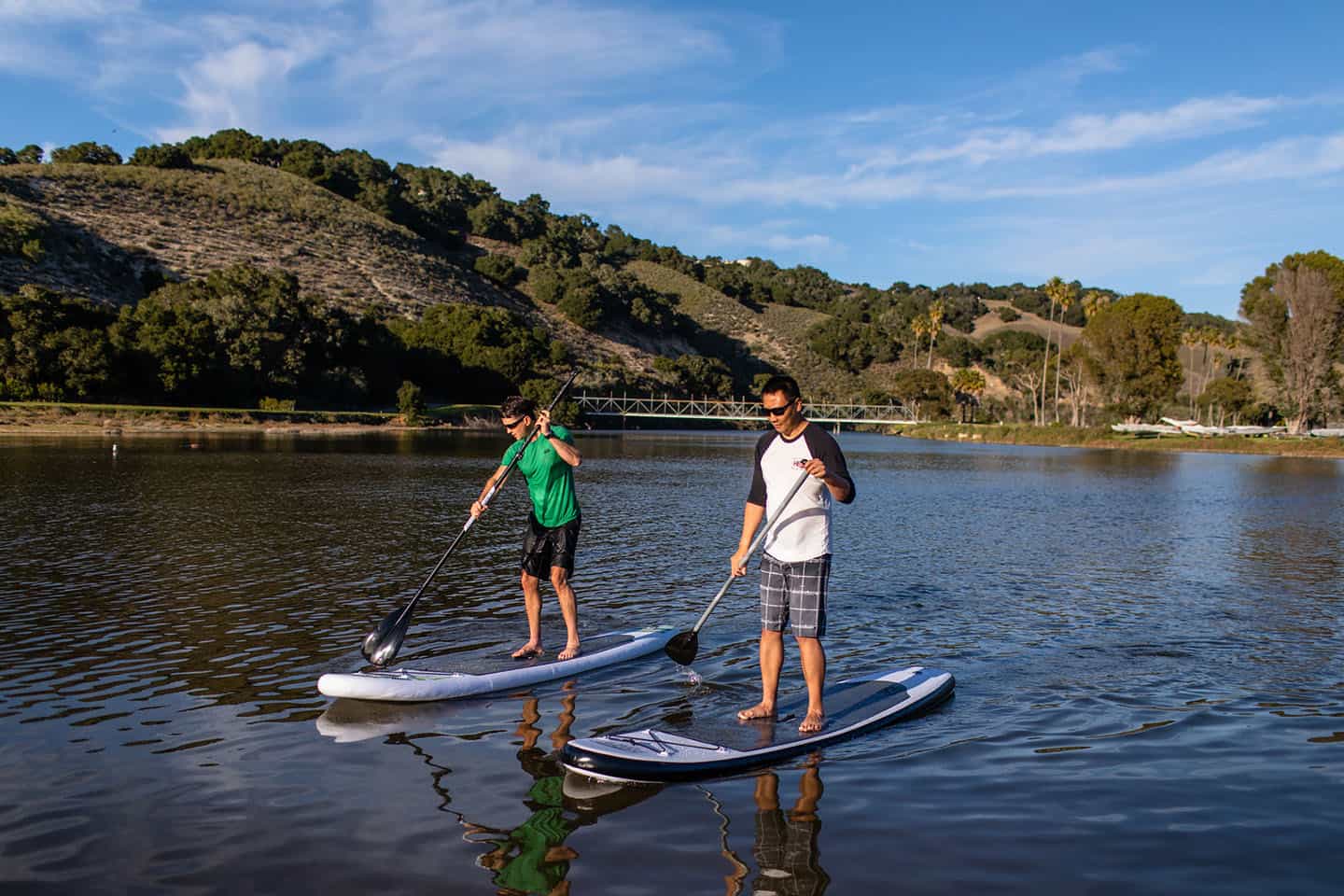 All aboard for aquatic adventure in Avila Beach. Explore the coast by boat with a Zodiac Boat Tour courtesy of SLO Tours. On this grand cruise of Avila Beach, launch from the Port San Luis Pier and enjoy a comprehensive tour of local scenery and wildlife along the way. During the 45-minute tour, float along cliffs of lava rock, explore the shores of Lighthouse Beach and set your sights on Whalers Rock. You'll also brave Avila's impressive sea caves, a sight to behold by boat. As you venture on, be sure to wave to local pelicans, otters and sea lions, all common inhabitants of Avila's wild waters.
Bring home a piece of coastal California when you shop Avila Beach's unique collection of boutiques, galleries and surf shops. Located steps from the sand, Avila Beach's dynamic downtown has everything you need to enjoy a day on the sand. Whether you're looking for swimwear and beach gear, whimsical garden art, local wine or gourmet candy, you'll find an incredible selection of items to choose from along Avila's diverse mom-and-pop storefronts. From artisanal products to great gifts, Avila Beach offers a one-stop shop under the Central Coast sun. Looking to rent a surfboard, paddle board, wetsuit or e-bike? Avila Beach is home to plenty of rental shops ready to outfit your next coastal adventure.