Nothing compares to experiencing California's Central Coast from the ocean. Whether it's on a kayak or a stand-up paddleboard, the views of green rolling hills and the quaint seaside town always wow. Bring your own board or kayak, or rent from one of Avila Beach's trusted outfitters. Even better? Sign up for a guided tour, and experience the hidden spots only locals usually get to see.
Quick Guide + Pro Tips
Can't wait to get out on the open ocean? Here's the quick 411 for kayakers and paddleboarders on the go.
Where to Launch:
Bringing your own
If you have your own kayak or board, you'll want to head to Olde Porte Beach. Look for this spot on the west side of Avila Beach Drive, beyond Avila Beach proper and just after the Cal Poly Pier. There you'll find a launch ramp that makes getting your gear to the beach very easy. Just drive down the ramp to deposit your rig, then pull back up to park on Avila Beach Drive. The ramp has slats that grip tires on the incline, but note that using a vehicle 4-wheel drive for this ramp is highly recommended.
Renting
If you're renting a board from one of the local water sport shops, they can recommend where best to launch. In general, Avila Paddle Sports launches at Port San Luis Harbor, on the north side of Avila Beach. They also put in at the Harford Pier, which is on the north side as well. (Note that this is not the downtown Avila Beach Pier.) From April to October, you don't even have to visit their shop, as they park their operation right on the beach downtown, by the main Avila Pier. For another angle, go with Central Coast Kayaks, a rental company that launches in Shell Beach, located between Avila Beach and Pismo Beach.
Explore Paddle Boarding in Avila Beach
Where to Kayak and Paddleboard in Avila
Avila Beach sits on a protected cove that boasts slightly warmer temperatures and calmer conditions, both on land and sea. More often than not, launching out in Avila Beach means sunshine, glassy waters, and a clear view from Point Sal to Point San Luis. Enjoy a morning or afternoon paddle in either of these Avila Beach hot spots.
The three piers of Avila Beach offer a variety of views and wildlife to take in. 
To kayak around the Harford Pier (Port San Luis Harbor), take Avila Beach Drive West from the freeway, about 3.25 miles, to find the Old Port Beach Launching Access. See sea lions, sea otters, and seabirds as you float and paddle around this historic pier.
To experience the Cal Poly Pier from the ocean, launch from Olde Port Beach (which has vehicle access for loading and unloading) and paddle east. This pier is over twice as long as the others, so paddling is the only way for the public to see the Center for Coastal Marine Sciences at its end.
The Avila Beach Pier is the easiest of the three to paddle around, just by launching from the beach. For loading and unloading, vehicles can take Avila Beach Drive 2.25 miles to Front Street, and follow it straight to the beach. Around this pier, enjoy whale watching and views of neighboring cliffs like Fossil Point, one quarter-mile east of the pier.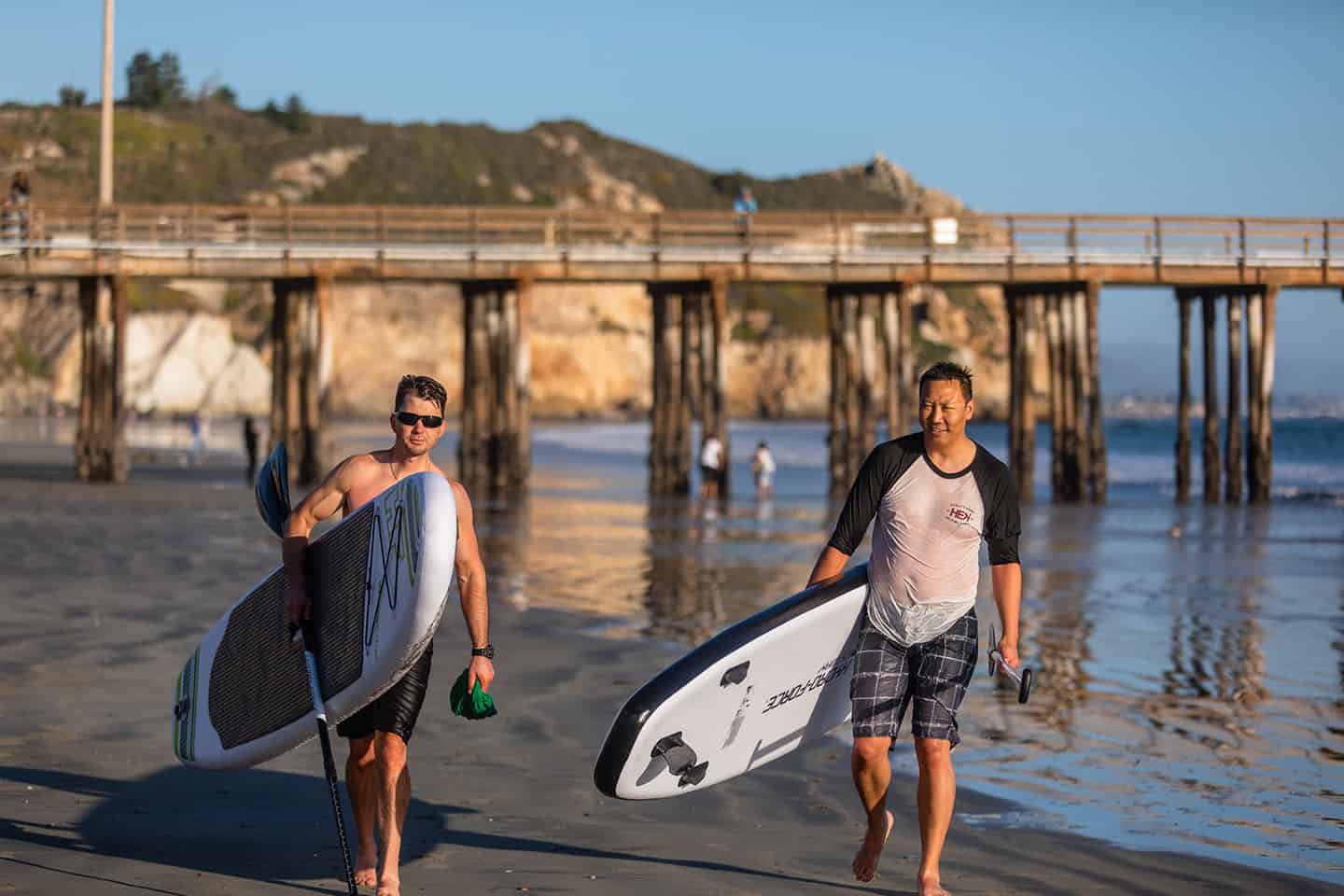 Kayaking Pirates Cove (Mallagh Landing)
This hidden and secluded inlet boasts crystaline waters and rugged cliffs. To reach the beach here, launch from Avila Beach or Olde Port Beach, and paddle just past Fossil Point. Watch the shore for a beautiful tucked-away beach, but take care: clothing is optional on this stretch of shoreline!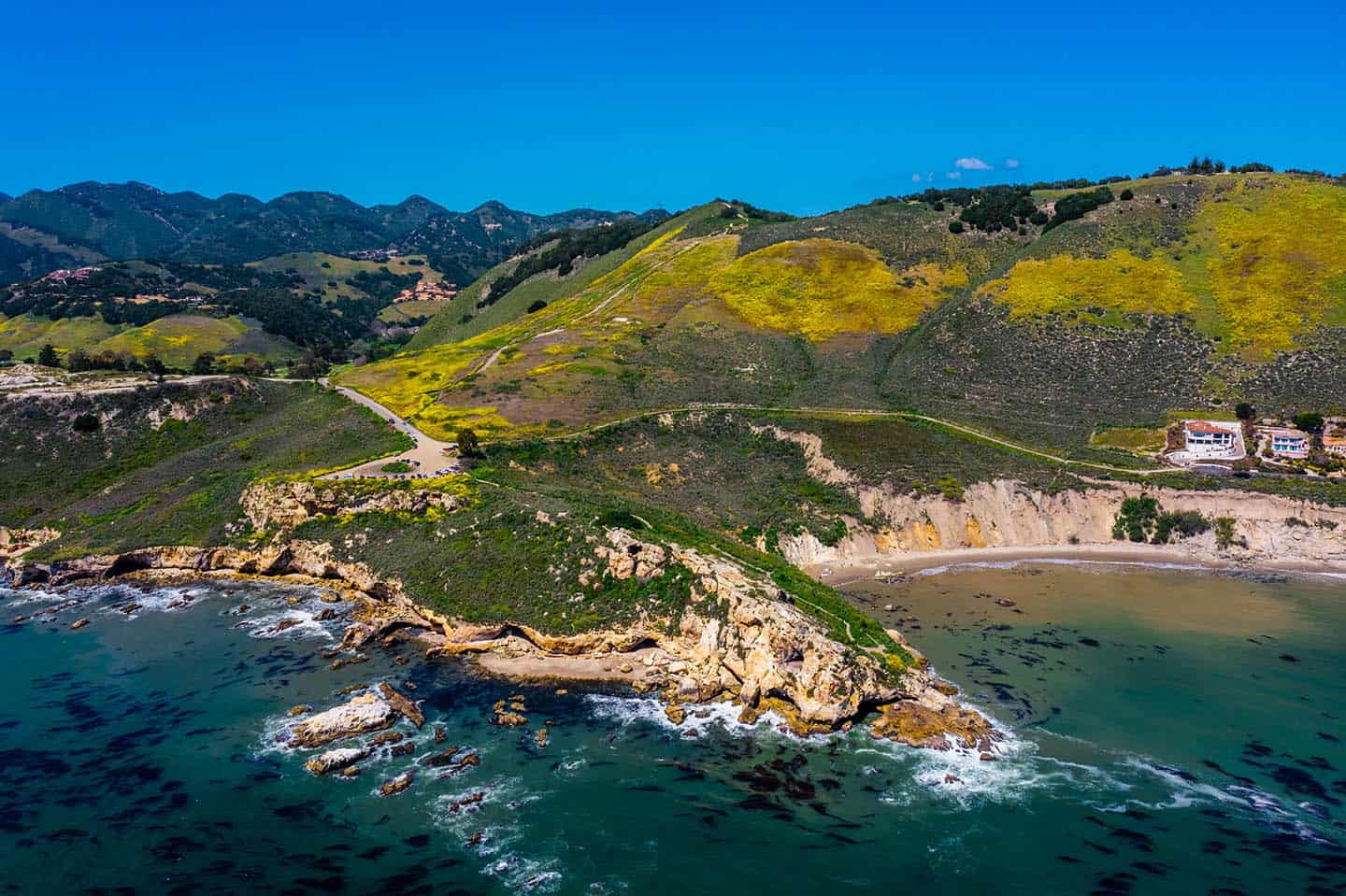 Kayak & Paddleboard Rentals + Guided Tours
Looking for an expert local to get you set up with gear and out on the water? Check out any of the outfitters and guides that serve the area in and around Avila Beach.
Adventure Tours (Avila Paddle Sports)
Get in on the fun of an Adventure Tour with Avila Paddle Sports. This local company provides guided tours that include instruction, equipment, snacks, water, and photos for guests. Witness wildlife, coastal scenery ― even visit the historic Point San Luis Lighthouse. This tour works well for beginners, but experienced kayakers enjoy it, too. Suitable for ages 13 and older, expect this tour to last 3 to 4 hours.
Family Tour (Avila Paddle Sports)
Do you want your child to experience the wonder and empowerment of ocean kayaking? Try the Little Explorers Family Kayak Tour with Avila Paddle Sports. This guided trip is designed for beginners and includes plenty of wildlife and a walk up to the historic Point San Luis Lighthouse. This tour is perfect for ages 7 and older, with an average duration of 2.5 to 3 hours. It also includes gear, instruction, water, snacks, and photos.
Cave Tours (Central Coast Kayaks)
This special tour takes both new and seasoned kayakers through the hidden architecture of the Avila Beach coastline. Paddle through caves and arches, kelp forests and grottoes, exploring their treasures which are visible only by kayak. Tours include an expert guide, kayaking instruction, wetsuits, booties and kayaks, water, snacks and photos. This three-hour tour is an adventure, but guides provide options for widely varying levels of ability. The minimum age for this tour is 12 years old, and all participants must be able to swim.
"Back in Time" Lighthouse Tour (Central Coast Kayaks)
A very special excursion, this kayaking tour up to the Point San Luis Lighthouse combines history and heritage with paddling fun. On the way to Coastguard Beach, witness sea lions, sea otters and harbor seals at play. Then touch land and walk up to the Point San Luis Lighthouse, a fascinating 19th century building that is open to the public. Enjoy a tour of the interior before heading back to port. Children 12 and older can participate, and all guests must be able to swim.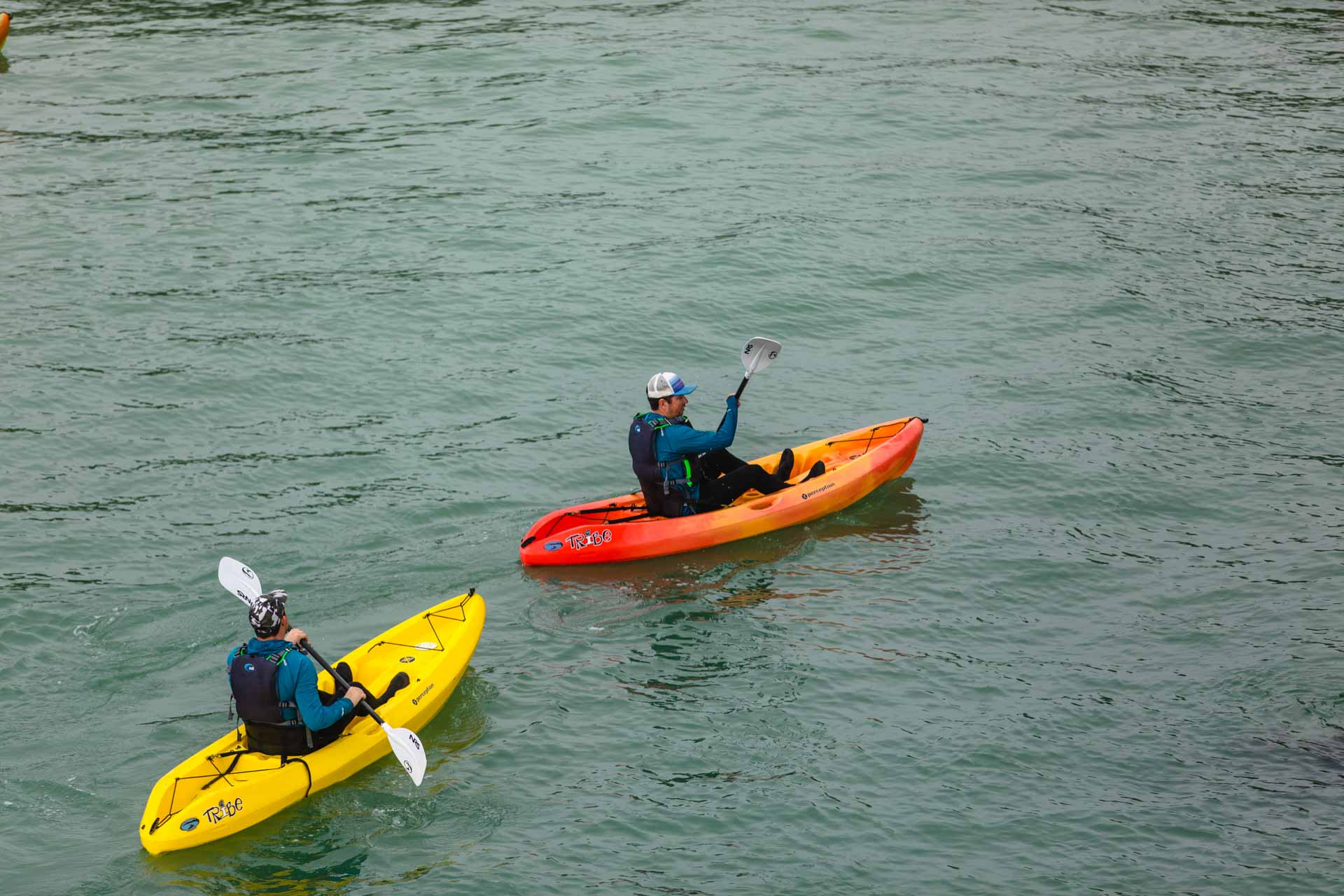 Can't get enough sea time? Try these other activities to see Avila Beach at its coastal best.
Avila Beach is a hot spot for witnessing whales migrating up and down the West Coast. In fact, if you want a close encounter with a whale, this is one of the areas in California where you're most likely to get it. Kayakers and paddleboarders in Avila Beach are routinely entertained by friendly whales who spout, slap their fins and tails, and even breach. These encounters often make the national news for their frequency and sheer proximity. If you're up for that kind of adventure, prepare to see gray whales and humpback whales, especially between December and April each year. Not ready to get wet? No need to paddle out. The Whale Trail Organization has identified Avila Beach as one of the best whale-watching sites on the West Coast. You can find the Whale Trail's interpretive sign at the Avila Beach Pier, not far from the Central Coast Aquarium. The sign offers tips for spotting whales from shore, and more helpful information to make your whale-watching excursion a success.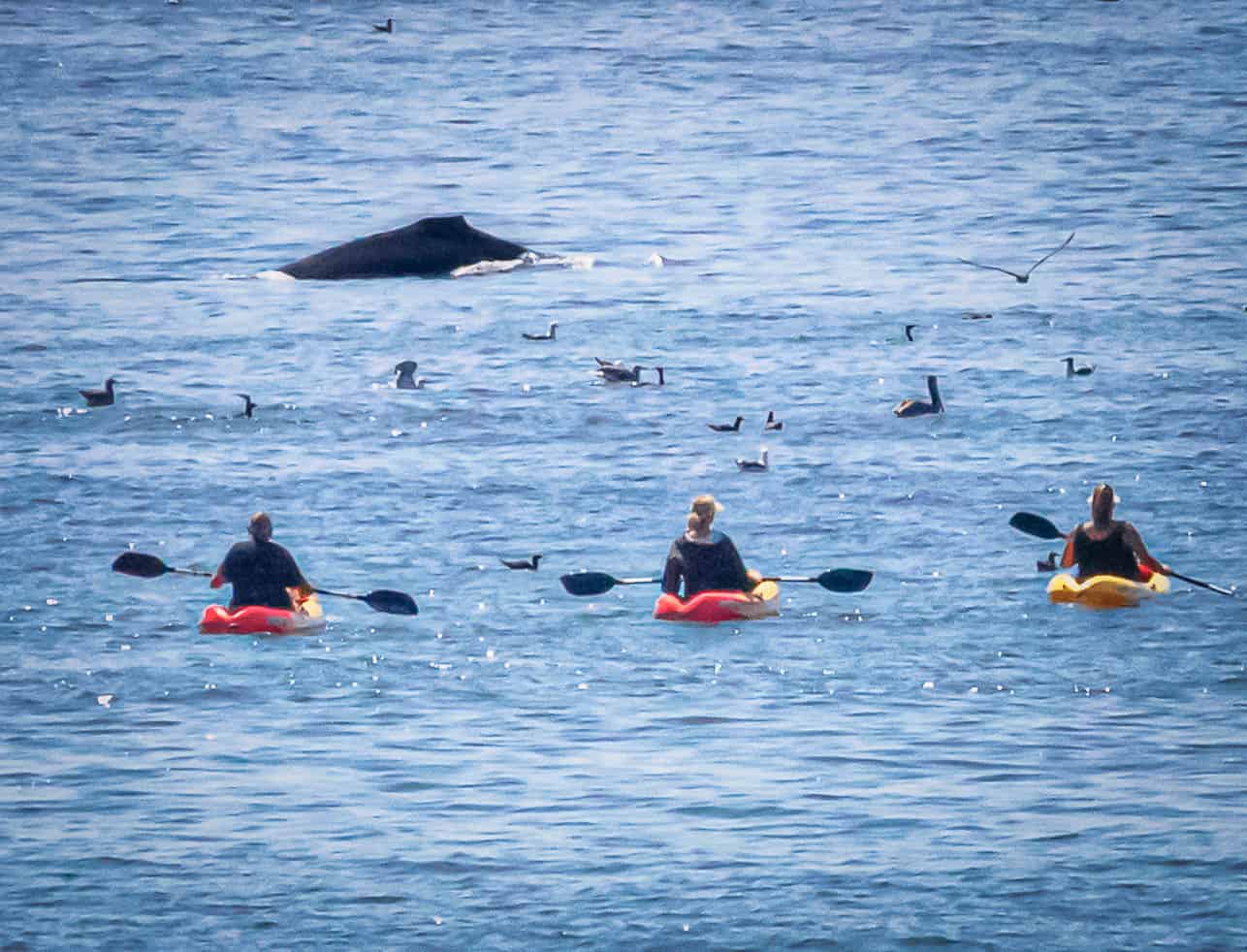 Adorable sea otters are also easy to find in Avila Beach. These cute and endearing sea creatures can be found just north and south of Harford Pier at Port San Luis. Even better? Kayak beyond the pier for the best chance of seeing these funny, fuzzy marine mammals.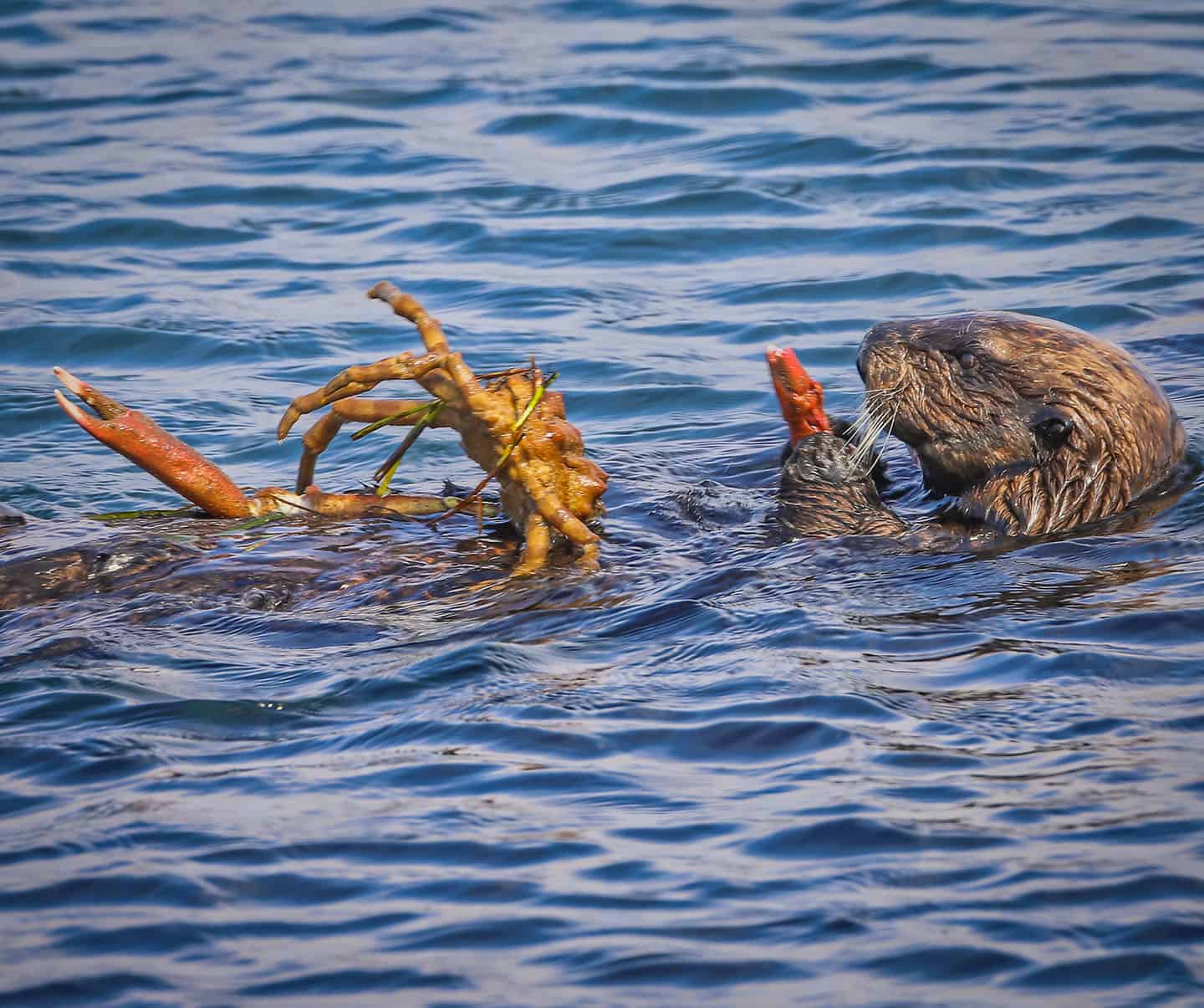 Kayak Fishing (Central Coast Kayaks)
For those interested in catching their dinner, Avila Beach is an ideal spot for kayak fishing. Take a guided class and tour, or rent a kayak fully outfitted for fishing these calm and clean waters. Find several types of fish along the Avila Beach coastline, including rockfish, lingcod, perch and cabezon. For certain parts of the season, you may even find halibut, white seabass, and salmon. The kayak fishing season runs approximately April through December, and Central Coast Kayaks provides everything you need to get you and your line out on the water.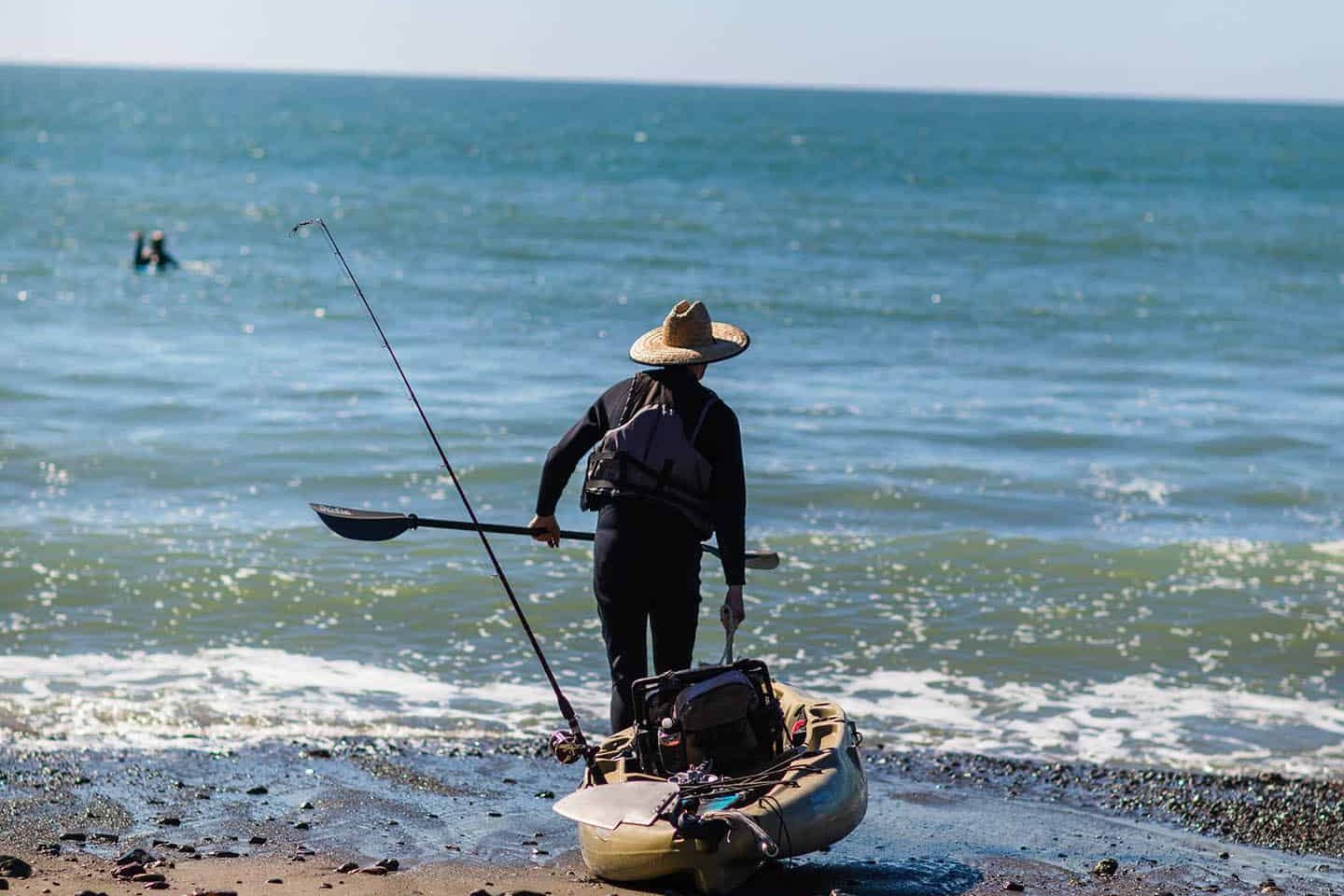 Stewardship Travel for Good
Kayak Back in Time to Historic Lighthouse
One of the best ways to preserve the rich heritage of the Central Coast is by bringing its history to life. Enjoying a specialty kayaking tour to the Point San Luis Lighthouse does just that. Meet the people who care for this 19th-century landmark and walk through the rooms that once housed the lighthouse keeper's family. By engaging with the past in this fun and unique way, visitors get a deeper experience than mere tourism can provide. For more experiences like these, visit the Stewardship Travel For Good Activities page.
Docent Hikes (info)
The Pecho Coast Trail leads from Avila Beach up to the Point San Luis Lighthouse—a total of 3.75 miles roundtrip with moderately challenging terrain. The hike is available only under the auspices of PG&E, which offers weekly docent-led hikes along the Pecho Coast. Along the way, you'll learn about the history of the land, whose untouched beaches, cliffs and terraces have lain practically untouched for generations. Here, you can witness firsthand the remarkable effect that conservation has on precious open space. Just be sure to make a reservation, as the trail is only accessible with a guide—and only 20 hikers per day. 
Beach Cleanup
Want to keep Avila Beach beautiful for your next trip, and for generations to come? Pick up a clean-up kit and "thank you" tote bag at any one of several Avila Beach destinations. The small act of coastal care can help protect wildlife from mistaking plastics for food, which causes an inordinate amount of harm. One plastic bag that blows into the ocean can kill birds, seals, and other ocean-dwellers—and it can do so for hundreds of years before it breaks down. Spending just an hour or two on the beach with a cleanup kit is a meaningful way to connect to Avila Beach in the present, while preserving it for the future.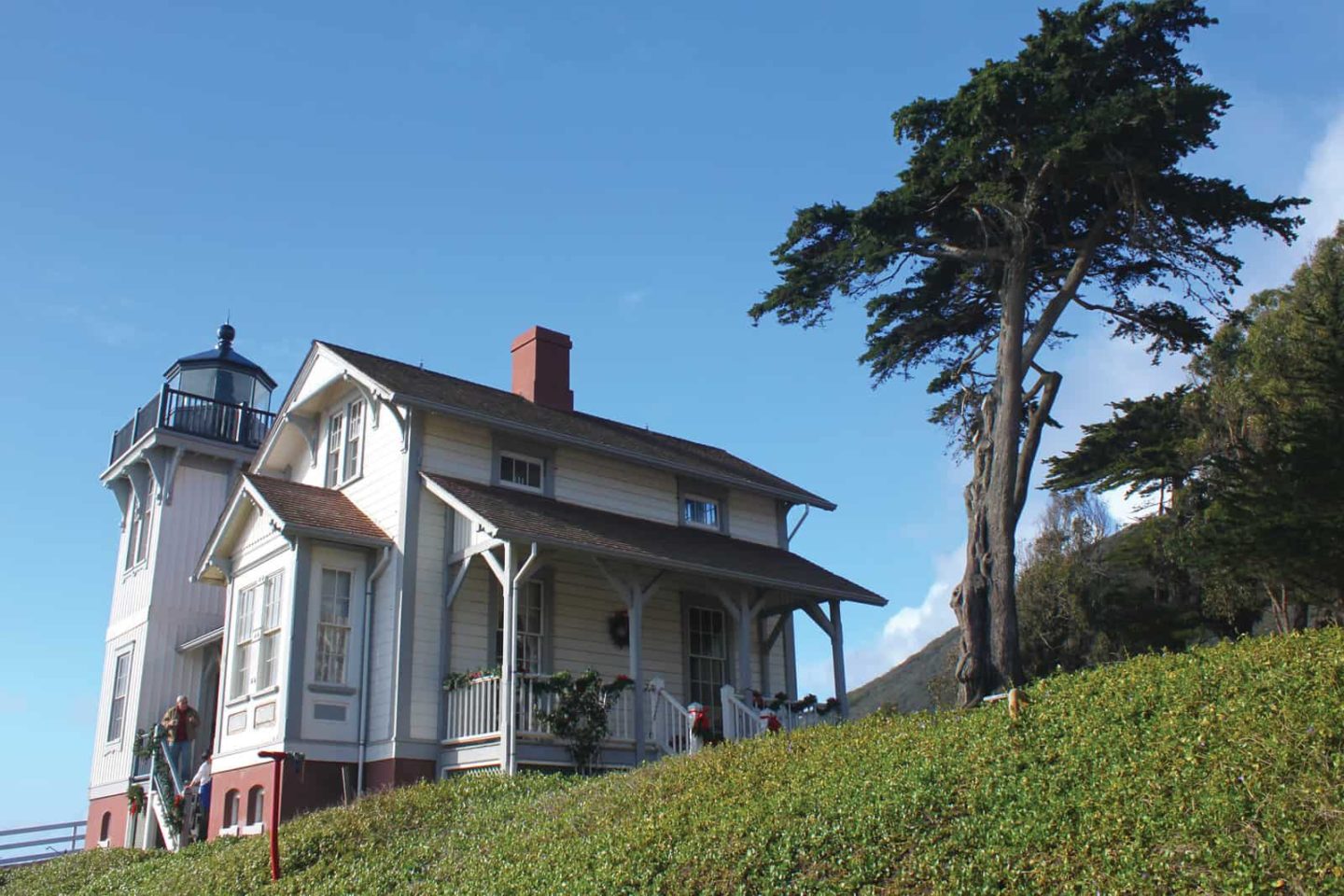 You'll definitely want to stick around in Avila Beach, even after the paddle is over. Find seaside eateries, wooded trails, wine tasting, petting zoos, apple farms and more.
If you had a paddle around Port San Luis, you're close to Mersea's on Harford Pier. This is a well-known, well-loved spot for the freshest seafood around, including crab, fish, calamari, clam chowder (both New England and Manhattan style) and more. But if you're closer to Avila Beach proper, you'll have a host of dining options available, from a French bistro and Hawaiian shave ice shop to pizza, pub grub, and seafood. To find the perfect eatery for your taste, have a look at our list of dining options in Avila Beach.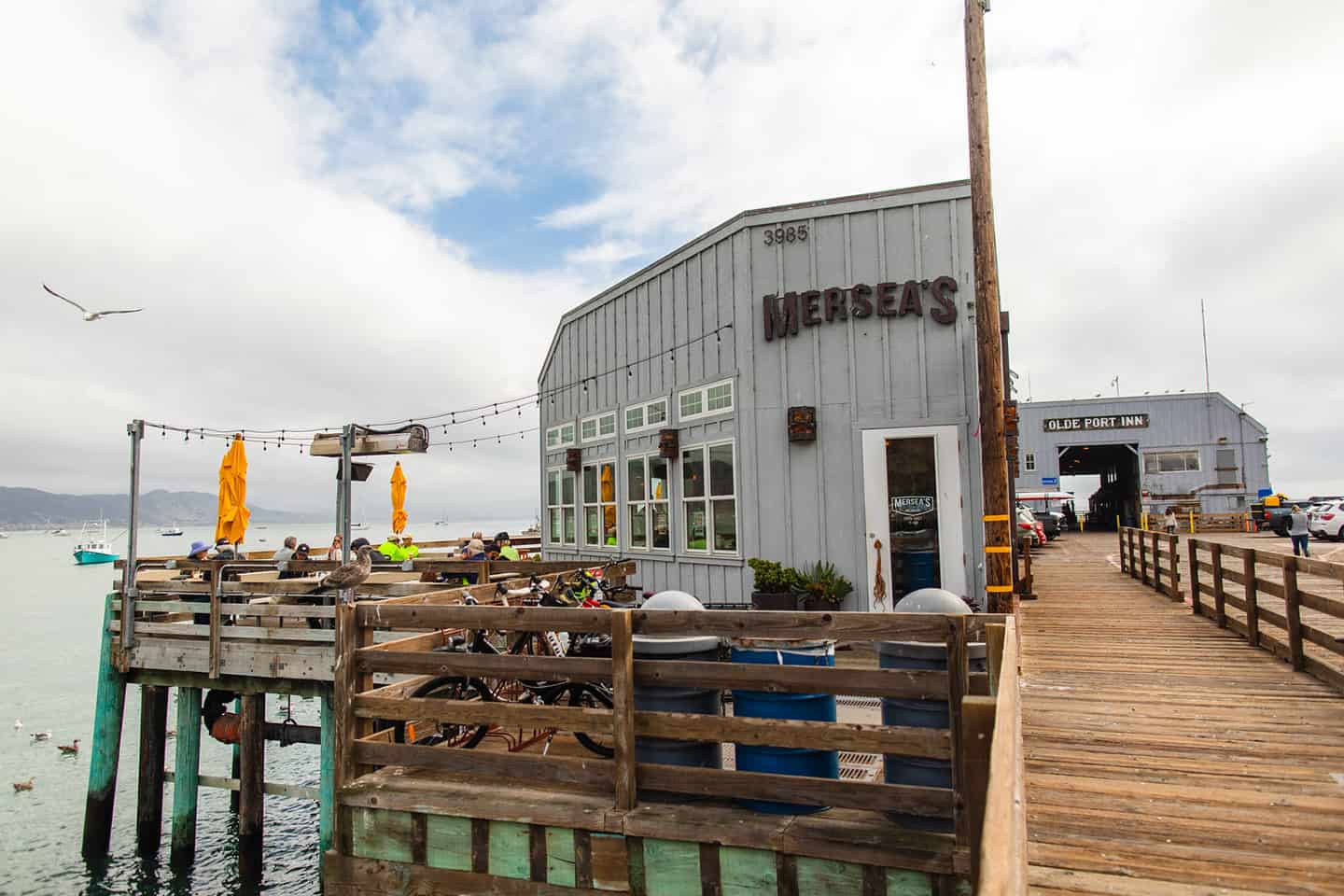 Avila Beach is a small coastal town with more than its fair share of activities to enjoy. Families can bring kids to the Avila Valley Barn for fresh fruit, hayrides, and the petting zoo. Older kids might like a bike ride or electric scooter ride along the beloved Bob Jones Trail. Couples enjoy taking the long, scenic drive through See Canyon, stopping for apples at Gopher Glen and wine tasting at Kelsey See Canyon Winery. Want to discover other ways to play? Head to our recommendations for things to do in Avila Beach.