Imagine acres upon acres of fairways, manicured greens, ocean views, and a glass of local wine or beer at the end of the course. This sums up the remarkable golf experience that Nipomo offers. Whether you seek lessons from a pro, a putting green, driving range, or just a quiet day on the links, Nipomo has options to suit your swing.
Blacklake Golf Course
A favorite among local and visiting golfers alike, Blacklake is a championship golf course known for its laid-back vibe and three unique 27-hole layout. A combination of three nine-hole courses, the resort provides a good mix of par 3, 4 and 5 holes. These courses are meticulously maintained, with sparkling lakes, scenic coastal hills and live oaks. Try one, two or all three courses for a day on the links that's perfectly tailored to your ability and experience.
Canyons Course
This picturesque course features gentle variations in terrain with plenty of long views of the fairway from elevated tee boxes above. Cool coastal breezes keep the air refreshing in the unspoiled natural beauty of this nine-hole course.
Oaks Course
This nine-hole course winds along the natural path of a coastal oak tree forest. More intimate and sheltered, The Oaks offers something like a "target" golf exercise, challenging to even the most seasoned of veteran golfers.
Lakes Course
The perfect course for a beginner or "rusty" golfer, The Lakes course features many wide, forgiving fairways. But don't be fooled: the opening hole is a par-3, offering a challenge for any golfer on the course.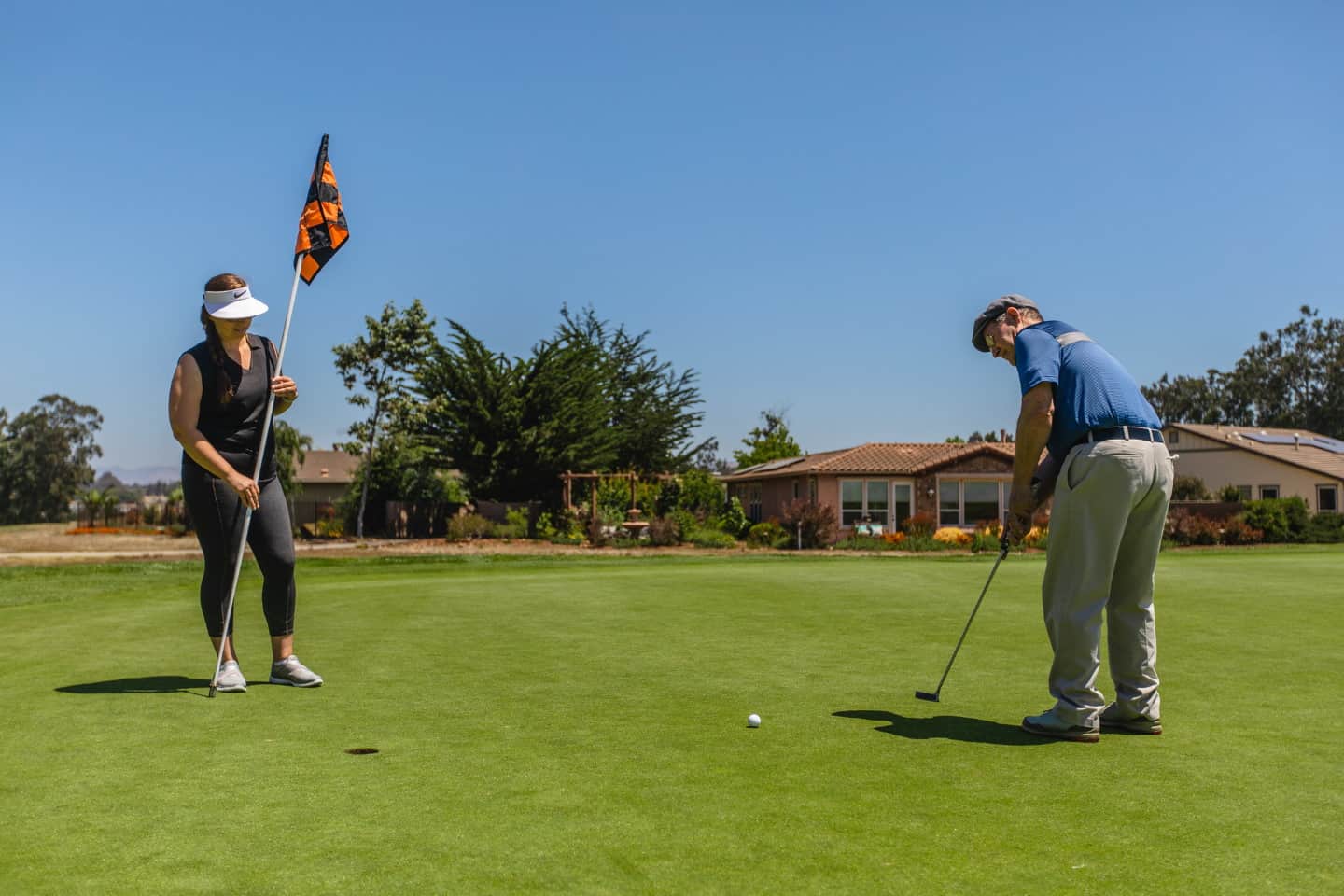 Driving Range & Putting/Chipping Greens
The driving range at Blacklake Golf Course spans 275 yards with more than 30 teeing areas in both real grass and artificial turf. Open from dawn until dusk, the driving range is also complemented by three putting, chipping and pitching greens for public use.
Instruction and Clinics
Blacklake Golf Course offers private lessons with PGA instructors, as well as group clinics and youth lessons.
Blacklake Bar & Grill
Satisfy the appetite you worked up on the course with any of Blacklake's dining options. The full breakfast menu and grab-and-go options include breakfast burritos, egg sandwiches, assorted baked goods, coffee and snacks. Stay for lunch on the patio and watch golfers on The Lakes Course on the 9th green. Try the hearty Asian Chicken Salad or Blacklake flatbread topped with tri-tip. Pair your lunch or happy hour snacks with a glass of local beer, wine, or a cocktail from the full-service bar.
.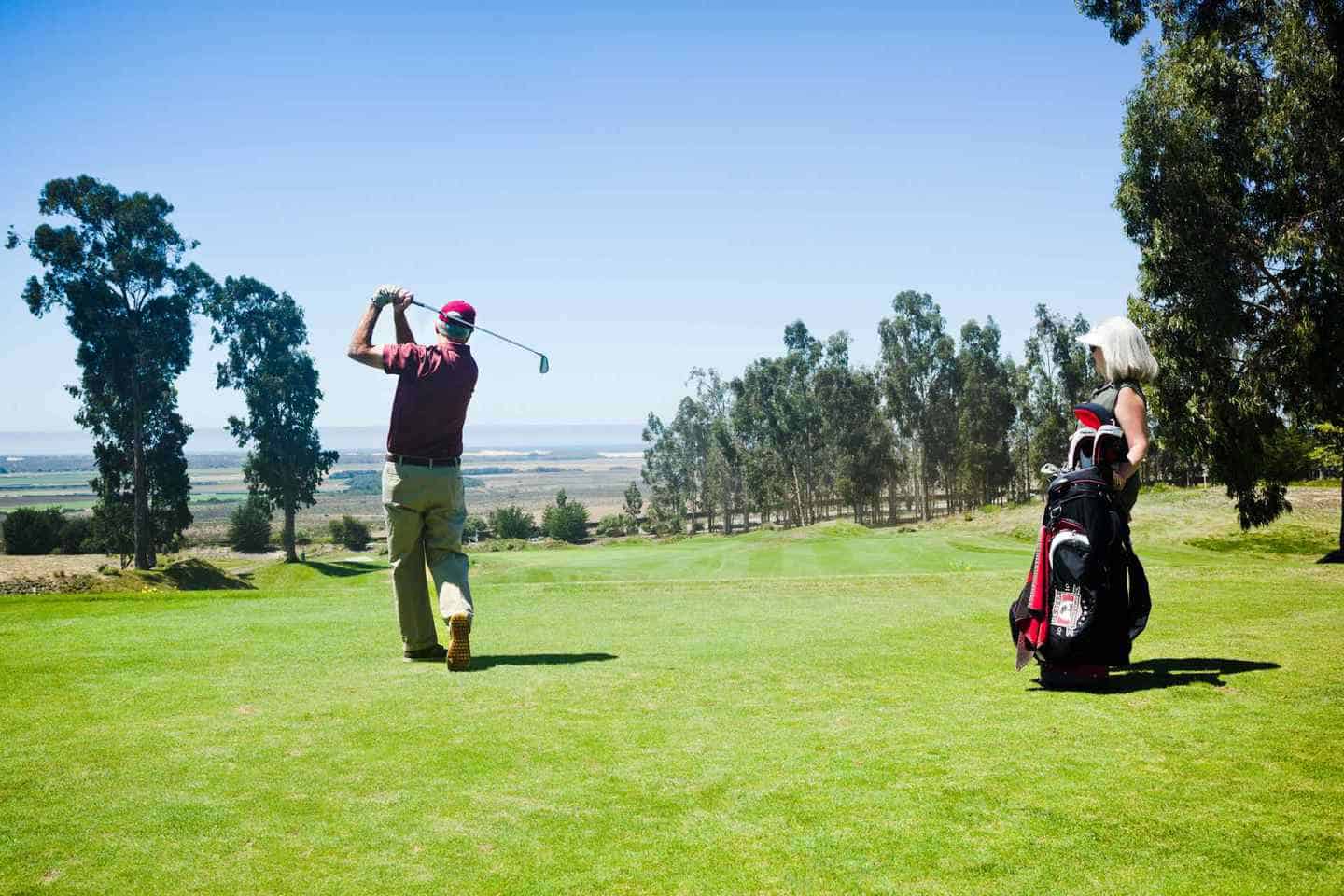 Monarch Dunes Golf Course
Located on the Nipomo Mesa, Monarch Dunes is an award-winning golf resort with courses designed by Damiam Pascuzzo and Steve Pate. The property features views of windswept dunes, eucalyptus trees, coastal vistas and amber-colored hillsides. Reminiscent of a Scottish links-style course, Monarch Dunes is a must-play for those seeking a challenging yet friendly golf adventure. Journey through the coastal highlands of our stretch of Highway 1, and discover evolving conditions and natural beauty. All of it will inspire an unforgettable golf experience, time and again.
The Old Course
This par-71, 18-hole championship course opened for public play in 2006, introducing links-style golf to California's Central Coast. Architect Damian Pascuzzo and PGA Professional Steve Pate designed the course to take advantage of views of majestic dunes, coastline and golden hillsides. As such, The Old Course has won multiple awards, including those from GOLF Magazine, Golf Inc. Magazine, Fairways + Greens Magazine, and Golf Digest.
The Challenge Course
Opened in 2008, The Challenge Course is a 12-hole, par-3 course for those seeking a slightly different golf experience. Also designed by Pascuzzo and Pate, The Challenge's 12 holes vary from 20 to 205 yards in length. The Challenge comprises 5,000 square feet of tee space, with four tee markers to choose from at each tee. At 1,750 yards long, The Challenge includes 8,000 square-foot undulating greens that can vary 3 to 4 feet in elevation.
Driving Range
The Monarch Dunes' spacious driving range is open every day (closed Monday evening and Tuesday mornings for maintenance).
Butterfly Grille
This high quality bistro offers a relaxing place to fuel up or wind down after your last round. A full-service restaurant and bar, the Butterfly Grille features the fresh flavors of the Central Coast. The outdoor patio provides sweeping views of the resort, perfect for breakfast, lunch or dinner.
Other Golf Courses Nearby
Cypress Ridge Golf Course in Arroyo Grande
This Peter Jacobsen Signature Course is as challenging as it is beautiful. The Jacobsen Hardy Design Team utilized the natural surrounding of the area to make this San Luis Obispo County golf course truly unique. Mature cypress trees, lush green fairways and cool coastal breezes make Cypress Ridge a favorite among locals and visiting golfers alike.
Avila Beach Golf Resort
Tucked back in the hills between San Luis Obispo and Pismo Beach, this resort includes a par-71, 6,500-yard championship course. Surrounded by oak-lined valleys and spanning a tidal estuary, the Avila Beach Golf Resort course is as challenging as it is scenic.