Find yourself on a hike in either of these two scenic valleys where sunshine, vineyard views, and cool coastal breezes make for perfect conditions. This area boasts a remarkable diversity of landscapes, with trails to suit just about anyone's ability or interest. 
The Edna and Arroyo Grande Valleys essentially run perpendicular to one another. Edna Valley is framed by Highway 227, Orcutt Road and Corbett Canyon Road, while the Arroyo Grande Valley travels roughly along Lopez Drive. Their climates are similar, but not identical, with the Edna Valley typically showing slightly cooler temperatures than its neighbor to the south. The Edna Valley is also adjacent to San Luis Obispo, which has many fine trails, inside town and outside, as well.
For your Edna Valley and Arroyo Grande hikes, always be sure to bring water and wear sunscreen, a hat and sturdy shoes. Central Coast weather can be changeable, so dress in layers; if walking poles suit you, pack those, too. Some trails really lend themselves to stopping along the way, so you may want to pack a blanket and a picnic, too. (Delicious snacks and drinks can be found at the dozens of boutique wineries in the area.) For those who enjoy a good trail run, lace up your shoes, because many of these hikes serve as excellent technical courses, too. Or if spotting wildlife is your cup of tea, be sure to bring binoculars and a journal to document your findings. But above all, bring your sense of adventure! Every hike on our special stretch of Highway 1 becomes a trip to remember.
Explore Hiking Along Highway 1
Trout Creek Trail
This 7.9-mile moderately-challenging trail winds through the Garcia Wilderness in the Los Padres National Forest, northeast of Arroyo Grande. This is a rather remote trail; hikers often have the peaceful creek, California oaks and mountain views entirely to themself. (It's even safe to say this is the best-kept secret trail in San Luis Obispo County.)
The Trout Creek Trail shines in spring, when new water flows through the burbling creek, the hills are green, and the wildflowers bloom. Expect to take anywhere from 4 to 5 hours to complete this out-and-back route, which passes the primitive Buckeye Camp. The Trout Creek Trail is moderately difficult, gaining 1,1177 feet in elevation, but be prepared to cross the creek 9 times. Typically, water levels don't force a wet crossing, but wear grippy shoes, just in case. Native plants along the trail include riparian foliage along the creek, as well as grasses, oaks, and chaparral in drier areas. Wildlife in the deep interior of San Luis Obispo County includes mule deer, black bear, wild turkeys, peregrine falcon, and horned toads. This area has also been instrumental in protecting California Condors, which are still critically endangered, but gaining in population. 
The best time for a hike here is March through May, which is also rattlesnake season; remember to be careful where you step. And note that while dogs are allowed on the trail, ticks are a real consideration. Take care to check your pup for ticks during and after the hike.
Before making the long drive out to the Trout Creek Trailhead,call ahead to ensure the trail is open. From Highway 101, exit at Grand Avenue. Turn east onto Highway 227. After one mile, turn right on Huasna Road, following signs for Lopez Lake. Continue straight after 1.2 miles when Huasna Road becomes Lopez Drive. Drive another 8.1 miles, turning right onto Hi Mountain Road. The paved road ends after 6.2 miles, continuing on a rather rough dirt road for another 5.3 miles. Find the trailhead on the right, an unmarked fence and cattle gate in a small clearing on the right. The trail begins at the cattle gate.
Cougar Trail
Beneath a canopy of trees, The Cougar Trail stands near the entrance to the Lopez Lake State Recreation area east of Arroyo Grande. This easy 2.2-mile loop takes 45 minutes to 1 hour to walk, amid ancient oaks and other native foliage. While this trail does gain an elevation of 741 feet, the views of Lopez Lake are well worth the effort. Emerge from grassy shaded glens and oak forests onto the wide open ridge, surrounded by views of the lake's deep blue. Along the way you might see a California Condor, mule deer, jackrabbit or peregrine falcon. Dogs are allowed on this trail, but check Fido for ticks after your walk. 
To reach the Cougar Trailhead, take Highway 101 through Arroyo Grande and exit at Grand Avenue. Drive east through the Arroyo Grande Village on Highway 227, following signs for Lopez Lake. Continue to drive straight for 1.2 miles and bear right onto Huasna Road for 10 miles to enter Lake Lopez Recreation Area. Be aware that a parking fee is required.
High Ridge Trail
Another Lopez Lake hike, the High Ridge Trail offers a great workout as well as panoramic 360-degree views at the top. Get ready for some steep climbs, lake views and, if it's spring, plenty of wildflower color. This moderately challenging trail is a loop that stretches 4.7 miles and takes about 2.5 hours to complete. On cool days, this trail sees ample sunshine to warm up even the chilliest hiker. And on hot days, a number of spurs off the trail provide shade options. These spurs can also shorten or lengthen the loop, too, depending on your preference. Dogs are welcome on the trail, but be mindful of ticks, especially in warm weather after the rainy season. This trail can be somewhat isolated, so be sure to bring a friend or a cell phone. And be sure to wear long pants as poison oak can be plentiful here.
Reach the High Ridge Trailhead from the entrance to Lopez Lake: take Highway 101 to Arroyo Grande and exit at Grand Avenue. Follow signs for Lopez Lake and drive east on Highway 227 for 1.2 miles. Bear right onto Huasna Road and drive 10 miles to the Lake Lopez entrance. A parking day-use fee is required. Alternatively, take Hi Mountain Road (just before the park entrance) and turn left on Upper Lopez Canyon Road and park on the shoulder.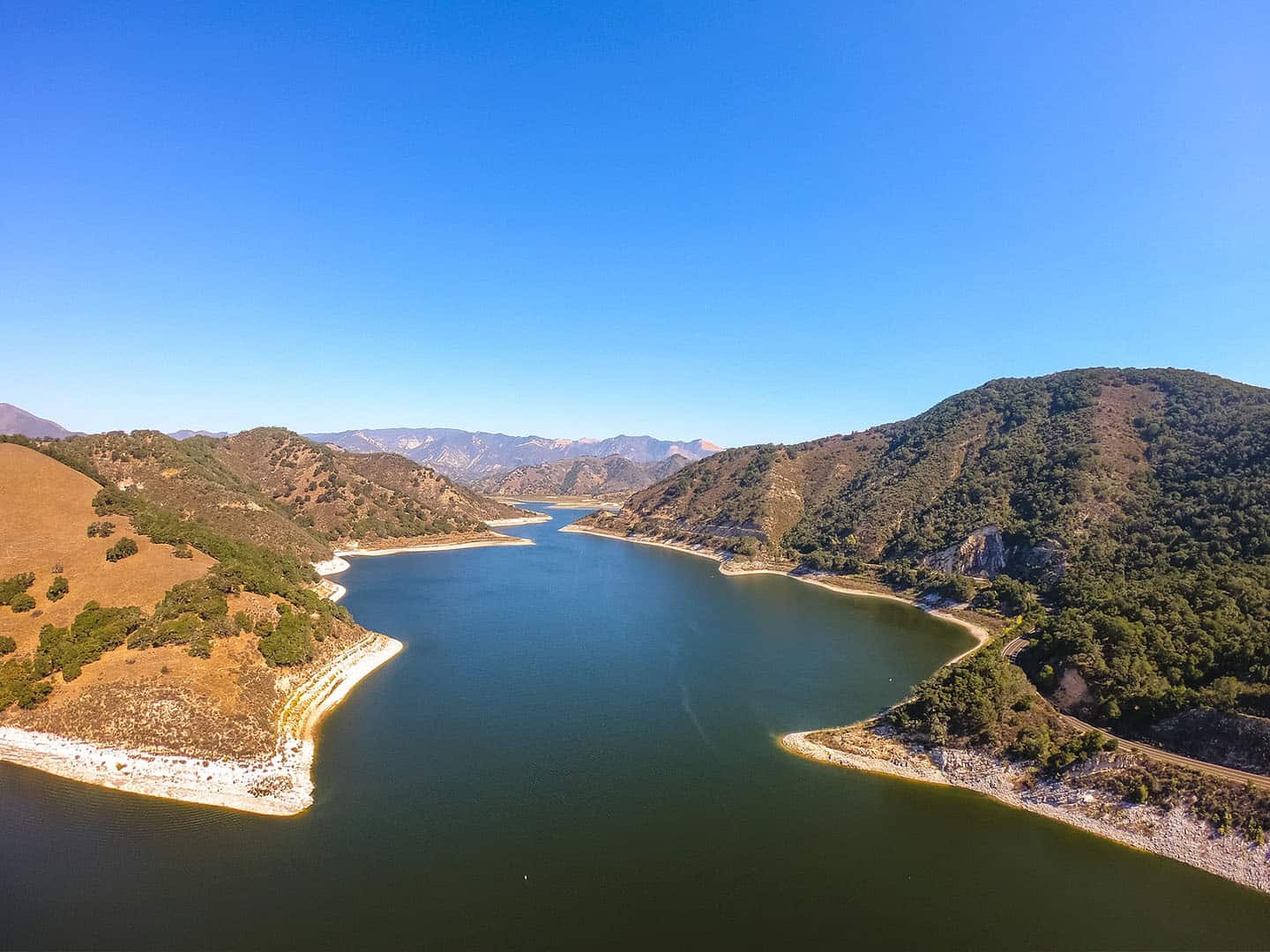 Blackberry Springs Trail
Often described as a good "family" walk, this Lopez Lake trail covers 0.75 miles of easy hiking with picture-perfect views. This system of trails takes in the southeastern corner of Lopez Lake, with views of its Arroyo Grande Arm and Wittenberg Arm. Rolling hills, quiet meadows, and wild turkeys can be found along the way, too. The out-and-back trail was named for the blackberries and gooseberries that line the central canyon. Here, lush ferns also grow, as does poison oak, so take care and wear long pants. Dogs are welcome on the trail, so watch out for Fido, too.
The Blackberry Springs Trailhead stands in Lopez Lake's "Squirrel" Campground. Start here and follow signs to the top of the ridge, about 250 feet in elevation. To make the hike an almost-2-mile loop, continue on the steeper Turkey Ridge Trail back down to where you started.
To get to Lopez Lake, take Highway 101 to Arroyo Grande and exit for Grand Avenue. Drive east on Highway 227 following signs for Lake Lopez. After 1.2 miles, bear right on Huasna Road and drive another 10 miles to Lake Lopez. Pay the day-use fee at the ranger station and proceed to park at the Squirrel Campground.
Marina and Rocky Point Trail
This family-friendly walk combines the Marina Trail and Rocky Point Trail for a combined 2.6 miles. The Marina Trail travels between the park entrance ranger station and the marina, while the Rocky Point Trail captures views from the end of the peninsula. Enjoy vistasof the lake, people fishing, boating, and kayaking from the slab rock on the point. The Marina also offers a convenience store, restaurant, snack bar, and swimming area. Take a leisurely walk along these trails and pick up an ice cream along the way. Perhaps you will see wild turkeys, jackrabbits, mule deer, a California Condor or peregrine falcon. Bring your binoculars for any wildlife spotting on your hike, or to look up at the mountains from below. Dogs are welcome to walk these trails on a leash.
Pick up the Marina Trail just past registration and the ranger station on the left. To reach Lopez Lake, drive Highway 101 to the Grand Avenue exit in Arroyo Grande. Drive east, following signs for Lopez Lake Recreation Area another 11.2 miles.
Duna Vista Trail
The most comprehensive of all Lopez Lake trails, this 7.2-mile hike takes in the whole of the western ridge of the park. The trail is named for its views of the Oceano Dunes in the distance, along the Pacific shoreline. From the 360-degree top of Duna Vista, the Santa Lucia Mountains, Caliente Mountains, and Sierra Madre range are all visible — a grand sight.
This trail is rated moderate for the significant climbing it does to gain almost 1,000 feet in elevation. Most of this elevation occurs after the first 3 miles, which are mostly gentle switchbacks. The Dune Vista Trail generally experiences only light traffic, if any at all, making for a quiet day of exploration. See wild turkeys, mule deer, California Condors, peregrine falcons, jackrabbits and horned toads along the way. This path is well-maintained, with benches at the top for enjoying the panorama of Arroyo Grande, Pismo Beach and Oceano to the west. Dogs are invited on the trail, on a leash.
To find the Duna Vista Trailhead, take the Grand Avenue exit from Highway 101 in Arroyo Grande. Drive east 11.2 miles on Highway 227, following signs for Lopez Lake. Pay the day-use fee at the registration/ranger station, then follow Lopez Drive to its end, past the campgrounds. Park on the turnout and follow the trail signs past the closed access gate.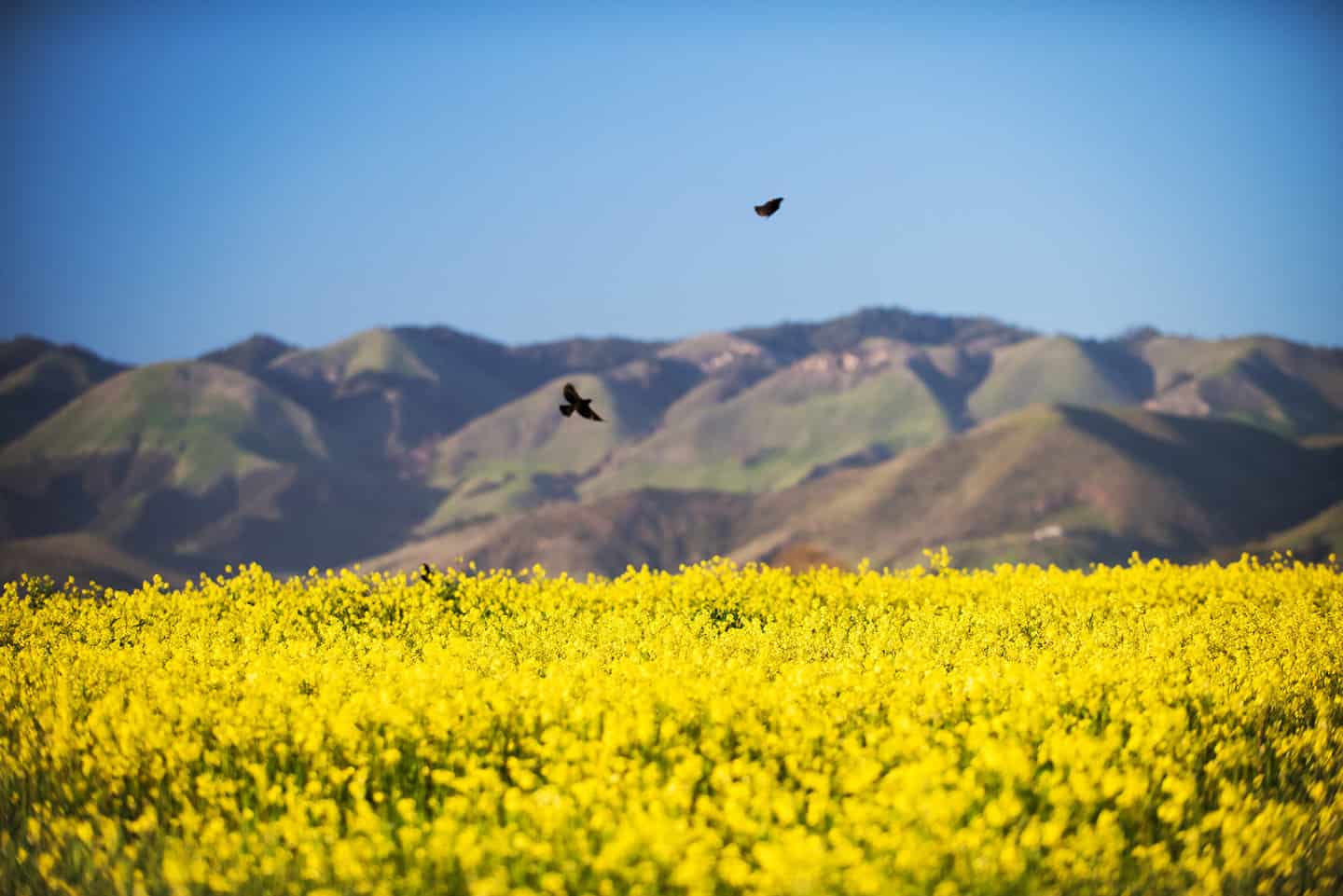 Little Falls Trail 
Some of the most stunning waterfalls on our special stretch of Highway 1 are out east of Arroyo Grande. Lace up your hiking shoes (or your water shoes, depending on the season!) and trek out on the Little Falls Trail. This 5.4 out-and-back hike winds through the Santa Lucia Wilderness, a picturesque forested area on San Luis Obispo County's interior. Here, leafy trees canopy the path to a rocky, whispering waterfall, beloved by locals. But if you decide to take this hike, come prepared: it is a difficult trek with a 1,578-feet elevation gain. Also keep in mind that the centerpiece of this hike – the waterfall – only flows in winter and spring, which makes crossing the creek rather…wet. Set out with a high-clearance or 4×4 vehicle, as the road to the trailhead crosses the stream several times. And come with long pants and grippy water shoes to protect against poison oak and wet conditions on the trail. Dogs are permitted on the trail, but consider the conditions before bringing Rover.
This trail can be challenging, but the payoff is a peaceful, serene waterfall and natural area. Expect the trail to be at times exposed, rocky, steep and/or overgrown. Follow the trail to its end where it terminates into the Rinconada Trail. (For an extended 12.9-mile hike, tack on the Rinconada Trail loop.)
Access the trailhead 11.2 miles east of Highway 101 in Arroyo Grande; from the Grand Avenue exit, drive east toward Lopez Lake. Turn right onto Hi Mountain Road before reaching the lake, though, and drive 0.8 miles. Then turn left at Upper Lopez Road and drive 8 miles, crossing the creek in a high-clearance vehicle along the way. The marked trailhead will be on the right.
Big Falls Trail
This favorite backcountry trail in the Santa Lucia Wilderness features some of the prettiest waterfalls on the Central Coast. Enjoy an easy to moderately difficult hike beneath a canopy of leafy trees, especially in spring. The walk is 4.4 miles, out and back, including some short, steep climbs for a total elevation gain of 1700+ feet. The payoff at the end of the trail consists of three waterfalls: the Lower, Middle, and Upper Big Falls. Each of these is a treasure in its own right, but the Upper Big Fall tumbles 80 feet, top to bottom. (This is also the most challenging fall to reach due to a steep climb.) Along the trail and at the base of these falls, find swimming holes, some of them quite deep. Parents of young children may want to skip this hike, or at least be prepared to watch little ones constantly for safety. Visitors will also likely see daredevils jumping from rocks into the pools, a favorite local pastime. Dogs are allowed on the trail on a leash.
The volume of these pools and the falls depends much on the recent rainfall, making winter and spring prime times to visit. These are also high season for poison oak, ticks, snakes, and other wildlife, so take that into account in preparing for a hike. One common sight during the spring is the California salamander, which mates here March through May. Find these pink and blue amphibians under rocks, on the path, and underwater around Big Falls. 
Reaching the trailhead requires a high clearance vehicle and/or 4-wheel drive to make the 13 river crossings, especially during rainy season. To access the Big Falls trailhead, follow directions to Lopez Lake from Highway 101, east of Arroyo Grande. Just before the entrance to Lopez Lake, turn right onto High Mountain Road, then turn left onto Upper Lopez Canyon. Follow this road to its end, another 14 miles.
Hi Mountain Trail
This trail stretches into the Santa Lucia Wilderness for an out-and-back adventure of 10.2 miles and 1,876 feet in elevation gain. The Hi Mountain Trail is classified as difficult backcountry hiking, definitely not for young families or inexperienced hikers. Dogs are welcome on the trail, on a leash. The trail often allows for only a single track, and can be overgrown in areas, so be sure to wear long pants. Those who reach the top of the trail are rewarded with sprawling vistas. Views include the ocean and Lopez Lake to the west, and mountains to the east, south, and north. Finishers also get to enjoy the Hi Mountain Lookout, a retired fire lookout now serving as a field research station for California Condor conservation. The building lies close to a historic condor and peregrine falcon nesting site designated as a critical habitat area. Along with water, sunscreen, lunch, and a hat, plan to bring binoculars and a field journal to document your wildlife sightings.
The Hi Mountain Trailhead is located east of Arroyo Grande and Highway 101. Follow directions to Lopez Lake from the Grand Avenue exit and turn right onto Hi Mountain Road just before the Lopez Lake entrance. Drive another 5.5 miles and find the marked trailhead and parking area on the left.
Clover Ridge Trail
This 20-minute hike makes for a short, fun, and scenic family outing. At just 1 mile long and 104 feet in elevation gain, it is considered easy for all skill levels. Get the kids out, grab the stroller, bring Fido (on leash) and wander through this oak forest, not far from Arroyo Grande. The Clover Ridge Trail also serves as a good jogging course. In addition to clover, see wildflowers like ground morning glory, hummingbird sage, and woodwordia ferns beside the well-maintained dirt path. Be careful, as poison oak also grows in and around this area. The Clover Ridge Trail is a loop that runs beside James Way, though the environment is still quiet and serene. Because the trail lies near a residential neighborhood, many of those who walk it live in the area, but trail traffic is light. 
Islay Hill
With stunning views of San Luis Obispo, the Edna Valley, and even the Guadalupe Dunes, Islay Hill makes for a scenic, peaceful hike. This hill is the easternmost of the famed "Nine Sisters," which end with Morro Rock to the west. The view from Islay Hill shows most of those peaks, which are ancient volcanic plugs, stretching northwest. To the east and south, Edna Valley shimmers with patchwork vineyards, grassy fields, and rolling hills. The trail is very well-groomed, with a marked trailhead, map and signage about poison oak. At 1.8 miles long and 550 feet in elevation gain, Islay Hill is considered an easy hike, though at points it can be quite steep. Slipping on loose paths is also common, so be sure to wear good hiking shoes. Here, wildflowers grow in thick, colorful patches after spring rains and warmth from the sun. Look for lupen, poppies, mustard, fennel, clover and white sage. This is a great hike for families with children 5 years and older. Dogs are welcome on the trail on a leash.
To reach Islay Hill, take Highway 1 south until it turns into Santa Rosa Street in San Luis Obispo. Turn left on Monterey Street, then right onto Johnson Avenue for 1.7 miles. At Orcutt Road, turn left and drive 1 mile to the intersection with Tank Farm Road. Turn left, then an immediate right onto Spanish Oaks Drive. For the steepest, shorter trail up Islay Hill, find the trailhead on the left and park on the street. For a more gradual and slightly longer trail, head further down Spanish Oaks Drive. Turn left on Sweet Bay Lane and park at the end. The trailhead begins where the street ends.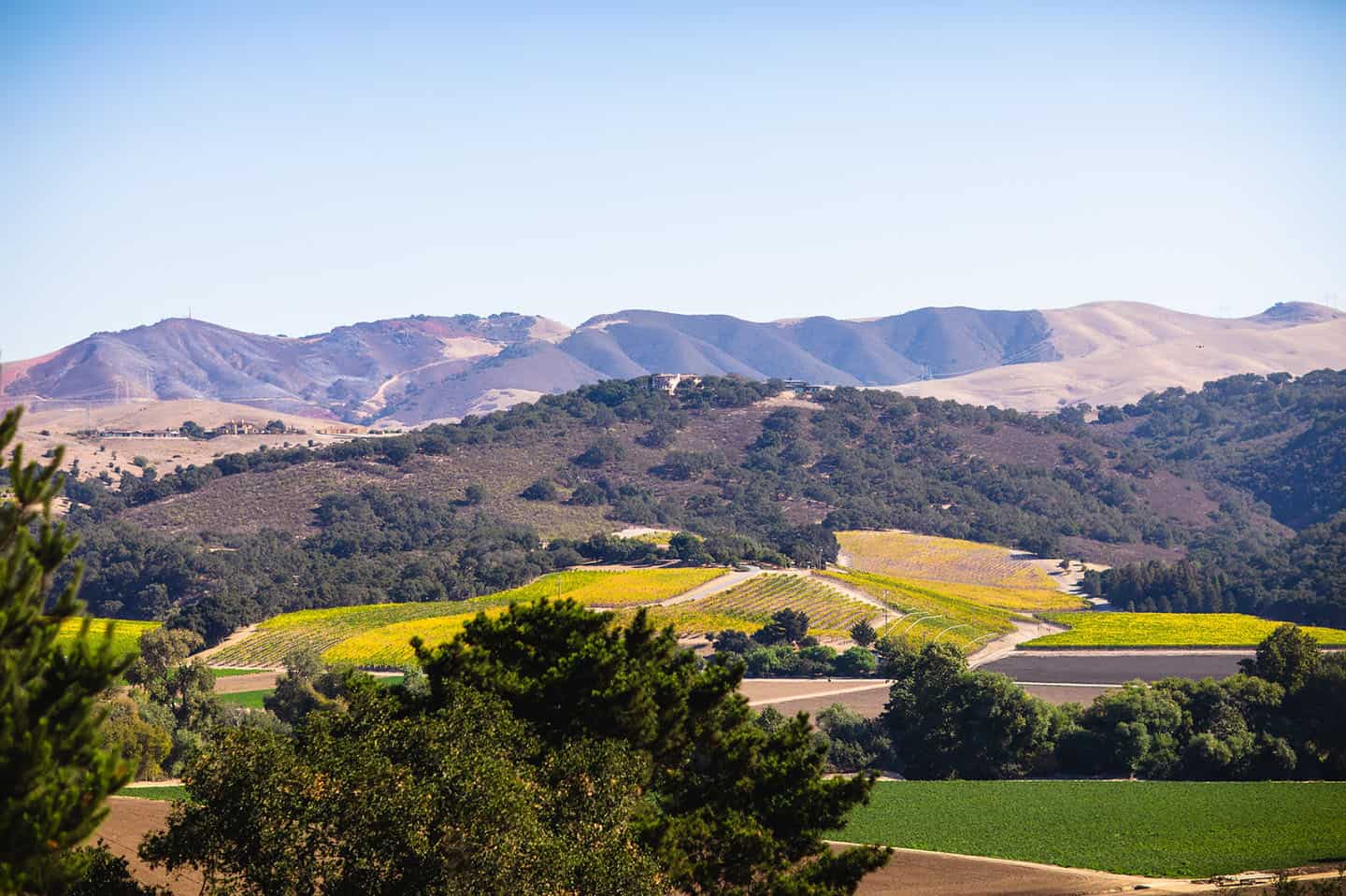 South Hills Ridge Trail
Though this trail isn't all that steep, it offers a playground of rocks to scramble and climb over – the ideal terrain for children who like to explore! Take the whole family out for this easy 2.2-mile hike to the top of a 580-foot summit. The 133-acre South Hills Open Space boasts well-maintained trail and plenty of grassy glens. Views extend from Edna Valley to the Cuesta Ridge to the north, and the Irish Hills to the west. More immediately, the trail gives a panoramic view of downtown San Luis Obispo, cradled in the valley. In the 1920s, this hill was known as "Cheapskate Hill" for its free views of the Exposition Park race track. (Today, the race track has been replaced by Meadow Park.) Look for interpretive signs about local flora and fauna at the Woodbridge Trailhead on Exposition Drive. Dogs are welcome to join the trail on a leash, and extra leashes are available on loan at the Exposition Drive trailhead.
The trail has two different entrance options, both in residential neighborhoods. For more parking, interpretive signs, a map, and leashes to borrow, head to the trailhead on Exposition Drive. To get there, head south on Highway 101 to the Madonna Road exit. Turn right on Madonna Road, cross over the freeway, and turn left on Higuera Street. Make an immediate right onto South Street, then turn right again on Exposition Drive. Follow the road to the marked trailhead on the right. The other trailhead can be found in the Stoneridge development off Broad Street. Turn right on Stoneridge Drive, left onto Rockview Place, and immediately onto Bluerock Drive. Find the trailhead on the left, as well as a small grassy park with a picnic table.
Froom Creek Trail
The Froom Creek Trail winds back through the Irish Hills Natural Reserve at the southwestern edge of San Luis Obispo. This 3-mile loop is family-friendly and provides vast views of the town's highest peaks: Cerro San Luis and Bishop Peak. Though this loop includes a 500-foot elevation gain, the Irish Hills offer many more other trails to tack on for a longer walk. Some of these trails include the Old Prospector Loop, Canyon View Trail and Mariposa Trail. (In fact, the Froom Creek Trail can also link to the Johnson Open Space Trail via the Connector Trail, making for a much longer hike.) These trails once led to mercury mines, but are now framed with California poppies, native bunchgrass, and blue ceanothus.
Start at the Madonna Road Trailhead. From Highway 101 south, exit at Los Osos Valley Road. Turn right on Los Osos Valley Road and drive to Madonna Road. Turn left and follow Madonna Road to its end, where the trail begins. Dogs are welcome on the trail on a leash, and leashes are available to be borrowed at the trailhead.
Cerro San Luis Obispo Peak 
Also known as "Madonna Mountain" or "San Luis Mountain," Cerro San Luis is the second easternmost peak in the "Nine Sister" mountain series. With its unique location at the heart of San Luis Obispo, it's considered one of the most popular hikes on the Central Coast. In fact, Cerro San Luis is a defining feature of San Luis Obispo's geography, framing neighborhoods and the downtown corridor. Grab coffee before the hike or lunch after the hike just steps from the trailhead! This is a great hike for families with children 7 years old and up.
The out-and-back trail to the top of Cerro San Luis stretches 4 miles long, and gains 1,100 feet in elevation. Walk among wildflowers, white sage and coastal scrub, at times under the shade of eucalyptus trees. Mostly, however, this hike takes place without cover, along a dirt fire road. The beginning of the trail is particularly steep, making this a moderately-difficult trail to complete. But, at the top, enjoy wide views of the Nine Sisters,the Oceano and Guadalupe Dunes, Edna Valley, and downtown San Luis Obispo. During the holidays, don't miss the lighted Christmas tree at the top, which watches over the city all season long. 
The Cerro San Luis trailhead can be accessed directly off Highway 101. Traveling south, take the Marsh Street exit and directly on the offramp, make a very quick left onto an unmarked dirt road that connects to a parking area. Look for interpretive signs about the mountain, as well as loaner leashes for your pup.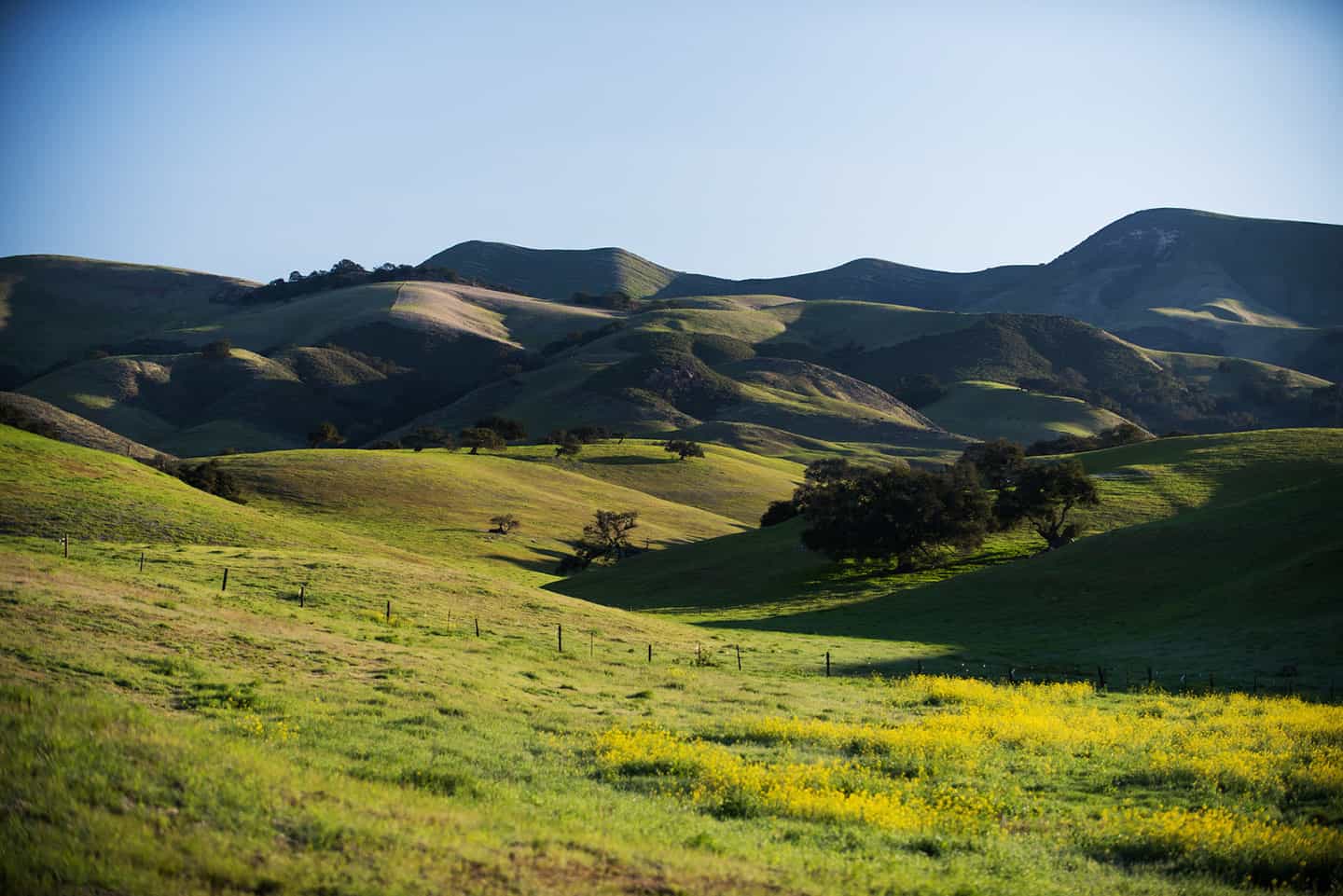 This new system of trails offers westward views of the Pacific coastline as well as views to the east of Edna Valley. The Land Conservancy of San Luis Obispo County oversees the 880-acre preserve, with 5 trails for different abilities and vantage points. Come walk over 11 miles of trail through oak forests, across coastal ridges, and out to quiet overlooks. This was once a private cattle ranch, and cows can still be seen grazing on the hills. East-facing hikes take in vineyard views and highlight the influence of the ocean on Edna Valley wines. Look west over the ocean for the opportunity to see a whale spouting in the distance during migration season. The views are panoramic here, stretching from Point San Luis all the way to Point Sal in Santa Barbara County. 
Within the preserve, the Vamonos Canyon Trail is the steepest and most difficult, with 92 feet gained in elevation over just 0.7 miles. The Discovery Loop is also difficult at 5.2 miles. Try other trails like the Lone Oak Trail (2.2 miles), the Spring to Spring Trail (3.4 miles) and the Lover's Lookout Trail. These offer easier to moderate conditions.
The Pismo Preserve Trailhead is accessible just off Highway 101 in Pismo Beach. Take the 191B exit and find the parking lot on the east side of the freeway, at the south end of Mattie Road. 
Just 24 miles northwest of Arroyo Grande, find a natural playground and cooler climate among the oaks and dunes in Los Osos. One of California's largest and most diverse state parks, Montana de Oro, stands at the edge of Morro Bay. Walk the family-friendly Bluff Trail for views of Morro Rock and tidepooling along the shoreline. Or hike the Valencia Peak Trail, Oates Peak Trail or Hazard Peak Trail for summits of 1,300+ feet. After your hike, bring a picnic to Spooner's Cove Beach for a picturesque afternoon in the sun and sea. And don't miss the Spooner Ranch House, a historic remnant of this park's ranching days that now serves as Montana de Oro headquarters. 
Los Osos is home to several natural preserves that are hike-able as well. The Los Osos Oaks State Natural Preserve includes 3 easy trails through ancient oak trees and land once occupied by the Chumash people. The Morro Coast Audubon Society Sweet Springs Nature Preserve offers 32+ acres of hiking trails along the Morro Bay National Estuary. And the El Moro Elfin Forest features an easy 1-mile boardwalk among its unusual coastal pigmy oaks and diverse seabird population.