What's your Hearst Castle vacation vibe? As fabulous as it would be to stay at Mr. Hearst's lavish Highway 1 estate, these enchanting San Simeon, Cambria and Ragged Point stays are the next-best thing. Whether you're craving spa services, a stroll on the beach or a luxurious room service feast delivered to your room, there's a Hearst Castle lodging destination with your name on it. So–which one are you?
1. The Instagrammer
Double tap The Gateway to Big Sur: At Ragged Point Inn, every moment is photo opp worthy. Think: wind-swept coastal cliffs, untouched black sand beaches, blue ocean waves and the stately Santa Lucia Mountains melting into the horizon. #VacationGoals.
Stay photogenic: No filter required here, folks. Ragged Point's cliff-top rooms offer unobstructed vistas of the Big Sur Coast from perched atop a 350-foot cliff (enjoy it all from your own personal deck or balcony, natch). Garden Rooms set back from the ocean offer a similarly stunning experience at a more affordable rate, while the dreamy Cliff House features a luxury home-like setting that'll have you ready to pack your bags for a permanent stay (if only). Enjoy stunning ocean views from your private room or rent the whole enchilada for your family, friends, or work group. But be warned: You'll find it difficult to stop snapping pics–around here, it's impossible not to.
More to explore: Dog friendly rooms, an onsite restaurant overlooking the sea, a gift shop and totally indulgent spa services allow for a well-rounded (and supremely photogenic) cliff-top excursion.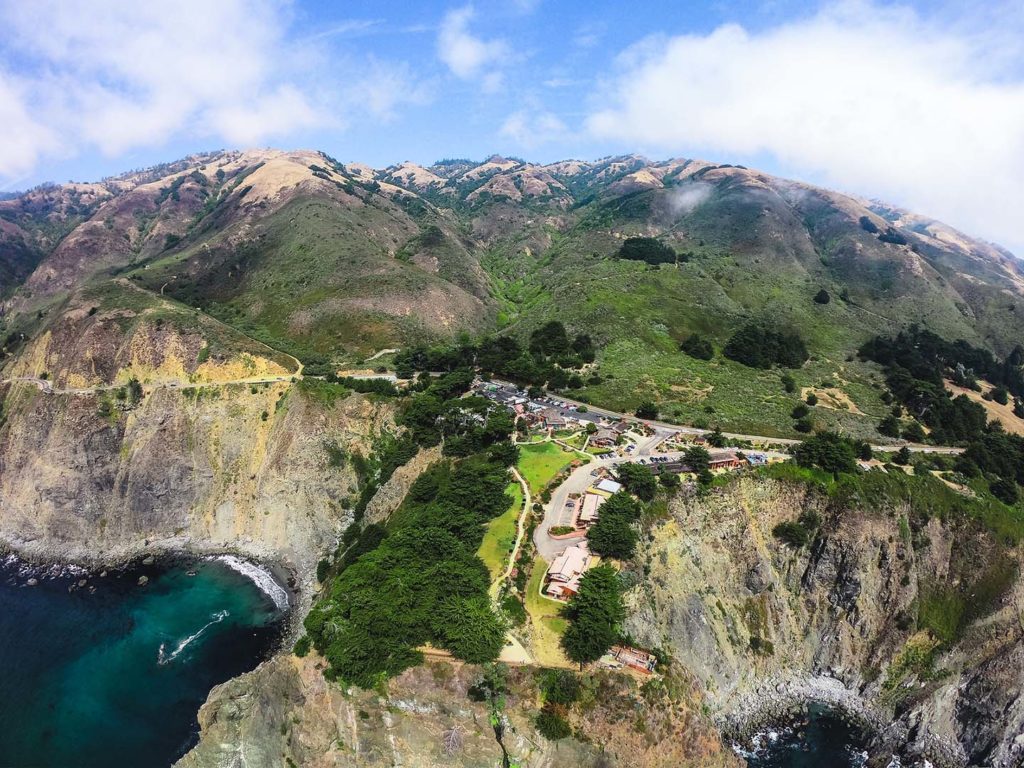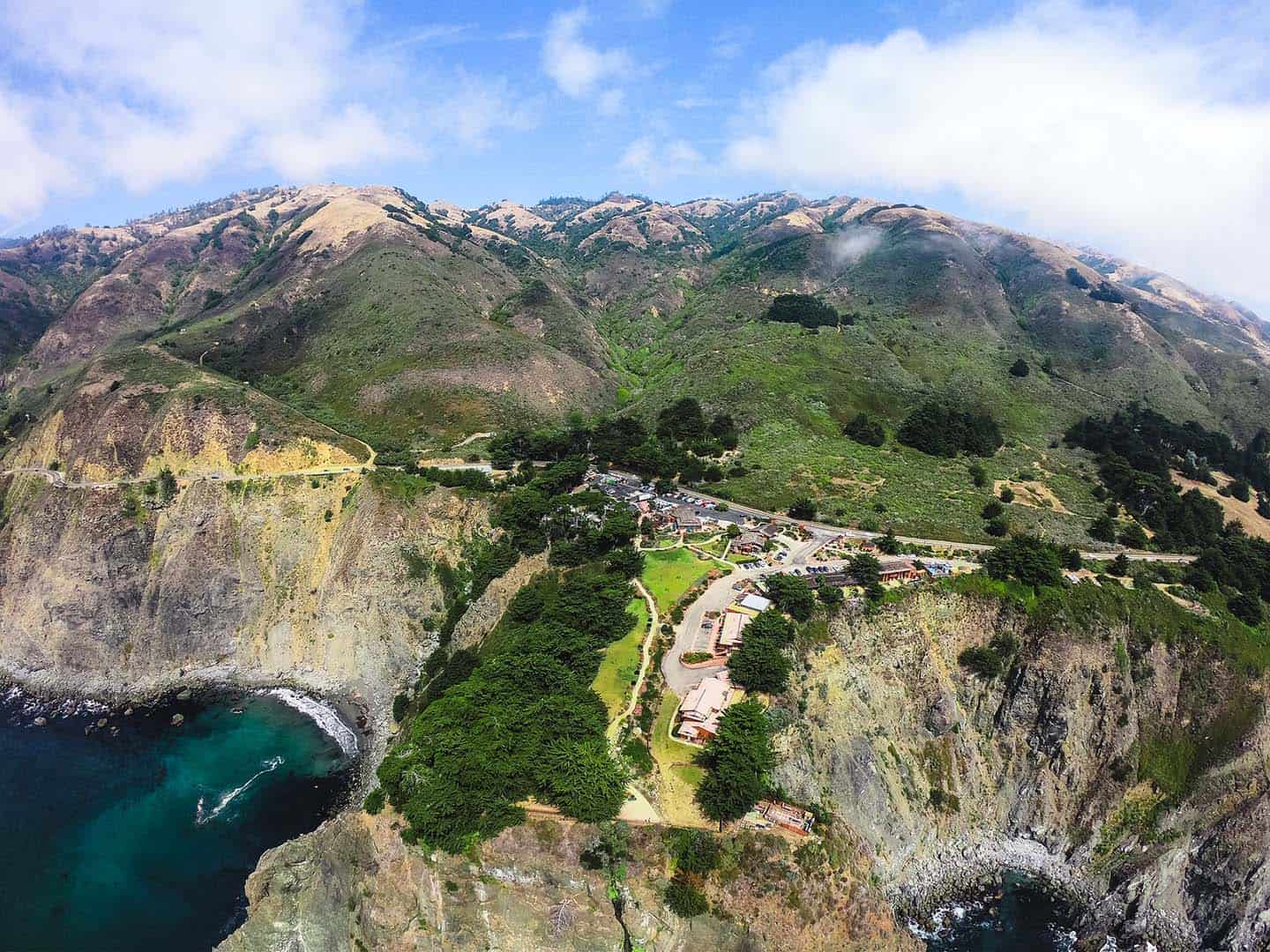 2. The Coastal Cowpoke
Kick off your boots and stay a while: Whether you consider yourself a coastal cowboy or cowgirl, you'll appreciate the down-to-earth charm of Oceanpoint Ranch in Cambria. Offering up ranch-inspired comfort along Moonstone Beach, you'll enjoy the Central Coast's charming balance of rugged relaxation and timeless elegance.
Ranch chic: The wild wild west, but make it coastal? Yep, that sounds 'about right! The friendly folks at Oceanpoint Ranch have perfected the art of simple living done right. Stretching across nine seaside acres, explore ranch-chic rooms boasting bold plaids and animal prints, beautifully restored vaulted wood ceilings and rich leather accents. Kiddos are welcome, too. In fact, you can all discover a variety of unexpected amenities including lawn games like cornhole, horseshoes, and croquet. Yeehaw's right!
More to explore: While you could easily spend the day soaking up the sun along Oceanpoint Ranch's private beach trail, there's tons of noteworthy attractions to mosey on over to. In fact, award-winning wine tasting in Cambria and San Simeon is just a stone's throw away.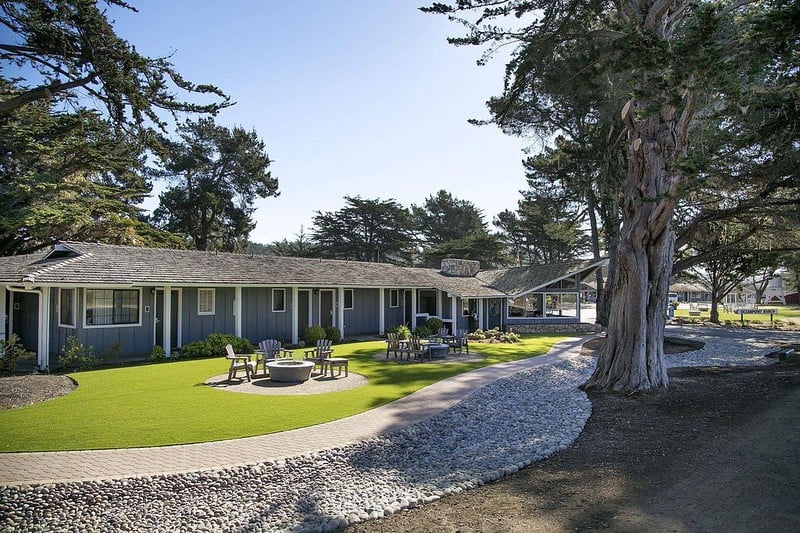 3. The Pampered Guest
Feel the comfort: Nestled along 900 feet of scenic San Simeon coastline, the Cavalier Oceanfront Resort in San Simeon will have you feeling–and looking–your very best. With 90 luxurious oceanfront rooms designed for a home-away-from-home experience and an onsite spa, you'll leave feeling rejuvenated and glowing.
Stay spoiled: Check in to self care. Savor a single or couple's massage at the Cavalier's onsite Diva Day Spa, where aromatherapy massage, Swedish, hot stone, and prenatal options are available. Next, renew your mojo with skin care treatments, including microdermabrasion, peels and specialty facials. Top off your epic self-care stay with a salon service like hair coloring, styling, highlights or a much-needed pedicure. Plus, how many resorts offer a Transformation Reading designed to guide your life's journey? We'll wait.
More to explore: At Cavalier Oceanfront Resort, you'll feel totally taken care of, morning till night. You'll appreciate practical amenities like a mini-fridge, Keurig single-serve coffeemaker and a wood-burning fireplace. OK…we could get used to this!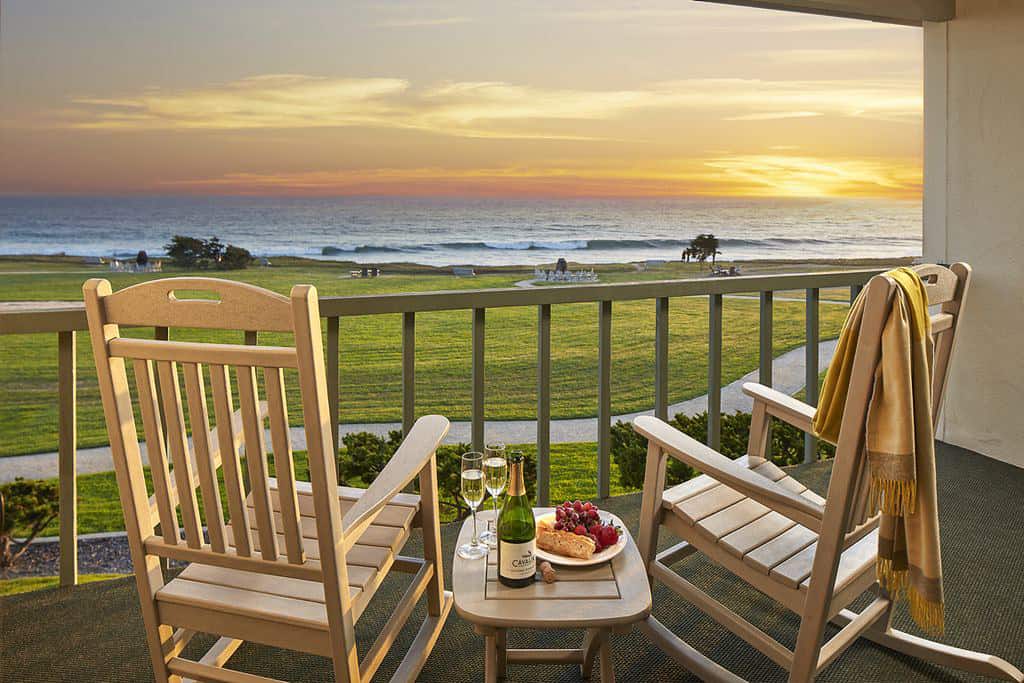 4. The Good Vibes Only
Enjoy the journey: There's no time for drama here. Specifically designed as a laid back oasis to help you unwind, White Water in Cambria is all about sharing good vibes, pure and simple. Mixing vintage and modern decor mixing 1970s Scandinavia and California bohemian styles, you'll kick back against a dramatic coastal backdrop. Regardless of what brought you to this slow-moving Moonstone Beach lodge, you're sure to come away feeling inspired.
Stay zen: Breathe in, breathe out. Whether you seek a weekend of romance or solitary reflection, White Water is the place to get your groove on. Grab some sharable charcuterie paired with a selection of local wine, craft beers, ciders, and spirits all available in the lobby and enjoy a picnic in the lounge or on the beach. Speaking of the beach: you can easily borrow a Linus bike to cruise around Cambria's chill community. Back in your room, savor an indulgent minibar bursting with local treats, and artisan goods. Now we're vibing!
More to explore: Not all hotel bath products are created equal. At White Water, you'll suds up and smooth on Aesop bath products that smell as good as they feel. Featuring classic and geranium formulations, this exclusive line of products is available for all resort guests (and you can even purchase full-size offerings to bring home).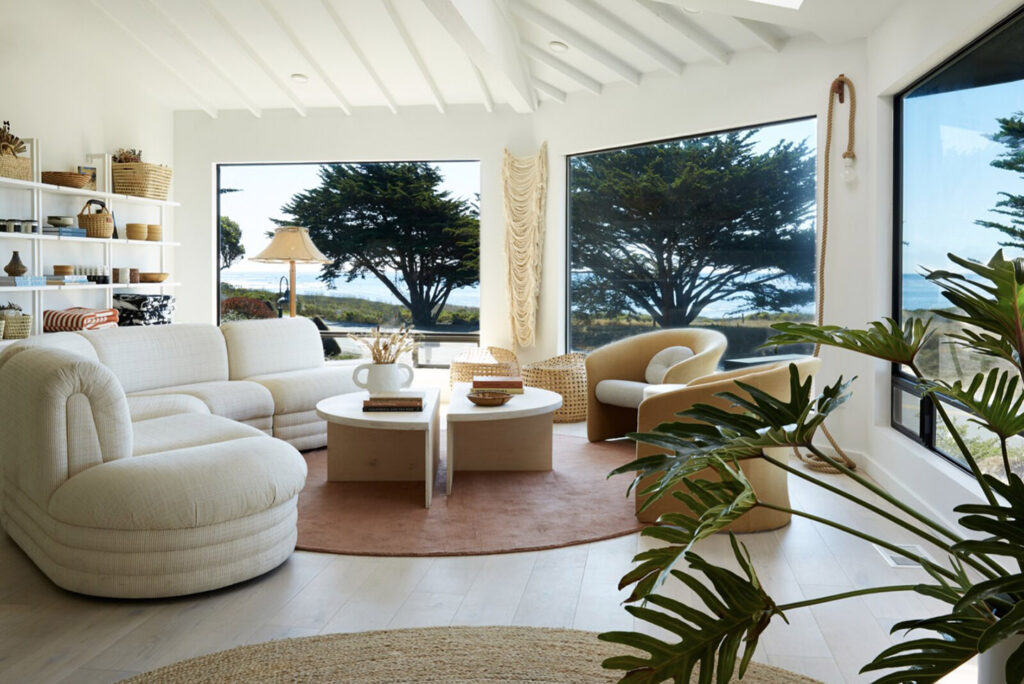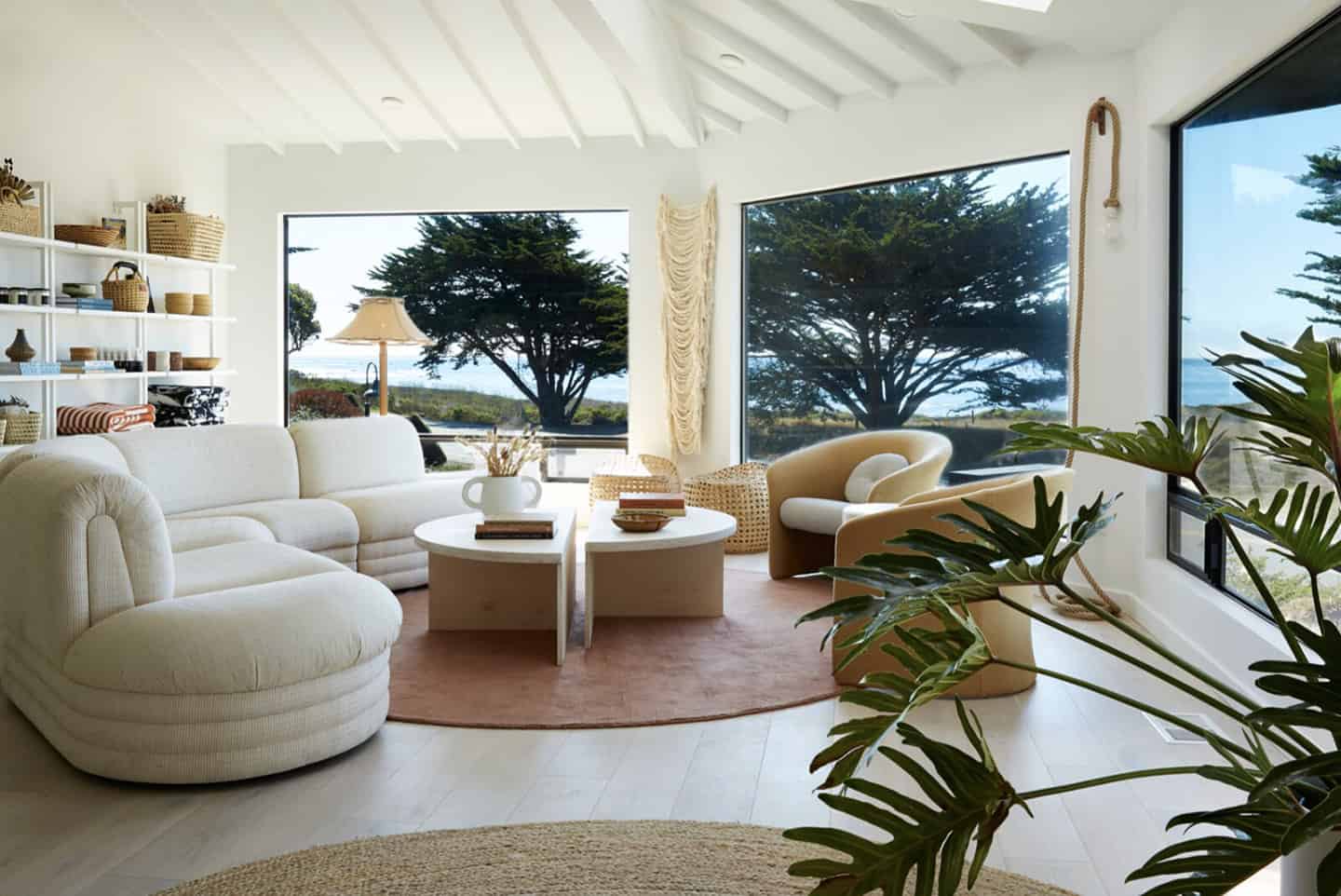 5. The Beachcomber
Sandy toes for all: Collect glowing moonstones along the sand or kick back with room service at Cambria Pines Lodge, one of Highway 1's chillest escapes. Either way, you'll embrace a golden state of mind. Located in a tranquil coastal setting just minutes from Moonstone Beach and the Fiscalini Ranch Preserve, enjoy 25 acres of stunning gardens and Monterey pine forest at this spacious, pet-friendly boutique hotel.
Stay beachy: No fuss here. This chill coastal hotel is relaxed yet sophisticated—the perfect mix of California cool. Thoughtfully appointed suites feature contemporary amenities like a therapeutic day spa, heated outdoor pool, a soothing hot tub and a convenient business center. Hungry after a day flying kites along the beach or hiking Fiscalini Ranch Perserve's lush coastal trails? Dig into a delicious meal at the charming Cambria Pines Lodge Restaurant (and be sure to check out the happy hour specials each evening in the Fireside Lounge). No dress code required. That, we can promise you!
More to explore: Just like the perfect beach day, Cambria Pines Lodge is all about conjuring up a no-stress vibe for its guests. Offering free Wi-Fi, free parking and courteous, attentive service, your stay is sure to be as peaceful as the waves rolling in.