Take a walk on the wild side! Discover Highway 1's most surprising wildlife viewing tips this winter, the perfect time to catch awe-inspiring animals and sea life in action. Majestic whales, grazing zebras, lounging elephant seals, fluttering Monarch butterflies and adorable otters–they all thrive along Highway 1's slice of pristine coastal habitat (you just need to know where to look).
Armed with our expert recommendations and a pair of binoculars, you too can embark on your own Season of Coastal Discovery rife with amazing animal surprises. Feeling the call of the wild? Let's hoof it to Highway 1 with these surprising wildlife viewing secrets: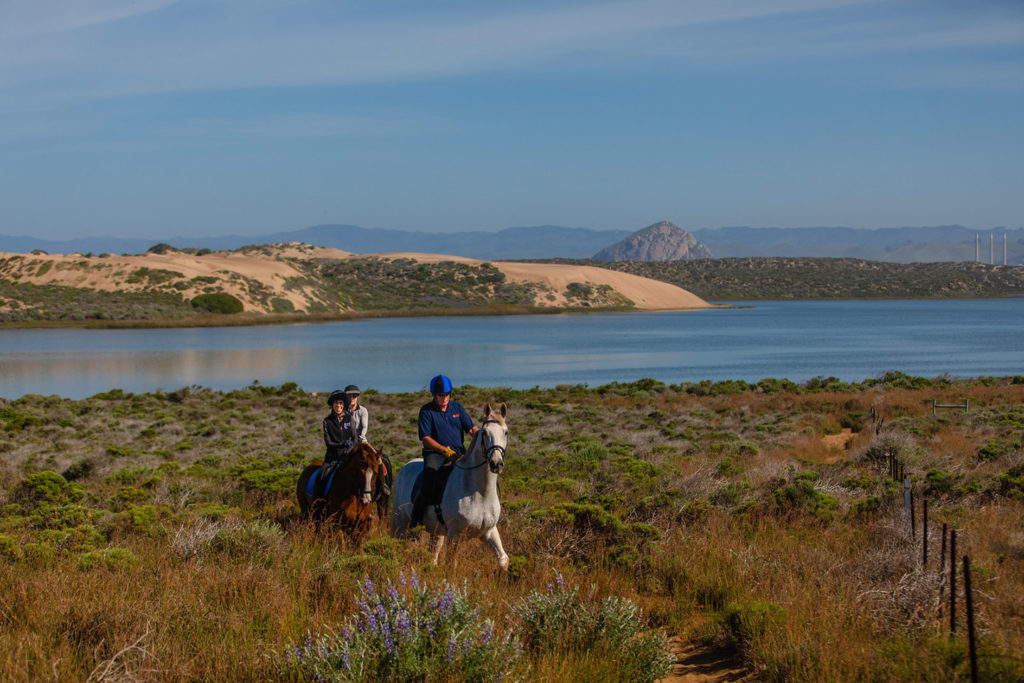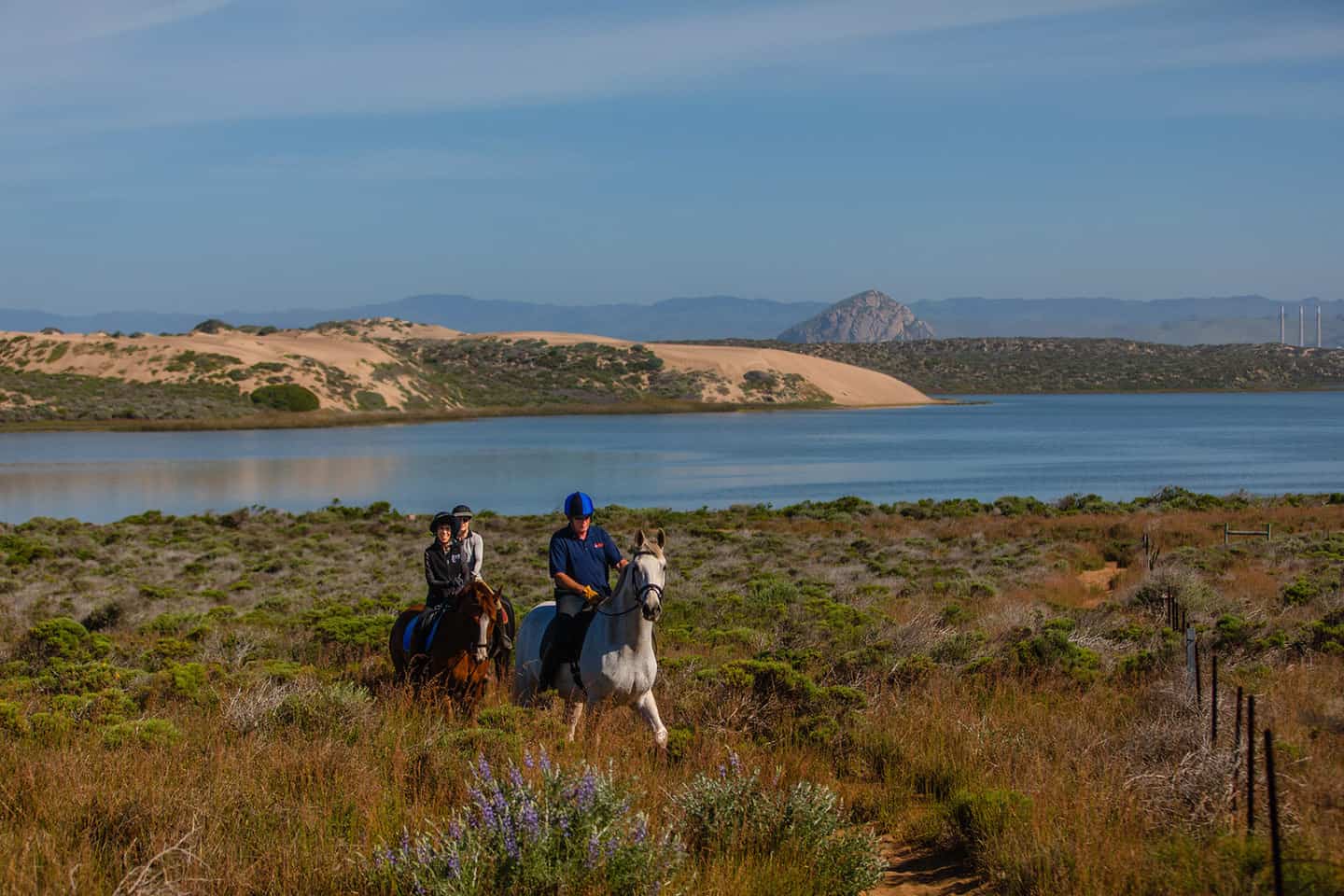 From A to Zebra, you won't believe your eyes
Zebras in San Simeon? You bet! Driving along scenic Highway 1 near Hearst Castle, keep an eye out for these African equines grazing in the grassy pastures just off the highway. It's understood that the late great print media mogul William Randolph Hearst loved to collect exceptional people, but few know that he also collected exceptional wildlife, including bison, elk, camels, kangaroos and giraffes. Today, you might just spot the ancestors of Hearst's exotic zebras grazing on rolling ranch land alongside cattle! When it comes to seabirds, there's plenty of alluring species to marvel at all along Highway 1. Now, we'll let you in on a surprising secret: you can also catch surprising glimpses of wild chickens roosting in the trees near Arroyo Grande's famous Swinging Footbridge and even colorful peacocks roaming about Kelsey See Canyon Winery in See Canyon! Horses galloping on the sand? No, it's not a mirage. At Montana de Oro in Los Osos, you can hop in the saddle and go for your own surf-sprayed joyride!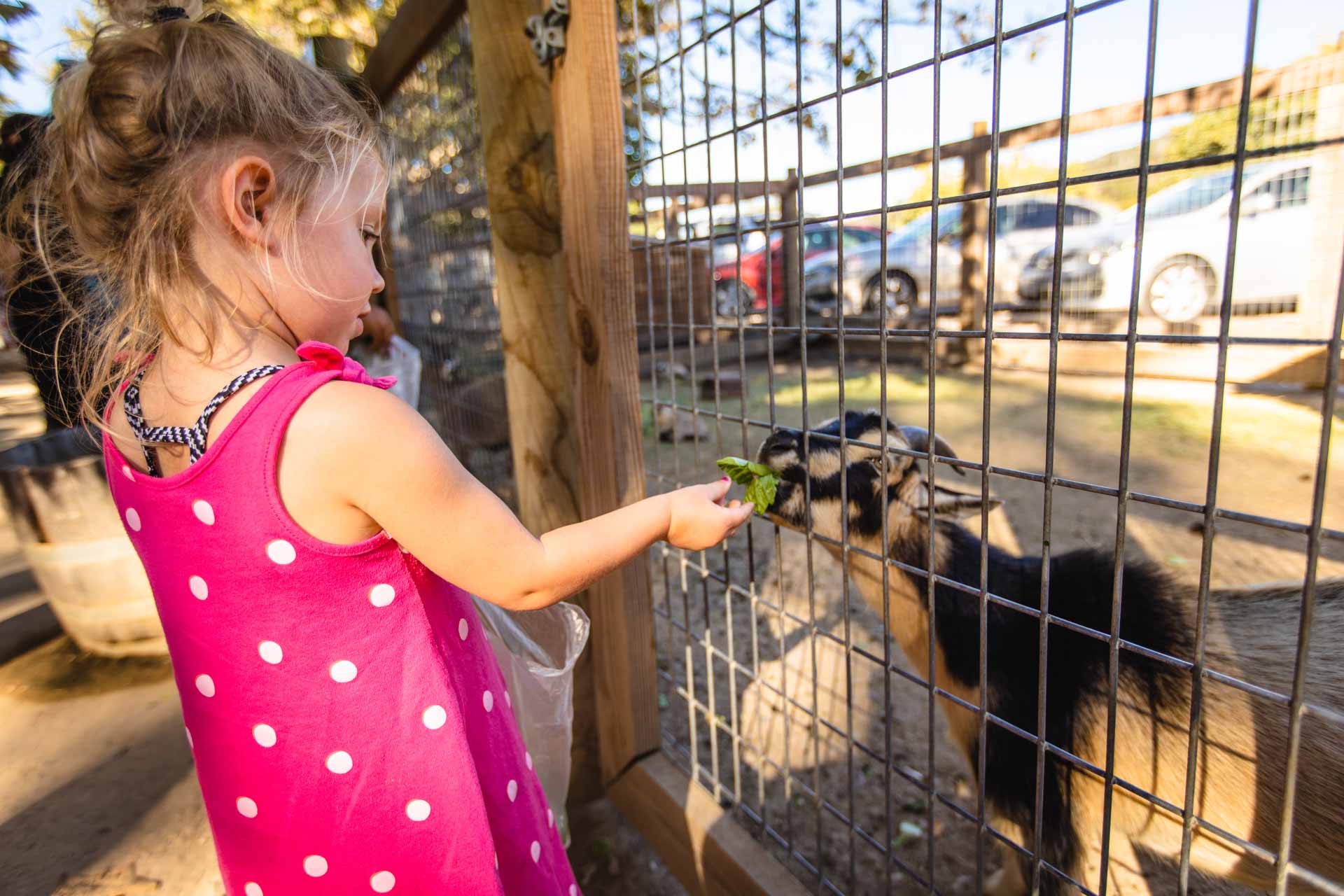 2. Adventure knows no age limit
Kid-approved viewing spots allow everyone to go wild
Little explorers welcomed! You might be surprised by this one, but wildlife viewing along Highway 1 is safe and convenient for all ages, even toddlers! The secret? Crowd-pleasing stops that combine easy viewing with spectacular, up-close-and-personal animal displays. If this sounds like a tall task, you haven't yet experienced San Simeon's Piedras Blancas Elephant Seal Rookery, a must-stop for any family motoring along the coast. Observe magnificent Elephant Seals in their natural habitat from an easily accessible viewing point just off the highway (peak viewing runs October through March, when populations can reach 17,000 along the beach!). Speaking of wowing wildlife experiences fit for the whole fam, the Monarch Butterfly Grove in Pismo Beach is a must-see gem for kids and grandparents alike. October through February, watch as thousands of black-and-orange beauties soar amid the Eucalyptus trees, a rarely-seen wonder to be sure. Tip: Need to get out some serious wiggles? Discover lively tide pools glittering near a hidden-away shipwreck in Cayucos, feed farm animals at Avila Valley Barn or greet happy goats grazing along green hillsides at Cambria's Stepladder Creamery! The family-friendly possibilities are endless.
3. No reservations (or cover charge) required!
Priceless experiences come included
Save your cash: This might be Highway 1's most enticing secret of all! Seriously, how can so many amazing, one-of-a-kind wildlife viewing experiences exist in one stunning region without the need to book a reservation or purchase a ticket? Well, this isn't a zoo, it's simply the great outdoors, just as nature intended it. With dozens of incredible animal habitats on display coupled with preserves and sanctuaries open and free to the public, you can easily step into the natural world without emptying your wallet. It's a wonder that whale watching along Highway 1's Whale Trail is completely free, making available the very best whale watching locations, including ten across the Central Coast and six located dotting Highway 1 alone. Simply stop at designated Whale Trail viewing stations in San Simeon, Cambria, Cayucos, Avila Beach, Los Osos and Oceano/Nipomo and know that you're in the right place for optimum viewing! What's even crazier? Most of the animal viewing opportunities on this blog will also cost you the low, low price of zero. It truly boggles the mind. Tip: Just because we offer tons of free, public wildlife viewing opportunities, that doesn't mean you can't give back to the environments that support these incredible animals. Lend a helping hand to local wildlife by being a Stewardship Traveler for Good!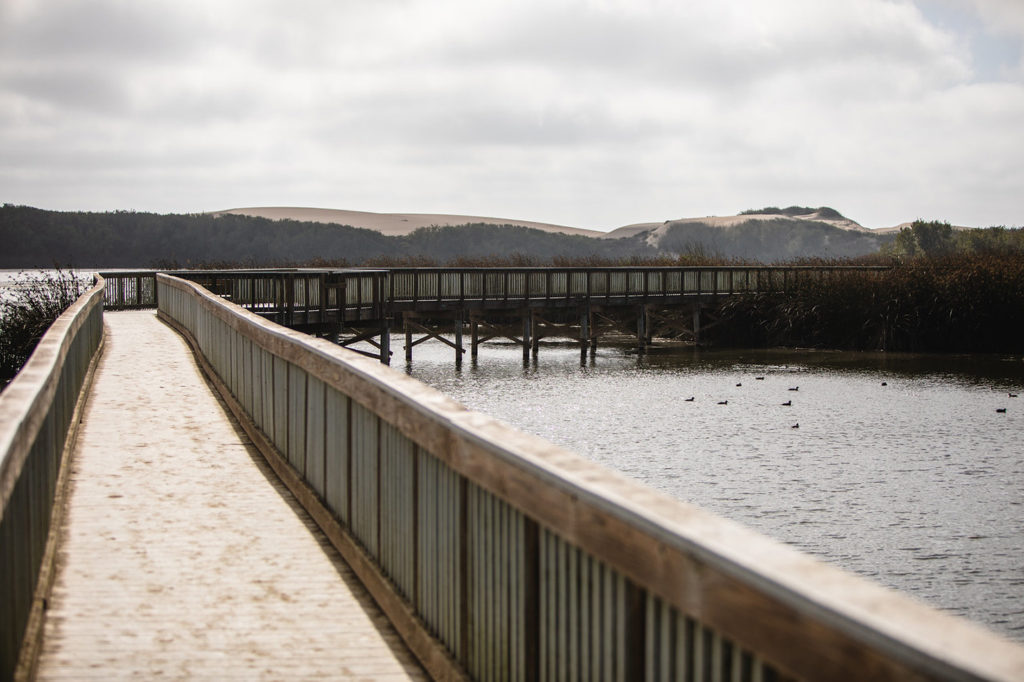 4. Good things come to those who wait
Patience is a virtue–and you'll be handsomely rewarded for your time
Don't move a muscle! The secret to many of Highway 1's most awe-inducing animal encounters? Drumroll please…stand still and wait! Try this nifty trick in Morro Bay and steal up-close-and-personal views of furry California sea otters thriving in their natural habitat. The calm, protected waters of the bay are preferred by fuzzy families of otters (you'll notice them often floating on their backs with lunch conveniently served on their bellies). A particularly stellar spot to see Morro Bay's cutest occupants doing their thing? Stroll down to the T-dock located behind The Great American Fish Company in Morro Bay and watch the show begin! Tip: park in the restaurant's ample public parking lot and head toward the water's edge, where otters love to sunbathe, nosh and frolic. So cute! Want to apply this "wait and see" approach to local feathered friends? Bird watching is most exciting when standing motionless at Oso Flaco Lake Preserve in Nipomo, Highway 1's top avian secrets. Stroll the boardwalk from forest to beach, stopping to observe hundreds of bird species as they eat, nest and soar. The flat, 1.5-mile walk features a pristine lake, marsh, and ocean views all culminating in wind-swept sand dunes.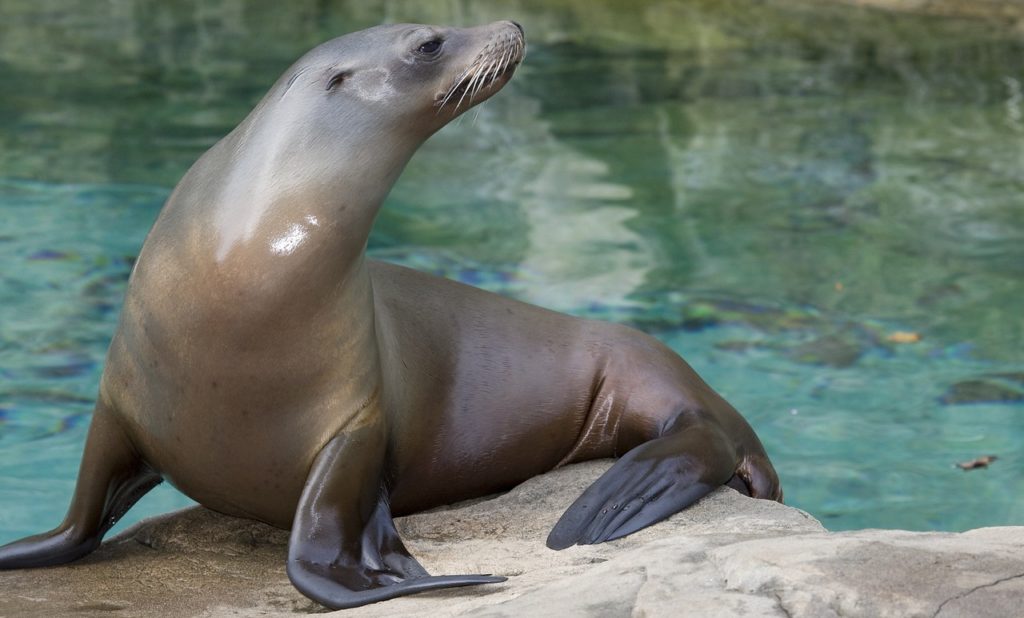 5. Wildlife while you workout!
Wherever you hike, climb or paddle, keep an eye out for amazing wildlife encounters
Surprise visitors: Whether you rise with the sun to shoot the curl or jump on a standup paddle board on a lazy afternoon, you're likely to encounter a wide breadth of wildlife while you break a sweat. Hop in a two-seater kayak and journey from the sunny shore in Avila Beach to the historic Point San Luis Lighthouse and you'll see sunbathing sea lions lounge along Harford Pier (they're also known to pop up out of the water to investigate your vessel). An early morning run along the golden sands of Grover Beach might produce views of dolphin pods leaping from the waves, while a hike at the Pismo Preserve affords a unique view of deer, gulls, hawks and whales off in the distance. Never miss a moment: Highway 1's miles of stunning Pacific coastline is home to some of the most astounding animal visitors, but you just might miss them if you forget to read our handy Wildlife Viewing Tips, designed to keep both humans and wildlife happy and harmonious.
Ready for your Season of Coastal Discovery?
The time is now to get out there and explore Highway 1's wild playground! During our Season of Coastal Discovery, you'll unlock awe-inspiring whale watching and wildlife viewing, wide open spaces, tranquil beaches, uncrowded trails, and friendly coastal communities. Plus, planning your trip to Highway 1 is easy when you check out our Coastal Discovery Trail North Coast and South Coast recommendations, rife with opportunities to hike, dine, dream and de-stress.